This post may contain affiliate links which will not change your price but will share some commission. Please read my privacy policy.
There's a new kid on the block in Federal Hill and you don't want to miss out!
Minnow is Federal Hill's newest restaurant, and soon to become the tastiest. Owned by Ben and Jake Lefenfeld, Minnow seeks to highlight regional seafood selections with thoughtful preparations complemented by an extensive cocktail, beer, and wine list. The wine list features over 100 bottles!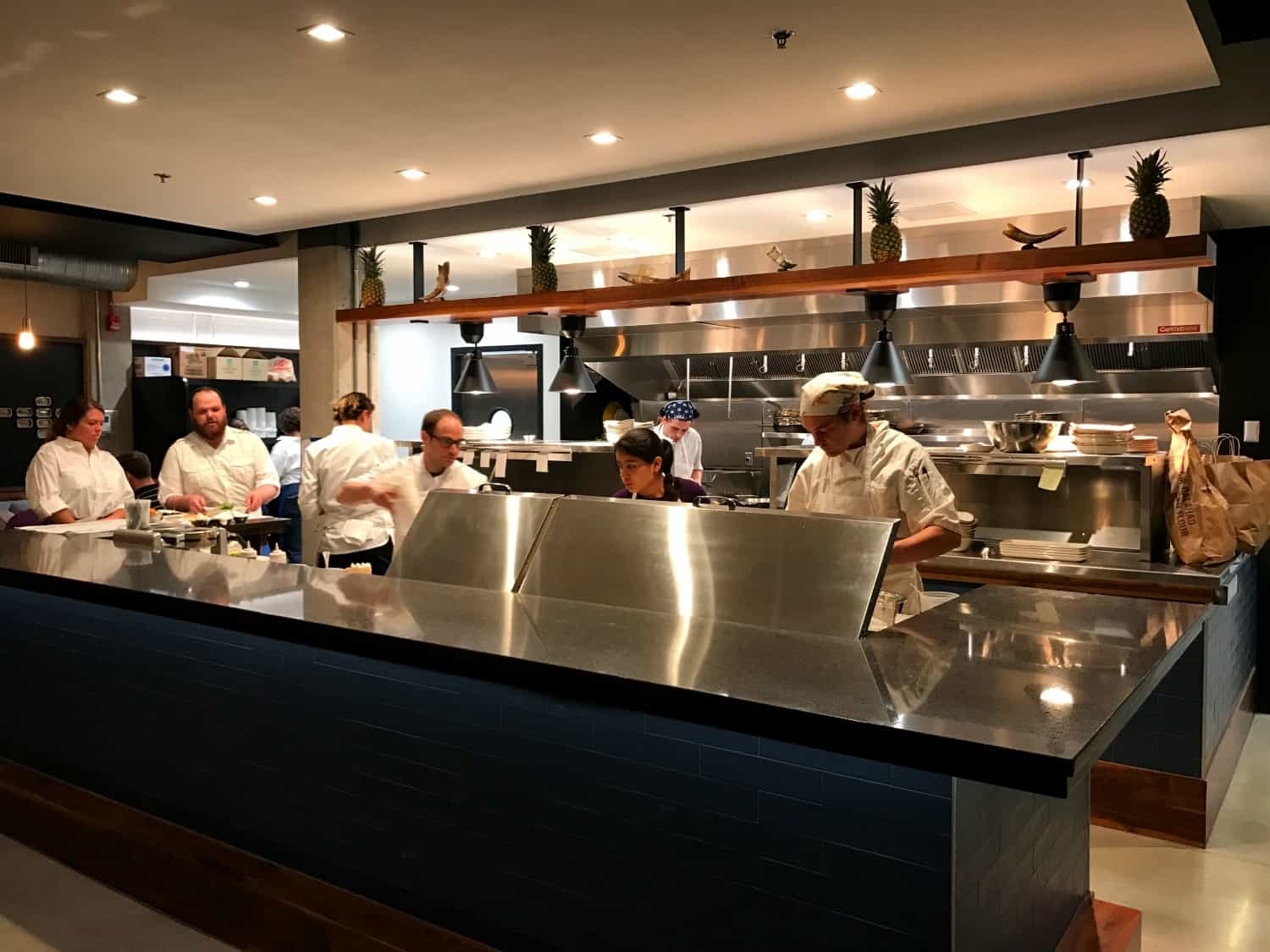 Seeing that this spot is right across the street from where I live, I just had to get in there to check it out.
My boyfriend and I made our way over around 6:45 on a Friday. The restaurant was busy but there were still a few open tables.
The space is beautiful. It's large and has a casual, rustic atmosphere with an open kitchen that emits all sorts of delicious smells.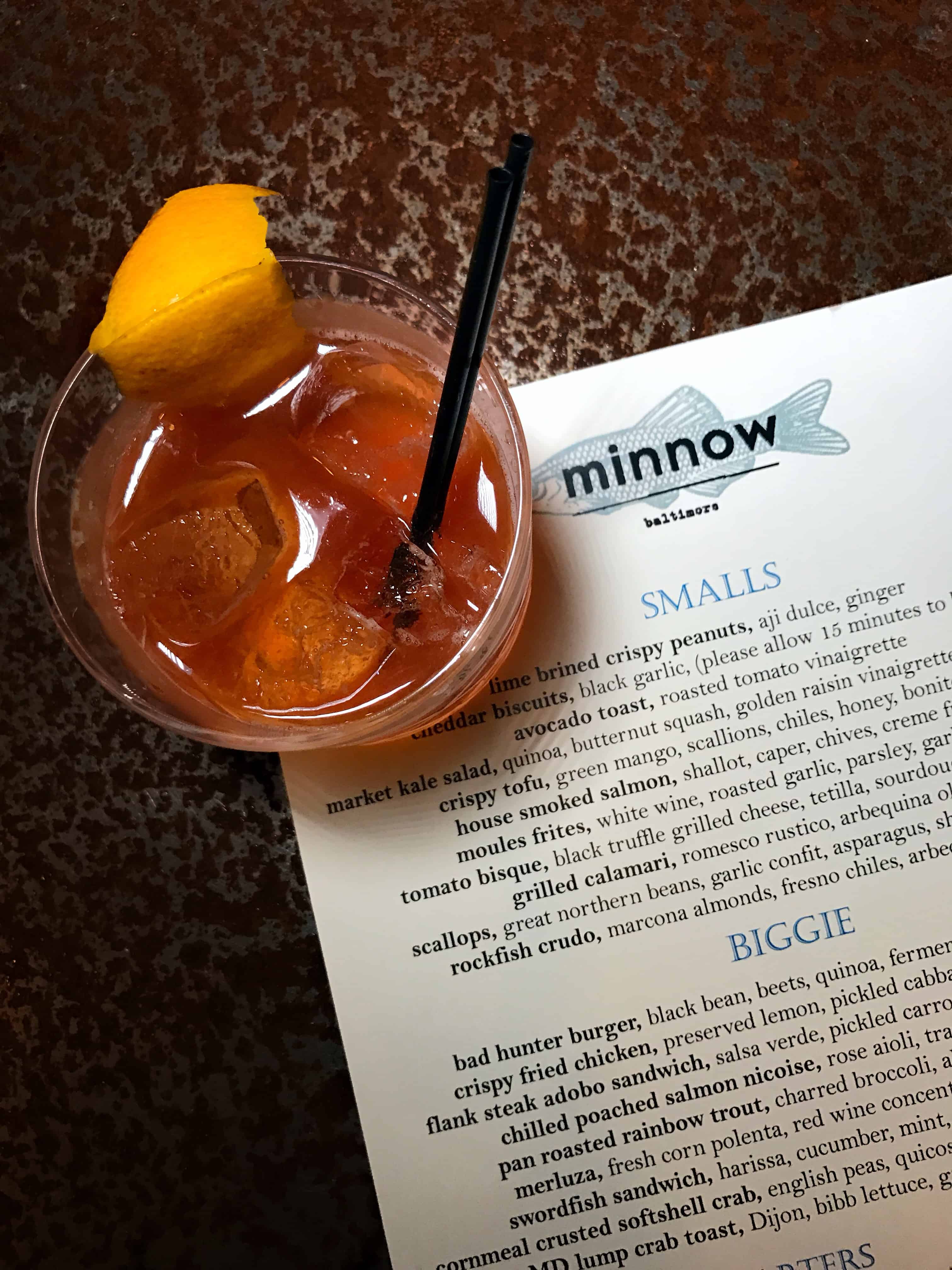 We spent a good amount of time deciding on a drink and appetizers. Finally, I decided on And His Wife, a cocktail featuring Cachaca, Yzaguirre Dry Vermouth, and Grenadine. They have quite the selection of cocktails with clever names like F* That's Delicious and The Dark Knight – this one is actually black!
Chef Drew Lesoveck is cooking up some killer dishes. To start, we ordered the Grilled Calamari and Rockfish Crudo, and Jake was kind enough to send us the Crispy Tofu and Avocado Toast. This was definitely enough to fill us up but we continued to order entrees and power through it, because who doesn't want to stuff their faces 'til they can't move on a Friday night?
I will be thinking about the Rockfish Crudo and Crispy Tofu until I get the chance to have it again. Yes, they were THAT good. I took a bite of the tofu and didn't even feel like I was eating tofu. I think I'm missing out on this whole veganism thing. Just kidding, because that Rockfish Crudo blew my taste buds away.
After eating the majority of apps Minnow offers, we were looking for something light. I ordered the Rockfish and the boyfriend had the Merluza. I loved the Merluza SO much I made him switch plates! If you're looking for light fare, this dish is the way to go. Never having even heard of Merluza before, I wasn't sure what to expect. The waitress described it as a light and flaky white fish and it was exactly that. The fresh corn polenta and red wine concentration give this dish the most incredible pop of flavor. And it was freaking beautiful.
In addition to all this food, we also enjoyed the Frites. Normally they are perceived as a heavy, fatty dish. Somehow Chef Lesoveck managed to make this dish taste as light as possible, even the garlic aioli appeared light.
While dining, I noticed Jake serving customers, seating guests, and even working behind the bar. In my opinion, it speaks volumes about a restaurant owner who is willing to do anything to help his staff and make sure each customer has a positive experience. He visited our table several times that evening, making sure we were enjoying everything.
Finally, we concluded our meal with a Peanut Fluffernutter Pie composed of fudge brownie, truffle, peanut butter mousse, and marshmallow fluff. It reminded me of a rich peanut butter cup. We ate that plate clean, too.
If you've read this entire post you must think I'm pushing 200 lbs. Well I certainly felt like it post dinner and almost needed to be rolled out…but I hit the gym hard the next morning!