This post may contain affiliate links which will not change your price but will share some commission. Please read my privacy policy.
While this post is sponsored by OLD BAY all opinions stated are my own.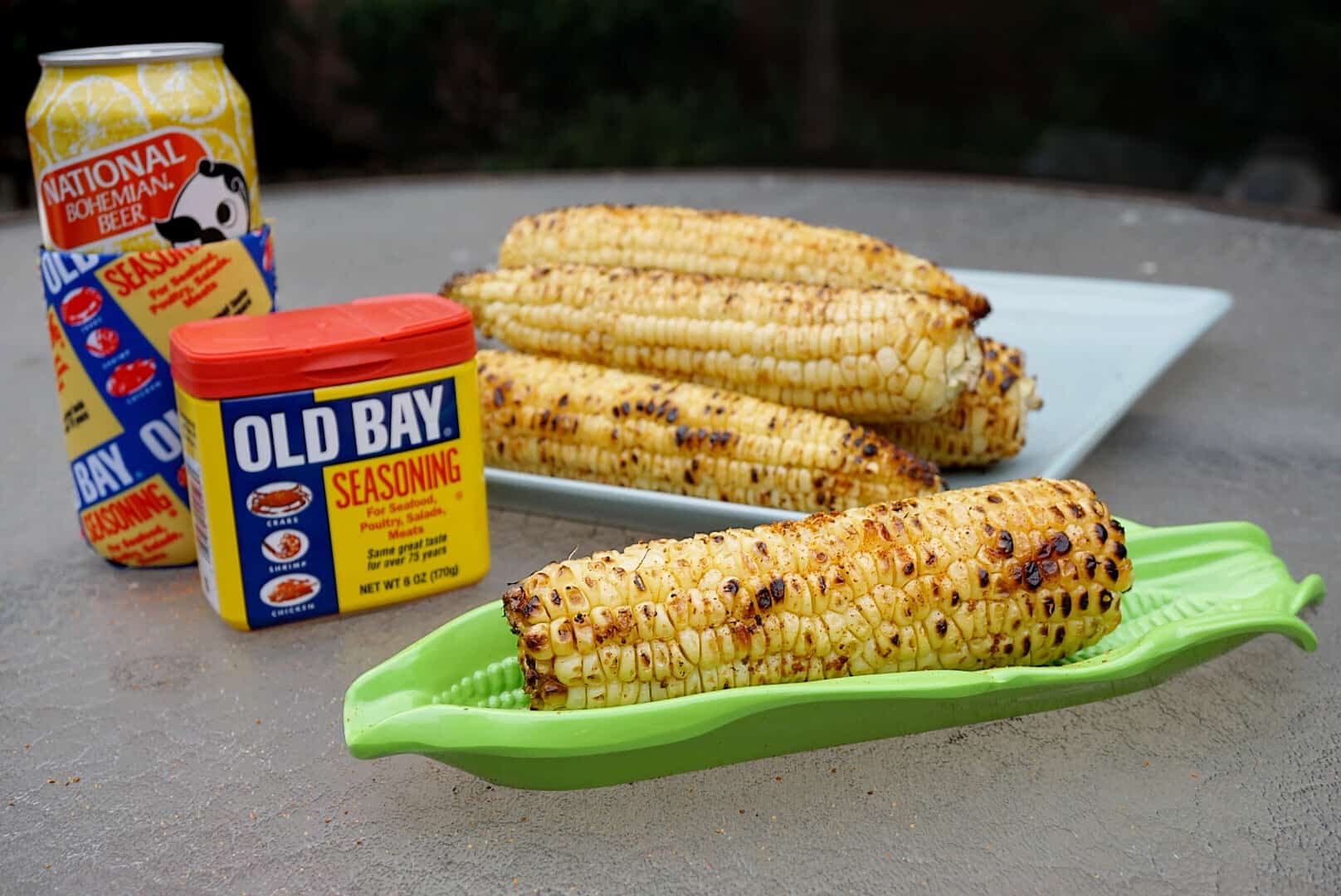 My favorite season is finally here – Summer! And what would Summer be without grilled corn and OLD BAY?
OLD BAY has been a staple in Baltimore for as long as I can remember. Pretty much any seafood restaurant you go to will have OLD BAY sitting on the table as if it's salt and pepper. I've always got a can of OLD BAY sitting on my kitchen table at home!
Every Summer I look forward to having friends and family over to grill. Grilled corn on the cob is one of my go-to's. It's so simple and everyone loves it. There's something about the charred kernels that just screams Summer to me. I love listening to them pop on the grill, like popcorn.
The corn slow cooks on the top rack of the grill while you prep and grill everything else you're making. This grilled corn recipe is super simple and you don't have to worry about anything but turning them once!
You can either cook them slowly on the top rack if you have other food on the grill, or for a quicker turnaround, you can grill them on the bottom rack. It's hard to over/under cook corn on the cob, so don't worry yourself too much over the grilling time. This is a great recipe for beginners on the grill!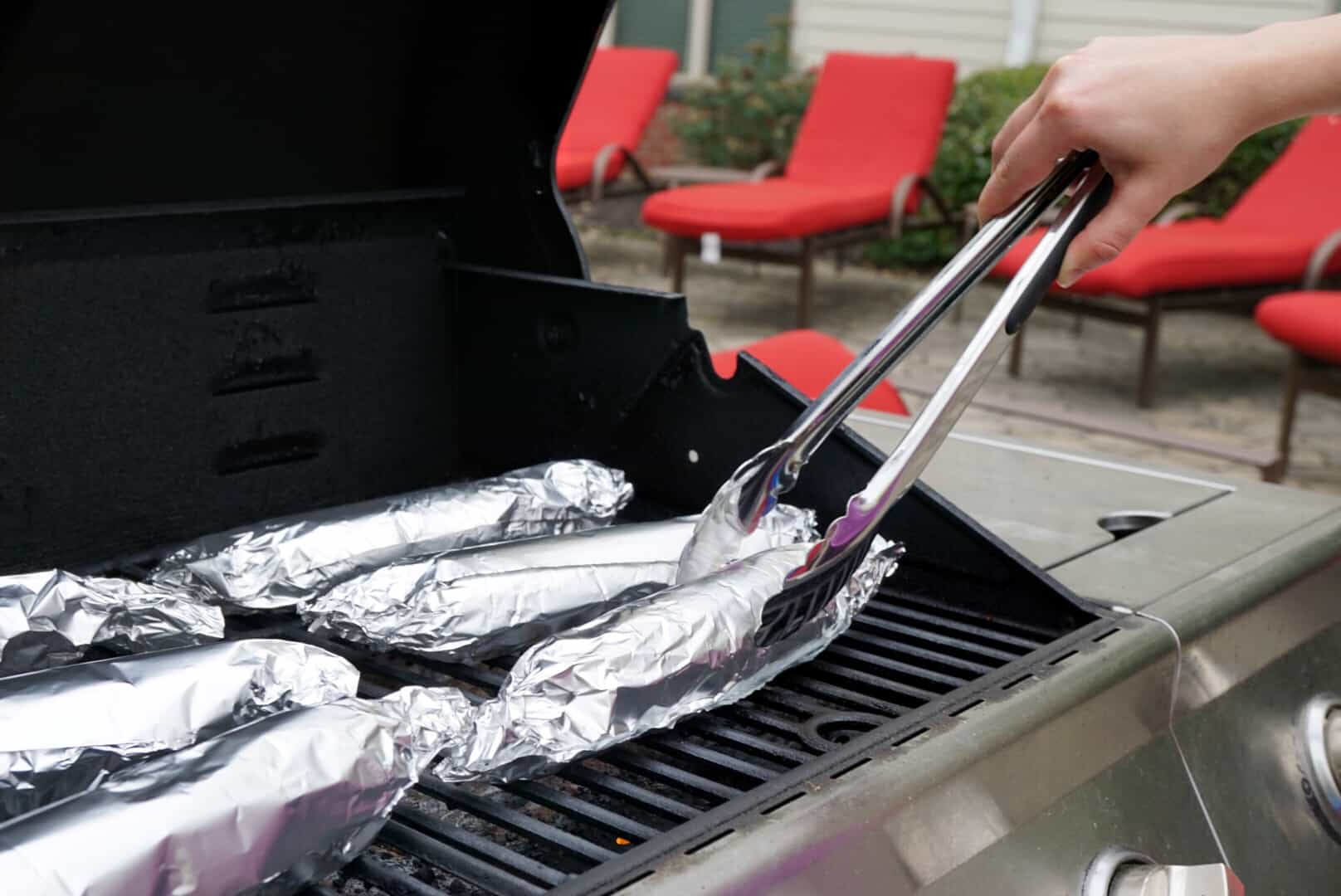 Grilled corn in foil allows the corn to soak in all the flavor from the butter and OLD BAY, without absorbing the flavors from anything else on the grill. It also creates a mess-free clean up!
History of OLD BAY
You might wonder what OLD BAY ingredients entail and where it originated. Well, it's a delectable blend of spices produced in Maryland by McCormick and Company. It was first developed in 1939 by a German immigrant.
At that time crabs were SO plentiful that bars in Maryland offered them for free – CAN YOU BELIEVE THAT?! Imagine NOT paying $130 for a dozen crabs. I can't. Because so many people were eating crabs at the bar, salty spice blends like OLD BAY were created to encourage people to order more drinks. Hey, the bars gotta make money somehow right?
OLD BAY has been bringing people together for ages! Whether it's with crabs, corn on the cob, or an OLD BAY rimmed Natty Boh, OLD BAY is always enjoyed in good company.
So the next time you plan on having company over for a grill n' chill and need an easy recipe, treat them to some OLD BAY Grilled Corn!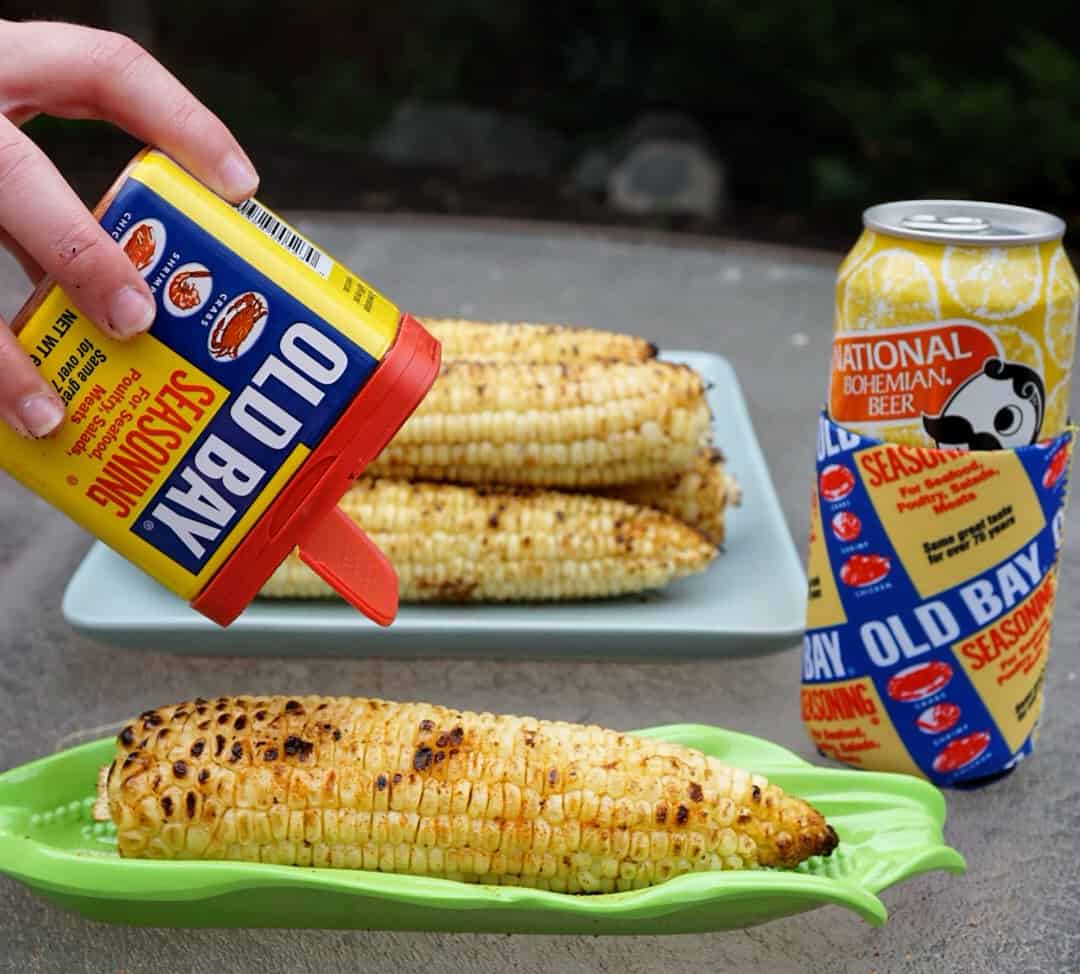 If you love Old Bay as much as I do, try these Old Bay Wings with Hot Honey!
Grilled Corn On The Cob With OLD BAY
OLD BAY Corn is the perfect companion to anything made on the grill. Three ingredients, 15 minutes, and a WHOLE lot of flavor! It's so easy, even the most inexperienced grillers can make it!
Ingredients
6

ears of corn

6

tablespoons

unsalted butter,

softened

OLD BAY to taste
Instructions
Heat the grill to 350 degrees F.


Lay each ear of corn on a piece of tin foil. Generously butter the corn and sprinkle with OLD BAY.


Roll the corn in the foil and secure the ends, then grill for 5-8 minutes on each side.

Carefully unwrap the corn and place back on the grill for a quick 1-2 minute charr on each side, if desired.


For added flavor, sprinkle with more OLD BAY after plating.
Nutrition
Calories:
177
kcal
|
Carbohydrates:
16
g
|
Protein:
3
g
|
Fat:
12
g
|
Saturated Fat:
7
g
|
Cholesterol:
30
mg
|
Sodium:
15
mg
|
Potassium:
243
mg
|
Fiber:
1
g
|
Sugar:
5
g
|
Vitamin A:
520
IU
|
Vitamin C:
6.1
mg
|
Calcium:
5
mg
|
Iron:
0.5
mg