This post may contain affiliate links which will not change your price but will share some commission. Please read my privacy policy.
Lemon Piccata Sauce might sound like something you would only enjoy at a fancy restaurant, but it's so simple to make at home! It's ready in 10 minutes, making it the perfect way to elevate a weeknight dinner.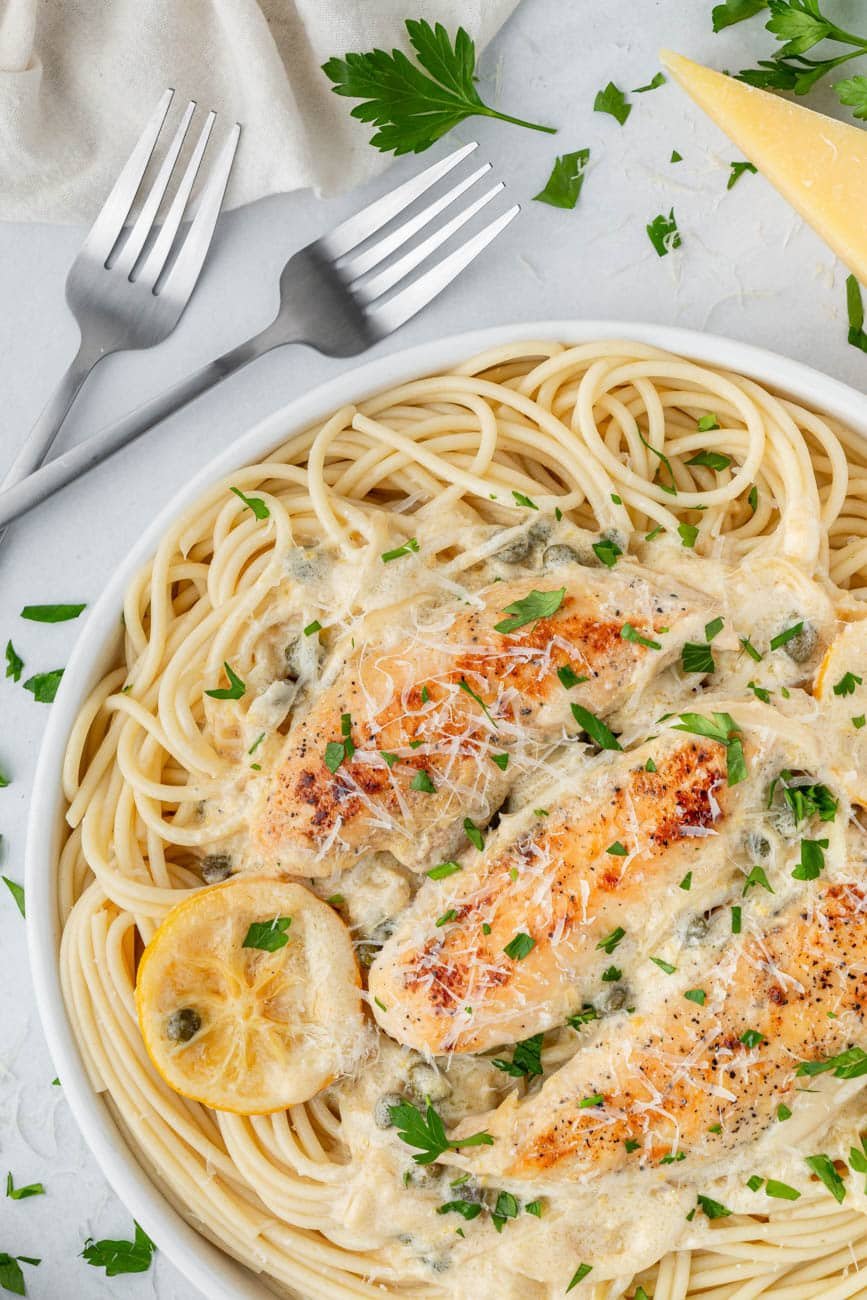 This sauce recipe is fresh and packed with flavor. It's a light sauce that's lemony, buttery, and full of delicious capers. You're going to love it!
Chicken or Fish Piccata Sauce Recipe
Chicken Piccata is a classic Italian dish with an American spin. Add this lemony, caper-filled sauce to chicken and pair it with pasta or a quick Caesar salad.
It's equally delicious on fish like sole, flounder, tilapia, and salmon. This sauce complements the delicate and mild taste of the fish, enhancing its natural flavors without overpowering it.
The acidity from the lemon juice and capers cuts through the richness of the fish, while the butter adds a luscious creaminess, creating a well-balanced and flavorful combination.
What is piccata sauce?
Piccata sauce is full of delicious bright, and savory flavors. It's made with a combination of butter, oil, fresh lemon juice, and tangy capers. It's garlicky with a touch of lemon and pairs well with chicken cutlets, veal, and fish.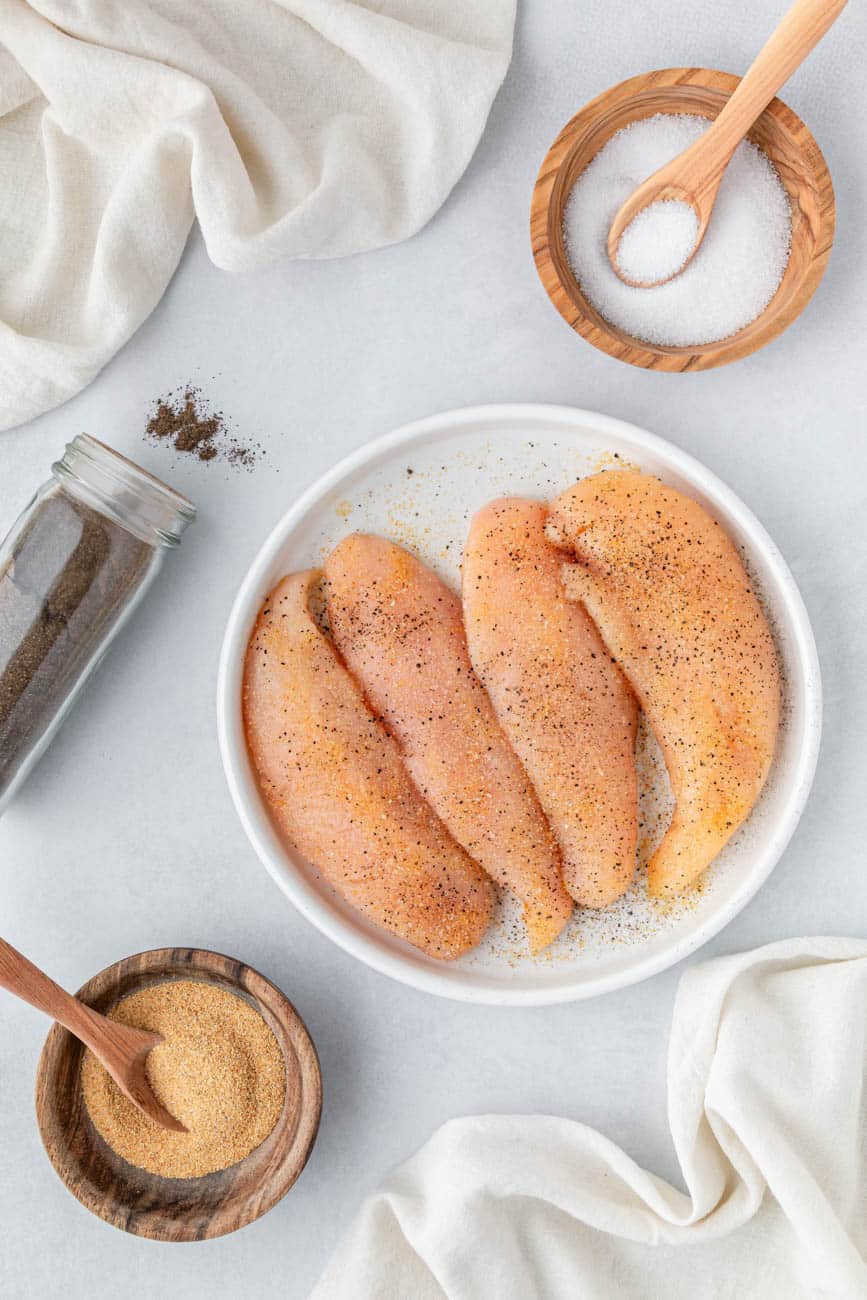 Ingredients you will need
Extra virgin olive oil: cooks with the garlic and shallot to create the base flavor of the sauce while keeping it from sticking to the pan.
Fresh garlic: adds the pungent, "Italian" flavor to the sauce. Since you're cooking the garlic, it won't be as quite strong.
Shallot: is great for adding a sweet, onion-like flavor without being too overwhelming.
Butter: helps with adding a creamy texture to your sauce while also adding a rich flavor. Make sure you're using unsalted butter!
Chicken broth: enriches and enhances the sauce's flavors, adds moisture, and aids in deglazing for a balanced taste. You can substitute for vegetable broth if you like, but I don't recommend beef broth.
Lemon: adds a fresh and bright flavor to your sauce. You will need both the juice and zest, so I recommend picking up a fresh lemon.
Capers: give your sauce a briny, lemony flavor while adding a hint of floral flavoring.
Dry white wine: adds a floral and bright flavor. Pinot Grigio, Pinot Gris, Sauvignon Blanc, or Pinot Blanc are great to use as a cooking wine. I don't recommend using an expensive wine for this recipe, unless it's a leftover bottle that isn't good enough to drink!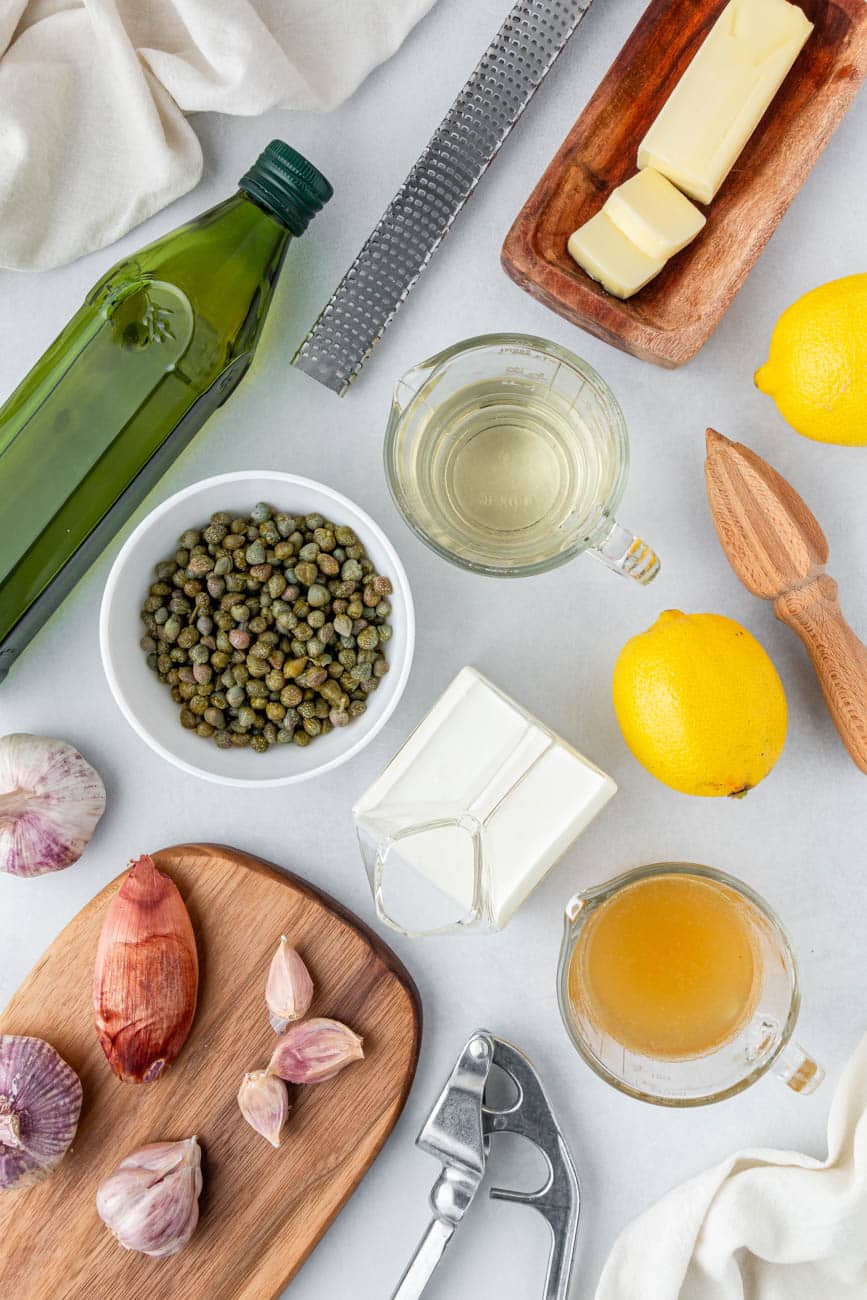 What do I need to make chicken for piccata sauce?
Chicken cutlets: I recommend using a thin chicken cutlet versus a whole chicken breast because you need a thin piece of chicken in order to get it super crispy. If you have boneless chicken breasts, just cut them in half horizontally to create chicken breast halves. I don't recommend using chicken thighs for this recipe.
Seasoning: you will need garlic powder, kosher salt, and black pepper.
Butter: keeps your chicken cutlets from sticking to the bottom of the pan while frying. It also makes them extra delicious!
How should I serve my homemade chicken piccata?
I love to pair this recipe with either al dente cooked pasta or rice. This is up to personal preference. You can top it with roughly chopped fresh parsley and grated parmesan cheese. You can also add a light asparagus salad as a side dish.
How to Make Easy Piccata Sauce
Sauté garlic and shallot. Heat the olive oil in a large skillet over medium heat. Once hot, add the fresh minced garlic. Cook for 2 minutes; add the sliced shallot, and cook for 3 minutes.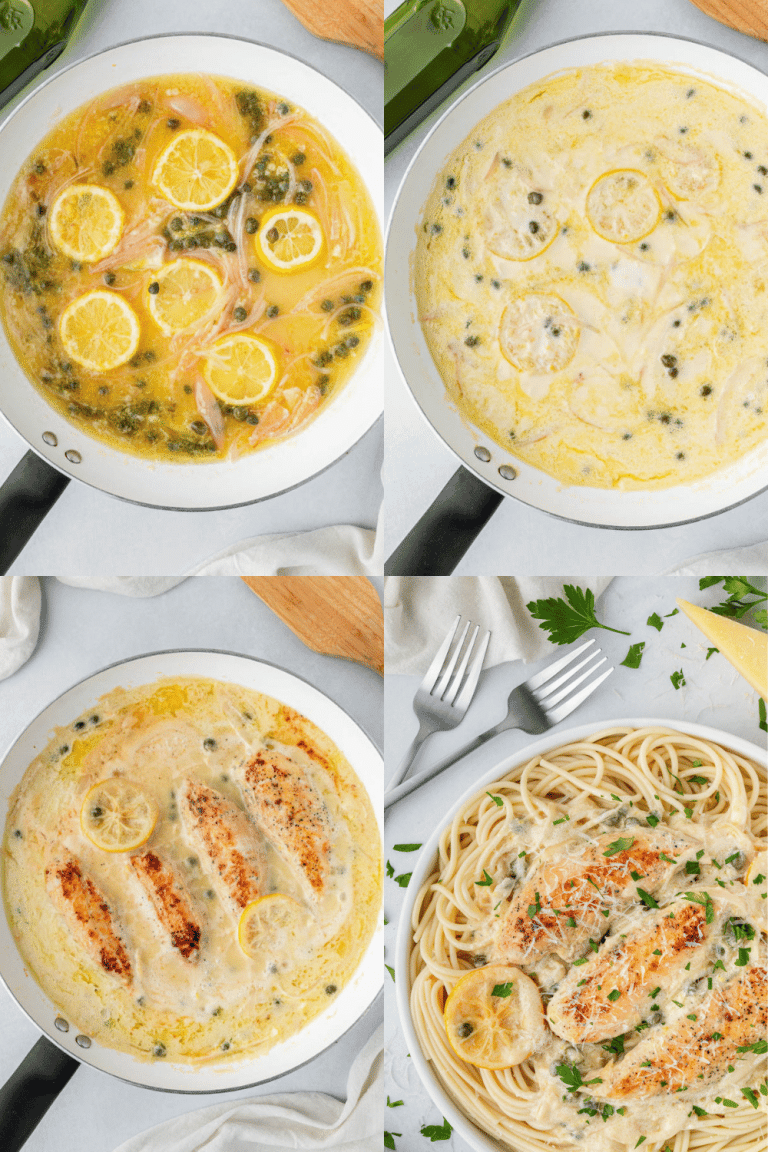 How to Make Piccata Chicken Cutlets
Season the chicken. Sprinkle garlic powder, salt, and black pepper on both sides of the chicken cutlets.
Cook the chicken. Add the butter to a large skillet (a different one from the skillet with the sauce) over medium heat and let it melt. Place the seasoned chicken in the skillet and cook on both sides until golden brown on the edges and the internal temperature of the chicken has reached 165 F.
Add the piccata sauce. Reduce the heat to medium-low and stir in the piccata sauce over the cooked chicken, letting it absorb the flavors of the sauce before serving.
Serve. Add a layer of cooked pasta to a platter, add the chicken, spoon the piccata sauce over, and sprinkle the grated Parmesan cheese and chopped parsley over top.
What country is chicken piccata from?
Chicken piccata originated in Italy, but we have put an American twist on it. This classic Italian dish is made with veal, while in the US it's normally made with chicken.
Using chicken cutlets mimics the tenderness of veal piccata while giving it a similar flavor. It isn't as common, but you can also make your piccata with a thin piece of pork.
What are capers made of?
I need to know how many of you didn't know this, because I didn't know until recently! Capers come from the plant Capparis Spinosa which mainly grows in the Mediterranean.
Capers are the unripened, green flour buds that are picked before maturity. This gives them the tangy, briny, lemon flavor.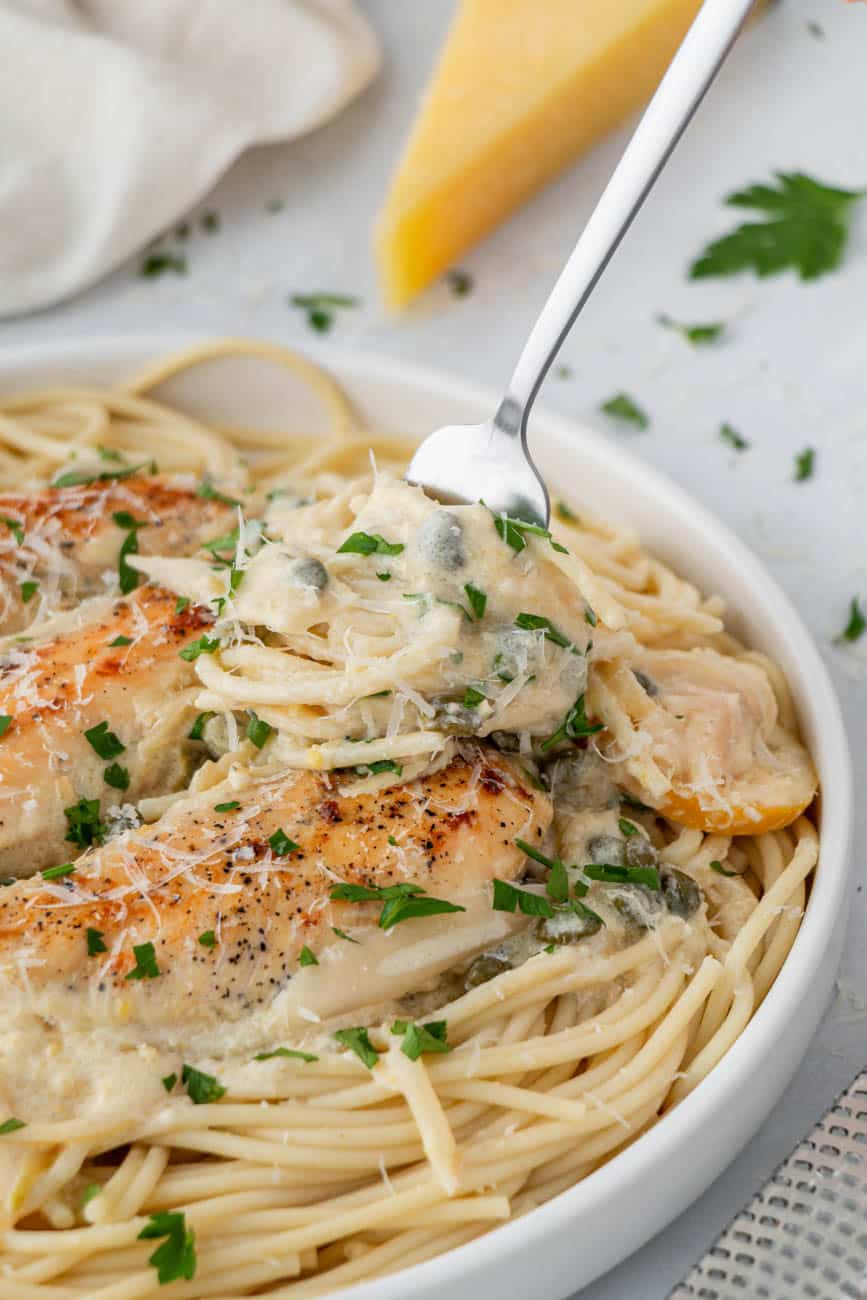 What can I use instead of capers in piccata?
The best capers substitute is green olives that are roughly chopped. I recommend using the large green olives that you can find packed in a jar at your local grocery store. They have a similar salty flavor. Just make sure you don't accidentally grab the ones that are filled with garlic, jalapenos, etc.
​How do I store leftover piccata sauce?
You can store leftovers in the fridge for up to four days. I recommend either using an airtight container or a mason jar for storing. Store the chicken separately to prevent it from getting soggy. Reheat in a small pan on the stove over low heat until warm.
More Chicken Recipes To Try
WANT TO TRY THIS CHICKEN PICCATA SAUCE RECIPE?
PIN IT to your chicken recipes, easy sauce recipes, or date night recipes board to save it for later!
Find me on Pinterest for more great recipes. I'm always pinning!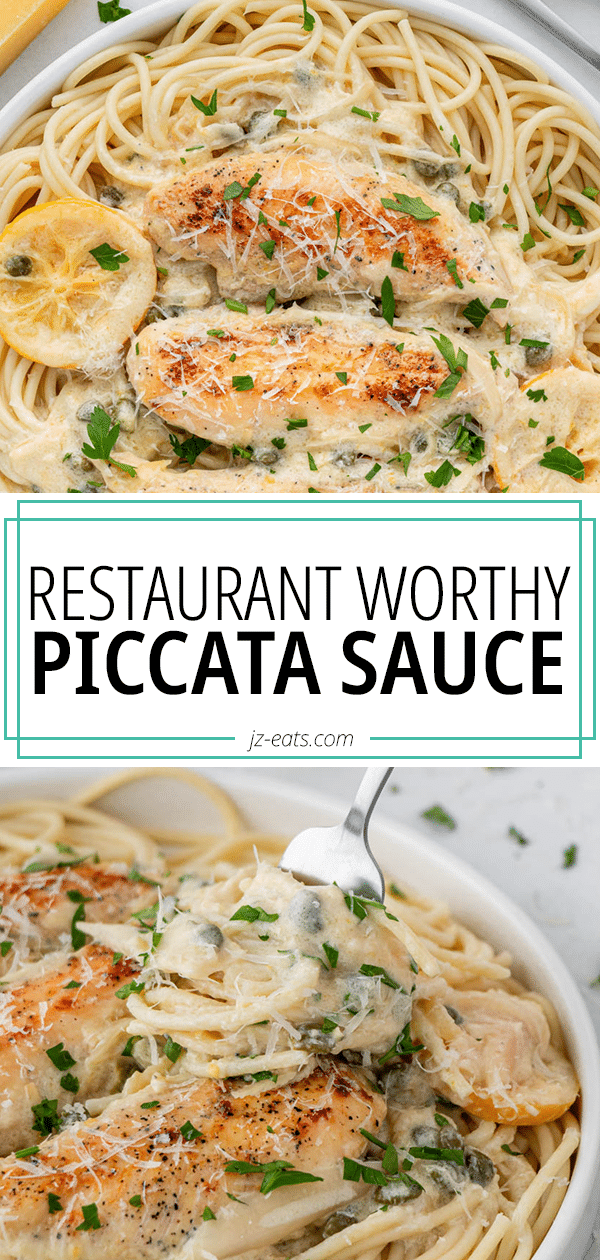 Did you make this recipe? Post a photo on Instagram and tag me @JZEATS or #JZEATS so I can see! Leave a comment below and let me know what you think, too!
Lemon Piccata Sauce
Lemon Piccata Sauce might sound like something you would only enjoy at a fancy restaurant, but it's so simple to make at home! It's ready in 10 minutes, making it the perfect way to elevate a weeknight dinner.
Ingredients
Piccata Sauce
1

tbsp

olive oil

2

garlic cloves,

minced or pressed

1

large shallot,

sliced

2

tbsps

unsalted butter

½

cup

chicken broth

1

tbsp

fresh lemon juice

1

lemon,

zested and thinly sliced

1-2

tbsp

capers,

drained

½

cup

dry white wine

½

cup

heavy cream
For serving
cooked pasta,

al dente

fresh parsley,

roughly chopped

parmesan cheese,

grated
Instructions
Piccata Sauce
Heat the olive oil in a large skillet over medium heat. Once hot, add the fresh minced garlic. Cook for 2 minutes; add the sliced shallot, and cook for 3 minutes.

1 tbsp olive oil,

2 garlic cloves,,

1 large shallot,

Add the butter to the skillet and let it melt. Then, stir in the chicken broth, lemon juice, lemon zest, lemon slices, and capers in the skillet. Let it simmer, and then add the dry white wine. Stir in the cream, let it simmer, and then remove the pan from the heat.

2 tbsps unsalted butter,

½ cup chicken broth,

1 tbsp fresh lemon juice,

1 lemon,,

1-2 tbsp capers,,

½ cup dry white wine,

½ cup heavy cream
Chicken
Season the chicken cutlets with garlic powder, salt, and black pepper on both sides.

4 chicken cutlets,

1 tsp garlic powder,

kosher salt,,

fresh ground black pepper,

Add the butter to a large skillet (a different one from the skillet with the sauce) over medium heat and let it melt. Place the seasoned chicken in the skillet and cook on both sides until golden brown on the edges.

Reduce the heat to medium-low and stir in the piccata sauce over the cooked chicken, letting it absorb the flavors of the sauce before serving.

To serve, add a layer of cooked pasta on a platter, add the chicken, spoon the piccata sauce over, and sprinkle the grated Parmesan cheese and chopped parsley over top.

cooked pasta,,

fresh parsley,,

parmesan cheese,