This post may contain affiliate links which will not change your price but will share some commission. Please read my privacy policy.
Healthy and delicious Green Goddess Salmon Bowls that are Whole30 approved and easy to make. These bowls are something everyone will love, whether you're on the Whole30 diet or not!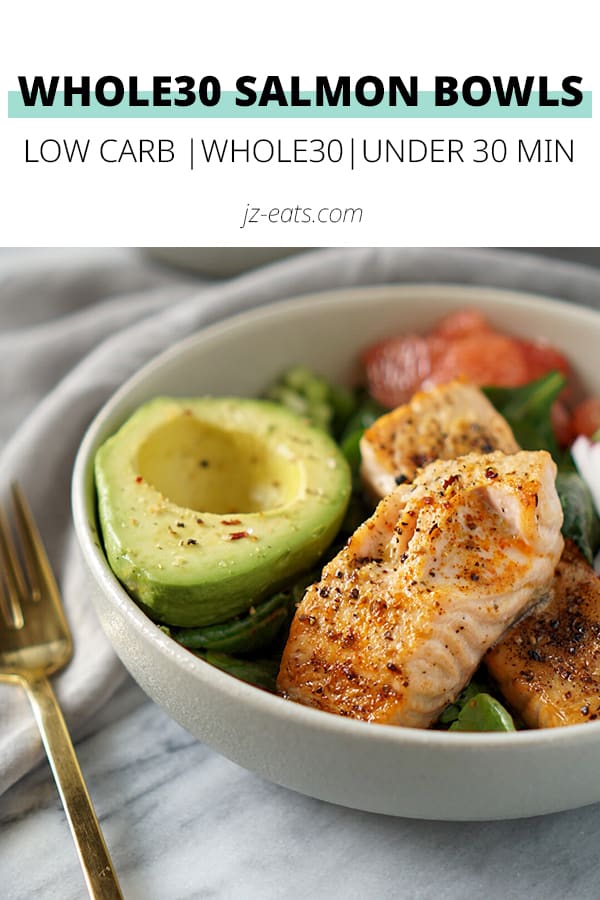 Whole30 Green Goddess Salmon Bowls
Some of my most popular recipes on here are Whole30 approved, so you guys must be big fans of the healthy stuff! I love it.
Changing your diet can be scary, I get it, because I did it. Waking up one day and eliminating ingredients you love and are accustomed to eating daily is challenging. I remember crying because I missed chocolate so much there's a funny story about my chocolate deprivation in my Whole30 recap.
Learning to choose whole ingredients and healthier options is important when learning to live a healthier lifestyle. But how do you know what's healthy and what's not?
Healthy and delicious Green Goddess Salmon Bowls that are Whole30 approved and easy to make.
How do I know if the food I'm eating is healthy?
Here are a few things I do while grocery shopping to make sure I'm choosing healthy ingredients. Labels can be deceiving, but nutrition facts are always accurate.
Read nutrition labels
Compare the calories with the nutrients they offer on a nutrition label
Look for foods that are low in added sugars
Incorporate more whole ingredients and less processed foods
Look for foods low in saturated and trans fats, and cholesterol
Choose foods lower in sodium and higher in potassium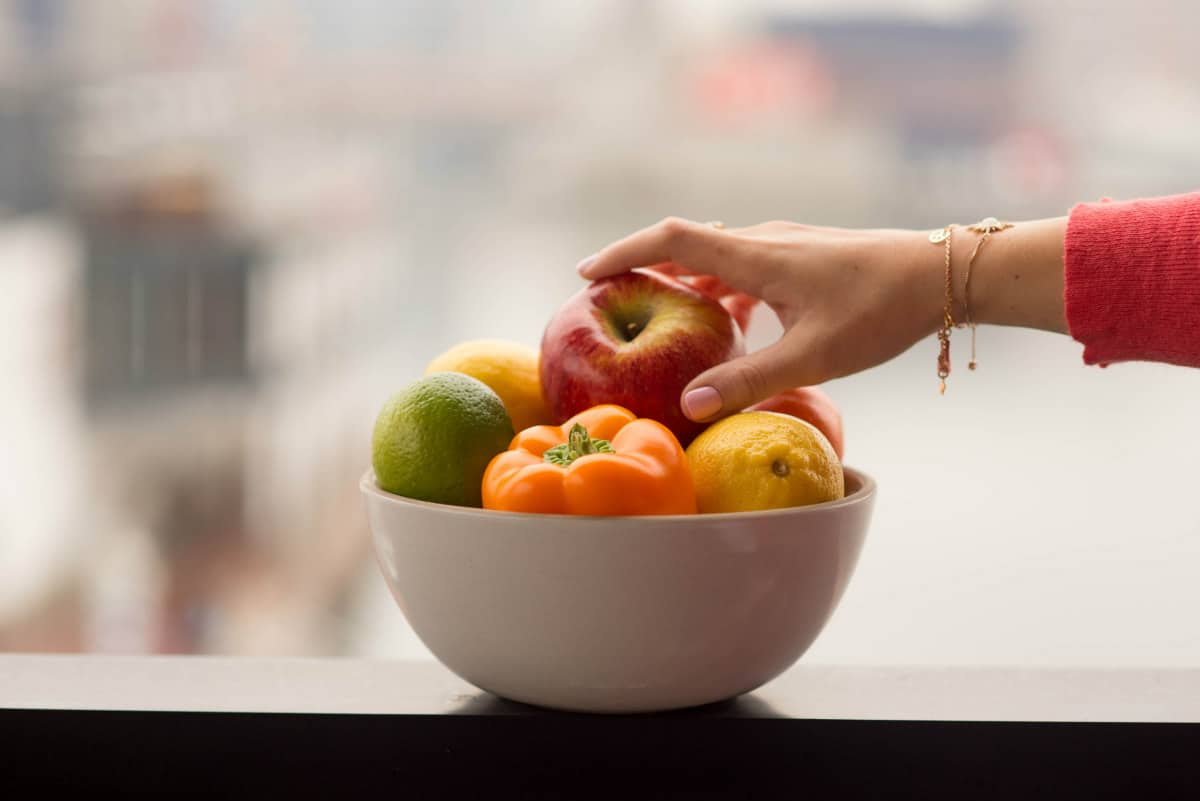 With flavorful recipes that incorporate many different textures and tastes, Whole30 becomes a lot less scary and a lot more fun and beneficial.
For me, it's a constant struggle to find Whole30 recipes that actually taste good. Whole30 approved ingredients are limited so putting tasty meals together can be challenging.
When I create a Whole30 recipe I think about ingredients that I love to eat and the flavor profile each one brings. Then I begin to put them all together in ways that they compliment each other.
Healthy ingredients
The main ingredient in this recipe is salmon. It's a full-flavored fish with a high fat content which contributes to its rich flavor. Then there are radishes, spinach, scallions, grapefruit, mint, avocado, and a green goddess dressing.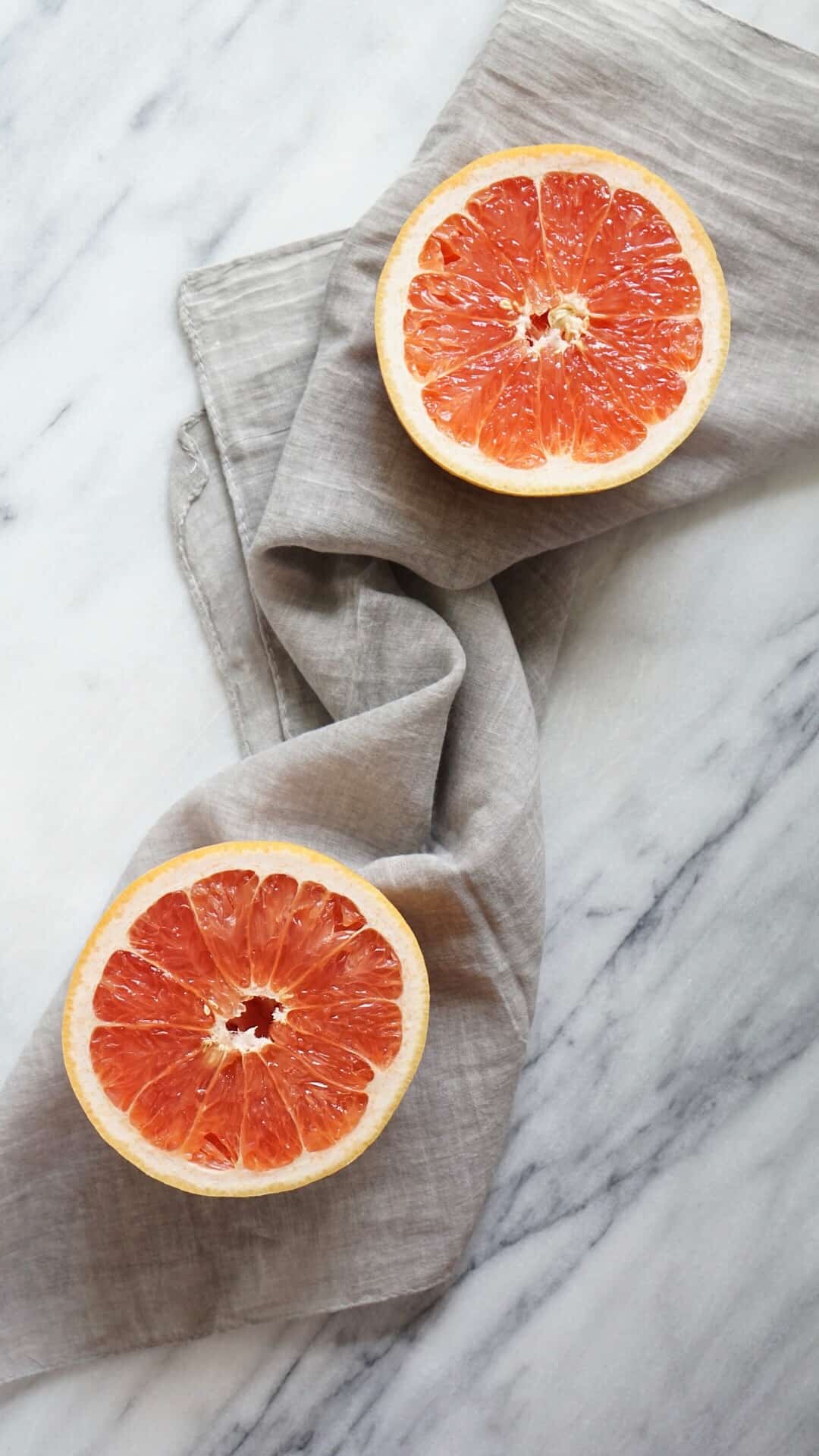 The tart flavor from the grapefruit helps cut the fattiness from the salmon, while the radishes, scallions, and spinach give these Salmon Bowls an abundance of texture.
If you don't have grapefruit, you can substitute for a pomelo instead. It's very similar, but has green skin on the outside.
I used Primal Kitchen's Green Goddess Dressing in this recipe and it's the ingredient that really ties everything together. It's made with avocado oil, organic herbs and spices like tarragon, black pepper, garlic cloves, chives, and parsley.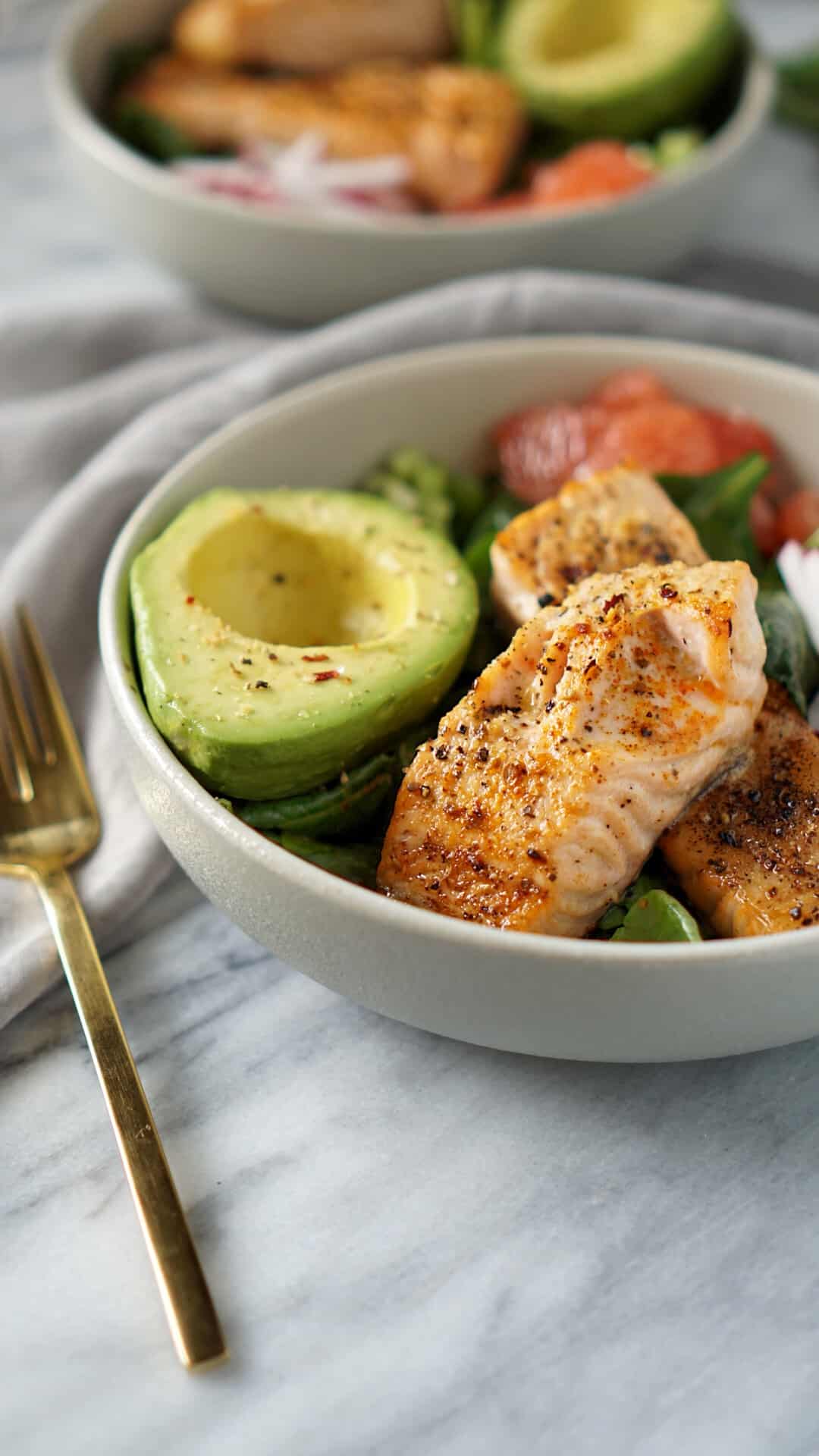 You can certainly make your own green goddess dressing at home, but sometimes it's just easier to purchase already made ingredients for the sake of time. I find this to be especially true for those doing the Whole30 diet because making everything from scratch 24/7 is exhausting. Even for me!
How to cook salmon
The best way to cook salmon is to broil it for a few minutes on the top rack of the oven. This is my favorite way because the salmon fillets cook quickly and get a little crispy without making your entire house smell like fish.
Of course, pan seared salmon will always produce the crispiest skin, but broiling salmon has become my new favorite method!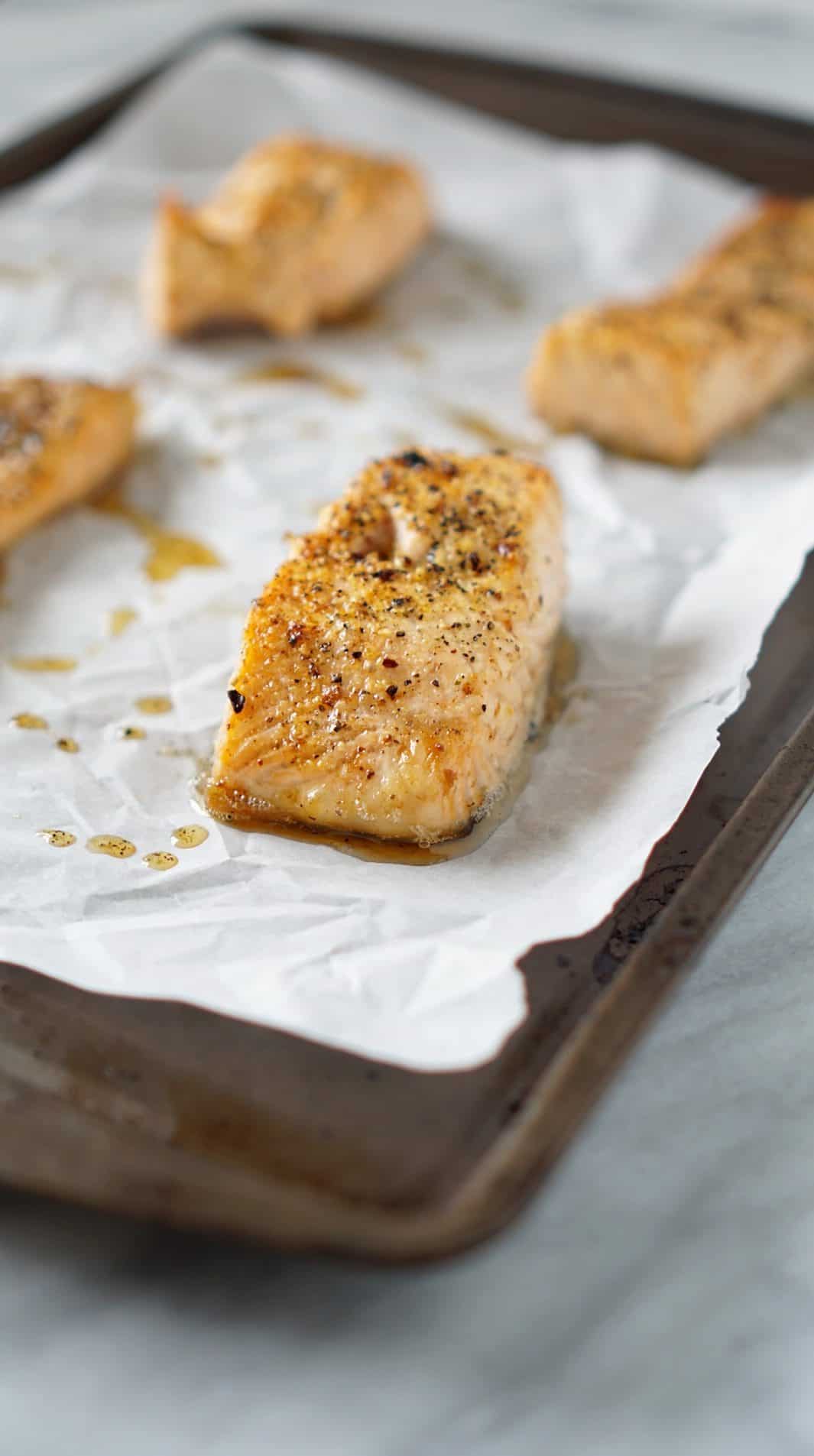 Salmon recipes are the best during Whole30 because they are so filling and satisfying. This pan seared salmon recipe is on my weekly Whole30 dinner rotation. It's topped with an avocado salsa that is to die for.
As you can see, these bowls have a very robust flavor profile something I think is very important when composing a Whole30 recipe.
Whole30 or not, they're delicious
These Salmon Bowls are not exclusive to people on the Whole30 diet! They make a solid dinner option for anyone! The ingredients are pretty customizable, so you can use whichever radishes you like/are in season, and can swap the green goddess dressing for whatever you're in the mood for.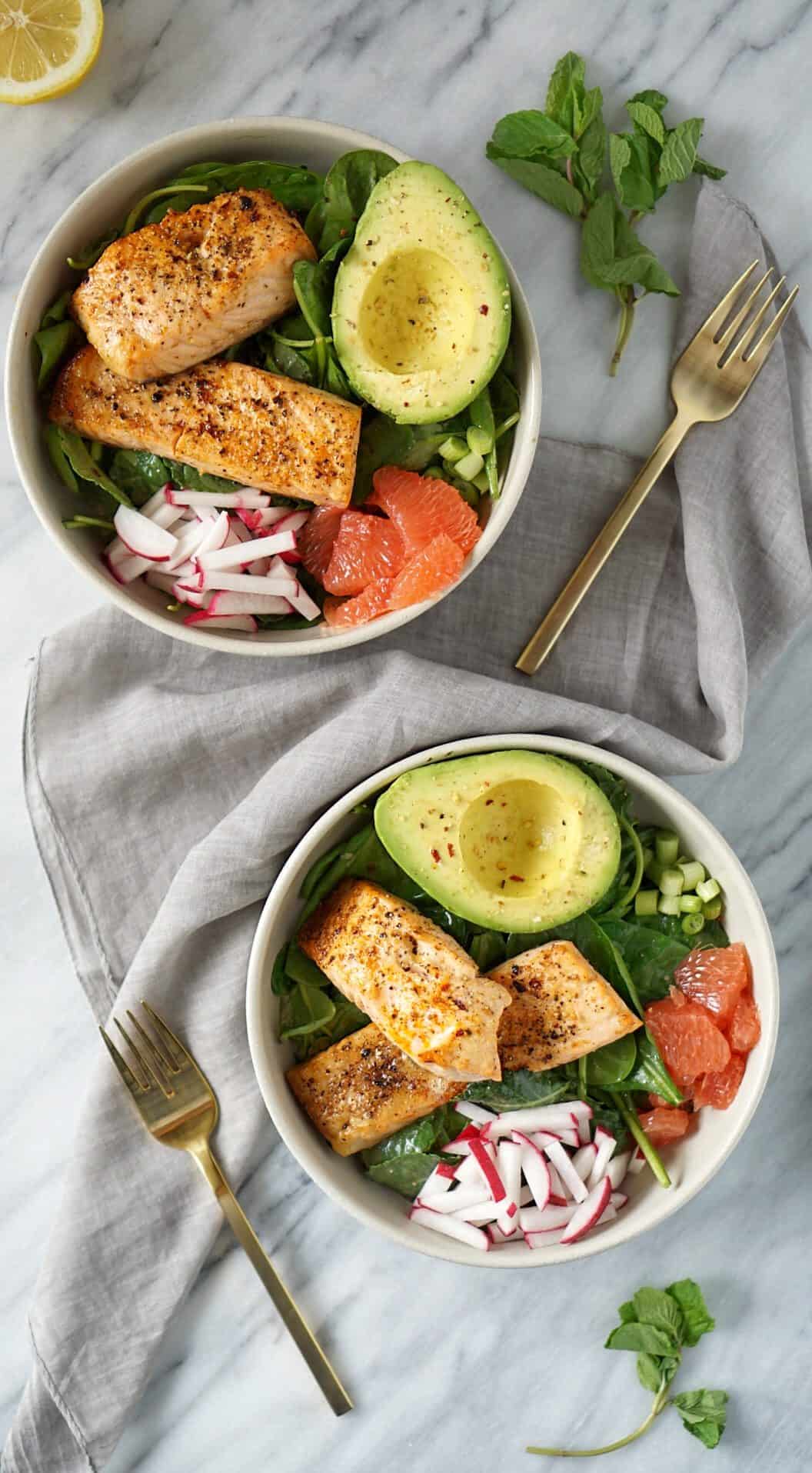 These salmon bowls are also so easy to make and I know how much you guys love quick and easy recipes. The salmon broils for about 6 minutes and while it's cooking, you can quickly prep the ingredients and assemble the bowls. The cleanup is easy and it's technically a one pan recipe!
Bowl dinners are low key one of my favorite meals to make. This is because I typically don't need a knife so I can eat them from my couch while binging Netflix. Yes I eat on my couch don't judge me ðŸ'
Want to try these Whole30 Salmon Bowls?
PIN IT to your salmon, Whole30, or dinner board to save it for later!
Find me on Pinterest for more great recipes. I'm always pinning!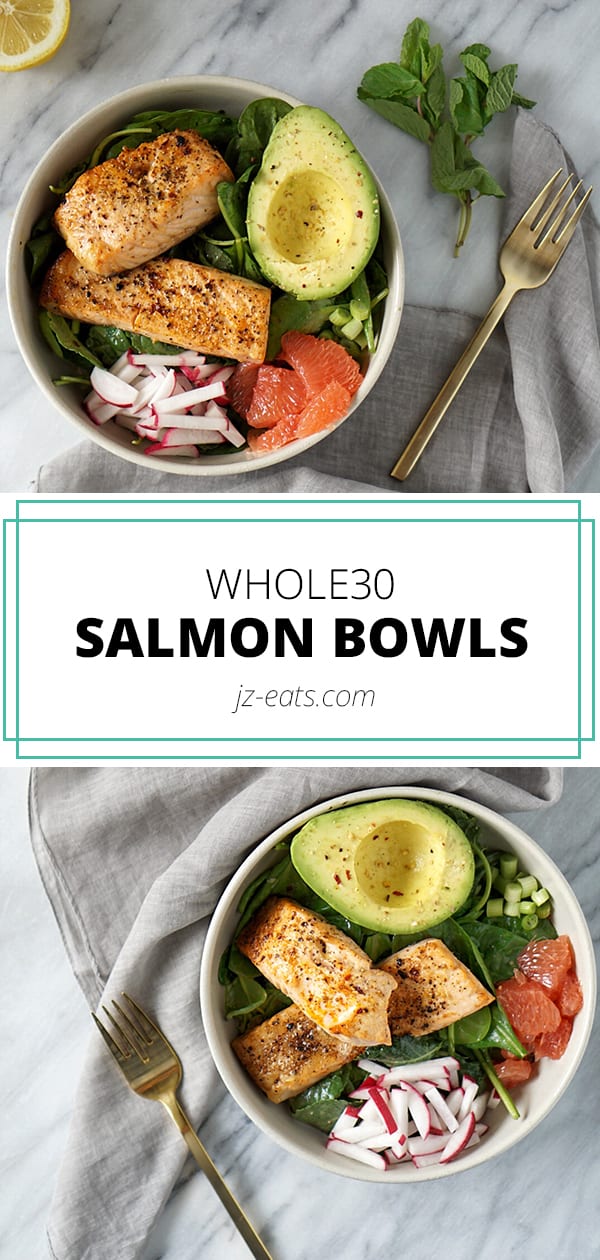 Want to see more of JZ Eats?
Check out more of my recipes here.
Follow me on Instagram and Facebook for daily drool-worthy updates.
Subscribe to my blog so you don't miss a thing!
Check out my favorite Baltimore restaurants here.
Whole30 Green Goddess Salmon Bowls
Healthy and delicious Green Goddess Salmon Bowls that are Whole30 approved and easy to make. These bowls are something everyone will love, whether you're on the Whole30 diet or not!
Ingredients
8

oz

salmon fillets

1

avocado,

diced

2

tbsp

scallions,

chopped

2

tbsp

mint,

roughly chopped

8

oz

baby spinach

1

grapefruit,

sectioned

5

radishes,

sliced

1

tbsp

olive oil
Instructions
Preheat the oven's broiler and set the oven rack about 6 inches away from the heat source. Line a baking sheet with foil and spray with olive oil or other cooking oil.

Brush 1 tbsp of olive oil over each salmon fillet and top with salt and pepper. Broil the salmon for 6-8 minutes (depending on how thick your salmon is) until the internal temperature has reached 145 F.

While the salmon is cooking, toss spinach, grapefruit, scallions, mint, cabbage, and dressing in a large mixing bowl. Then divide the salad mixture between two bowls.

When salmon is finished cooking, place one fillet over each bowl of salad and top with *avocado.

Optional: top with more green goddess dressing if desired.
Notes
*I left my avocado uncut for these bowls, but you can cut yours however you prefer.
Nutrition
Calories:
404
kcal
|
Carbohydrates:
26
g
|
Protein:
28
g
|
Fat:
22
g
|
Saturated Fat:
3
g
|
Cholesterol:
62
mg
|
Sodium:
151
mg
|
Potassium:
1865
mg
|
Fiber:
11
g
|
Sugar:
9
g
|
Vitamin A:
12365
IU
|
Vitamin C:
83.4
mg
|
Calcium:
165
mg
|
Iron:
4.6
mg