This post may contain affiliate links which will not change your price but will share some commission. Please read my privacy policy.
Spring rolls are great in the summer, or any time, really. And I have to start off by telling you this was a bit of a "Pinterest fail" I know you can all relate! Despite how they looked, they were still very tasty!
For months I've been seeing these BEAUTIFUL pictures of spring rolls like this one I found on @urbanlistper's Instagram. I had been dying to make them and was so excited when I finally decided to do it.
Well…mine didn't quiet turn out like that, BUT they tasted AMAZING so I had to share my recipe. Yes, we eat with our eyes first but when I tell you these are delicious, you gotta trust me.
They're also incredibly simple and quick to make, despite the look of it.
When trying to decide what kind of spring rolls to make, I checked out Pinterest to spark some ideas. I saw a lot of traditional, Vietnamese spring rolls and lots of summer spring rolls filled with fruit.
It just so happened to be TACO TUESDAY when I made these so I figured Blackened Shrimp Taco Spring Rolls would be perfect. I included all the fixins pickled red onions, parsley, and corn. To keep these spring rolls quick and simple, I mixed a little bit of lime juice and chili lime seasoning with the corn, but if you happen to have leftover Mexican Street Corn, it would be delicious!
Before getting started, read these four crucial spring rolling tips I learned while making these, so that maybe when you try these in your kitchen you'll be able to make them look better than I did!
Tip #1: Whatever you lay down on the rice paper first is what you will see when they are rolled.
Tip #2: Work quickly, things get sticky!
Tip #3: When you start rolling, one edge of the wrapper should cover the filling completely when you pull it over. That way you can (hopefully) have a nice package that is easier to roll.
Tip #4: Don't stack them! The spring rolls will stick to each other.
Check out how I did it:
I served these with a chili mango dipping sauce that complemented the spice of the blackened shrimp nicely.
Servings: 9
Difficulty: easy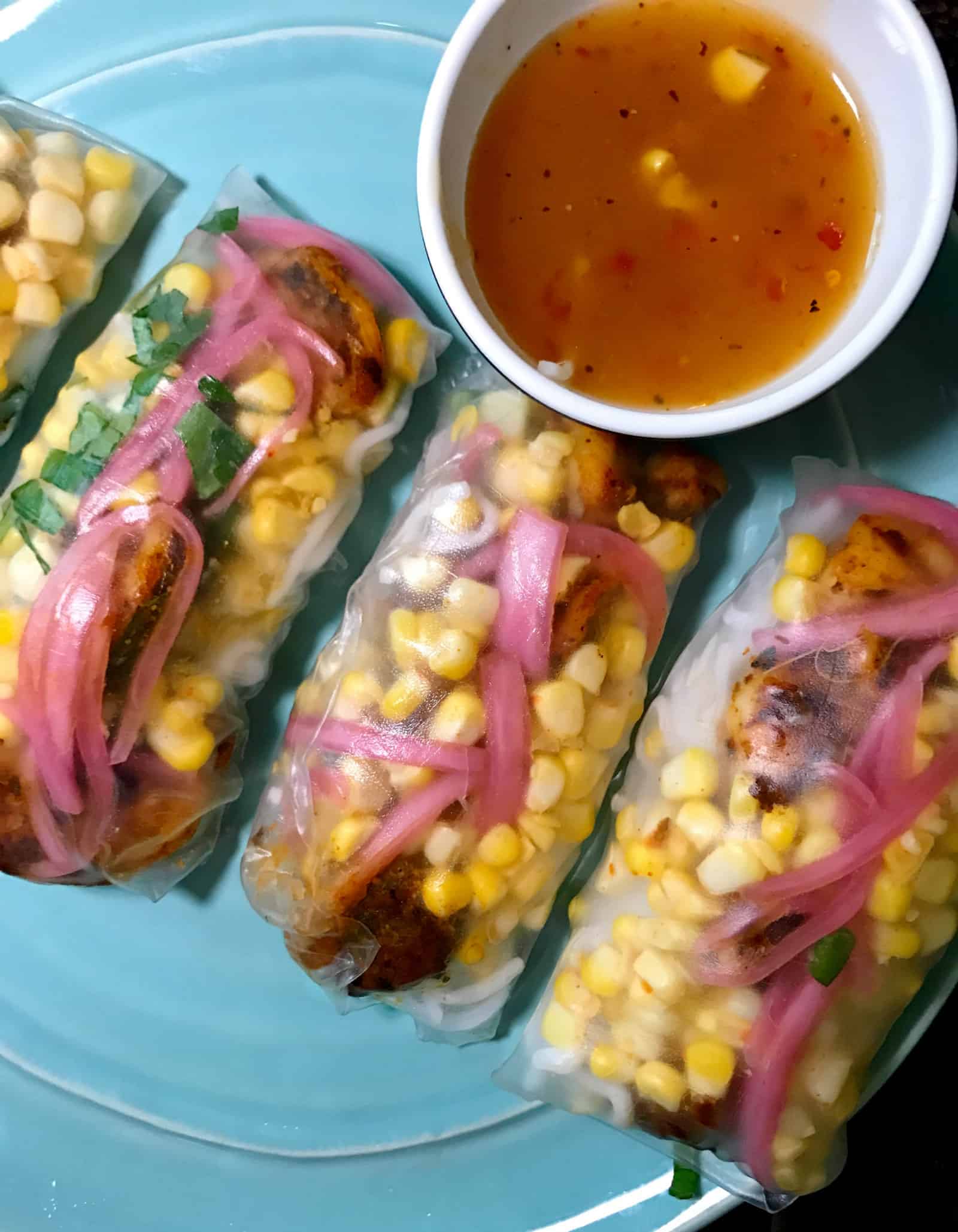 Easy Blackened Shrimp Taco Spring Rolls
Ingredients
10 sheets rice paper
1 lb jumbo or large shrimp peeled and devained
2 oz rice vermicelli
4 ears corn – cut off the cob
2 tbs chili lime seasoning (I used Chili Lime seasoning from Trader Joes)
1 lime – juice & zest
1/4 cup pickled onions
1/4 cup parsley
1/4 cup Texas Custom Spice blacken seasoning
Directions
Bring a medium saucepan of water to a boil and boil rice vermicelli for 3-5 minutes or until al dente, and drain.
In a medium sized mixing bowl, toss shrimp with blacken seasoning until fully coated.
Heat a medium sized pan with olive oil on medium-high heat, add shrimp and cook for about 3-5 minutes or until fully cooked. Set aside.
In the same pan, add corn, 1 tbs of olive oil and chili lime seasoning and saute for 2-3 minutes. Set aside.
Fill a large bowl with warm water and dip a sheet of rice paper for about 5 seconds. Lay flat on a plate or cutting board and fill with shrimp, corn, cucumber, rice vermicelli, pickled onions, and parsley, then roll! (Remember the tips I gave above)
Serve with your favorite dipping sauce I used a Chili Mango sauce I found at the grocery store.
Find more of my recipes here.
Have you experienced a Pinterest fail? Tell me in the comments!