This post may contain affiliate links which will not change your price but will share some commission. Please read my privacy policy.
Add this Ground Turkey Shepherd's Pie recipe to your weekly rotation immediately! It's the ultimate easy weeknight dinner, filled with vegetables and topped with cheesy mashed potatoes.
If you like this recipe, you should also try Thanksgiving Leftover Pot Pie. It is another great way to use leftover turkey.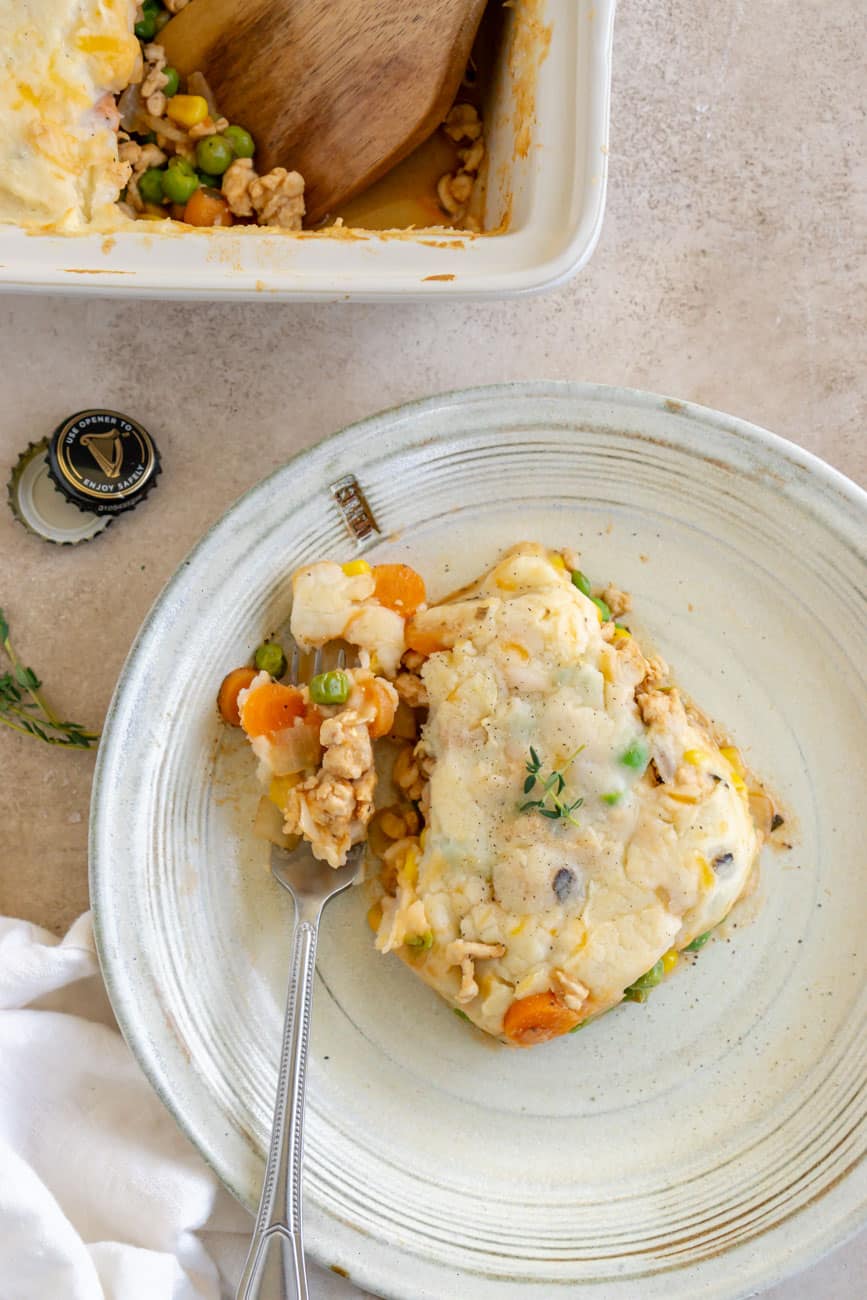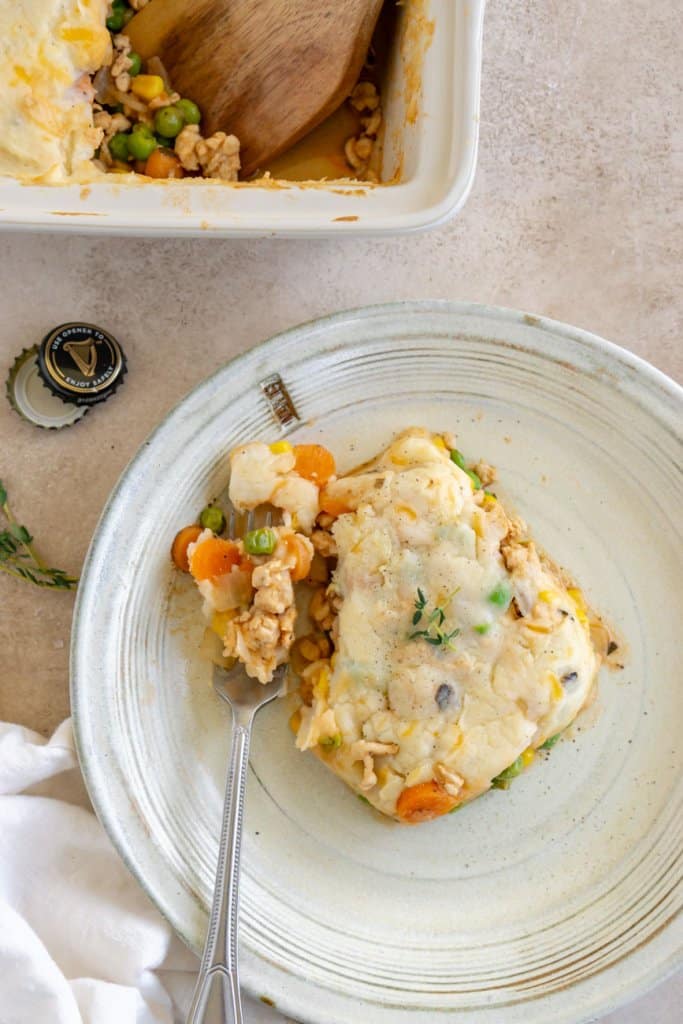 Turkey Shepherd's Pie Recipe
When it comes to making this Guinness Shepherd's Pie for dinner, the taste is unmatched. You might be familiar with a classic shepherd's pie, but this one is truly above and beyond. Using ground turkey makes it a healthier meal while still being the ultimate comfort food.
But there is a secret ingredient that takes it from being good to being something that everyone will be talking about. When you add just a bit of Guinness Stout to the recipe, you bring in so much flavor!
Guinness adds a richness to the sauce that you can only get from adding a dark stout. Since you are adding a small amount and cooking the sauce after adding it, the alcohol cooks off, making this shepherd's pie good for all ages.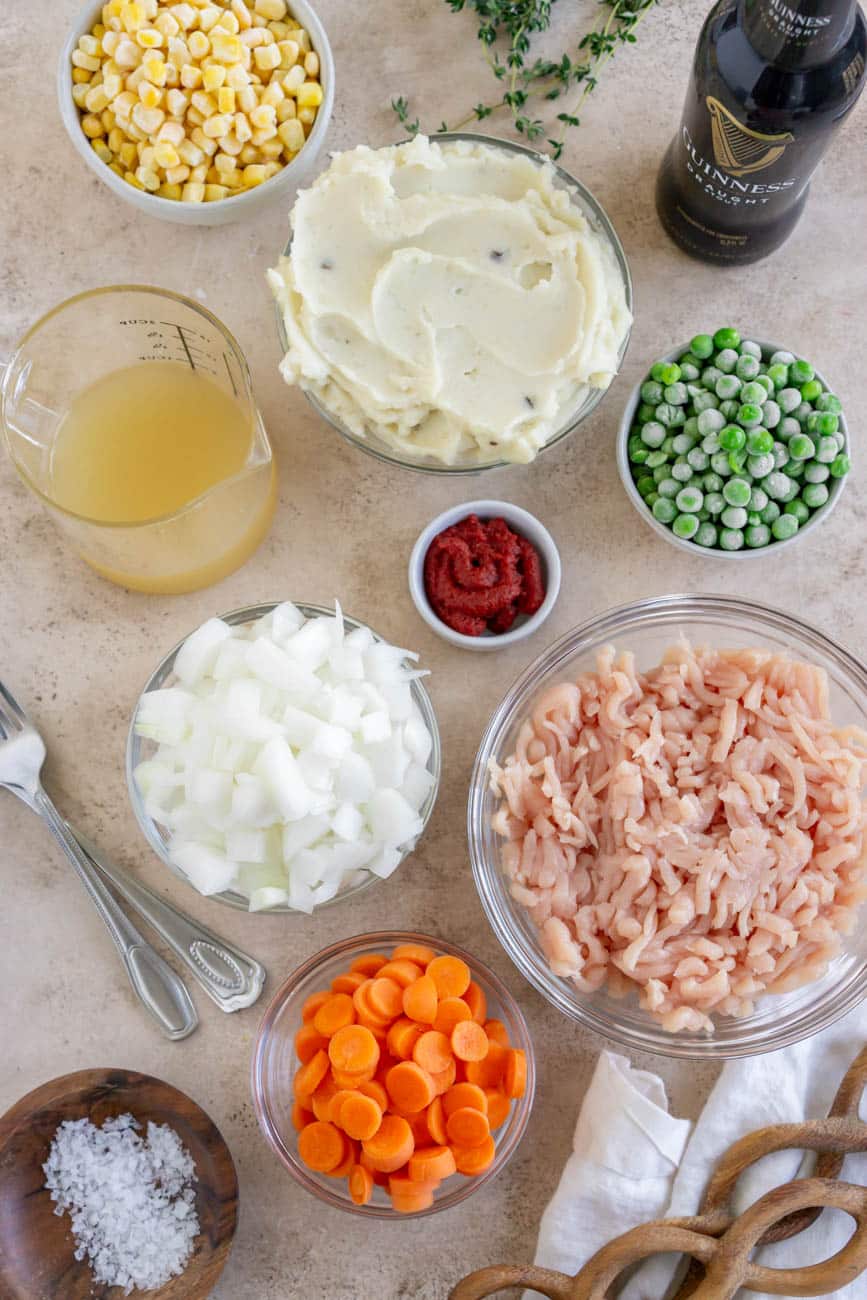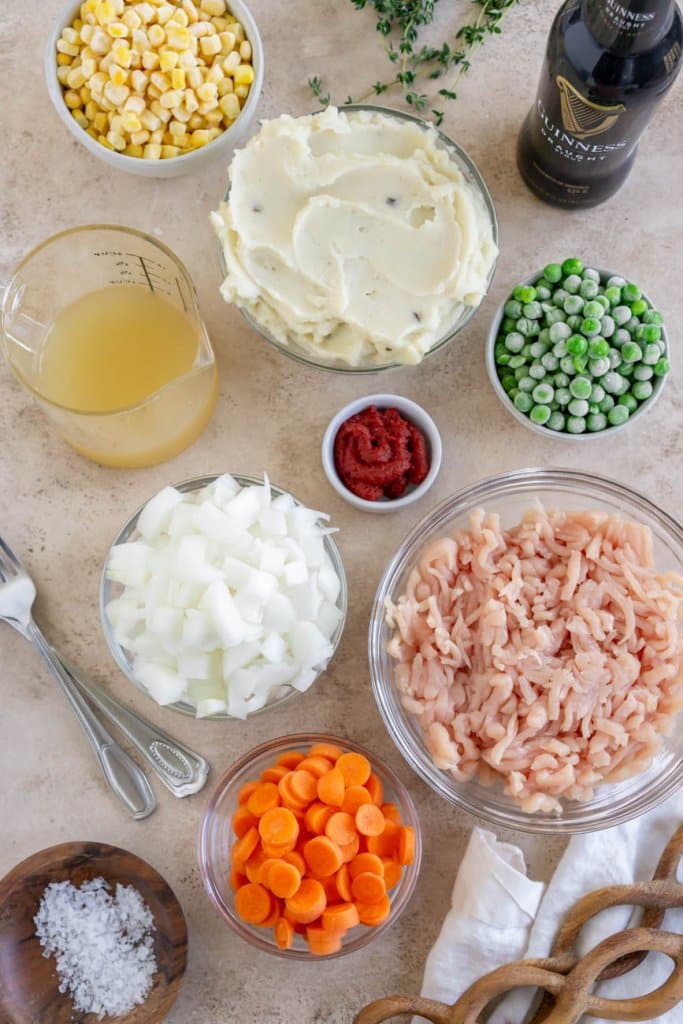 Healthy Shepherd's Pie Recipe Ingredients
Russet potatoes: when it comes to making the best mashed potatoes, you want to use russet potatoes. Their high starch content leads to lighter, fluffier mashed potatoes.
Butter and milk: I like unsalted butter because it lets me control the amount of salt in the potatoes. Whole milk adds creaminess but you can use 2% if needed or almond milk.
Irish cheddar cheese: adds a rich and creamy texture and a delightful sharpness. It's best to shred the cheese yourself rather than purchase it pre-shredded because it will melt so much better.
Lean ground turkey: using a low fat ground meat keeps this recipe on the healthier side. You can use beef or leftover shredded turkey too.
Vegetables: I used white onion, carrots, garlic, frozen peas and frozen corn. A mixed bag of frozen veggies works great too!
Wet ingredients: you will need tomato paste, chicken or vegetable broth, and Worcestershire.
Guinness stout: this is my secret ingredient! The stout adds so much flavor and depth to the shepherd's pie. If you have to skip this ingredient, you can add more chicken broth, or for richness, add beef broth.
Fresh herbs: you will need fresh thyme and rosemary.
*For a detailed list of ingredients and measurements, please reference the recipe card down below.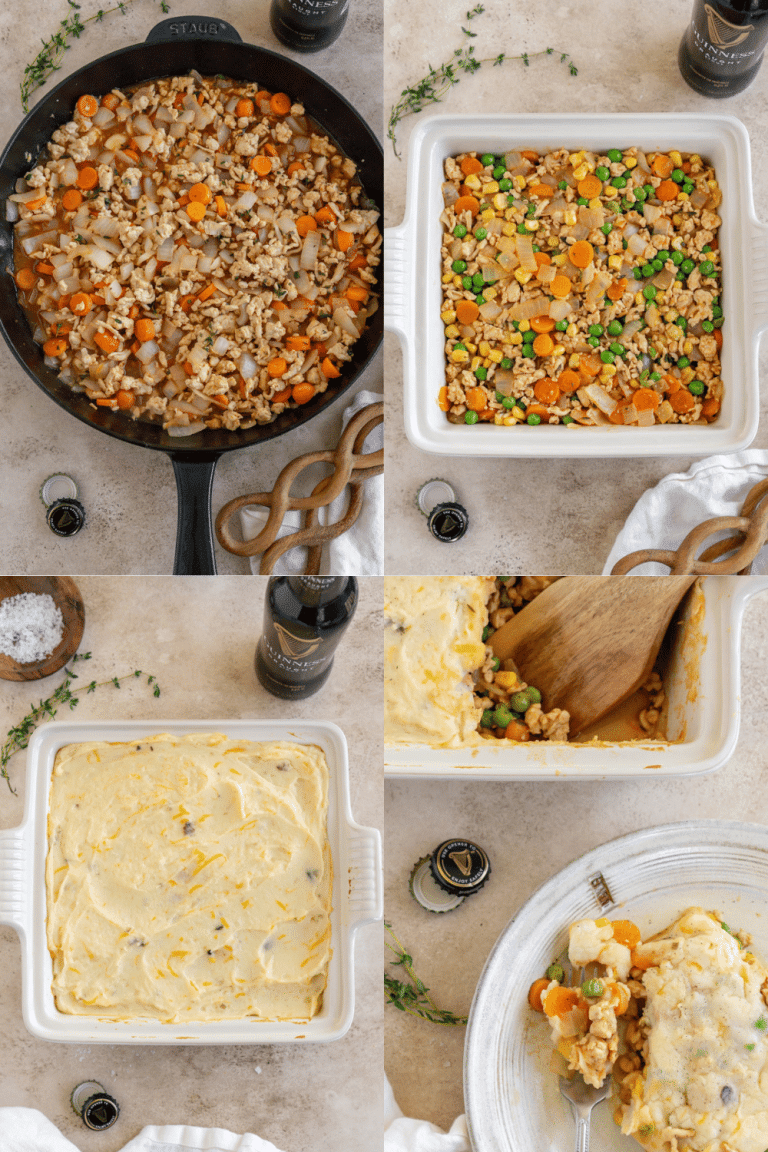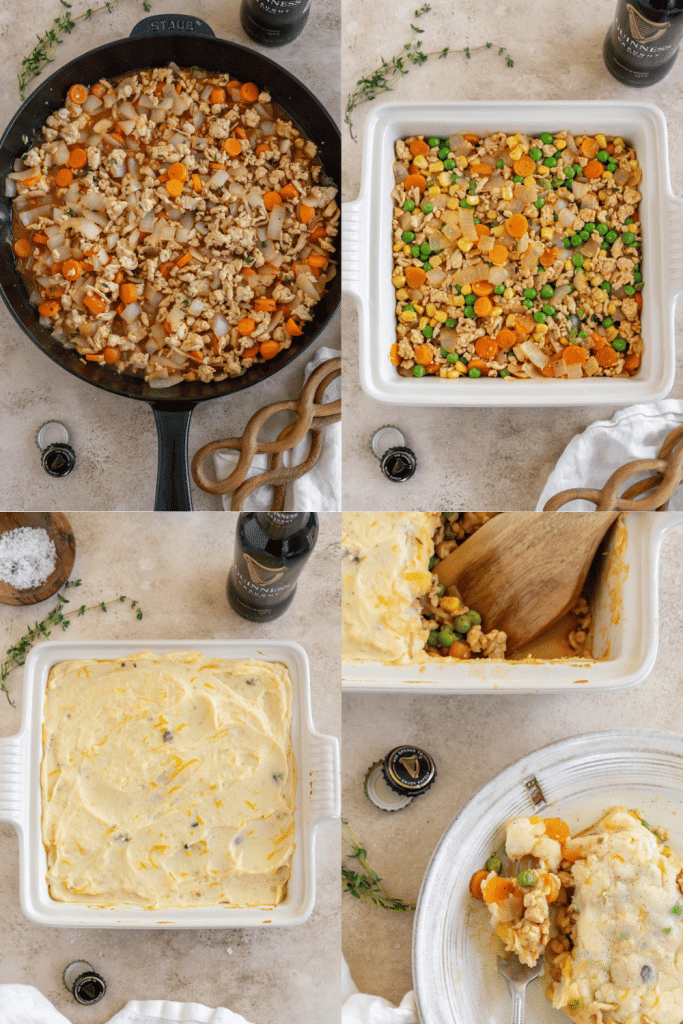 How to make Shepherd's Pie with Ground Turkey
1. Make the potatoes. Dice the potatoes and place them in a large pot of salted water. Boil until fork tender. Drain the potatoes, and whip them with the butter and milk using a hand mixer, until smooth. Season with salt and pepper.
2. Make the Filling. Brown the ground turkey in a cast iron skillet and drain the excess fat. Add in the onions, carrots, and minced garlic. Cook until the veggies are soft and then mix in the tomato paste. Add the Guinness beer, chicken broth, and Worcestershire sauce.
Then mix in the herbs, peas, corn, and season with salt and pepper. Simmer for 10 minutes until the sauce is slightly thickened. Combine the cornstarch and water before adding it to the filling, to create a light gravy.
3. Assemble the cottage pie. Add the turkey mixture to a casserole dish or pie plate and spread it out evenly. Spread the cheesy mashed potatoes over the top and bake for until it is golden brown and bubbling. Remove your easy shepherd's pie from the oven and let cool for a few minutes before serving.
Shepherd's Pie with Thanksgiving Leftovers
It's so easy to use leftovers to make this shepherd's pie! It's one of my go-to recipes when there are a lot of Thanksgiving leftovers and everyone is ready to have something other than Thanksgiving dinner. Most people already have creamy mashed potatoes as a Thanksgiving non-negotiable, and you're likely to have leftovers!
Here are my tips for using Thanksgiving leftovers to make Shepherd's pie:
Use leftover turkey. You will need about 1.5 to 2 cups of shredded turkey. Since it's already cooked, you will want to add it later in the cooking process. I like to add the turkey once the sauce has reached a light gravy consistency.
Leftover veggies. The same idea goes for using leftover veggies. Be careful not to overcook them. If they are already cooked, be sure to wait to add them until the sauce is made, then add them. This ensures that the sauce can reach the gravy consistency you want but the vegetables are not overcooked in the process.
Then you can assemble everything together according to the recipe and enjoy your Thanksgiving leftovers with a new look and feel!
Don't have any leftover mashed potatoes? You can make a sweet potato shepherd's pie. Swap the mashed potatoes for sweet potatoes. You can even take it a step further and use leftover stuffing.
It's an easy and delicious way to give Thanksgiving leftovers a new life with leftover turkey shepherd's pie!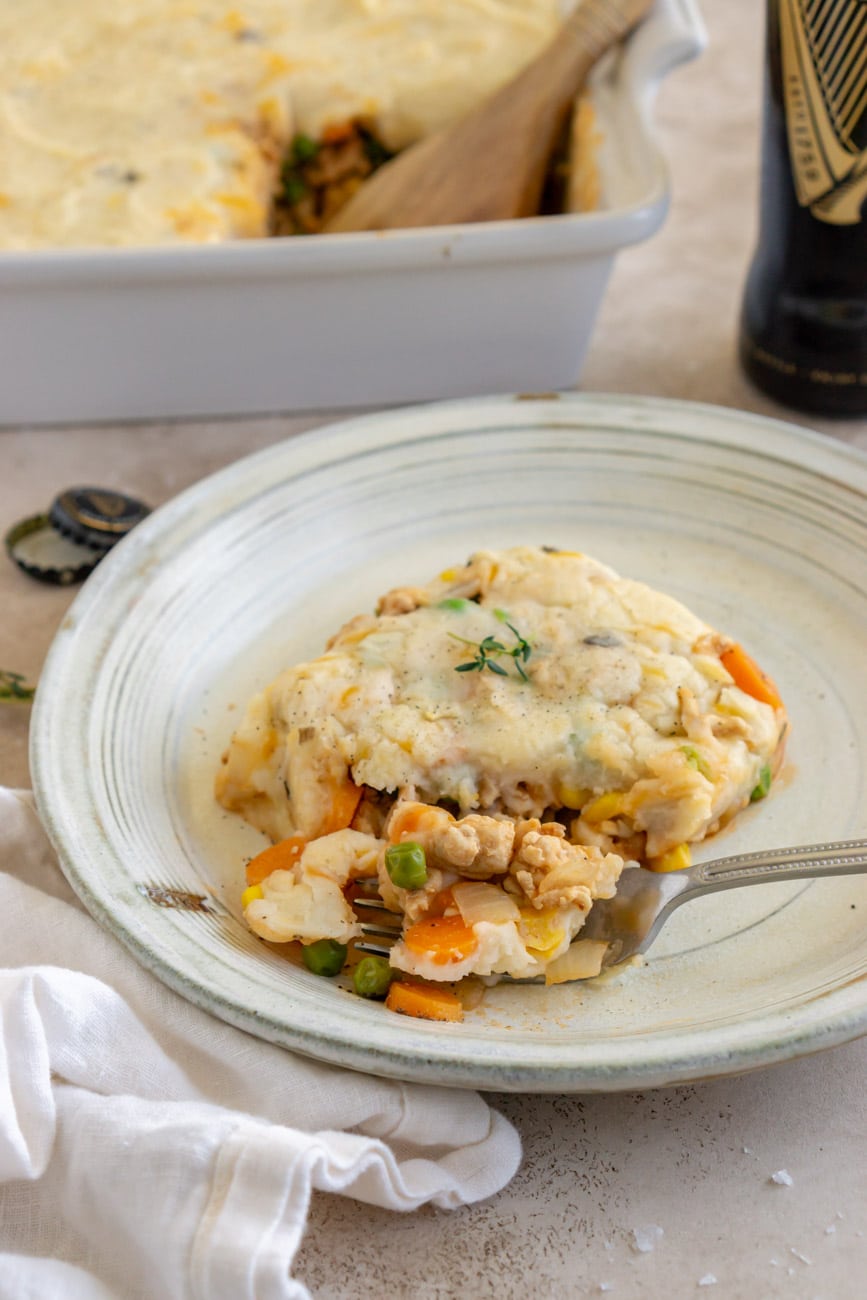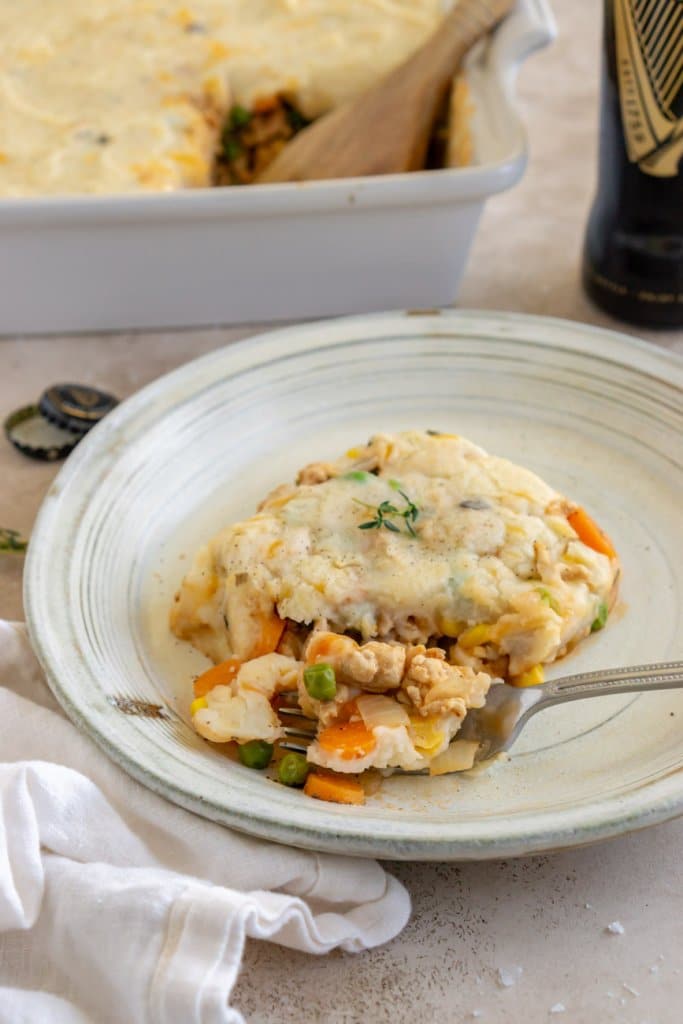 Guinness Shepherd's Pie Recipe Variations and Tips
For those adventurous cooks who want to change things up, there are ways to customize your ground turkey shepherd's pie. Here are a few suggestions:
Add frozen pearl onions: I know this changes the texture a bit, but I LOVE pearl onions and they would be so good in this shepherd's pie.
Use premade mashed potatoes: if you're short on time, don't be shy about using premade mashed potatoes, or instant mashed potatoes.
Mix up the veggies: experiment with the vegetables you use in your shepherd's pie! Chopped green beans could provide a wonderful crunch, or perhaps you could add some mushrooms.
Try a different mashed potato variation: while traditional mashed potatoes work well, you can also mix things up by using sweet potatoes, cauliflower mash (or a combo of both), or even mashed parsnips. These variations can add an interesting twist while also providing alternative dietary options.
Make it ahead of time: Shepherd's Pie is a great make-ahead dish that can be prepared the day before and stored in the fridge. This makes it perfect for when you have guests over or need a quick and easy weeknight dinner.
Storage: store leftovers in an airtight container for 3-4 days in the fridge.
Guinness Shepherd's Pie Recipe FAQs
Why is my shepherd's pie soggy?
A common reason for Shepherd's Pie turning soggy is due to an excess of moisture. To avoid this, make sure the meat filling is not overly wet, and the mashed potatoes on top are not too creamy. Also, make sure that the gravy is getting thick enough. You want the sauce you create to resemble a light gravy, not too thick, but not too watery. If it's too thin during the stovetop portion of cooking, you can cook it longer or add more cornstarch. 
What is traditional shepherd's pie made of?
Traditional Shepherd's Pie comes from the UK and is made with ground lamb, a mix of vegetables, like carrots, peas, and onions. The pie is then topped with a hearty layer of mashed potatoes.
Does shepherd's pie have gravy in it?
Yes, Shepherd's Pie generally includes gravy in the meat filling. The gravy is made while cooking the meat, often with stock and herbs.
Why is Guinness used in cooking?
Guinness is often included in recipes for its deliciously rich and sweet flavor with a toasty malt flavor. It adds a deep and slightly nutty taste to dishes, enhancing their overall flavor profile. This is why it's commonly used in cooking, especially in stews, pies, and other hearty dishes like our Shepherd's Pie. Guinness brings a unique and complex taste when used in dishes like Shepherd's Pie. 
WANT TO TRY THIS GROUND TURKEY SHEPHERD'S PIE RECIPE?
PIN IT to your ground turkey recipes, leftover turkey recipes, or dinner recipes board to save it for later!
Find me on Pinterest for more great recipes. I'm always pinning!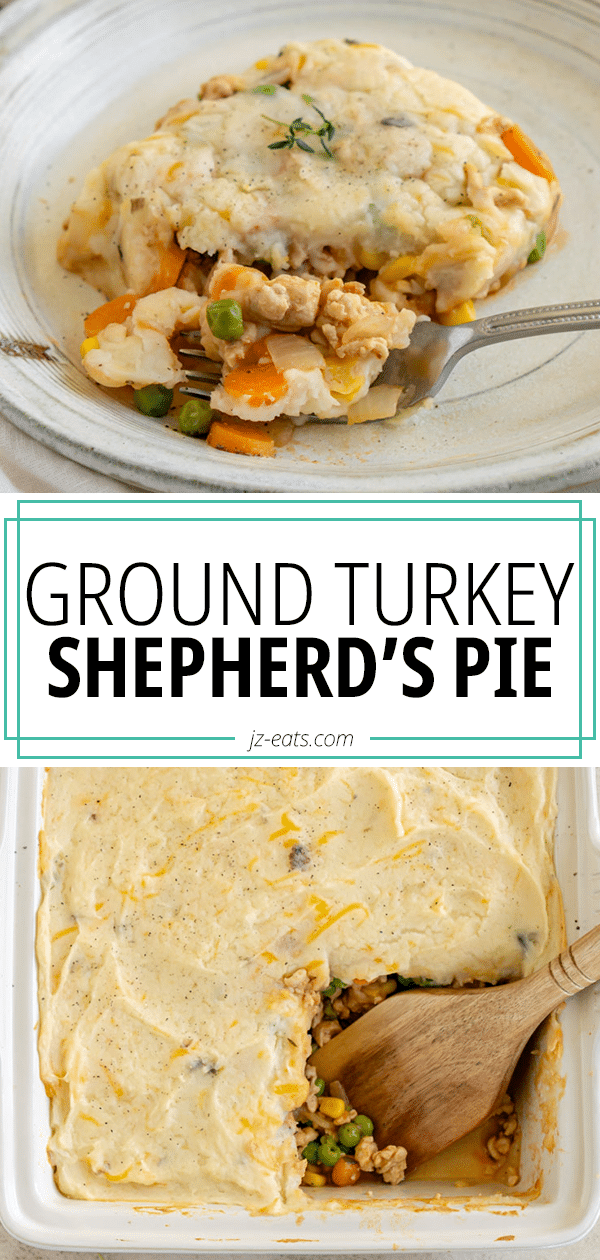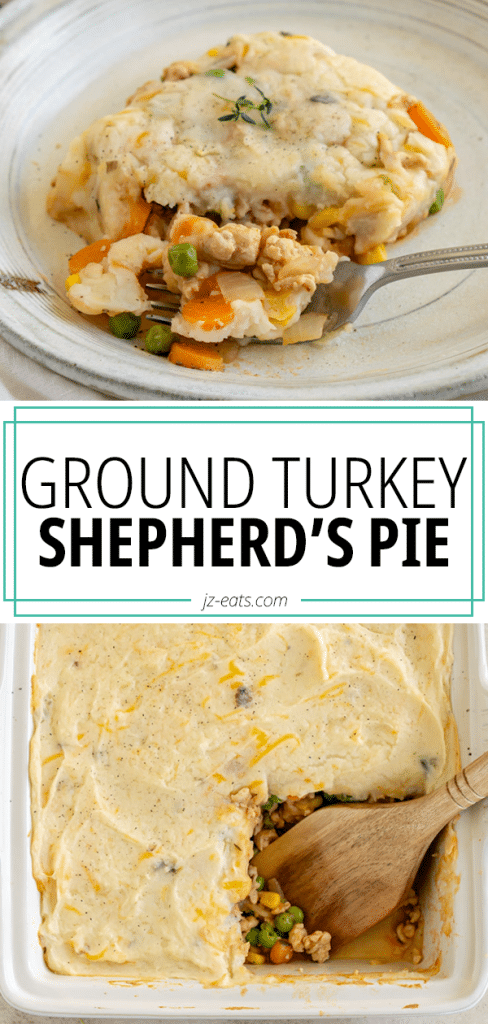 Did you make this recipe? Post a photo on Instagram and tag me @JZEATS or #JZEATS so I can see! Leave a comment below and let me know what you think, too!
Ground Turkey Shepherd's Pie
Add this Ground Turkey Shepherd's Pie recipe to your weekly rotation immediately! It's the ultimate easy weeknight dinner, filled with vegetables and topped with cheesy mashed potatoes.
Ingredients
For The Mashed Potatoes
4

large russet potatoes,

peeled and diced

1/4

cup

unsalted butter

1/2

cup

whole milk

kosher salt and pepper,

to taste

1/4

cup

Irish cheddar cheese,

shredded
For The Filling
1

pound

lean ground turkey

1

white onion,

diced

2

large carrots,

diced

2

cloves

garlic,

minced

2

tbps

tomato paste

1/4

cup

Guinness stout

1

cup

chicken or vegetable broth

2

tsp

Worcestershire sauce

1/2

tsp

fresh thyme

1

tsp

fresh rosemary

1

cup

frozen peas

1

cup

frozen corn

2

tbsp

corn starch

2

tbsp

water
Instructions
For The Mashed Potatoes
Place the diced potatoes in a large pot of salted water. Bring the water to a boil and cook until the potatoes are fork-tender, about 15-20 minutes.

Drain the potatoes and return them to the pot. Add the butter and milk to the pot and using a hand mixer, whip the potatoes until smooth. Season with salt and pepper. Set aside.
For The Filling
Preheat your oven to 375°F.

In 12" cast iron pan, cook the ground turkey over medium-high heat until browned. Remove any excess fat.

Add the chopped onions, diced carrots, and minced garlic to the skillet. Cook for about 5 minutes until the vegetables are softened. Then stir in the tomato paste and cook for another 2 minutes.

Pour in the Guinness beer, chicken broth, and Worcestershire sauce. Add the thyme, rosemary, frozen peas, and frozen corn. Season with salt and pepper and simmer for about 10 minutes until the mixture thickens slightly.

Mix the cornstarch and water together until there are no clumps and stir it into to the filling. Continue simmering until all the liquid has reduced and it has a light gravy consistency.

Transfer the turkey mixture to an 8X8 square baking dish, pressing down gently to flatten. Then spread the mashed potatoes evenly over the filling. You can use a piping bag to create a decorative pattern on top.

Bake the shepherd's pie for 25-30 minutes or until the top is golden brown and the filling is bubbling.

When finished, let it cool for a few minutes before serving. Enjoy!
Nutrition
Calories:
362
kcal
|
Carbohydrates:
45
g
|
Protein:
25
g
|
Fat:
10
g
|
Saturated Fat:
6
g
|
Polyunsaturated Fat:
1
g
|
Monounsaturated Fat:
3
g
|
Trans Fat:
0.3
g
|
Cholesterol:
65
mg
|
Sodium:
283
mg
|
Potassium:
1158
mg
|
Fiber:
5
g
|
Sugar:
6
g
|
Vitamin A:
3959
IU
|
Vitamin C:
24
mg
|
Calcium:
74
mg
|
Iron:
3
mg