This post may contain affiliate links which will not change your price but will share some commission. Please read my privacy policy.
This Herb Roasted Turkey is smothered in butter and fresh herbs. It's an easy turkey recipe full of delicious flavors and perfect for Thanksgiving. Enjoy your perfect roasted whole turkey with this foolproof recipe!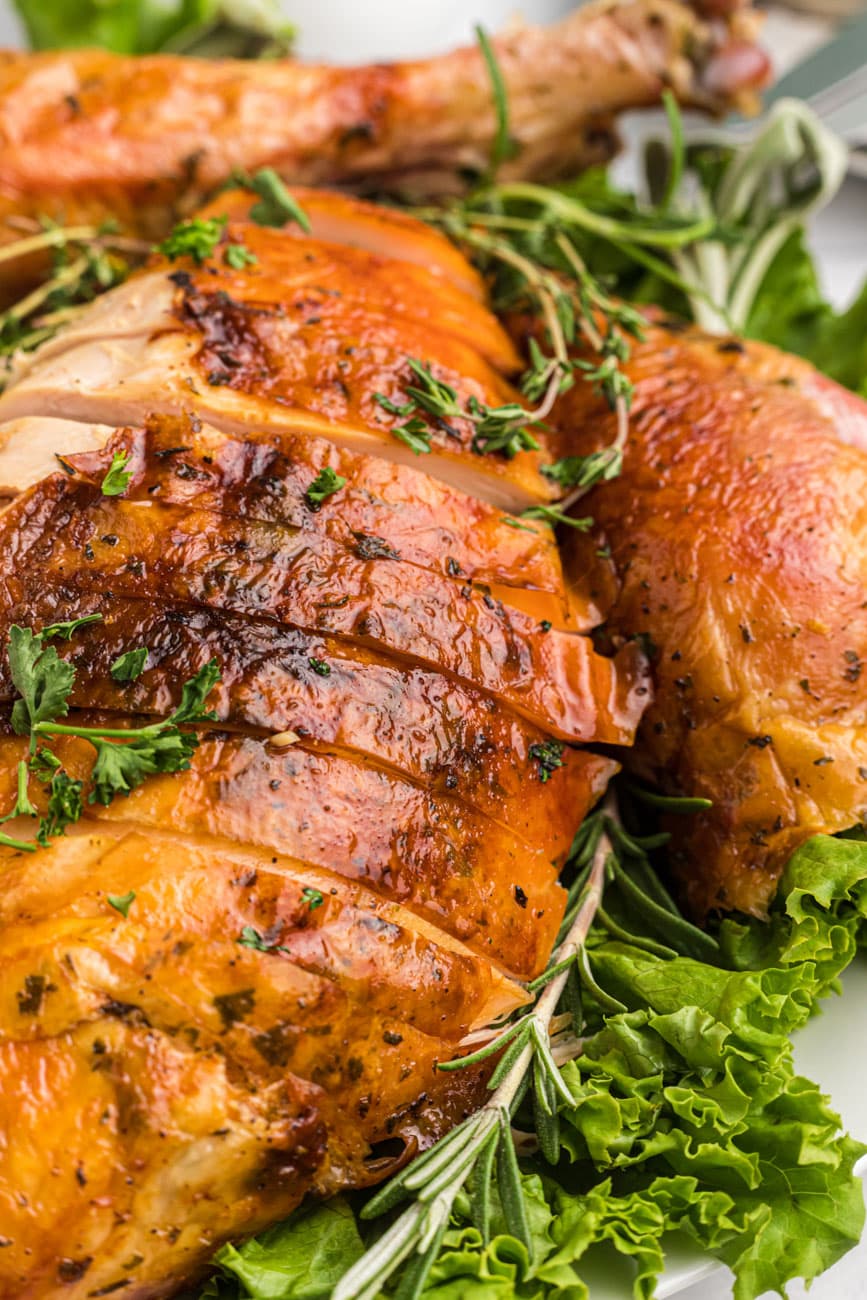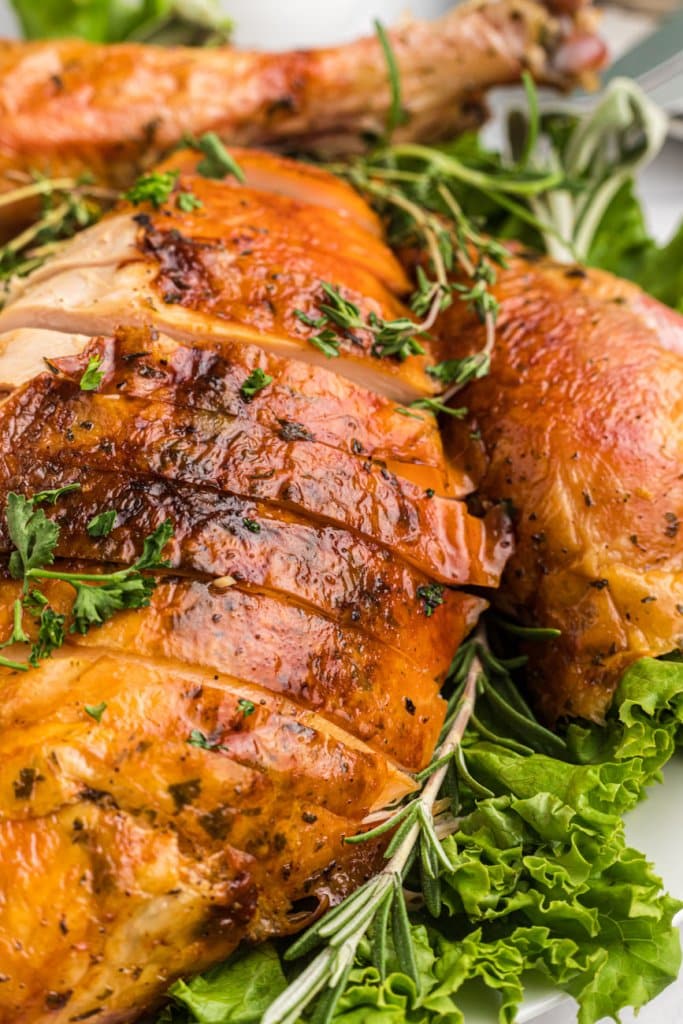 We all know that being in charge of the holiday turkey can be stressful, so I'm here to save the day with this easy recipe! This roasted turkey is something you'll be proud to show off at your next family gathering.
Enjoy a crispy whole roasted turkey, covered in butter and herbs for your Thanksgiving or Christmas turkey. Use this simple, yet delicious recipe to perfect your holiday turkey!
Herb Roasted Turkey Recipe
Whether you are feeding a crowd for the holidays or just feeding two, this juicy turkey recipe is perfect for you.
While a Roasted Herb Turkey is a lot of meat, enjoy trying out these leftover turkey recipes: Leftover Turkey Tacos and Leftover Turkey Chili.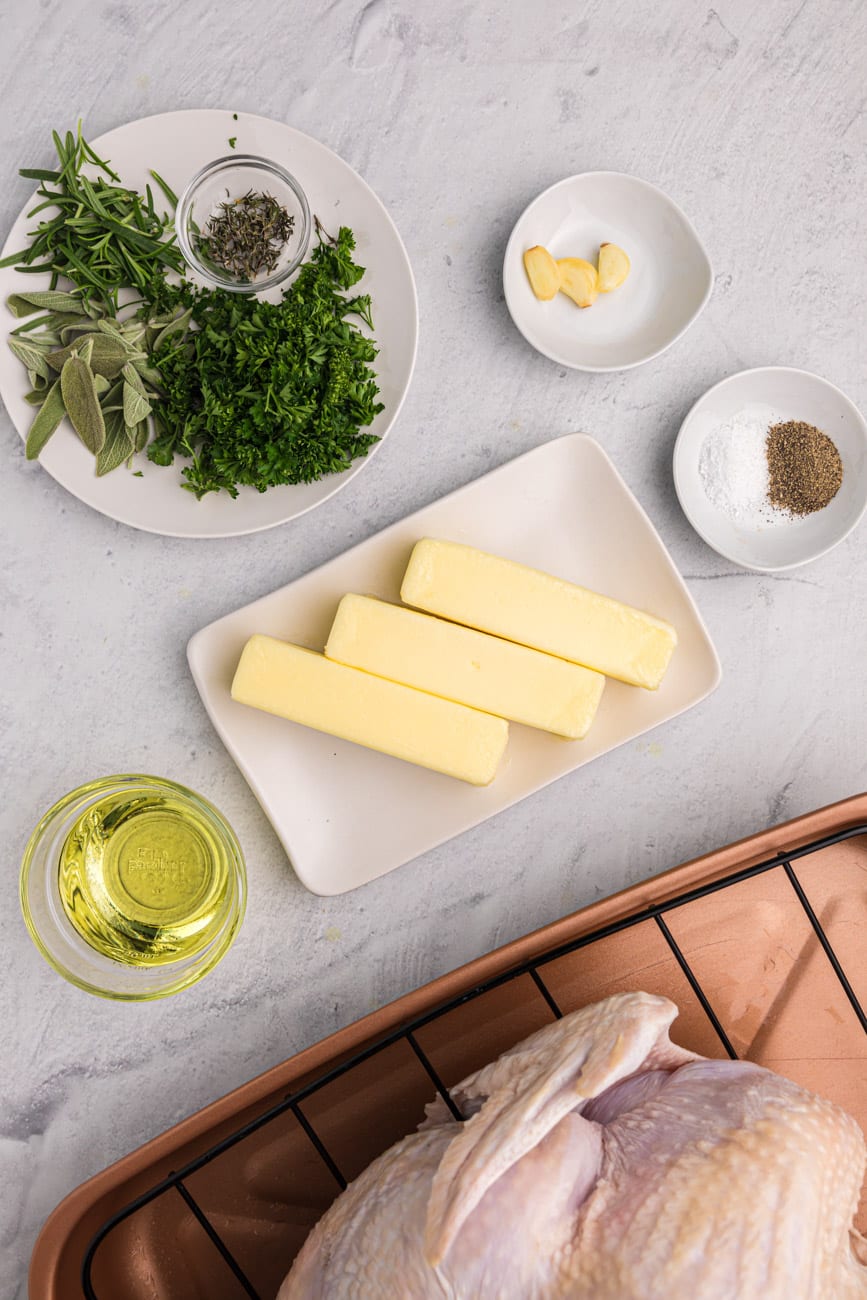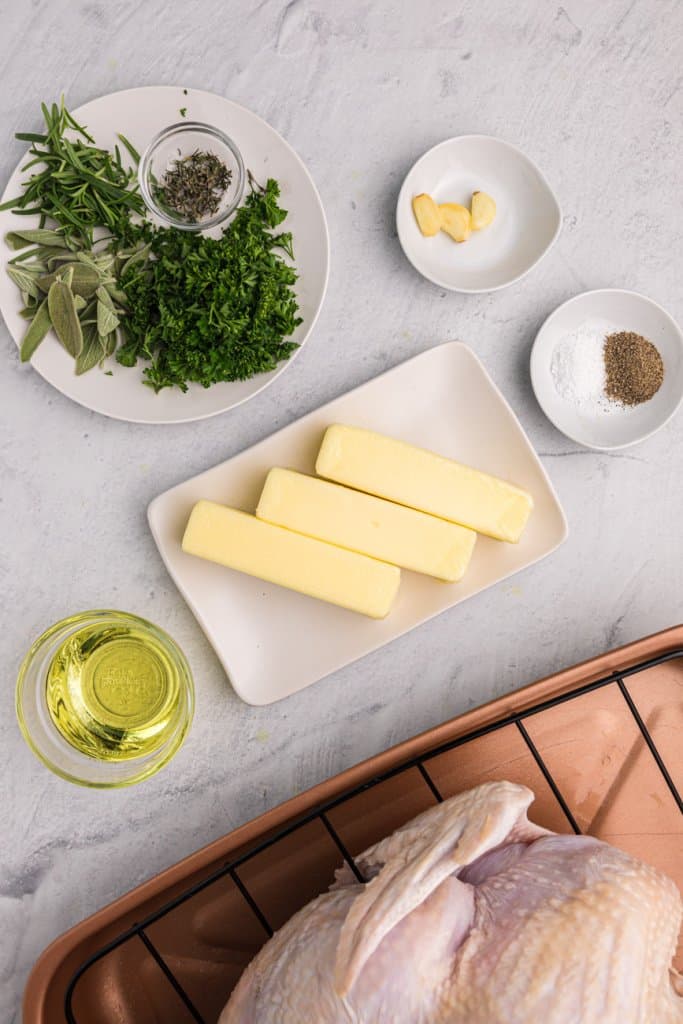 Herb Roasted Turkey Ingredients
Fresh herbs: classic poultry seasonings, like fresh rosemary or fresh thyme, are used in this recipe. I like to call these my Fall and Winter herbs because that's when I use them most.
I prefer fresh herbs because they have more flavor than dried herbs. This combination of herbs is delicious on a whole turkey, or a turkey breast!
Garlic cloves: my garlic girlies know garlic makes everything better. It pairs terrifically with fresh herbs and butter, creating this tasty turkey!
Butter: this adds flavor and moisture to your turkey, butter also helps with browning and crisping up your turkey.
Vegetable oil: this oil adds to the crispiness of your turkey but also holds in the juicy texture of the bird.
Kosher salt + black pepper: of course, we are adding salt and pepper! I prefer kosher salt, but use sparingly if you are planning on brining your turkey.
Whole turkey: for this recipe, I used a bird that was about 14-16 pounds. You can find your whole turkey in the meat section of your local grocery store or in the freezer section.
Some stores will even let you place an order ahead of time. If you buy a frozen turkey, ensure enough time for it to thaw before cooking.
If you want to use a smaller (or larger) turkey, check out my cheat sheet at the bottom of this post for adjusted cook times.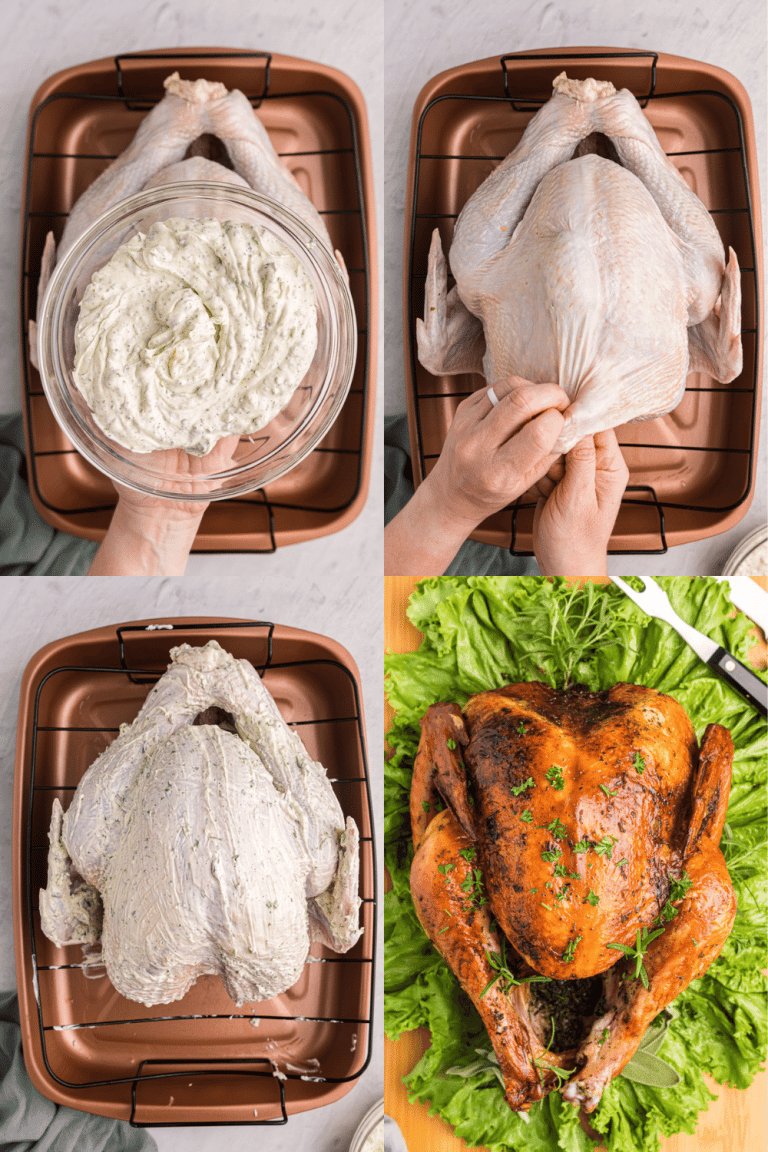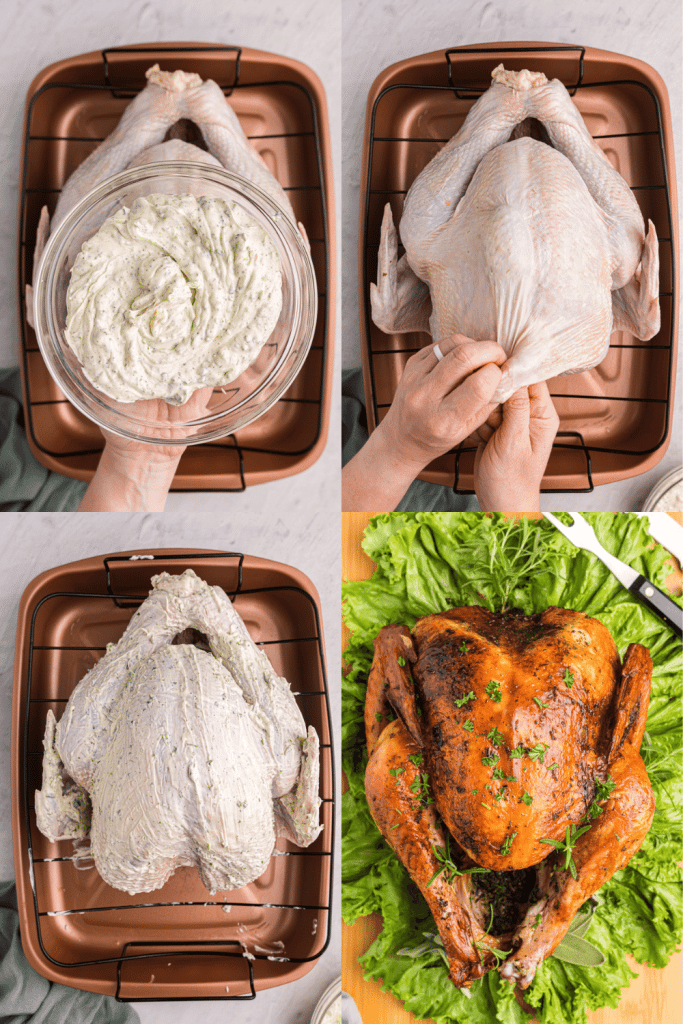 How to Roast a Turkey
Roasting a turkey is a big responsibility, but it is worth it! Your turkey journey can start up to two days before you even start cooking!
1. Thaw the turkey. First, if you have a frozen turkey, be sure to let it thaw for 2-3 days, depending on the side of your bird. It can take a long time to thaw – make sure that you set it out far enough in advance. You don't want to cook a frozen turkey!
Tip!
Place a kitchen towel under your turkey while it thaws just in case it leaks.
2. Brine the turkey. Once your turkey has thawed, you can move onto brining. This is optional but I recommend doing it to achieve the most tender and juicy turkey meat.
If you choose to brine your turkey, be careful when adding salt after brining. You don't want it to be too salty!
3. Roast the turkey. Then it's time to prep and cook your bird. Cook time is based on your bird's weight, so make sure you check on the bird while it's in the oven.
4. Rest and serve. Finally, the easiest part. It's time to take your entire turkey out and let it rest for 20-30 minutes. This allows for the turkey to reabsorb the juices so they don't drip out when you slice it. Not doing this will cause your turkey meat to be dry.
Tip: don't tent the turkey with foil while it's resting, it will soften the skin you just spent hours cooking to the perfect crisp!
What herbs go well with turkey?
There are plenty of seasonings that pair perfectly with a whole turkey. However, there are a few that I think add the best flavor! Both rosemary and thyme are my go-to's for a delicious savory taste.
I also love fresh sage, which is perfect for the holidays. Sage is very common in both Thanksgiving and Christmas recipes. There is something about fresh sage leaves that adds a certain warmth to the turkey.
While you're thinking about herbs that go well with turkey, there are a few side dishes that pair perfectly with a Thanksgiving dinner turkey. Try out these Green Beans with Bacon, Orange Cranberry Sauce, or even Roasted Sweet Potatoes!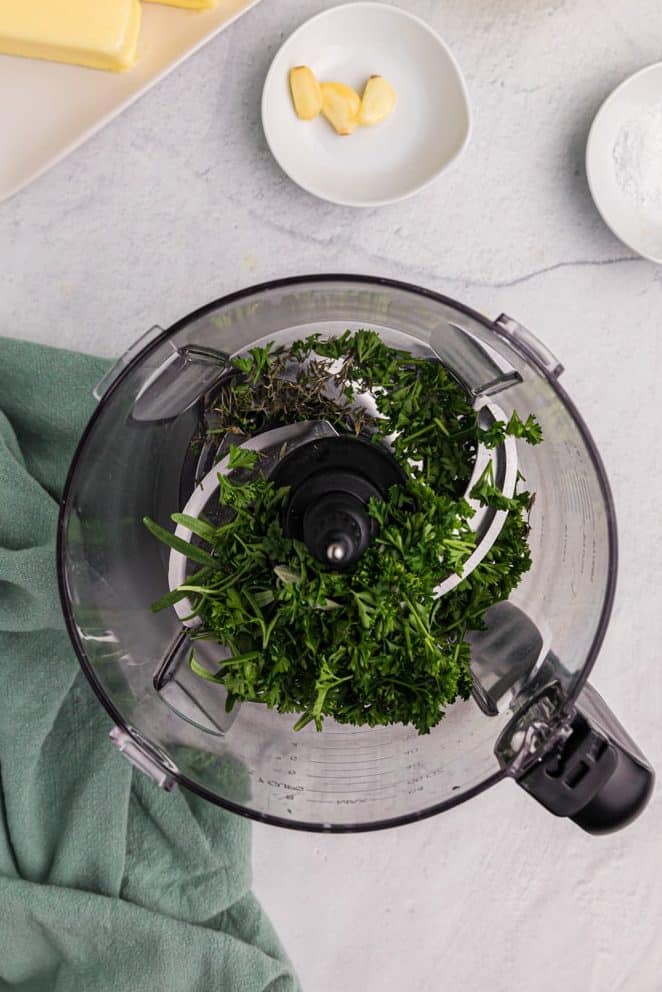 What is the secret to a moist turkey?
There are a few secrets to keeping your Herb Roasted Turkey from getting dry. The first option is to brine; you can brine your turkey the day before.
The brine helps break down muscle in the turkey, keeping it super moist while cooking and making it extra tender. Not only does it keep your turkey juicy, but it also adds a decent amount of flavor!
When you rinse off your brined bird, use cold water and be sure to keep food safety in your mind. Make sure to clean your sink and countertops thoroughly.
Check the internal temperature
Another biggie when it comes to keeping your turkey from drying out is to watch the internal temperature! It's so easy to overcook turkey, but if you keep an eye on it and check the internal temperature, it will turn out perfect.
Use a meat thermometer to check your turkey for the correct doneness, (175 degrees F). Make sure to check the temperature in the thickest part, like the thigh.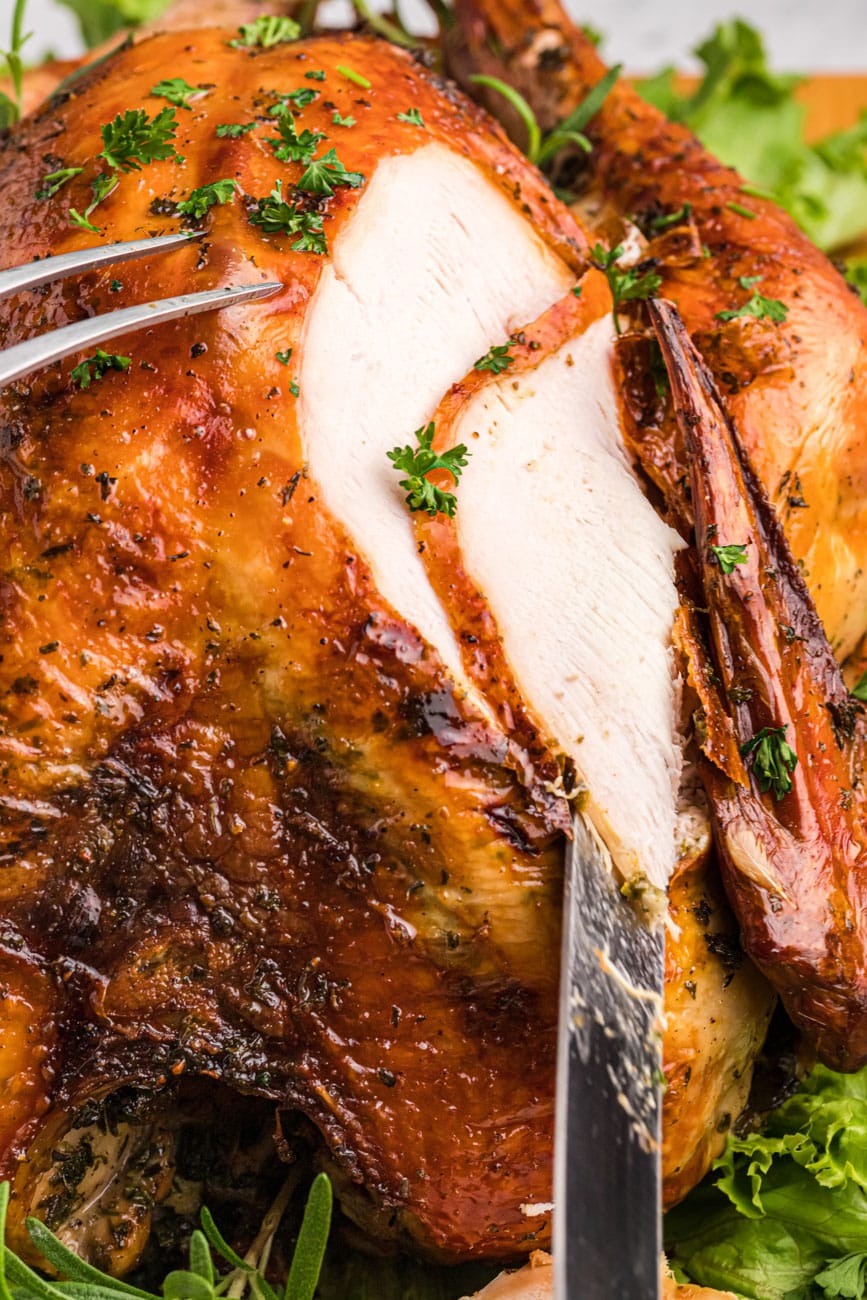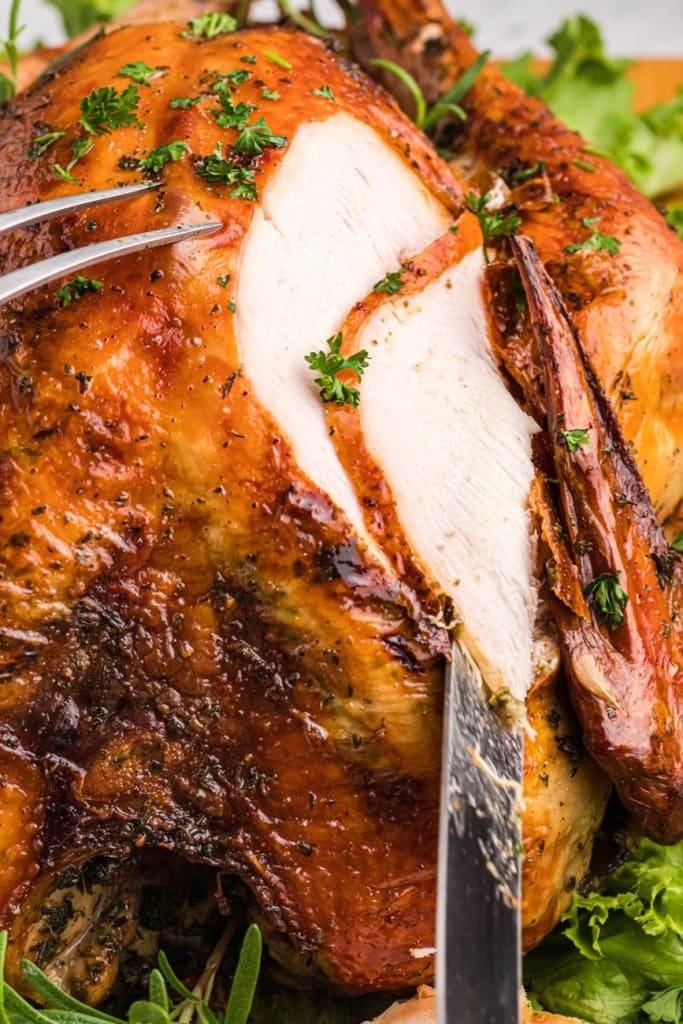 Let the turkey rest
It's important to let the turkey rest for 20-30 minutes after removing it from the oven. This gives the turkey enough time to soak up all of the delicious and flavorful juices!
Do you cover a turkey when it's roasting?
Some people prefer to cover their turkey, and some don't! This recipe does call for your bird to be covered. This will help your turkey to stay moist and not to dry out.
Closer to the end of cooking, remove the foil to get a nice golden brown and crispy skin. I usually remove it about 20 minutes before the turkey is finished.
If you plan on uncovering your turkey, be sure to keep a close eye on it. No one wants your delicious turkey to be ruined because the legs are getting way too brown!
How long does a roast turkey take?
The cooking time will depend on the weight of the turkey! A good rule of thumb is that a turkey will need to be cooked for about 13 to 15 minutes per pounds of turkey – keep in mind this is just for thawed turkeys. Cooking time may also differ if your turkey is stuffed.
Cooking time also depends on the temperature of your whole turkey. I prefer to use a thawed turkey for this recipe. It's also a good idea to bring the turkey to room temperature, which reduces the cooking time and allows it to cook more evenly.
Lastly, ovens can vary in temperature. To get the true temperature of your oven, you can use an infrared thermometer. Just because the oven is set to 375 F, doesn't mean that's the true temperature of the inside of the oven!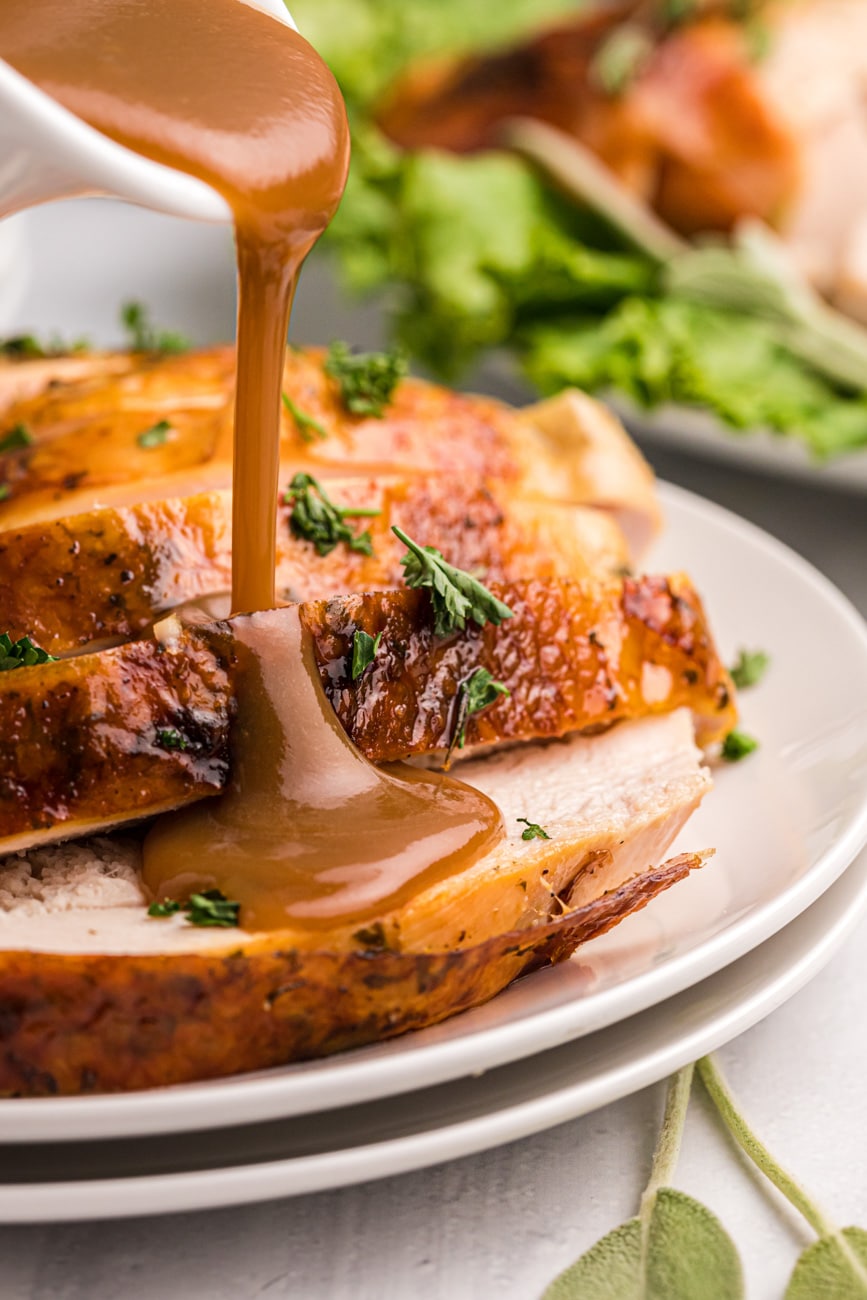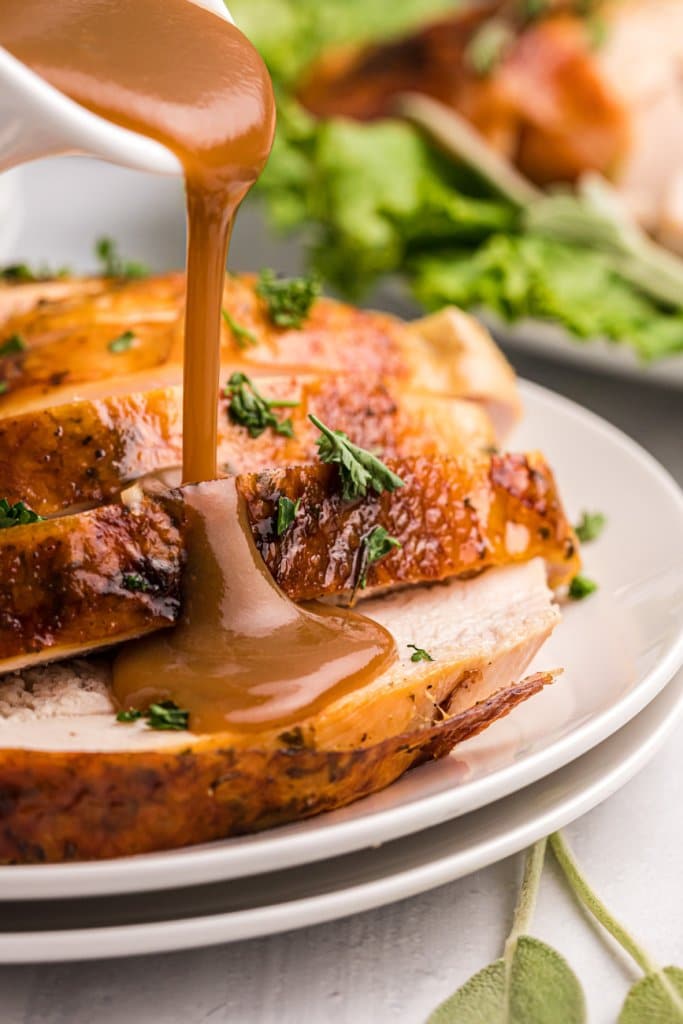 Whole roasted turkey cheat sheet
Here is a cheat sheet that is a good rule of thumb when it comes to cooking a whole turkey:
10 pounds: 2 hrs 15 minutes
12 pounds: 2 hrs 35-45 minutes
14 pounds: 3 hrs
16 pounds: 3 hrs 15-20 minutes
18 pounds: 3 hrs 45-55 minutes
20 pounds: 4 hrs 15-20 minutes
WANT TO TRY THIS HERB ROASTED TURKEY RECIPE?
PIN IT to your turkey recipes, Thanksgiving recipes, or dinner recipes board to save it for later!
Find me on Pinterest for more great recipes. I'm always pinning!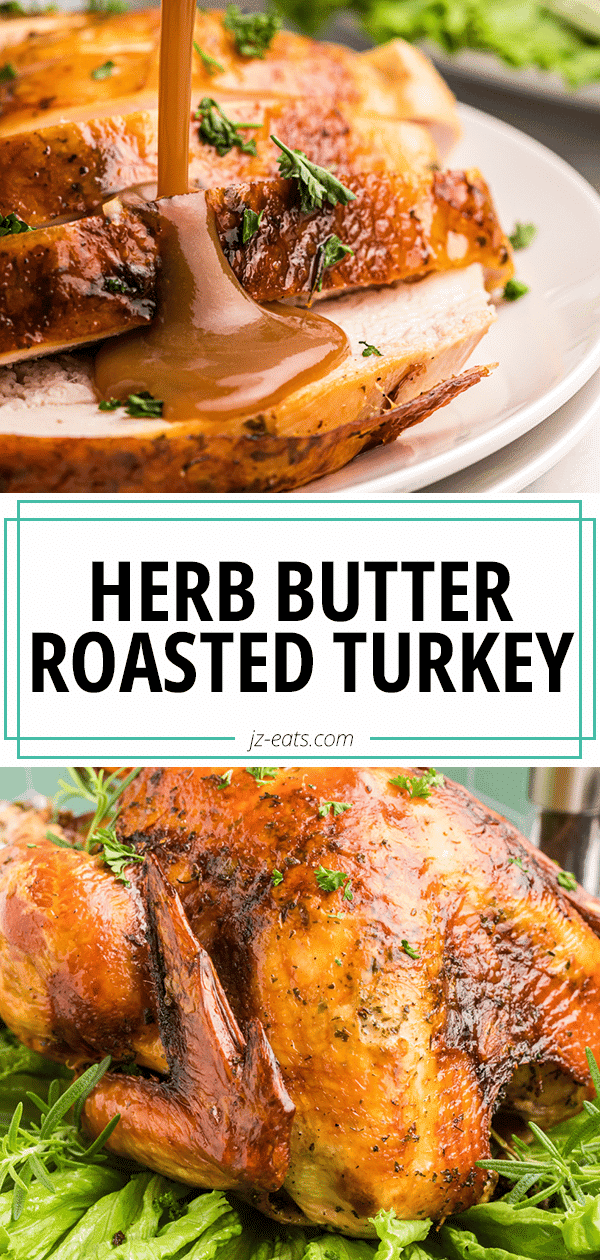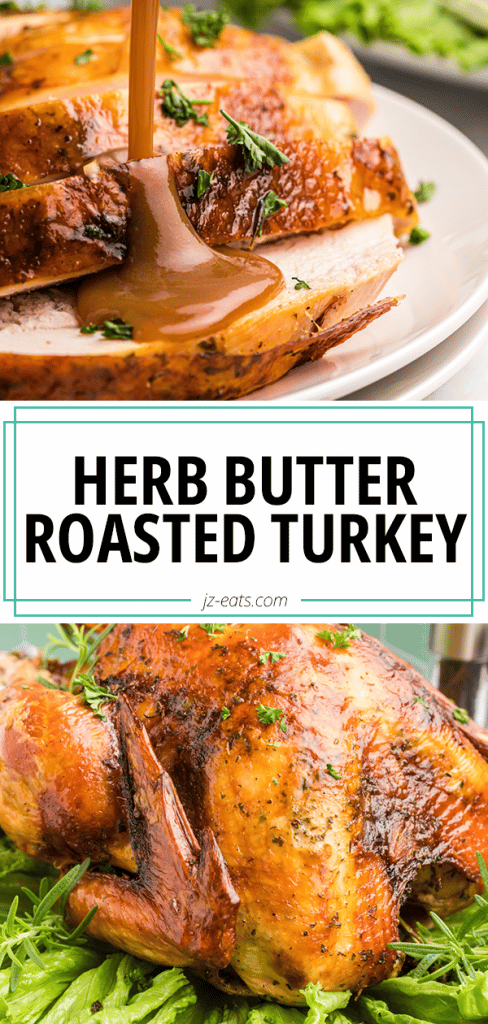 Did you make this recipe? Post a photo on Instagram and tag me @JZEATS or #JZEATS so I can see! Leave a comment below and let me know what you think, too!
Herb Roasted Turkey
This Herb Roasted Turkey is smothered in butter and fresh herbs. It's an easy turkey recipe full of delicious flavors and perfect for Thanksgiving. Enjoy your perfect roasted whole turkey with this foolproof recipe!
Ingredients
½

cup

fresh parsley

¼

cup

fresh sage

¼

cup

fresh rosemary

1

TBSP

fresh thyme leaves

3

garlic cloves

1 ½

cups

butter

softened

½

cup

vegetable oil

1

tsp

kosher salt

1

tsp

black pepper

1 14-16

pound

turkey
Instructions
Preheat the oven to 325 degrees.

Place all the fresh herbs in a food processor and pulse for about 1 minute until chopped.

Add the butter, oil, salt and pepper and mix or pulse until smooth, another 1-2 minutes.

Loosen the skin of the turkey with your hand or a large spoon, and spread 1/3 of the butter mix under the skin. Rub the remaining butter mix over the rest of the turkey including the bottom of the turkey.

Cover the pan with aluminum foil (you may need two large pieces) and roast in the oven for about 18-20 minutes per pound, after about 2.5 – 3 hours uncover and continue to roast until fully cooked and internal temperature of 165 degrees. Temperature should be taken in the thick part of the thigh not touching the bone.

Let the turkey rest covered with foil for about 20 minutes before carving. Serve warm and enjoy!
Nutrition
Calories:
550
kcal
|
Carbohydrates:
1
g
|
Protein:
135
g
|
Fat:
19
g
|
Saturated Fat:
7
g
|
Cholesterol:
325
mg
|
Sodium:
118
mg
|
Potassium:
1041
mg
|
Fiber:
0.5
g
|
Sugar:
0.4
g
|
Vitamin A:
1071
IU
|
Vitamin C:
7
mg
|
Calcium:
95
mg
|
Iron:
6
mg