This post may contain affiliate links which will not change your price but will share some commission. Please read my privacy policy.
Do you have loads of leftover turkey and vegetables? Put them to use with this delicious Thanksgiving Leftover Pot Pie! It's hearty and satisfying, and will keep you fed all week!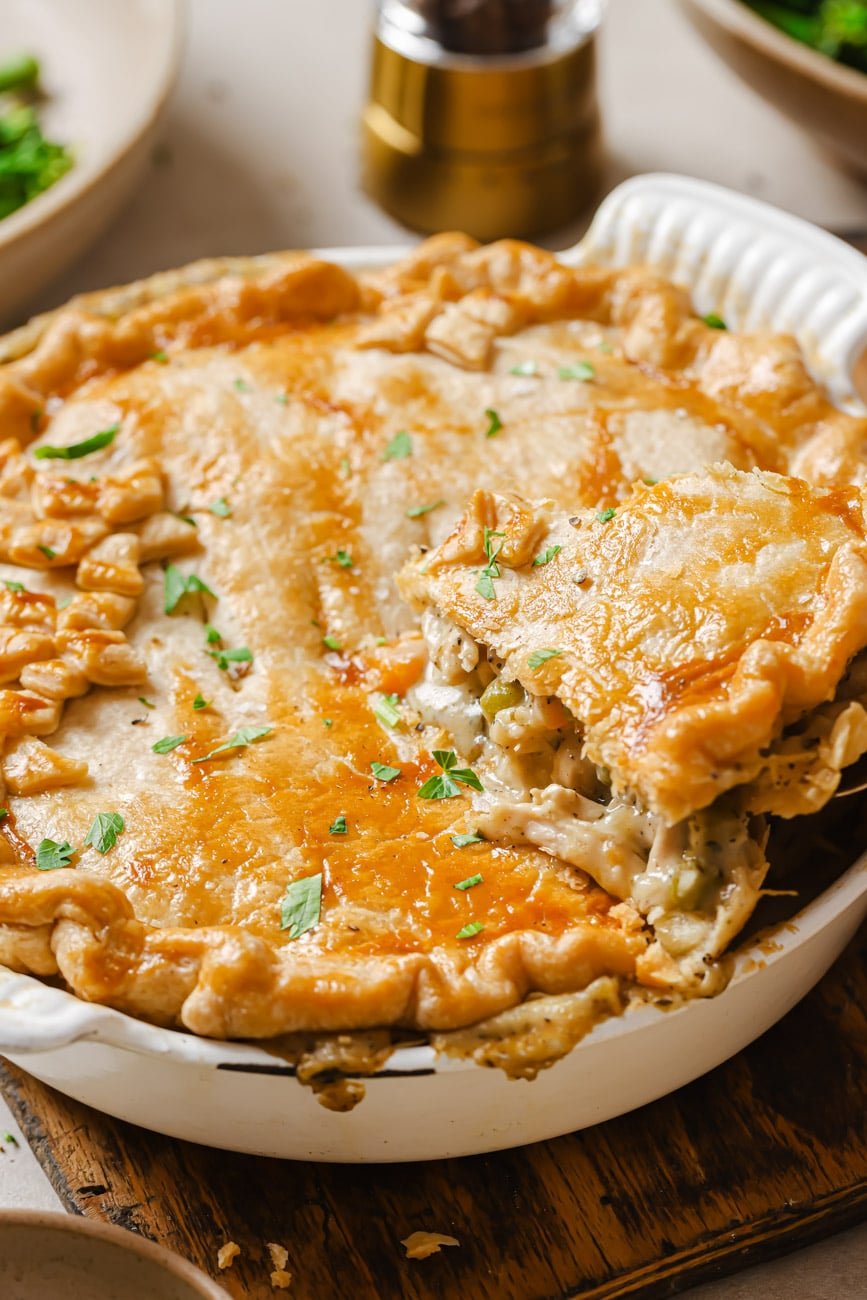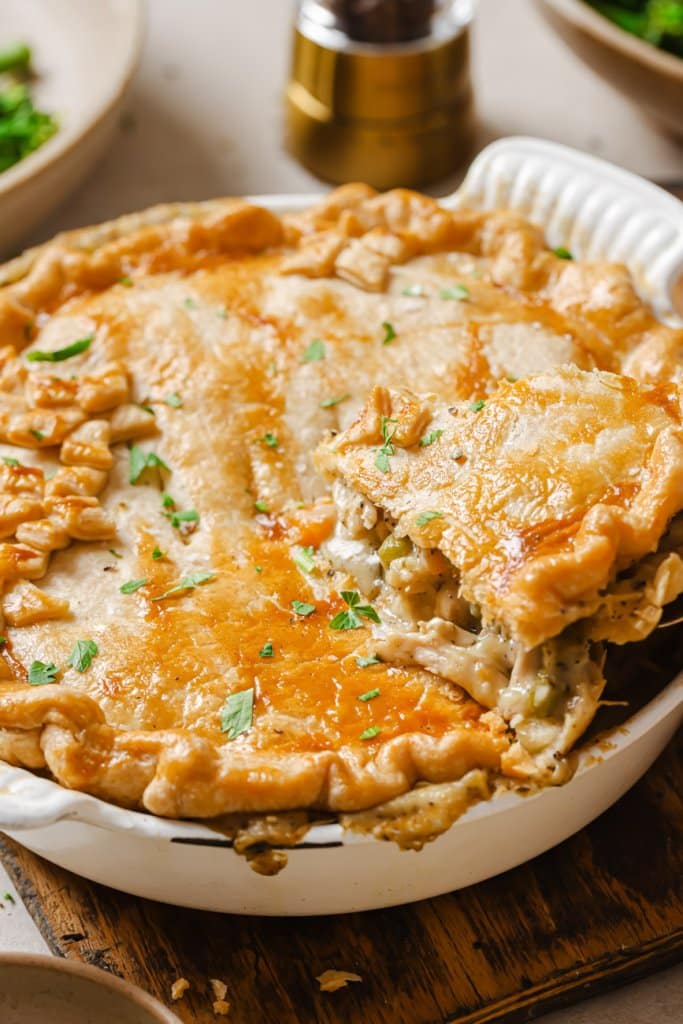 Make the most of your Thanksgiving leftovers with this delicious Thanksgiving Leftover Pot Pie. Packed with leftover Thanksgiving turkey and veggies, it's a hearty and satisfying meal for the whole family. Easy to make and oh-so-tasty!
Why you will love this turkey pot pie recipe
After Thanksgiving, you may not feel like cooking anymore but also don't want to waste your leftovers. And I bet you don't want to eat a plate of boring turkey and veggies either! Usually by day 3, I'm tired of making a turkey sandwich every day, too.
That's where this homemade leftover turkey pot pie comes in. It's quick easy to make and will put a tasty spin on those boring leftovers.
Here's why you'll love it:
It's a tasty way to enjoy Thanksgiving leftovers. Use leftover turkey, veggies, and leftover gravy. You might even have leftover pie dough you can use from making desserts.
A comforting and satisfying meal. This has to be in the top 10 comfort food recipes!
Family-friendly dish. Your entire family will love this!
If you like this recipe, you will also love these Thanksgiving Turkey Meat Tacos and Leftover Turkey Chili. Don't let that leftover turkey go to waste just because you are tired of leftovers!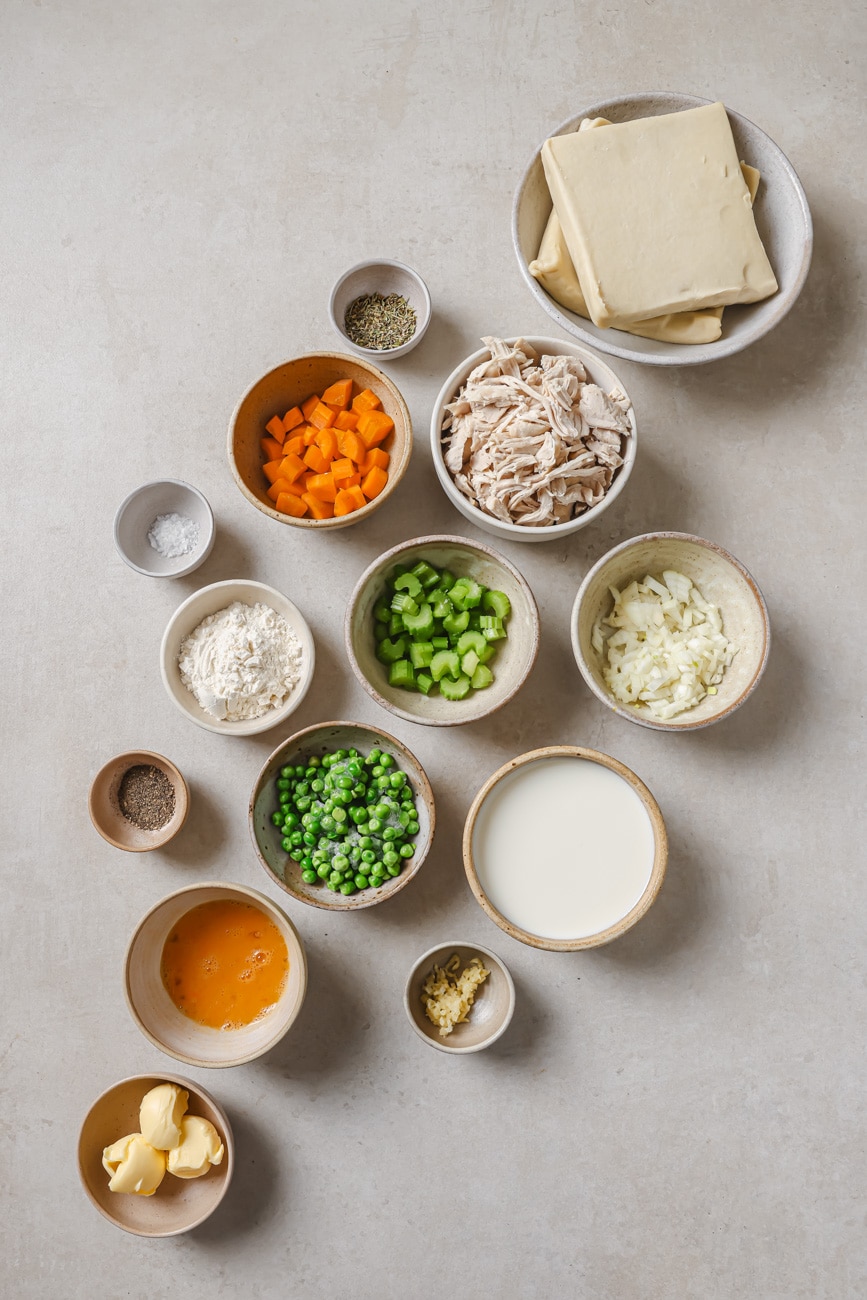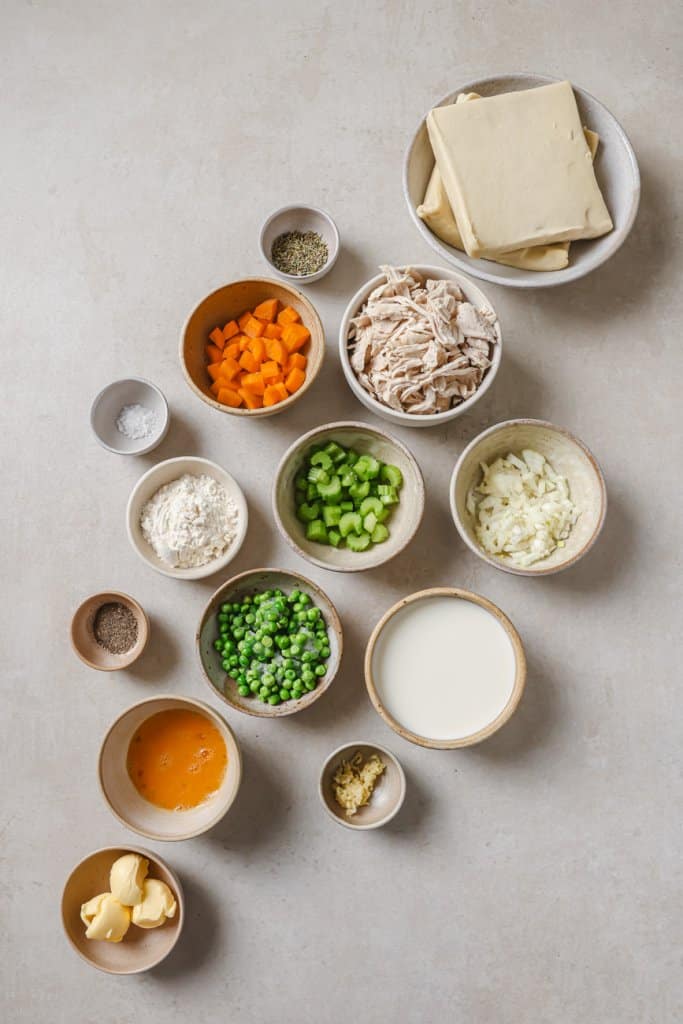 Ingredients you will need
Veggies: for the vegetables, I used garlic, chopped onion, carrots, celery, and frozen peas. I love just using whatever leftover vegetables I have. You can use a bag of frozen vegetables, too. Other vegetables you can use are green beans, broccoli, or cauliflower.
Leftover cooked turkey: any type of leftover turkey will work, you can even use a rotisserie chicken.
Gravy: to make the gravy, you will need Italian seasoning, all-purpose flour, chicken or turkey broth, milk, kosher salt, and pepper. You can even use leftover gravy.
Pie crusts: You will need a top crust and a bottom crust. You can use homemade pie crust or use store-bought pie crust. You might have extra dough left from making holiday pies, so you can use that if you've got it! Finish the top with an egg wash and flaky sea salt for a delicious golden crust.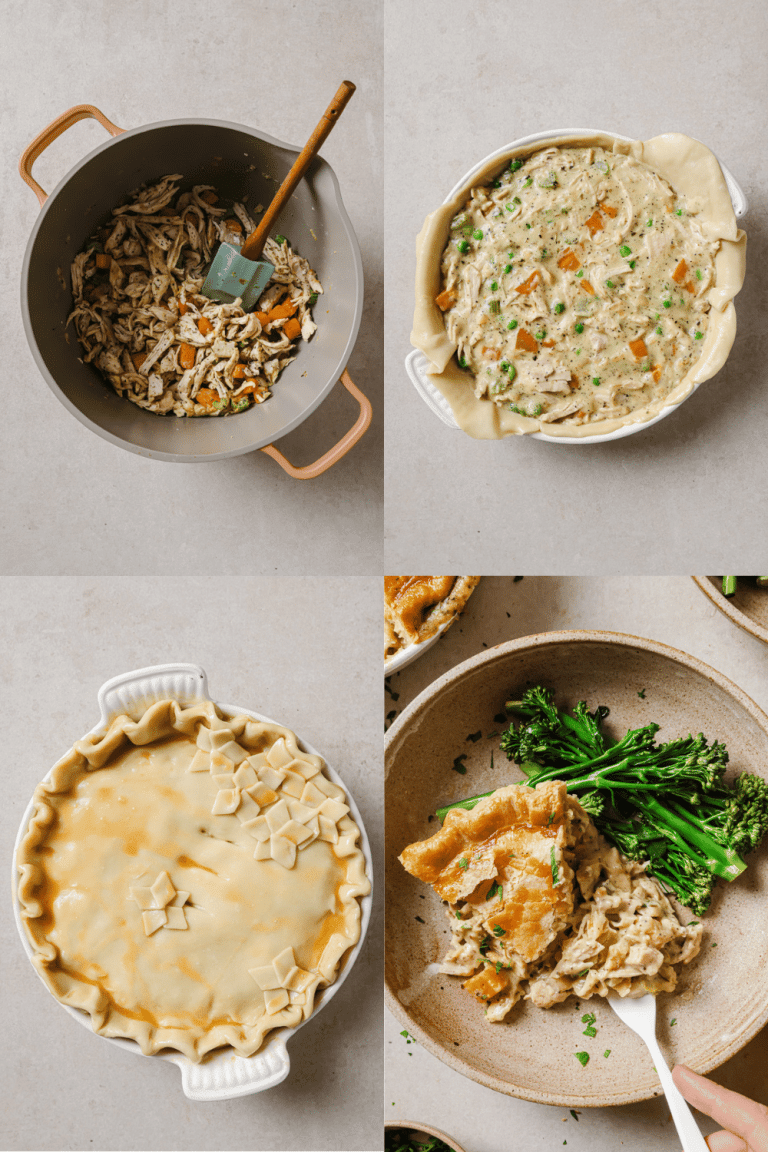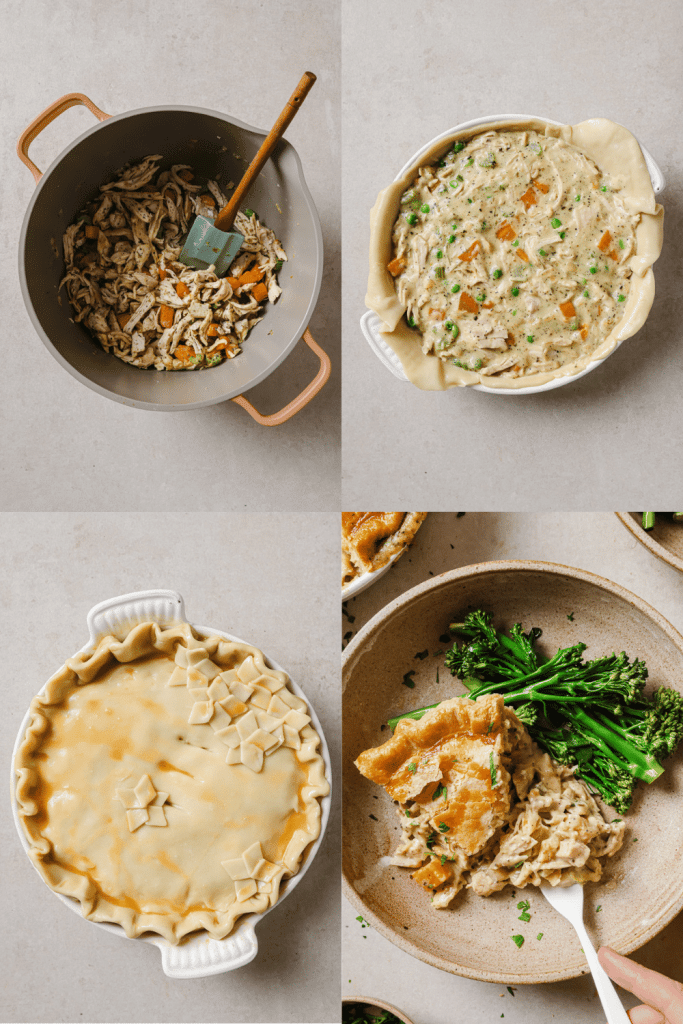 How to Make Thanksgiving Leftover Pot Pie
1. Saute the vegetables. Melt the butter in the pan and add the veggies. Cook for a few minutes until translucent. Add the garlic, turkey, and seasoning.
2. Make the gravy. Sprinkle the flour over everything and mix. Add the broth and mix well. Then add the milk, frozen veggies, salt, and pepper. Bring to a low boil and allow it to thicken. Remove the turkey mixture from the heat to cool before filling the pie.
3. Prepare the pie. Roll out the pie crust and place it in a greased pie dish. Then add the filling and then add the top layer of pie crust. Crimp the crust together with your fingers. Brush top with the egg wash and sprinkle with flaky sea salt. Cut a cross in the center to create a steam vent.
4. Bake. Bake your Thanksgiving Leftover Pot Pie until golden brown.
Recipe tips and variations
Mini Pot Pies in Ramekins: this recipe can be made into mini pot pies in Ramekins for individual portions. To make mini Thanksgiving leftover pot pies:
Preheat the oven and make the recipe as normal. Cut the top pie crust about 1 inch larger than the ramekin.
If adding a bottom crust, add it first, then divide the filling between the ramekins.
Place the top crust on and press it over the ramekin to create a seal. Create a slit to vent. The cook time will be shorter so keep an eye on them and watch for a golden brown crust.
Decorative Cutouts: use mini cookie cutters to create decorative cutouts from the ends of the pie crust. Place these cutouts on the crust before baking for a beautiful presentation.
Lighter Pot Pie: for a lighter version of pot pie, consider these modifications:
Use one pie crust, on the top, rather than one on the top and one on the bottom.
Use reduced-fat or Greek yogurt instead of heavy cream in the filling for a creamy texture with fewer calories.
Opt for skinless turkey breast to reduce fat content.
Increase the proportion of vegetables in the filling to add fiber and nutrients while reducing calorie density.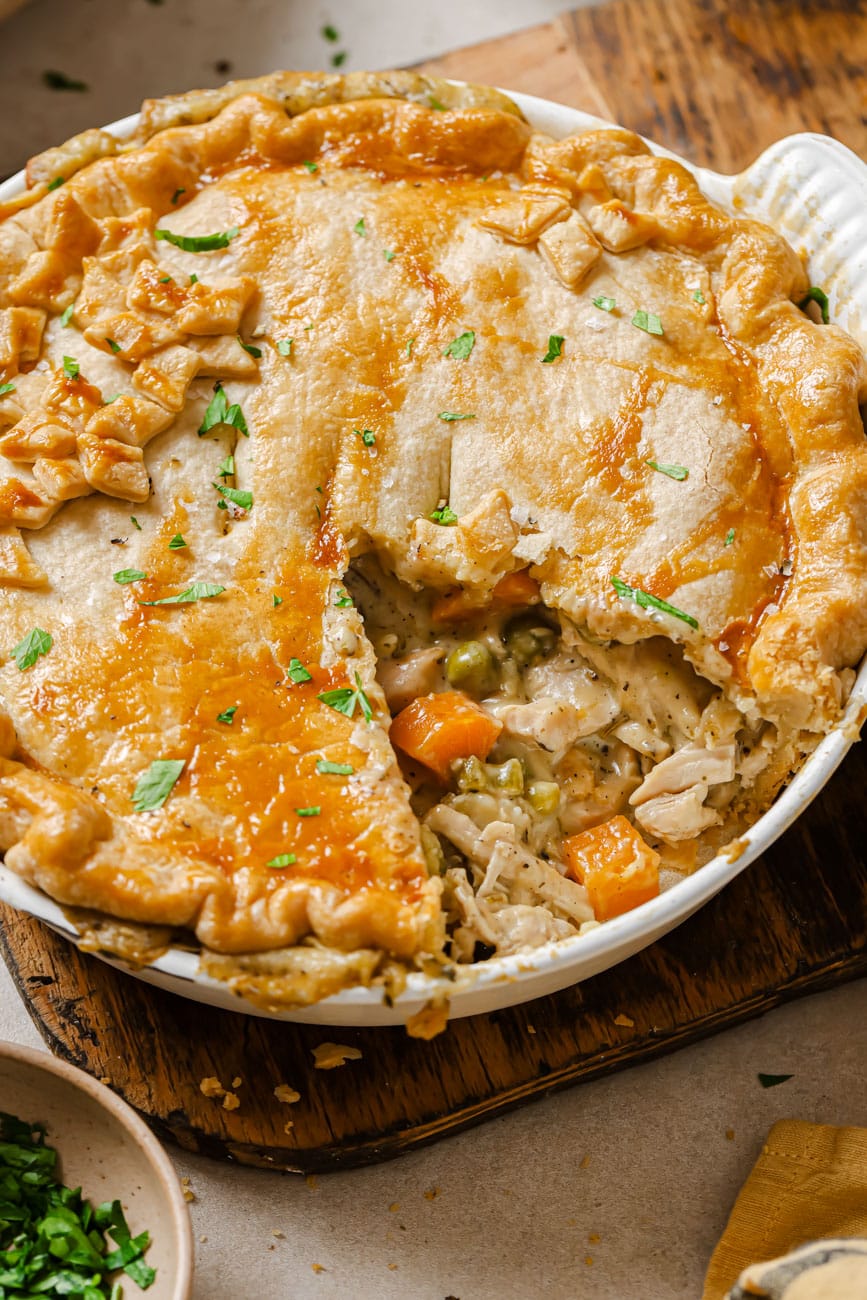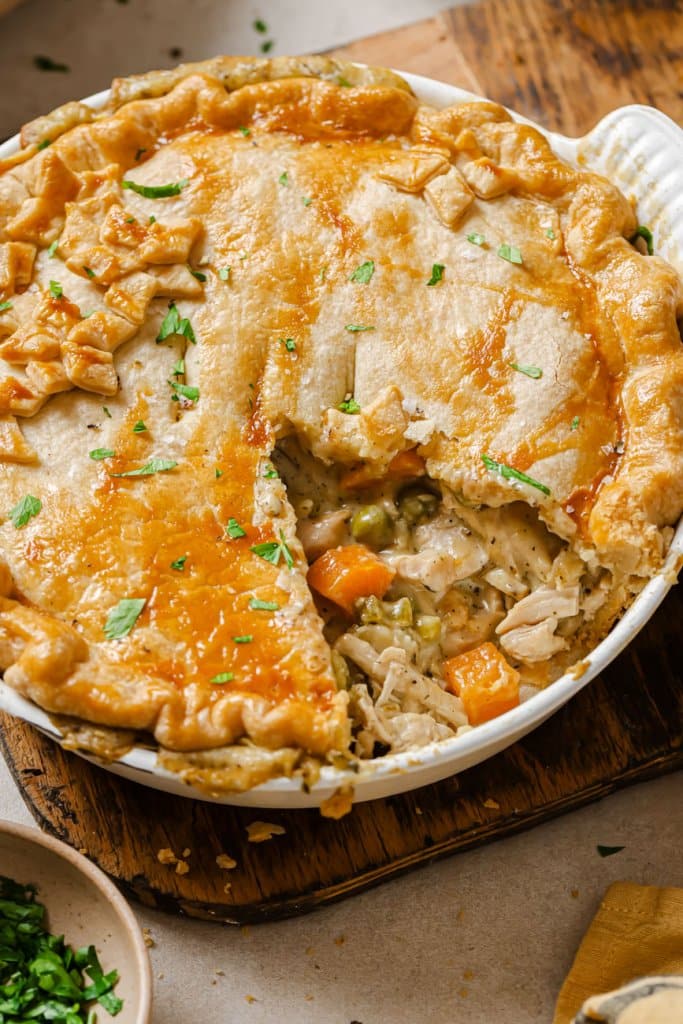 Can I Add Potatoes?
I love adding potatoes to my pot pie! Roasted potatoes are one of my favorites to use. Mashed potatoes can even be added to the gravy to create an even creamier filling. It's also delicious with cut sweet potatoes.
Turkey Pot Pie With Puff Pastry
In this recipe for turkey pot pie, I am using pie crust, but you can also use puff pastry. Puff pastry is like a flaky crust that lays over the creamy filling.
It looks absolutely beautiful and it's really easy to use. However, puff pastry has a lot higher calorie content than pie crust and some people find that it's not as satisfying as a traditional pie crust.
Some people think that the puff pastry gets soggy, but I think that it tastes incredible. I love using a flaky puff pastry crust in my homemade turkey pot pies!
Turkey Pot Pie with Biscuits
When it comes to making pot pie, using biscuits as a topping instead of traditional pie crust can offer a delicious twist. A biscuit topping brings its own set of advantages and considerations that can impact the meal's taste, texture, and experience.
Biscuits provide a soft, fluffy, and slightly crunchy texture, except where the biscuits soak up the creamy sauce on the top of the filling. Using premade biscuits also makes it easier, all you have to do is lay the biscuits down.
You don't have to fuss to make the pie dough cover the casserole dish or pie plate. The downside of using biscuits is that they taste very different than flaky pie crust. Also, because biscuits may rise differently during baking, there might be variations in the thickness of the crust.
How to Thicken Pot Pie Filling
To thicken your pot pie filling, you can use a simple technique that adds richness and consistency to the mixture. This is the easiest thickening agent:
Start by melting a small amount of butter in a saucepan over medium heat. Once the butter is melted, sprinkle in an equal amount of all-purpose flour and whisk them together until they form a smooth paste, known as a roux.
Allow the roux to cook for a minute or two, then slowly pour in some warm turkey or chicken broth while continuing to whisk. The mixture will start to thicken as the liquid is incorporated.
Keep whisking until you achieve the desired thickness for your filling. This method not only adds thickness but also enhances the flavor of your pot pie.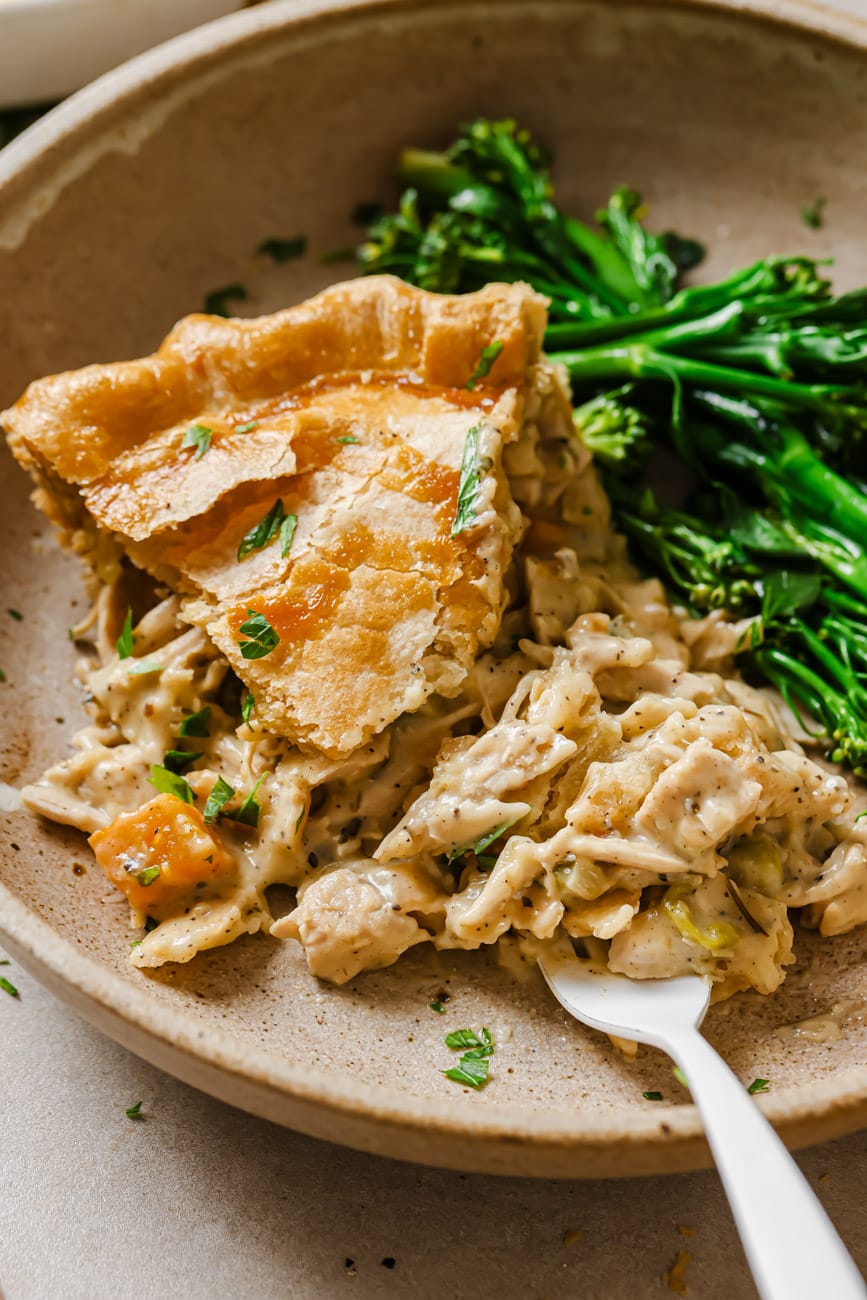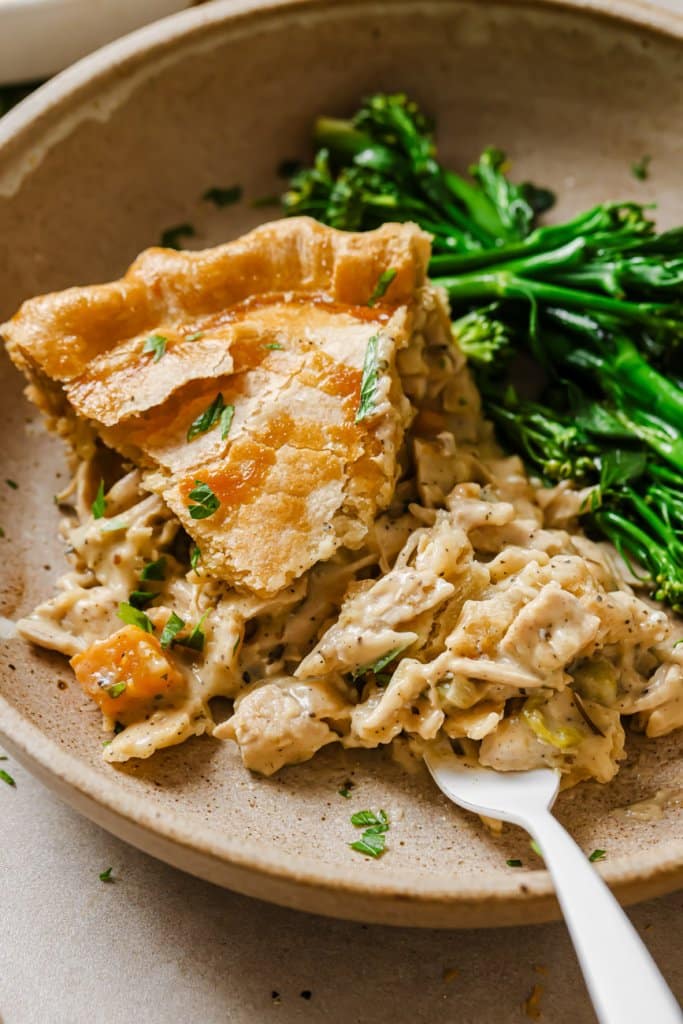 How Small Should I Chop My Veggies?
You want to make sure the veggies are bite-sized or smaller. If you cut them slightly smaller than bite-sized, you can get more in each bite. That's one of my favorite things about eating a pot pie! If your leftover veggies are cut larger than that, you might need to cut them down further.
Can Pot Pie be Frozen?
Definitely! Turkey pot pie can be frozen either before or after baking. Prepare as directed and cool completely. Cover the pot pie tightly in plastic wrap and then in foil. You can freeze it for 3-4 months.
To bake from frozen: preheat the oven to 375°F and unwrap the pie. Bake, uncovered for about 80-90 minutes or until golden and the filling is warm all the way through. If you notice the crust starting to brown too much, loosely cover it with foil.
More recipes for leftover turkey
The best thing about leftover turkey is that any recipe that calls for shredded chicken can have leftover turkey instead. So if you see a recipe for rotisserie chicken or leftover chicken, use leftover turkey instead!
WANT TO TRY THIS THANKSGIVING LEFTOVER POT PIE RECIPE?
PIN IT to your Thanksgiving leftovers recipes, Thanksgiving recipes, or turkey recipes board to save it for later!
Find me on Pinterest for more great recipes. I'm always pinning!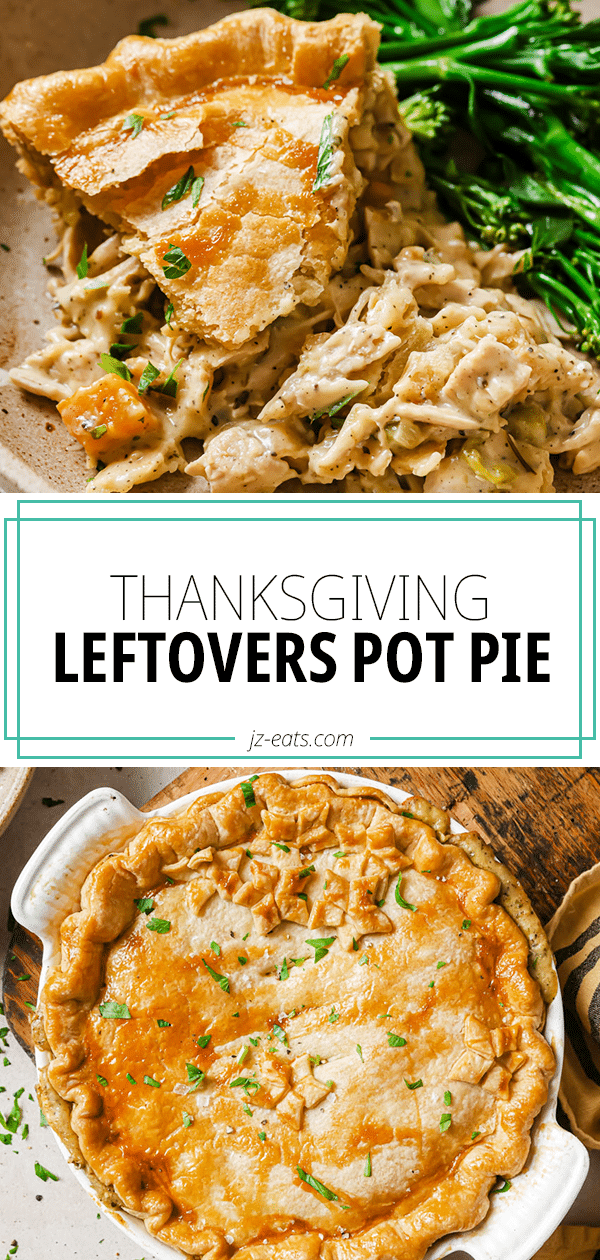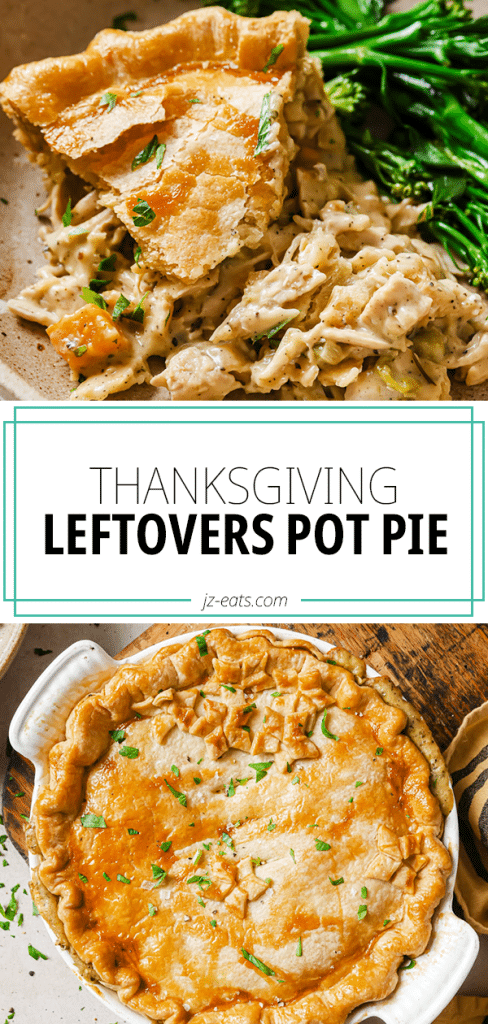 Did you make this recipe? Post a photo on Instagram and tag me @JZEATS or #JZEATS so I can see! Leave a comment below and let me know what you think, too!
Thanksgiving Leftover Pot Pie
Do you have loads of leftover turkey and vegetables? Put them to use with this delicious Thanksgiving Leftover Pot Pie! It's hearty and satisfying, and will keep you fed all week!
Ingredients
3

tbsps

butter

1

medium onion

finely diced

1/2

cup

carrots,

cut into 1/2 inch cubes

1/2

cup

celery,

cut into 1/2 inch cubes

2

garlic cloves,

finely minced

3

cups

leftover cooked turkey,

cubed or shredded

2

tsps

Italian seasoning

1/4

cup

all purpose flour

3/4

cup

chicken or turkey broth

1

cup

milk

1/2

cup

frozen peas

1/2

tsp

kosher salt

1

tsp

ground black pepper

2

7 ounce

frozen pie crusts,

thawed

1

egg,

beaten
Instructions
Preheat the oven to 400F.

Melt the butter in a non-stick pan or dutch oven over medium heat. Add the onion, carrots and celery. Cook for 3-4 minutes or until translucent then add the garlic, cooked turkey, and Italian seasoning and toss to combine.

Sprinkle the flour over the mix and stir to combine. Continue cooking over medium heat, stirring continuously. Pour in the chicken or turkey broth, mixing well. Add the milk, frozen peas, salt, and pepper. Bring to a low boil and allow the mixture to cook for 2 minutes to thicken. Adjust the consistency to taste with more broth if needed. Remove the mixture from the heat and allow it to cool slightly before filling the pie.

Roll out two crusts so they're about 1 inch larger than the dish you're using. Spray a pie dish with cooking spray and line it with 1 sheet of the pie crust. Add the filling and lay the remaining pie pastry over the top and press the crust into the sides of the dish, crimping it with your fingers.

Brush the pie with the egg and sprinkle with flaky sea salt. Cut a cross in the top of the crust to release the steam.
Notes
You can use mini cookie cutters to make cutouts out of the ends (you can preroll the pastry ends if needed to make the cutouts) and lay on top of the pastry for decoration.
For a lighter pie:
Add the filling to a buttered pie dish. Place the crust to the top of the pot pie mix, and press the crust into the sides of the dish, crimping it with your fingers.

Bake for 30 – 40 minutes or until the crust is golden.

Allow it to cool for 2-5 minutes, then slice and serve. To reheat, preheat the oven to 300 F and heat individual pie slices for 20-30 minutes.
Nutrition
Calories:
319
kcal
|
Carbohydrates:
18
g
|
Protein:
30
g
|
Fat:
14
g
|
Saturated Fat:
7
g
|
Polyunsaturated Fat:
1
g
|
Monounsaturated Fat:
4
g
|
Trans Fat:
0.4
g
|
Cholesterol:
142
mg
|
Sodium:
710
mg
|
Potassium:
566
mg
|
Fiber:
3
g
|
Sugar:
6
g
|
Vitamin A:
3342
IU
|
Vitamin C:
11
mg
|
Calcium:
141
mg
|
Iron:
2
mg