This post may contain affiliate links which will not change your price but will share some commission. Please read my privacy policy.
These homemade brownies are so chocolatey, fudgy, and simple to make, you'll never need a brownie box recipe again!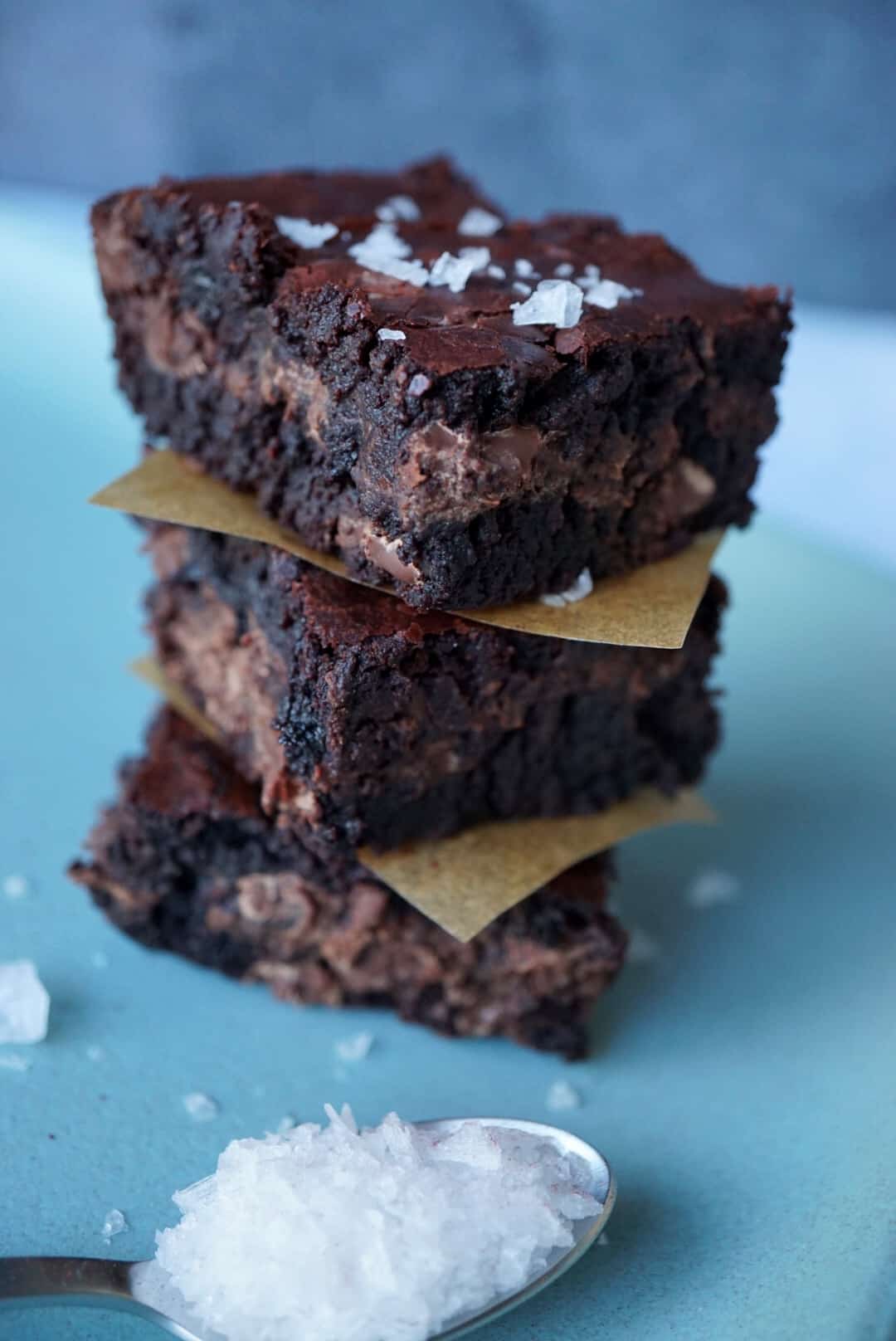 Let me start by saying I am not a baker. For years I refused to bake anything, even pre-cut cookies and boxed brownies. So if I can successfully create a delicious brownie recipe and make it several times without ruining it, you can definitely make these homemade brownies. And they're perfect for Valentine's Day!
While I may not have done a lot of brownie baking in my life, I have certainly done a lot of brownie tasting and I can tell you these are the best brownies I've ever had. Anyone who knows me personally also had a hard time believing that until they tried them. A few qualified taste testers confirmed that they are in fact the best brownies they have every had.
My definition of the perfect brownie might be different from yours. In my opinion, these are the three qualities that make up the perfect brownie:
Thick
Chewy
Slightly crispy on top
Are you team chewy or team cakey?Â
Like I said above, everyone has a different opinion when it comes to brownie composition and what they like best. I prefer chewy brownies over cakey brownies and that's exactly what these homemade brownies are. Chewy, chocolatey, and nearly impossible to stop eating. If you're like me and prefer chewy brownies, this homemade brownie recipe is for you!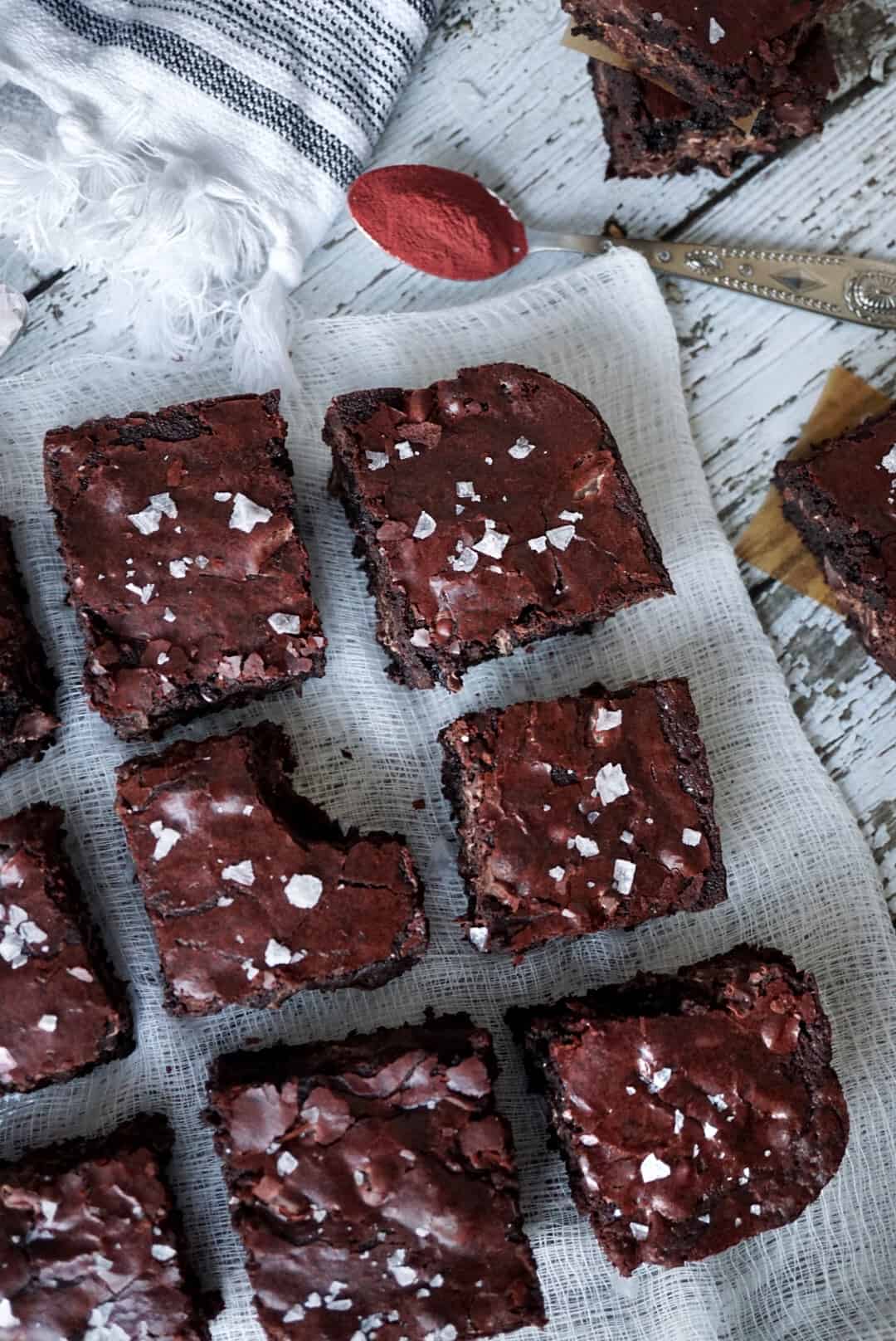 Now let's talk specifics. I used olive oil from Filippo Berio's collection because it's my favorite. And I'm so excited to announce that this is the first in a series of posts we're doing together this year. Filippo Berio is such a fantastic company, and I couldn't be more proud to work with them in 2019. Stay tuned for more awesome recipes together 🙂
How much oil should I use?
To make these brownies, I used one tablespoon of Filippo Berio Extra Light Olive Oil, which is much less than most other recipes call for. It worked perfectly because it didn't add too much weight to the brownies and didn't compromise the coveted crust on the top that everyone strives to achieve. They turned out fudgy but not too dense where you feel like you are biting into a chocolate brick.
Most of the ingredients are in your pantry
I laughed as I wrote that because I feel like it's something most bloggers say. But really, who doesn't have butter, flour, sugar, eggs, vanilla extract, chocolate chips, and salt in their pantry? The beetroot powder and flaky salt might not be in most pantries but can easily be picked up from the store.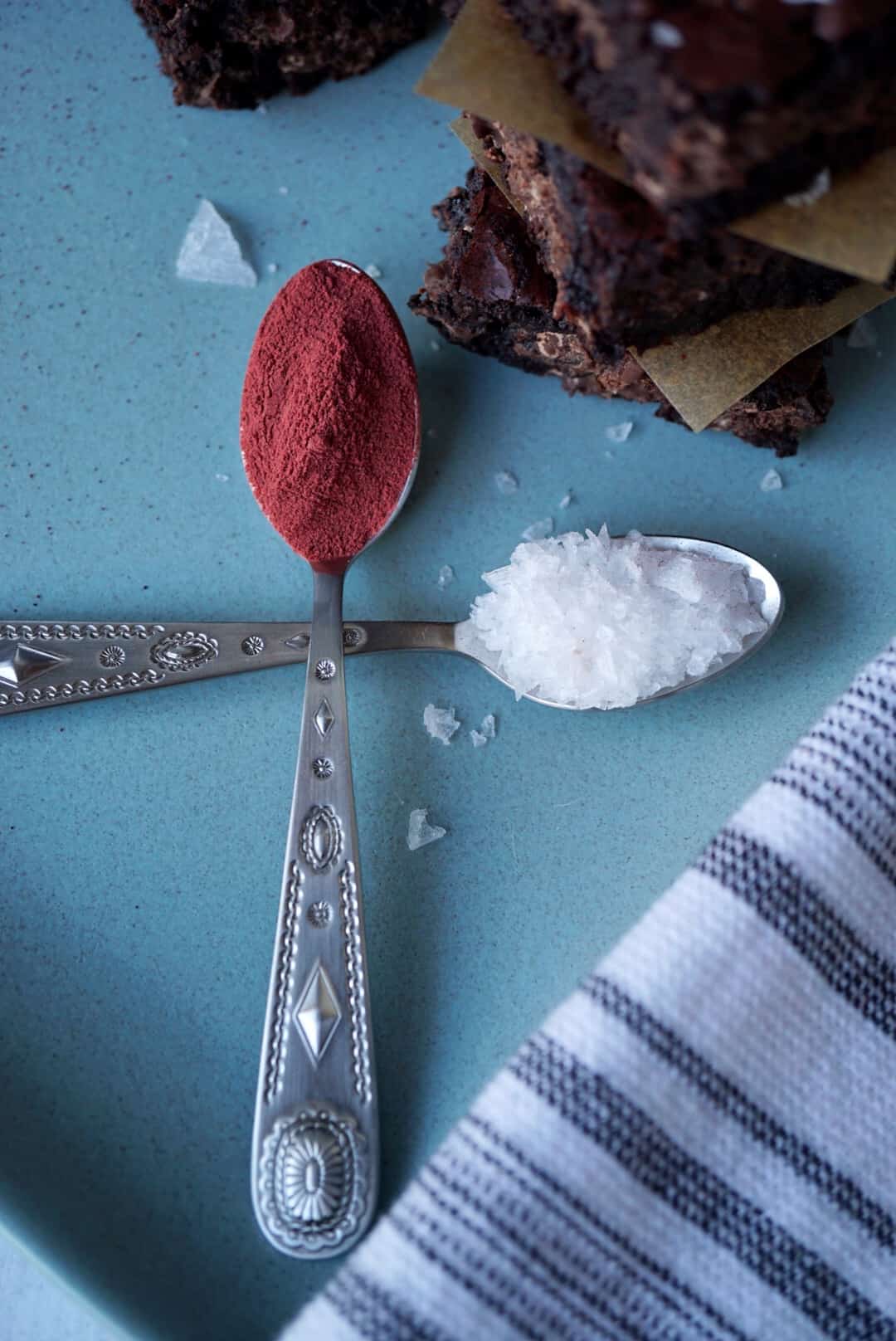 One bowl brownies
Guess what! These brownies are all made in one bowl. With this homemade brownie recipe you won't have to worry about messy melted chocolate and dirtying up multiple bowls and pans. These homemade brownies only require an easy 10 minute ingredient prep and the clean up is even easier. Really, it's not a huge time commitment.
Beetroot powder health benefits
Have you been wondering what to do with beetroot powder? It's is often used in smoothies, hummus, salad dressings, among other recipes. But what about brownies? I'm always looking for new ways to incorporate healthy ingredients and this is an easy way to give your picky eater a dose of veggies. They'll never even know it's in there!
Beetroot powder may help:
Regulate blood pressure
Fight inflammation
Support brain health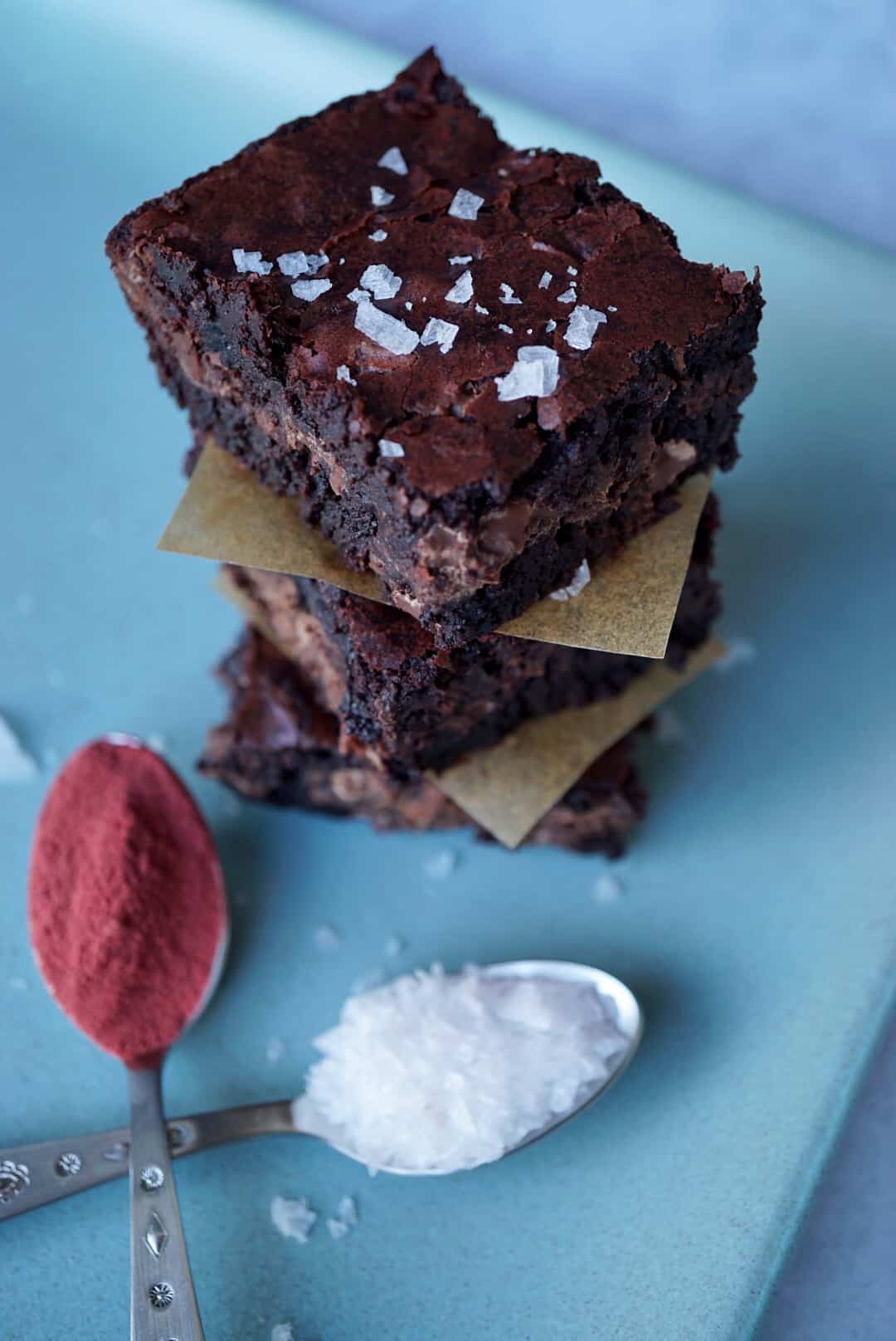 Where can I buy beetroot powder?
I found beetroot powder at my local Harris Teeter and also at Whole Foods. At Harris Teeter it was in the baking section and in Whole Foods I found it near the protein powders.
While the beetroot powder adds a lot of health benefits to these brownies, it also adds a nice pop of pink for Valentine's Day! I garnished half of my brownies with beetroot powder and half with flaky salt. You can choose to garnish them however you please, or serve them naked!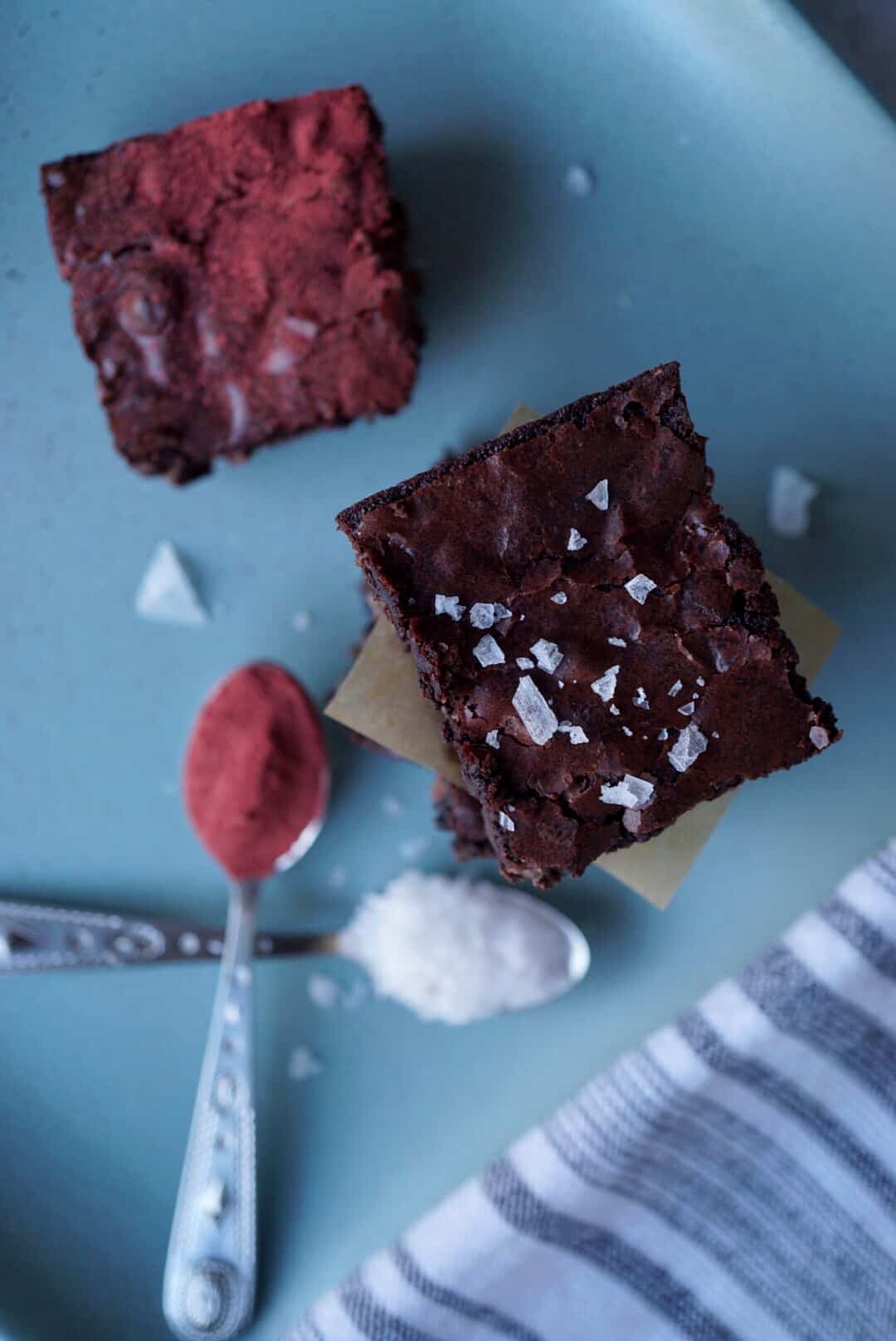 Recipe notes
Do not over beat or over mix the batter. This will affect the texture of your brownies!
If you are testing the brownies with a toothpick, it will come out dirty and gooey because this is a fudgy brownie recipe.
The best way to test for doneness is to gently press on the center with one finger. If it feels pretty firm, they are done.
Do not cut the brownies until they have completely cooled! If you cut them too early they won't set properly.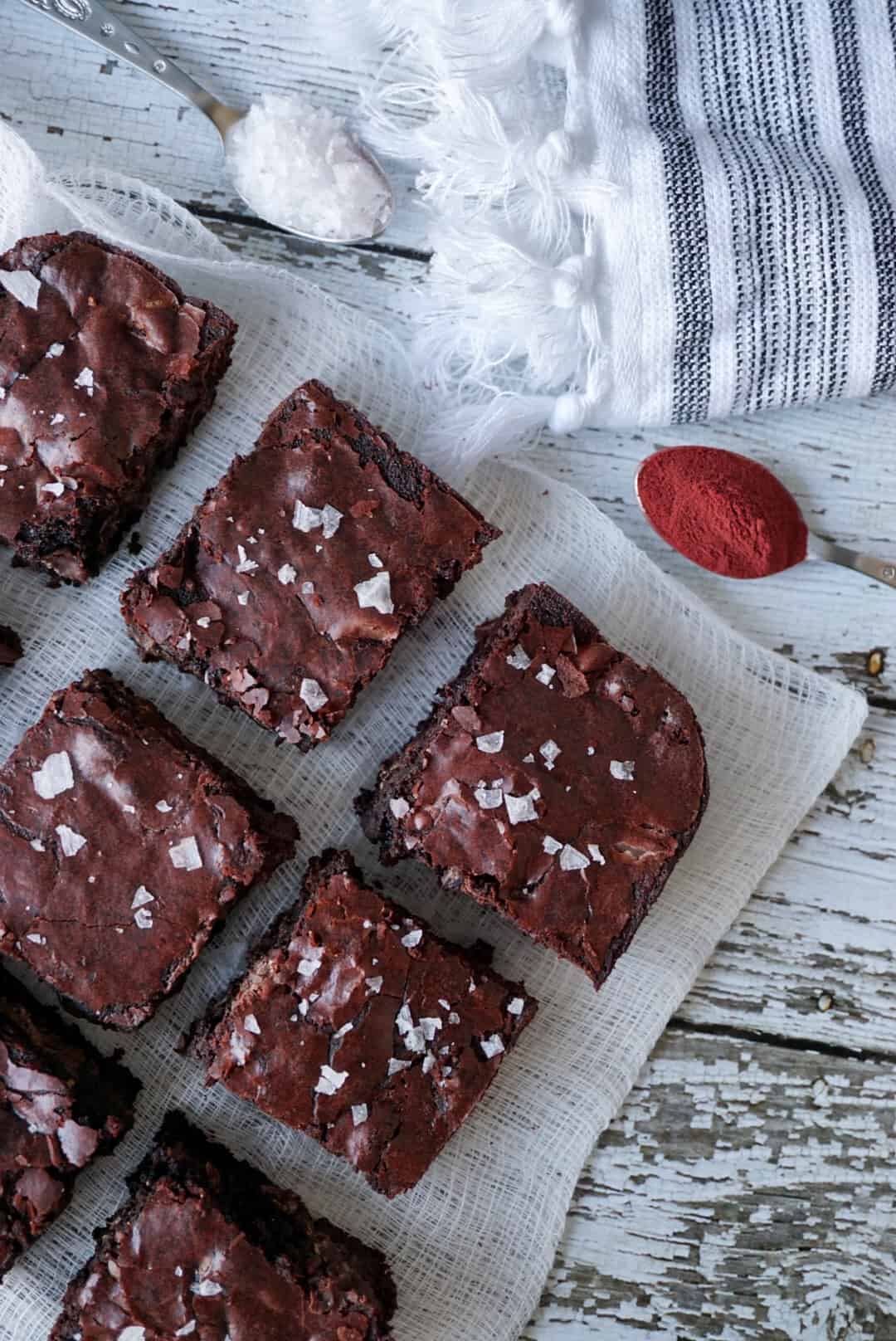 Make these brownies for your Galentine's Day party or for your special Valentine who deserves something sweet! Or have the entire batch to yourself because let's be real, homemade brownies are better than any boyfriend you'll ever have.
Want to try this HeartBeet Valentine's Day Homemade Brownie Recipe?
PIN IT to your dessert recipes or brownies recipes board to save it for later!
Find me on Pinterest for more great recipes. I'm always pinning!
Other recipes with Filippo Berio products:
HeartBeet Valentine's Day Homemade Brownie Recipe
These are the fudgiest brownies you'll ever have! Prepared in one bowl and ready to eat in 35 minutes. These brownies are crisp, chewy, and chocolatey they're almost impossible to stop eating.
Ingredients
1/2

cups

unsalted butter,

melted

1

tbsp

Felippo Berio extra light olive oil

1

cup

superfine sugar

1/4

cup

brown sugar

2

large eggs

1/2

cup

unbleached flour

1/2

cup

unsweetened cocoa powder

1 1/2

cups

semisweet chocolate chips

1

tbsp

beetroot powder,

extra for garnish if desired

1/4

tbsp

salt

flaky salt to taste

1

tsp

vanilla extract
Instructions
Preheat oven to 350 F.


Lightly grease an 8×8 baking dish with cooking oil spray. Line with parchment paper, spray, and set aside.


Combine melted butter, oil, and sugar in a medium sized mixing bowl, then add eggs and vanilla, and beat for about 1 minute, until lighter in color. Do not over beat!


In the same bowl, sift flour, cocoa powder, beetroot powder, and salt into the wet mixture. Gently fold in the dry ingredients into the wet mixture until JUST combined. Do not over mix or the texture of your brownies will be affected. Next, gently fold in chocolate chips.


Pour brownie batter into greased baking dish, smoothing the top out evenly.


Bake for 20-25 minutes or until the center of the pan no longer jiggles and is just set to the touch. If testing with a toothpick, it should come out dirty because these are fudgy brownies.


Sprinkle flaky salt over brownies and allow them to cool completely before slicing into 16 squares.


Optional: sift more beetroot powder over brownies for an extra pop of color.

Nutrition
Calories:
239
kcal
|
Carbohydrates:
27
g
|
Protein:
2
g
|
Fat:
14
g
|
Saturated Fat:
7
g
|
Cholesterol:
36
mg
|
Sodium:
121
mg
|
Potassium:
153
mg
|
Fiber:
2
g
|
Sugar:
20
g
|
Vitamin A:
215
IU
|
Calcium:
20
mg
|
Iron:
1.6
mg
While this recipe was made in partnership with Filippo Berio, all views stated are my own.
Reader Interactions