This post may contain affiliate links which will not change your price but will share some commission. Please read my privacy policy.
A super creamy beet hummus recipe that is not just good for the soul, but good for the heart! Packed with nutritious ingredients like roasted beets, garlic, and chickpeas.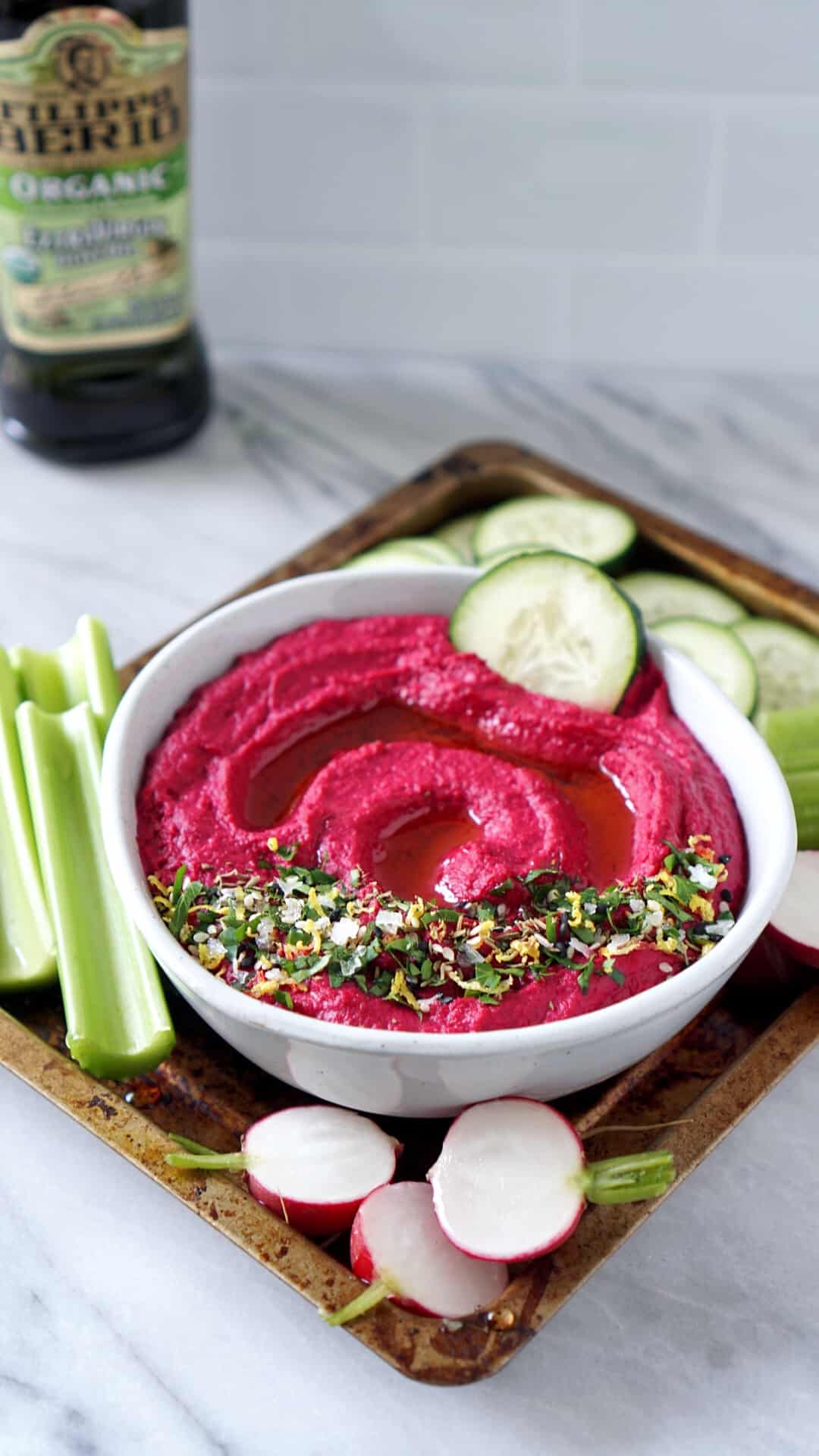 Roasted Beet Hummus
Hummus is one of my all time favorite snacks to eat in between meals. I purchase store bought hummus at the grocery store all the time, but recently started getting into making my own hummus. And it is sooo worth it!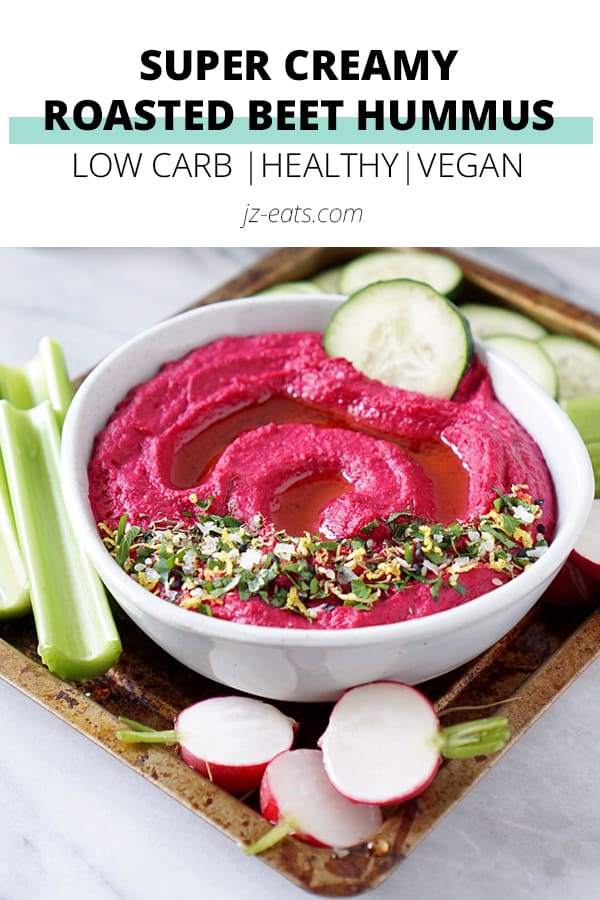 Let me tell you all the reasons why you are going to love this beet hummus recipe so much. For my health conscious readers, this Roasted Beet Hummus is jam packed with nutrients that when mixed together, produce the most vibrant hummus. I mean, just look at the color it's bright pink! Such a great way to get the kids to eat their veggies, right?!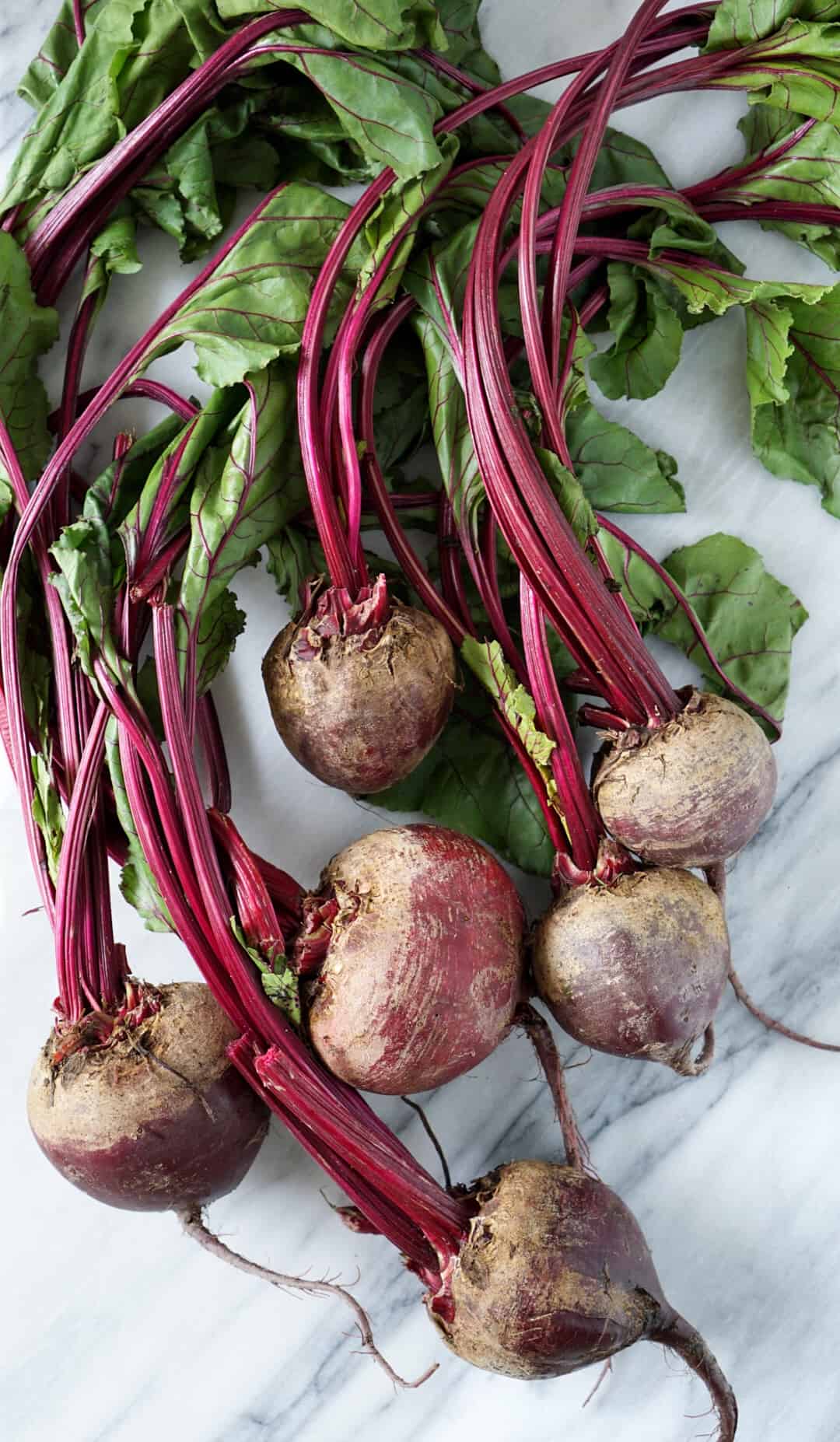 Impressive health benefits of beets
Tons of nutrients in just a few calories
Help keep blood pressure in check
May help fight inflammation
Can improve digestive health
Might help support brain health
You can read more about the impressive health benefits of beets on Healthline's website.
Beets aren't the sexiest vegetable on the outside, but when you cut them open they are STUNNING. Beets have this marbleization that gives them such interesting color and contrast. It's what's on the inside that counts, right?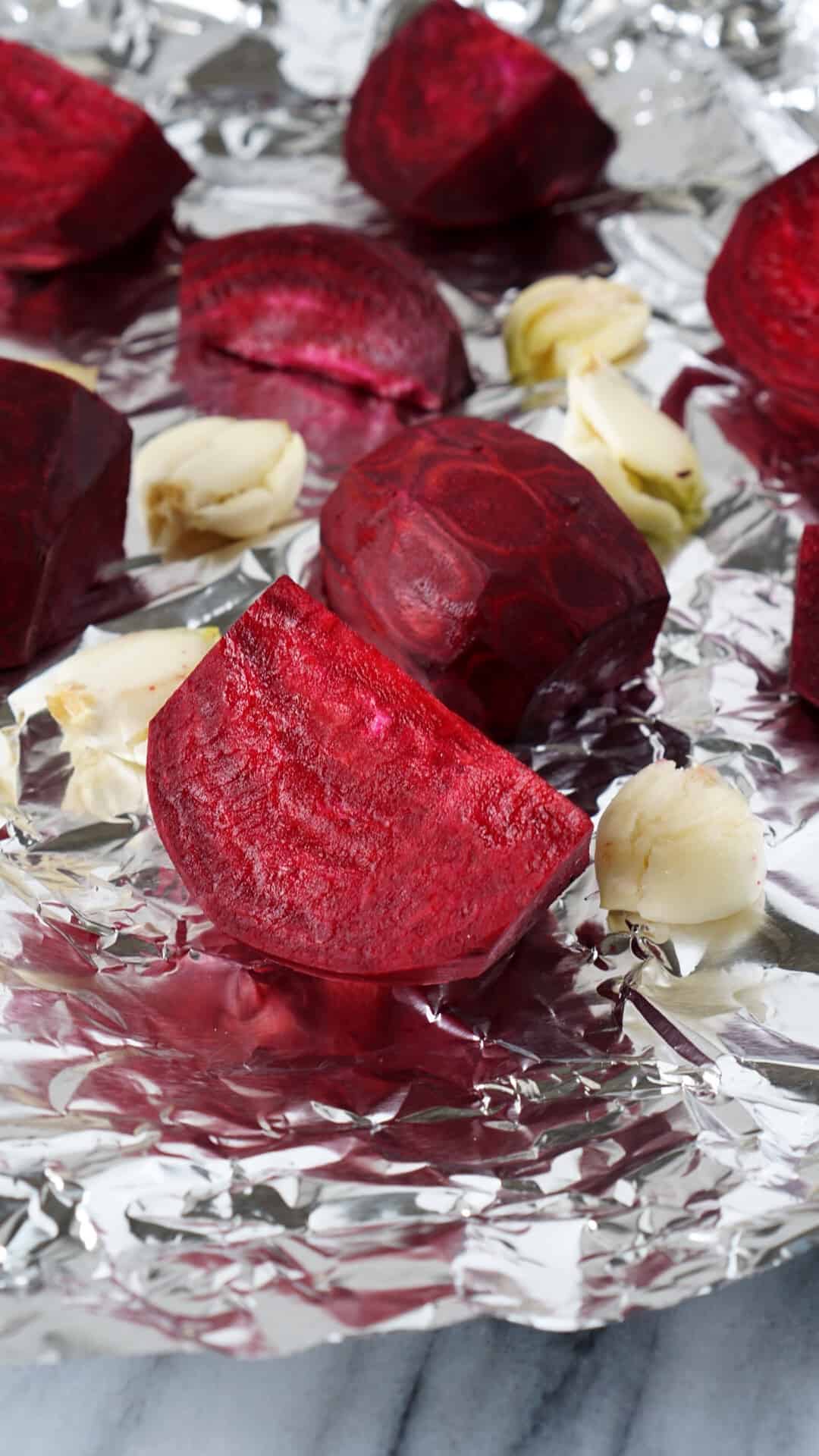 The beets aren't the only ingredient that makes this hummus recipe super nutritious. Chickpeas are also packed with nutrients, and filling!
Health benefits of chickpeas
May help keep your appetite under control
Rich in plant-based protein
Supports blood sugar control
May benefit digestion
You can read more about the health benefits of chickpeas on Healthline's website.
Wait…there's even MORE health benefits to this beet hummus recipe! Garlic. There are several proven health benefits of garlic.
Why is garlic healthy?
Garlic contains compounds with potent medicinal properties
Garlic is highly nutritious but contains few calories
Can help overcome sicknesses like the common cold
Active compounds in garlic can help reduce blood pressure
Improves cholesterol levels
Read about the other health benefits of garlic on Healthline's website.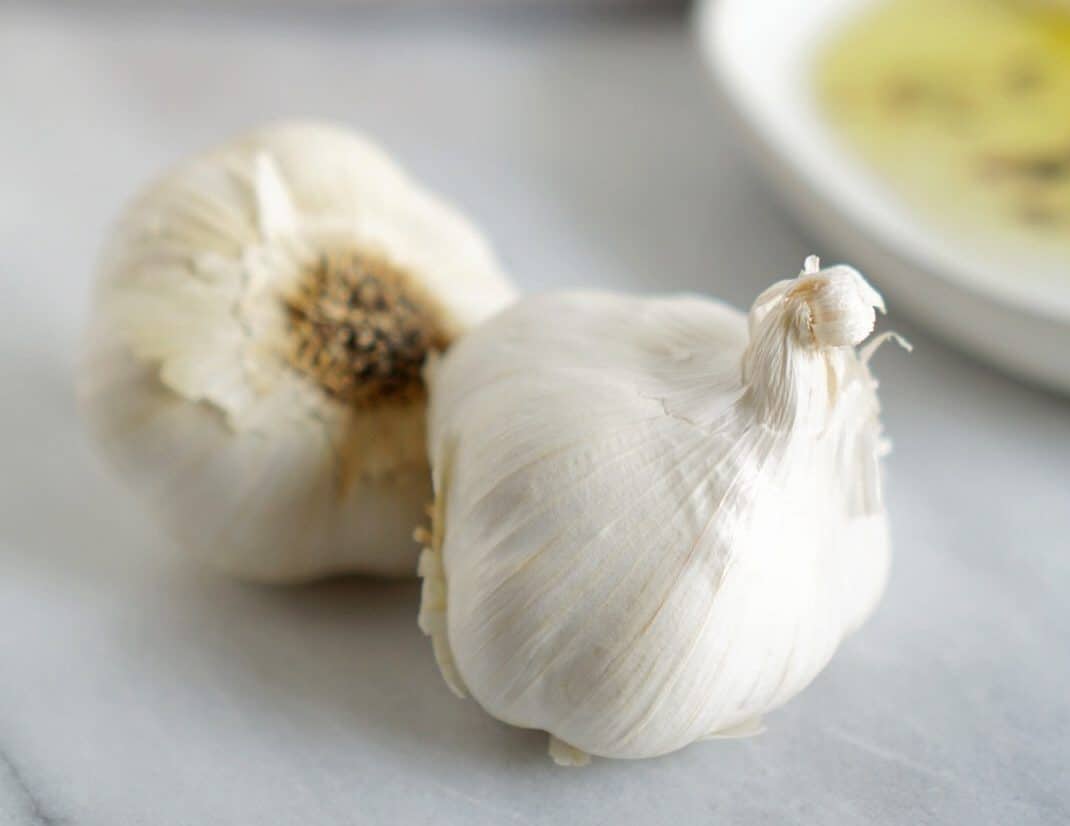 The crushed and roasted garlic in this recipe is sooo good. Crushed garlic is basically my new favorite way to eat garlic. I love that how easy it is to get the peel off! I talk about it in detail in this post.
Roasted Beet Hummus is a great appetizer recipe or snack recipe to keep handy. It's also an amazing addition to any party spread and so easy to transport if you're looking for something to bring to your next potluck dinner.
This hummus recipe is also one of my favorite vegan recipes! I have been trying to incorporate more plants into my diet, and you will see a major influx of plant-based recipes coming over the next couple of months.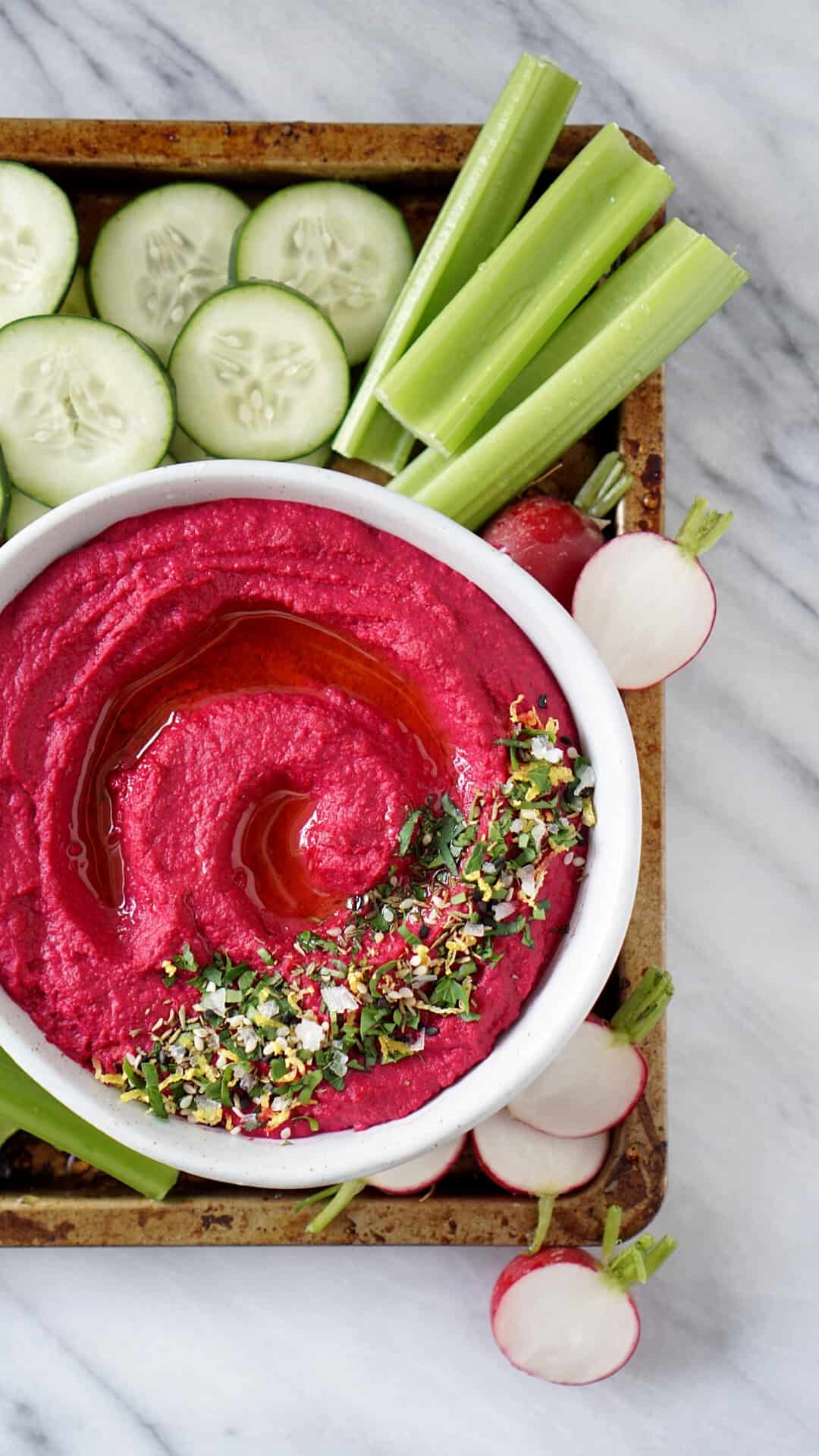 Filippo Berio Olive Oil
I used Filippo Berio's Extra Virgin Organic Olive Oil in this hummus recipe because it's fresh with notes of herbs and pairs perfectly with the flavors of the other ingredients.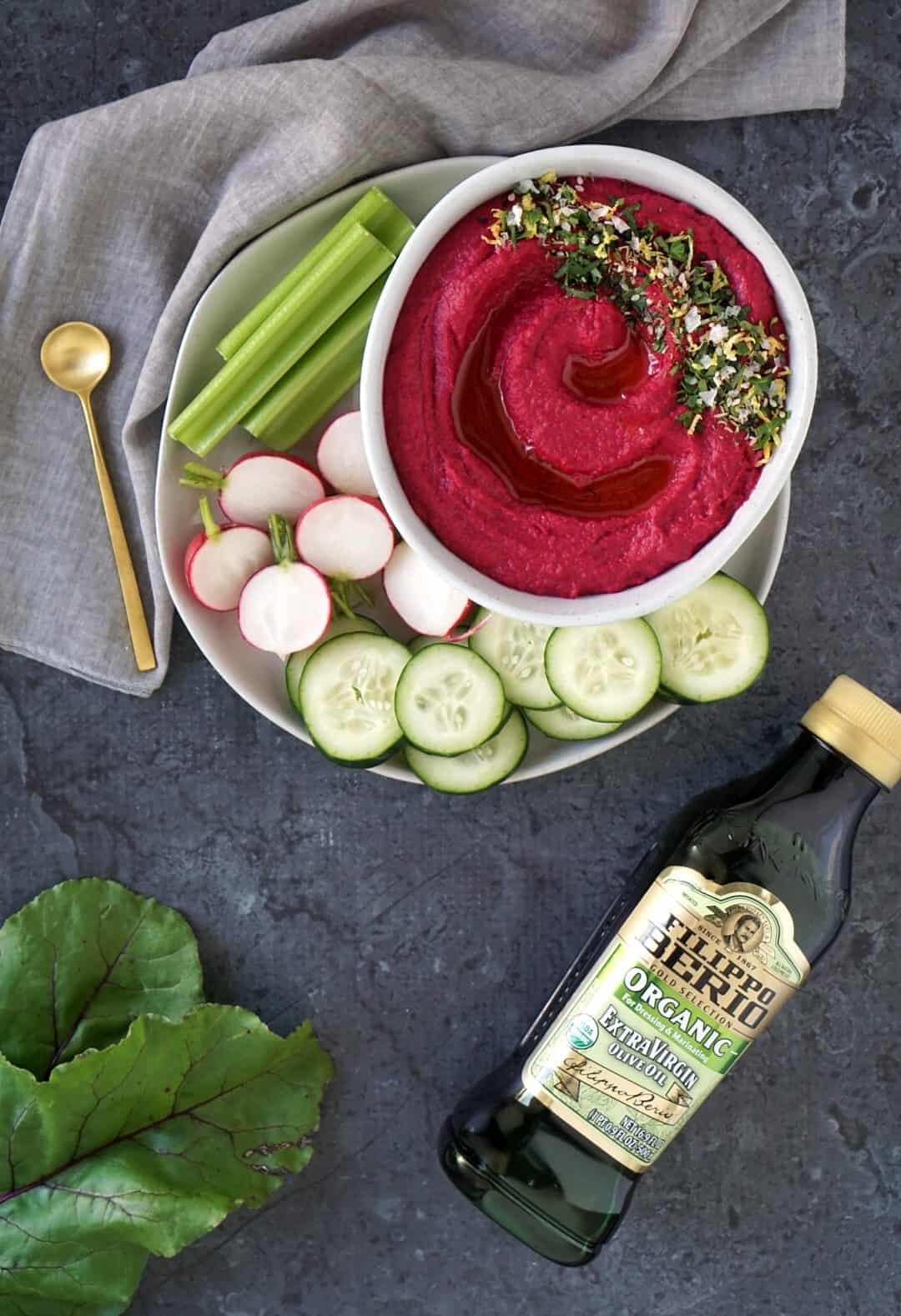 How to make beet hummus
Roast the beets and garlic in foil for about 45 minutes.
Add the other hummus ingredients to a food processor or immersion blender, including the tahini, lemon juice and zest, olive oil and cumin, then blend in 20 second intervals until smooth. I like to blend these ingredients before adding the beets because it's what makes this hummus SUPER creamy!
Add the beets and garlic to the blender a few at a time once they're done roasting.
Blend everything together in 20 second intervals until it's SUPER vibrant and ultra creamy.
Garnish with fresh herbs and spices to really jazz it up (I topped mine with Za'atar, lemon zest, sesame seeds, fresh chopped parsley, flaky salt, and a drizzle of Filippo Berio Extra Virgin Olive Oil).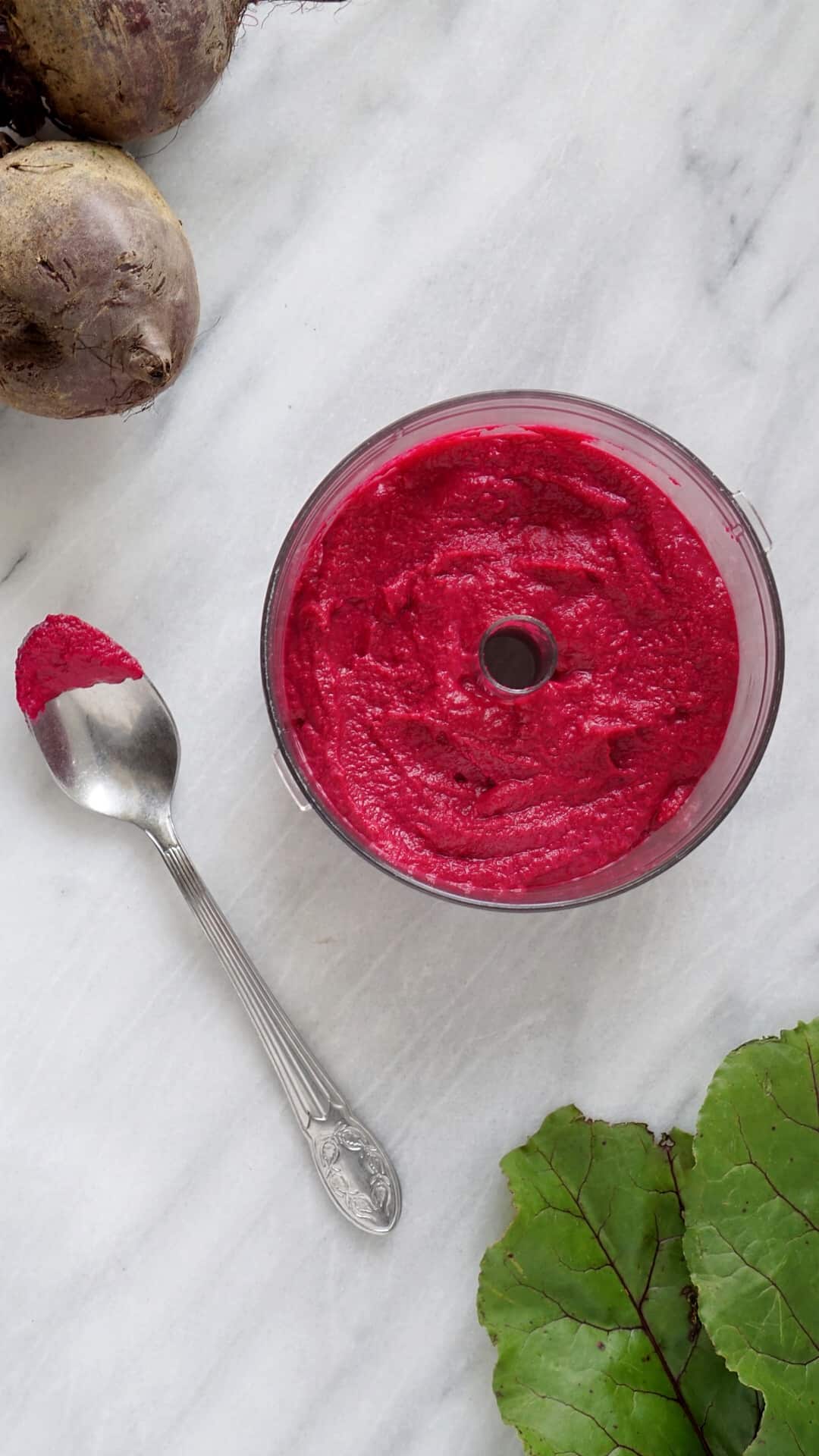 What to do with leftover hummus
This hummus recipe yields about six servings, so you might want to save some for later. I pack mine up in small glass containers and freeze it. These baby food containers are my favorite for storing snack sized portions of hummus in the freezer.
You can freeze hummus for several months! When you're ready to eat it, just thaw in the refrigerator for a few hours or overnight.
Hummus goes well with other ingredients like couscous, pesto, shallots, cilantro, grilled chicken, and so much more! You can eat it with your breakfast, lunch, dinner, or enjoy it by itself as a snack!
I added some of my leftover hummus to avocado toast for breakfast and served it with a side of scrambled eggs, and it was delicious.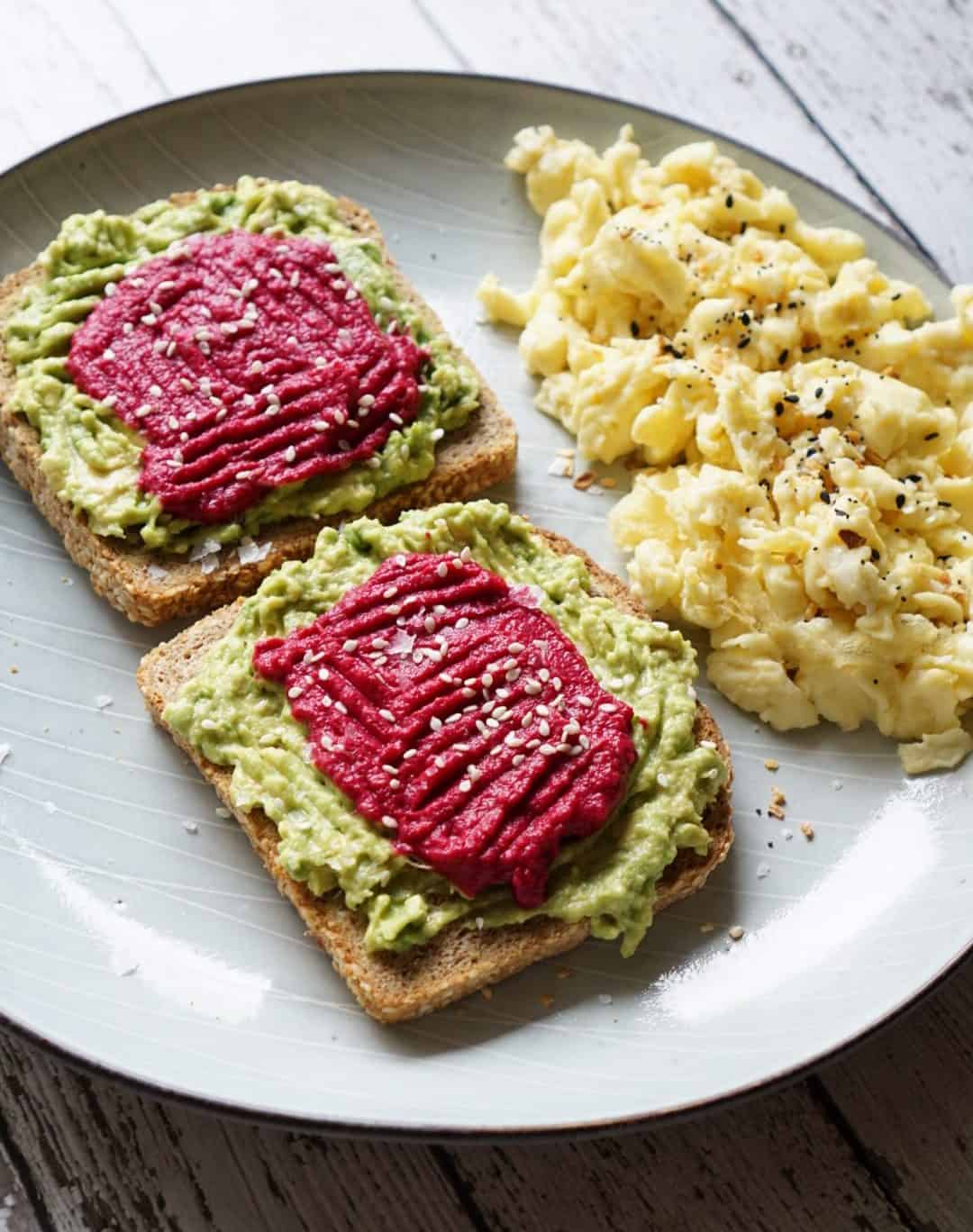 Want to try this Roasted Beet Hummus?
PIN IT to your hummus, vegan, or appetizers board to save it for later!
Find me on Pinterest for more great recipes. I'm always pinning!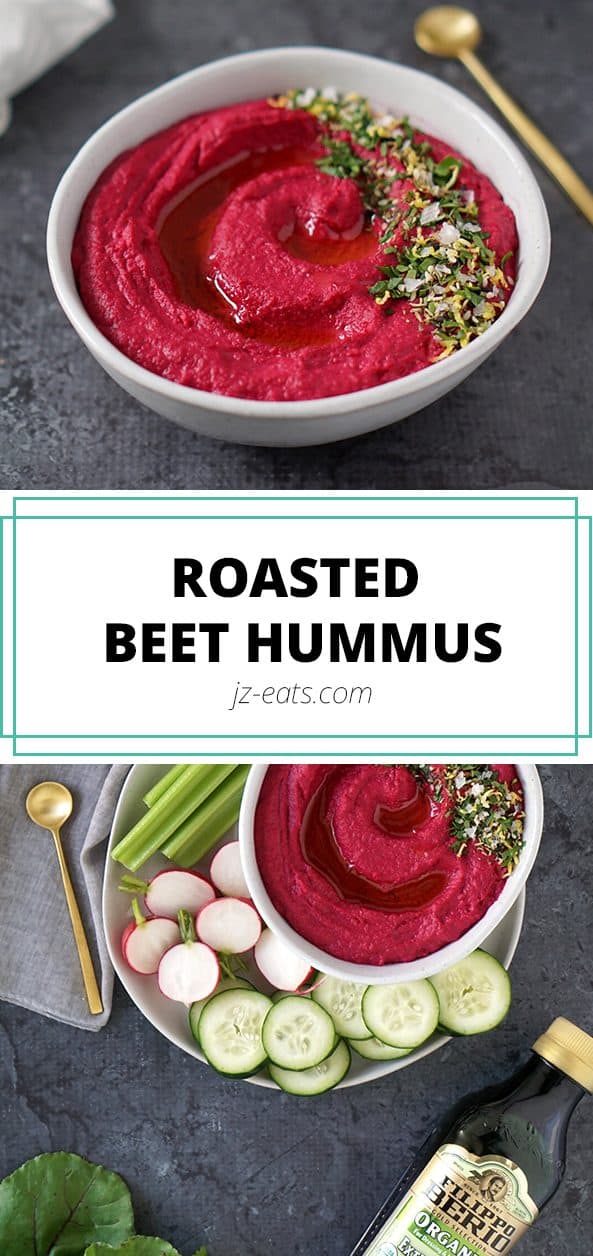 Other recipes with Filippo Berio products:
Roasted Beet Hummus
A super creamy beet hummus recipe that is not just good for the soul, but good for the heart! Packed with nutritious ingredients like roasted beets, garlic, and chickpeas.
Ingredients
1

Beet

15

ounces

canned chickpeas,

one can

2

tablespoons

tahini paste

3

tablespoons

Filippo Berio Extra Virgin Olive Oil

2

lemons,

juice and zest

6

garlic cloves

1/4

teaspoon

cumin

1/2

teaspoon

salt

1

tablespoon

water
Instructions
Preheat oven to 400 F.

Wash beets, peel off the skin, and slice into 4 quarters. Smash garlic cloves using the flat side of a chef's knife. Then loosely wrap the beets and garlic in foil with 1 tablespoon of olive oil or about an inch of water and roast for 35-45 minutes or until beets are tender enough to easily poke with a fork.

While the beets are roasting, add chickpeas, tahini paste, cumin, 2 tablespoons of olive oil, and lemon juice and zest to a food processor or immersion blender. Mix on medium for intervals of 20 seconds until smooth.

When beets are finished, add 3 beets to the blender at a time with the garlic cloves and blend on 20 second intervals on medium until smooth. Blend on high for 30 seconds to ensure the hummus is perfectly smooth and creamy.

Transfer hummus to a bowl and top with ingredients like lemon zest, sesame seeds, fresh chopped parsley, dukkuh, pistachios, or anything else you like!
Notes
*If you prefer your hummus thinner, add 1 tablespoon of water at a time until it is to your liking.
Nutrition
Calories:
228
kcal
|
Carbohydrates:
26
g
|
Protein:
7
g
|
Fat:
11
g
|
Saturated Fat:
1
g
|
Cholesterol:
0
mg
|
Sodium:
212
mg
|
Potassium:
335
mg
|
Fiber:
7
g
|
Sugar:
5
g
|
Vitamin A:
20
IU
|
Vitamin C:
21.8
mg
|
Calcium:
59
mg
|
Iron:
2.7
mg
While this post was sponsored by Filippo Berio, all opinions stated are my own.