This post may contain affiliate links which will not change your price but will share some commission. Please read my privacy policy.
This Slow Cooker Turkey Breast is a completely stress-free recipe! Instead of the fuss and hassle of cooking a whole turkey in the oven, this easy slow cooker recipe will produce juicy and flavorful turkey meat with crispy skin and much easier prep and cooking.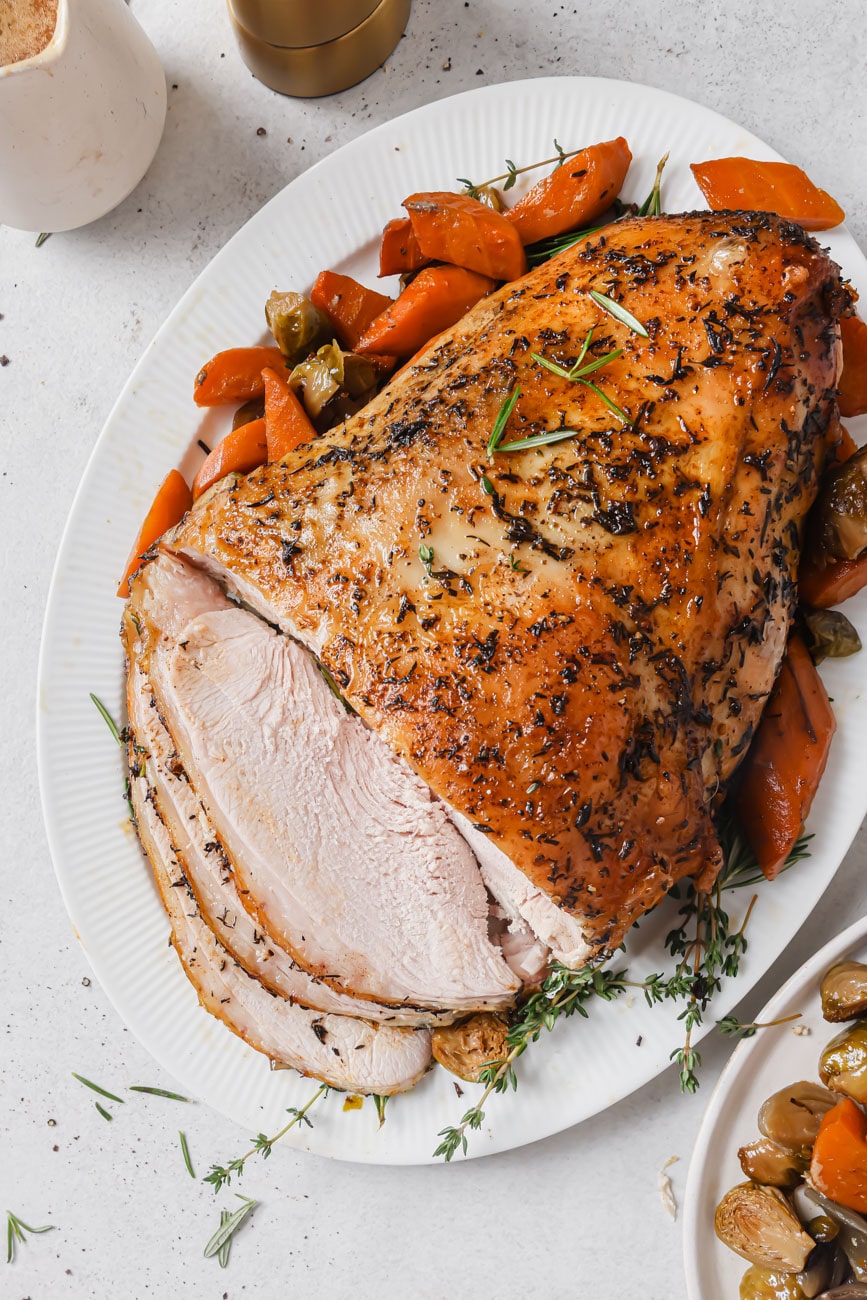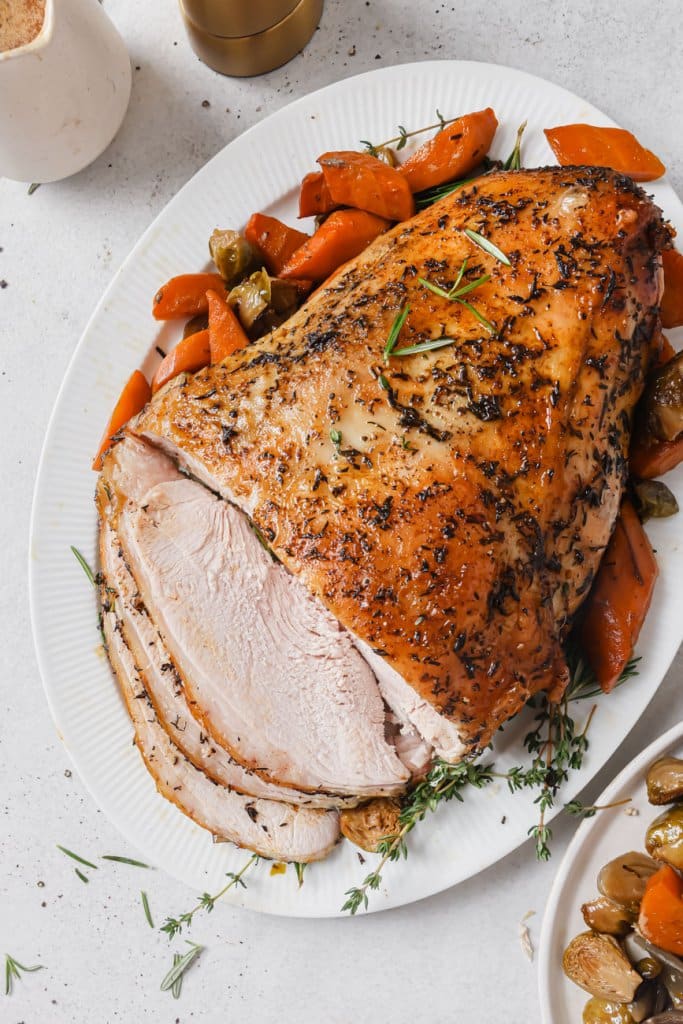 Why you'll love this slow cooker turkey breast recipe
For any first-timers who need to prepare Thanksgiving turkey, the thought of roasting an entire bird can be intimidating, or for some kitchens, straight up impossible! Making a dish like this Slow Roasted Chicken is one thing, but entire turkey recipes are often a different story altogether.
That's why I love this easy slow cooker turkey breast recipe! Whether you're in charge of the turkey for the first time or you have a smaller crowd to feed, this is the ideal way to get juicy turkey on the table without driving yourself crazy.
Plus, this frees up oven space so you can prepare all your side dishes. And if you do have leftover turkey, it'll be perfect to re-purpose for Turkey Fried Rice or this Turkey Pot Pie!
The best part is this slow cooker turkey recipe is finished under the broiler. This ensures you still get that classic crispy skin, but you don't run the risk of drying out the meat inside. It's a win-win!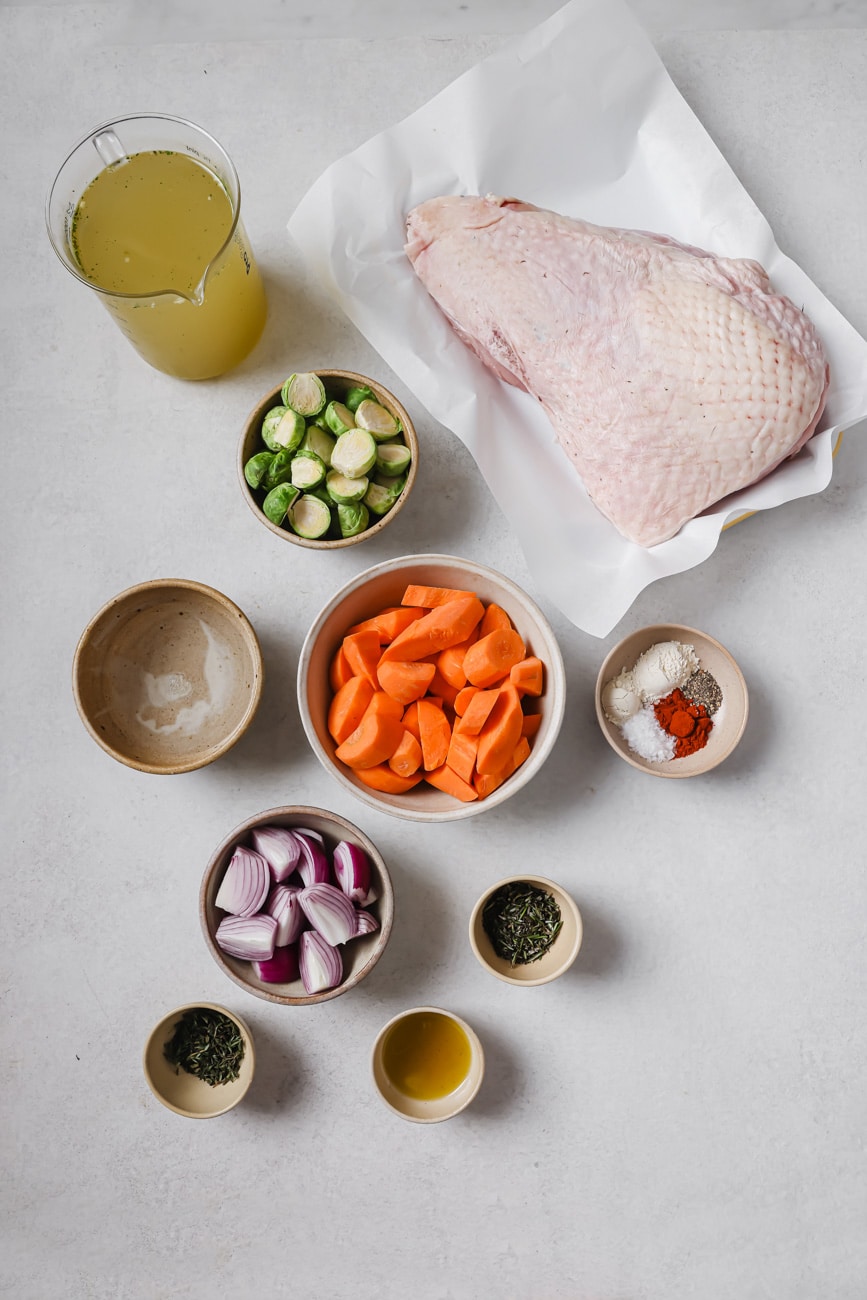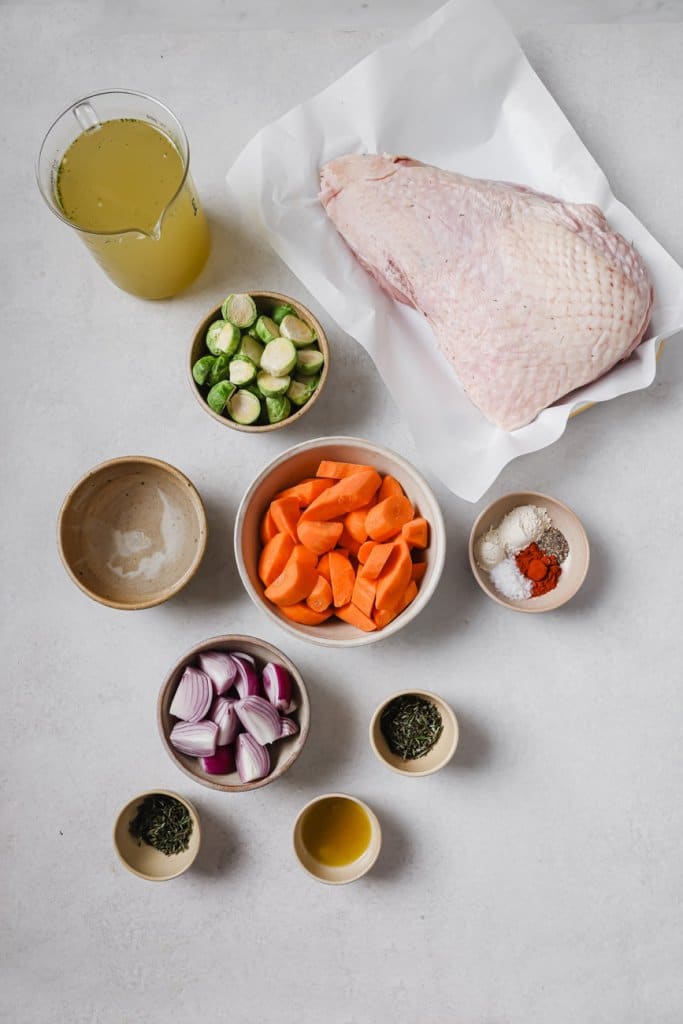 Ingredients you will need
Turkey Breast: for best results, make sure you buy turkey breast with the skin on. You can use bone-in or boneless. I used a boneless turkey breast because they are easier to slice and serve.
Herbs: I start with a simple combo of rosemary and thyme for my turkey, but feel free to use any of your other favorite fresh herbs! There's also a homemade turkey rub you'll add that's packed with flavor!
Vegetables: as if this recipe wasn't great enough already, you can also cook your veggie side dish right alongside the turkey breast. I chose carrots, onions, and brussels sprouts, but feel free to experiment with other veggies you like.
Homemade Turkey Rub: with spices like garlic powder, smoked paprika, onion powder, salt and pepper, and more fresh herbs, your turkey will be juicy and bursting with warm, savory flavor.
Can you cook a turkey in a crock pot?
Absolutely! As long as your slow cooker has a large enough capacity for the amount of turkey you're aiming to cook, a crock pot is a fantastic way to yield juicy, tender turkey.
It's not usually recommended to cook a whole turkey in a slow cooker but it's an exceptional way to cook turkey breast or turkey legs. The cook time will vary depending on what part of the turkey you are cooking.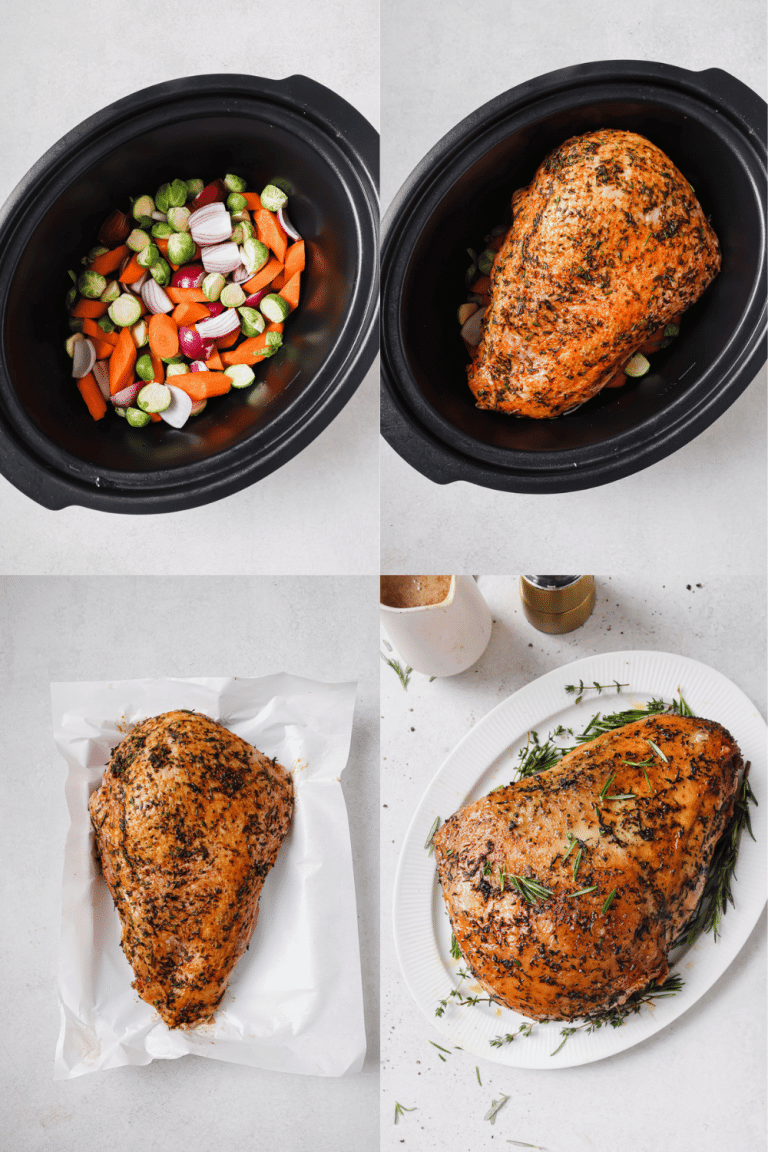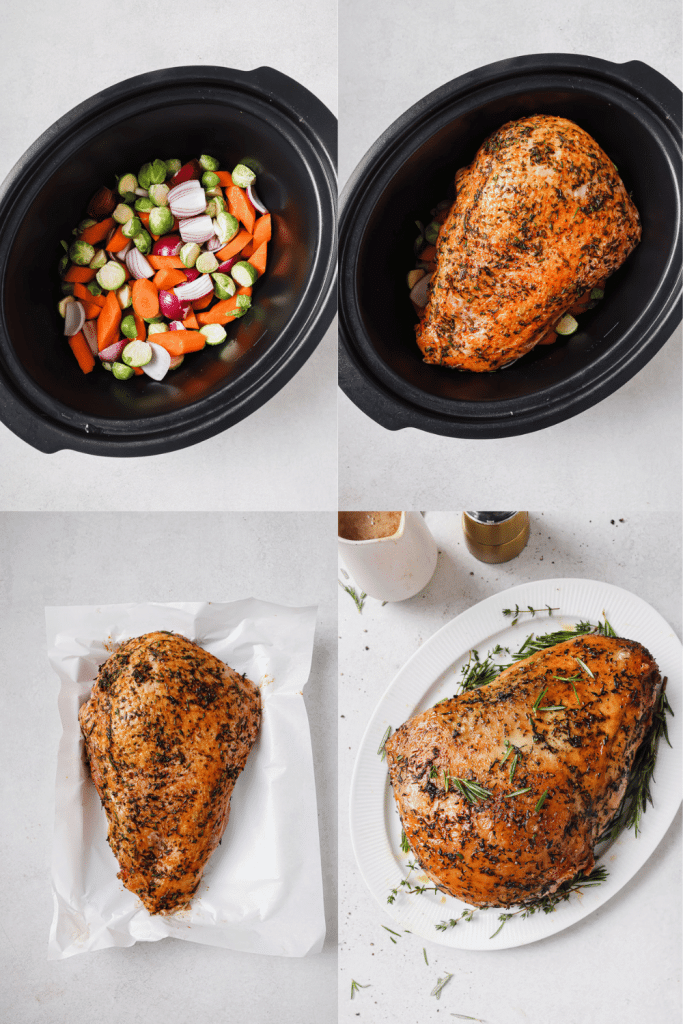 How to cook turkey breast in the slow cooker
Slow cooking turkey is the best way to cook it if you've never cooked a whole bird before! It's a great way to get started learning how to cook turkey and it comes out perfectly juicy every time.
Prepare the spice rub. Add all of the spices and herbs to a bowl and mix until well combined.
Season the turkey. Pat the turkey with paper towels and rub the turkey well with the homemade spice blend, focusing especially on the top and sides.
Prepare the slow cooker. Start with the veggies and herbs, add some water, then place the turkey in the slow cooker skin side up.
Cook the turkey. Turn the slow cooker to the low setting and cook for 6 hours, or until the turkey reaches the proper internal temperature.
Remove and rest. Allow the turkey about 10 minutes to rest before placing in the oven.
You can make a turkey gravy with the juices from the slow cooker once it's finished!
How to get a crispy skin
Prepare the oven. Set the broiler to high and adjust the oven shelf to the middle row.
Place turkey on a baking sheet. Spray the tray with cooking spray to prevent sticking and arrange the turkey, skin side up.
Broil the turkey. Add the tray to the oven and cook for 3 to 5 minutes. Keep a close eye on the turkey to make sure it doesn't burn. You just want the skin nice and crispy!
Slow cooker turkey breast tips and variations
Change up the veggies! Chop up some potatoes, your favorite greens, leeks, sweet potatoes or yams. You can also throw in a few cloves of minced garlic; garlic goes with everything!
Use broth instead: feel free to substitute turkey broth, chicken broth, or vegetable broth for the water. You only need a half cup, but if you've got some broth already opened it will add some flavor!
Herbs: feel free to alter the turkey rub to taste. You can add other herbs like oregano, sage, chives, or basil for an additional fresh herbal flavor.
Turkey temperature: turkey breast is properly cooked once it reaches an internal temperature of 160-165 degrees F. When you insert your thermometer, aim for the thickest part of the breast, but try not to touch the bone.
When to check: start checking the internal temperature at around the 5 hour mark. Because of the bone-in turkey breast, the meat will continue to cook even once the heat has been turned off.
Add butter: for an easier rub application, melt a tablespoon or so of butter and brush it over the turkey before adding the seasoning blend.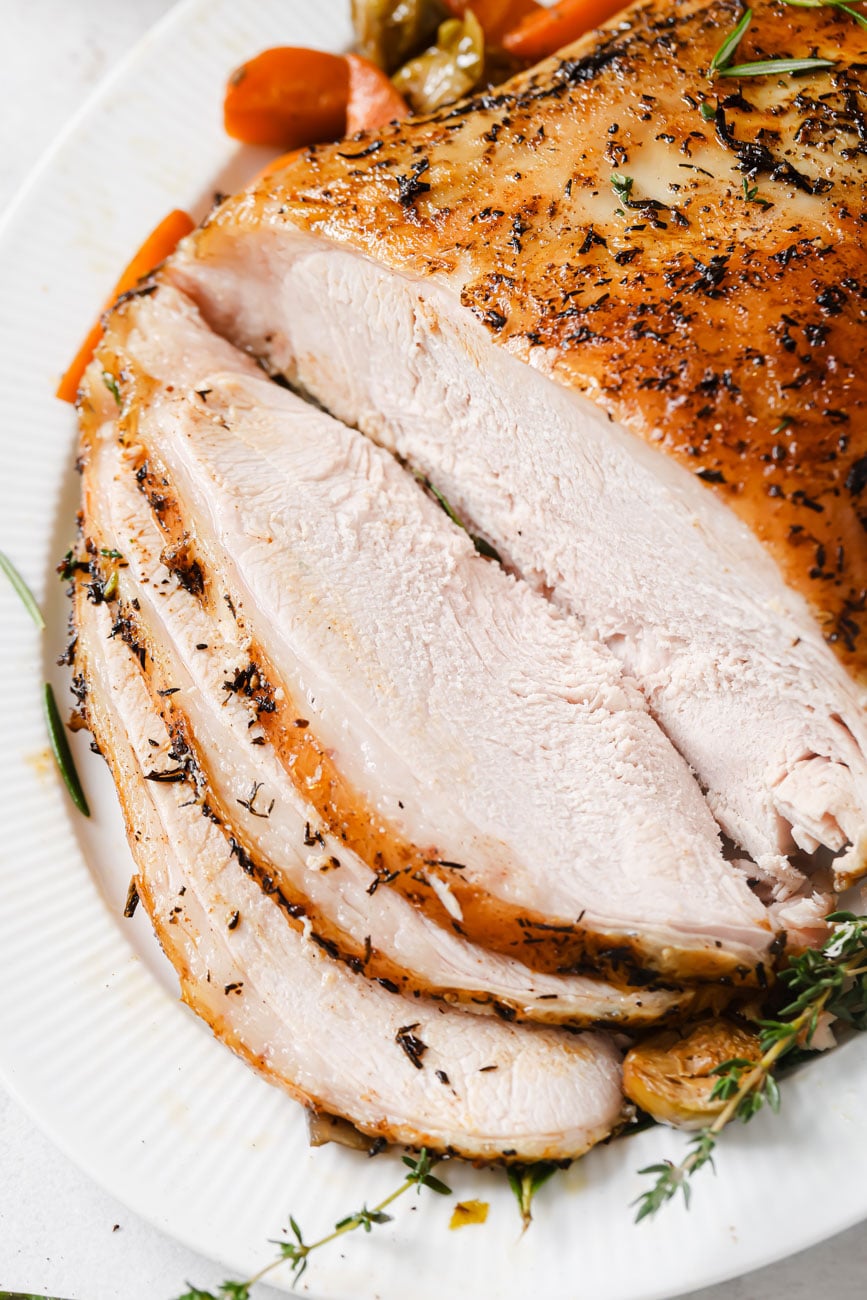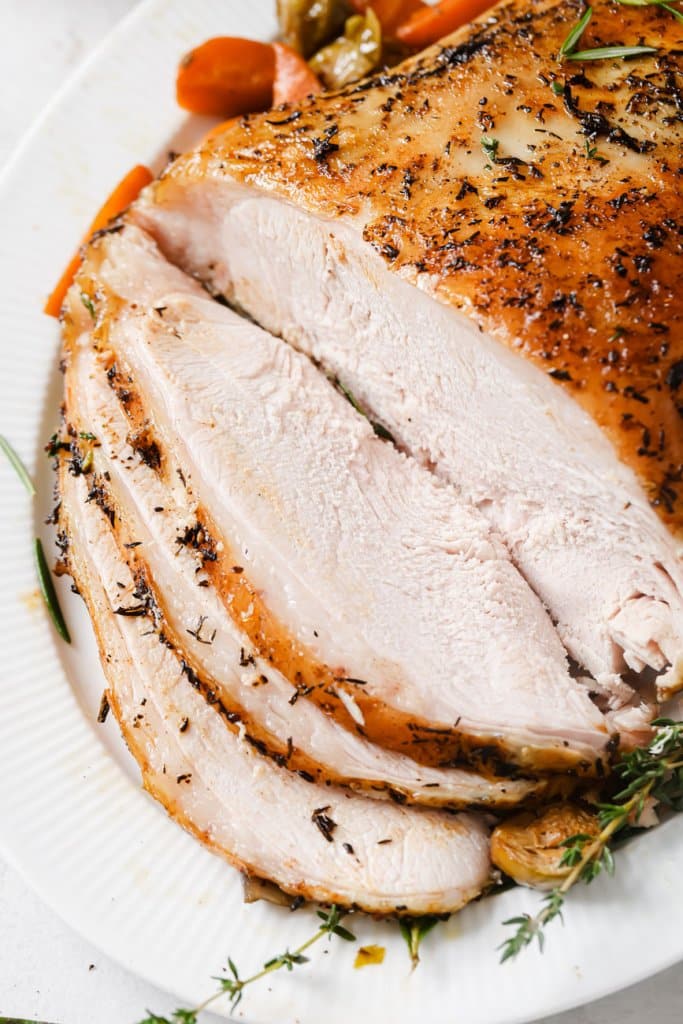 How long to cook turkey breast
As a rule of thumb, aim for about 20 minutes of cooking time per pound of turkey when baking at 375 degrees F. Be aware that boneless turkey breasts will cook a bit faster, so be ready with your meat thermometer to check for doneness!
Things are a little bit different in the slow cooker. When making slow cooker turkey breast, aim for anywhere from 5 to 7 hours on the low setting, or 3.5 to 5 hours on the high setting. Again, cooking time can depend on the size of the turkey.
If you're working with boneless turkey breast in the slow cooker, it will likely be done around the shorter end of those time windows.
How to tell when turkey breast is done
The surefire way to determine doneness is by using a meat thermometer. Turkey breast is safely cooked at around 165 degrees F. Be sure to take your reading from the thickest part of the turkey breast you can find, and try to avoid touching the bone.
Other indicators are even coloring and clear juices that are free of any pink coloration.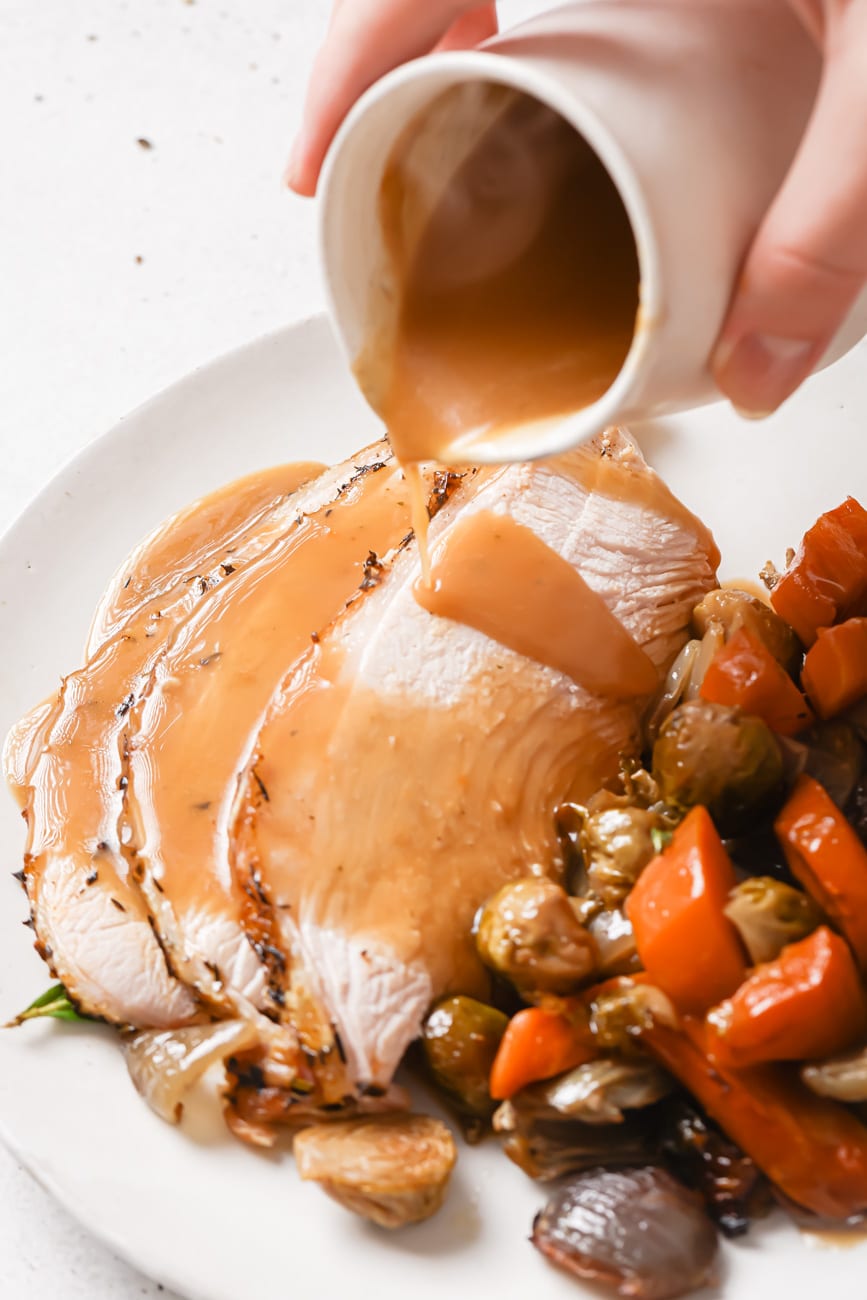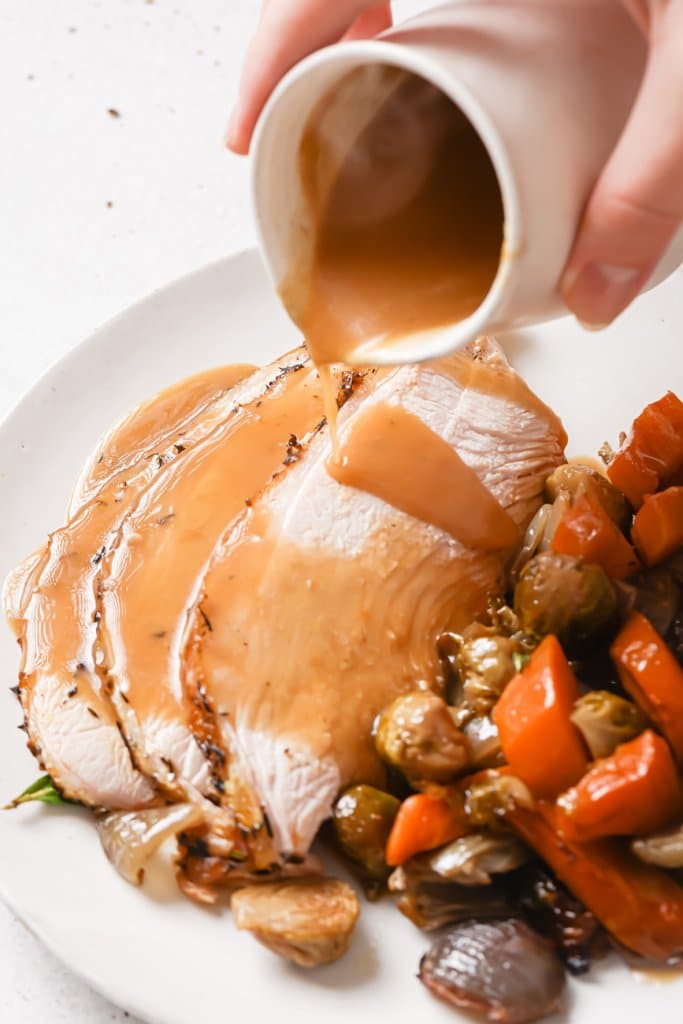 Does it take longer to cook a turkey breast side down?
It may not necessarily be much faster than cooking an entire turkey breast side up, but cooking turkey breast side down can lead to more even cooking.
Roasting a turkey breast side down can help keep the breast meat moist because it allows the juices from the back to flow down into the breast.
What to serve with turkey
WANT TO TRY THIS SLOW COOKER TURKEY BREAST RECIPE?
PIN IT to your turkey recipes, easy Thanksgiving dinner recipes, or slow cooker recipes board to save it for later!
Find me on Pinterest for more great recipes. I'm always pinning!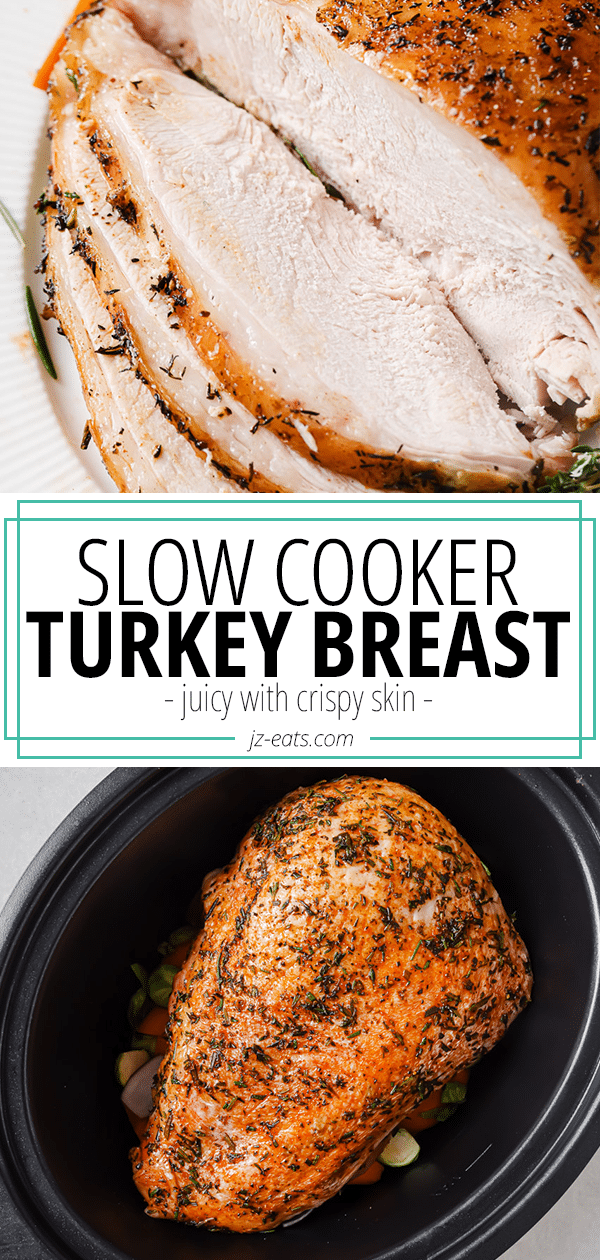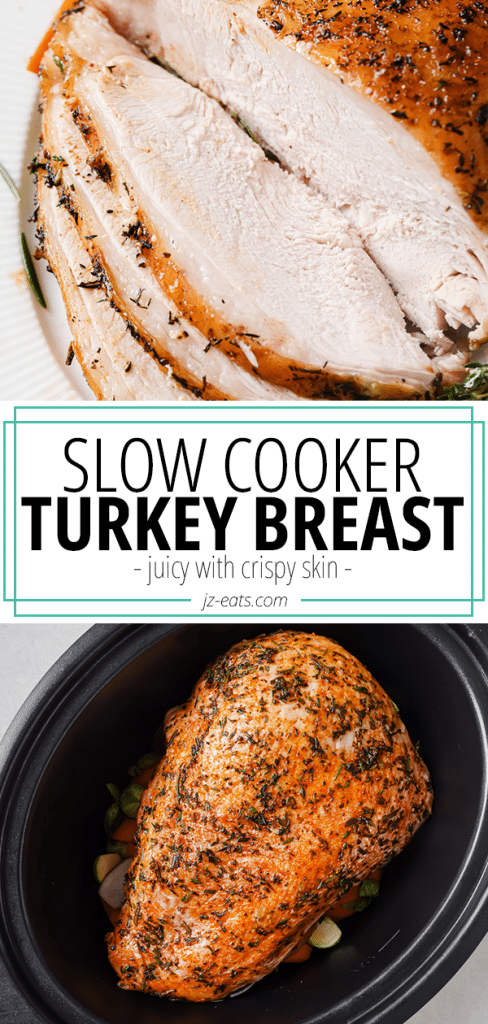 Did you make this recipe? Post a photo on Instagram and tag me @JZEATS or #JZEATS so I can see! Leave a comment below and let me know what you think, too!
Slow Cooker Turkey Roast
Perfect for a stress free Thanksgiving dinner or any holiday meal, this is the best way to prepare turkey breast meat and leaves enough time for preparing your sides during the cooking process!
Ingredients
5

lbs

turkey breast,

skin on and boneless

1

sprig

rosemary,

leaves only

4

sprigs

thyme,

leaves only

1/2

cup

water
Veggies
4

large carrots,

peeled and cut into 2-inch thick rounds

3

red onions,

cut into wedges

1.5

cups

brussels sprouts,

trimmed and halved
Instructions
Add the garlic powder, onion powder, smoked paprika, salt, pepper, rosemary, thyme, and olive oil in a bowl and mix to combine. Pat the turkey dry with paper towels. Evenly spread the rub on the turkey, using most for the top and sides. Add the veggies and herbs to the base of the slow cooker, then pour in the water. Place the turkey breast on top, skin side up.

Slow cook on low for 6 hours or until the internal temperature reads 165F when a thermometer is inserted into the middle. Remove the turkey from the slow cooker and let it rest for 10 minutes before crisping the skin.

Preheat the oven broiler to high and place an oven rack in the middle. Lightly grease a baking sheet and add the turkey breast, skin side up. Place the tray with the turkey in the oven and broil for 3 to 5 minutes until the skin is crispy. Careful it doesn't burn so keep an eye on it!
Nutrition
Calories:
747
kcal
|
Carbohydrates:
19
g
|
Protein:
125
g
|
Fat:
20
g
|
Saturated Fat:
3
g
|
Polyunsaturated Fat:
4
g
|
Monounsaturated Fat:
11
g
|
Trans Fat:
0.1
g
|
Cholesterol:
306
mg
|
Sodium:
1806
mg
|
Potassium:
1862
mg
|
Fiber:
5
g
|
Sugar:
8
g
|
Vitamin A:
10911
IU
|
Vitamin C:
42
mg
|
Calcium:
149
mg
|
Iron:
5
mg