This post may contain affiliate links which will not change your price but will share some commission. Please read my privacy policy.
These super quick and easy Air Fryer Biscuits are a great side dish for weeknight dinners or a fluffy and satisfying breakfast! Pair them with simple ingredients like cream cheese and jam for the perfect balance of light and airy dough with rich, sweet toppings.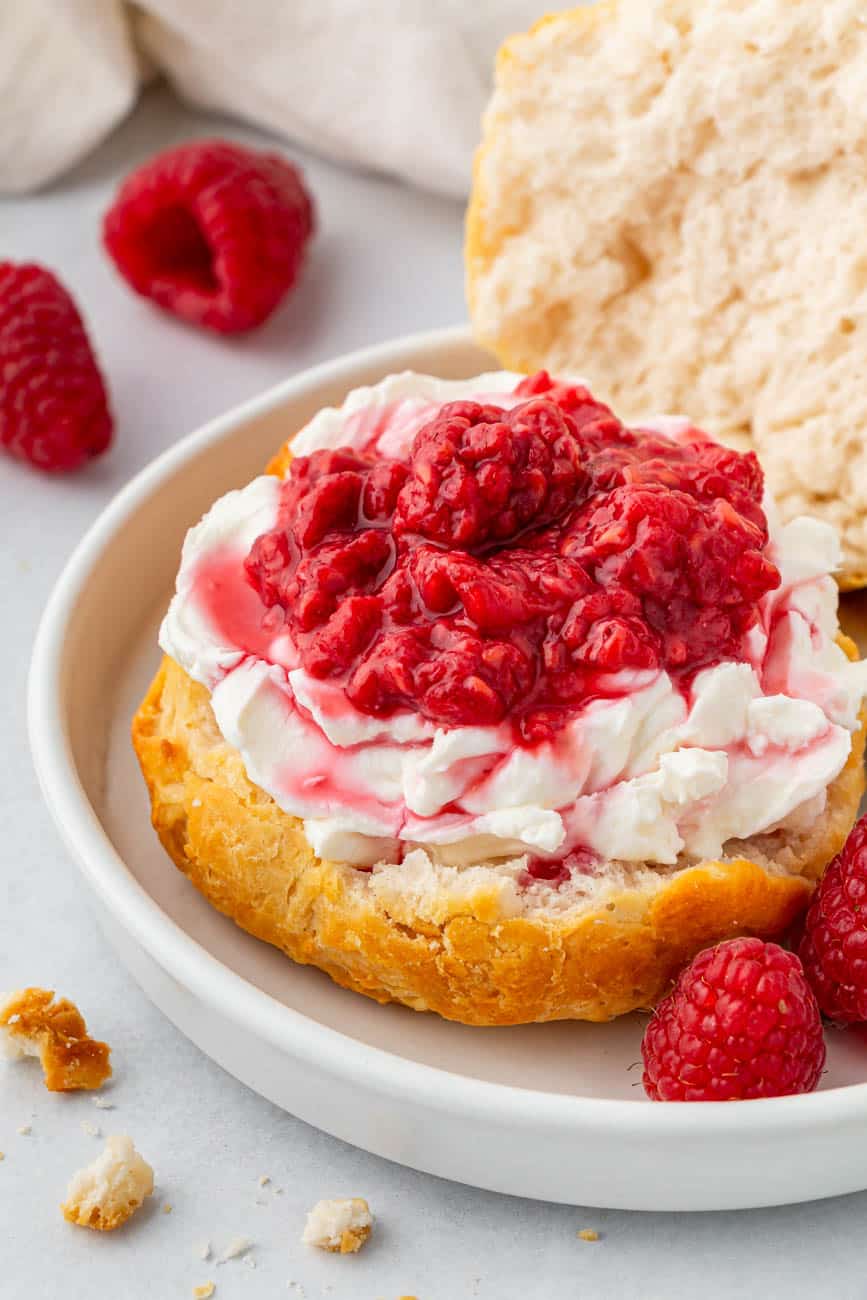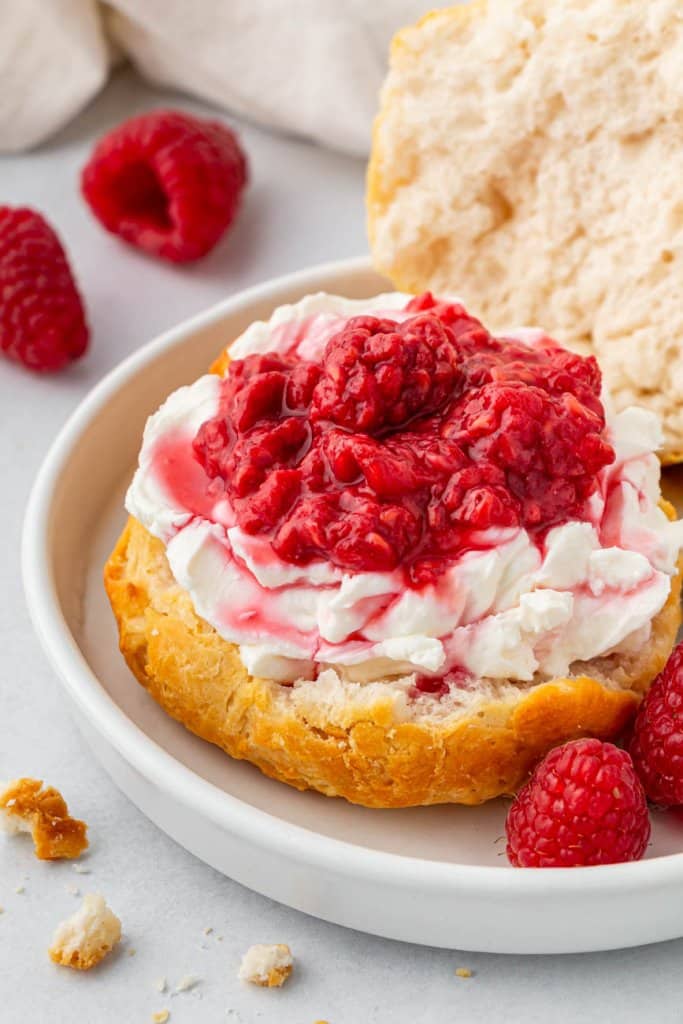 Why you will love this air fryer biscuit recipe
All my air fryer lovers will attest that you can use your air fryer to cook just about anything! In 10 minutes and with just a couple of simple steps, your air fryer will cook biscuit dough until it's perfectly fluffy inside and golden brown outside.
I love serving these fluffy biscuits as part of a fancy brunch and pairing them with cream cheese and a tart, fruity jam for a blend of textures and flavors that are sure to wake you up and keep you feeling full.
Serve these versatile biscuits alongside this tasty and trendy Avocado Toast with Pickled Onions as the perfect way to start your day, or as a companion to a savory Roasted Butter Herb Turkey for an elegant dinner.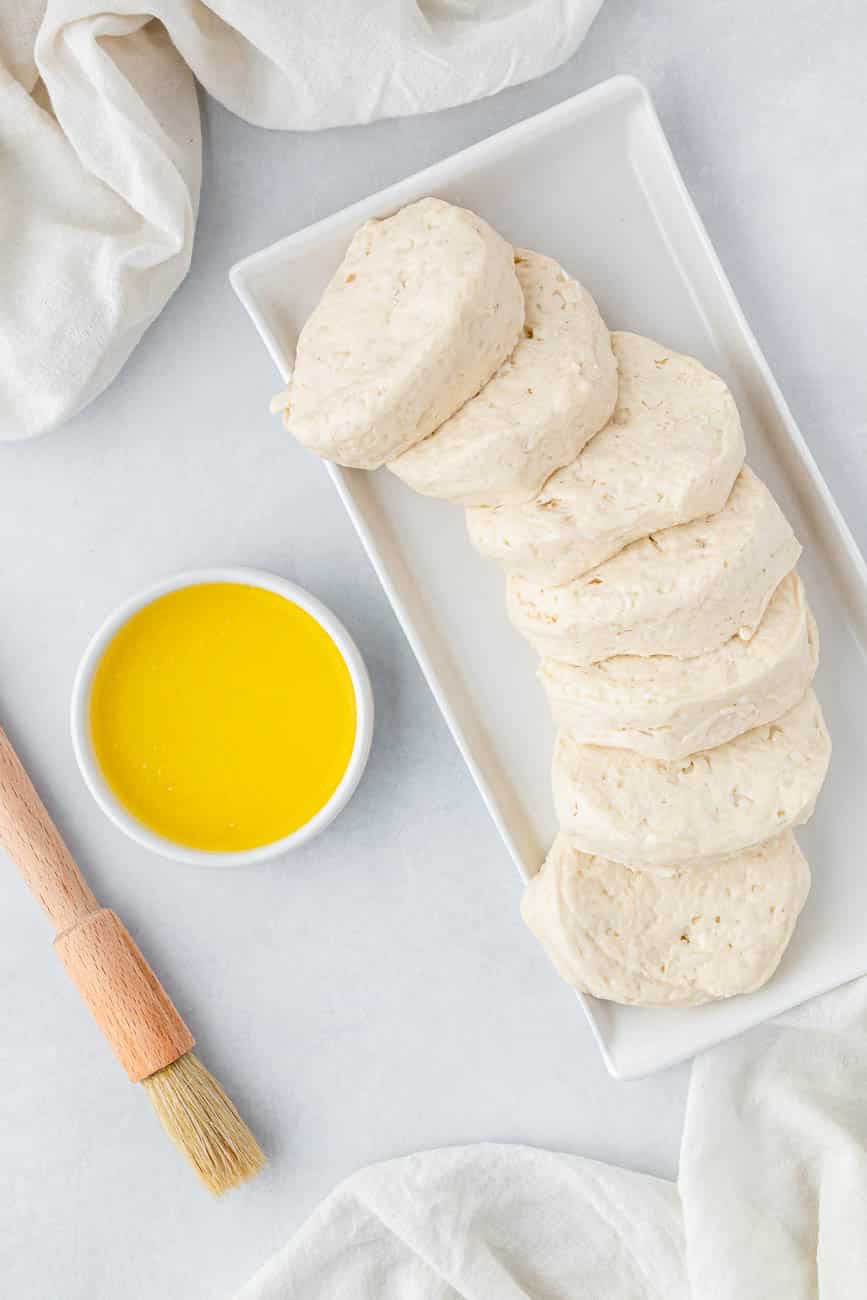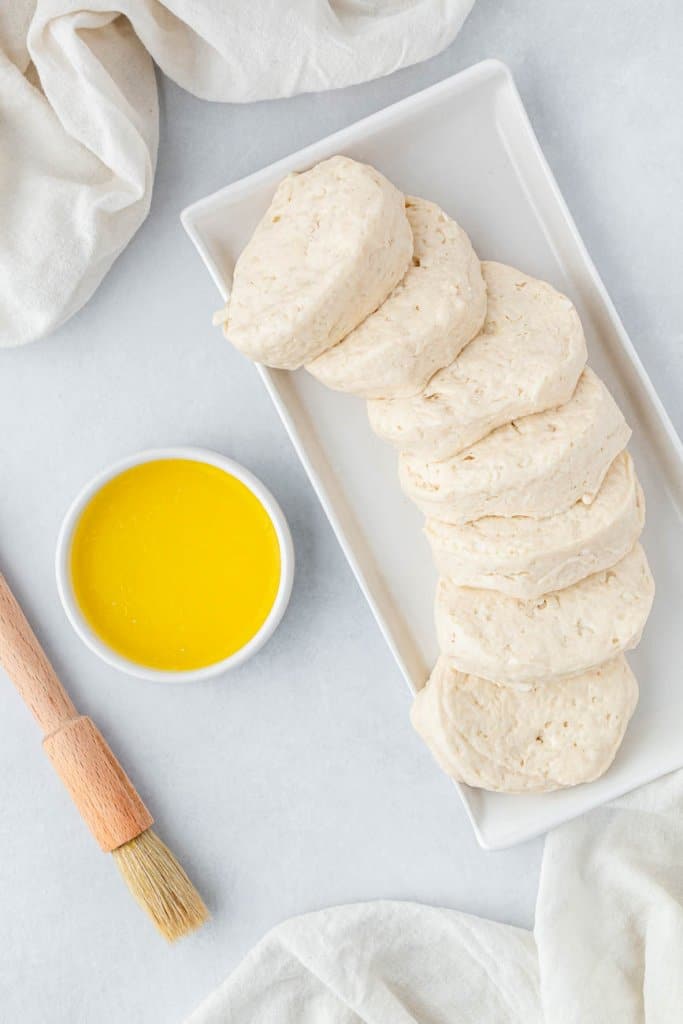 Ingredients you will need
Pillsbury Grands Biscuits: I personally love the Pillsbury brand; their pre-made biscuit dough is simple to work with and easy to cook to that delicious golden brown outside and soft, comforting interior. You can also use your personal favorite brand of canned biscuits or even homemade biscuits.
Butter: brushing golden brown biscuits with melted butter is the perfect way to infuse them with buttery flavor while preventing dryness.
Toppings: serve air fried biscuits with a combination of cream cheese and a jam of your choice (I like raspberry), add another pat of butter, or go the savory route and drizzle with gravy or use to dip in leftover sauce from your main course.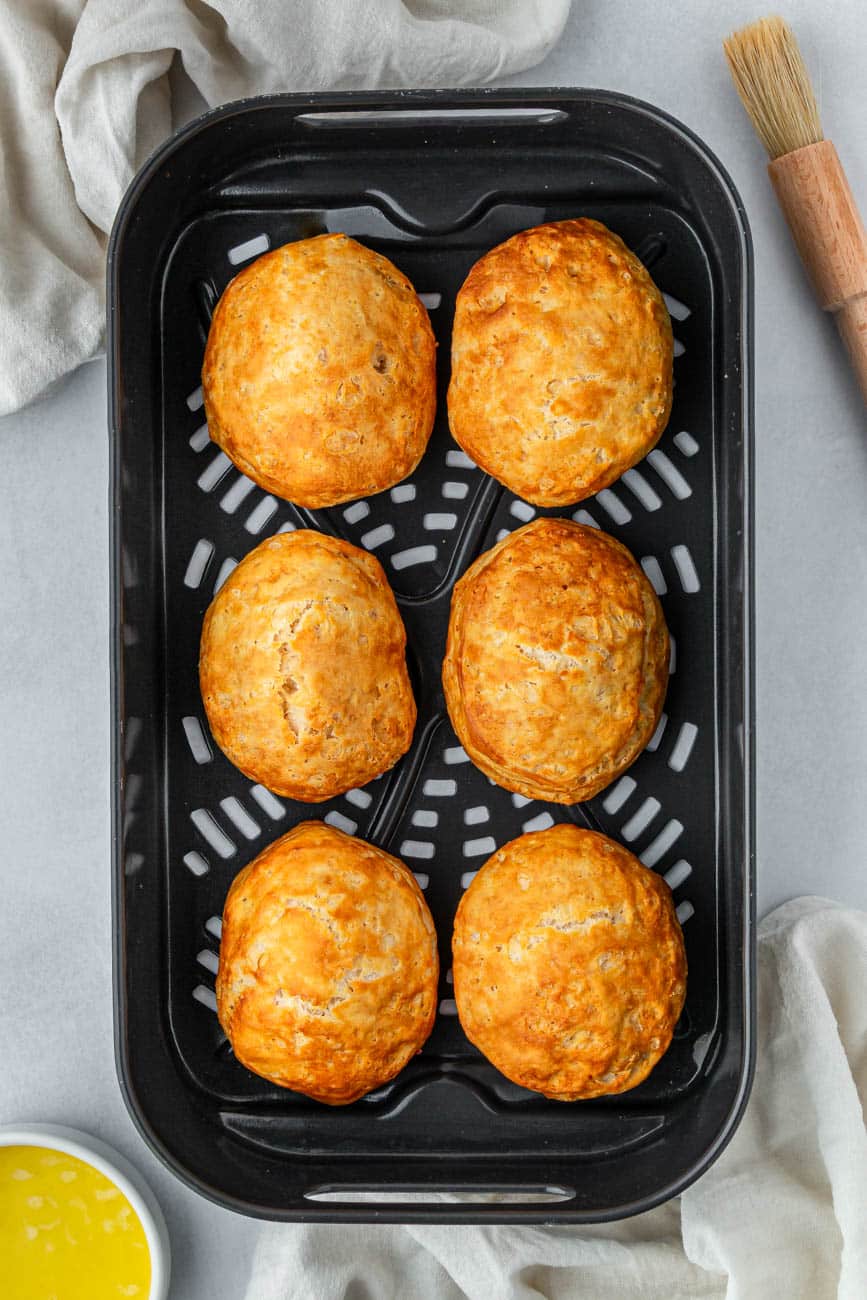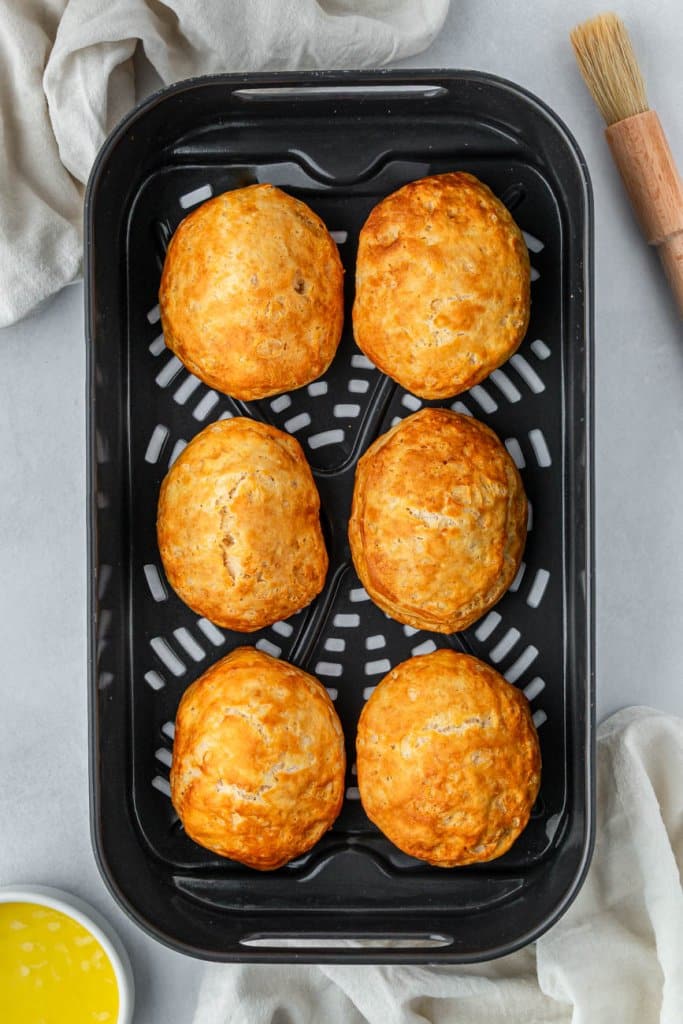 How to make perfect biscuits in the air fryer
Prepare the dough. While you preheat the air fryer, remove the dough from its container and arrange it in a single layer in the air fryer basket.
Air fry the biscuits. It should take about 10 minutes of cooking time, but keep an eye on them and remove them as soon as they look fluffy and golden brown on the top.
Cool and serve. Place warm biscuits on a cooling rack for 2-3 minutes, then brush with melted butter and serve.
How to cook Pillsbury frozen biscuits in an air fryer?
If you're cooking your biscuits from frozen, you can place the frozen biscuit dough right in the air fryer! You may have to allow for a bit of additional time to cook. Add about 5 minutes and you should be good to go!
Recipe tips and variations
For best results, give the biscuits enough space in the air fryer basket. Leave space between them if possible to allow for optimal airflow.
As tempting as it is to check once you start smelling those tasty biscuits air frying, try to wait until at least the 8-minute mark to open anything! Letting the heat out too early could cause them to fall or flatten.
Depending on the size of your air fryer and the type of biscuit dough, cooking times may vary. After some trial and error, you'll know exactly how long it takes to perfectly air fry biscuits in different air fryers.
If some biscuits brown faster than others, you may need to give the air fryer basket a rotation or two.
Allowing the biscuits a few minutes to cool on a wire rack is recommended. This allows them to settle and finish cooking.
If your air fryer is big enough, this is a great way to cook jumbo biscuits.
You could also use this method to cook individual biscuits if a sudden craving hits!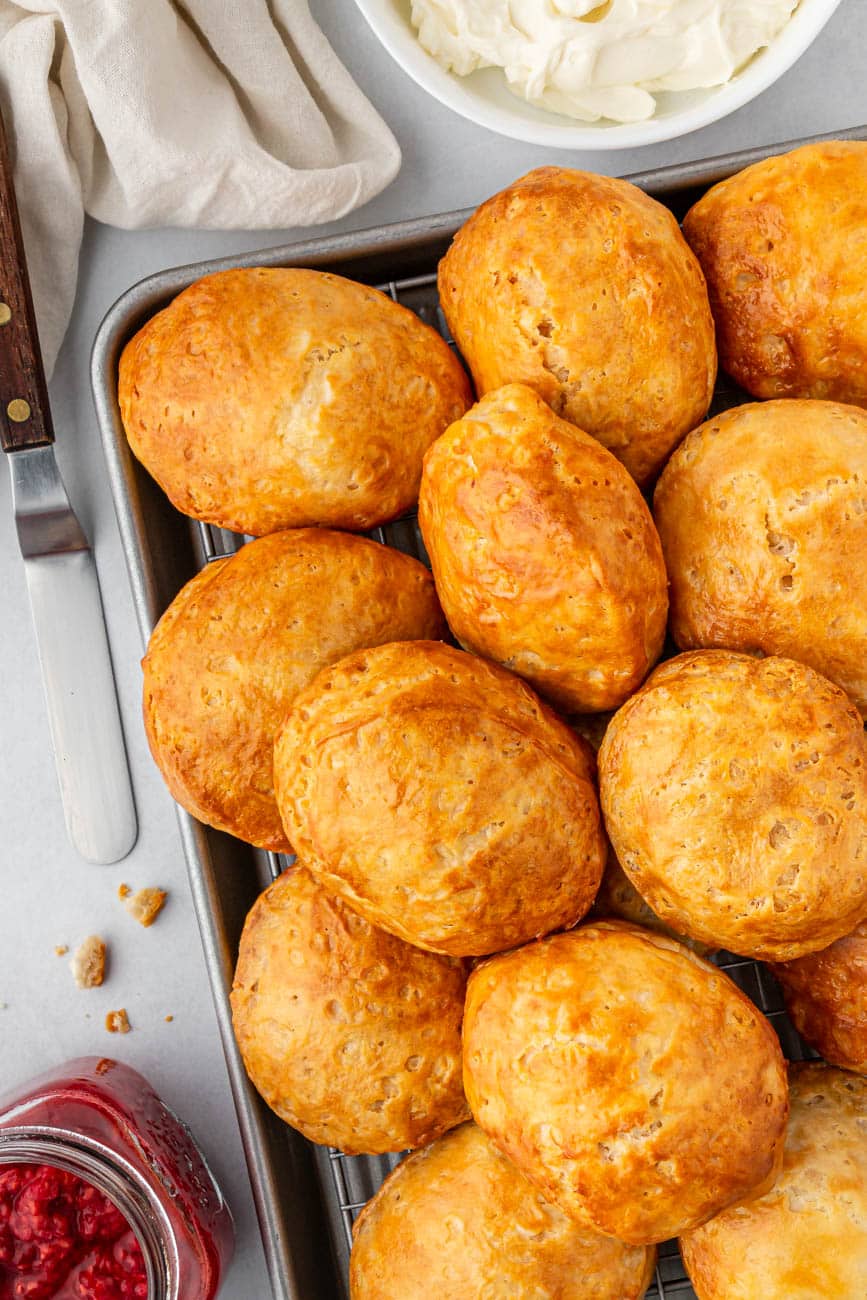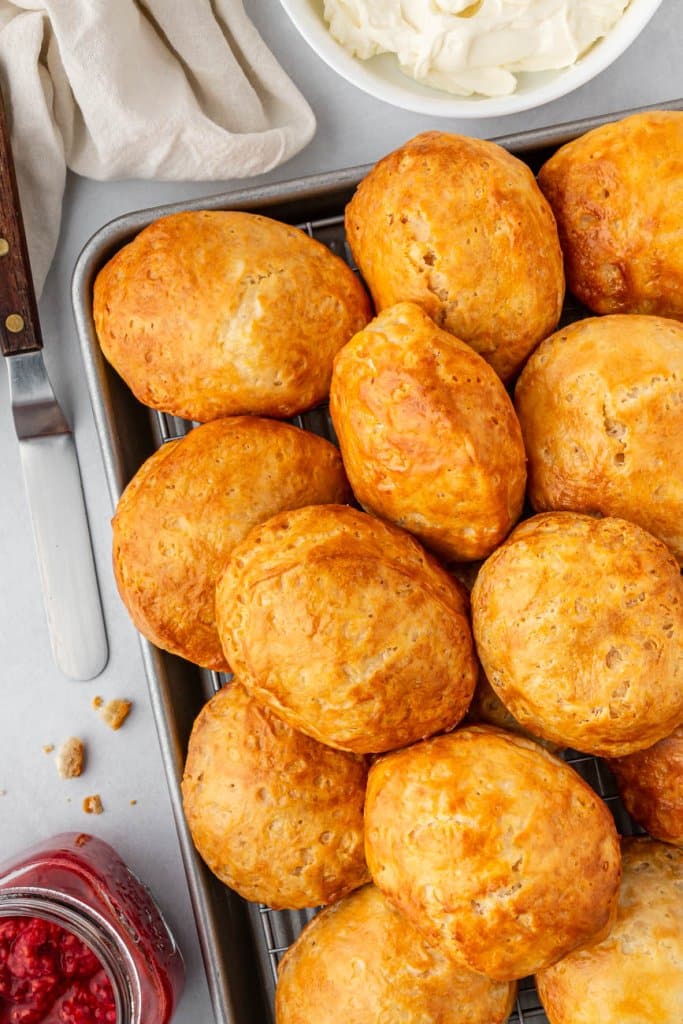 Do you need parchment paper?
Parchment paper isn't 100% necessary. But if you're worried about the biscuits sticking, parchment paper can prevent that. Cut it to the shape of your air fryer basket and poke holes to be sure it won't be blocking the air circulation.
I find using air fryer parchment paper to be much easier because it comes in the perfect size and has holes so it's ready to go right out of the packaging. You could also coat the bottom of your basket with a thin layer of cooking spray or butter.
Why Make Biscuits In An Air Fryer?
There are a whole bunch of benefits to cooking flaky biscuits in the air fryer with this easy recipe. If you're serving your biscuits as a side for a holiday meal or Sunday dinner, odds are your oven's already occupied. The air fryer is the perfect solution for an easy side dish, and it's speedy too!
Otherwise, this is a reliable and quick method to cook biscuits that doesn't require preheating the oven. If you wake up and need to get out the door, the air fryer is quick to heat up and will have your biscuits ready to enjoy in 10 minutes or less!
How do you make dry biscuits moist?
If you find that your biscuits turn out a bit dry or tough, you may be cooking them for too long. Be aware that residual heat will continue to cook the biscuits a bit even after you remove them from the air fryer. Adding that melted butter is a great way to ensure tender, soft biscuits that aren't dried out.
Also, be sure you're not overworking the dough before you cook it. All you need to do is separate the biscuits and arrange them.
Finished biscuits still too dry? You can never add too much butter! Well, maybe you can, but don't be afraid to really brush it on there. Using toppings like jam and cream cheese can also help combat any dryness.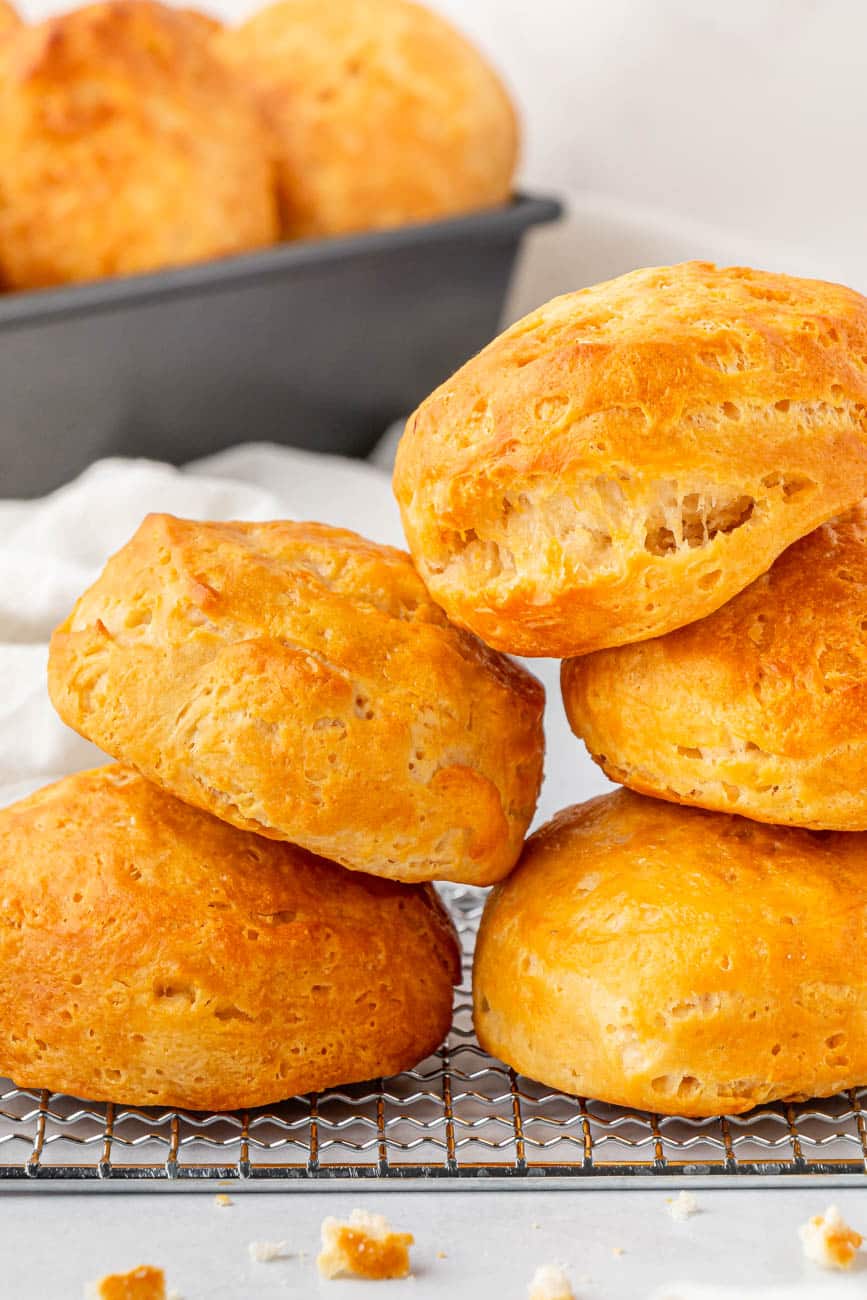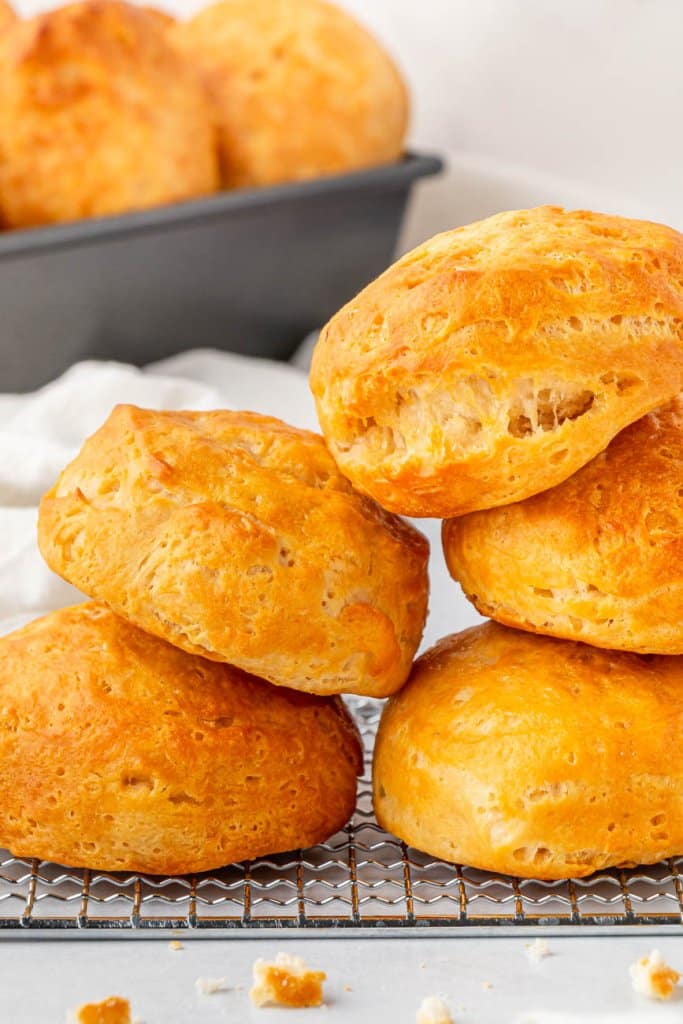 How to store biscuits
The best way to store leftover biscuits is to place them in an airtight container. A plastic bag is especially good, because you can press out all the excess air before sealing it up.
Store biscuits at room temperature for 2 to 3 days, in the fridge for about a week, or in the freezer for up to 3 months. If you're worried about frozen biscuits sticking together, add little pieces of parchment paper between them, or even wrap them individually in parchment, aluminum foil, or plastic inside the bag or container.
Reheating biscuits
To reheat, pop your biscuits back in the air fryer at 300 degrees F for just a few minutes. I recommend brushing them with a bit of butter either before or after reheating (or both!) to prevent drying out.
Biscuits can also be reheated in the oven on a parchment lined baking sheet. In a pinch, heat them in the microwave for 45 seconds to a minute, wrapped in slightly damp paper towels.
WANT TO TRY THIS AIR FRYER BISCUITS RECIPE?
PIN IT to your easy air fryer recipes or side dish recipes board to save it for later!
Find me on Pinterest for more great recipes. I'm always pinning!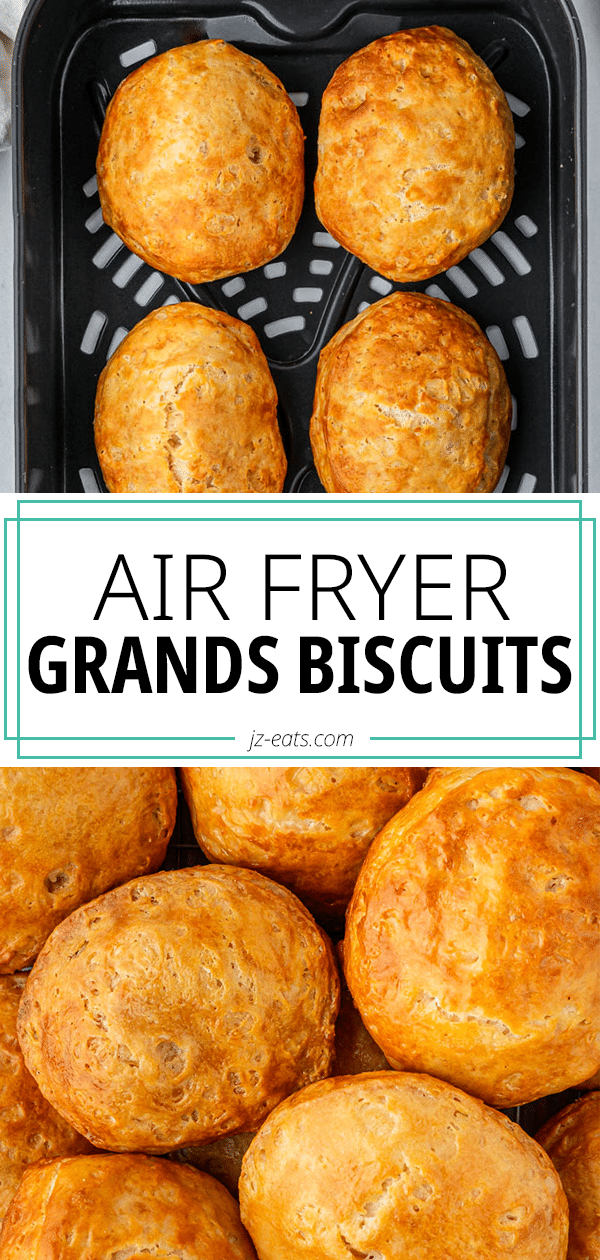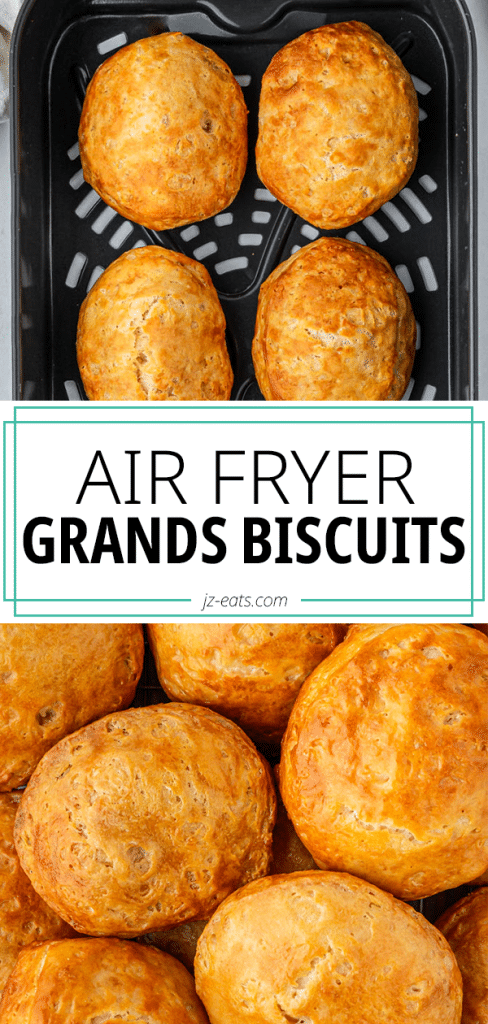 Did you make this recipe? Post a photo on Instagram and tag me @JZEATS or #JZEATS so I can see! Leave a comment below and let me know what you think, too!
Air Fryer Biscuits
These super quick and easy Air Fryer Biscuits are a great side dish for weeknight dinners or a fluffy and satisfying breakfast!
Ingredients
Process
1

16oz

Pillsbury Grand Biscuits

Refrigerated can

1

tbsp

butter

melted
To serve
cream cheese

raspberry jam
Instructions
Preheat the air fryer to 300ºF and remove the biscuits carefully from the can following the package instructions.

Separate the biscuits, align them inside the air fryer basket, and air fry for 10 minutes. Open the air fryer to confirm the tops are golden brown, and the biscuits are cooked through.

Remove them from the air fryer basket and place them in a cooling rack for 5 minutes. Brush the biscuits on top with melted butter and serve them with your favorite jam and cream cheese.
Nutrition
Calories:
13
kcal
|
Carbohydrates:
0.1
g
|
Protein:
0.02
g
|
Fat:
1
g
|
Saturated Fat:
1
g
|
Polyunsaturated Fat:
0.1
g
|
Monounsaturated Fat:
0.4
g
|
Trans Fat:
0.1
g
|
Cholesterol:
4
mg
|
Sodium:
12
mg
|
Potassium:
1
mg
|
Fiber:
0.001
g
|
Sugar:
0.01
g
|
Vitamin A:
44
IU
|
Calcium:
0.5
mg
|
Iron:
0.004
mg