This post may contain affiliate links which will not change your price but will share some commission. Please read my privacy policy.
This Leftover Turkey Fried Rice is the perfect way to take holiday leftovers and turn them into a fantastic meal! Never again will that leftover Thanksgiving turkey sit in your fridge the week after the holiday—give it a brand new life with this fantastic take on fried rice.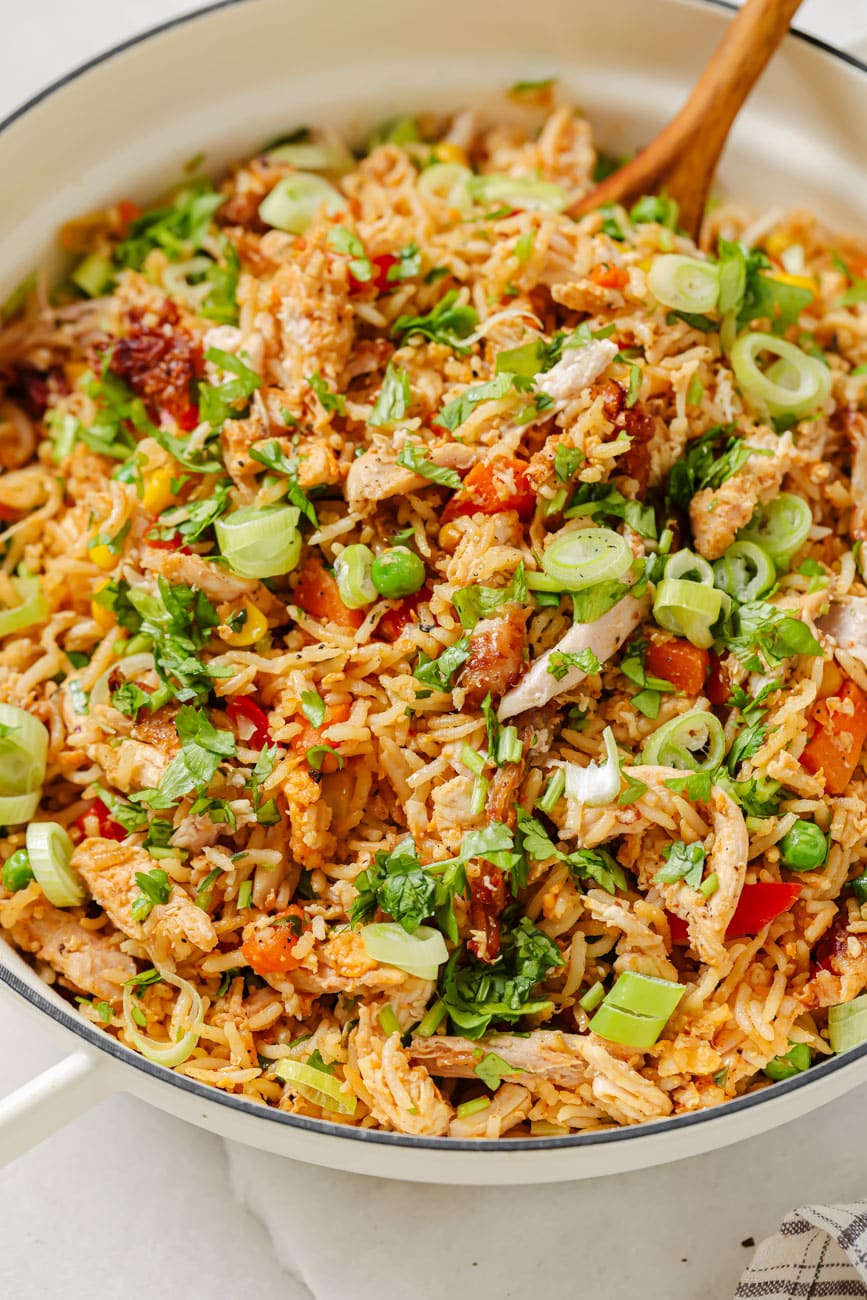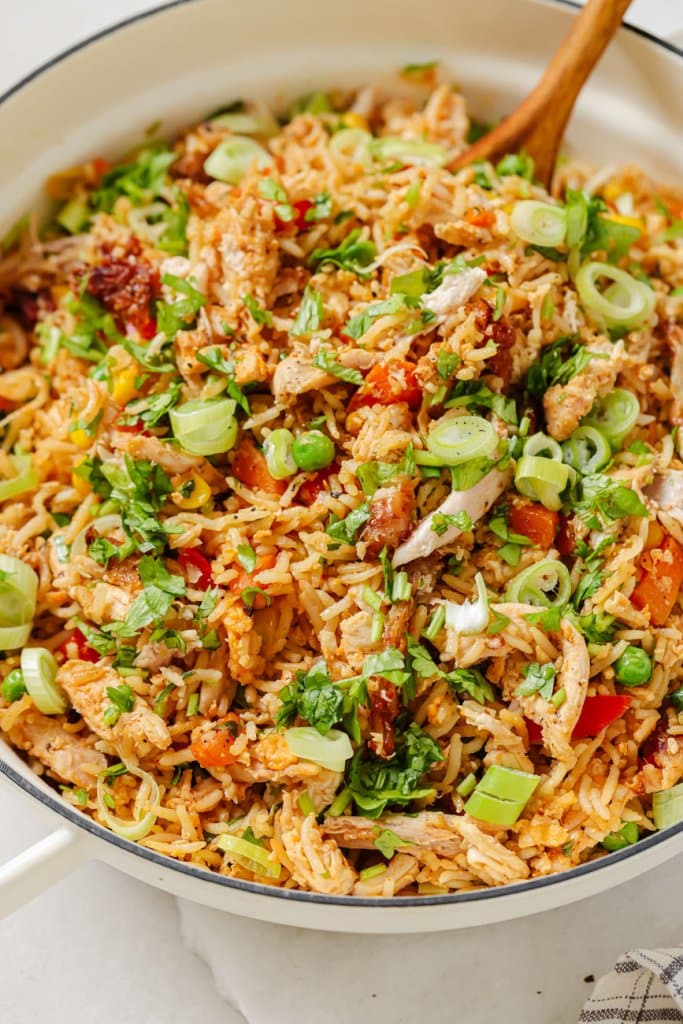 Why you'll love this leftover turkey fried rice recipe
If you're making this turkey fried rice after Thanksgiving, you're probably looking to make something that doesn't remind you of holiday food. This recipe will completely revitalize your leftover turkey and is something the whole family will love!
Easy to Make! This is a simple stir-fry dish that's so simple to throw together for a quick weeknight meal with lots of flavor.
Only One Pan! You'll cook everything in the same pan for minimal cleanup and prep.
Revitalizes Leftovers! This is a delicious way to make sure your turkey leftovers from your holiday meal or Sunday dinner go to good use.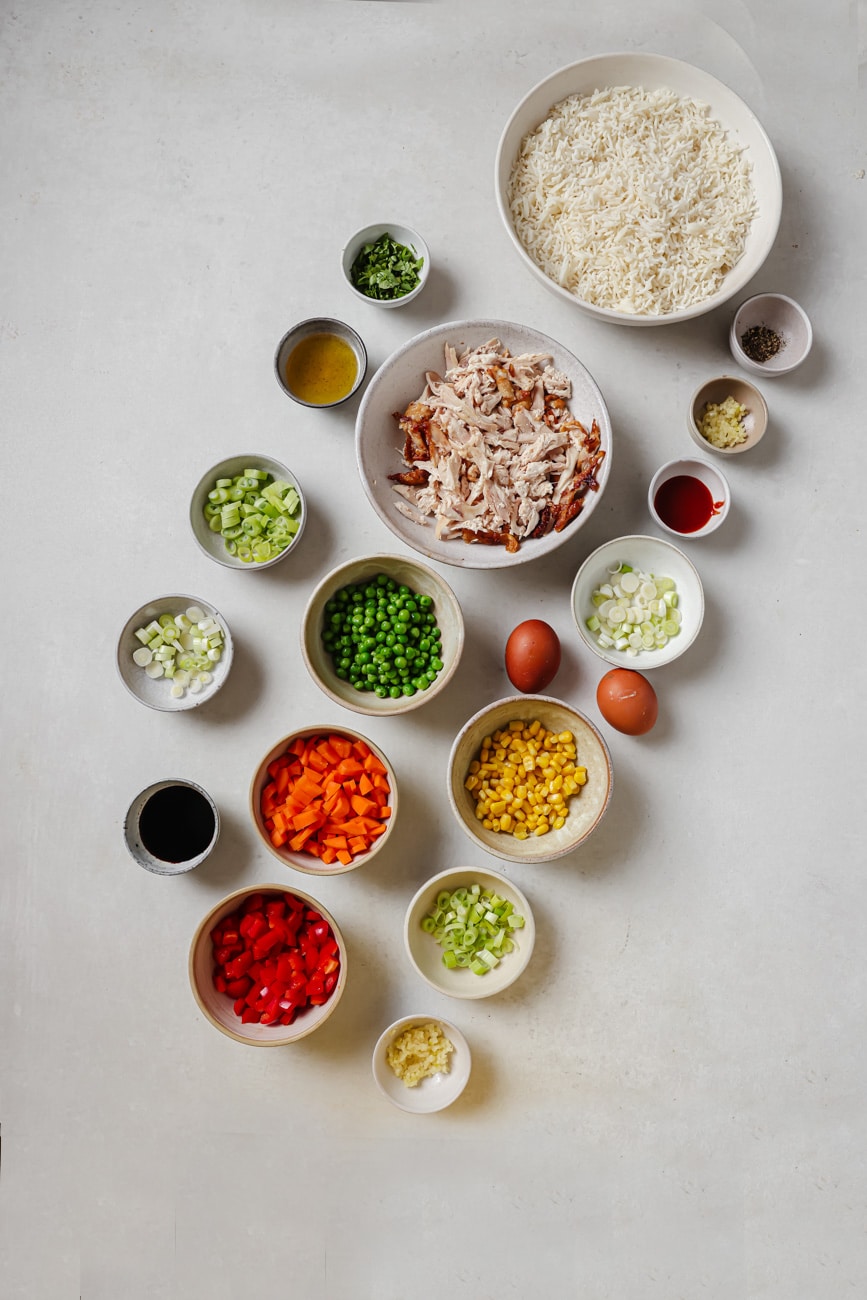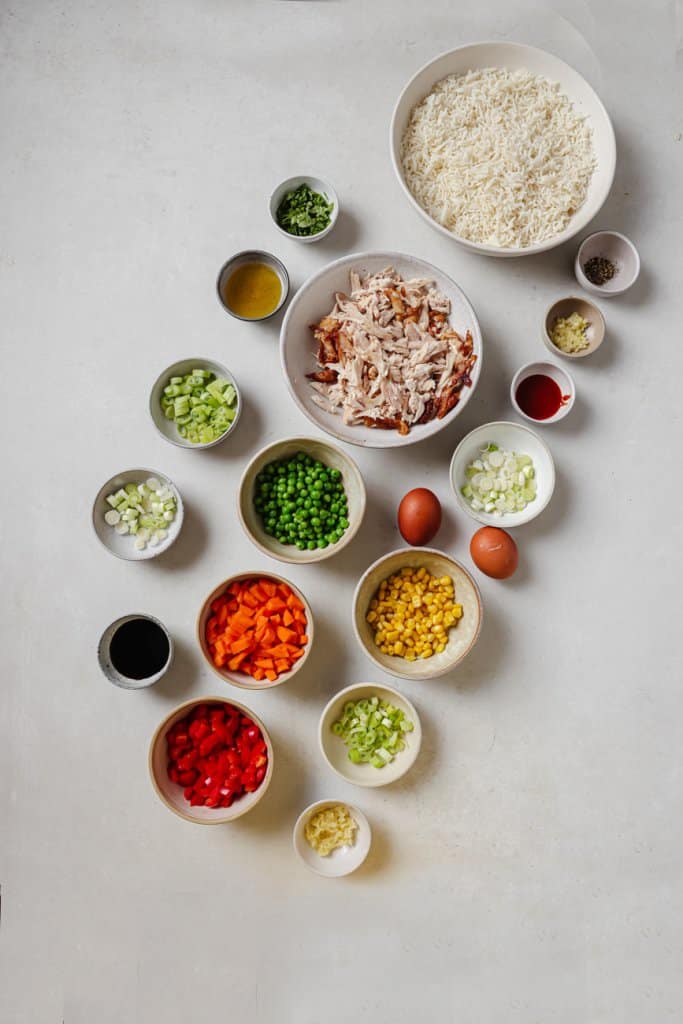 Leftover Turkey Fried Rice Ingredients
Sesame oil: this is a great choice for fried rice as it infuses the dish with a bit of sesame flavor but doesn't have a super powerful taste.
Veggies: I chose a mixture of carrots, bell peppers, green onions, garlic, green peas, and sweet corn. Trader Joe's frozen stir fry veggies are a great option too.
Eggs: provide an extra dimension of protein and nutrients and make this fried rice filling and hearty.
Leftover turkey meat: if you have Thanksgiving leftovers or turkey from another occasion, this is the perfect way to use it (let's be honest, we all get a little tired of those turkey sandwiches sometimes!)
Rice: I opted for Jasmine rice, but there are other varieties that work just as well. This recipe is also a great way to make use of leftover rice if you have it sitting in your fridge! In a pinch, you could also use regular white rice or brown rice.
Soy sauce: adds that classic punch of umami flavor that pairs well with the savory vegetables and turkey.
Sriracha: for a bit of heat. You can omit this ingredient if you're not a fan of spicy food, or adjust it to your preferred spice level.
Seasonings: add other flavors like black pepper and chopped cilantro to pull everything together.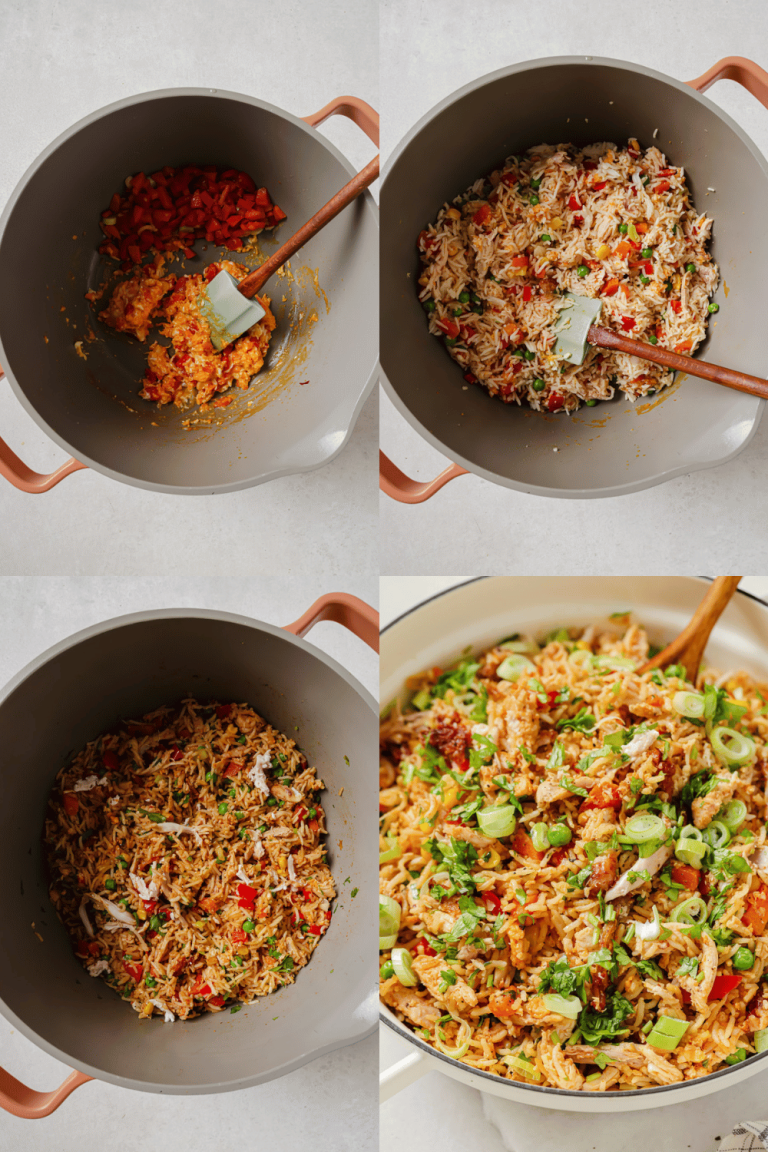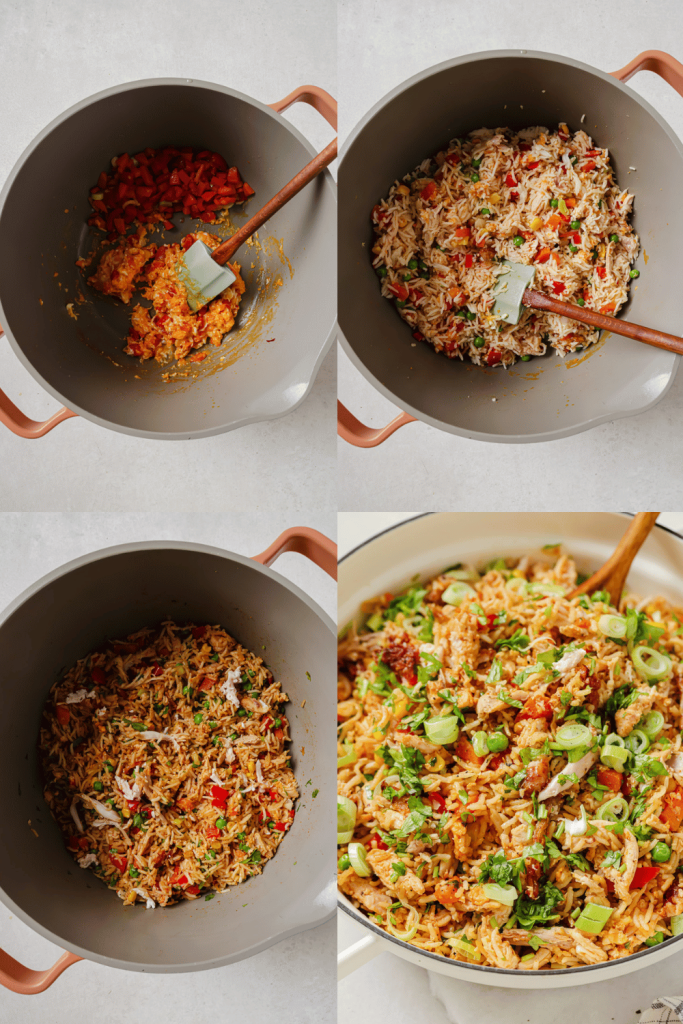 How to make leftover turkey fried rice
Sauté the veggies. Heat the sesame oil in a large skillet over medium-high heat, then add the carrots and peppers. After a few minutes, add the garlic and scallion whites and cook for another minute.
Cook the eggs. Push the veggies to one side of the skillet and pour the eggs into the empty space. Break the eggs into pieces as they cook (you're basically just scrambling them here).
Add the rest of the ingredients. Once the egg is cooked, stir in the turkey, cooked rice, peas, and corn, and stir until everything is well combined.
Flavor to your liking. Add the soy sauce and sriracha (if using). Mix until everything is well-coated. Taste and add more of each if desired, then add the black pepper and cilantro.
Garnish and enjoy! Separate into portions and top with the sliced scallions and remaining cilantro.
What is the best rice for fried rice?
This often comes down to personal preference. Jasmine rice and basmati rice are both popular options when it comes to fried rice dishes. Basmati is a bit longer and less starchy, which means it can be prone to breakage.
Jasmine rice is better if you're looking for a rice that will get nice and crispy and not break much. Ultimately, the results will be fairly similar, so try this recipe with both options and see what works for you!
Is rice vegan?
On its own, rice is vegan for sure! It's when you start adding other ingredients that you may run into some hurdles. In this dish, for one, the turkey.
If you want vegan fried rice, simply omit the turkey and make Vegetable Fried Rice or use some kind of meat substitute. The same is true for the eggs. Everything else should be vegan-friendly!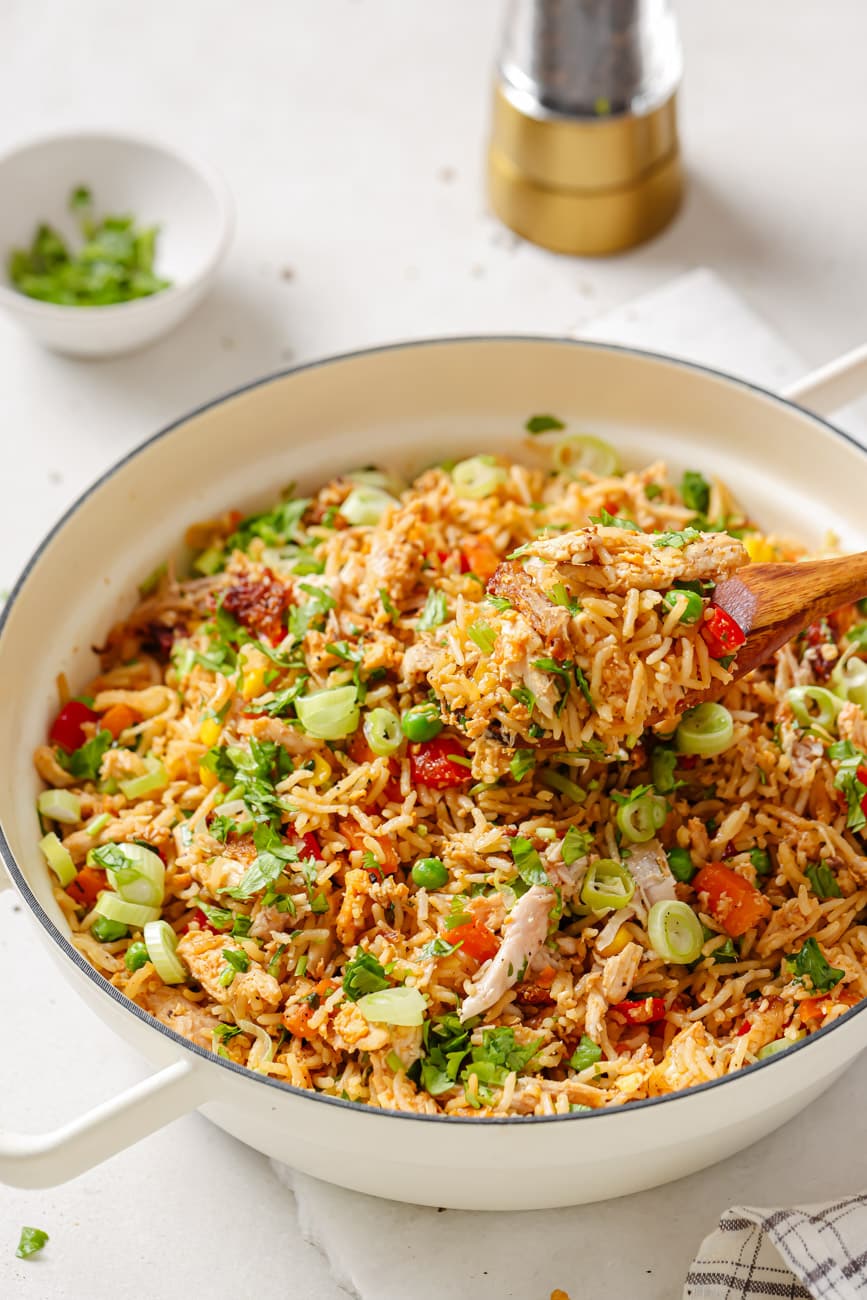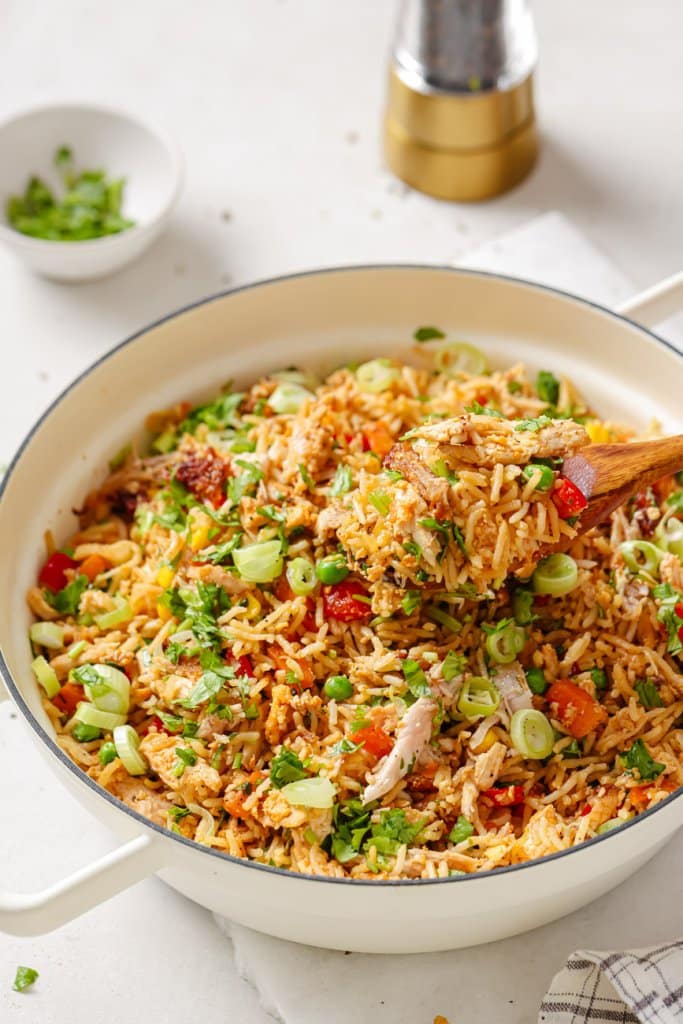 Is there a secret to good fried rice?
There are a few additional steps you can take to ensure your fried rice turns out absolutely perfect. Here are my top two tips:
Rinse your rice before cooking, and allow it to sit for a few minutes after it's cooked.
Leftover rice is the best for making fried rice because of its texture. It's more firm than freshly cooked rice.
Tips for making the best fried rice
Always make sure your rice is cooked before you fry it. Pre-cooking the rice means the frying process is mostly about taste and texture, and frying it after cooking will ensure it gets crispy and delicious instead of soggy.
Use a very hot pan for quick frying. The goal is to get the rice and veggies nice and browned on the outside without letting them get too mushy on the inside.
Be sure to use a large pan or wok to make your leftover turkey fried rice. This ensures that you'll have plenty of space to work with. All of those ingredients start to add up!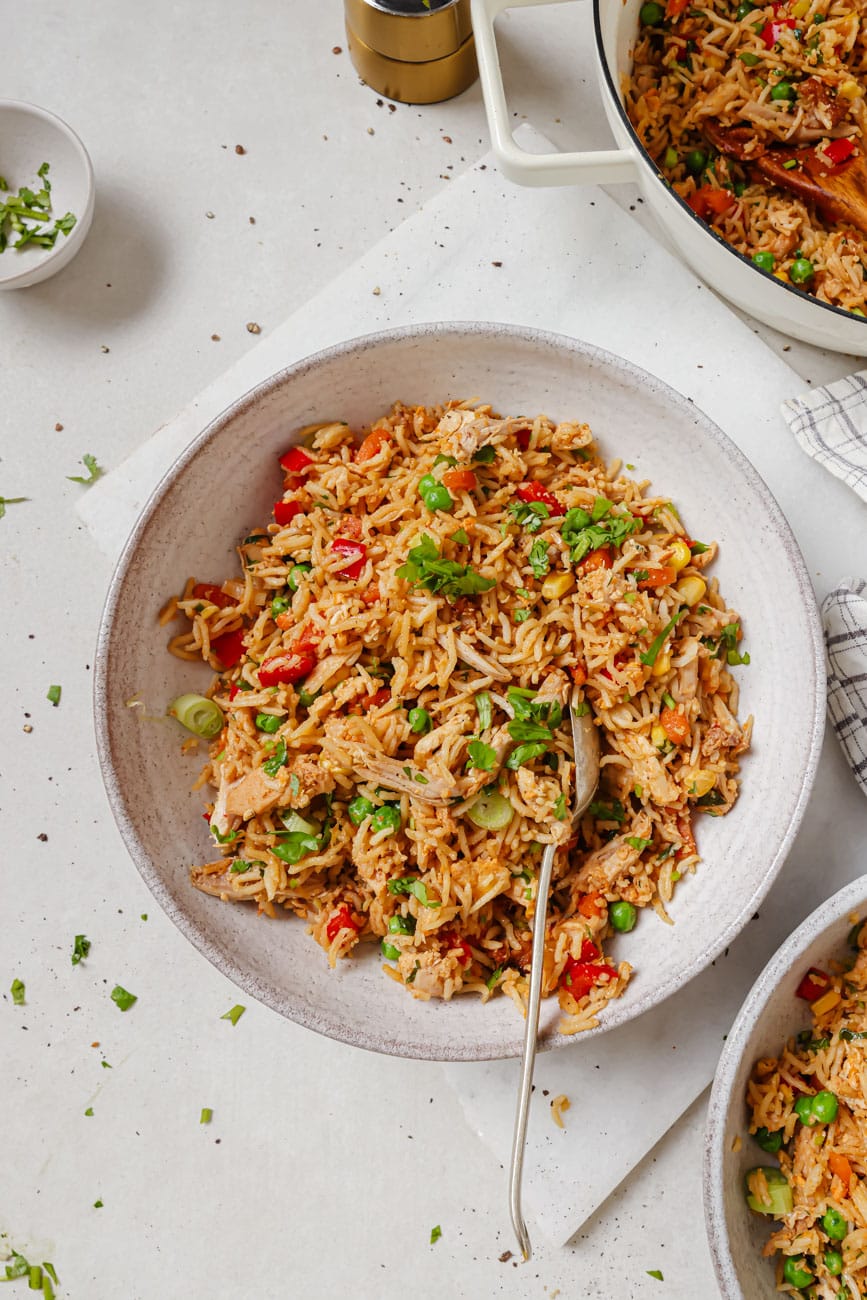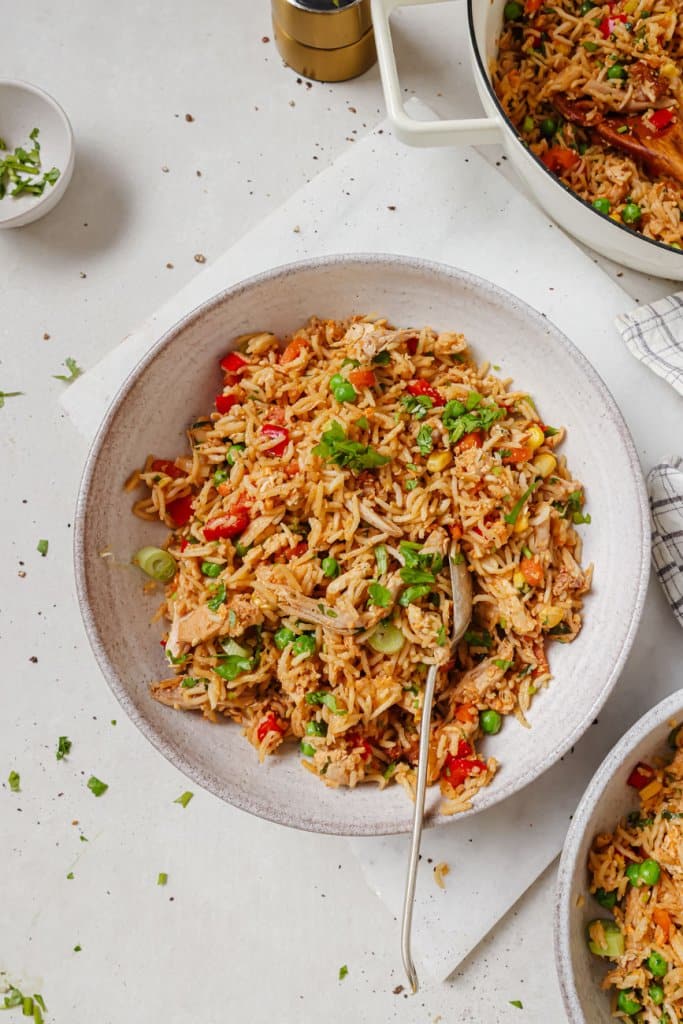 Recipe variations
If you find this rice a little heavy, add a splash of rice vinegar. The acidity will help cut the hearty and savory ingredients and balance things out a bit.
Feel free to vary the types of vegetables you use in your fried rice. Other good options might be mushrooms, broccoli, zucchini, or you could even use cauliflower rice. Sometimes I will split the rice and cauliflower rice 50/50.
Have leftover vegetables from your holiday meal too? Skip the grocery store altogether and use those for your fried rice!
For something a little different, add some cranberry sauce on top of your fried rice. The tartness works surprisingly well with the savory flavors.
What to serve with fried rice
More recipes to try
WANT TO TRY THIS LEFTOVER TURKEY FRIED RICE RECIPE?
PIN IT to your leftover turkey recipes, Thanksgiving leftover recipes, or easy dinner recipes board to save it for later!
Find me on Pinterest for more great recipes. I'm always pinning!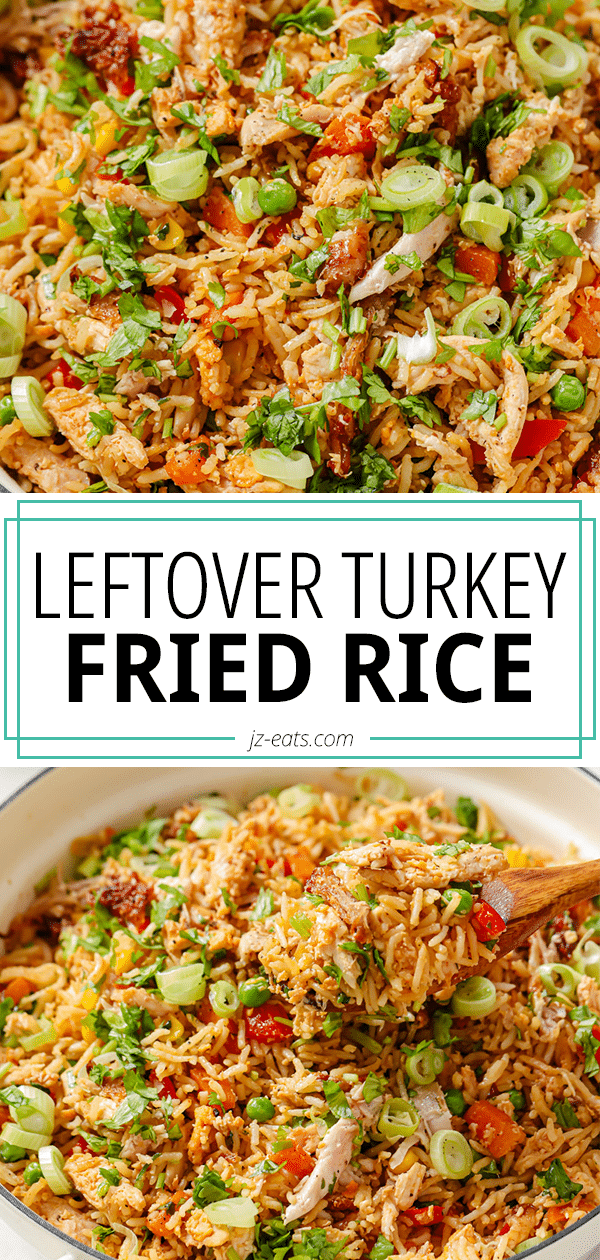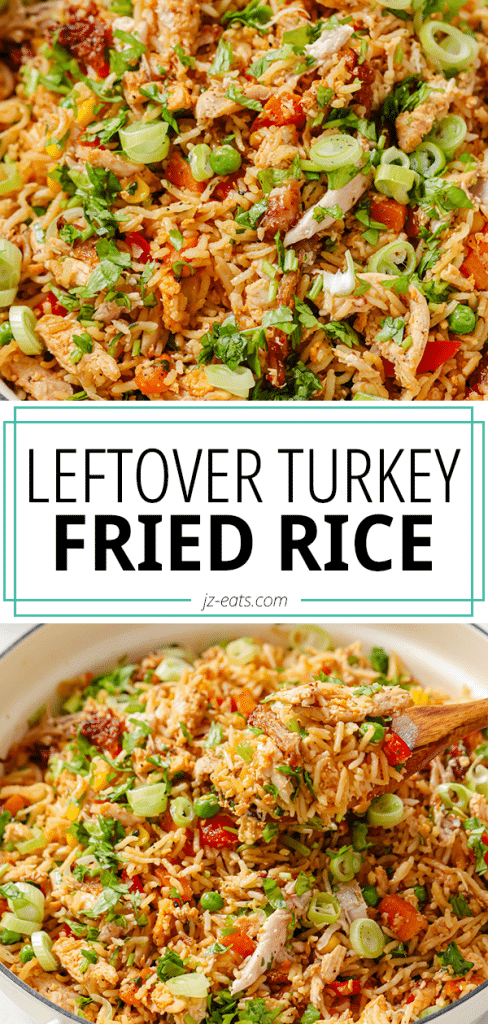 Did you make this recipe? Post a photo on Instagram and tag me @JZEATS or #JZEATS so I can see! Leave a comment below and let me know what you think, too!
Leftover Turkey Fried Rice
This Leftover Turkey Fried Rice is the perfect way to take holiday leftovers and turn them into a fantastic meal! Never again will that leftover Thanksgiving turkey sit in your fridge the week after the holiday—give it a brand new life with this fantastic take on fried rice.
Ingredients
2

tbsp

toasted sesame oil

1

cup

carrots,

diced

1

red bell pepper,

diced

2

garlic cloves,

minced

1/3

cup

green onions,

finely chopped, white and green parts separated

2

large

eggs,

beaten

1/2

cup

frozen green peas

1/2

cup

frozen corn

3

cups

shredded leftover turkey

4

cups

cooked Jasmine rice (cold),

leftover rice is best!

2

tbsp

soy sauce

2

tsp

sriracha

1/2

tsp

fresh ground black pepper

3

tbsp

fresh cilantro,

chopped
Instructions
Heat the sesame oil in a non-stick frying pan over medium heat. Once hot add the carrots and peppers and sauté for about 3 mins on medium heat. Add the garlic and the white parts of the green onions and cook for about one more minute. Reserve the green parts of the onions for serving.

Move the vegetables to one side of the pan and pour in the eggs. Using a spatula, break up the egg into small pieces while cooking. Add the shredded turkey, cooked rice, frozen peas, and corn. Stir to combine.

Next, add the soy sauce and sriracha and continue cooking, stirring occasionally for another 2 minutes, until everything is warm. Mix in 2 tbsp of cilantro and adjust the seasoning to taste.

Garnish with the remaining cilantro and the green parts of the onions.
Nutrition
Calories:
371
kcal
|
Carbohydrates:
47
g
|
Protein:
26
g
|
Fat:
8
g
|
Saturated Fat:
2
g
|
Polyunsaturated Fat:
3
g
|
Monounsaturated Fat:
3
g
|
Trans Fat:
0.01
g
|
Cholesterol:
109
mg
|
Sodium:
498
mg
|
Potassium:
571
mg
|
Fiber:
6
g
|
Sugar:
4
g
|
Vitamin A:
4392
IU
|
Vitamin C:
30
mg
|
Calcium:
53
mg
|
Iron:
2
mg