This post may contain affiliate links which will not change your price but will share some commission. Please read my privacy policy.
There is so much hype about avocado toast these days. Well move over plain jane avocado toast because avocado burrata toast is comin' in hot!
Avocado and burrata are two of my favorite things, and they go so well together. They also happen to be Luna's (my cat) favorite too!
For the uneducated – burrata cheese is a combination of fresh mozzarella and cream. It's like mozzarella cheese on steroids, and I freaking love it. My boyfriend is well aware that I would leave him should burrata ever propose.
These Avocado Burrata Toasts are great for breakfast, lunch, and can even be served as appetizers! Get creative with them and add other toppings like fresh tomatoes, pickled red onions, micro greens, or a poached egg!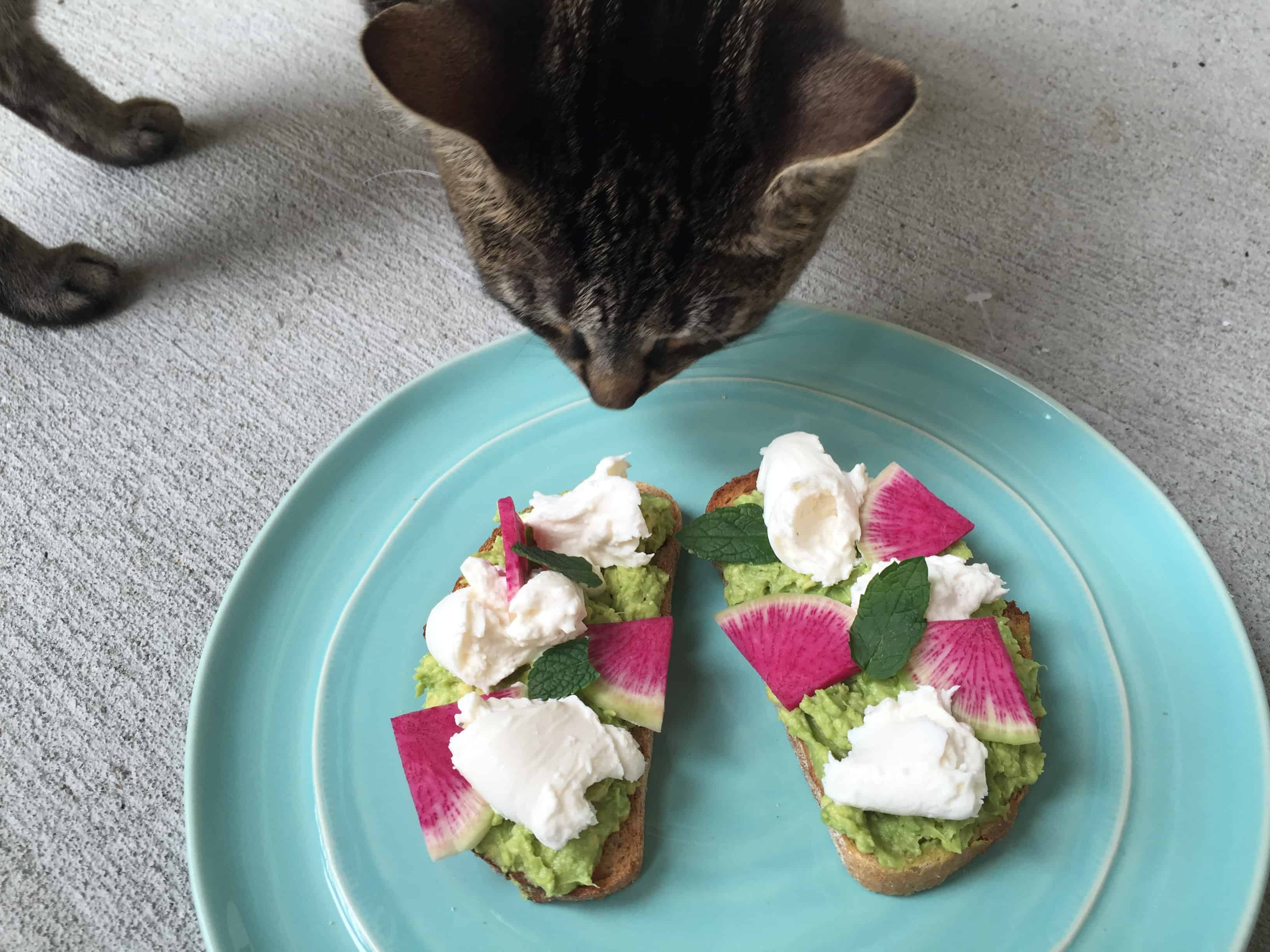 My recipe features olive oil by City2Shore Gourmet. Their products are manufactured in Italy and are truly superior.
My 3 Favorite Avocado Tools
Keep avocados from turning brown with the Avocado Saver. Avocados can be stored in the refrigerator for about three days when using the avocado saver.
The All-in-1 Avocado tool is one of the most useful kitchen tools I've ever purchased. It can skin, slice, and pit the avocado!
A mortar & pestle is one of my favorite tools for mashing avocados. They are perfect for making and serving guacamole, and even make nice counter-top decor.
Servings: 5
Difficulty: easy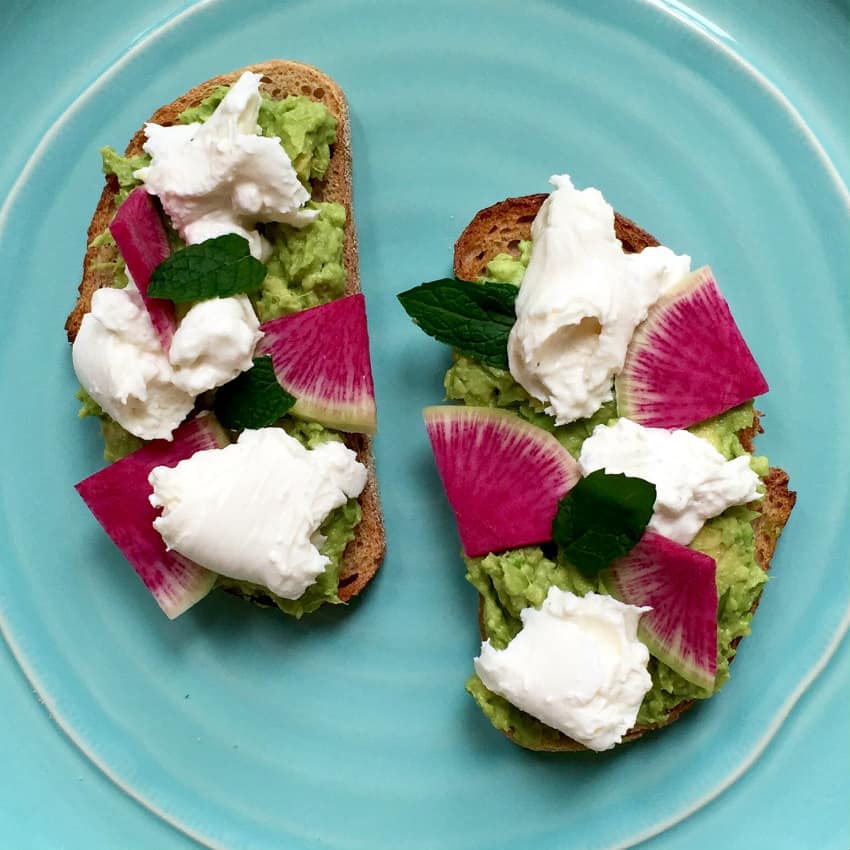 Serve this burrata toast at your next party.
Ingredients
5 pieces of whole wheat bread (toasted)
1 avocado
2Â tbs lemon juice
2 balls of burrata
Olive oil (I used DIVINO from City2Shore Gourmet)
Salt & pepper to taste
1 watermelon radish
8 mint leaves
Directions
Lay burrata on a paper towel to remove excess liquid
In a small bowl, mash avocado and mix with lemon juice
Slice watermelon radish into three 35mm pieces. (I used a mandolin for this, but you can also use a sharp knife). The cut the radish slices in fours
Spread avocado over toast
Add a drizzle of olive oil and salt/pepper
Pull apart the burrata ball and lay pieces over avocado
Top with watermelon radish and mint
* This recipe is also great with truffle burrata!
*Â Enhance the flavor even more with a balsamic reduction.
PIN IT!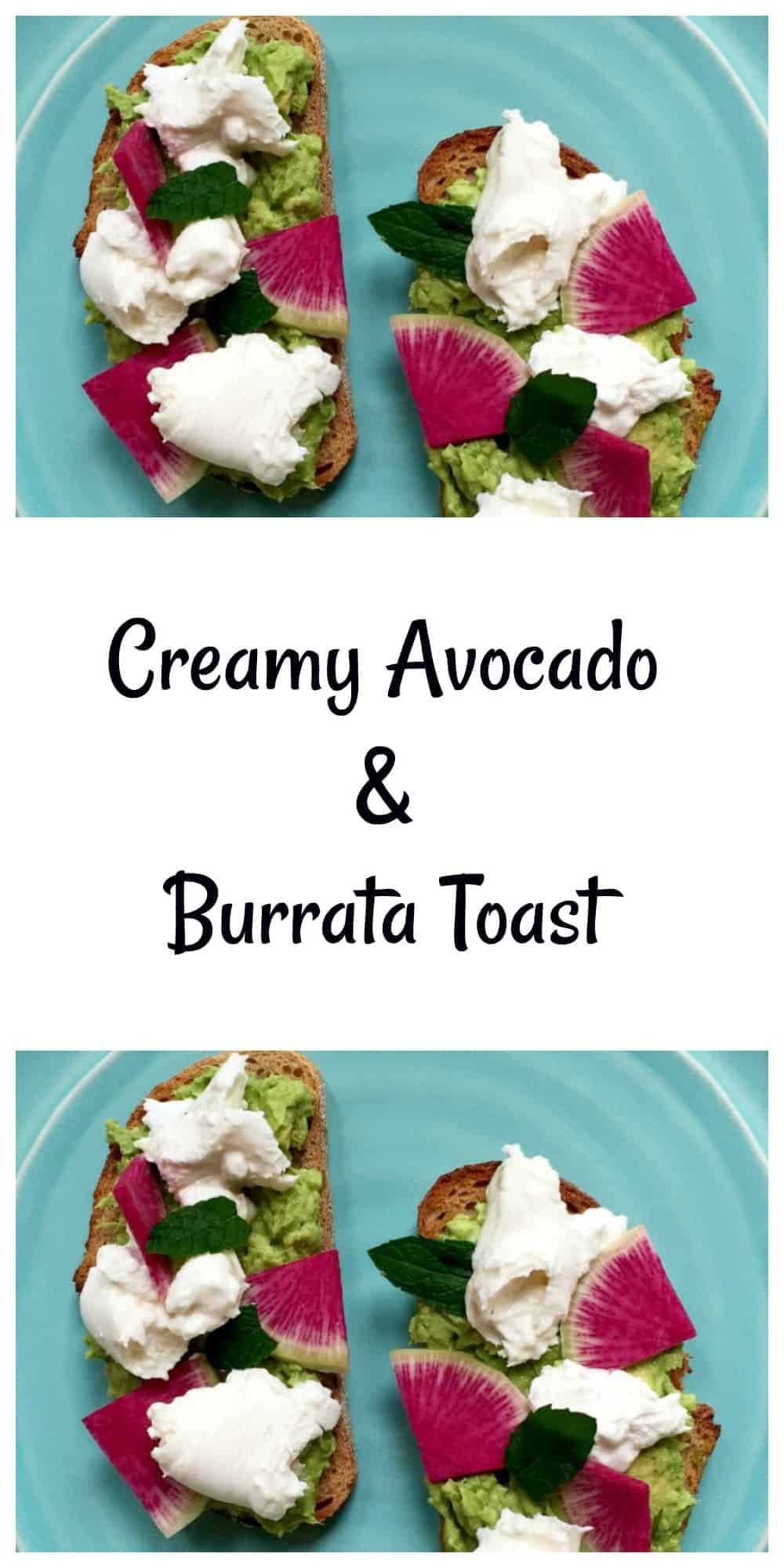 While City2Shore Gourmet provided me with the olive oil used in this recipe, all thoughts and opinions are my own.