This post may contain affiliate links which will not change your price but will share some commission. Please read my privacy policy.
Remoulade For Crab Cakes takes seafood the next level. It's a delicious mayonnaise based recipe from Louisiana, kicked up with horseradish.
If you haven't already tried this southern classic, don't wait another second; Impress your guests with Remoulade For Crab Cakes next time you host a dinner party.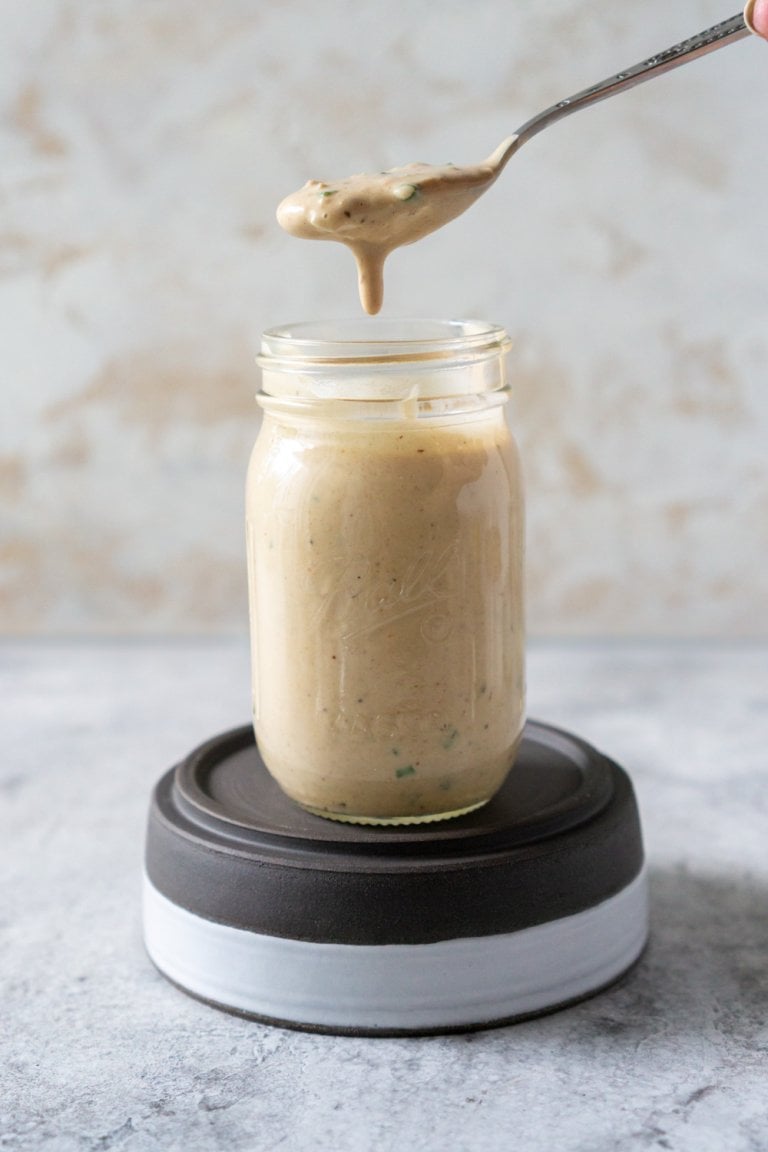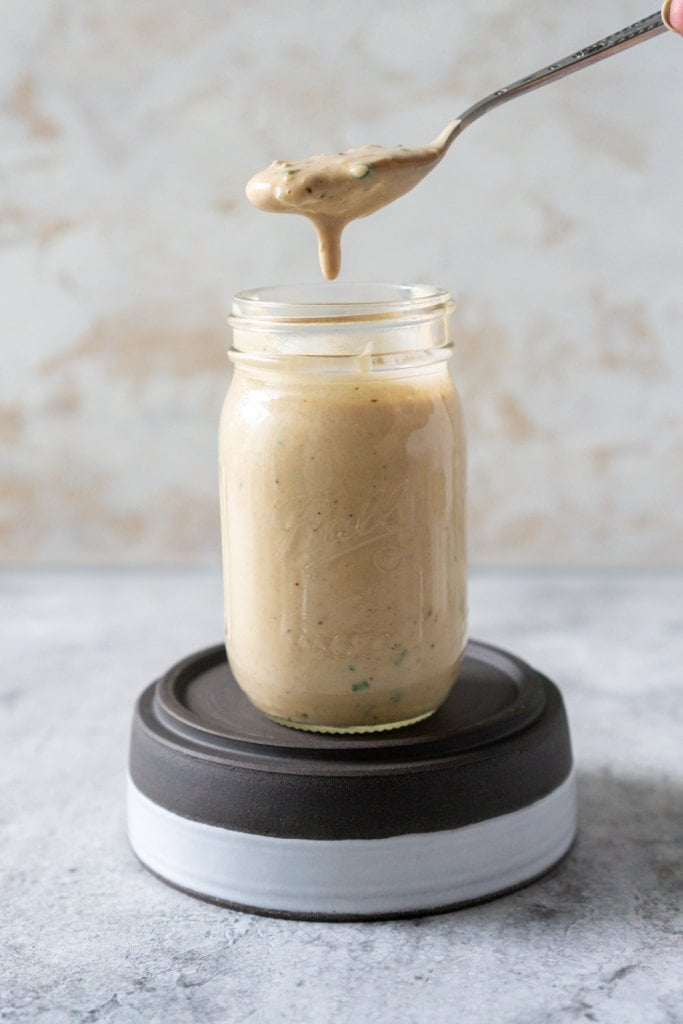 If you love Old Bay with your seafood, you'll want to give this Old Bay Crab Cake Sauce a try next!
This Remoulade Sauce Recipe takes food to the next level
Sauces can completely change your dish, usually for the better, and this condiment is one that will totally level up anything you put it on.
What is remoulade?
Remoulade is a French sauce that was popularized in the south, specifically in Louisiana creole dishes. Much like us here in Maryland, Louisiana is also known for its mouthwatering seafood. However, down there, along with its great seafood comes a lot of French influence – and that's how remoulade sauce joined the menu.
Remoulade has become so popular, not just in the south but globally. So much so that it's a common condiment used on sandwiches, hot dogs, battered fish, and many other finger foods. I don't recall the first time I ever had remoulade, but I do know this recipe has been a long time coming.
This remoulade sauce recipe is perfect for countless seafood dinners!
Crab Cake Remoulade ingredients
Base ingredients: this recipe has a mayonnaise base, but that is not all! To make the base you will also need dijon mustard. To add tanginess you'll also need Worcestershire sauce, horseradish, sweet pickle relish, and lemon juice.
Herbs and spices: the flavorful spices set this sauce apart. You need chives, garlic, Old Bay Seasoning.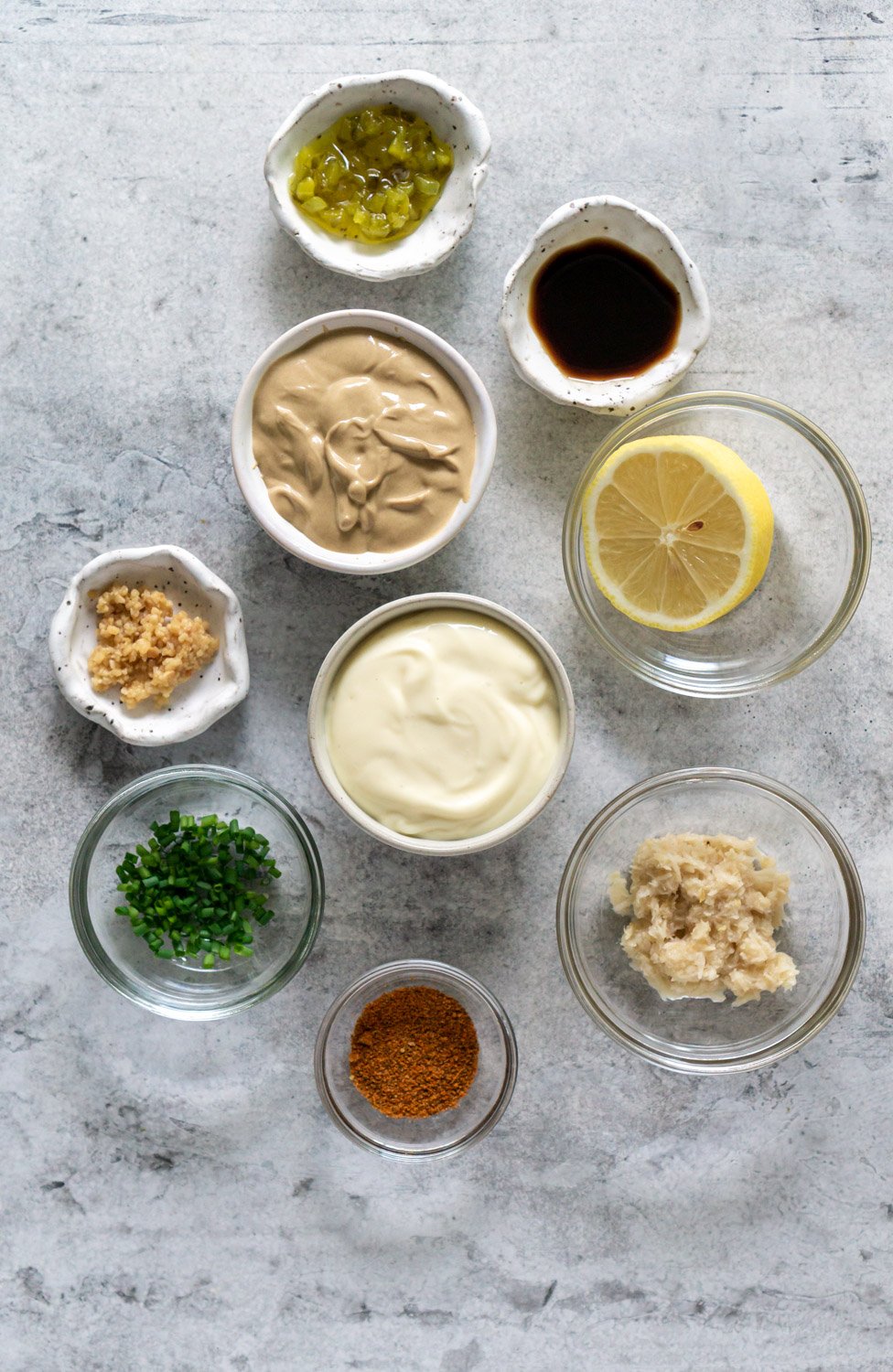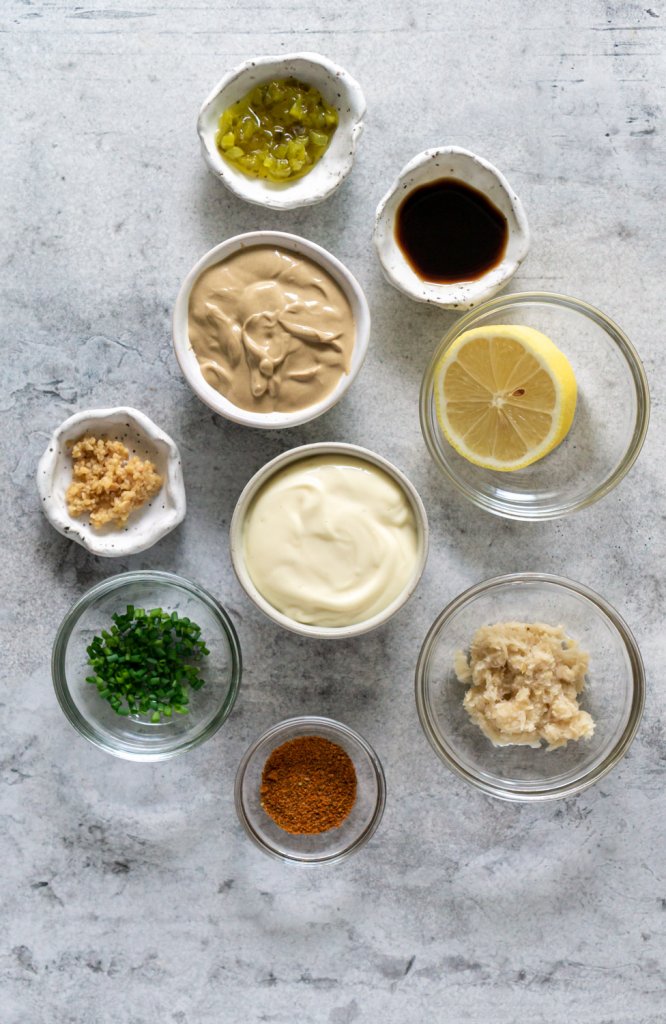 How to make Remoulade
This Louisiana remoulade sauce (sometimes called spicy mayo) is so easy to make in a pinch! This is also a great recipe for your younger ones interested in the kitchen or any kitchen helpers trying to lend a hand!
To make it, simply combine all the ingredients in a small bowl and whisk until well combined.
Once the sauce is smooth, serve or store in an airtight container until ready to use.
Some variations to consider when making remoulade for crab cakes is all the different substitutions available. Slight differences like green onions (just the green parts) and a sprinkle of black pepper can make all the difference. If you're a fan of spice, you can even try adding a bit of cayenne pepper.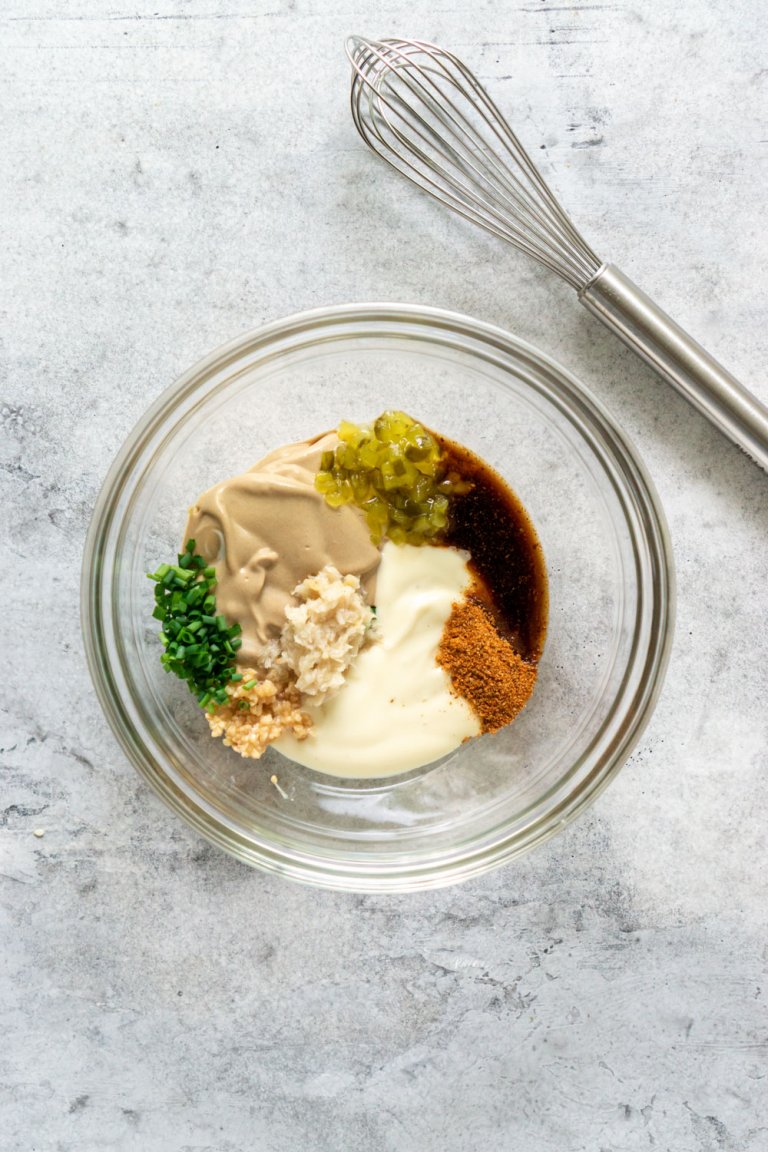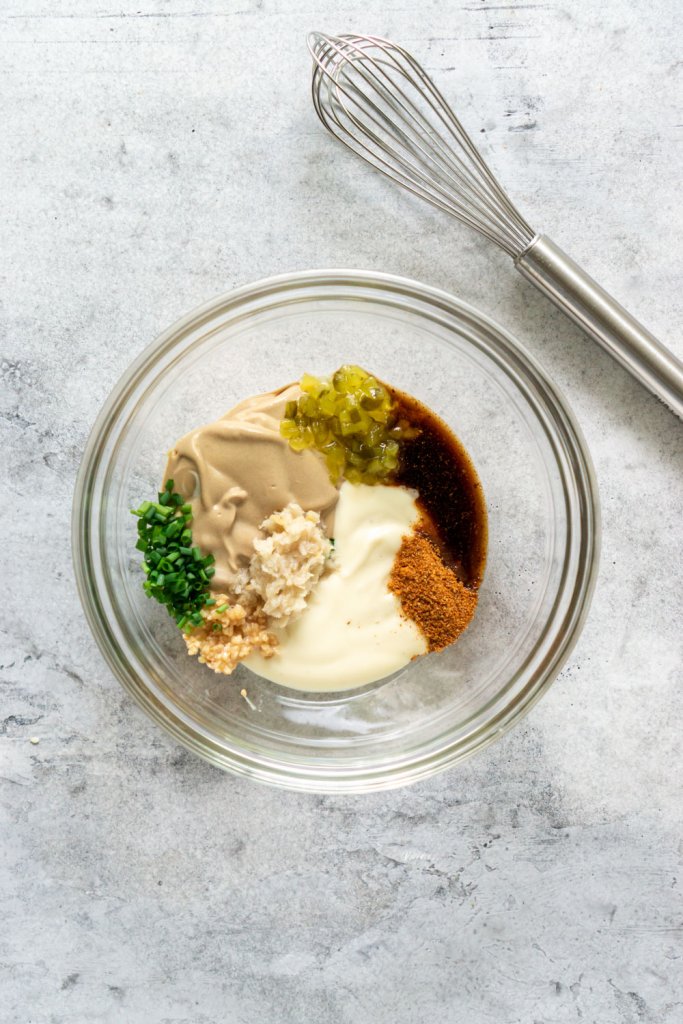 How to serve this Remoulade Sauce Recipe
Other than a side of savory remoulade for crab cakes or Old Bay Crab Cake Sauce and lemon wedges, you can also serve your crab cakes with endless dishes. Air fryer potatoes or broccoli are a great and nutritious way to pair the crab cakes and use any extra remoulade sauce. Some of my other favorites include:
There are also countless salads and pasta salads to choose from when pairing crab cakes.
What do you eat with Remoulade?
This sauce is perfect for pairing with most seafood. It's the perfect dipping sauce for things like homemade crab cakes and breaded fish.
Looking to try something a little different from the traditional crab cake recipes? You can also try this remoulade sauce with salmon cakes!
"But wait, there is more!" You can use this homemade remoulade sauce recipe for just about anything! It is the perfect condiment for po'boys, french fries, asparagus, broccolini, so many other veggies, and more!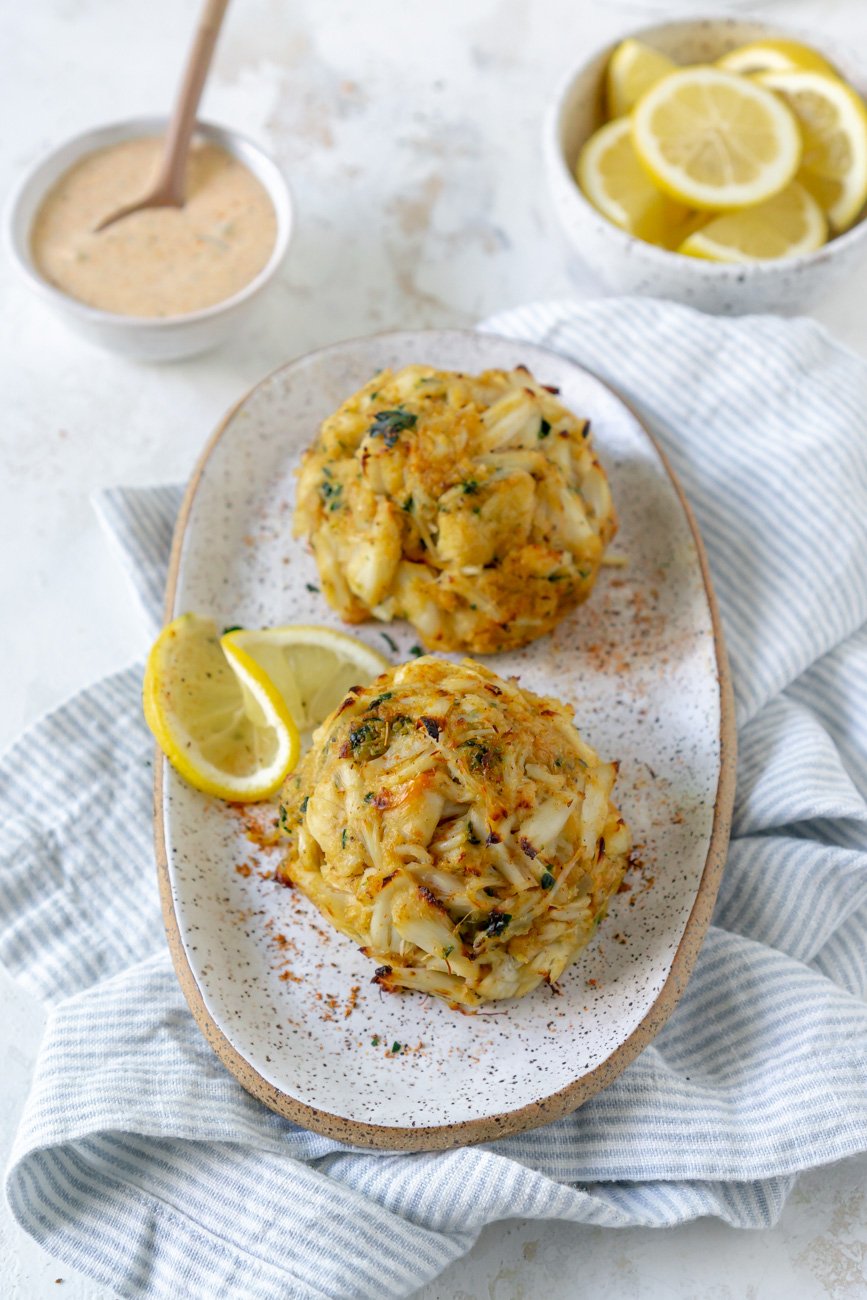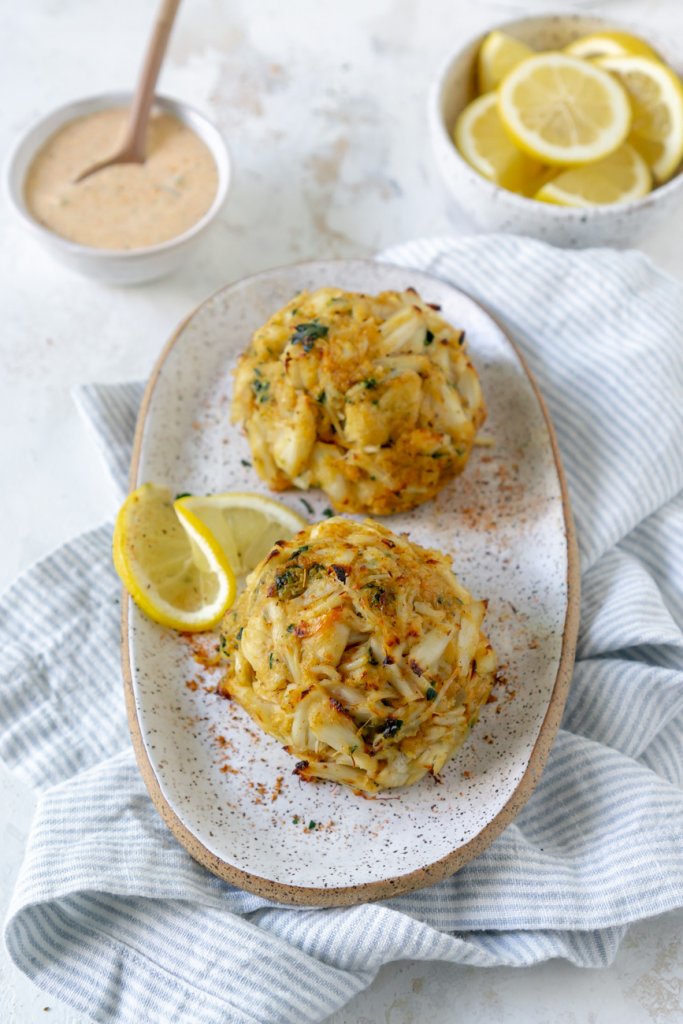 Remoulade Recipe storage
You can store your remoulade in an airtight container in the refrigerator for up to 5 days.
Freezing the sauce can affect the texture, so I don't typically recommend storing it in the freezer. However, if you must freeze it, you can place it in a freezer safe airtight container and freeze for up to 3 months.
Mayonnaise-based sauces like remoulade can sometimes become slightly separated or watery when frozen and then thawed.
If you notice the ingredients separating after refrigerating or freezing, try whisking the remoulade to combine the ingredients again.
Remoulade Sauce for Crab Cakes FAQs
What does remoulade dressing taste like?
Remoulade can taste kind of like a much more flavorful aioli. In simple words, if you're from the east coast, think fancier fancy sauce.

If you're from the west coast, it could be comparable to In-n-Out sauce. Keep in mind that these are very loose comparisons based on my own experiences, you'll have to try this homemade remoulade sauce recipe yourself.
What's the difference between remoulade and aioli?
While a remoulade is an aioli, an aioli isn't necessarily a remoulade. While aioli is often compared to mayonnaise it couldn't be more different in terms of taste (although they do look pretty similar). Aioli can often be just garlic and oil which is why it's used as a base for many other sauces.

The key difference between the sauces is that herbs and spices are added to the remoulade to make for a much more flavorful sauce.
What is the meaning of the word remoulade?
The word "remoulade" refers to a type of cold sauce or condiment that is usually made using a mayonnaise base.

It's often mixed with various ingredients to give it flavor like garlic, horseradish, herbs, and spices. There are many ways to make a remoulade sauce with different ingredients and flavors!
How do you pronounce Remoulade?
Pronunciation may vary slightly based on regional accents, but it's typically pronounced: "reh-muh-LAHD" or "reh-moo-LAHD." The stress is often placed on the second syllable, and the "ou" sound is commonly pronounced as "oo."
How is remoulade sauce different than tartar sauce?
While both sauces are made with a mayonnaise base, they vary in flavor and ingredients.

Remoulade tends to have more complex ingredients, resulting in a more robust flavor profile. Tartar sauce tends to have fewer ingredients with a more mild flavor.
Where was remoulade invented?
Remoulade originated in France during the 17th century. The word rémoulade is thought to have originated from the word remolat, which means "horseradish".
WANT TO TRY THIS REMOULADE FOR CRAB CAKES RECIPE?
PIN IT to your sauce recipes, remoulade recipes, or crab cake sauce recipes board to save it for later!
Find me on Pinterest for more great recipes. I'm always pinning!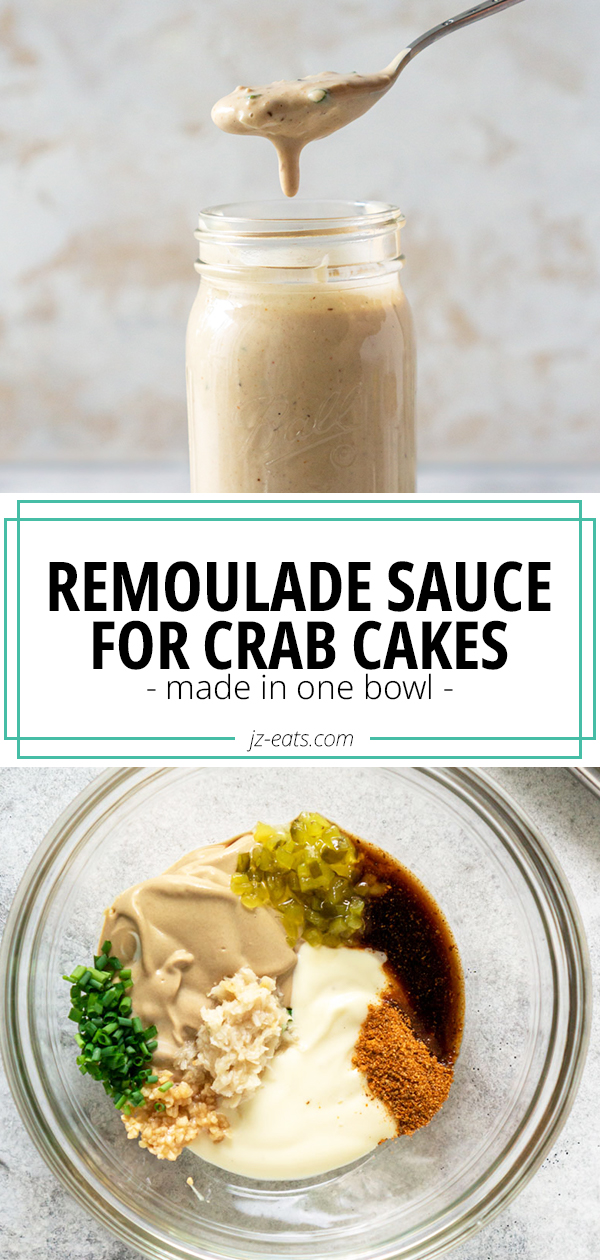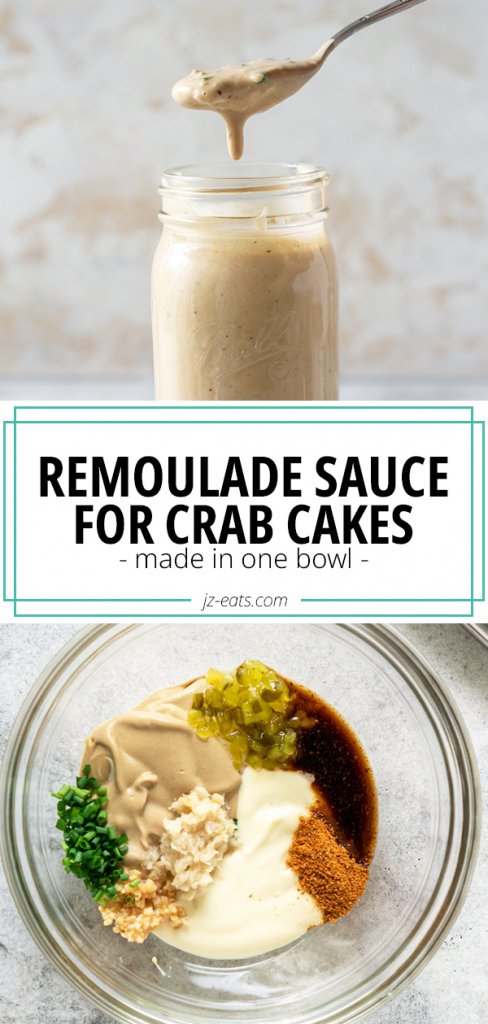 Did you make this recipe? Post a photo on Instagram and tag me @JZEATS or #JZEATS so I can see! Leave a comment below and let me know what you think, too!
Easy Crab Cake Remoulade
Remoulade For Crab Cakes takes seafood the next level. It's a delicious mayonnaise based recipe from Louisiana, kicked up with horseradish.
Instructions
In a small food processor or mixing bowl, whisk together the mayonnaise, Dijon mustard, sweet pickle relish, Old Bay, Worcestershire sauce, chives, horseradish, minced garlic, and lemon juice until fully combined.

Serve immediately or chill for 1 hour before serving.

If you've tried this recipe, come back and let us know how it was in the comments or ratings!
Nutrition
Calories:
58
kcal
|
Carbohydrates:
2
g
|
Protein:
1
g
|
Fat:
6
g
|
Saturated Fat:
1
g
|
Polyunsaturated Fat:
3
g
|
Monounsaturated Fat:
1
g
|
Trans Fat:
1
g
|
Cholesterol:
3
mg
|
Sodium:
148
mg
|
Potassium:
30
mg
|
Fiber:
1
g
|
Sugar:
1
g
|
Vitamin A:
48
IU
|
Vitamin C:
2
mg
|
Calcium:
12
mg
|
Iron:
1
mg