This post may contain affiliate links which will not change your price but will share some commission. Please read my privacy policy.
Chicken is one of the most common lean proteins that is used in many different recipes. However, most people don't know how to store chicken properly, which can lead to the growth of harmful bacteria.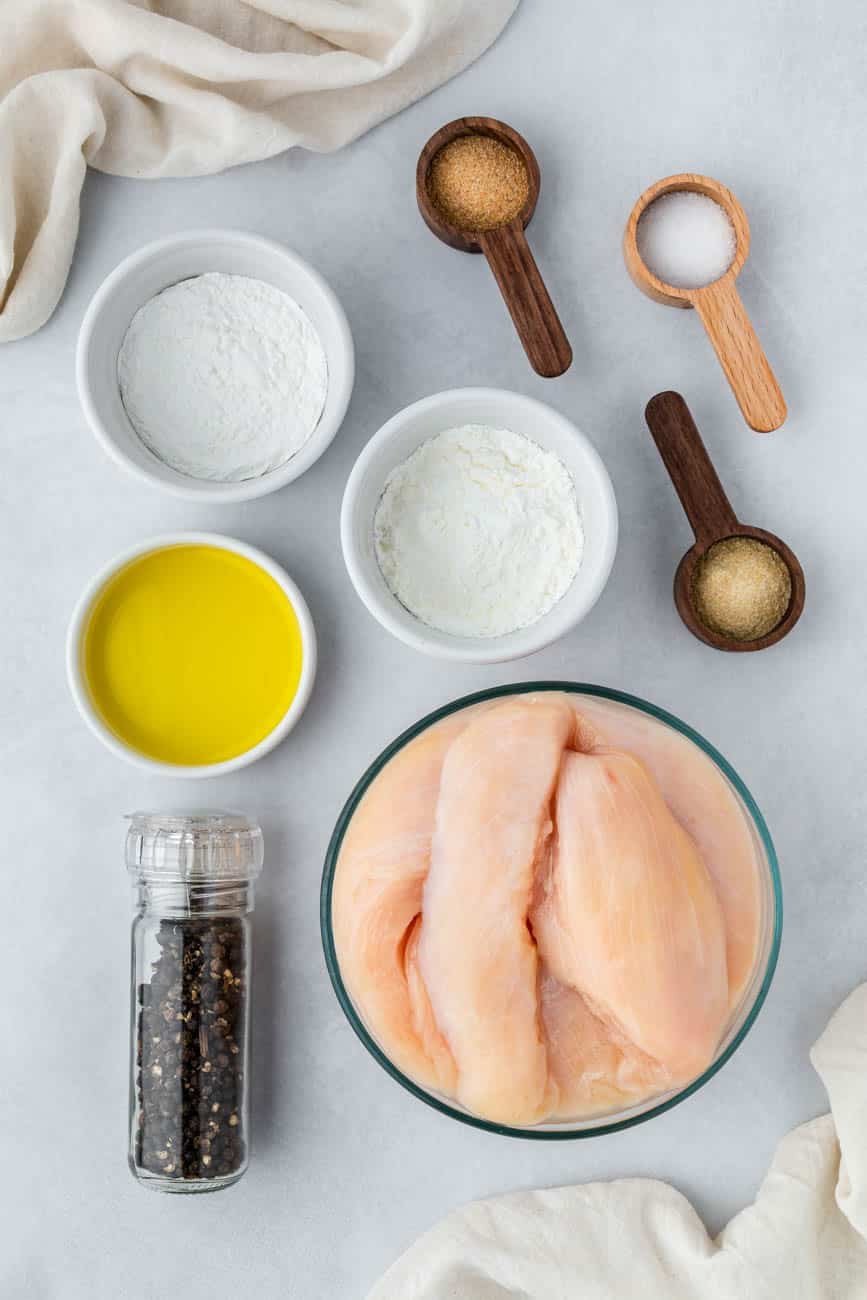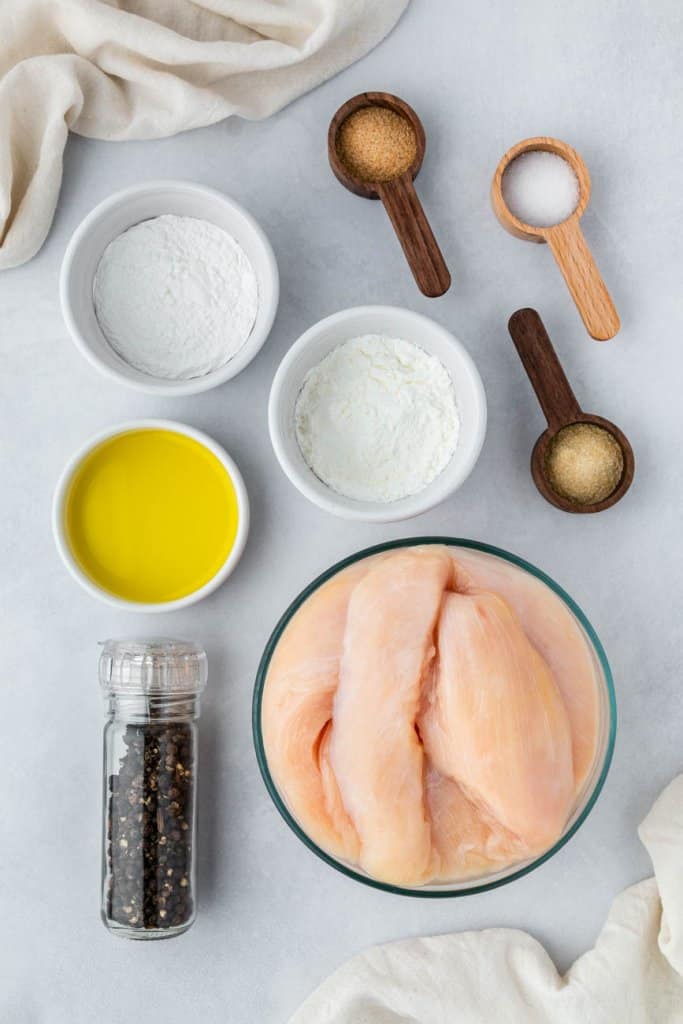 Whether you're a new chef or a cooking pro, this post will show you the basics of learning the importance of proper chicken storage.
Working with chicken requires proper handling and food safety knowledge as it can easily harvest bacteria, like salmonella and E. Coli (you don't want food poisoning, trust me!). Proper storing, defrosting, and thawing techniques can help avoid any foodborne illnesses.
Storing chicken the right way
When you're grocery shopping, and you pass the chicken and see that it's on sale, you feel like you've hit the jackpot. If you're like me, you take advantage of any chicken that is on sale, and then you can freeze it and save it for later.
There are two main ways for how you can store raw chicken in the fridge or freezer. I recommend using the freezer method if you're not planning on using all of your chicken within a few of days of purchasing. Depending on the kind of chicken that you're freezing, it can last up to a year in the freezer.
You can also store leftover cooked chicken in the fridge or freezer. In the fridge for around four days and in the freezer for around four months.
Keep in mind the normal temperature of a fridge is 40°F, and a freezer is 0°F, anything higher and it will change the spoilage times.
How to Store Raw Chicken
Put your chicken in an airtight container so that it doesn't contaminate any other foods.
Place your raw chicken in the back of the fridge and on the lowest shelf. The front of your fridge is usually the warmest. This is because each time you open the fridge, some of the cold air comes out.
Use or freeze your chicken within 48 hours of purchase unless specified differently on the package.
Do not leave your chicken out for more than two hours, or it will go bad. Put it in the fridge as soon as you get home from the store.
Wash your hands! Cross-contamination is incredibly easy when it comes to chicken. Either use gloves while handling raw chicken or wash your hands for 20 seconds after touching your raw chicken.
How to Store Leftover Raw Chicken in the Fridge
To store any leftover raw chicken, put it into airtight glass or plastic containers and then place it in your fridge. I like to put mine on a plate or in a bowl to make sure it doesn't leak. Refrigerated raw chicken will need to be used within 48 hours.
Can I store raw chicken in the fridge if it's uncovered?
No, it's not recommended to leave raw, uncovered chicken in your fridge. Any raw meat, especially poultry, needs to be properly sealed in an airtight container until use. This will help prevent your chicken from leaking and contaminating the other foods.
If you store uncovered raw chicken in the freezer, it will quickly become freezer burnt, and you won't want to eat it. It's not harmful, but the taste and texture is unappealing.
How long can you keep raw chicken after opening?
A good rule of thumb is to always use raw chicken within one to two days after opening. This goes for both whole chicken or sliced chicken.
When storing a whole raw chicken or raw chicken that has been opened, it needs to be stored in an airtight container or Ziploc bag. Then place it on the bottom of the fridge until ready to use. After two days, I recommend freezing your raw chicken and keeping it in your freezer until it's ready to be used.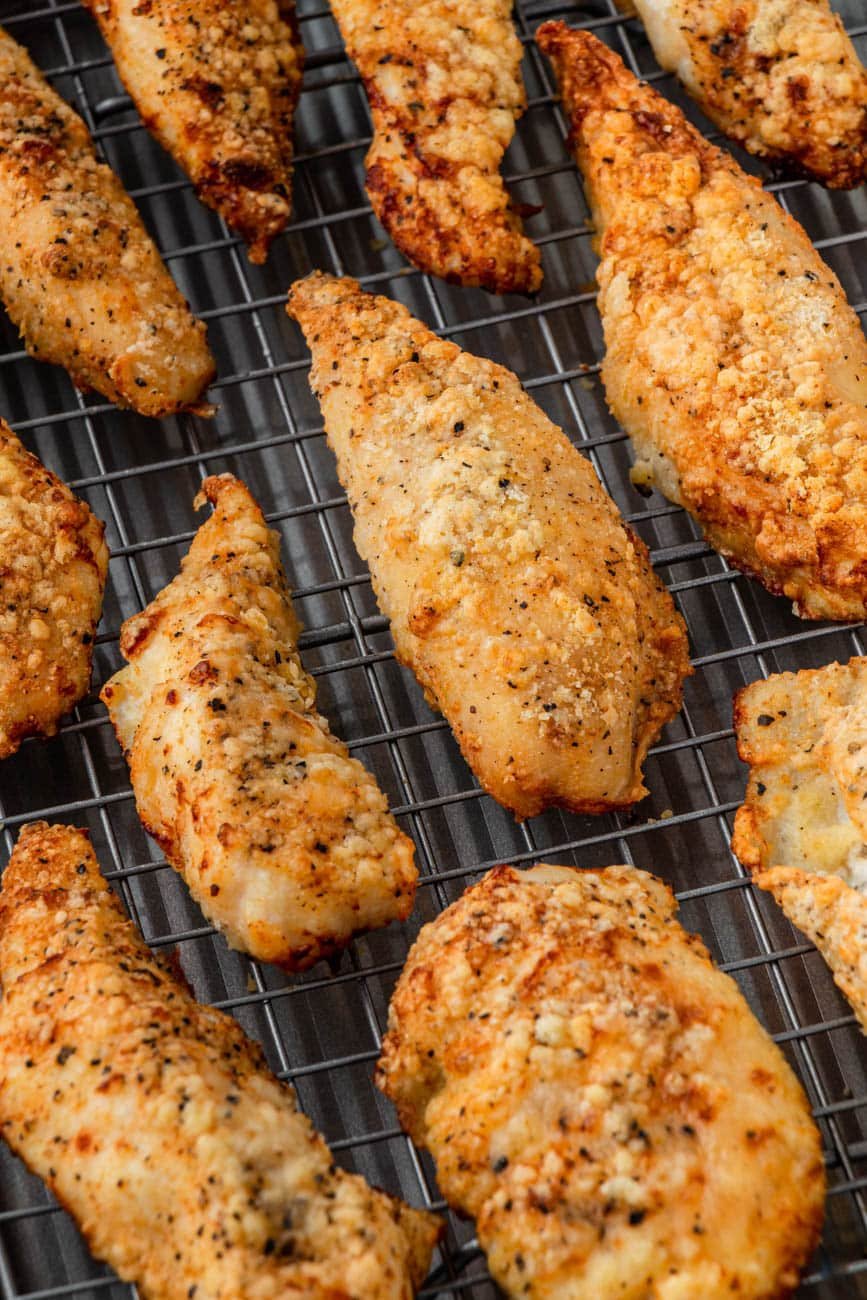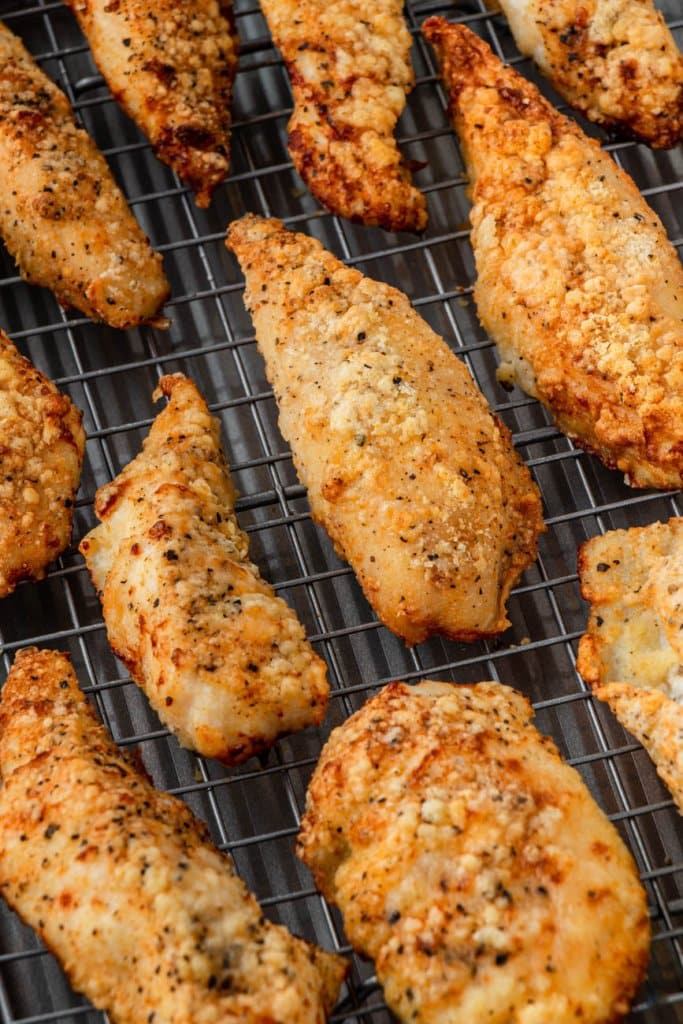 How can I tell if my chicken has gone bad?
It's pretty easy to tell if your chicken has signs of spoilage or has gone bad. It will not only look dull or gray, but it will also have a bad odor. If your chicken smells like eggs, sulfur, or just off, do not use it.
I wouldn't only base your concerns on the smell or color, I would always take a look at the "use by" date or expiration date on the package from the store. I would not recommend using chicken that is over two days past that date. Fresh chicken is pink and barely has a smell to it.
How to Store Chicken Broth
If your chicken stock or bone broth is completely sealed or unopened, you can place it in the pantry at room temperature. But, once you open your broth, it will need to stay in the fridge for up to a week. Or, you can place it in the freezer for up to three months.
Pro Tip: The best way to freeze broth is to put it in a freezer-safe bag and then fill it 3/4 way, which gives it room to expand, if necessary. You can also use soup-storing cubes. This will allow your broth to quickly thaw when you're ready to use it.
Some of my favorite ways to use chicken broth are in Chicken Pho, Thai Coconut Curry Chicken Soup, and Lemon Orzo Chicken Soup.
How to Store Rotisserie Chicken
Storing a rotisserie chicken can sound a lot harder than it actually is. Depending on the size, the hardest part is finding a place to put it in your fridge. You can store your whole chicken in the refrigerator on the lowest shelf for up to 3-4 days.
Be sure that it's in an airtight container or completely wrapped so it doesn't touch air. After four days, place your chicken in the freezer for up to two months. When you're ready to use your frozen chicken, thaw it in the fridge for at least 24 hours.
If you shred or carve your rotisserie chicken, you can freeze it in small portions and only thaw what is needed for your recipe.
My favorite ways to use rotisserie chicken are in BBQ Chicken Stuffed Sweet Potatoes, Pineapple Chicken Salad, or Buffalo Chicken Tacos. Or, you can check out my Easy Rotisserie Chicken Recipes ebook, which is full of fun chicken lunch and dinner ideas.
How to Store Fried Chicken
To keep your fried chicken at the best quality possible, you will want to store any leftover chicken within 30 minutes to an hour after hitting room temperature. Then, place your leftovers in either aluminum foil, plastic wrap, or a shallow airtight container and consume within four days.
Keep in mind it does take chicken a little bit of time to hit room temperature after cooking, so there is no need to put it in the fridge directly after cooking. You will also want to wait until your chicken is completely cooled before placing it in the refrigerator.
This is so the chicken does not increase the temperature in the fridge or heat up the other food items close to where it's stored.
Be sure to try my Air Fried Chicken Tenders, Air Fryer Pretzel Chicken, or Crispy Buffalo Chicken Salad.
Freezing Pre-cut Chicken
Whether you're freezing pre-cut raw or cooked chicken, one of the most important parts is to make sure your chicken is in a properly sealed, airtight container or resealable freezer bag. You don't want your chicken to become freezer burnt and covered in ice crystals.
If cooked, you can place your chicken into a container directly and put it in the fridge. Place it on a baking sheet lined with parchment paper, then wait until your chicken is completely frozen. Once it's frozen, remove it from the paper, place it in an airtight container, and put it in the freezer. This keeps your chicken pieces from getting stuck together in the bag.
For raw chicken, I recommend sorting your chicken pieces out into individual serving sizes and then putting them into freezer bags. This will help you only thaw specific amounts when you need them.
Tip!
Label and date the bag before freezing it.
When you reheat the frozen chicken, you may notice it can become very dry and lack flavor. The easiest way to stop this from happening is to add either a splash of chicken broth while you're reheating the chicken.
You can also cover your chicken when cooking to prevent the moisture from coming out, which keeps your chicken juicy. Always check the internal temperature with a meat thermometer before serving. The safe internal temperature of cooked chicken is 165 degrees F.
Can you freeze chicken?
Of course! It's very common to freeze chicken, especially when you find it on sale at the grocery store. To freeze, place your chicken into freezer-safe bags and try to get the most air out possible before sealing it.
I like to store my chicken with one-two pieces per bag. This not only helps it defrost quicker, but it also allows you to only thaw what is needed. If stored properly, the USDA recommends you use a whole chicken within a year of freezing and any cut or carved chicken to be eaten within nine months.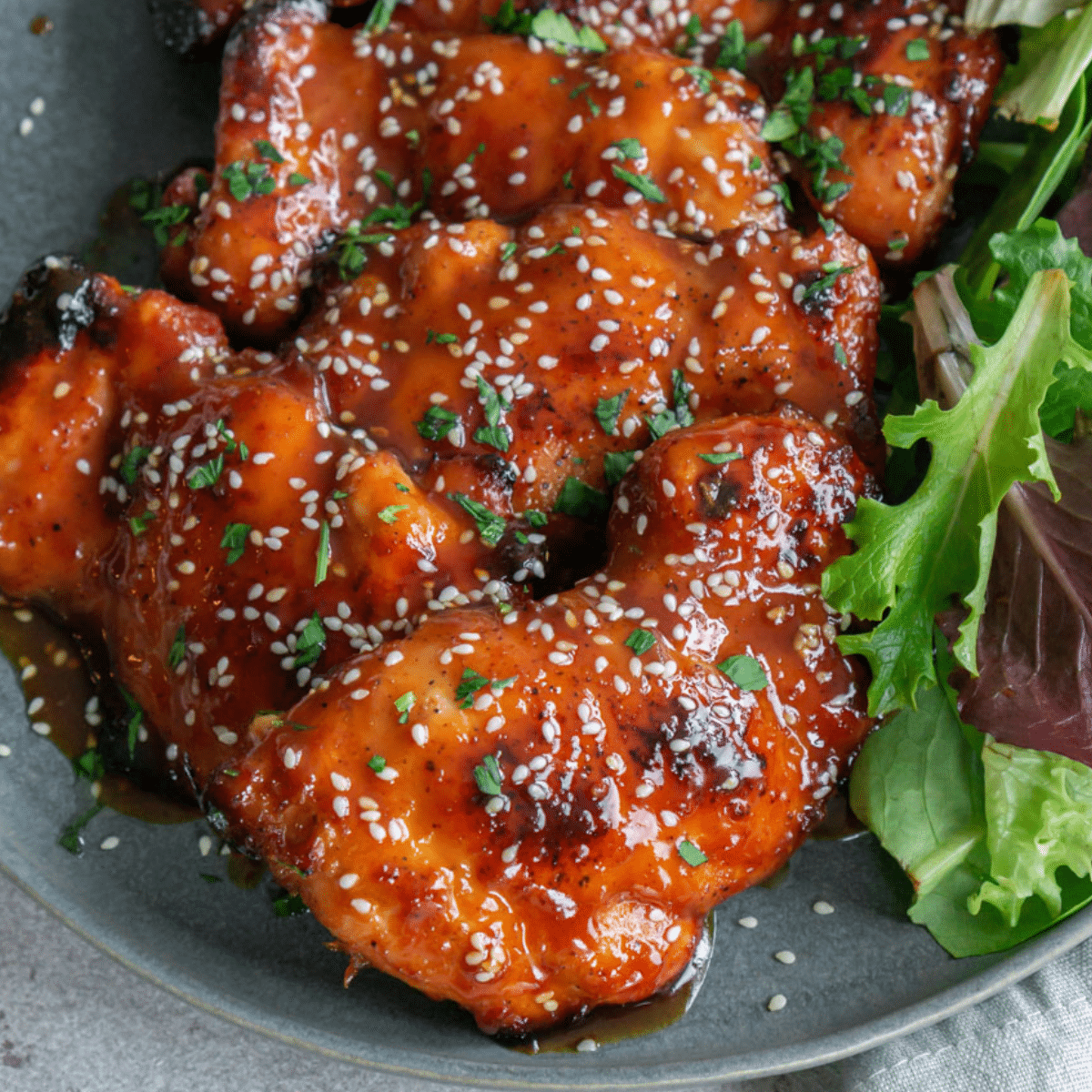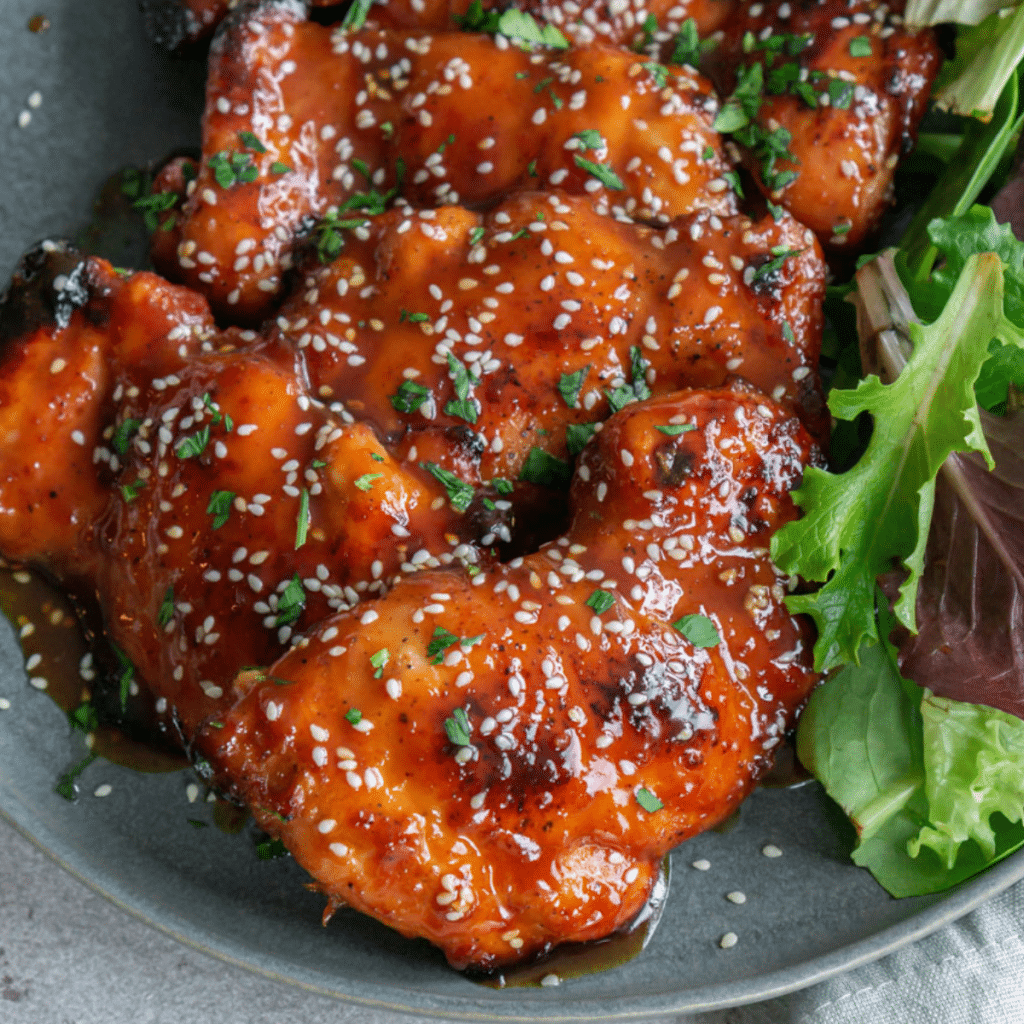 How to Safely Defrost Chicken
There are three easy ways that are safe when you're wanting to safely defrost your chicken.
Cold Water Method: This is the best method if you only have a few hours until needing your chicken. First, be sure that your chicken is completely wrapped, and then put it into a Ziploc bag and seal. Place your bag of frozen chicken into a large bowl of cold water – do not use warm water. It's very important that your water is cold and not warm in this step, you don't want to bring your chicken to a higher temperature. Keep an eye on your chicken and refresh the water every 30 minutes until your chicken is completely thawed.
Microwave Method: This one is by far the easiest and quickest, but isn't my top choice. This is because it's very difficult to warm food in the microwave evenly. You will want to make sure that you cook your chicken as soon as it's done thawing.
Refrigerator Method: This is the best way to defrost and thaw your chicken. Place your sealed package of chicken into a bowl and let it thaw in the fridge for 24 hours, depending on how thick your chicken is. It's very important to place your chicken on the bottom shelf of the fridge and in a bowl big enough to catch any drips that may happen when your chicken thaws.
Can you re-freeze raw chicken once thawed?
You can! However, there are a few guidelines that must be followed to correctly refreeze your chicken.
Thawing Method. It's recommended that if you use the microwave thawing method for chicken, it must be cooked before putting it back into the freezer for the best quality. If you defrosted your chicken in the fridge or cold water, you must refreeze it within one to two days of it being thawed. Do not refreeze any chicken that has been thawed for more than four days, it could possibly be spoiled.
Temperature. You must freeze and store your chicken at 0 degrees F or -18 degrees C. This will prevent your chicken from spoiling.
Packaging. There is nothing worse than going to grab your chicken to thaw and realizing it's freezer burnt. This is very important to prevent that from happening. Always place your chicken into airtight packaging when freezing, whether that be freezer-safe bags or an airtight container. Freezer burn occurs when food has been exposed to air for too long and can cause your chicken to not only taste off but also have the incorrect color and texture.
Easy chicken recipes to try
Fried Chicken Without Flour
Fried Chicken Without Flour is crispy on the outside juicy on the inside, and only takes 20 minutes in the air fryer to make. Great for game nights or tailgate parties, this chicken recipe will be your go-to for an easy appetizer or meal.
Check out this recipe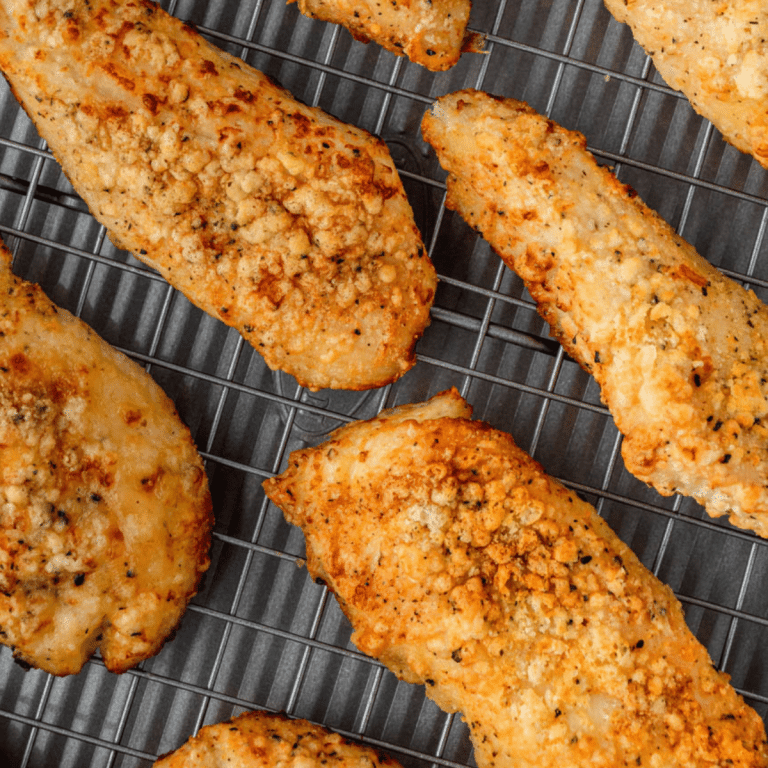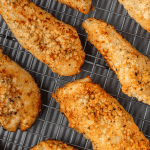 Bang Bang Chicken
This Bang Bang Chicken recipe features homemade crispy chicken nuggets covered in a creamy sweet chili sauce. Enjoy this delicious recipe for an appetizer or add it to your favorite rice or pasta dish.
Check out this recipe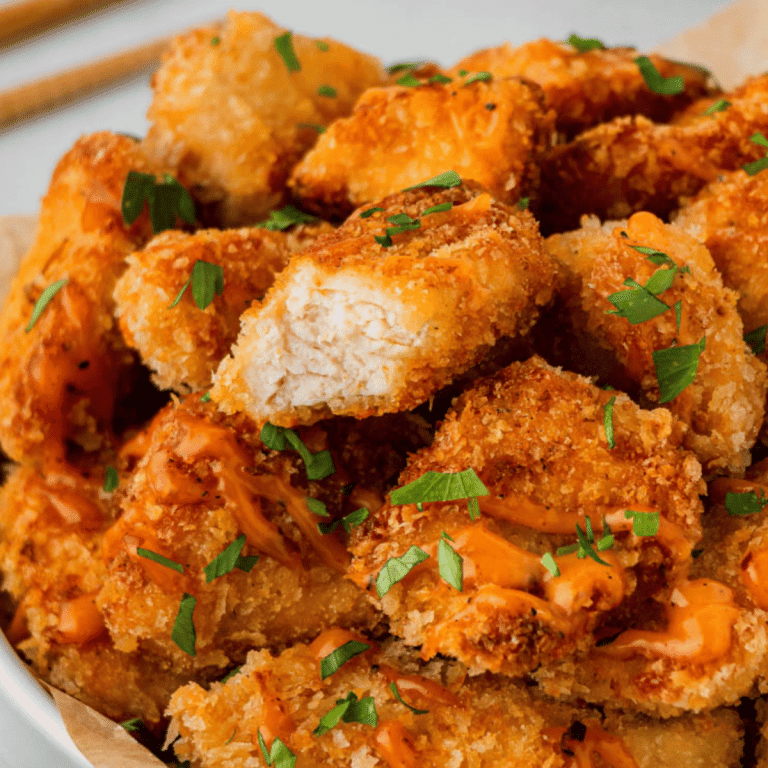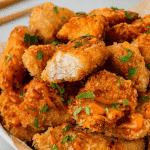 Air Fryer Chicken Sandwich
This Air Fryer Chicken Sandwich is a healthier Chick-Fil-A copycat recipe perfect for a quick lunch or dinner.
Check out this recipe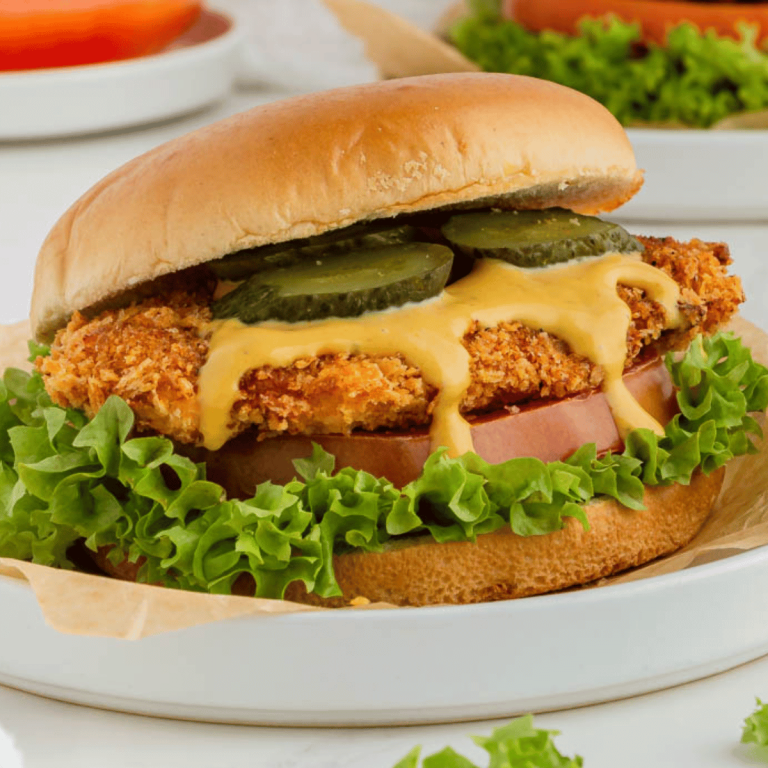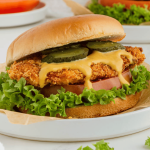 Air Fryer Chicken Nuggets
These homemade Air Fryer Chicken Nuggets are easy to make, super crispy and use ingredients that you probably already have.
Check out this recipe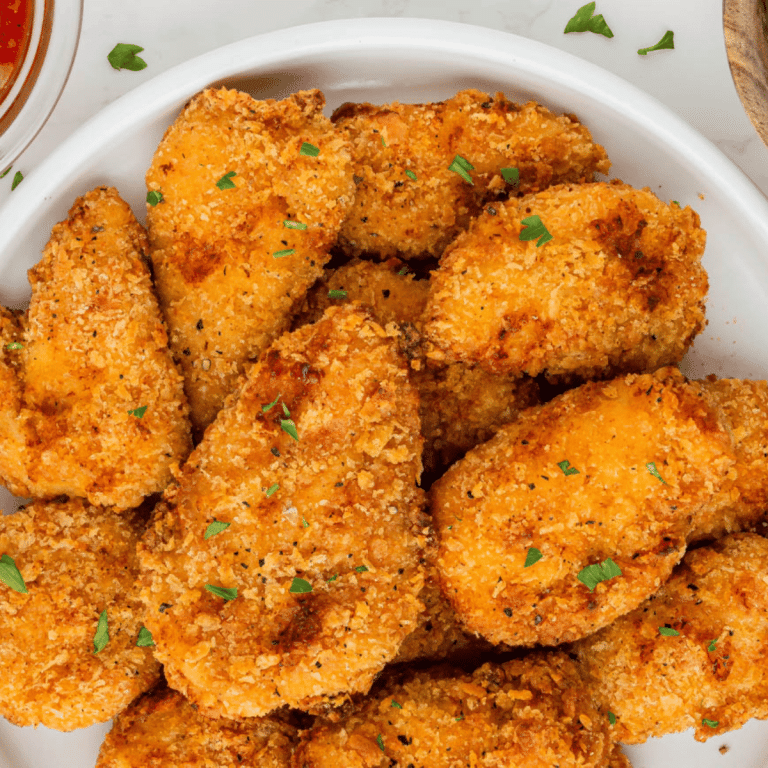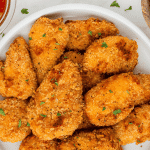 One Pot Bruschetta Chicken Pasta
Get ready for a taste of Italy with this One Pot Bruschetta Chicken Pasta recipe! This delicious and easy-to-make dish is loaded with fresh basil, tangy balsamic vinegar, and juicy Roma tomatoes, all combined with tender chicken and al dente pasta in one pot.
Check out this recipe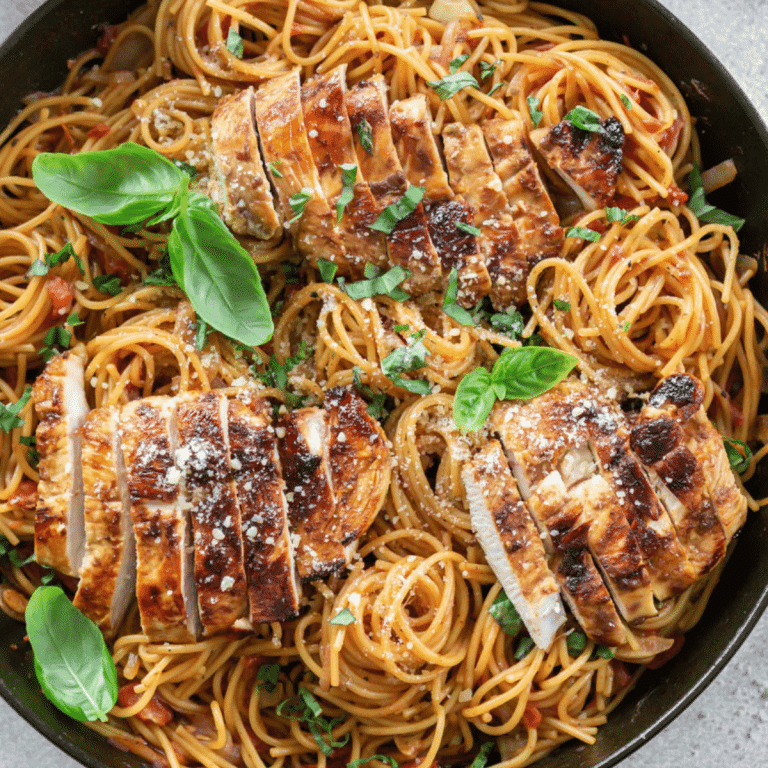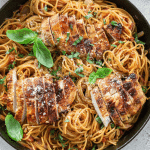 Air Fryer Chicken Katsu
This Air Fryer Chicken Katsu recipe uses only a few ingredients, is easy to make, and is ready in under 30 minutes. With a crispy outside, tender inside, and covered in a sweet and savory sauce, this Japanese-inspired dish is great for special occasions or an easy weeknight dinner!
Check out this recipe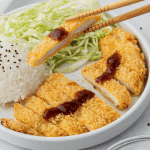 Chicken Fajita Nachos
These Tex-Mex Chicken Fajita Nachos are a great appetizer when hosting a game night with friends or when you need a quick weeknight meal.
Check out this recipe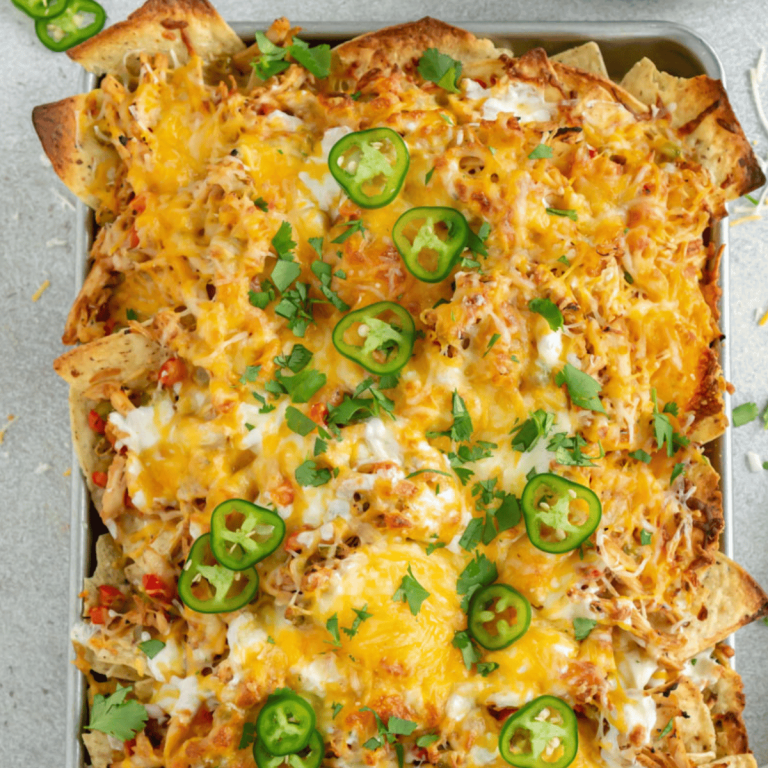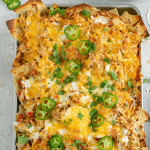 Air Fryer Chicken Shawarma
This easy Air Fryer Chicken Shawarma recipe will solve all your "what's for dinner" problems. A simple spice mixture takes boring chicken thighs to the next level and will make you look like a professional chef!
Check out this recipe