This post may contain affiliate links which will not change your price but will share some commission. Please read my privacy policy.
It's Fall in a cup! Here is that classic Hot Toddy you know and love with the perfect Fall flavor and twist!
Trade in your rosé and warm-up on a cold-weather day or night with this perfect Pumpkin Spice Hot Toddy cocktail recipe! But, brace yourself because you're about to mix up your new favorite hot drink this Fall and it's not easy to "just have one".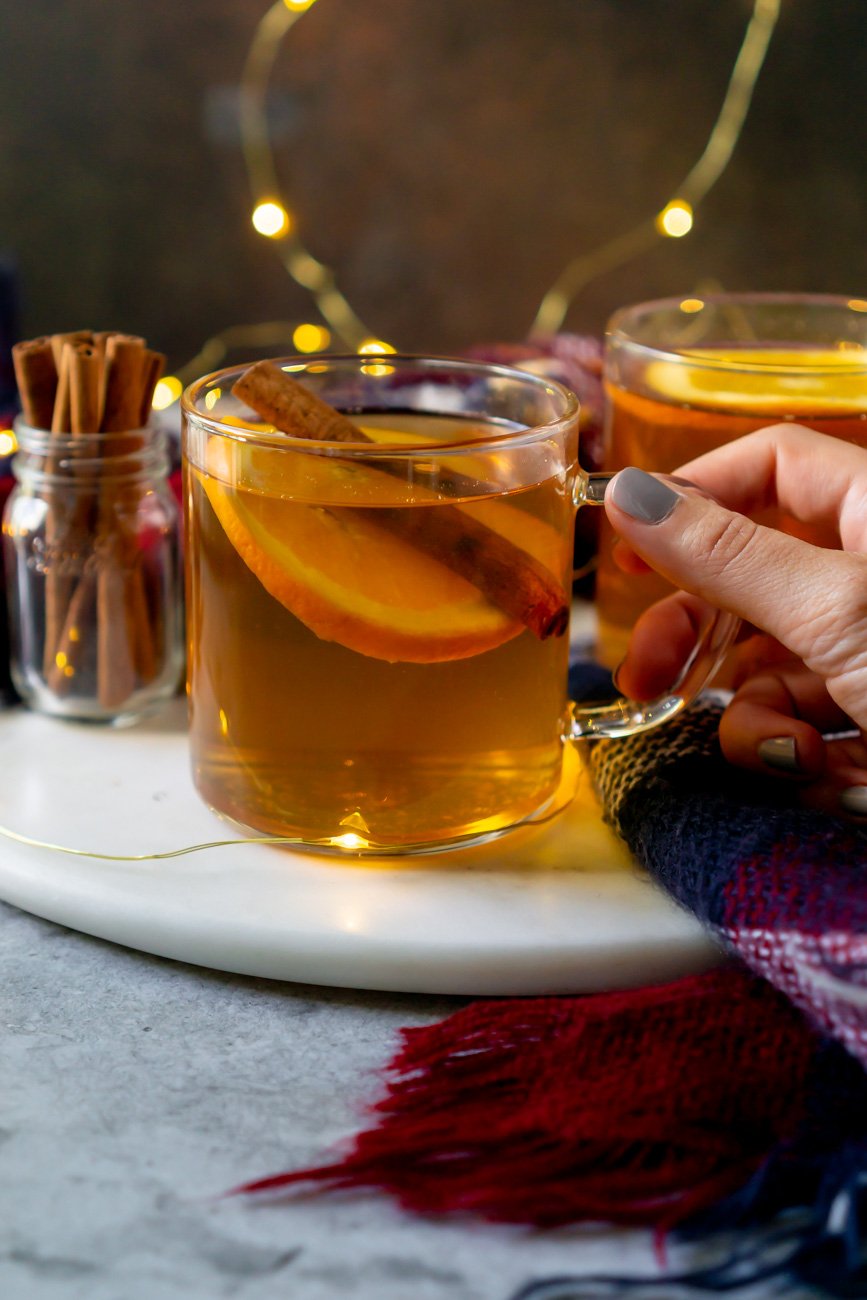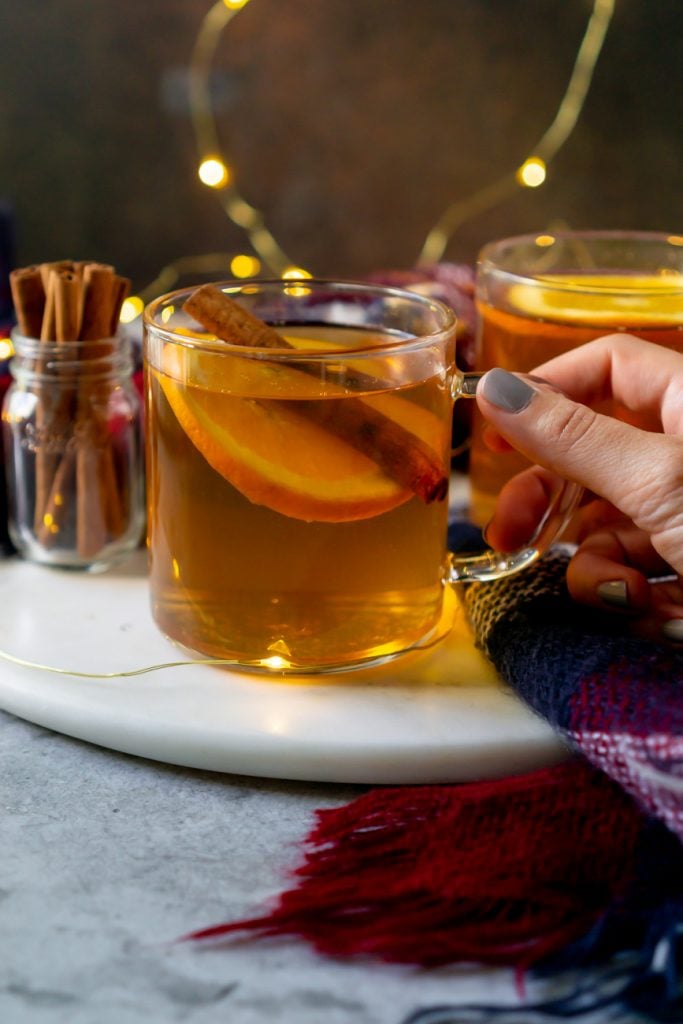 This post was developed in paid partnership with Torani. Thank you for being supportive of me working with brands I use and love!
Hot Toddy Recipe
I don't know about you, but Fall is my favorite time of year and honestly, I'm a sucker for Hot Apple Cider. However, if you are looking for something a little more "adult", this recipe is for you!
Hot Toddies are perfect slow sippers for those cozy Fall nights with your special someone or an easy nightcap.
Personally, all I can think about is a snuggly cool evening with my favorite blanket, a book, and a warm drink!
Pumpkin Spice Hot Toddy Ingredients
Water
Cinnamon sticks
Orange slices
Torani Sugar Free Pumpkin Spice Syrup
Bourbon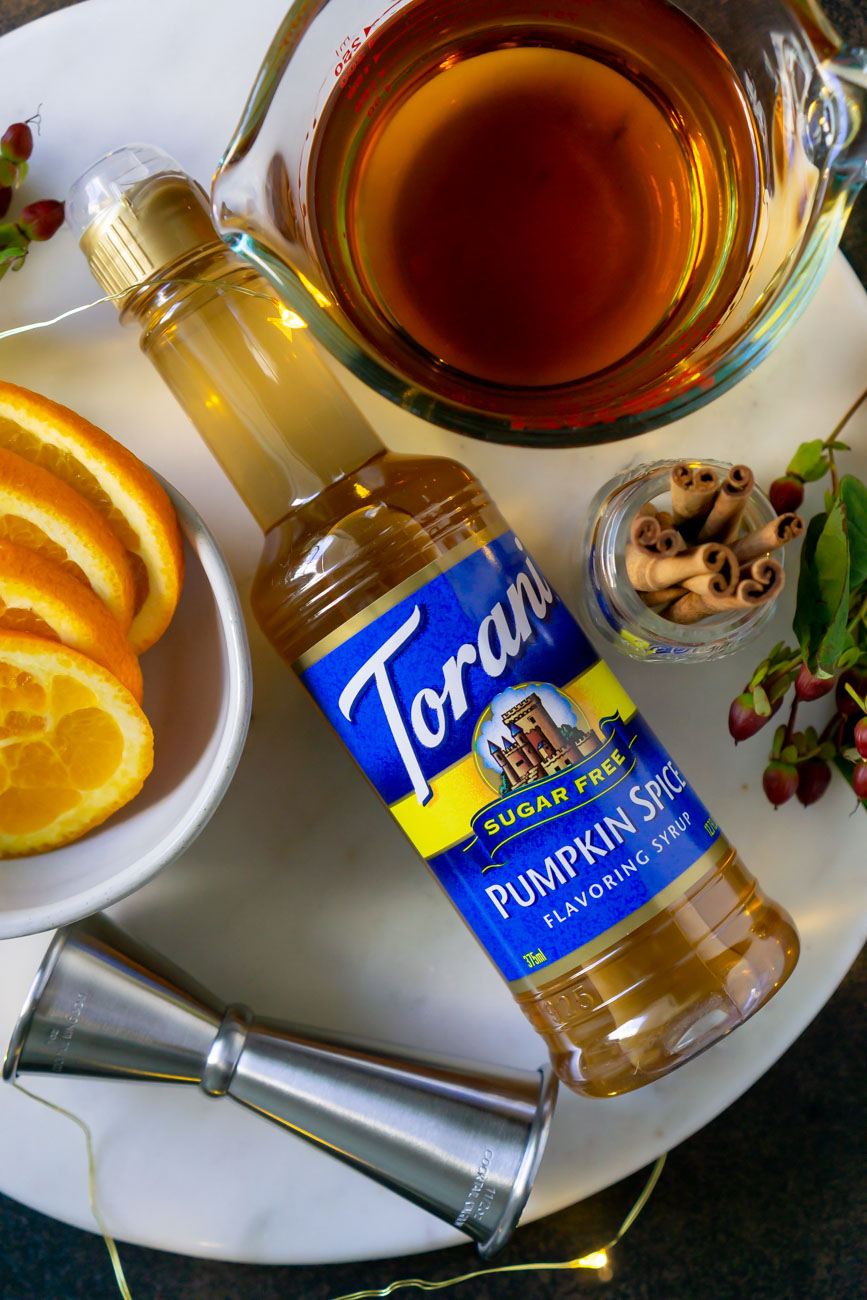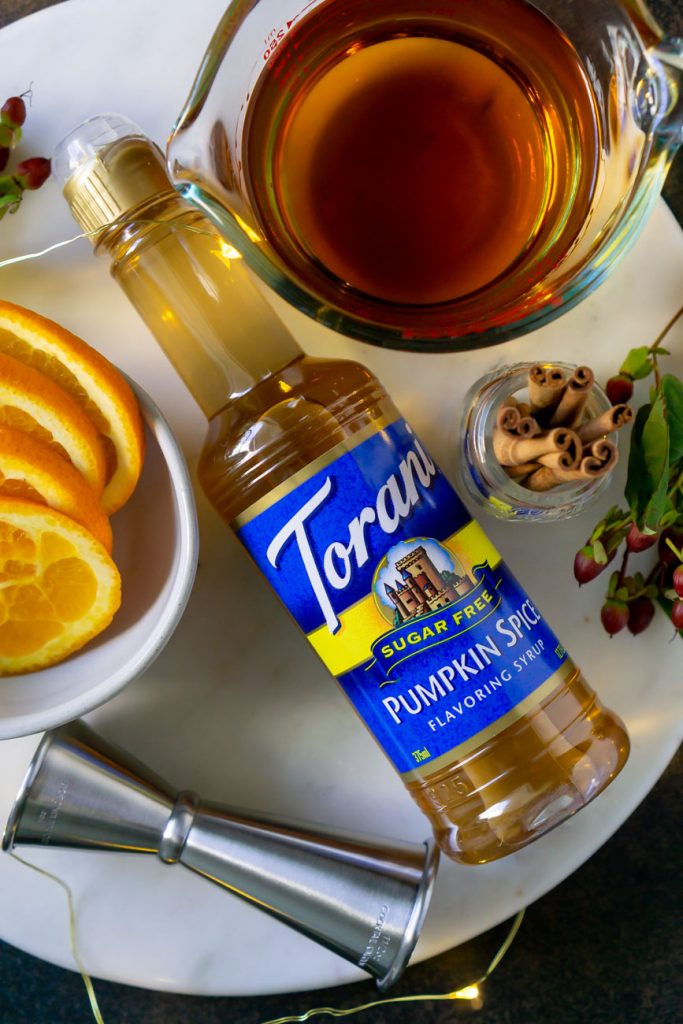 *a full list of ingredients and measurements for this recipe can be found in the recipe card at the bottom of the page.
How To Make a Hot Toddy
1. Bring the ingredients to a boil. In a small saucepan, bring the water, Pumpkin Spice Syrup, cinnamon, and orange slices to a boil.
Boil for 2-3 minutes and then remove from heat and let sit for 5 minutes before stirring in the bourbon.
2. Divide between mugs and serve. Divide the mixture between 2 mugs, garnish with orange slices and cinnamon sticks and serve warm.
Pro-Tip: The taste of pumpkin spice is subtle. If you are looking for a PUNCH of pumpkin, add a few extra tablespoons of syrup to the party!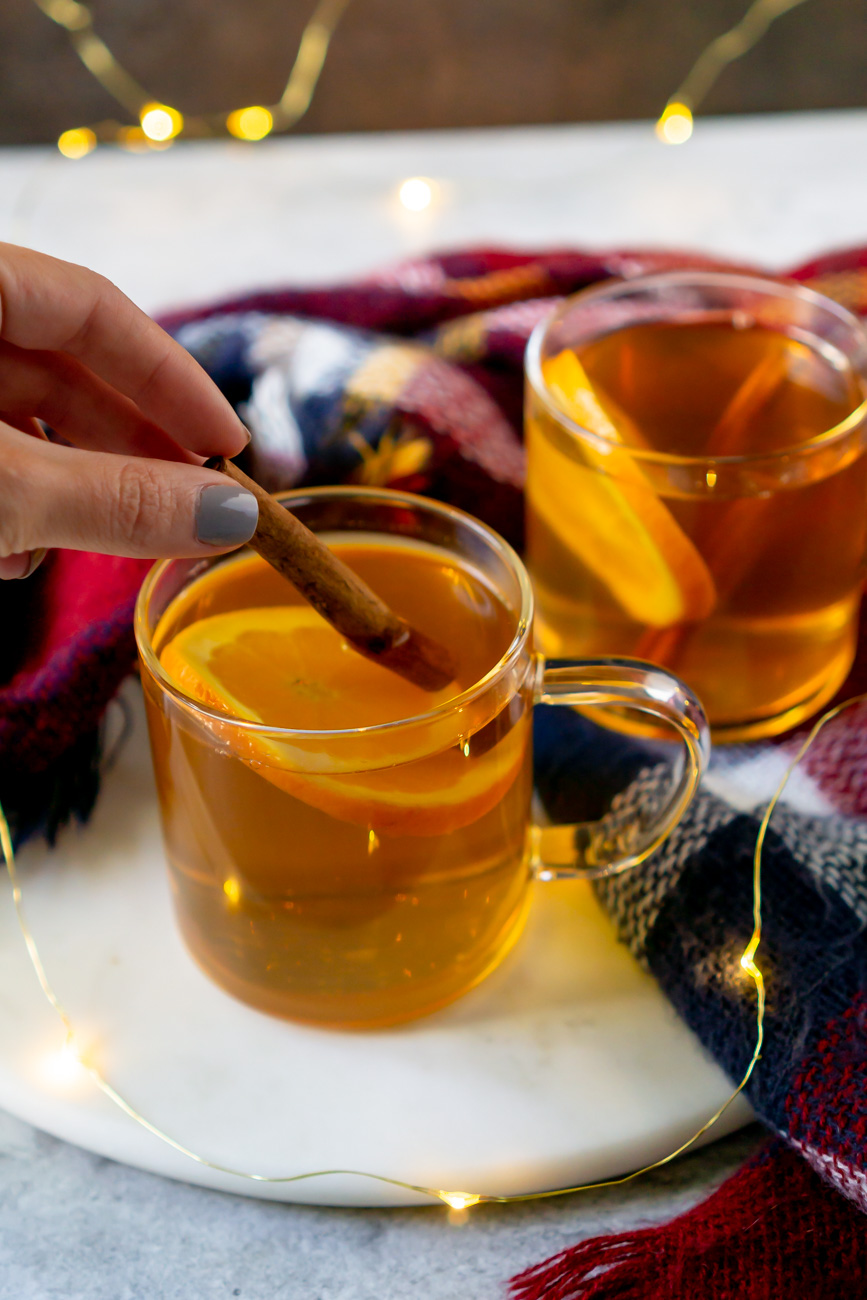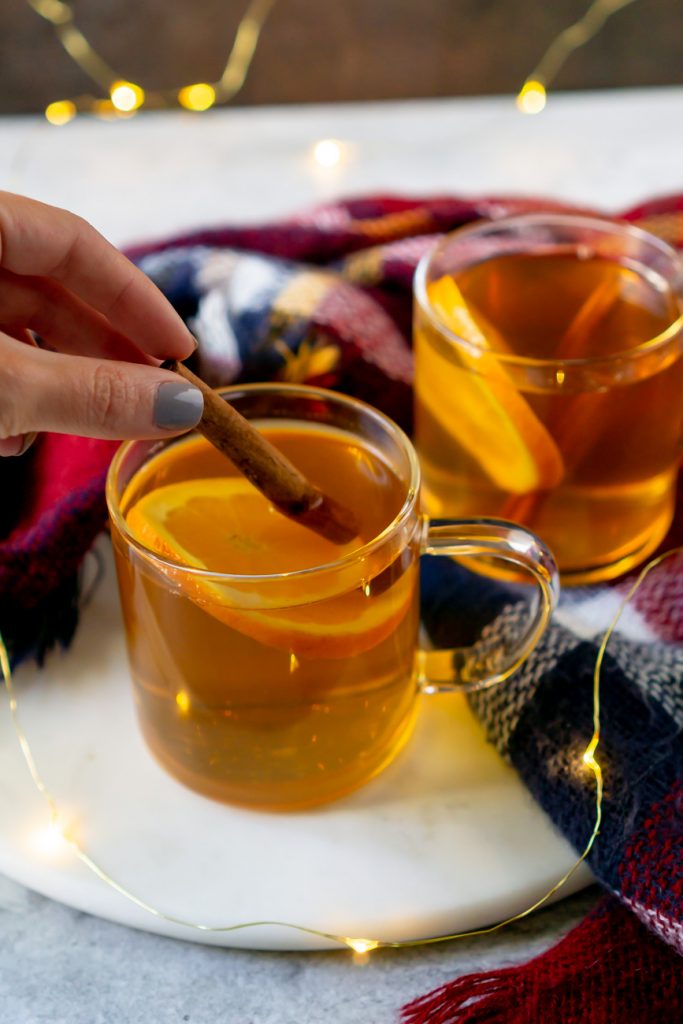 Fun Fall idea: At your next socially distant gathering, celebrate with a DIY Hot Toddy Bar! (don't forget your hand sanitizer before and after!)
What is a Hot Toddy?
Known as Hot Whiskey in Ireland, Hot Toddies traditionally are made of liquor and water with honey and lemon, herbs and spices, and served hot.
A Hot Toddy for your Health!
Did you know that a traditional Hot Toddies may help reduce cold symptoms and sore throats! However, please don't overdo it on the Bourbon.
Your body needs to heal, and the simple combination of hot water, honey or maple syrup, and lemon juice combined can work wonders.
Please remember, alcohol doesn't mix well with over-the-counter or prescription medications. That said, no hot toddies for you if you're taking medicine! Nurse yourself back to health with everything but the whiskey.
Always, consult your doctor before using an at home remedy!
Bourbon vs. Scotch vs. Whiskey
Did you know Whiskey is derived from an Irish phrase meaning "Water of Life."
Whiskey is distilled, fermented, and aged in oak barrels until it reaches its desirable age. The most common grain used to make whiskey includes corn, barley, wheat, and rye.
So what's the deal with Scotch and Bourbon?
Bourbon whiskey, or Bourbon, is primarily made from corn mash and is ONLY produced in the United States!
The age will always be on the bottle, example: Aged 7 years. However, if the Bourbon is aged LESS than 2 years, it will be labeled Straight Bourbon.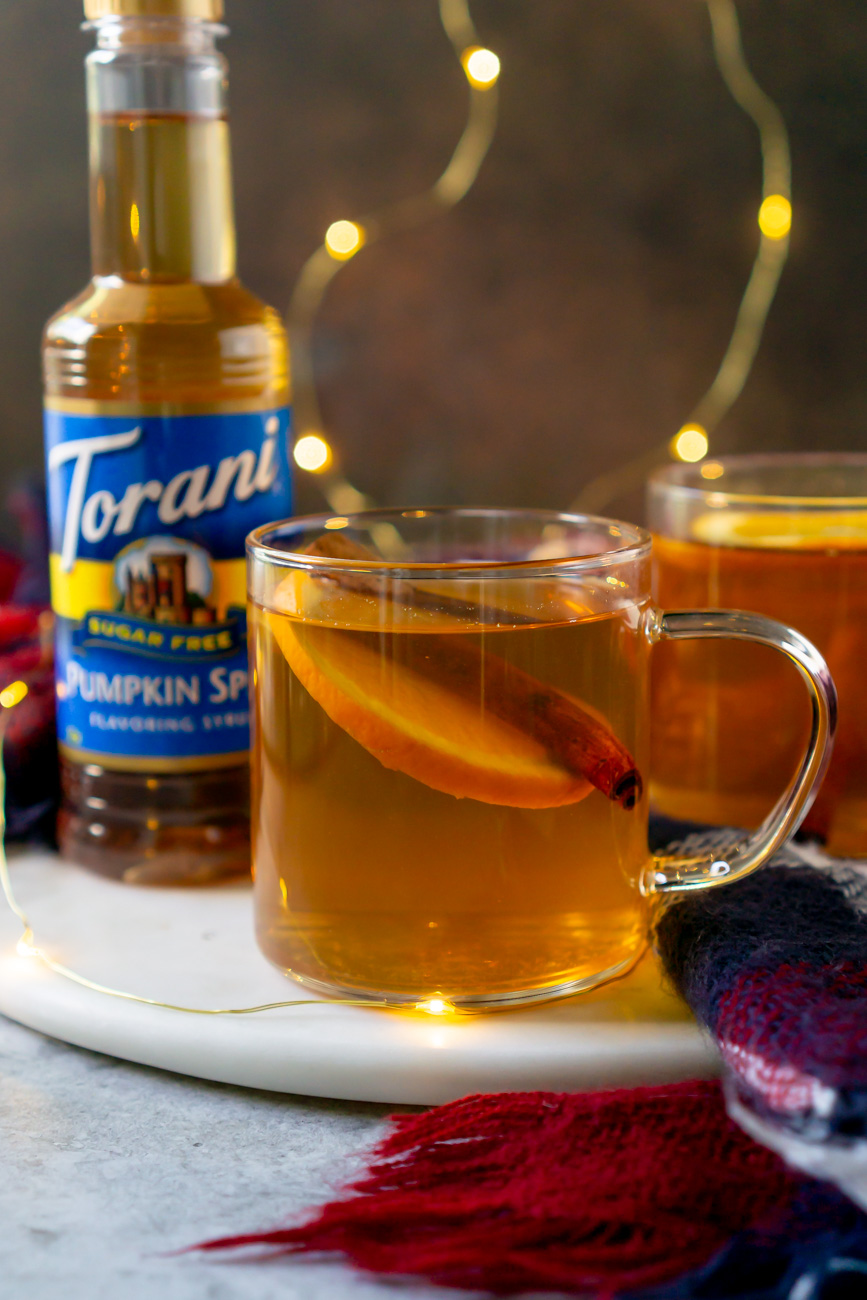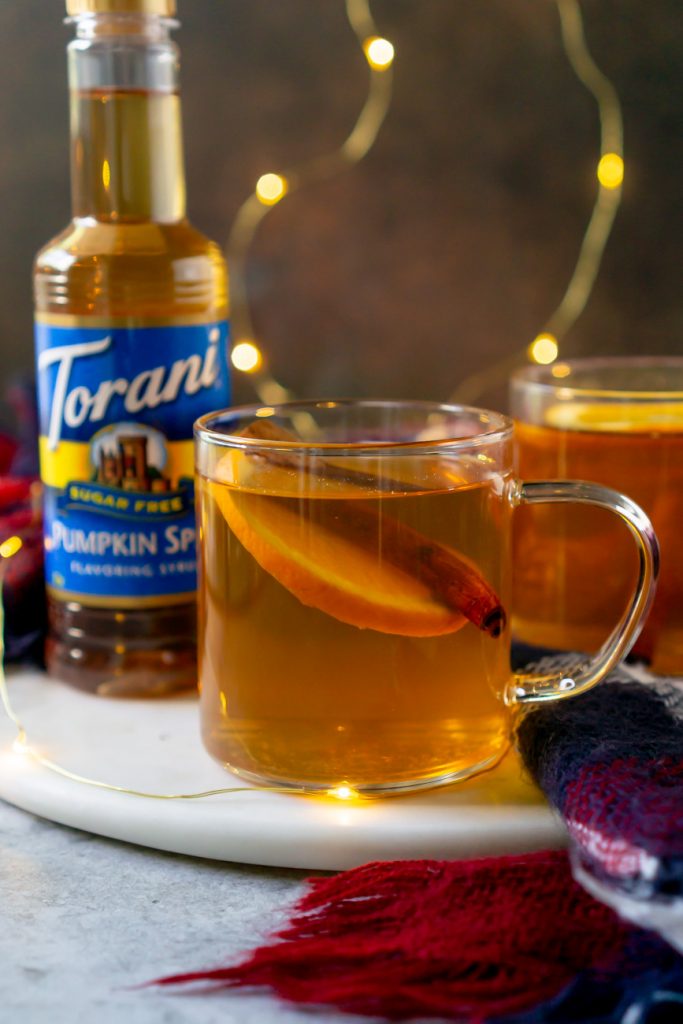 Scotch whiskey, or Scotch, is mainly made from malted barley and can ONLY be produced in Scotland!
Scotch comes in two types, Single Malt or Single Grain. One of the biggest differences between Scotch and Bourbon, is that Scotch has a minimum aging period.
Scotch must be aged for at least 3 years in oak containers before it is bottled!
At the end of the day, what you use…and drink…is based on personal preference—it will all taste great!
What is Torani Sugar Free Pumpkin Spice Syrup?
Torani Sugar Free Pumpkin Spice Syrup is Made with simple and thoughtfully sourced ingredients and no calories!
The best part…it doesn't taste sugar free!
All the syrup flavors Torani makes are perfectly crafted to bring out the best in your drinks or recipes. Make something your own, in the most delicious way possible!
I know what you are thinking, "So, how do I use this stuff?"
It is SUPER easy to use! Simply add a spoonful to your coffee, latte, or any recipe to add a burst of flavor to your life!
Some of my other favorite Torani Syrup flavors:
French Vanilla
Sugar Free Brown Sugar Cinnamon
Butter Pecan
You can find Torani Syrups in the coffee aisle at your local Walmart.
WANT TO TRY THIS HOT TODDY RECIPE?
PIN IT to your Fall cocktail recipes or hot toddy recipes board to save it for later!
Find me on Pinterest for more great recipes. I'm always pinning!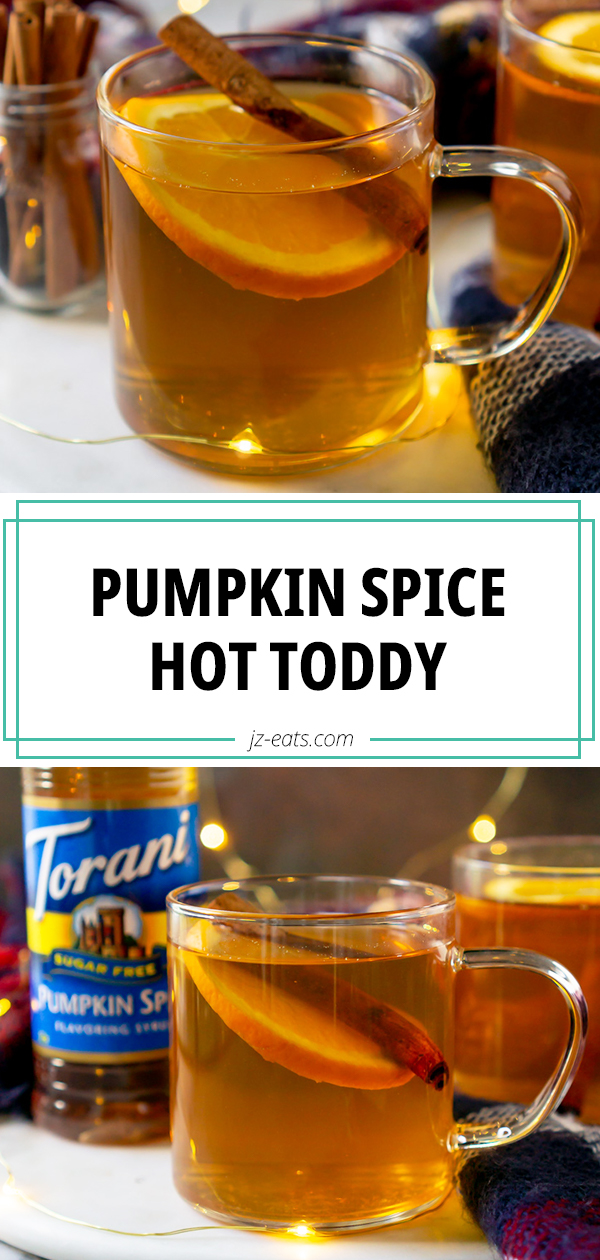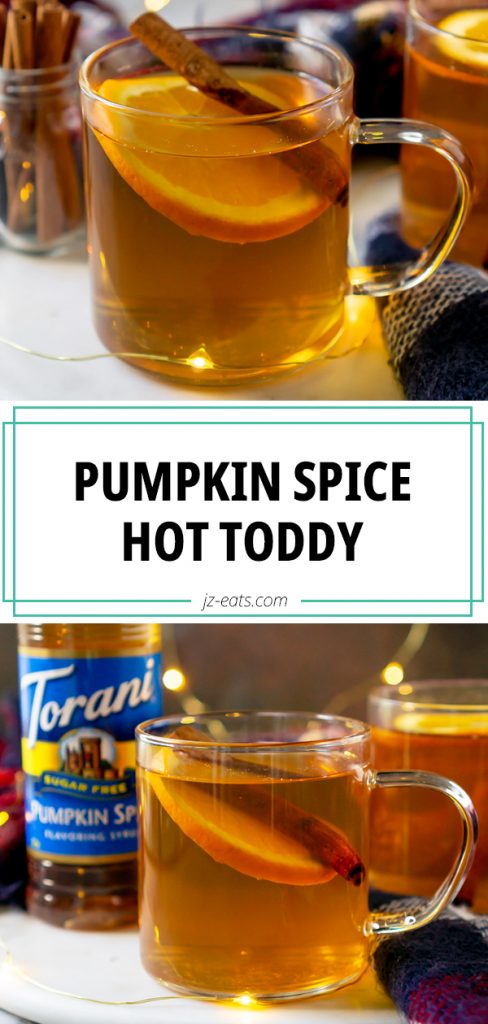 Did you make this recipe? Post a photo on Instagram and tag me @JZEATS or #JZEATS so I can see! Leave a comment below and let me know what you think, too!
Pumpkin Spice Hot Toddy
It's Fall in a cup! Here is that classic Hot Toddy you know and love with the perfect Fall flavor and twist!
Ingredients
2

cups

water

1/2

cup

Torani Sugar Free Pumpkin Spice Syrup,

divided

4

cinnamon sticks,

divided

4

orange slices,

divided

6-8

ounces

bourbon,

depending on how strong you like your drink
Instructions
In a small saucepan, add the water, 1/4 cup Torani Sugar Free Pumpkin Spice Syrup, 2 cinnamon sticks, and 2 orange slices. Bring to a rolling boil for 2-3 minutes. Remove the saucepan from the heat and let it stand for about 5 minutes.

Stir in the bourbon and 1/4 cup of Torani Sugar Free Pumpkin Spice Syrup and divide between mugs. Garnish with a cinnamon stick and an orange slice.
Nutrition
Calories:
209
kcal
|
Carbohydrates:
3
g
|
Protein:
1
g
|
Fat:
1
g
|
Saturated Fat:
1
g
|
Sodium:
13
mg
|
Potassium:
47
mg
|
Fiber:
1
g
|
Sugar:
2
g
|
Vitamin A:
59
IU
|
Vitamin C:
14
mg
|
Calcium:
18
mg