This post may contain affiliate links which will not change your price but will share some commission. Please read my privacy policy.
Watermelon with tajin is a delicious sweet and spicy combo! Skewered with fresh lime juice, mint, and cotija, these watermelon skewers are perfect for a refreshing summer treat.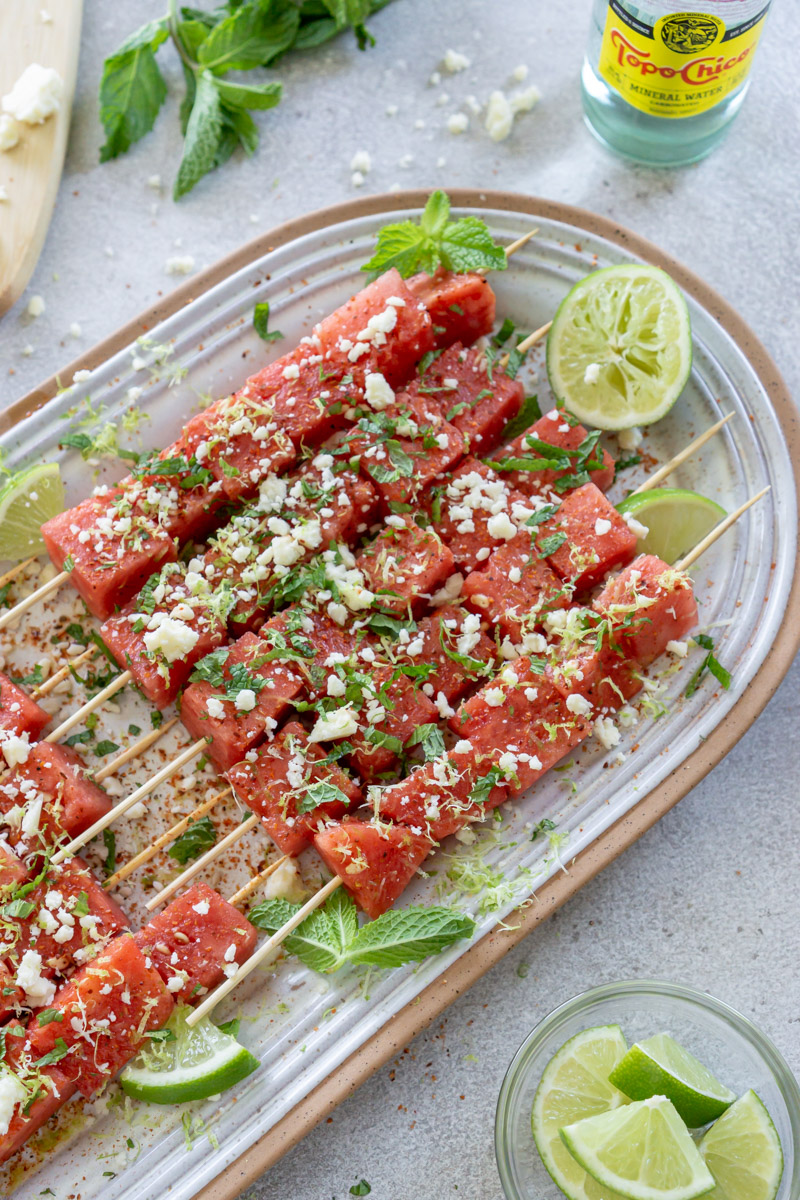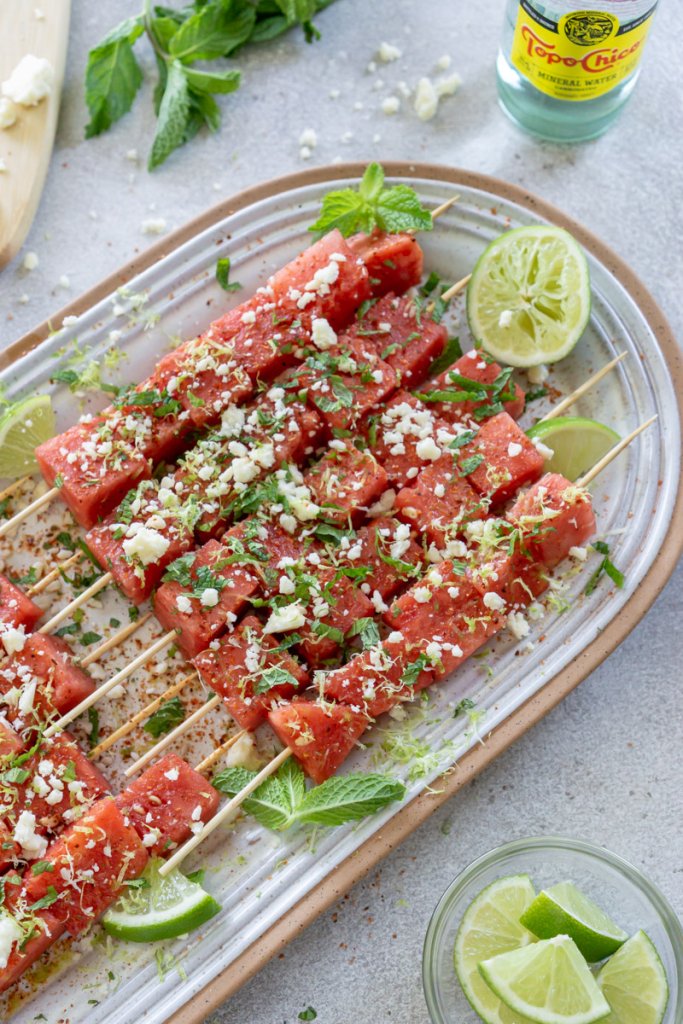 These Mexican-inspired watermelon skewers are full of bright flavors. The contrast between the sweet watermelon and spicy tajin makes the fruit taste even sweeter.
You can serve these skewers poolside for a delicious snack or serve off the skewer as a watermelon salad at a summertime picnic or BBQ!
Looking for more Summer Appetizers? Check out these Tuna Poke Nachos and some of my favorite Air Fryer Appetizers!
Watermelon Tajin Skewers
It's getting hot … and I'm not just talking about this recipe! Cool down on a hot day this Summer with a refreshing recipe everyone in the family will love!
Whether you are sitting poolside and looking for a cold treat, preparing an easy appetizer for a graduation party, or preparing 4th of July recipes, watermelon with tajin needs to make its way on the menu.
Inspired by Mexican fruit cups, these watermelon tajin skewers are easy to eat and will have you daydreaming, if not planning, your next Mexico beach vacation featuring none other than a watermelon margarita.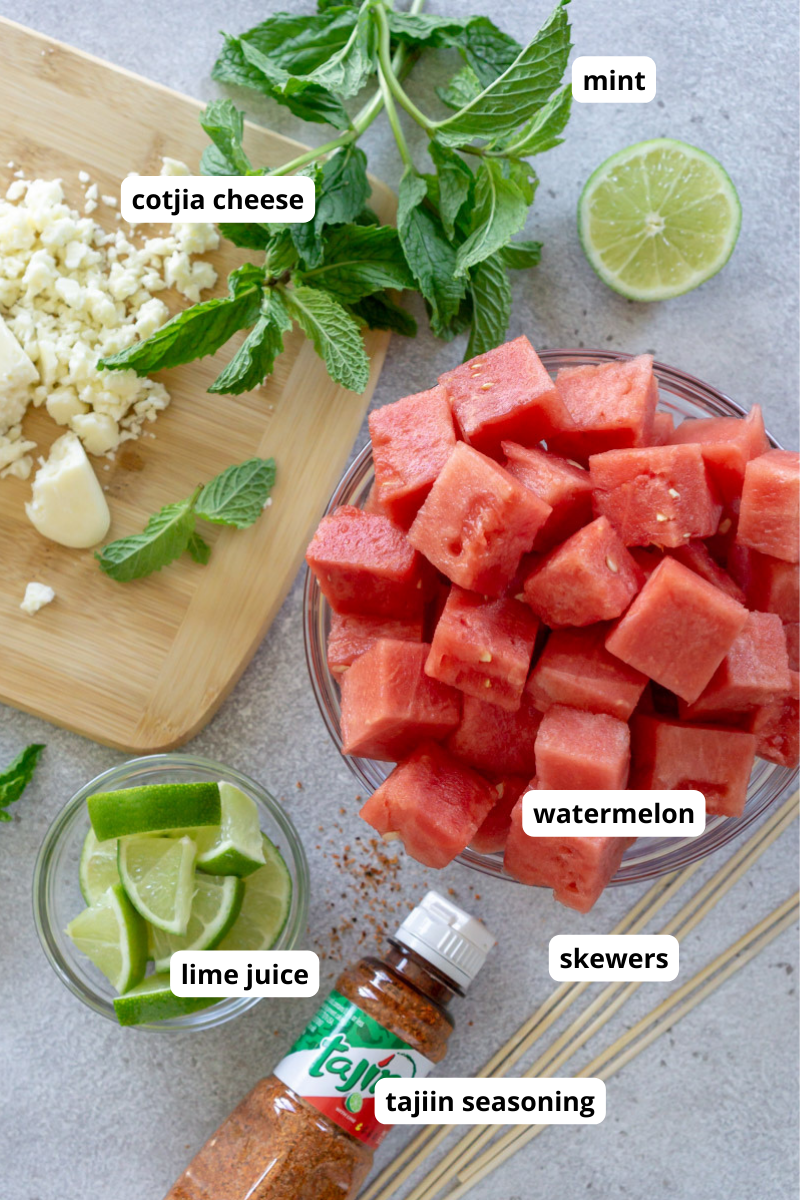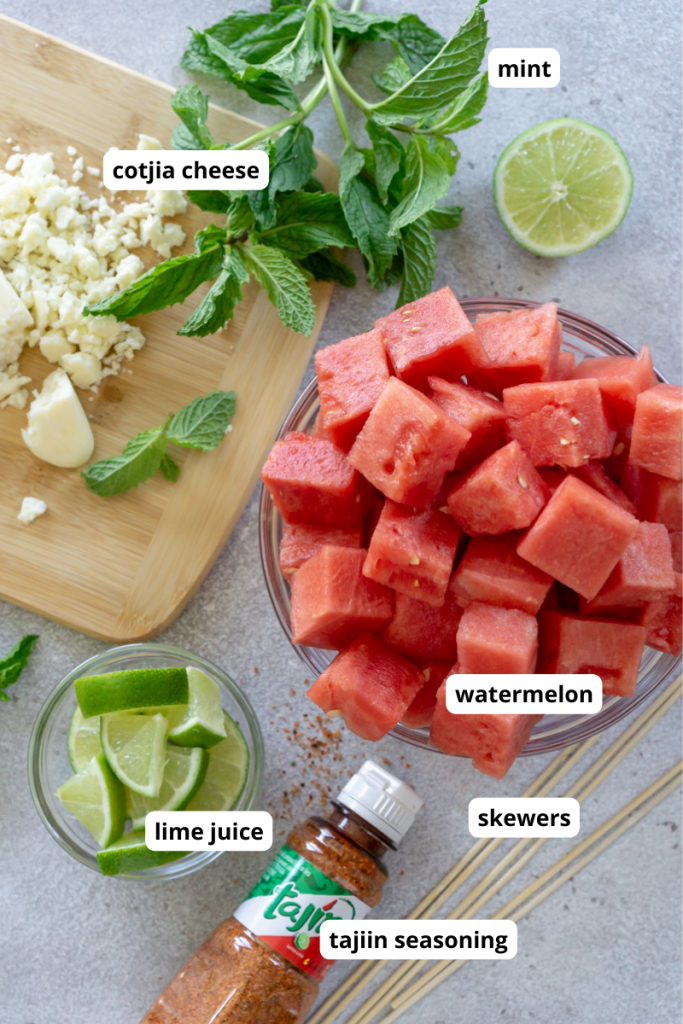 Ingredients Needed for Watermelon Tajin Skewers
Watermelon. You don't need a gigantic watermelon to make these skewers. However, you will need about 2.5 cups of watermelon. This recipe will make roughly 14 skewers, so depending on how many you need, you might want to double the recipe.
Seasoning. The star of the show! The fresh lime juice adds a bright citrusy flavor and gives the watermelon a nice bite while the tajin adds a slightly spicy flavor, making the watermelon taste extra sweet and juicy.
Toppings. These delicious skewers are topped with crumbled cotija cheese, finely chopped fresh mint, and just a pinch of flaky salt.
Tip!
Stop by a local farmers market to see if you can pick up these items from a local source!
How to Make Watermelon Tajin Skewers
1. Skewer and season the watermelon. Skewer 5-6 pieces of watermelon and season with lime juice and Tajin.
2. Add toppings. Top the skewers with crumbled cotija cheese, chopped mint, and a pinch of flaky salt. I like to add lime zest too for even more citrus flavor.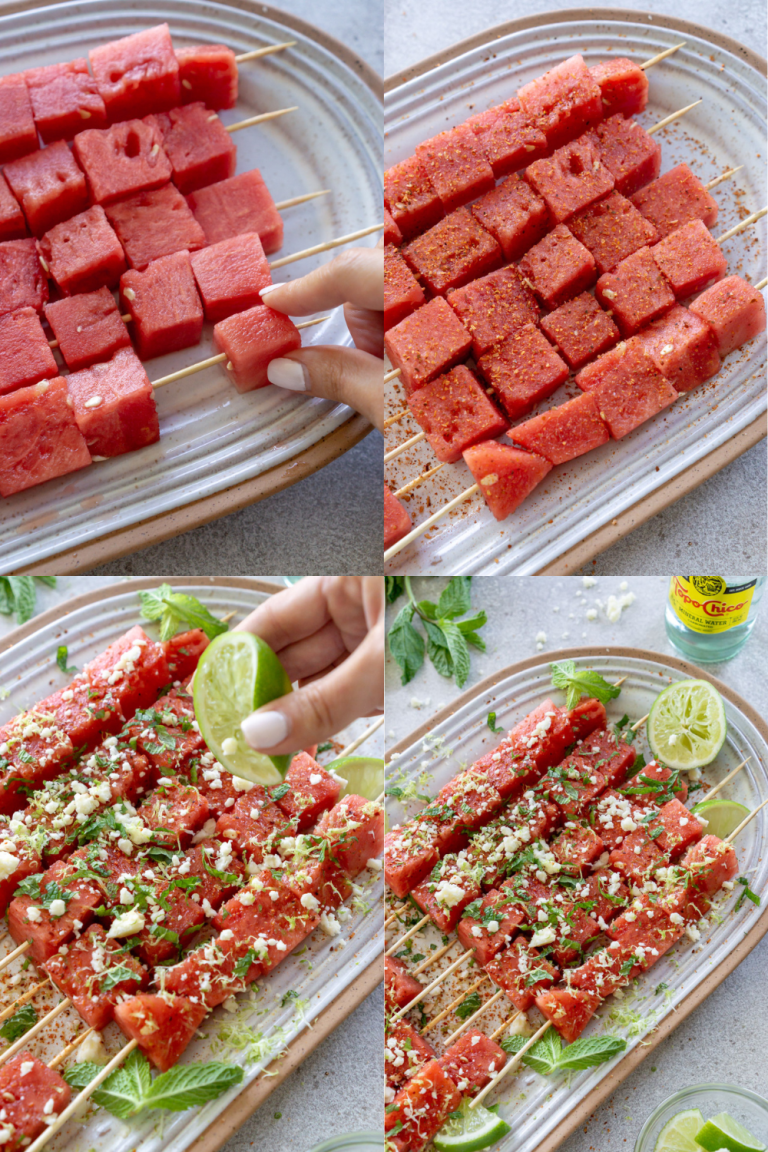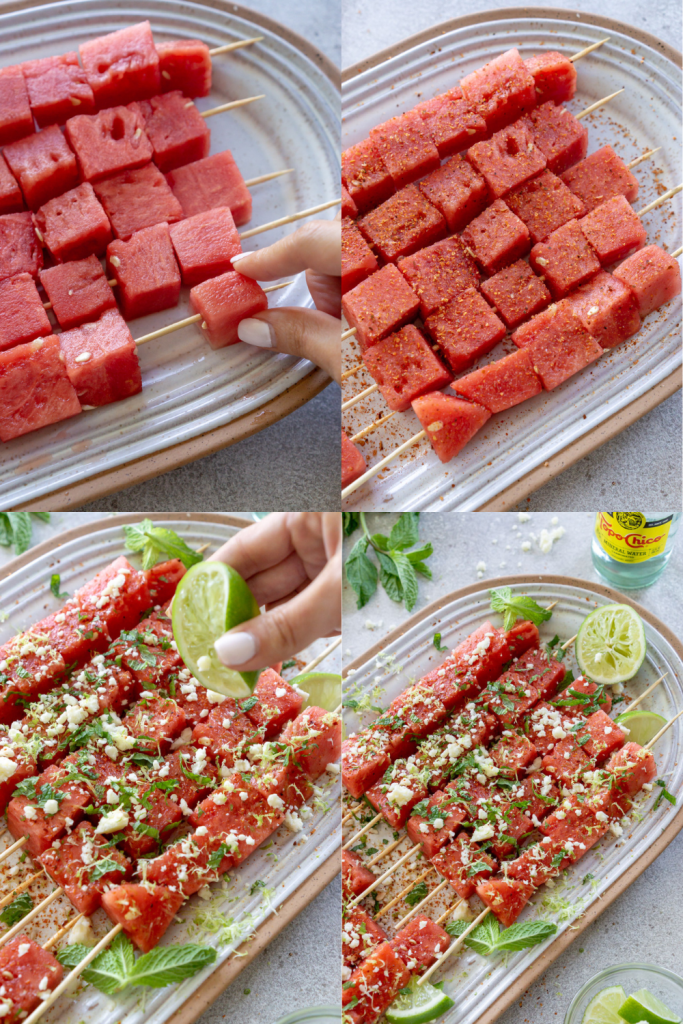 Recipe Tips, Tricks, and Variations
Cotija Cheese. If you don't have cotija cheese, consider substituting it with feta cheese.
Mint. Change up the flavor profile of the skewers by substituting mint with cilantro or basil.
Cucumber. Impress your guests and add cucumber to the skewers for both added flavor and color!
Hot sauce. Turn up the heat and add a few dabs of hot sauce like Cholula to your skewers.
Watermelon Tajin Salad. Take the watermelon off the skewers and toss everything in a bowl for a summer salad that is easy to transport and serve at any party.
How to Slice a Watermelon
If you don't know how to slice a watermelon, get ready because this is a summertime skill everyone needs!
Step 1. Wash and dry the entire watermelon. Fruit, especially melons, can be very dirty, so you want to make sure to wash them so you aren't cutting germs and bacteria into the watermelon.
Step 2. Slice the watermelon in half crosswise. Once you do this you will end up with two circular pieces as opposed to two oblong pieces.
Step 3. Take 1 side of the sliced watermelon and place it cut side down on a cutting board.
Step 4. Make sure you have a really good and sharp knife and cut downward trimming the rind and white flesh of the watermelon. Cut until all the skin and rind are removed and all you have left is a pink watermelon.
Step 5. Cut the watermelon into thirds. Doing this will give you 3 circle pieces.
Step 6. Cut the circles into strips.
Step 7. Cut the strips into cubes.
Step 8. Repeat with the other side until you have enough!
Step 9. Refrigerate any extra watermelon and save it for another day.
What is Tajin?
Tajin is a salty Mexican seasoning blend made up of mostly dried mild red chile peppers, dehydrated lime juice, and sea salt.
By itself, the seasoning tastes slightly spicy, sour, and salty. However, when you add it to fruit, it makes the fruit taste even sweeter!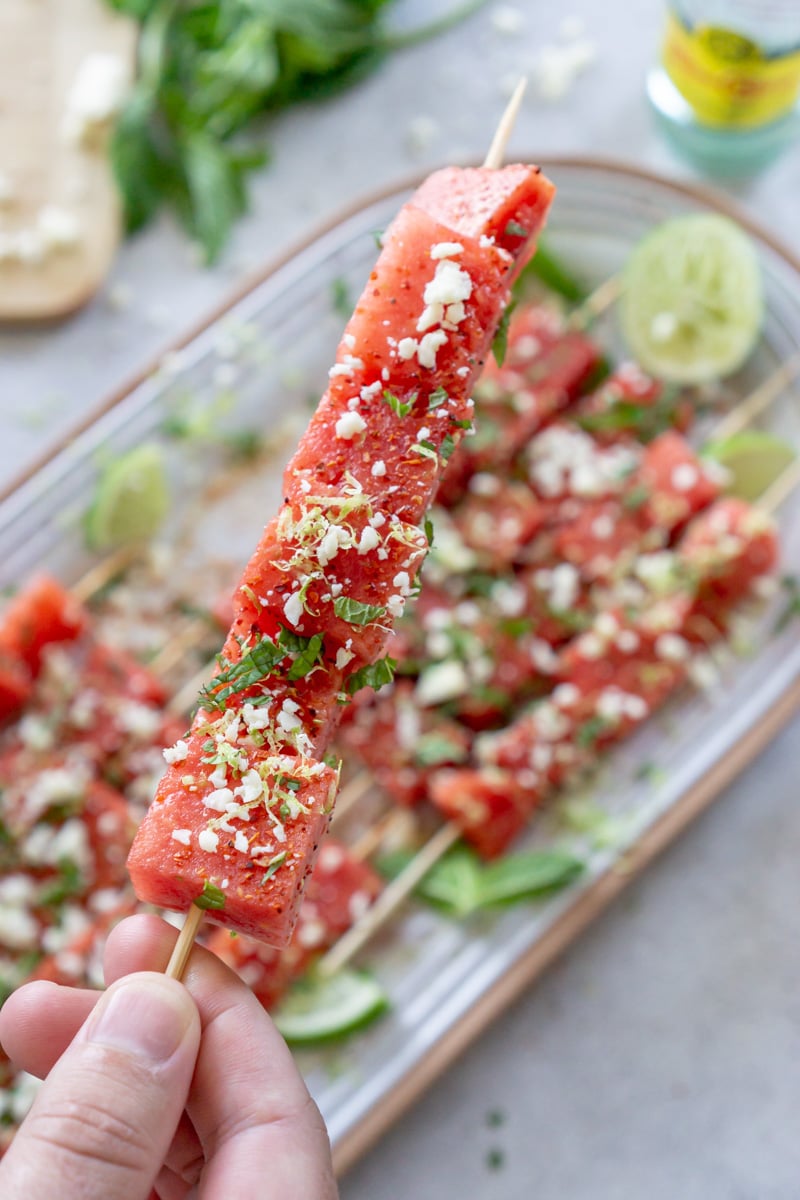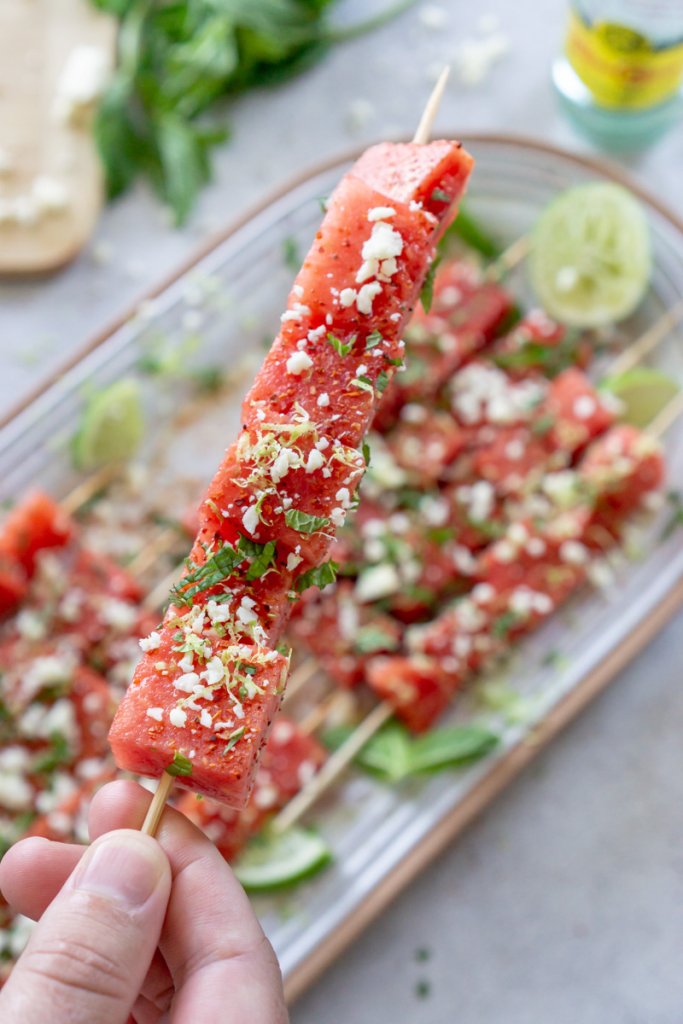 How to Pronounce Tajin
If you want to sound like a pro, the spice is pronounced "Tah-heen," not "Tah-jean" as you may hear many people say.
Substitutions for Tajin
You can get a similar flavor to tajin by combining:
1 tablespoon of paprika powder or red chili powder
1 teaspoon dried lime zest
1/2 teaspoon of ground cumin
1/4 teaspoon each of garlic powder, onion powder, grounded coriander, salt, cayenne pepper powder
1/8th teaspoon sugar
Tip!
If you don't have the ingredients and are looking for a quick fix you can also use Trader Joe's Chili Lime Seasoning.
What is Tajin Good on?
Get ready to put Tajin on everything! Tajin seasoning pairs well with fruit and vegetables like corn, fresh mango, pineapple, jicama, cucumber, and even chicken and shrimp.
You can even use it in your fruit salsa recipes! I love add it to Mango Pineapple Salsa and Avocado Mango Salsa.
Looking for the perfect Summertime backyard BBQ side dish? Make my Mexican Street Cornbread and Jalapeño Creamed Corn which also uses Tajin seasoning.
Storing Watermelon
Whole watermelon. If your watermelon is whole and uncut, you can keep it at room temperature on the counter for about 2 weeks before it goes bad.
Cut watermelon. If you have sliced into your watermelon, toss it in an airtight container and store it in the fridge for up to 4-5 days.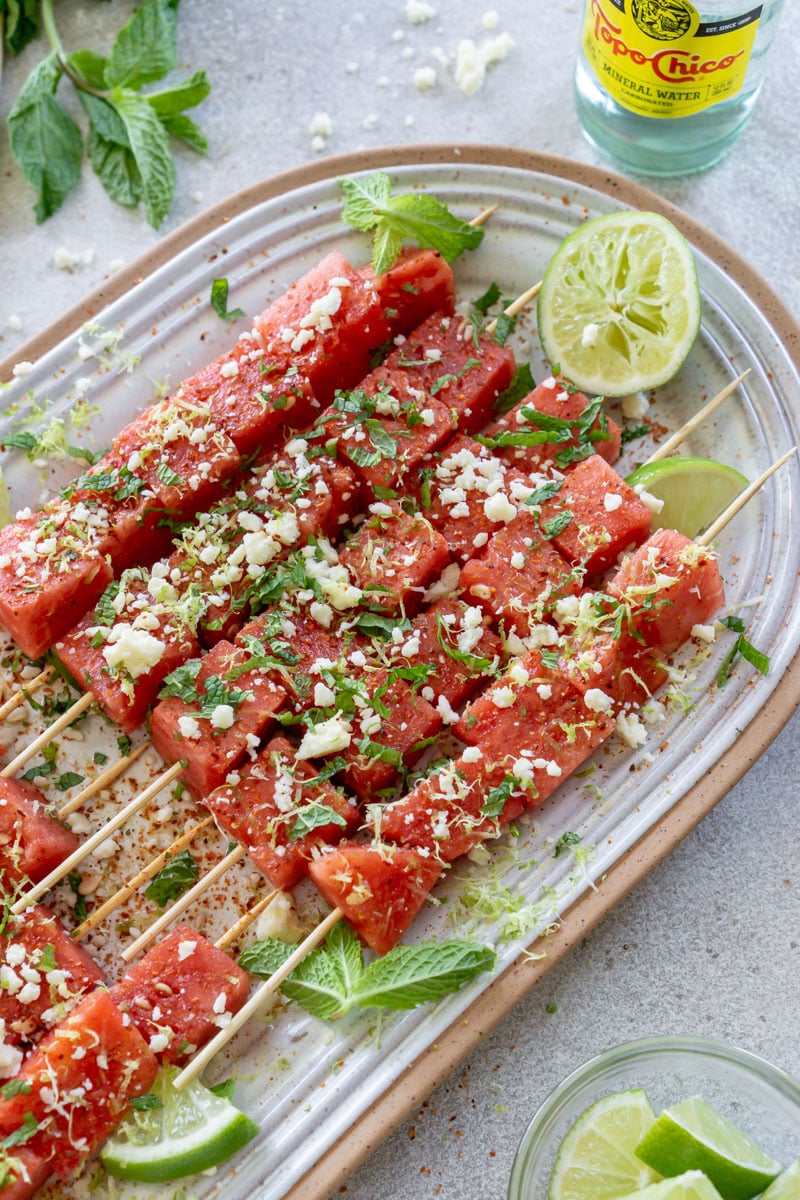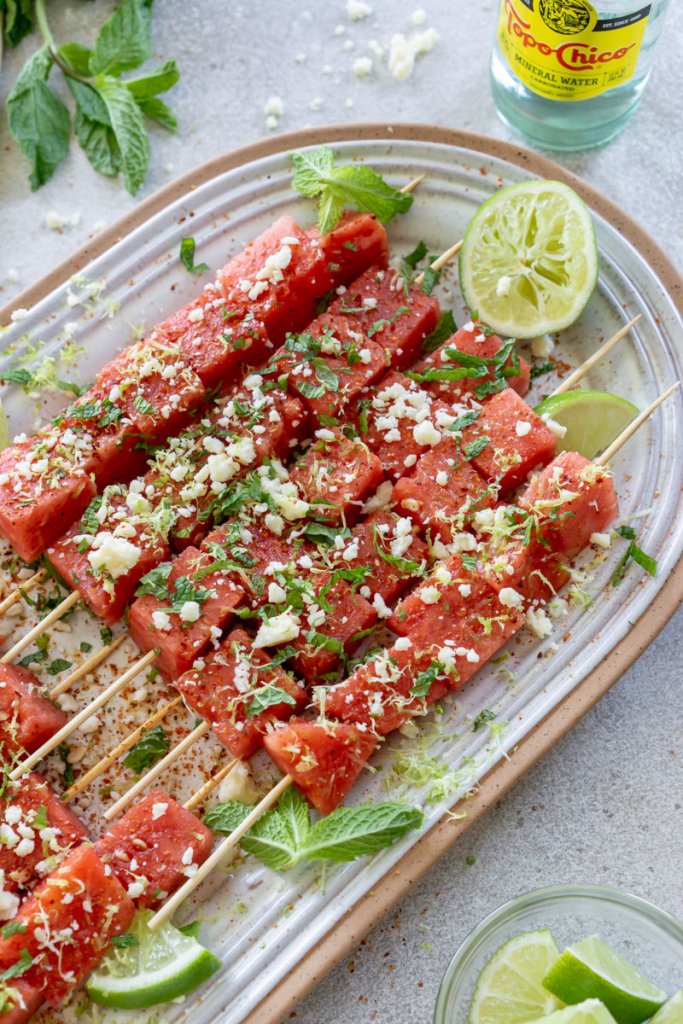 Freezing Watermelon
Great watermelon is not just a summertime treat! Enjoy summer flavors all year long by freezing watermelon pieces or watermelon chunks. Grab a baking sheet and line it with some parchment paper or wax paper. Once lined, lay down a single layer of watermelon; freeze until solid.
Once the watermelon is frozen solid, you can transfer the pieces to an airtight container or a Ziploc freezer bag or plastic freezer bag and freeze for up to 3-4 months.
Tip!
Use your frozen watermelon as ice cubes for refreshing summer drinks!
WANT TO TRY THIS WATERMELON TAJIN SKEWERS RECIPE?
PIN IT to your watermelon recipes, summer appetizer recipes, or skewer recipes board to save it for later!
Find me on Pinterest for more great recipes. I'm always pinning!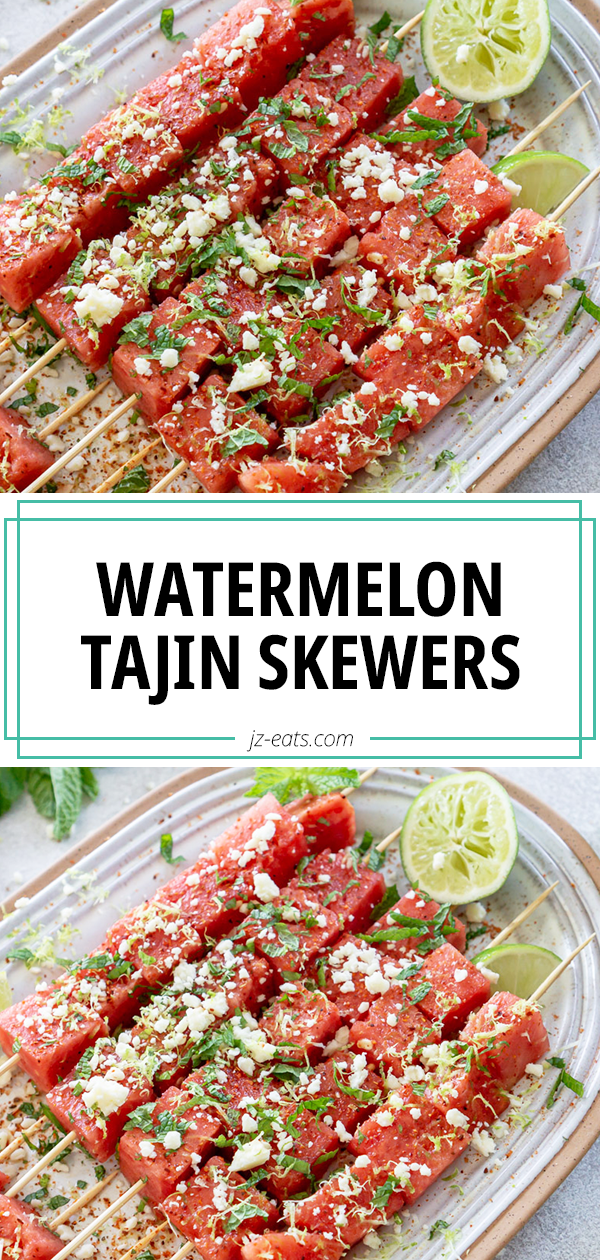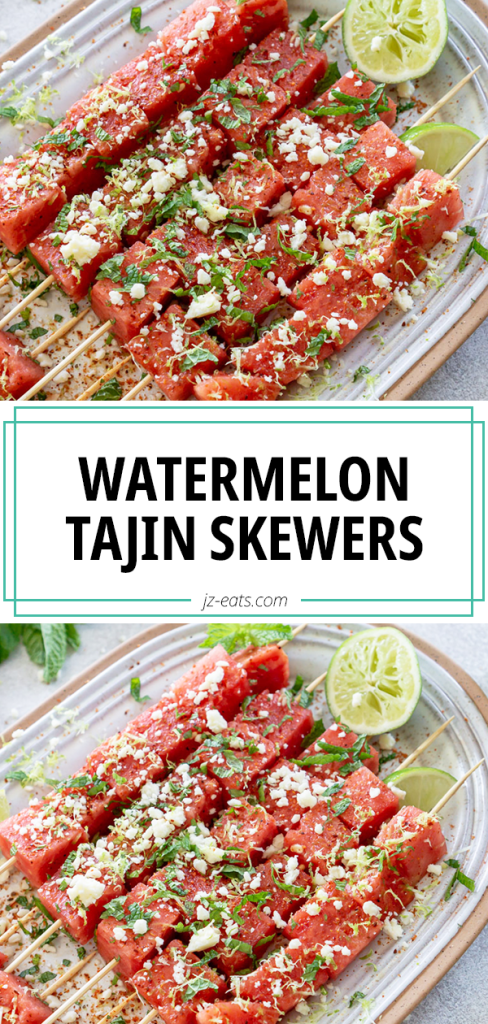 Did you make this recipe? Post a photo on Instagram and tag me @JZEATS or #JZEATS so I can see! Leave a comment below and let me know what you think, too!
Watermelon Tajin Skewers
Watermelon with tajin is a delicious sweet and spicy combo! Skewered with fresh lime juice, mint, and cotija, these watermelon skewers are perfect for a refreshing summer treat.
Ingredients
2.5

cups

watermelon,

cut into 2 inch cubes

1/2

lime,

juice and zest

1/2

tablespoon

tajin

1/3

cup

cotija cheese,

crumbled

2

tablespoons

fresh mint,

finely chopped

pinch of flaky salt
Instructions
Skewer 5-6 pieces of watermelon and season with lime juice and Tajin.

Top the skewers with crumbled cotija cheese, chopped mint, and a pinch of flaky salt.
Nutrition
Calories:
18
kcal
|
Carbohydrates:
2
g
|
Protein:
1
g
|
Fat:
1
g
|
Saturated Fat:
1
g
|
Polyunsaturated Fat:
1
g
|
Monounsaturated Fat:
1
g
|
Cholesterol:
3
mg
|
Sodium:
41
mg
|
Potassium:
35
mg
|
Fiber:
1
g
|
Sugar:
2
g
|
Vitamin A:
171
IU
|
Vitamin C:
3
mg
|
Calcium:
20
mg
|
Iron:
1
mg