This post may contain affiliate links which will not change your price but will share some commission. Please read my privacy policy.
A Tandoori Chicken Recipe with a Mango Yogurt Chutney that is to die for. Literally. You won't want to make it any other way!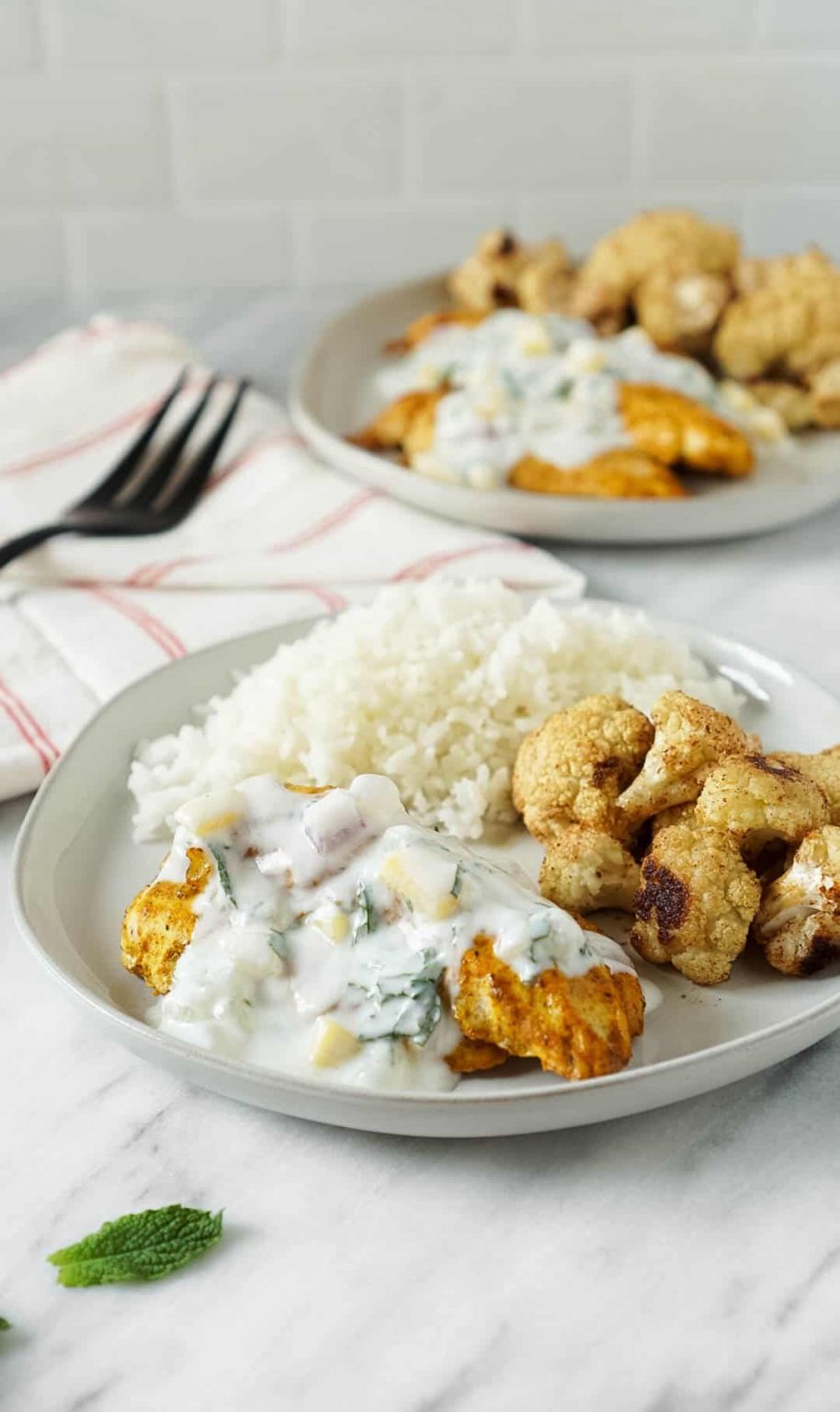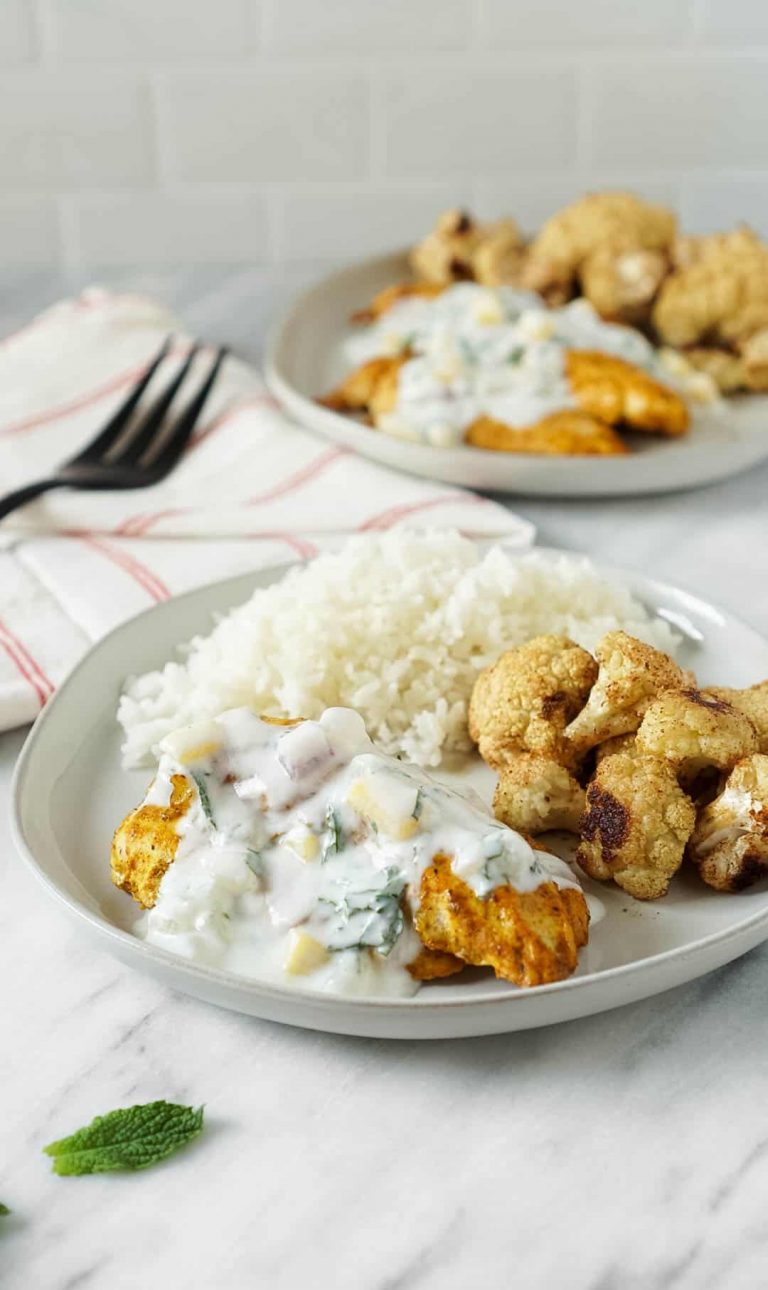 This recipe was developed in paid partnership with Alove. Thank you for being supportive of me working with brands I use and love.
I stepped out of my comfort zone a little bit when I decided to try an Indian recipe and to use this new aloe vera yogurt. And let me tell you I am SO glad I did.
The chicken is juicy with some heat from the tandoori spice mixture, and the yogurt chutney is off the charts. I mean, I know I'm a little biased here, but when I tell you it's amazing, believe it!
Or try it for yourself and find out.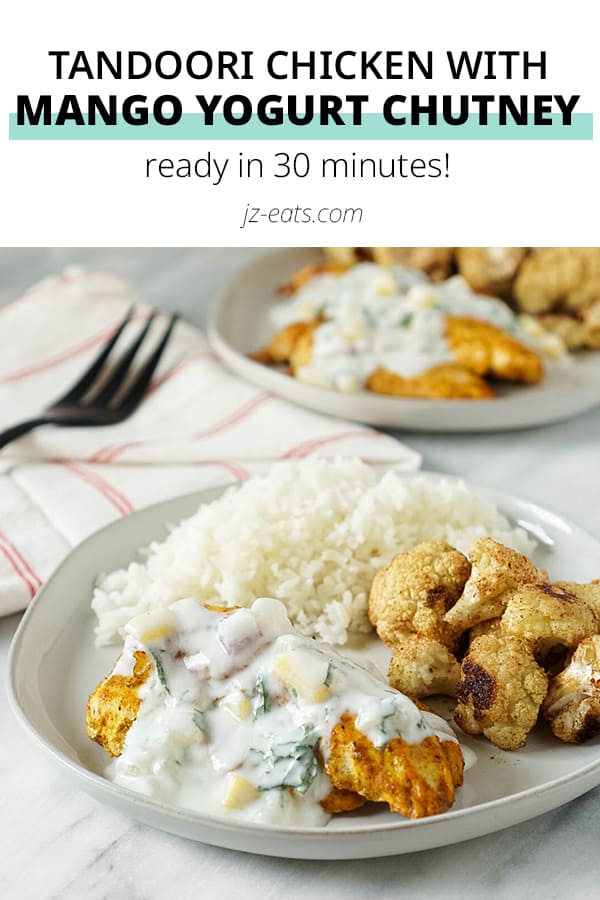 What is tandoori chicken?
Tandoori chicken is an Indian classic that's derives from the tandoor clay oven used to make naan, a delicious Indian flatbread. If you can believe it, you can actually buy one of these  tandoor ovens on Amazon! But let's be real, what can't you buy on Amazon these days?
Most tandoori chicken recipes will marinate skinless chicken legs or thighs in a mixture of yogurt, lemon juice, and spices. In this recipe, we are using chicken tenders but you can use any part of the chicken you feel like.
The chicken gets its characteristic red coloring from food dye, but I'm not that big into dying my food, so I skipped it here. If that bright color is a must have for you, feel free to add some red or orange food dye to the marinade!
A Tandoori Chicken Recipe with a Mango Yogurt Chutney that is to die for. Literally. You won't want to make it any other way!
How to make tandoori chicken
First, you'll create the tandoori yogurt marinade. I used Alove aloe vera yogurt because it's on the sweeter side and I love the texture of the aloe gel pieces.
In a large mixing bowl, whisk together garam masala, cayenne pepper, turmeric, and paprika. Then add the yogurt, lemon juice, ginger, and garlic.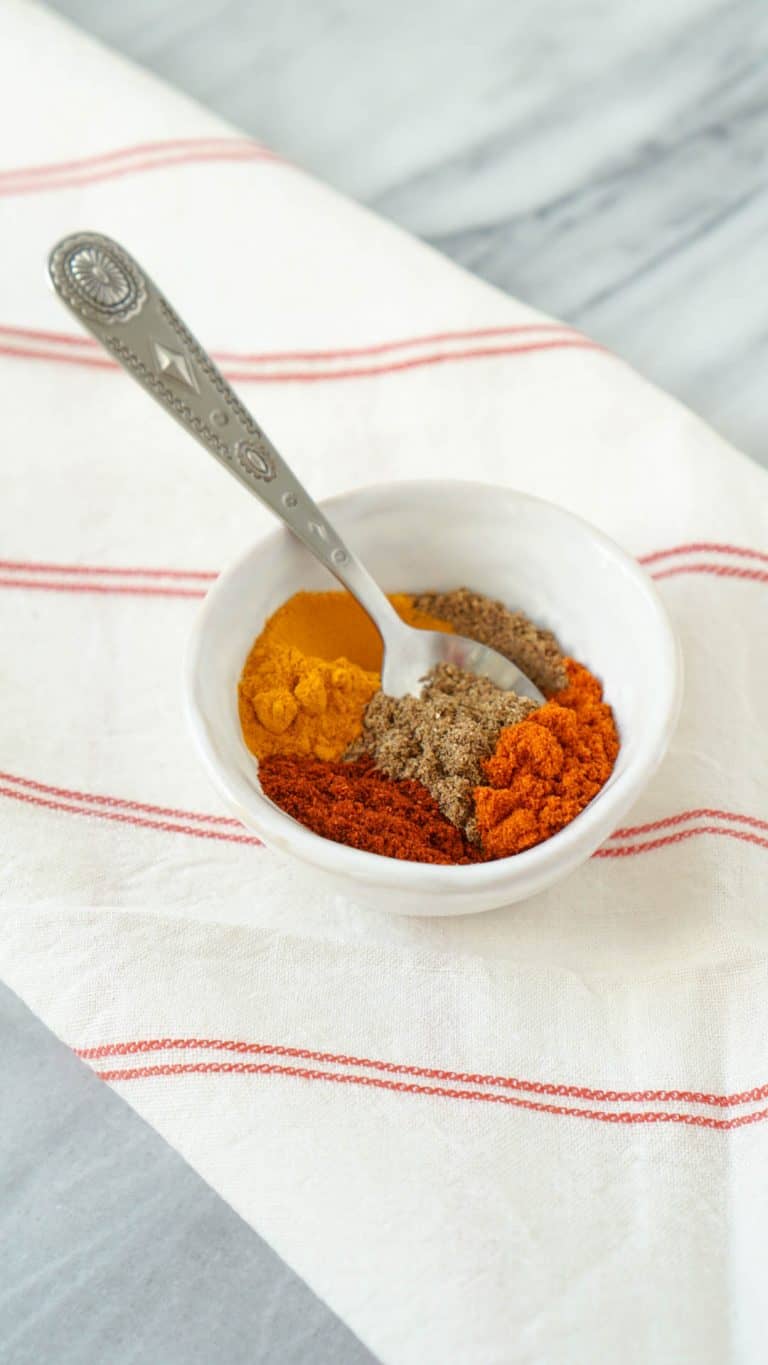 Add the chicken and toss to coat. You can either leave the chicken in the bowl and cover it with plastic wrap, or you can transfer it to a larger resealable bag to marinate. Then you will place it in the refrigerator for 1 hour, or up to 10 hours. The longer you marinate the chicken, the more flavor it will have.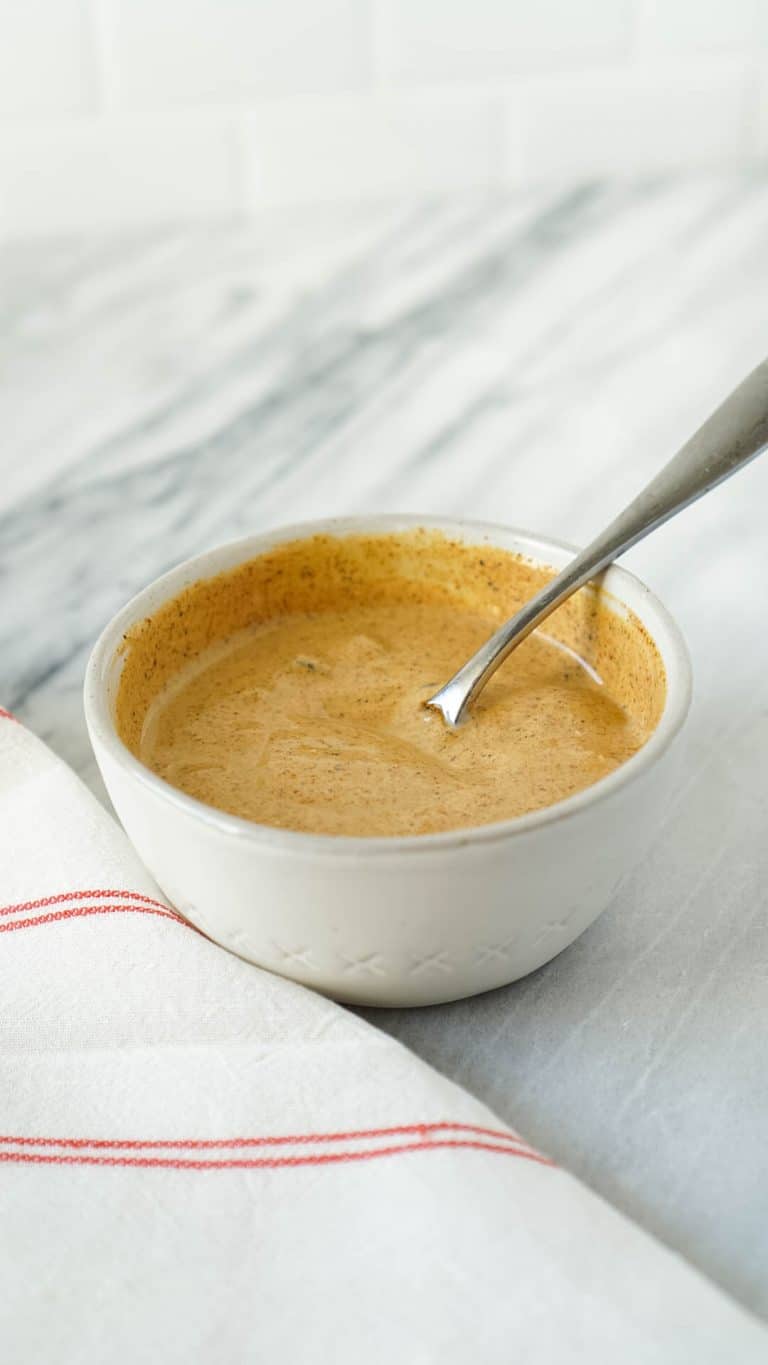 Preheat the oven to 425 F and line a baking sheet with foil, place a wire baking rack wire baking rack over top and bake the chicken for 20-25 minutes.
Broil it during the last 2-3 minutes for more of a charred flavor. Cooking the chicken on a wire rack will allow the juices to drip down so the chicken gets nice and crispy.
You will also bake a side of cauliflower at the same time! So even though it's not a one pan recipe, you get the same benefit of having everything cook together all at once.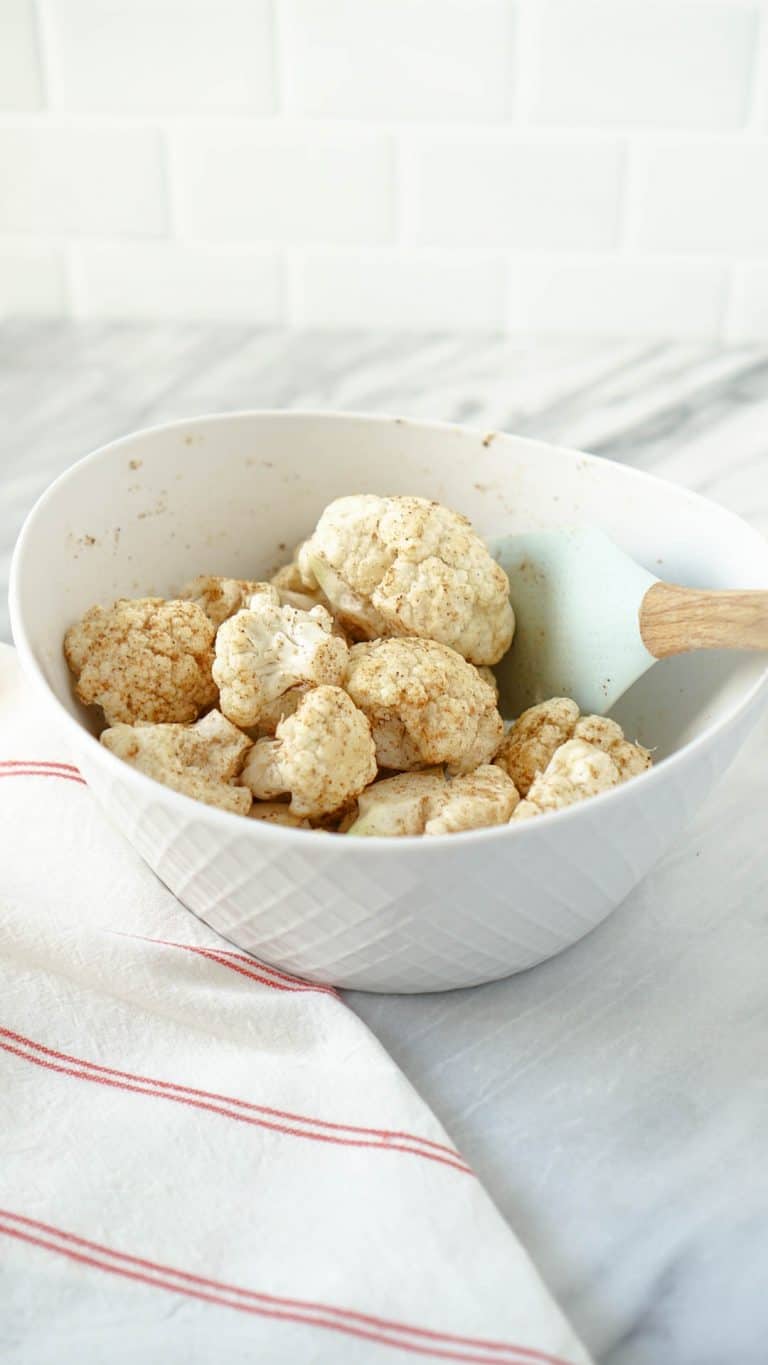 Alternatively, you can bake everything together in a sheet pan. The chicken will be juicer, but won't get as crispy.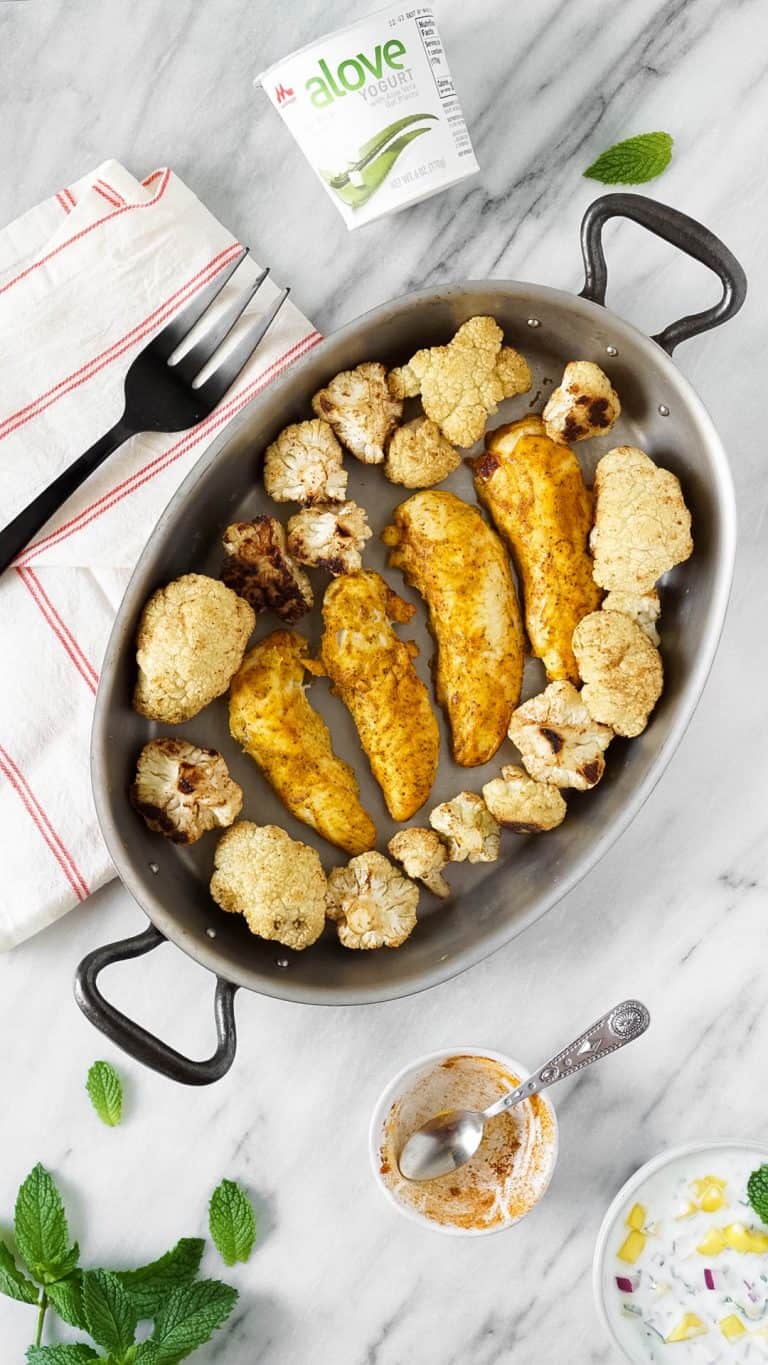 Mango Yogurt Chutney
The mango yogurt chutney in this recipe is TO DIE FOR. As soon as I tasted that, I knew I had struck recipe gold.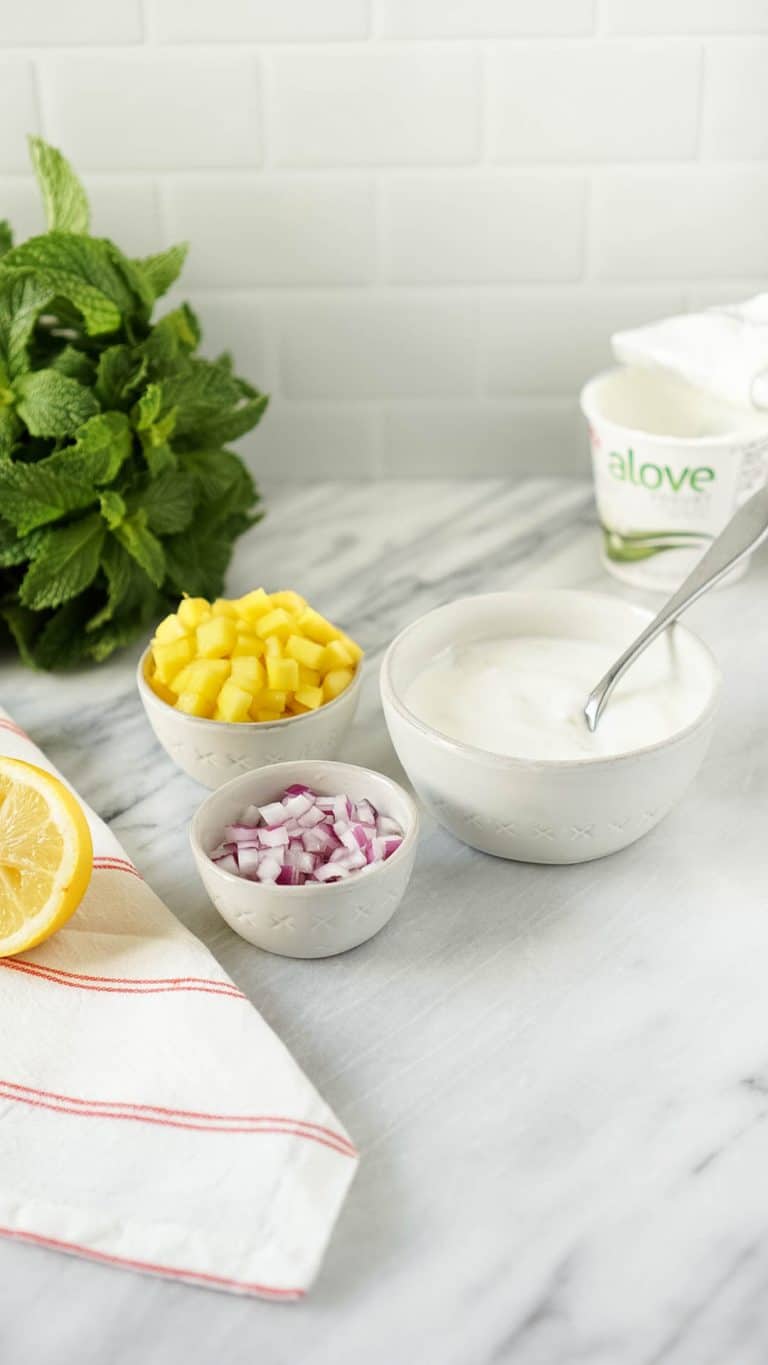 Yogurt is commonly found in Indian recipes for many reasons:
The cooling effects help soothe burns aka spicy food
It's a great thickener for curry powder
Yogurt helps to bind curry and rice together, making it easier to pick up with your fingers (yes, Indians like to eat with their hands)
And many more!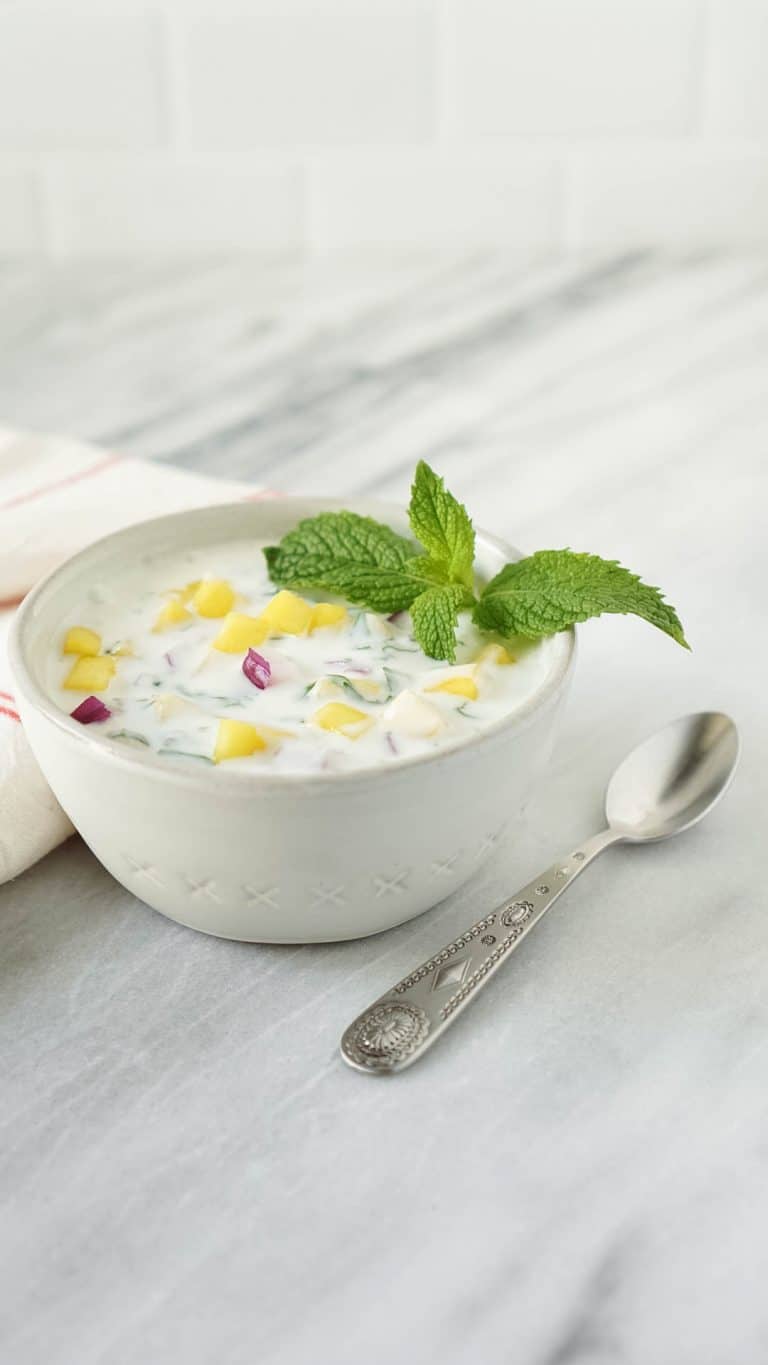 The Mango Yogurt Chutney is a mixture of Alove aloe vera yogurt, lemon juice, mango, red onion, cilantro, and mint. If there were any leftovers, I was planning on putting granola over it and having it for breakfast the next day. Spoiler alert: there weren't any leftovers.
There are so many delicious things you could do with that chutney, it's dangerous!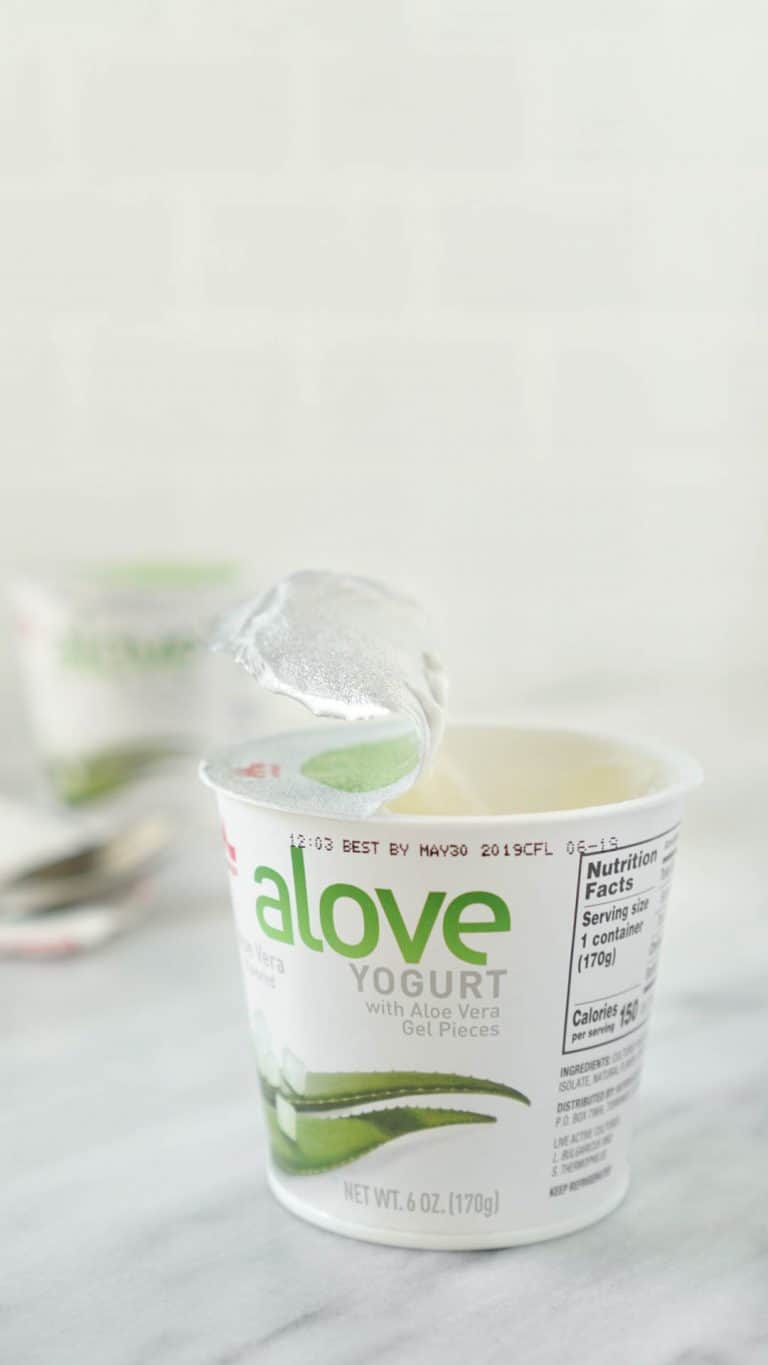 Aloe vera yogurt is on the sweeter side which pairs well with the tangy flavor from the lemon, the bite of the red onion, and the creaminess (yes, I think herbs can be creamy) of the cilantro and of course, it's an excellent accompaniment to the spicy tandoori chicken.
I partnered with Alove because they strive to produce products under the highest standards of quality, which aligns with my values. They use only the best ingredients and stay away from ingredients like high fructose corn syrup.
The aloe vera gel pieces give the chutney a unique texture, plus add an additional "cooling" relief to the spiciness of the chicken.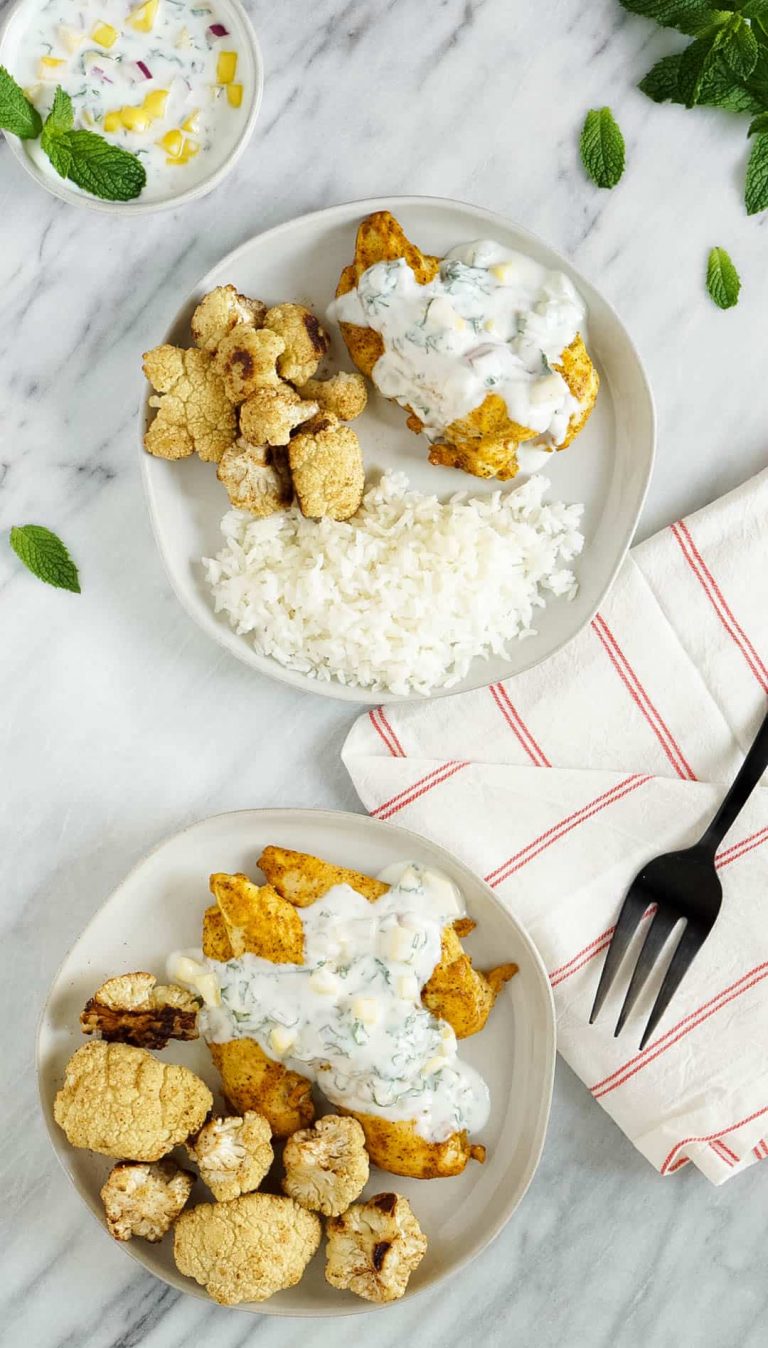 The tandoori chicken marinade smells so incredibly heavenly, I could bathe in it! It doesn't smell spicy at all, but before cooking it does have a pretty good kick. Once it's been cooked, the kick from the spices subsides a bit, so it's not that spicy.
If you want to pump up the heat on your tandoori chicken, reserve some of the tandoori marinade (before adding it to the raw chicken) to top the chicken with after it's finished cooking.
This yogurt sauce isn't limited to Indian recipes you can also use it on salmon, grilled chicken, or roasted cauliflower!
An Indian restaurant quality recipe for Tandoori Chicken.
Want to try Tandoori Chicken With Mango Yogurt Chutney?
PIN IT to your Indian recipes, chicken, or 30 minutes or less board to save it for later!
Find me on Pinterest for more great recipes. I'm always pinning!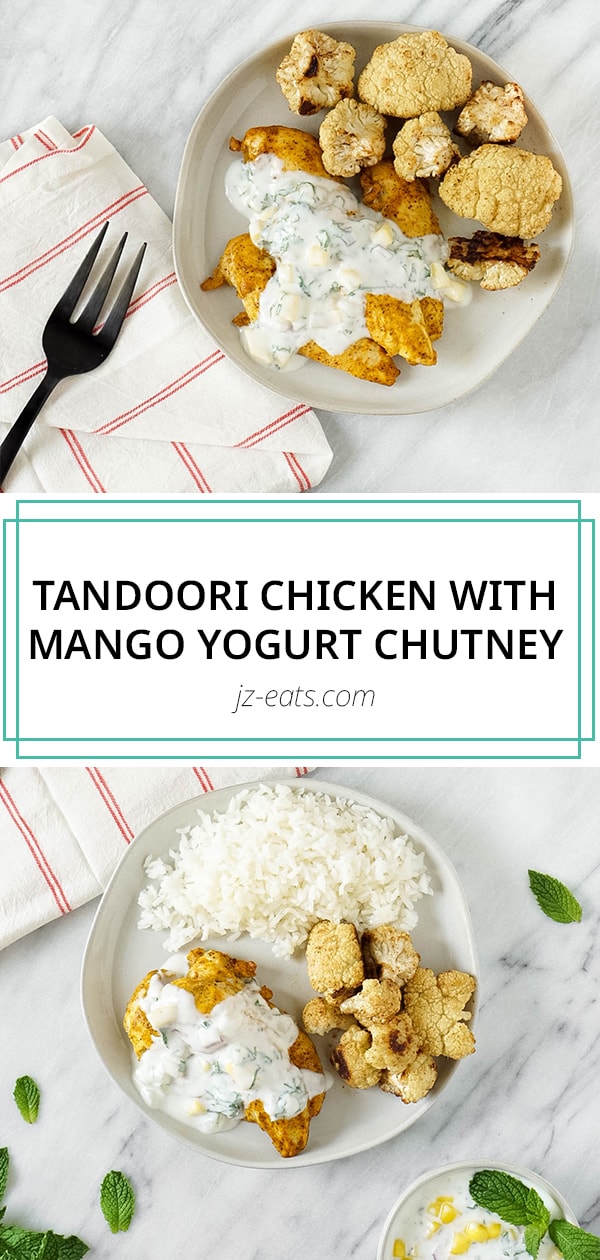 Tandoori Chicken With Mango Yogurt Chutney
A Tandoori Chicken Recipe with Mango Yogurt Chutney that is to die for. Literally. You won't want to make it any other way!
Ingredients
Tandoori Chicken
1

pound

chicken tenders

2

cups

Alove aloe vera yogurt

4

tablespoons

lemon juice,

about 1 lemon

2

teaspoons

fresh ginger,

grated

2

teaspoons

fresh garlic,

minced

2

tablespoons

garam masala

2

teaspoons

cayenne pepper

2

teaspoons

turmeric

2

tablespoons

paprika
Mango Yogurt Chutney
1/2

cup

Alove aloe vera yogurt

1

mango,

diced

1

tablespoon

red onion,

diced small

1

tablespoon

fresh cilantro,

chopped

1/2

tablespoon

fresh mint leaves,

chopped

1/2

lemon,

juice
Instructions
First, make the Tandoori Chicken marinade. Combine all Tandoori Chicken ingredients except for the chicken) in a small mixing bowl, then add the marinade and chicken tenders to a large re-sealable zipper storage bag. Toss to coat and store in the refrigerator for 30 minutes, or up to 8 hours. *The longer the chicken marinates, the more flavor it will have.

Toss cauliflower florets with olive oil, nutmeg, and cumin and place on a foiled sheet pan and bake for 15-20 minutes or until tender enough to poke with a fork. Place the marinated chicken tenders on a metal cooling rack over top of a sheet pan (so the juice can drip down) and bake for 15 minutes.

Remove the chicken and cauliflower from the oven and preheat the broiler to high. Then broil everything on the top rack for 2 minutes for a charred look and taste.

While the chicken and cauliflower are cooking, combine all of the mango chutney ingredients in a small mixing bowl and set aside.

To plate: divide the chicken and cauliflower between two plates and top the chicken with the Mango Yogurt Chutney.
Notes
* Nutrition information is approximate and was calculated using a recipe nutrition label generator.
*Reserve some of the chicken marinade (before mixing it with the chicken) if you want your chicken to be spicier after it cooks
Nutrition
Calories:
319
kcal
|
Carbohydrates:
26
g
|
Protein:
35
g
|
Fat:
9
g
|
Saturated Fat:
3
g
|
Cholesterol:
82
mg
|
Sodium:
259
mg
|
Potassium:
1146
mg
|
Fiber:
5
g
|
Sugar:
19
g
|
Vitamin A:
2725
IU
|
Vitamin C:
50.5
mg
|
Calcium:
317
mg
|
Iron:
2.4
mg