This post may contain affiliate links which will not change your price but will share some commission. Please read my privacy policy.
You don't need a grill to make delicious corn on the cob with the perfect char! This easy Air Fryer Corn on the Cob recipe will give your corn a delicious char in just a few minutes.
It's quick and easy, foolproof, and can be served elote style or just with melted butter on the side.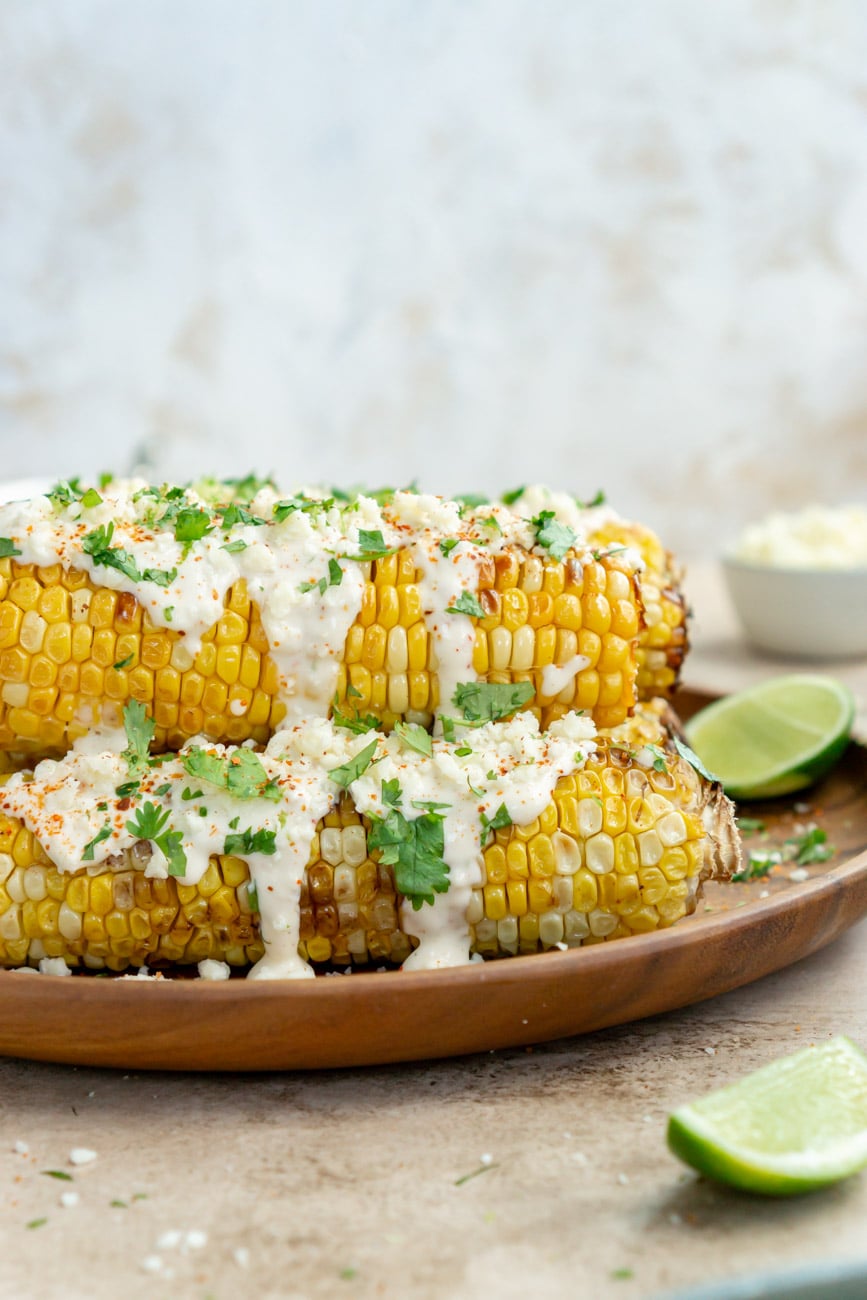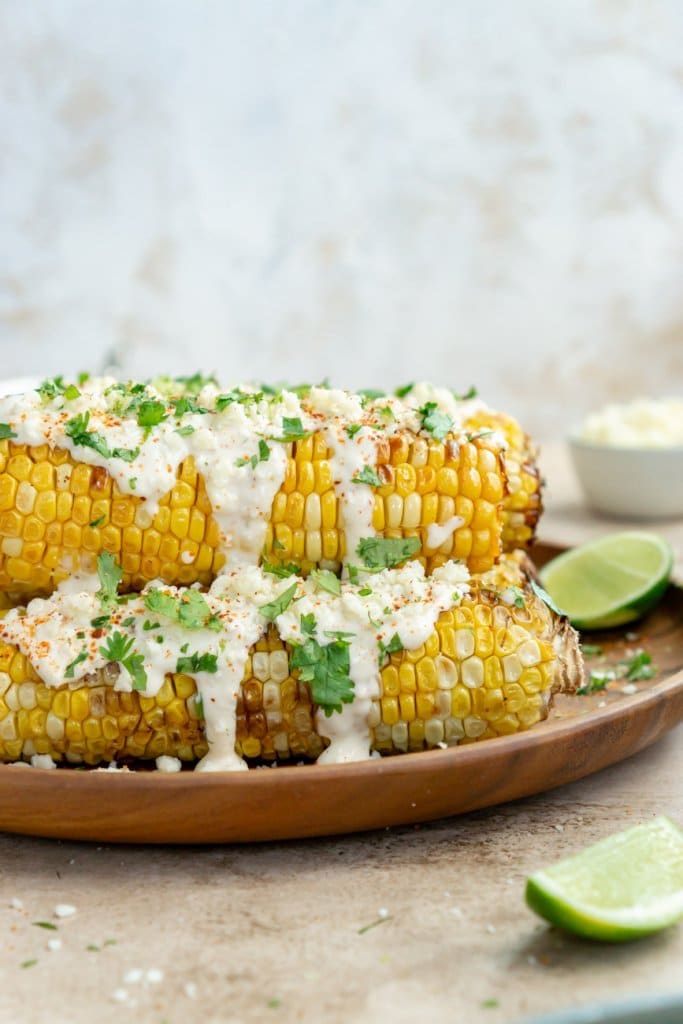 When you make this recipe, I suggest serving it with these Crispy Hoisin Chicken Thighs, Pork Chops or some Chimichurri Steak and Slow Cooker Mashed Potatoes. This is a complete meal that is going to feel like down-home comfort food that is so simple to make.
Air Fryer Corn on the Cob Recipe
When it comes to a summertime classic, corn on the cob is an all-time favorite. Making air fryer corn is so simple and comes together in no time.
Corn in the air fryer is the quickest and cleanest way to get corn on the cob on the table. The crema, cotija cheese and tajin takes this from basic ears of corn to amazing air fryer elote.
It makes a delicious side dish along with french fries, pasta salad, or Chicken Fajita Nachos!
Can you cook corn on the cob in an air fryer?
Absolutely, you can cook corn on the cob in an air fryer. In my opinion, it's the best way to make corn on the cob because you don't have to boil a big pot of water or turn on the grill! The cooking time is much shorter than boiling and there's hardly any mess.
What happens when you put corn in an air fryer?
When you air fry corn, you get a combination of crispy and tender roasted corn kernels. The air fryer helps to mimic the charred and roasted flavors you might get from grilling or roasting corn over an open flame, similar to Mexican street corn, while maintaining the moisture inside, making it juicy. The corn comes out amazing, making it the perfect side dish.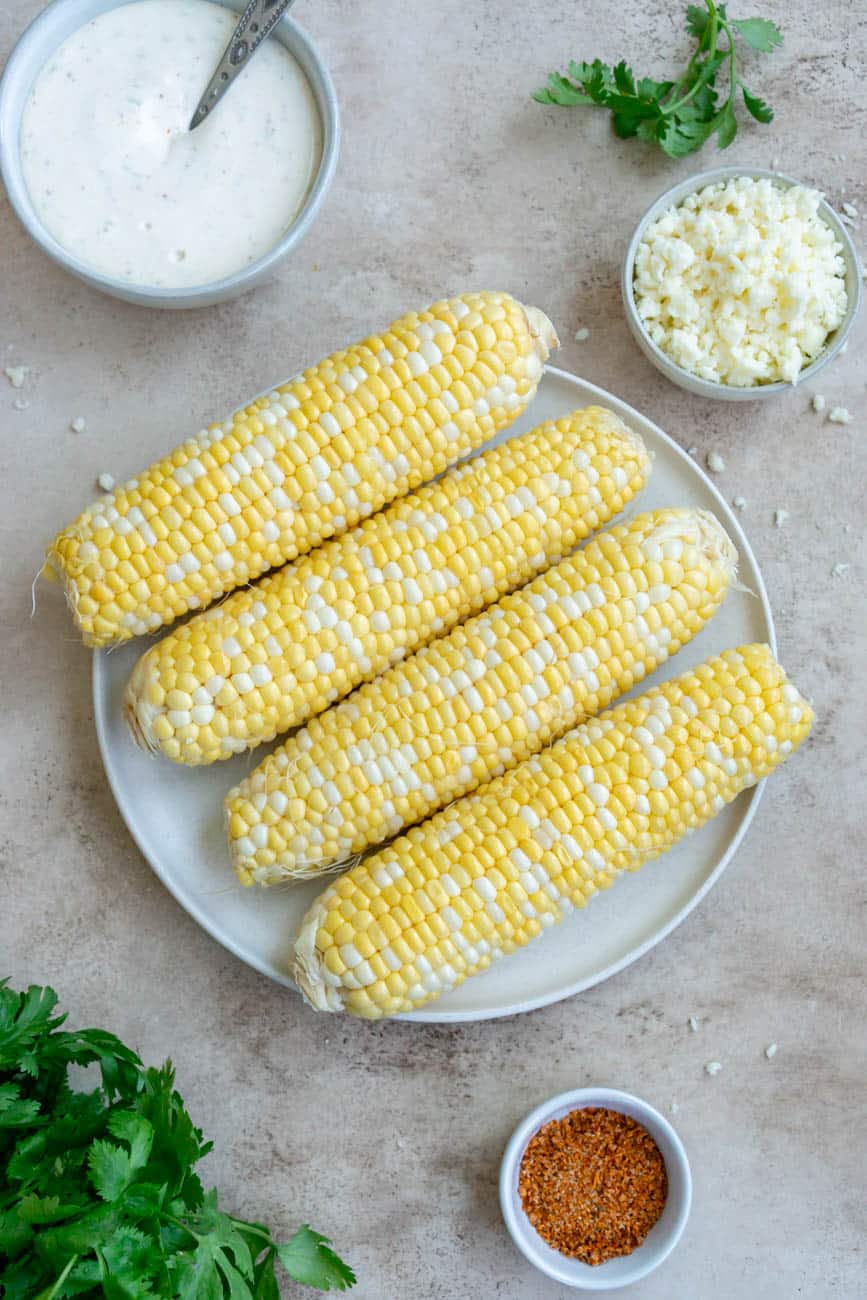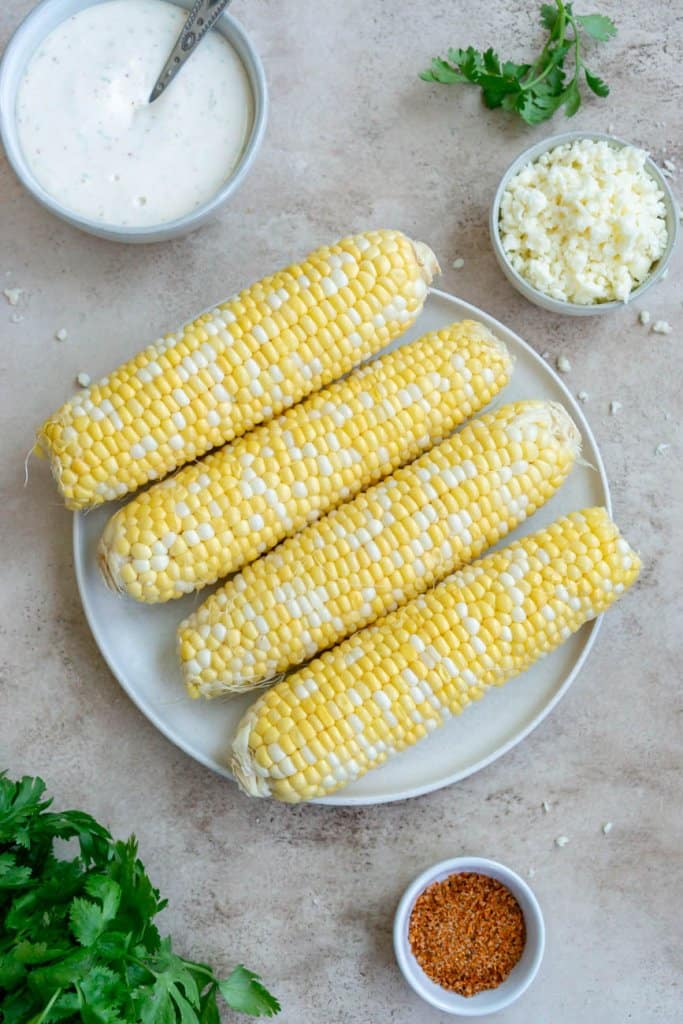 What You Need to Make Air Fryer Corn on the Cob
Fresh corn: you will need shucked corn on the cob, free of silk (corn hair). The easiest way to clean corn is to microwave it for 1-2 minutes. The steam helps to release the silk and makes it easier to remove. Be careful that it isn't hot when you start to shuck.
Mexican crema or sour cream: Mexican crema brings a luscious creamy element that perfectly complements the cooked corn. I highly recommend using Mexican crema if you can, but sour cream is a good substitute.
If you have leftover crema, you can make this Mexican Street Cornbread, Avocado Crema, or Cilantro Lime Crema.
Lime: squeeze some lime juice and zest onto your corn, and suddenly, you've got a burst of citrusy freshness that combines with the sweetness of the corn.
Garlic: minced garlic brings an aromatic punch that elevates your corn from tasty to 'whoa, what's that?!'
Cotija cheese: my favorite part of Mexican Street Corn! The crumbly, salty, slightly tangy deliciousness that takes your bites to the next level. If you have feta cheese already, you can easily substitute it with that.
Tajin: if you've never had tajin seasoning before, it's one of the main components for Mexican Street Corn, but that's not all it's good for! Try sprinkling it on fruit or adding it to dressings and marinades for some incredible zesty flavors.
The tangy and zesty flavors of tajin enhance the natural sweetness of the corn while providing a delightful kick.
Herbs and seasonings: you will need fresh cilantro, salt, and black pepper.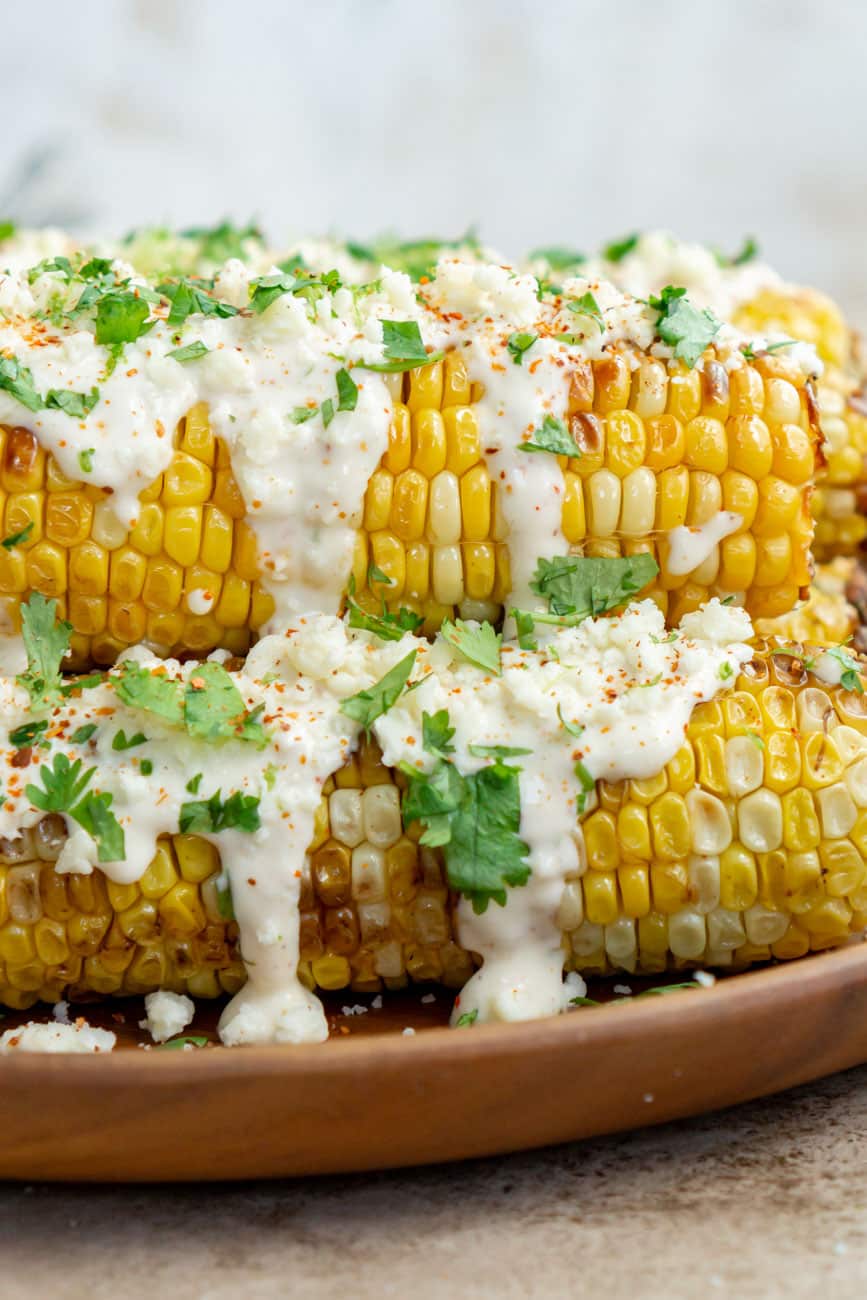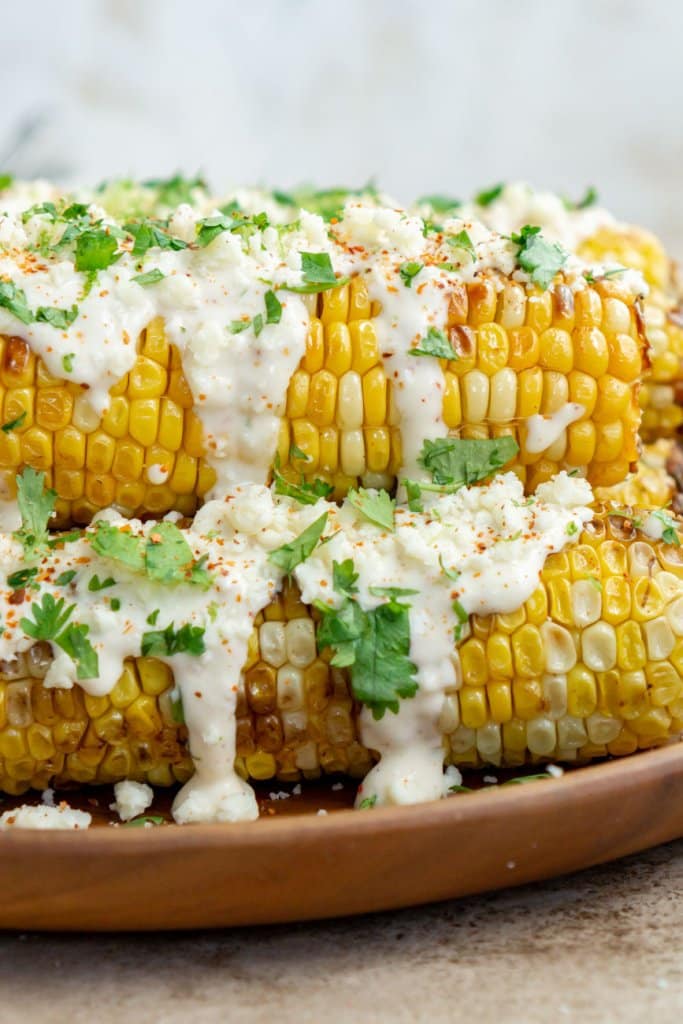 How to store corn on the cob
To keep corn on the cob fresh before cooking, store it in the refrigerator. Keep the husks intact to maintain moisture and prevent drying out.
Place the corn in a plastic bag and seal it to create a humid environment. This helps preserve its flavor and juiciness. Avoid shucking the corn or removing the husks until you're ready to cook it to keep the kernels from drying out and maintain optimal freshness.
Storing cooked corn
To store any leftover cooked corn, allow it to cool to room temperature. Then wrap each cob individually in plastic wrap or aluminum foil. Place the wrapped cobs in an airtight container or resealable plastic bag and store them in the refrigerator.
This helps prevent the corn from drying out and maintains its flavor. Stored properly, cooked corn on the cob can be refrigerated for up to 3-5 days. When you're ready to enjoy it again, you can reheat the corn in the microwave, on the grill, or even in the air fryer for a few minutes until warmed through.
If I have leftover corn, I use it to make Avocado Corn Salad or a Summer Corn Salad!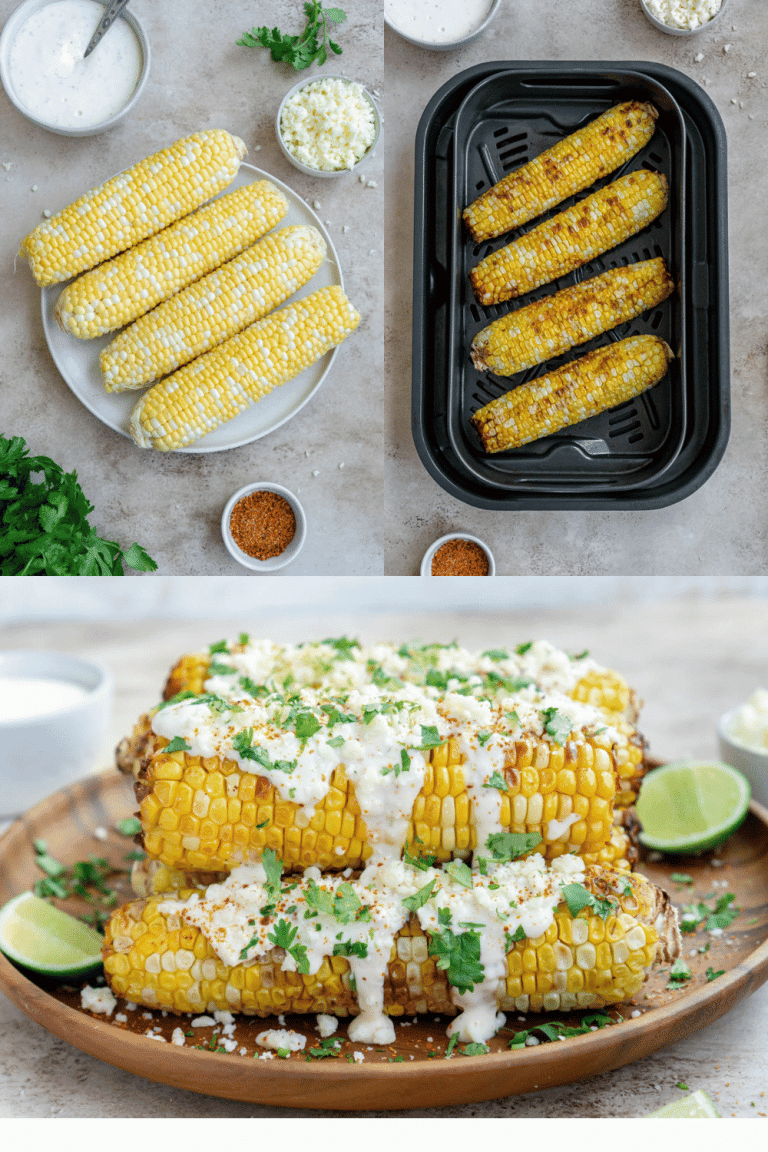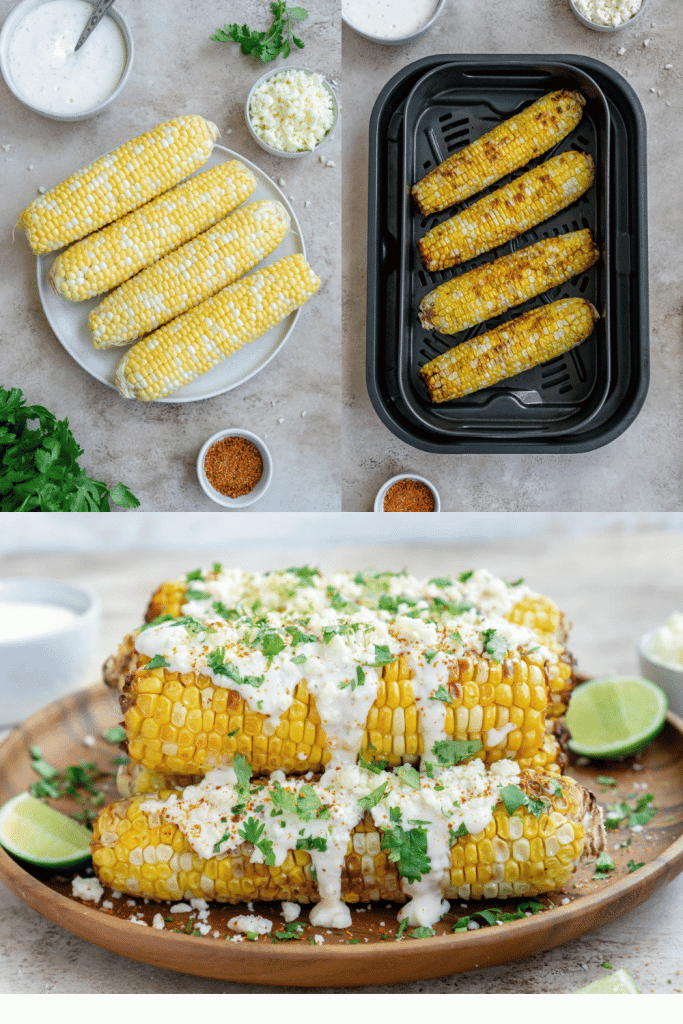 How to Make Air Fryer Corn
1. Prepare the corn: brush olive oil over each piece of corn. Then add it to the air fryer basket in a single layer and cook for about 15 minutes, turning halfway through. The air-fried corn will be tender and slightly charred when ready.
2. Make the crema: while the corn cobs are cooking, whisk the ingredients of the crema together. When the corn ears are ready, move them to a serving platter and add the crema and toppings before serving.
Variations to Air Fryer Corn
There are simple ways to change up this air-fried corn. Fresh sweet corn can be served without anything special added or add extra seasonings to take it over the top.
Some simple ideas are to add use honey butter or make old bay & butter to add to the corn.
Here are some more variations for air fryer corn:
BBQ corn on the cob: give your corn a smoky twist by brushing on some homemade BBQ sauce before air frying. The result? A sweet, tangy, and charred delight that'll have you licking your fingers and going back for seconds.
Herbs and cheese: swap out the Mexican flavors for some homemade basil pesto, sprinkled with grated Parmesan cheese.
Make it spicy: brush your corn with buffalo sauce and crumble some blue cheese on top or season it with chili powder instead!
Asian-inspired corn: brush your corn with a mixture of soy sauce, sesame oil, and honey before air frying. Then garnish it with toasted sesame seeds and sliced green onions.
Can you put aluminum foil in an air fryer with corn?
​In general, yes you can use aluminum foil in the air fryer with corn. You should always check the manufacturer directions that come with your air fryer but in general, yes, you can.
Even though you technically can put foil in the air fryer, I don't recommend it because then you trap the hot air from circulating around the food which is how it cooks evenly.
The only time I would use foil with corn in the air fryer, is if I wanted my corn to be steamed and not have any char. If this is what you're going for, you'll want to wrap your corn in foil and might need to cook it a little longer.
Will corn pop in the air fryer?
Corn kernels will not pop like popcorn in an air fryer in the same way that they do in a traditional popcorn popper or on the stovetop. The reason popcorn kernels pop is due to the moisture inside the kernel expanding rapidly when exposed to high heat. This causes the kernel to burst open and transform into the fluffy popcorn we know.
However, you might hear some crackling or popping sounds as the moisture within the corn heats up and releases steam. This is normal and shouldn't be mistaken for popcorn popping.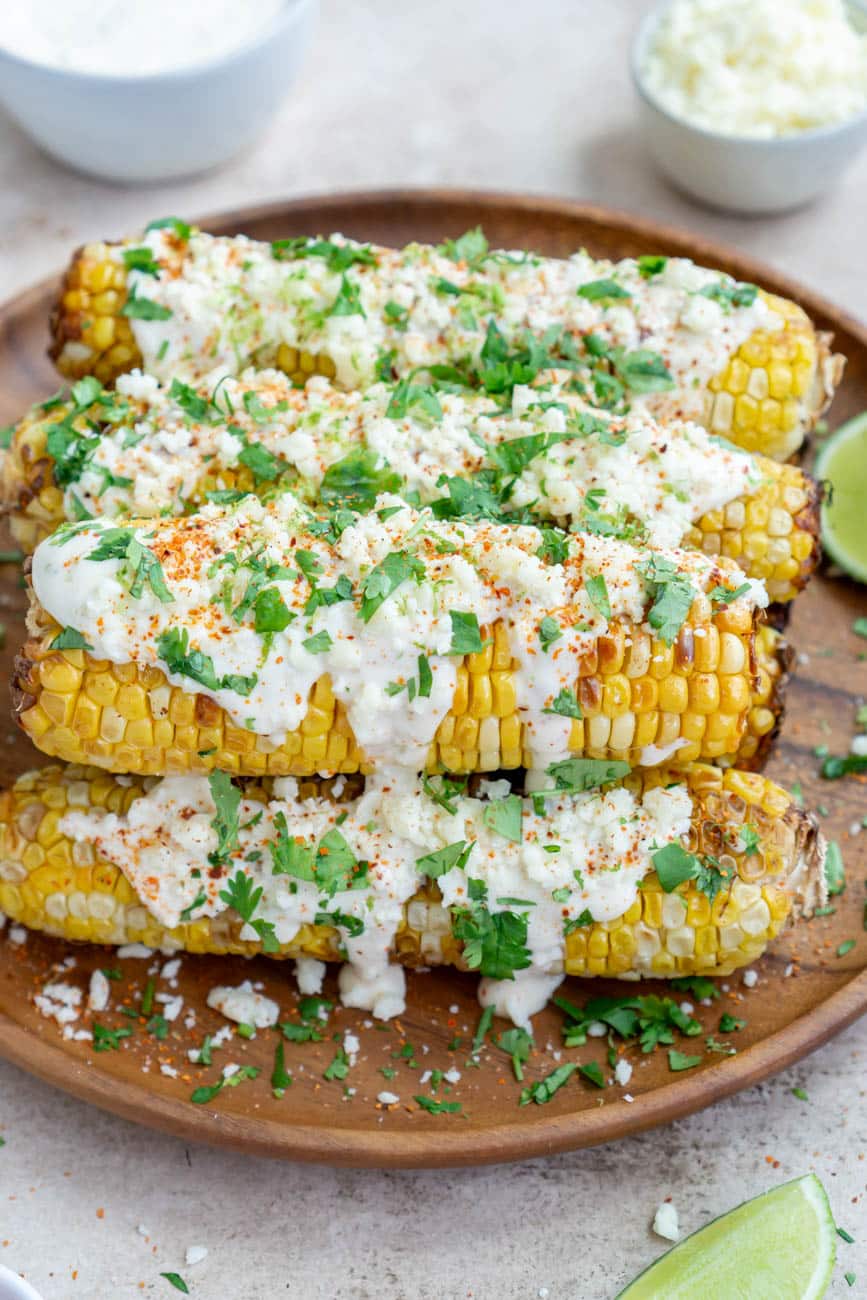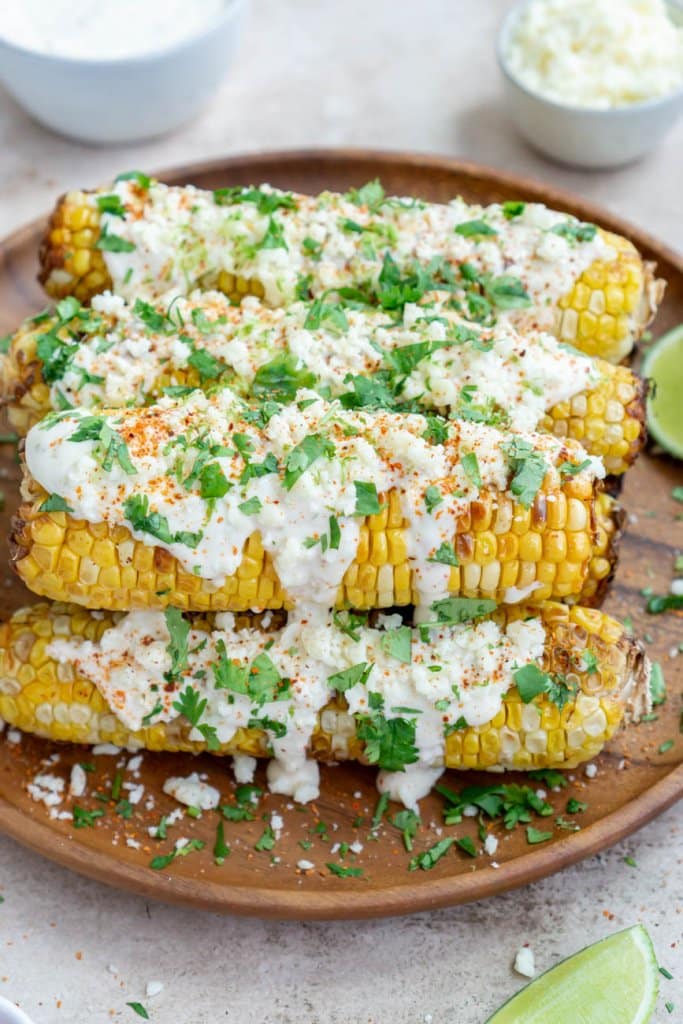 How to pick the perfect corn
When selecting the perfect ear of corn, keep an eye out for a few key indicators:
Examine the husk, it should be vibrant and tightly wrapped, without any browning or dry patches.
Gently run your fingers along the husk to feel for plump, well-defined kernels underneath. A well-rounded and uniform shape usually indicates even ripening.
Peek at the tip of the ear – it should be well-filled, not too pointed or blunt.
Take a look at the silk; it should be moist and golden, indicating freshness.
By considering these factors, you'll be well on your way to enjoying the juiciest and most flavorful corn on the cob.
WANT TO TRY THIS AIR FRYER CORN ON THE COB RECIPE?
PIN IT to your corn recipes, air fryer recipes, or side dish recipes board to save it for later!
Find me on Pinterest for more great recipes. I'm always pinning!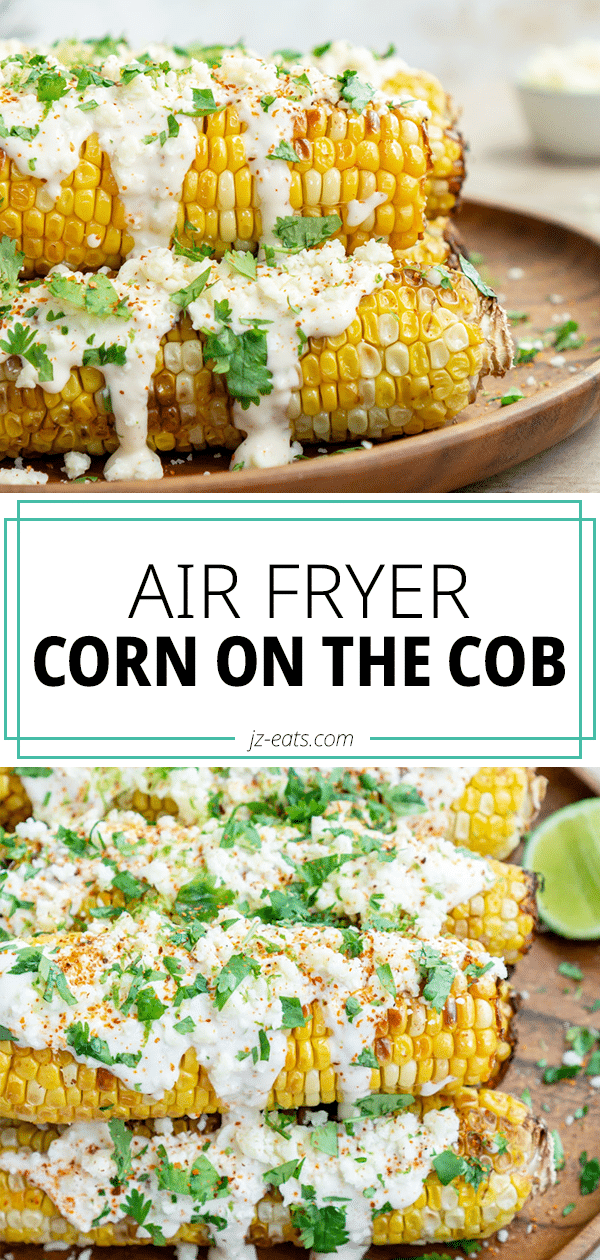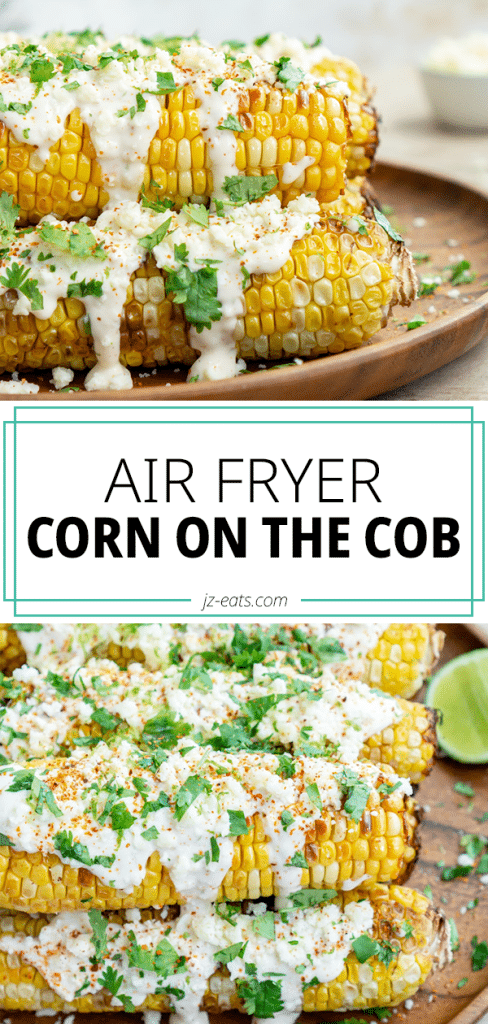 Did you make this recipe? Post a photo on Instagram and tag me @JZEATS or #JZEATS so I can see! Leave a comment below and let me know what you think, too!
Air Fryer Corn On The Cob
You don't need a grill to make delicious corn on the cob with the perfect char! This Air Fryer Corn on the Cob recipe will give your corn a delicious char in just a few minutes.
Ingredients
For the crema
1/2

cup

Mexican crema,

or sour cream

1/2

lime,

juice and zest

1

garlic clove,

minced

1/4

tsp

kosher salt

1/4

tsp

black pepper
Toppings
4

tbsps

cotija cheese,

crumbled

1/2

tbsp

tajin

2

tbsps

fresh cilantro,

roughly chopped
Instructions
For the corn
Preheat the air fryer to 375℉.

Brush a thin layer of olive oil all over each ear of corn before placing it in the air fryer basket. Air fry for 12-15 minutes, turning halfway through. The corn should be tender and slightly charred when finished.
For the crema
While the corn is cooking, whisk together the crema, lime juice and zest, minced garlic, salt, and pepper in a small bowl.

When the corn is ready, transfer it to a serving platter and spread the crema on top. Then sprinkle the cotija cheese, tajin, and fresh cilantro.
Nutrition
Calories:
241
kcal
|
Carbohydrates:
21
g
|
Protein:
6
g
|
Fat:
17
g
|
Saturated Fat:
4
g
|
Polyunsaturated Fat:
1
g
|
Monounsaturated Fat:
6
g
|
Trans Fat:
0.01
g
|
Cholesterol:
31
mg
|
Sodium:
475
mg
|
Potassium:
268
mg
|
Fiber:
2
g
|
Sugar:
7
g
|
Vitamin A:
391
IU
|
Vitamin C:
9
mg
|
Calcium:
138
mg
|
Iron:
1
mg