This post may contain affiliate links which will not change your price but will share some commission. Please read my privacy policy.
A chili lime roasted carrots recipe perfect for any time of year and any occasion. Serve them over farro or as a nutritious side dish to your favorite protein.
Chili Lime Roasted Carrots Recipe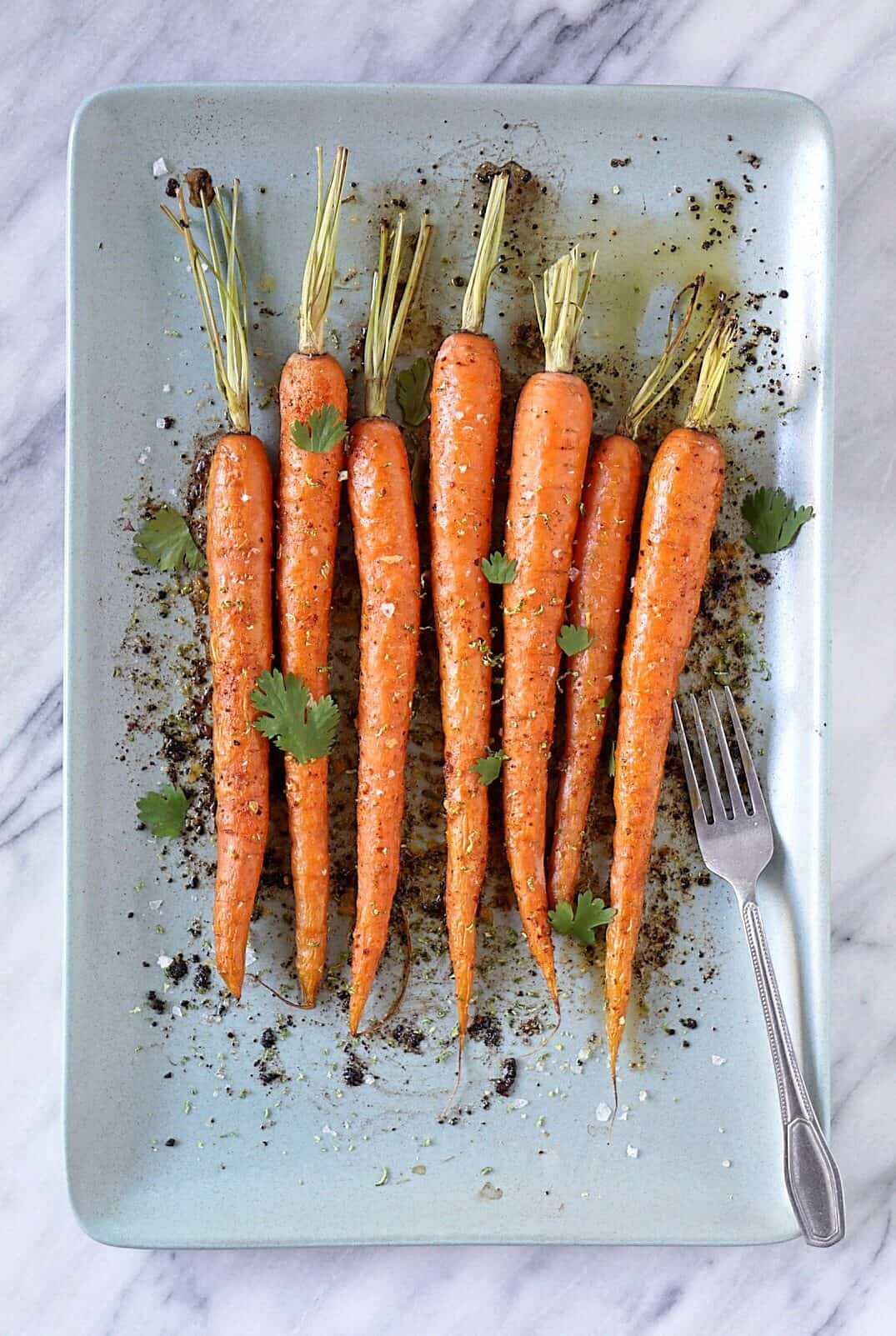 Carrots are one of those vegetables that IÂ always keep in my fridge because they're cheap (I got this bunch of six carrots for less than a dollar), last for a little over a week, and there are so many ways you can make them!
Chopped carrots can be added to a main dish like stir fried rice, or served whole on their own as a side dish. Their sweetness can be played up in a honey roasted carrots dish, or complemented in a chili lime roasted carrots dish like this one.
You can even combine the two and make sweet chili roasted carrots. The possibilities are seriously endless when it comes to roasting carrots.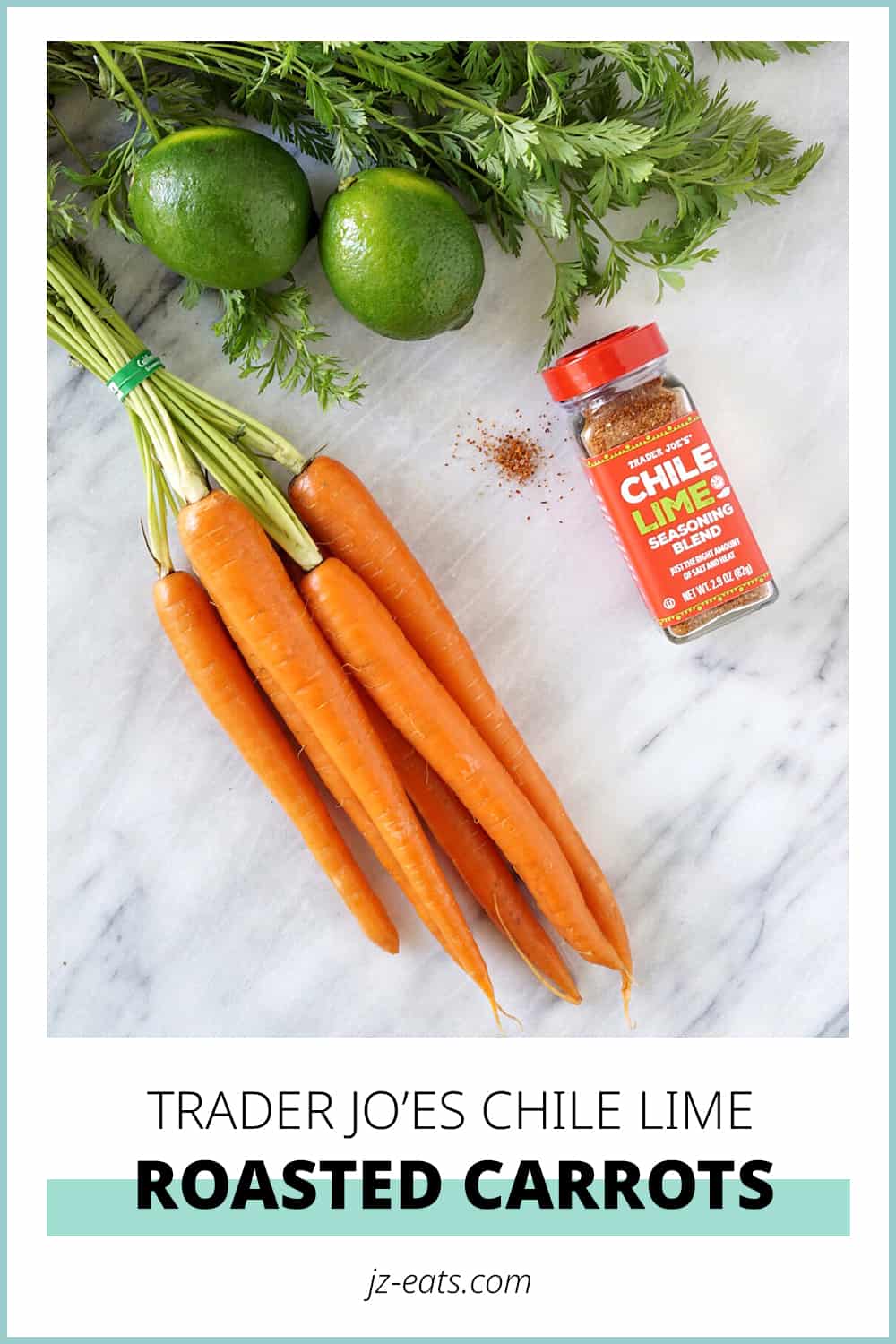 Are any of you guys big fans of Trader Joe's? I was lucky enough to have one within walking distance to my house growing up. Now I keep praying that the next grocery store to go up in Baltimore City will be a Trader Joe's!
So about once every other month (or whenever I happen to be in the area) I will make the 20 minute drive to stock up on all my favorite spices and a few other Trader Joe's staples that I love. Like their cauliflower gnocchi and chocolate covered dunkers…omg I live for that shit.
Anyways, their spice collection is an absolute gold mine. Most of them are under $3 and they have a bunch of unique blends. For this roasted carrots recipe, I used their Chile Lime Seasoning.
If you don't have it in your spice rack, you can substitute it for a teaspoon of paprika, zest from a whole lime, and the juice from half a lime.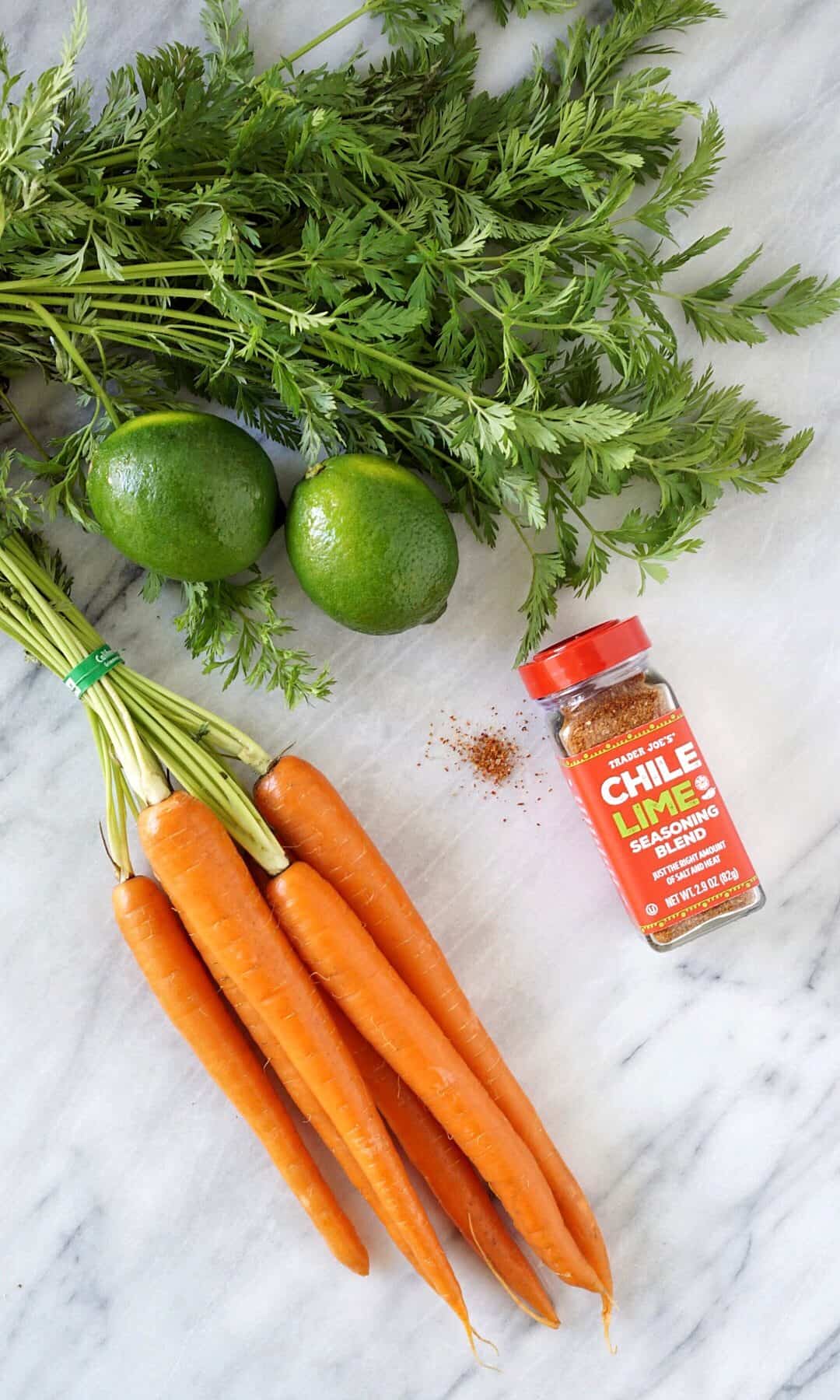 Oven roasted carrots make a great side dish for any time of year. I love roasted vegetables in the Fall and Winter because there is something so comforting about them, but I also love them in the Spring and Summer because you can still play up the flavors by adding citrus notes to lighten them up. I think the best roasted vegetables ever have flavors that play up the vegetables natural flavor.
When you roast carrots in the oven, they generally get sweeter. So adding a little bit of heat with a dash of citrus to them adds an intense flavor profile.
Charred carrots are also delicious. I haven't made them at home yet, but I had them at a restaurant nearby, Avenue Kitchen, not too long ago.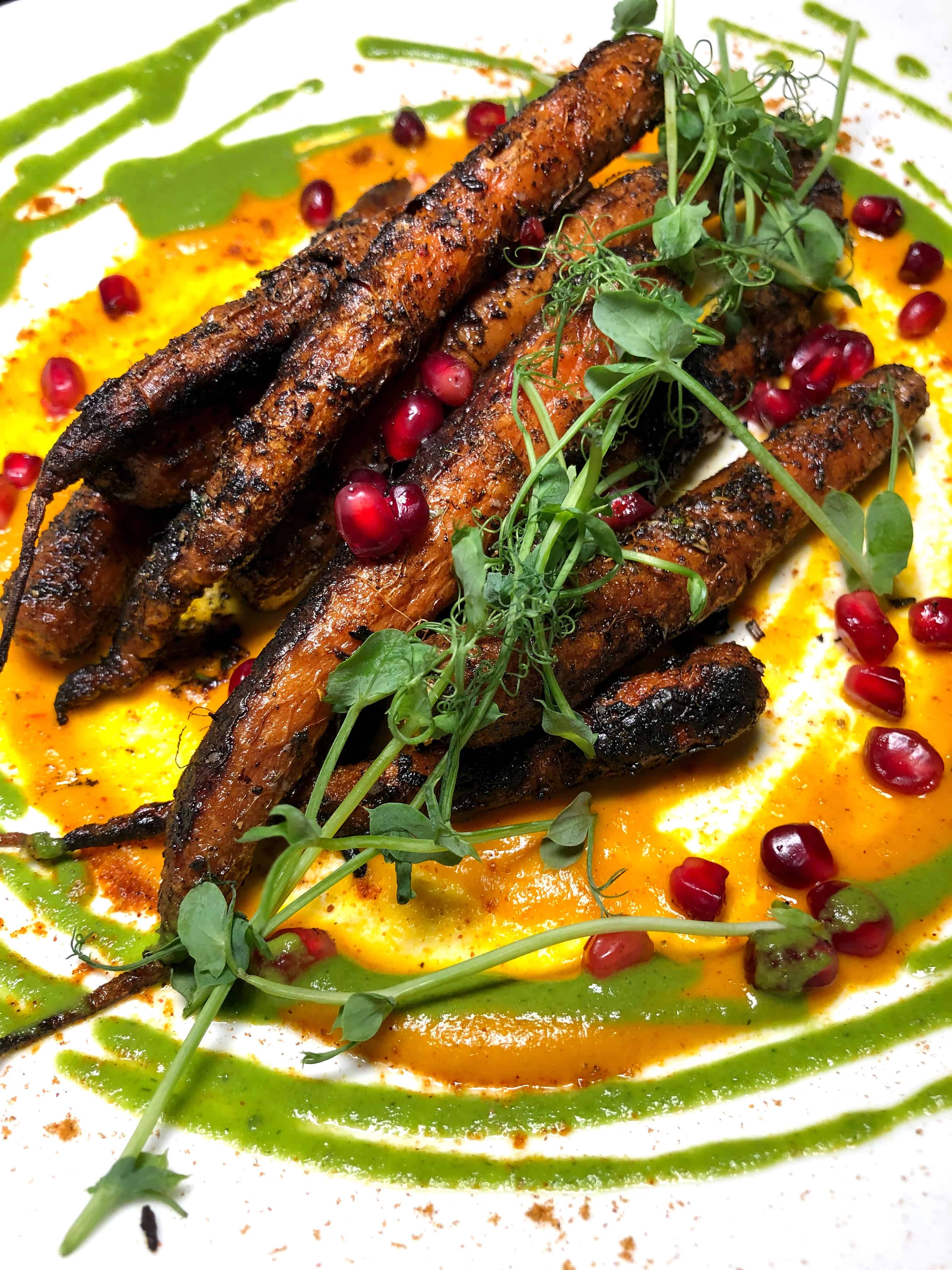 Even though the recipe has "chili" in it, I wouldn't really classify these as spicy roasted carrots. There is a perfect balance between sweet and "spicy" in this recipe, as the spicy element is not overpowering.
How to roast carrots
Roasting carrots is pretty simple. All you need is an oven safe baking dish, like this one from lodge, or even this Pyrex glass baking dish set. You can even use a foiled baking sheet like this one from Rachel Ray.
You'll also want a pair of tongs, I like to have a few of these handy at all times. Those tongs are my favorite because the silicone allows them to be more gentle with the food you're handling. They're great for cooking scallops!
Once you have your cookware, just drizzle olive oil over the carrots, turn to coat, and sprinkle Chile Lime Seasoning over the carrots then turn the carrots again until fully coated.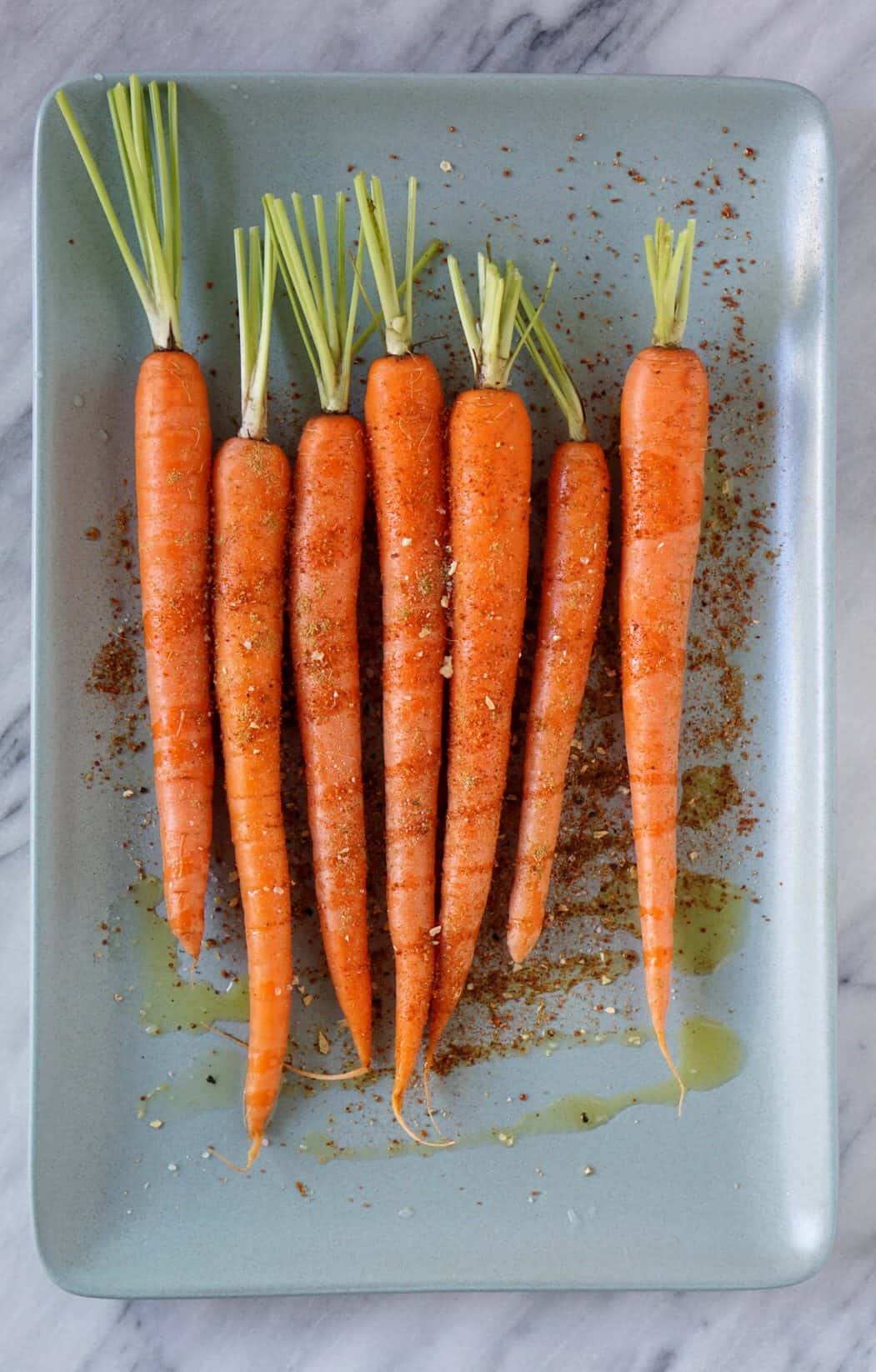 How long to roast carrots
Next, bake the carrots in the oven at 400 F for 25 minutes or until tender enough to poke with a fork. Please don't overcook your carrots until they are complete mush!!
Vegetables should have some texture when you bite into them. Plus, overcooked vegetables don't just lose much of their nutritional value, they also lose a lot of their flavor and color.
Products used in this recipe
I've been getting some emails asking if I could start linking products I recommend to posts more often, so here are the ones I used in this recipe:
These carrots are great if you're cooking for a crowd or even just for yourself on a weeknight. They can be seasoned in the pan you cook them in, so they won't make a mess out of all your dishes!
Want to try these Chili Lime Roasted Carrots?
PIN IT to your vegetable, side dish, or vegetarian board to save it for later!
Find me on Pinterest for more great recipes. I'm always pinning!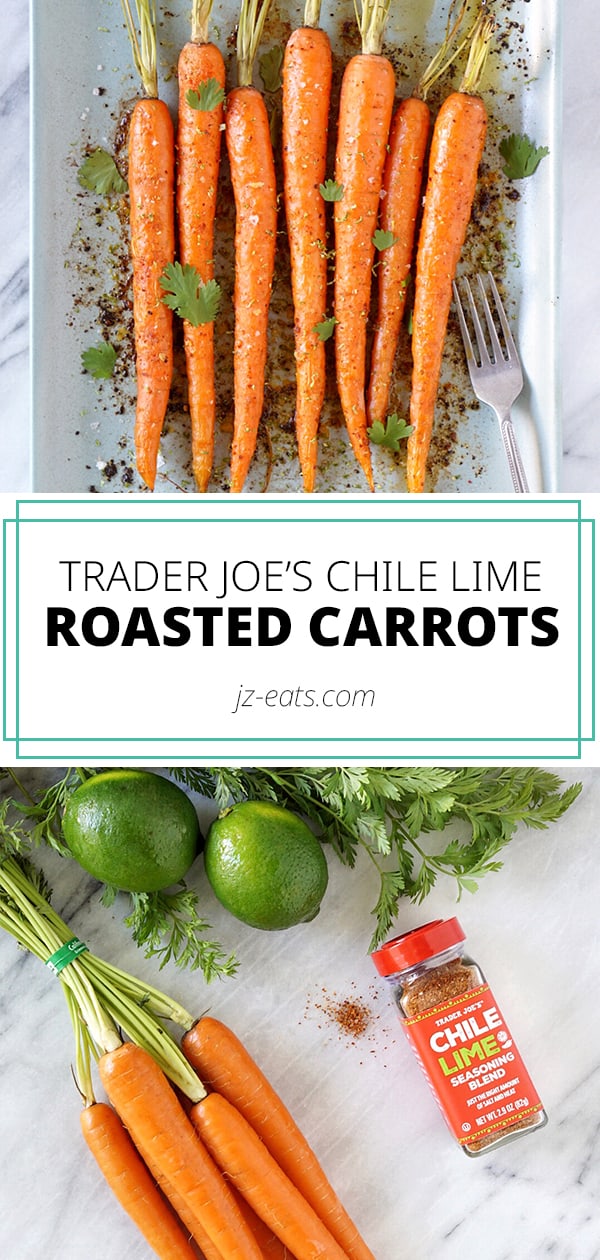 Chili Lime Roasted Carrots
A chili lime roasted carrots recipe perfect for any time of year and any occasion. Serve them over farro or as a nutritious side dish to your favorite protein.
Instructions
Wash carrots well and dry with a paper towel. These carrots are so skinny, they don't usually need to be peeled.

Place carrots on a foiled baking sheet or oven safe baking dish and drizzle olive oil over the carrots. Using tongs, turn to coat. Then add Chile Lime Seasoning, cumin, salt, and pepper. Turn to coat again.

Place the carrots in the oven and roast for 20-25 minutes or until they are tender and begin to caramelize.

When finished, garnish with fresh cilantro and lime zest.
Notes
*If you don't have Trader Joe's Chile Lime Seasoning, substitute it for the juice of half a lime, the zest of a whole lime, and a teaspoon of paprika.
Nutrition
Calories:
49
kcal
|
Carbohydrates:
9
g
|
Protein:
0
g
|
Fat:
1
g
|
Saturated Fat:
0
g
|
Cholesterol:
0
mg
|
Sodium:
60
mg
|
Potassium:
285
mg
|
Fiber:
2
g
|
Sugar:
4
g
|
Vitamin A:
14200
IU
|
Vitamin C:
7.4
mg
|
Calcium:
38
mg
|
Iron:
0.8
mg