This post may contain affiliate links which will not change your price but will share some commission. Please read my privacy policy.
I can't tell you how many times I've gone to a restaurant, ordered scallops, and wished I hadn't.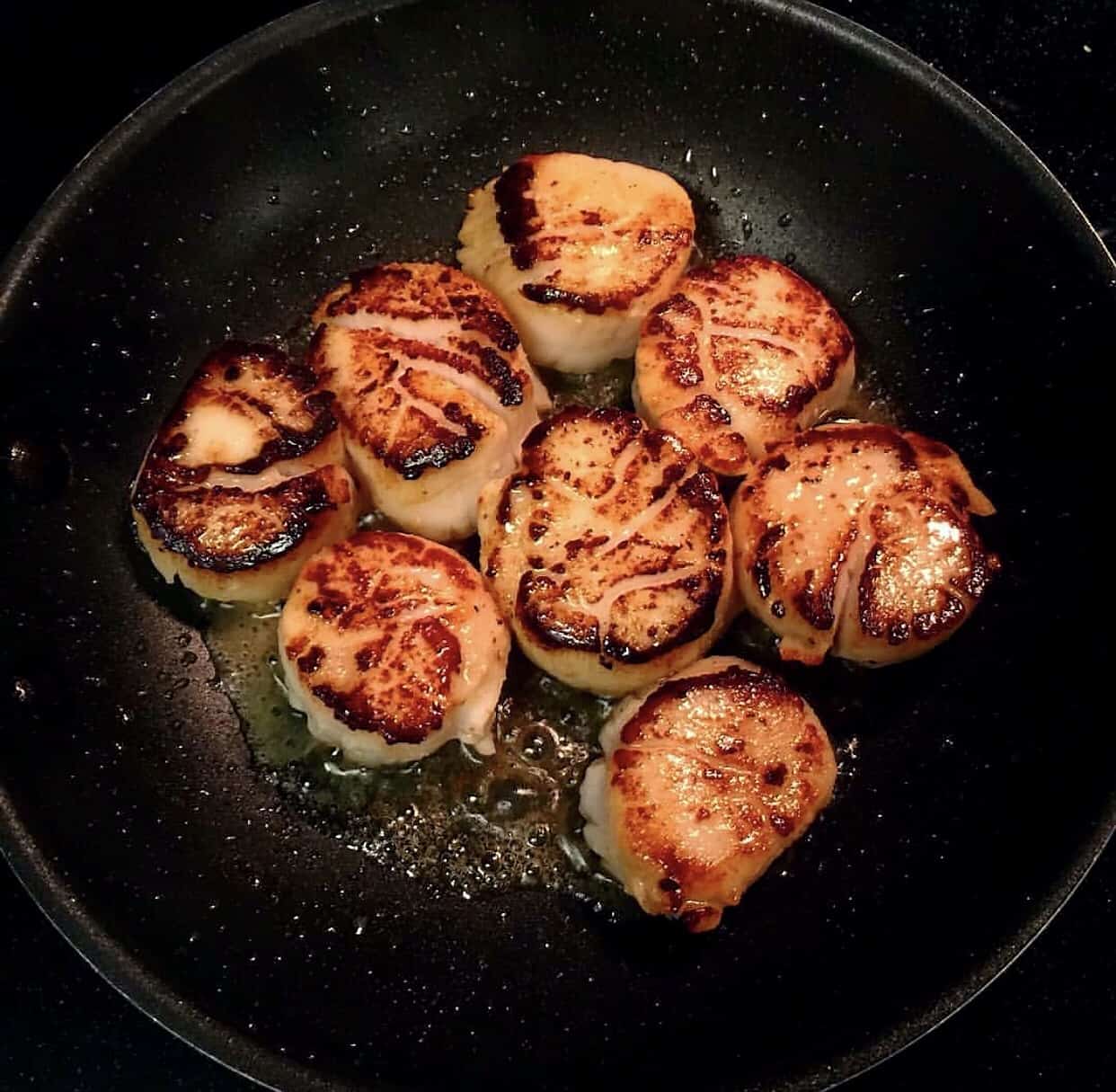 Since they are my absolute favorite. I am constantly on the hunt for the best. Quite frequently, I'm disappointed.
Since restaurants are constantly disappointing me with my favorite food, I've decided to take matters into my own hands. And now I am going to let you in on the secret to making better than restaurant quality scallops every time.
Over the past couple of years I have completely mastered them and I'm so excited for you to master them as well! I promise they are the easiest thing you will ever cook.
I prefer to buy the dry packed scallops because the liquid they are sitting in when you see them in the store is a preservative and actually causes them to shrink while they're cooking. I almost always purchase them from Salt River Lobster, and are conveniently found every Sunday at the JFX Farmer's Market .
If you didn't get dry packed scallops, before you start cooking lay them all flat on a paper towel and let them sit for about 10 minutes.
The nice thing about scallops is that they don't need to be seasoned at all! They are so sweet and the tiniest bit of butter will brown them perfectly.
Here's how to make them:
Heat a medium non-stick pan on high heat with about 1 tbs of olive oil. Let this heat up for about 2-3 minutes and make sure the pan is fully coated.
Once hot, throw in 1/2 tbs of butter followed by the scallops.

Let them cook on the first side for about 2-3 minutes without touching them.
Let the scallops be! If you move them around the pan, they won't get a nice sear!

About a minute into cooking them on the first side, add another 1/2 tbs of butter.
It's important to keep the least amount of "liquid†in the pan as possible, so if it appears that you have too much, just stick the corner of a paper towel in the pan to blot some of the oil up.
As the scallops are cooking, you'll notice they begin to turn opaque. This means they are just about finished! Let the scallops cook about 90% on the first side (usually 3-4 minutes), so once all but the top of the scallop is opaque, flip and finish cooking on the other side – only about 1 minute.
So basically…
1 tbs olive oil
1 tbs butter
Sear 3-4 minutes on the first side
Flip and sear 1 minute on the other side