This post may contain affiliate links which will not change your price but will share some commission. Please read my privacy policy.
Chimichurri Rice will help you break free of the same old side dishes you make every week. This effortless South American side dish transforms plain rice into the most flavorful rice that is sure to make it into your weekly rotation.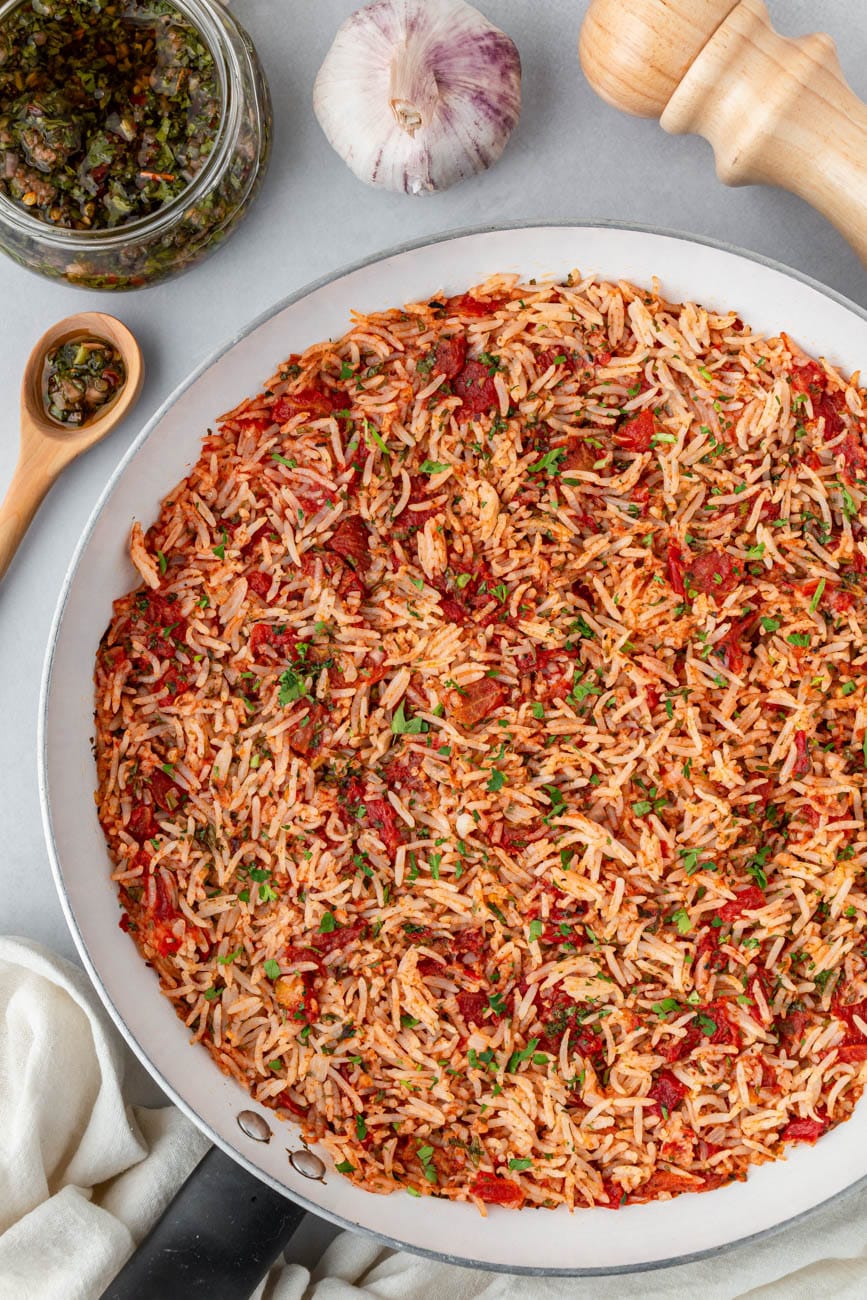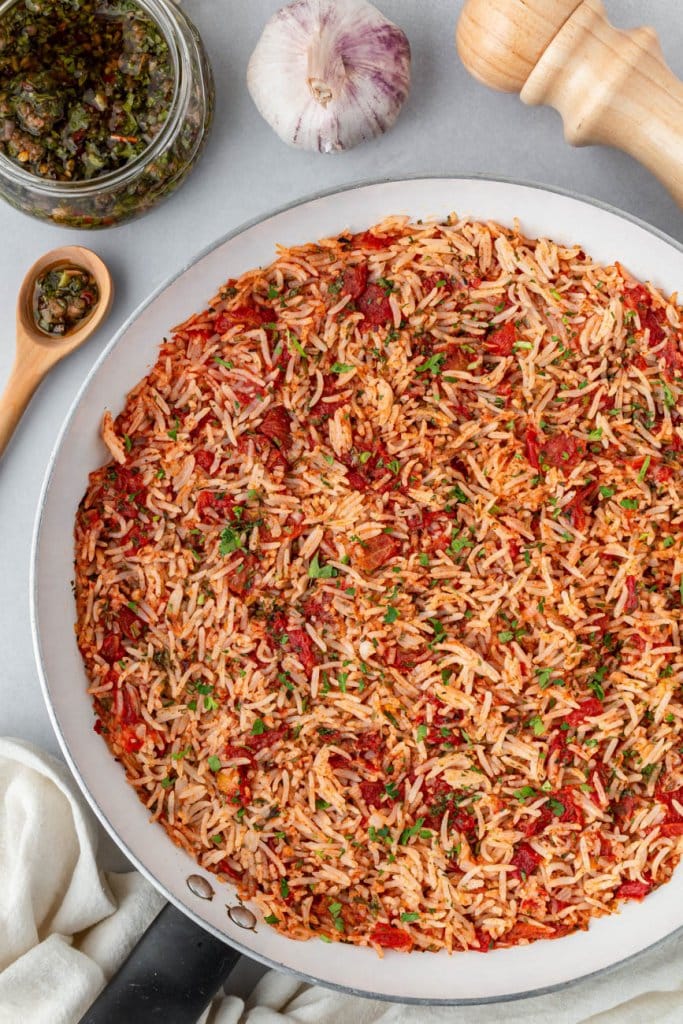 Easy Chimichurri Rice Recipe
This chimichurri rice is an easy and unique side dish that combines the natural flavors of South America with the simplicity of rice. This recipe is full of simple ingredients like white rice, fresh herbs, and the star of the show, the tangy chimichurri sauce.
With a touch of heat from red pepper flakes, this side dish is a great way to elevate your meal. It complements a wide range of main courses, especially grilled meats; and it's a great way to change up your typical sides!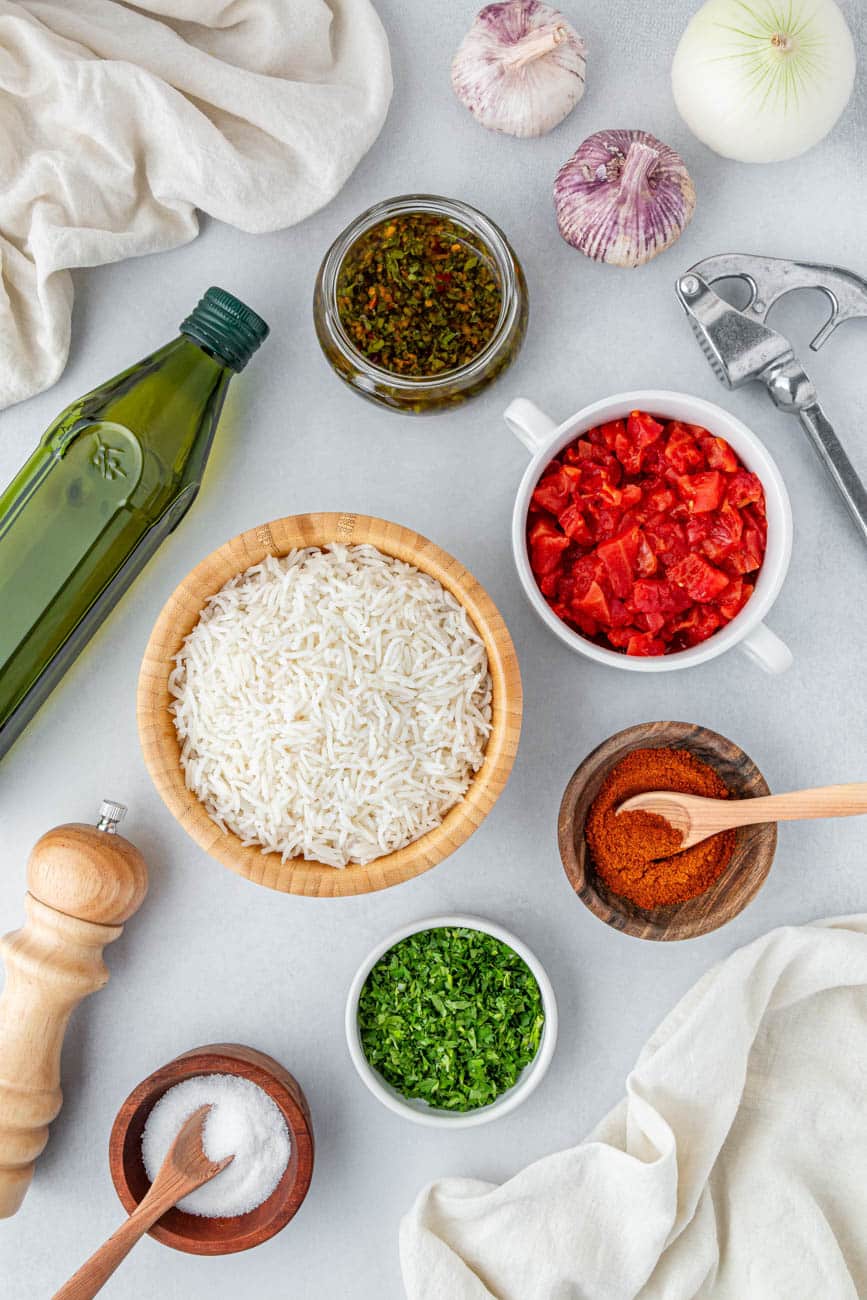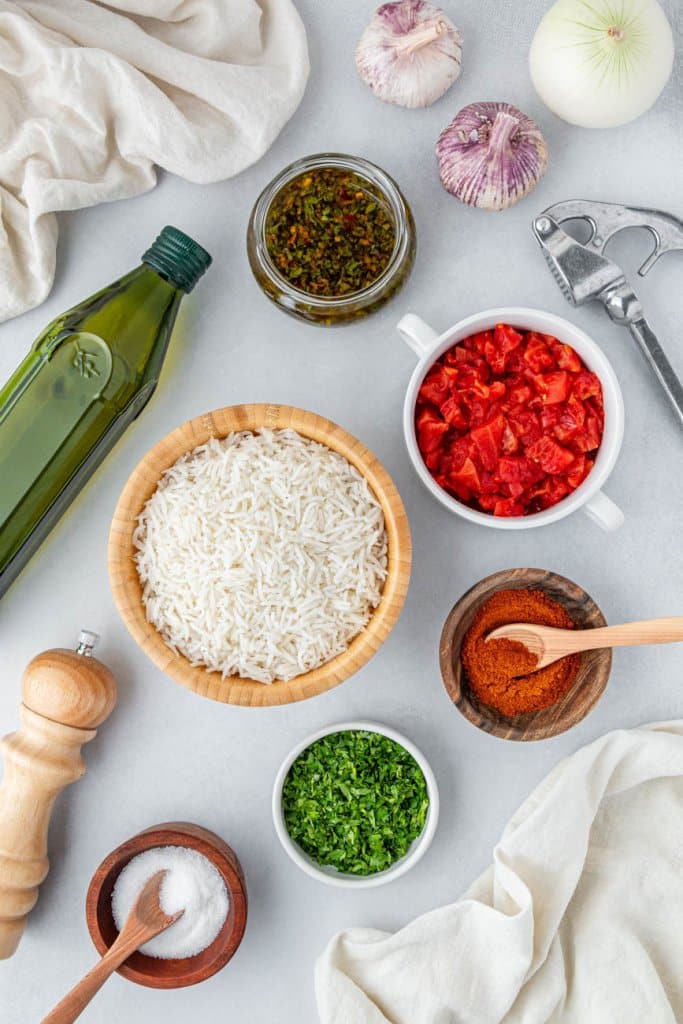 What is chimichurri rice made of?
Olive oil is used as the base of the chimichurri sauce as well as to cook the add-ins for the rice.
Garlic brings a wonderful depth of flavor.
Fresh lime juice adds a zesty and tangy kick.
Red wine vinegar enhances the overall taste and makes the sauce a little tangy.
Diced tomatoes add extra flavor, color, and texture to the rice. The tomatoes are what gives this rice it's beautiful red color.
Seasonings like red pepper flakes, salt, black pepper, fresh parsley, and paprika create a balanced blend of flavors.
White onion gives a savory and aromatic element. If you need to substitute with red onions, they will also work.
Basmati rice offers a fragrant and light texture to the dish, but any long grain white rice can also be used for variety.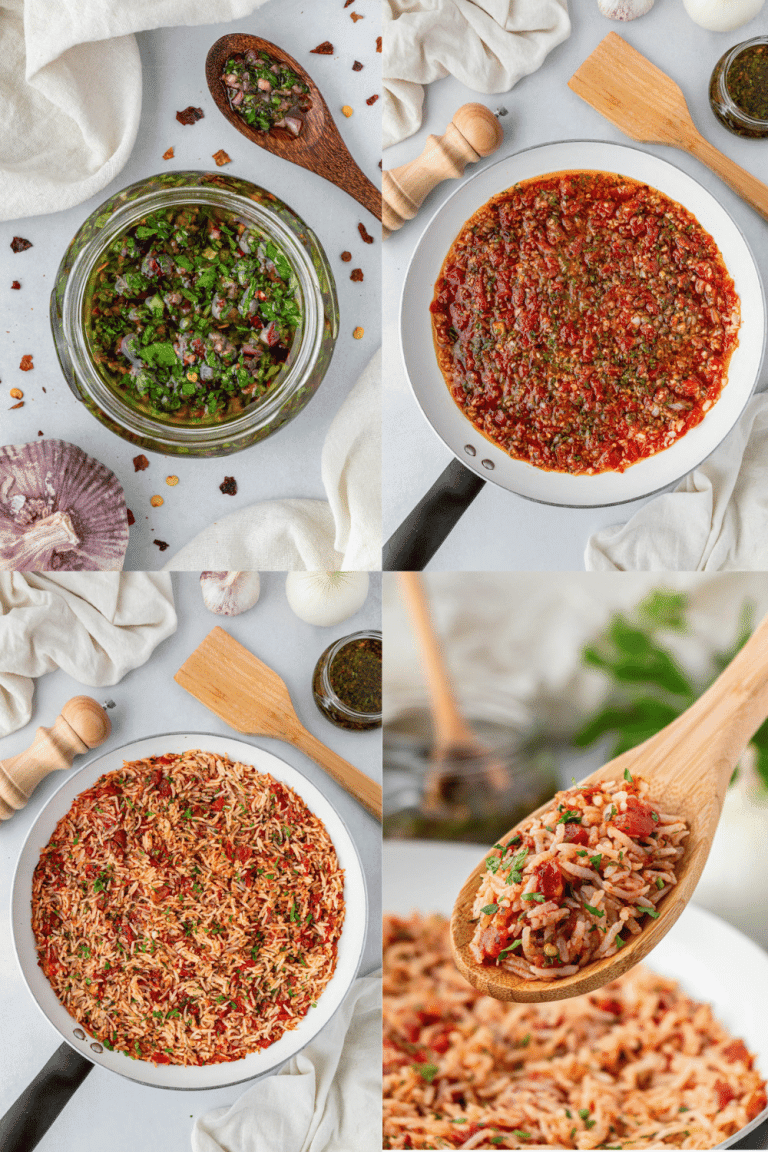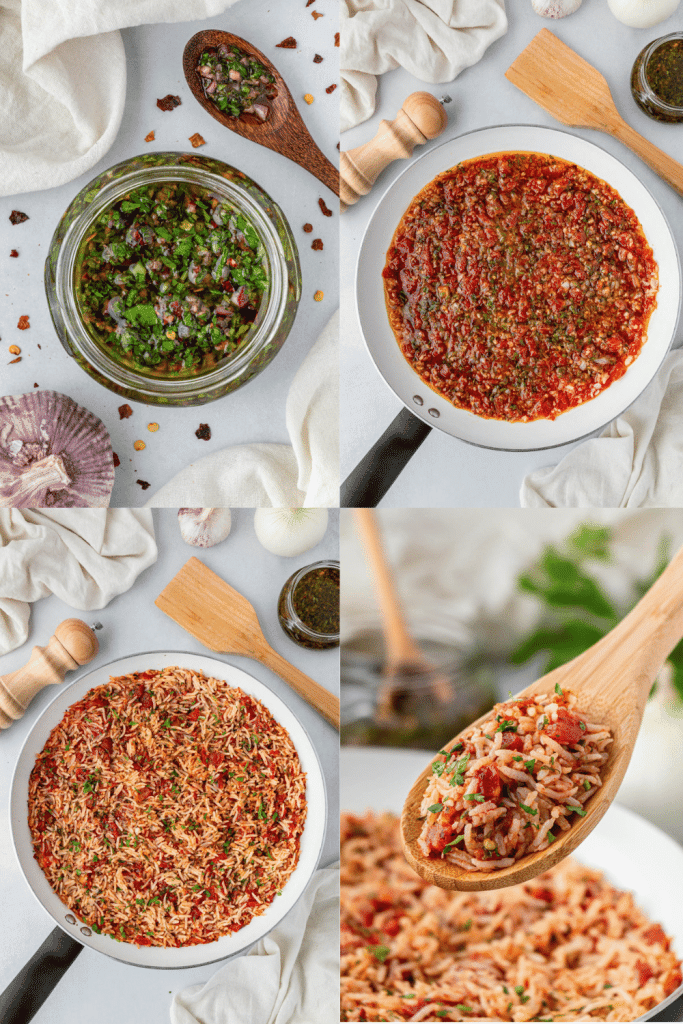 How to Make Chimichurri Rice
1. Make the sauce: in a small bowl, combine the ingredients of the chimichurri sauce. Place it in a jar with a lid, and let it sit for at least 2 hours so the flavors can come together.
2. Make the rice: in a large skillet, over medium-high heat, cook the garlic and onion for 2-3 minutes. Next, add the tomatoes and seasoning. Cook for a couple of minutes. Once it's done cooking, add the cooked rice and chimichurri sauce, reduce the heat, and cook until the rice absorbs the sauce.
Let it cool and serve in a burrito bowl or as a side dish to slow cooker fajitas or air fryer chicken. Try adding a dash of lemon juice once it's finished cooking, it's delicious!
If you want to use a rice cooker or instant pot to cook the rice, you can do that too.
Questions you may have about the recipe
What kind of rice should I use?
I suggest using basmati or another long-grain rice. I really enjoy the lovely scent and flavor of basmati rice in this recipe. Some people will use brown rice for added nutrition and that's fine too!
Before adding the chimichurri to the rice, cook the rice beforehand. Make sure the sauce is stored in the refrigerator for at least 2 hours. You can also make it the day before.
To store leftover chimichurri rice, place them in an airtight container and spread out the rice using a rice spatula to avoid clumps.
What does chimichurri taste like?
Chimichurri rice has a prominent flavor of fresh herbs, garlic vinegar, and lime. These ingredients lend a tangy note to the tomato rice. This tanginess helps balance the richness of the rice and any accompanying proteins. It has a slight kick from the red pepper flakes.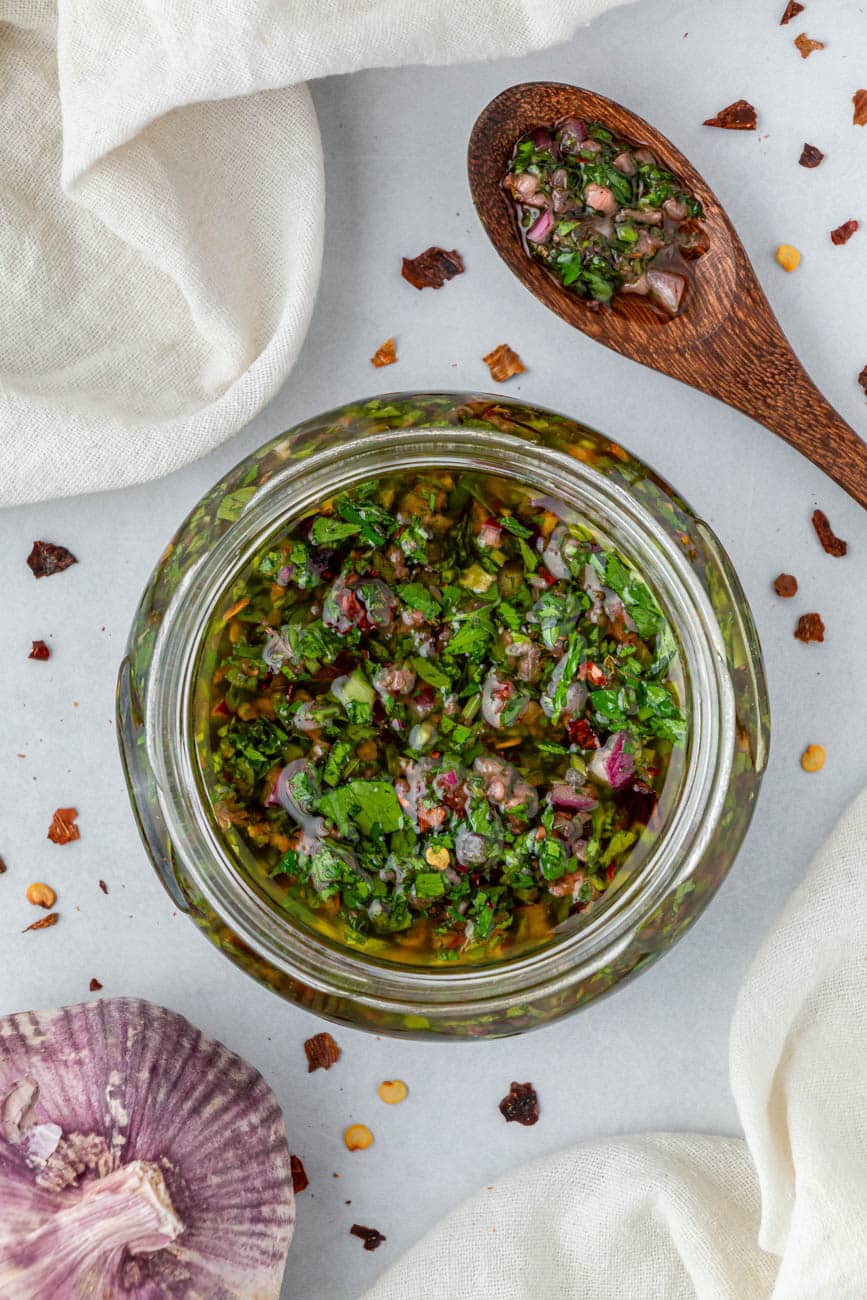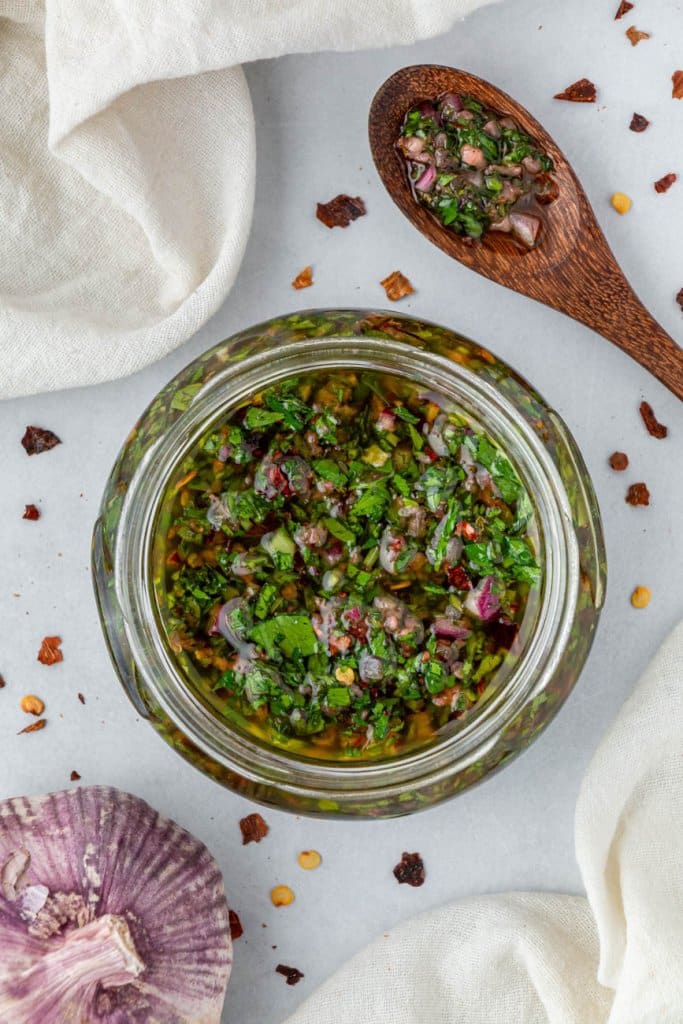 What do you use chimichurri with?
In addition to making chimichurri rice, you can also use homemade chimichurri sauce to add flavor to grilled meats, like Chimichurri Steak, any of these air fryer vegetable recipes, sandwiches, and even as a zesty dipping sauce.
Is chimichurri hot or spicy?
Chimichurri has a little bit of heat from red pepper flakes, but it's not overly spicy. You can easily adjust the heat by adding more or less red pepper flakes. You can also add chili flakes or chili pepper.
What else can I add to chimichurri rice?
To make your chimichurri rice even more delicious, you can toss in bell peppers or garden peas. And for an extra burst of flavor, think about adding fresh cilantro or a dollop of creamy sour cream. These simple additions can take your chimichurri rice to a whole new level of yum!
Is it good for meal prepping?
Chimichurri rice is great for meal prep! I like to store mine in an airtight container and use it as a base to make this Southwest Steak Bowl. This makes it easy to have a flavorful meal ready to go when you need it.
If you're making the chimichurri sauce ahead of time, make sure to store it in the refrigerator, and remove it at least one hour before adding it to the rice to let it come back to room temperature.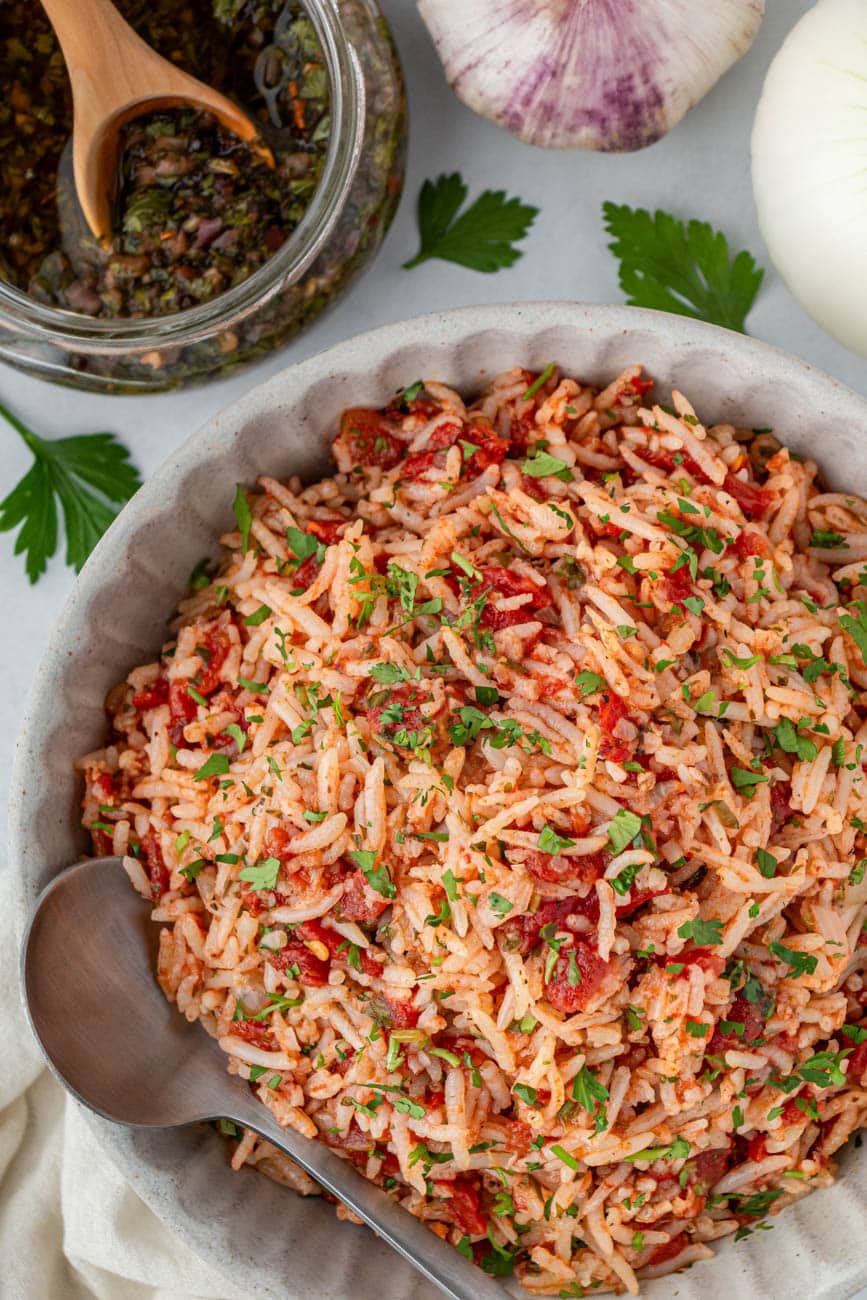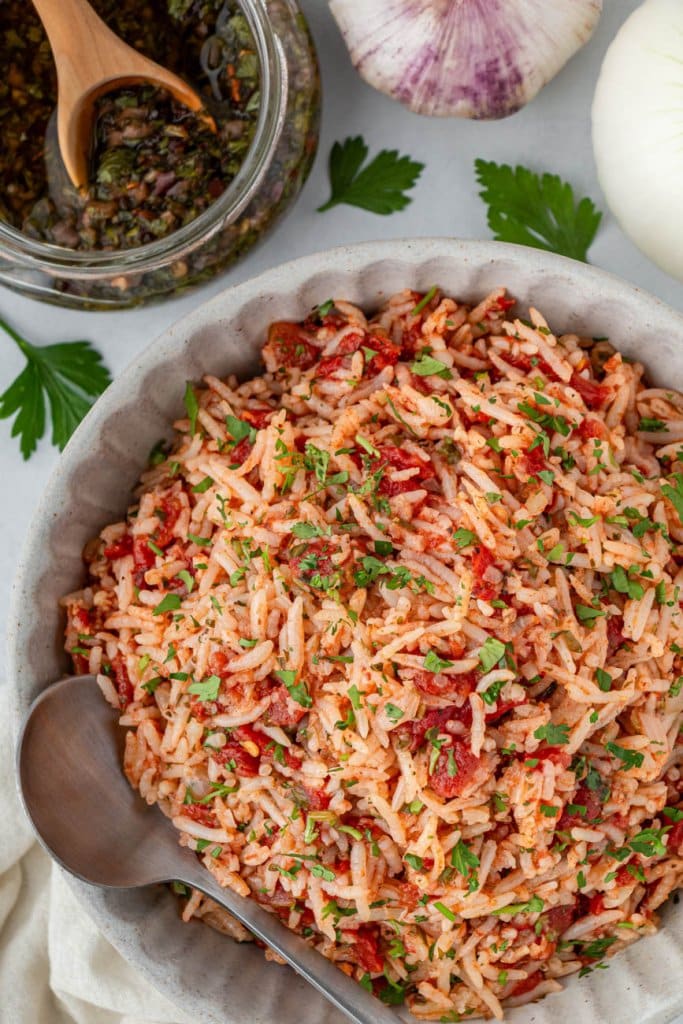 How to store leftover rice
To store leftover rice, transfer it to an airtight container or resealable plastic bag while it's still warm to prevent moisture from escaping. It can be refrigerated for 3-4 days.
How to Store Leftover Chimichurri: Chimichurri sauce will last for 7 to 14 days when stored in an airtight container in the refrigerator. It will start to lose its freshness and flavor over time.
Freezing Chimichurri Sauce: The sauce can be stored in the freezer for about 2 to 3 months and still maintain its flavor and quality. Keep it in an airtight container like sauce storage cubes or a freezer bag.
How to reheat
To reheat chimichurri rice, thaw the frozen rice and sauce in the refrigerator overnight, if needed. Once thawed, let the sauce sit at room temperature for an hour and then combine with the rice, following the directions in step 3.
If the rice has already been combined with the sauce, reheat in a skillet until heated through, or use a microwave.
WANT TO TRY THIS CHIMICHURRI RICE RECIPE?
PIN IT to your rice recipes or side dish recipes board to save it for later!
Find me on Pinterest for more great recipes. I'm always pinning!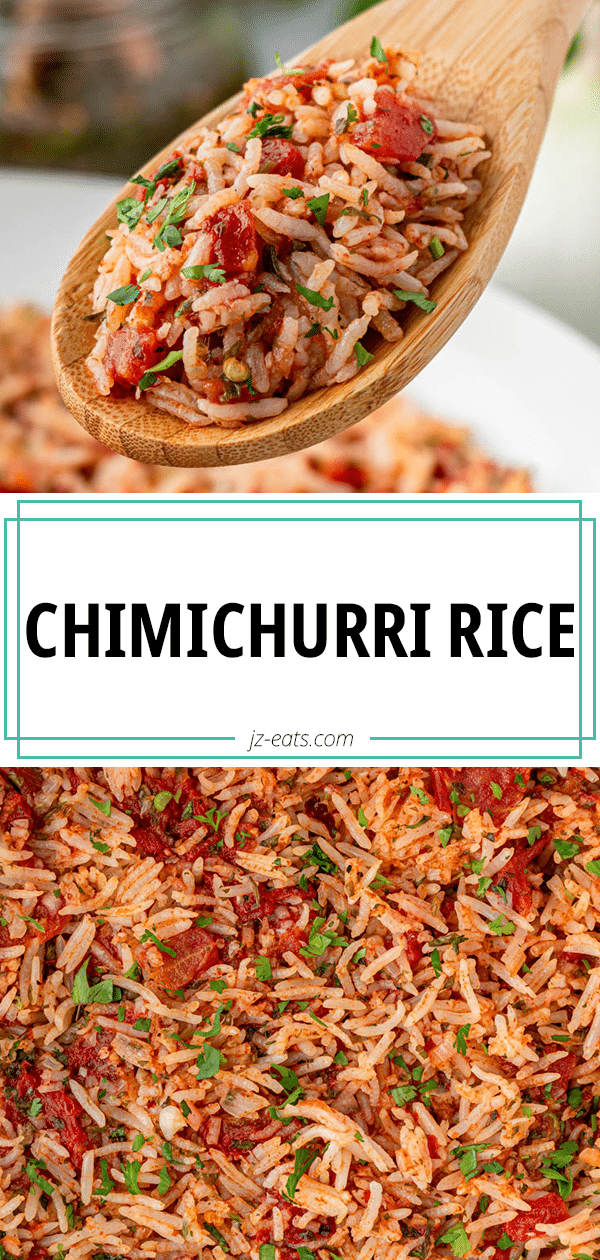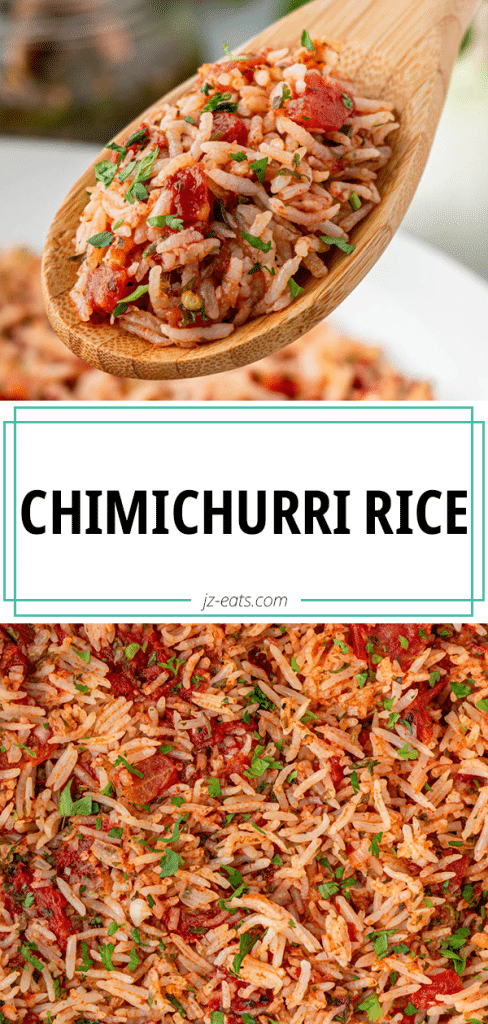 Did you make this recipe? Post a photo on Instagram and tag me @JZEATS or #JZEATS so I can see! Leave a comment below and let me know what you think, too!
Chimichurri Rice
Bursting with zingy herbs, tangy twists, and a touch of sizzle, this Chimichurri Rice recipe steals the show as a main course or a flavorful rice side dish. Uncover the secret to crafting this simple dinner that's bound to make taste buds dance!
Ingredients
CHIMICHURRI
1/4

cup

olive oil

1/2

tbsp

tablespoon garlic,

finely minced or pressed

1

tbsp

red onion,

finely minced

1/4

cup

fresh parsley,

minced

1/2

tbsp

lime juice,

freshly squeezed

1

tbsp

red wine vinegar

1/2

tsp

red pepper flakes

1/2

tsp

salt
RICE
Instructions
In a small bowl, combine the olive oil, garlic, red onion, parsley, lime juice, red wine vinegar, red pepper flakes, and salt. Place the chimichurri in a jar with a lid and let it sit for at least 2 hours. This allows the flavors to infuse into the olive oil properly.

In a large skillet, add the olive oil over medium-high heat, then add the garlic and onion and cook, stirring, for 3 minutes. Next, add in the diced tomatoes, paprika, salt, and ground black pepper, and cook for an additional 3 minutes.

Add the cooked rice and chimichurri sauce, then reduce the heat to low and stir well as the rice absorbs the flavors of the chimichurri.

To serve, transfer the rice to a serving bowl and sprinkle chopped fresh cilantro.
Nutrition
Calories:
688
kcal
|
Carbohydrates:
118
g
|
Protein:
11
g
|
Fat:
18
g
|
Saturated Fat:
3
g
|
Polyunsaturated Fat:
2
g
|
Monounsaturated Fat:
13
g
|
Sodium:
1029
mg
|
Potassium:
418
mg
|
Fiber:
3
g
|
Sugar:
3
g
|
Vitamin A:
754
IU
|
Vitamin C:
17
mg
|
Calcium:
87
mg
|
Iron:
3
mg