This post may contain affiliate links which will not change your price but will share some commission. Please read my privacy policy.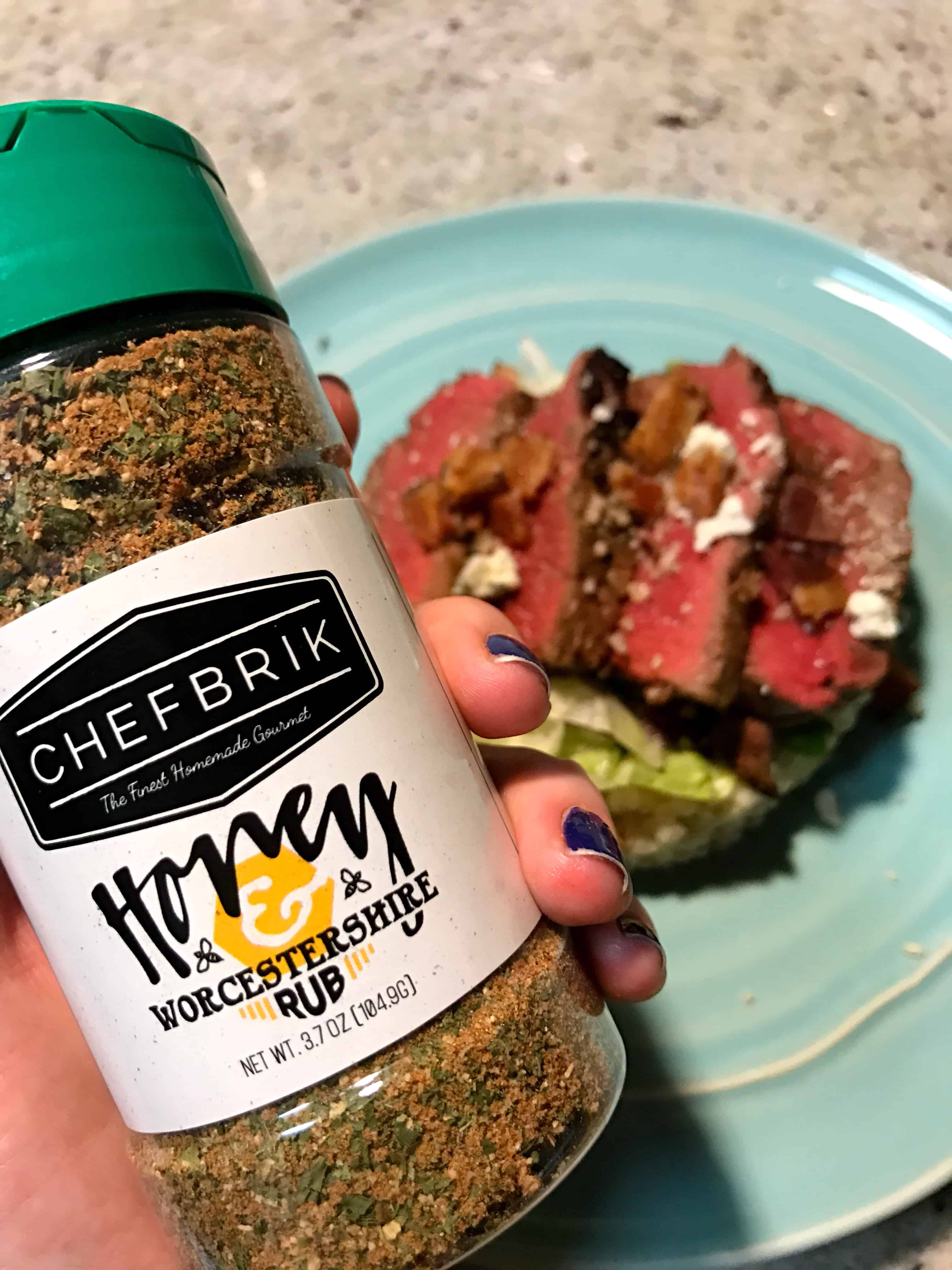 When making salads I always pick out all the good stuff, leave the lettuce, and oftentimes am still hungry. This time I decided to nix the bowl of lettuce and use one of my favorite filler foods…couscous!
I love this because it's different and I've never seen blue cheese & couscous together.
When Chef Brik sent me his collection of dry rubs, I knew exactly what I wanted to do with them. Since I don't eat meat often, I like to make sure it's special when I do.
For this dish, I used some of the best quality meat and cheese I could find at Whole Foods. Here's how:
Filet Mignon "Wedge" Salad
Servings: 2
Difficulty: easy
A modern take on the classic wedge salad.
Ingredients
Two 6 oz pieces of filet mignon
4 strips of bacon (cooked and chopped)
Cherry tomatoes (halved)
½ Cup half & half
2 tbs Butter
Black pepper to taste
Salt to taste
1 tbs Garlic (minced)
¼ Cup red onion (chopped)
Parsley to taste
8 ounces blue cheese
Shredded iceberg lettuce
Directions
Note: Reserve some bacon and blue cheese to top the dish!
Pre-heat oven to 400 degrees with cast iron inside
While the oven is heating, prepare each filet by brushing olive oil and garlic on all sides, finish by generously coating them with Honey Worcestershire rub.
Remove cast iron from oven and place on stove at medium-high heat
Add a splash of olive oil to the pan and sear each filet for 7 minutes on both sides
Place ½ tbs of butter on each filet, place in oven and bake for 8 minutes or until they are done to your liking

Once the steak has reached its desired temperature, remove from oven and let sit for 5-10 minutes

Cut each filet into 1.5 inch strips
While the steak is in the oven, cook the couscous according to the package directions. When couscous is near done, begin mixing in the blue cheese sauce.
Adjust the heat (if necessary) to low, pour in the half and half and add 1 tbs butter
Crumble the blue cheese into the couscous (the smaller you crumble it, the better otherwise it will take longer for it to melt into a sauce)
Stir the couscous with the cheese, half and half, parsley, and butter using a spoon/spatula to break up the cheese, if necessary. Continuing stirring until the sauce is smooth.
Mix in chopped bacon and red onion
Season the couscous and sauce with salt and pepper to taste
Plate it fancy:
Place couscous down first, add lettuce, top with filet strips and finish with remaining bacon and blue cheese. Place tomatoes around the couscous and top with a salt and pepper.
This post was written by me on behalf of Chef Brik's signature rub collection. Although the products were a gift from Chef Brik, all thoughts and opinions are my own.