This post may contain affiliate links which will not change your price but will share some commission. Please read my privacy policy.
A recipe for Garlic Butter Shrimp that makes the most plump and juicy sautéed shrimp! Perfect for serving over pasta, rice, or zoodles!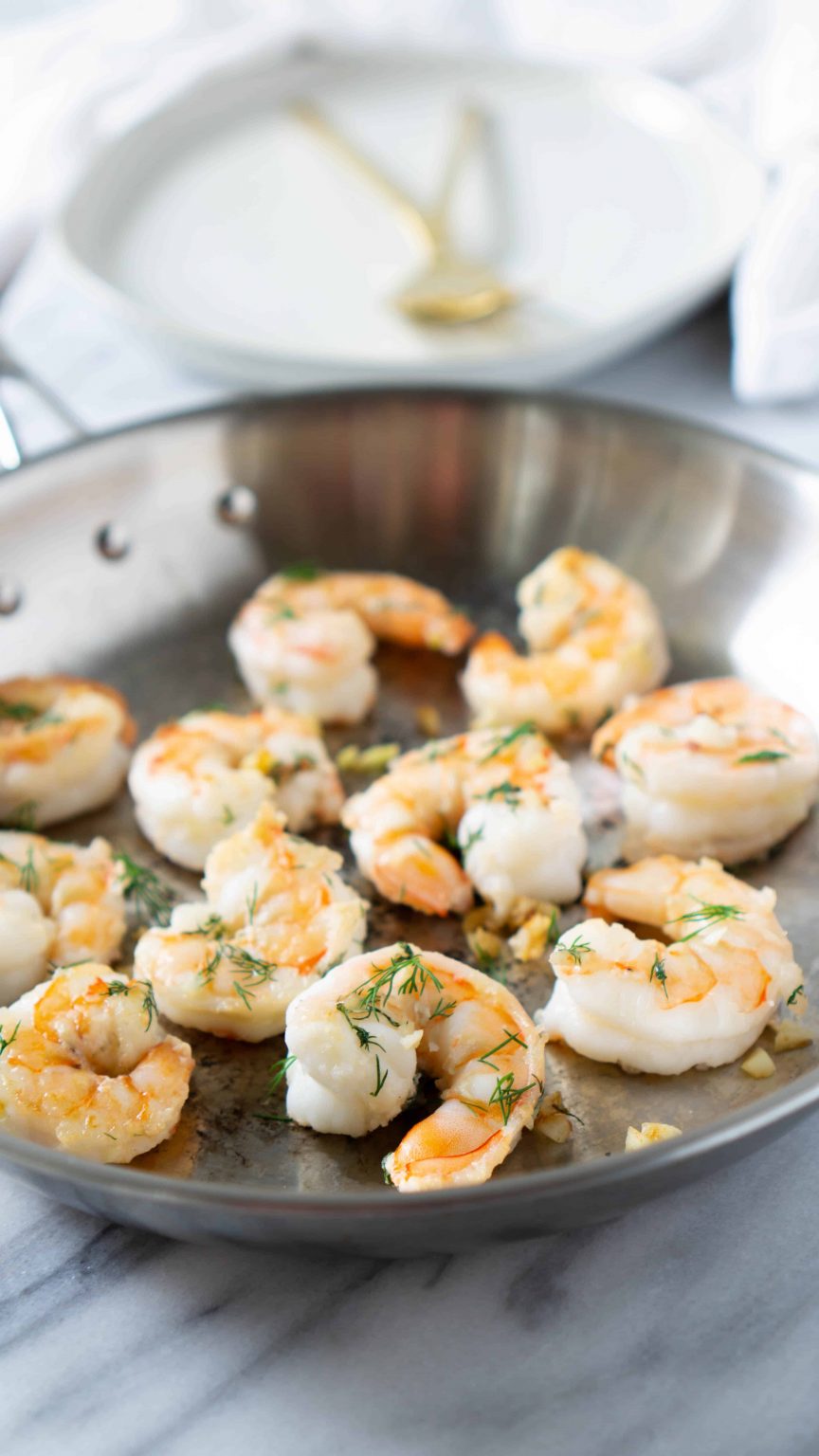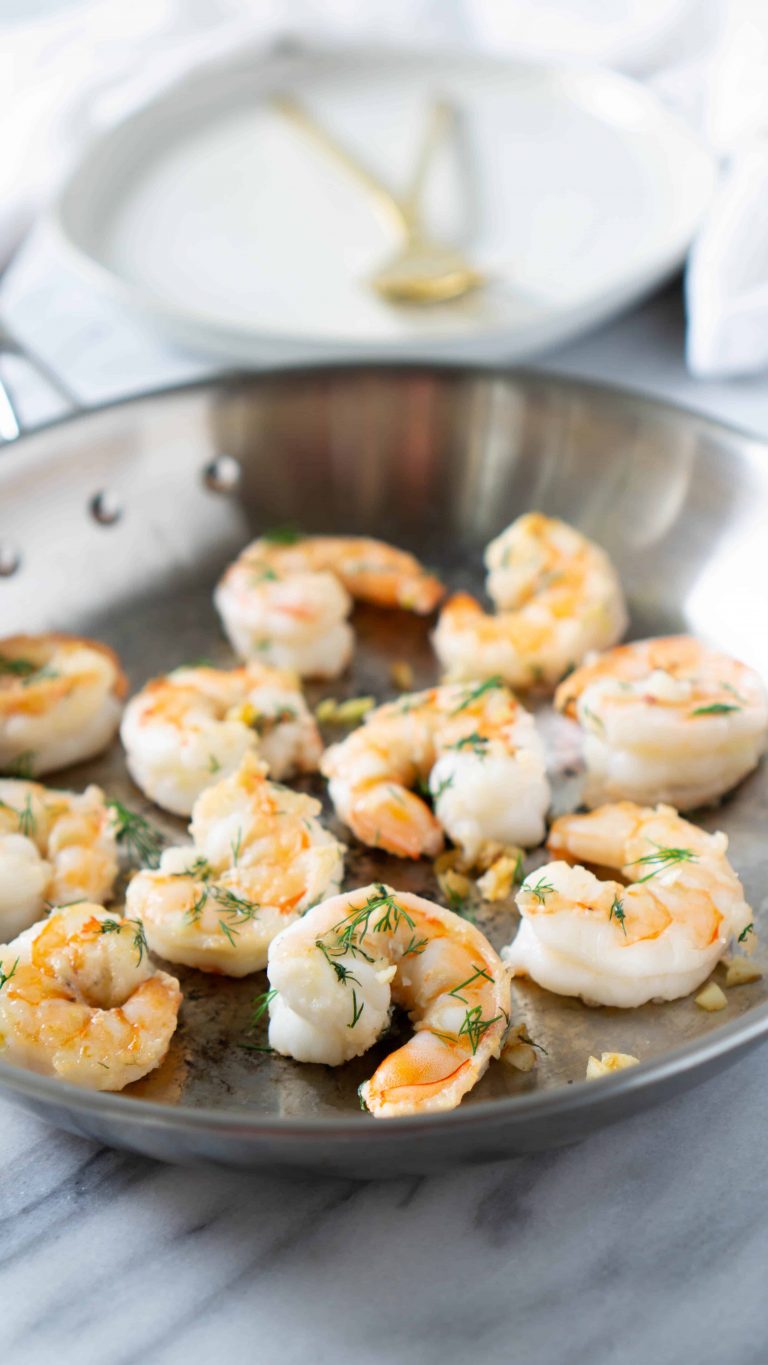 Looking for more shrimp recipes? You'll want to give these Drunken Tequila Lime Shrimp, Hawaiian Shrimp Taco Bowls, and Blackened Shrimp a try next!
Easy Garlic Butter Shrimp Recipe
I have been making this Garlic Butter Shrimp Recipe for years. I'm shocked is hasn't made it on the blog yet!
In the early stages of my blog, I posted a similar garlic shrimp recipe for One Pan Garlic Parmesan Shrimp Spaghetti that is so delicious.
Shrimp one of my favorite things to cook because they're easy to flavor, easy to make, and easy to clean up.
How to buy shrimp
You can buy them fresh with their tails on (this is how I buy them) or frozen, already peeled and deveined. Sometimes, you can even find fresh shrimp with their tails removed. Or if you ask really nicely, the person working behind the counter might even peel them for you!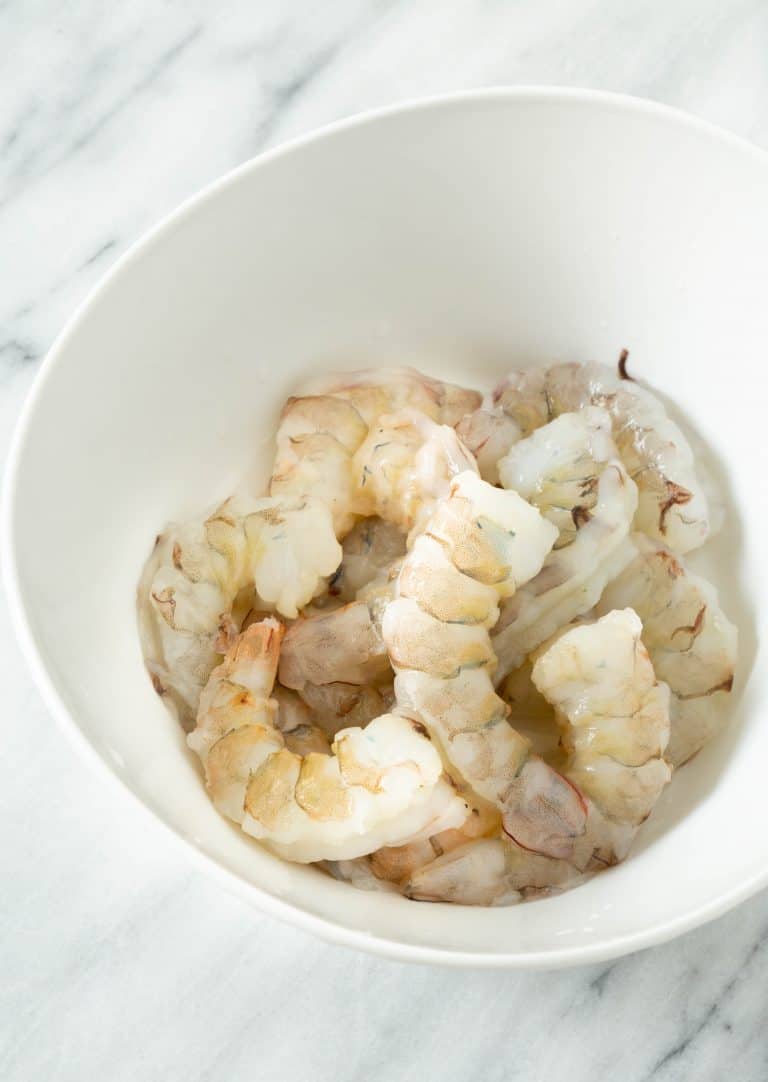 If you are buying them with their tails on, you will need to remove the entire tail and devein the shrimp before cooking them.
Do shrimp need to be deveined?
Technically…no. The vein is not the "poop" as many people think. It's actually the digestive track and will not be harmful to you if you decide to eat it. However, that sounds really gross to me and it looks pretty unappetizing, especially in the larger ones, so I always devein shrimp before cooking them!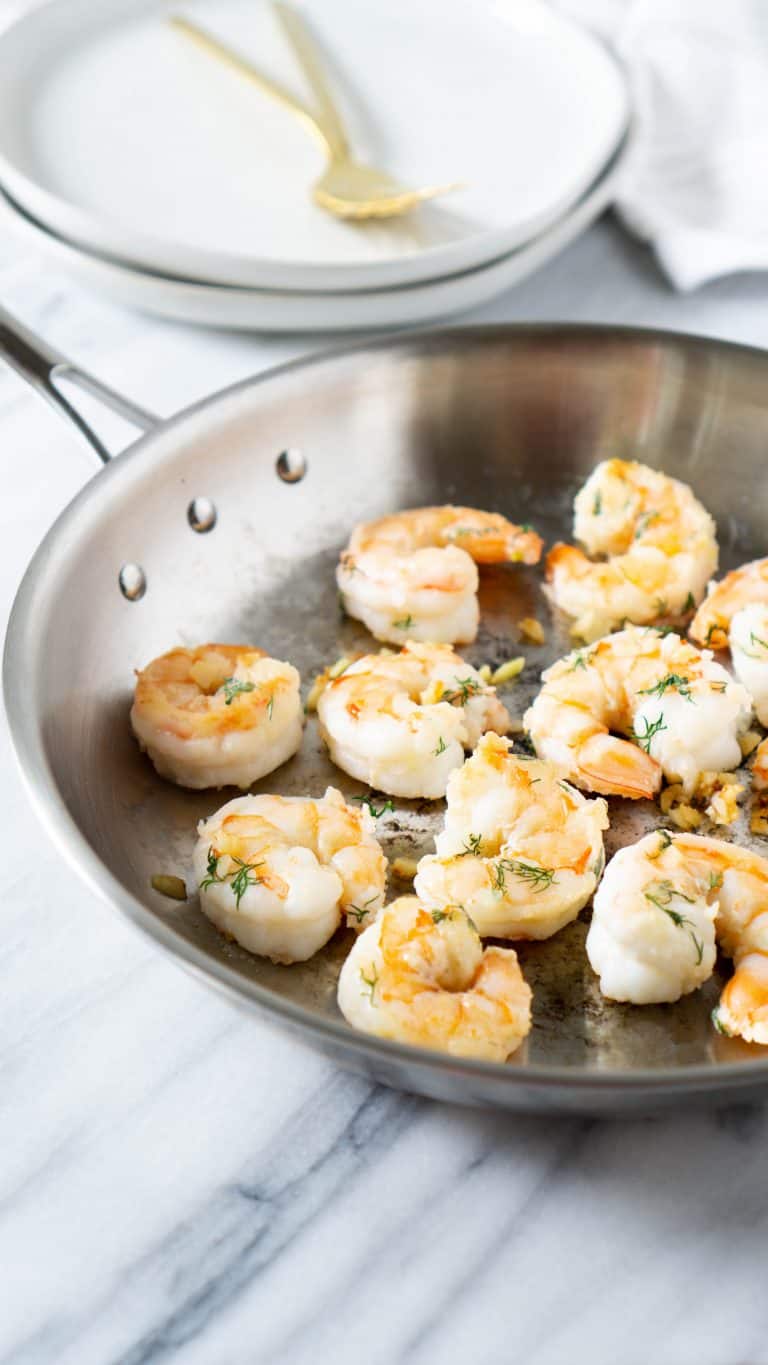 I love sautéed shrimp like these because they are quick and easy! If I'm making something like a garlic shrimp pasta, I'll prepare all of the ingredients and save the shrimp to cook last so they can be served fresh out of the skillet.
Seriously, these Garlic Butter Shrimp are on the table in less than 10 minutes!
How to make Garlic Butter Shrimp
First, I recommend buying the largest shrimp you can find. They always shrink when they cook and to avoid serving anything but the most plump, delicious looking shrimp, you'll want to get the big ones.
A recipe for Garlic Butter Shrimp that makes the most plump and juicy sautéed shrimp! Perfect for serving over pasta, rice, or zoodles!
Shrimp are typically measured by the pound, and from a little bit of research, it seems like depending on where you live they will be considered "medium, large, or jumbo". I live in Maryland where we get some of the best seafood, so jumbo shrimp have about 10-15 in a pound. That's what I used in this recipe.
Ready to cook!
Once you have your peeled and deveined shrimp, you'll add garlic, white cooking wine (or if you're like me, a splash from the bottle you're drinking), and dill to a bowl and toss.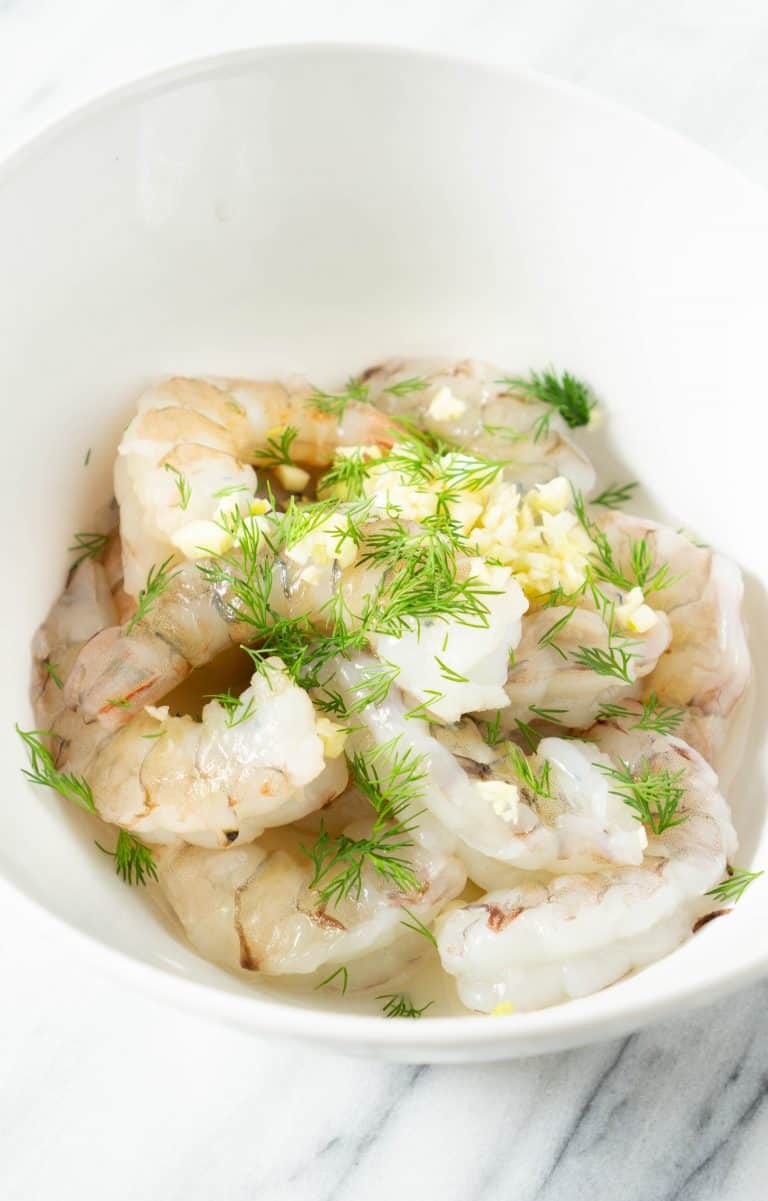 Let that garlicky situation marinate for about 10 minutes.
Most garlic butter shrimp recipes use parsley, but I used dill in this one because I feel like dill is so underrated sometimes. It's also kind of creamy in my opinion (not sure if anyone agrees here) and I love that, especially if you're making something like a lemon garlic shrimp pasta…omg yum!
For the best taste, make sure you're using fresh garlic, not the jarred garlic. Though I'm guilty for reaching for the jarred garlic in my fridge once in a while, it just doesn't taste the same as fresh garlic and we want the ultimate garlic flavor in this recipe!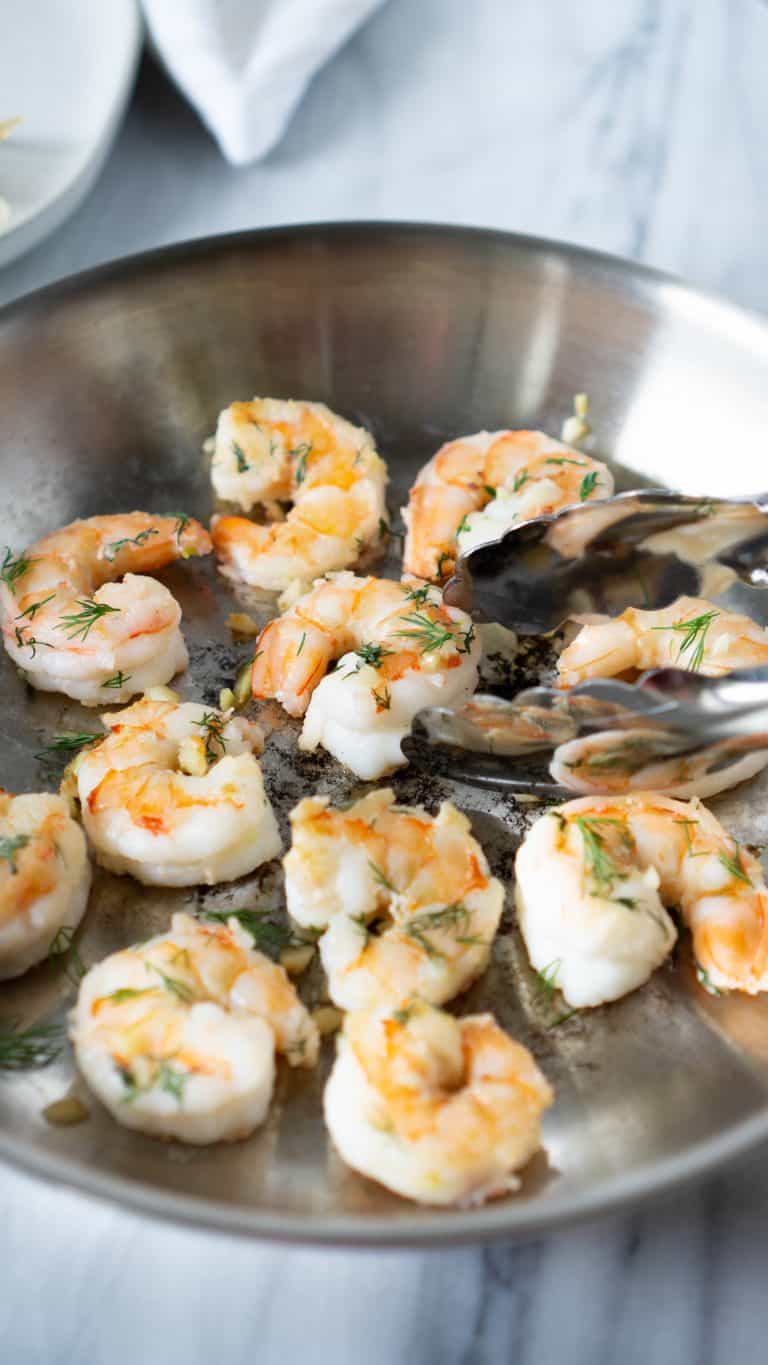 Then, you'll melt some butter in a large skillet over medium heat with a little bit of olive oil to keep it from burning. Add the marinated shrimp to the pan and cook over medium-high heat for 2-3 minutes on each side until the shrimp turn pink and opaque, and voila! Beautiful, plump shrimp that are full of flavor.
Can shrimp be used for meal prep?
Yes! They are great for meal prepping, but I don't recommend cooking them more than 3 days in advance. So, if you are looking to meal prep for the entire week, I suggest making enough for Monday, Tuesday, and Wednesday, then making another batch on Wednesday night. It takes less than 10 minutes to cook shrimp, so it's not a huge time suck!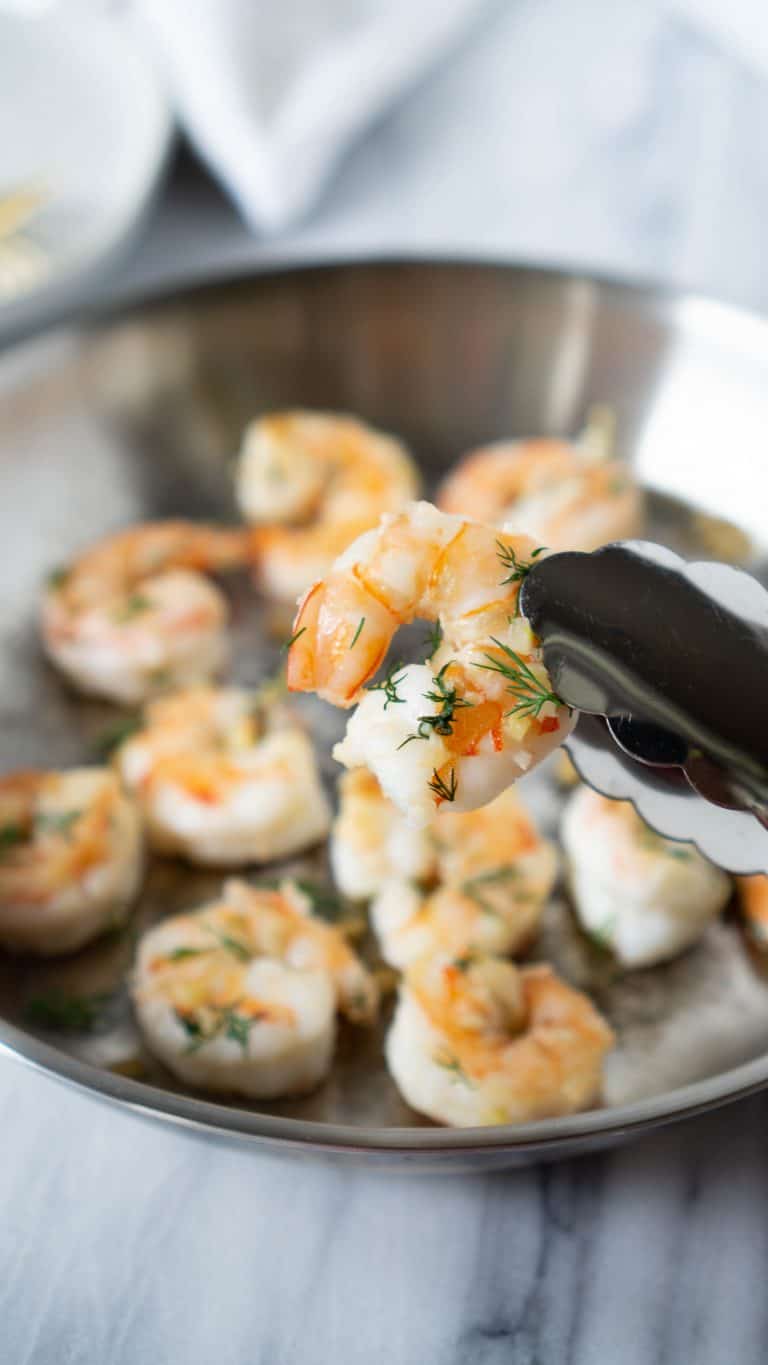 Other flavor options
You don't have to stick to the recipe 100%, you can add some lemon juice to make lemon garlic shrimp or add some red pepper flakes for a kick. They're delicious with some grated parmesan cheese on top!
If you're watching your calories or cholesterol, you can make these garlicky shrimp with olive oil instead.
Garlic Butter Shrimp are one of my favorite weekly go-to because you can always keep a bag of frozen shrimp handy!
Want to try these Garlic Butter Shrimp?
PIN IT to your appetizer, dinner recipes, or shrimp recipes board to save it for later!
Find me on Pinterest for more great recipes. I'm always pinning!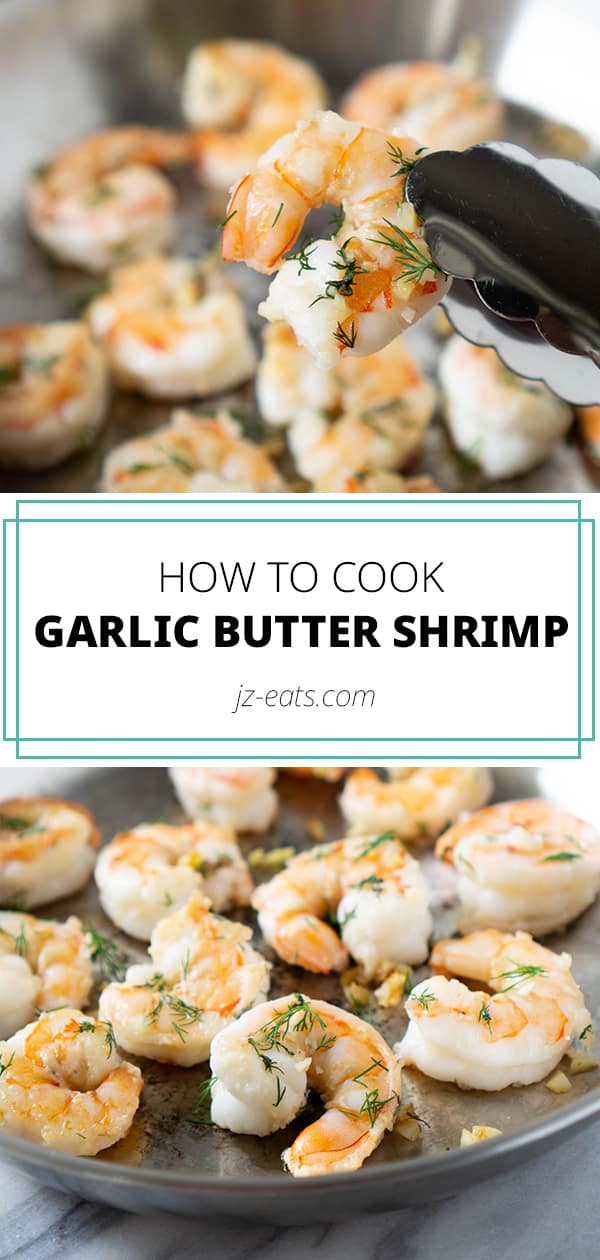 Garlic Butter Shrimp
A recipe for Garlic Butter Shrimp that makes the most plump and juicy sautéed shrimp! Perfect for serving over pasta, rice, or zoodles!
Ingredients
1

lb

jumbo shrimp,

peeled and deveined

1/2

tablespoon

olive oil

3

tablespoons

butter

1

tablespoon

white cooking wine

2

large garlic cloves,

minced
Instructions
In a medium-sized mixing bowl, toss the shrimp with the olive oil until fully coated.

Heat a large skillet with a splash of olive oil on medium-high heat.

Add the shrimp to the pan in a single layer without overcrowding the pan, cook 1-2 minutes on each side until the shrimp are pink and opaque. Just before the shrimp are finished cooking, add the butter, white wine, and garlic. Toss the shrimp in the garlic butter for about a minute. (I usually toss them around the pan for the full minute) Garnish with fresh herbs like dill or parsley, and serve!
Nutrition
Calories:
210
kcal
|
Carbohydrates:
1
g
|
Protein:
23
g
|
Fat:
8
g
|
Saturated Fat:
6
g
|
Cholesterol:
108
mg
|
Sodium:
575
mg