Learn how to make the best blackened shrimp in your kitchen! This recipe makes the most bold and flavorful cajun blackened shrimp in only 10 minutes.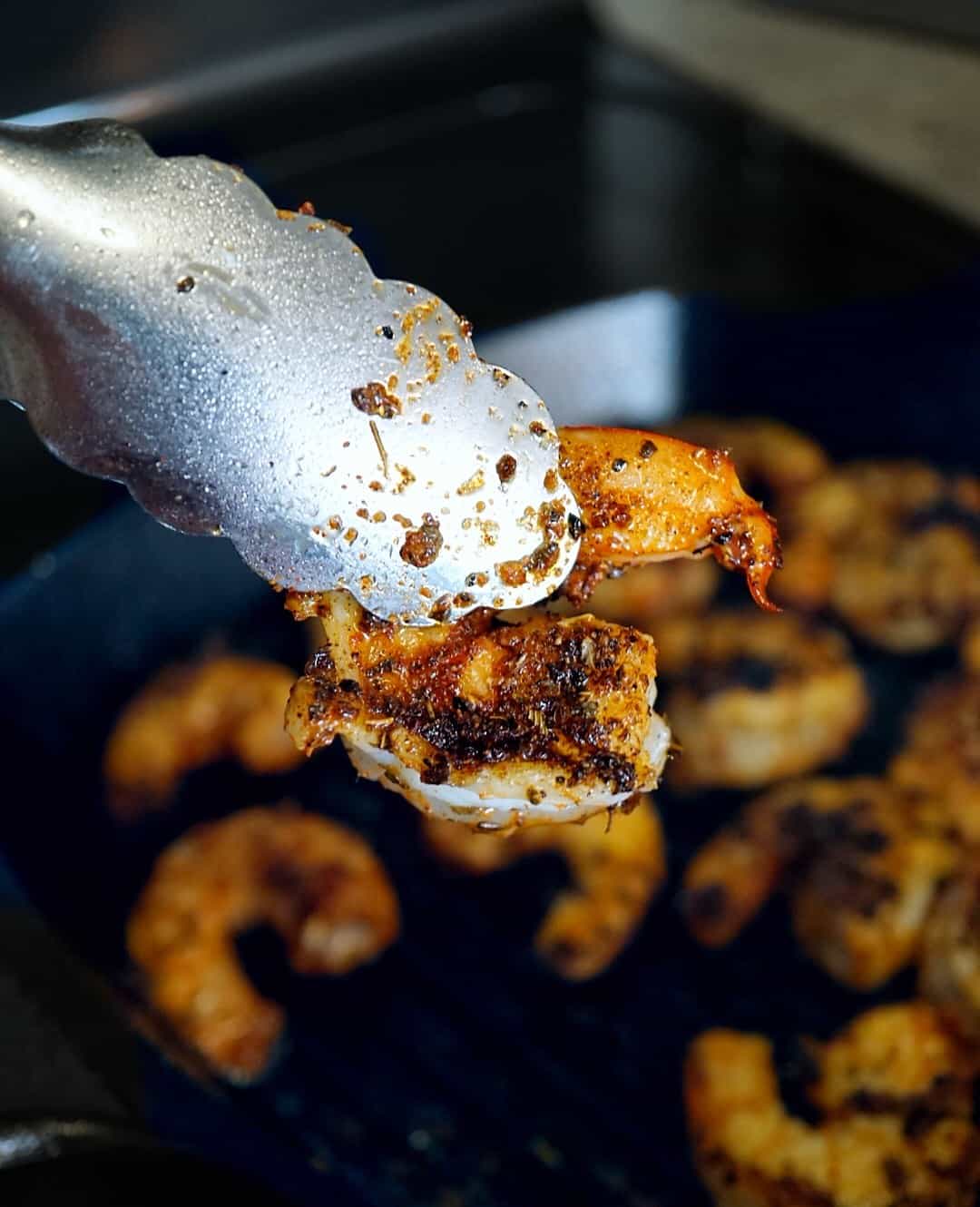 Easy Blackened Shrimp Recipe
In case you haven't noticed, I love shrimp. They're consumed in my house at least once a week because they are easy to make and cook quickly. There is always a bag of frozen shrimp in my freezer in case we need to whip up a quick healthy dinner.
Eat them with:
The possibilities are endless! I added them to this creamy Avocado Risotto and it was delicious! The creaminess of the avocado pairs perfectly with the bold flavor of the seasoning on the shrimp.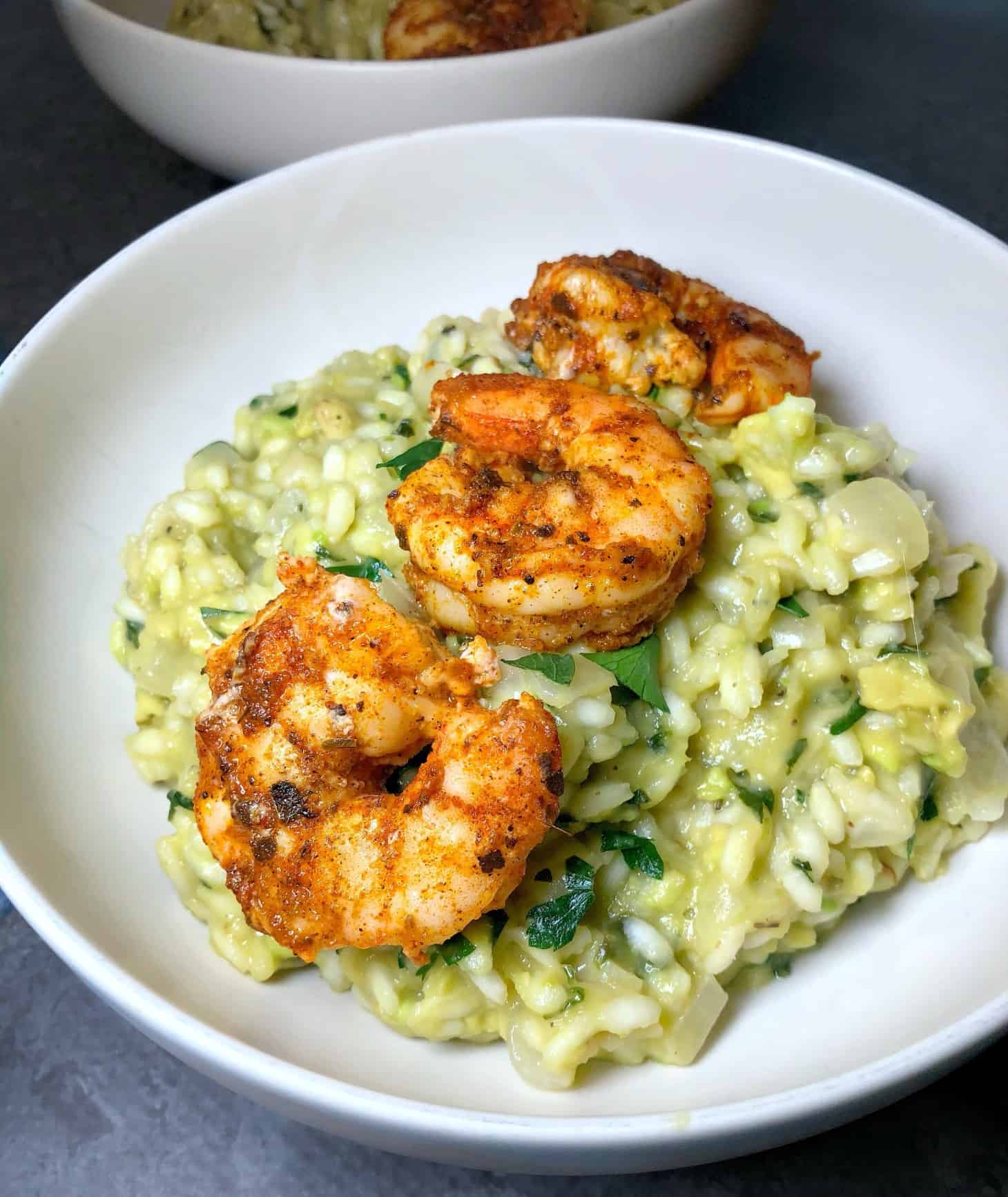 What are blackened shrimp?
The concept of blackening or blackened food is a Southern cooking technique used to add bold flavors to fish, shrimp, chicken and other food. The mixture of spices create this bold flavor, and this technique is often used in Cajun cuisine.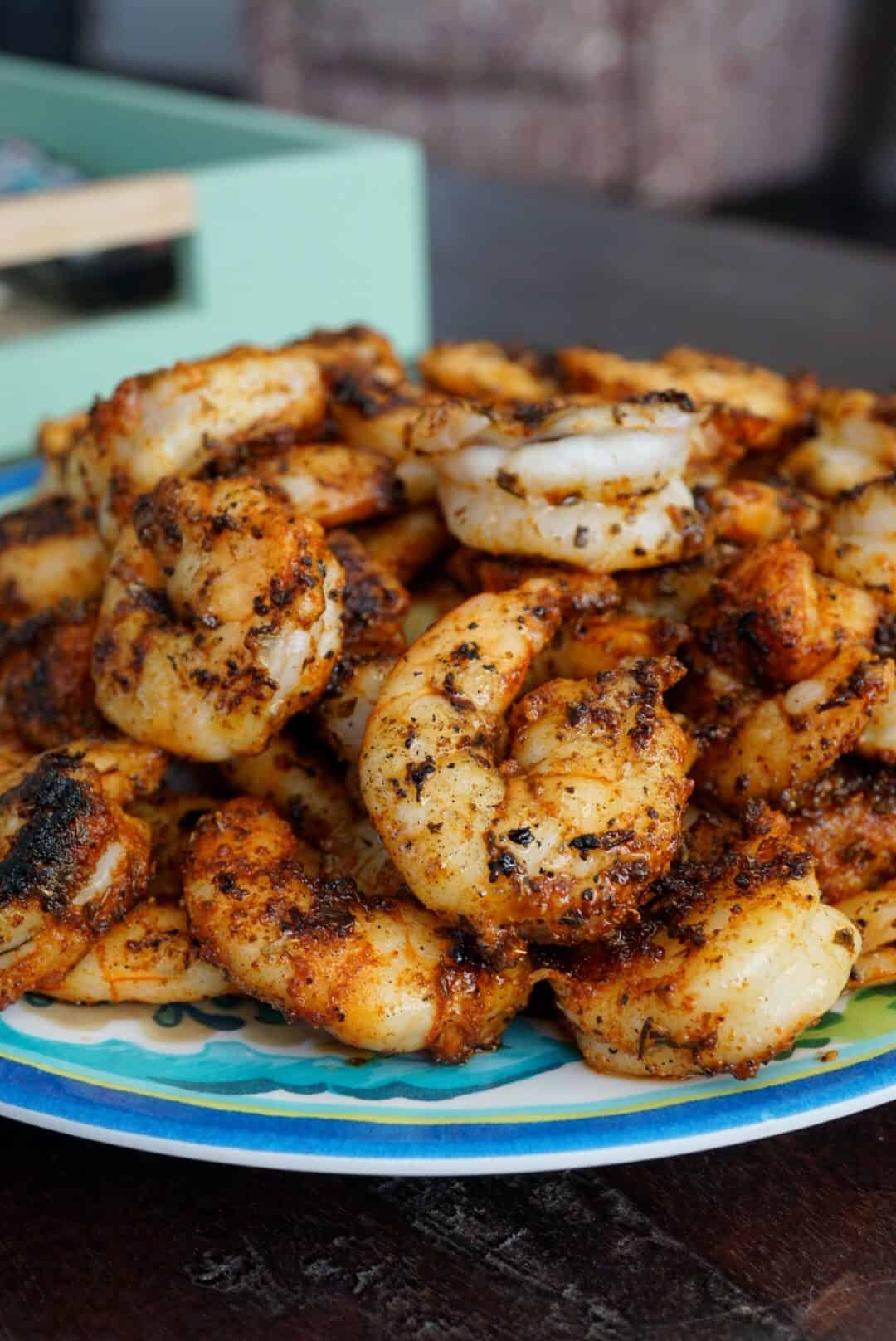 How to make blackened seasoning
Blackened seasoning is easily made with:
paprika
garlic powder
black pepper
smoked salt
onion powder
Most of those ingredients can be found in your pantry. Rather than making my own blackened seasoning for this recipe, I used my store bought blackened seasoning
. The seasoning adds an aromatic smoky taste to the sweet and tender shrimp. It's a powerful flavoring and pairs well sweet flavors, so that's why it's my favorite to use on shrimp!
Learn how to make the best blackened shrimp in your kitchen! This recipe makes the most bold and flavorful cajun blackened shrimp in only 10 minutes.
How to make blackened shrimp
Making blackened shrimp is easy! Shrimp cook quickly, so they're an awesome protein to make on a weeknight when you get home late from work or any time you're in a hurry. These shrimp will cook in about 8 minutes.
First, you will need to clean your shrimp by peeling and deveining them. If you aren't sure how to do this, watch this video. Then, add them to a large mixing bowl like this one
. Toss them with olive oil and blacken seasoning.
Next, lay the shrimp in a cast iron skillet or non stick pan, being careful not to overlap or overcrowd the pan. If the pan is overcrowded, the shrimp will not cook evenly or get a nice crisp.
Using a good pair of tongs
, flip the shrimp after cooking one one side for 2-3 minutes.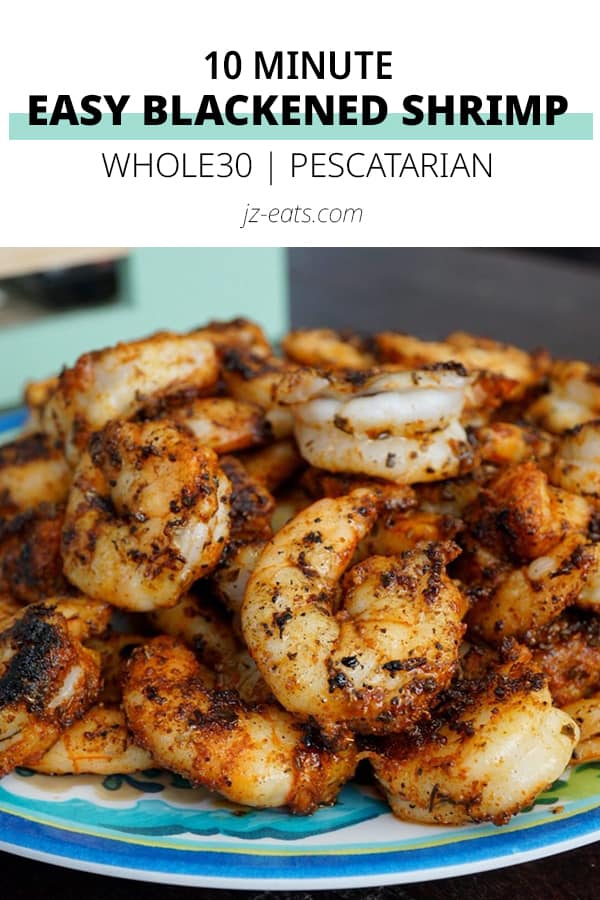 Is blackened seasoning Whole30 approved?
Yes, blackened seasoning is Whole30 approved! Add these shrimp to lettuce wraps, top them with pineapple and cilantro, and boom you've got yourself some delicious Whole30 approved blackened shrimp tacos!
The trick to making them perfectly is to heat the pan until it's just about smoking, then add the shrimp. Make sure you refrain from overcrowding the pan, because overcrowded pans don't allow the heat to properly transfer throughout the pan.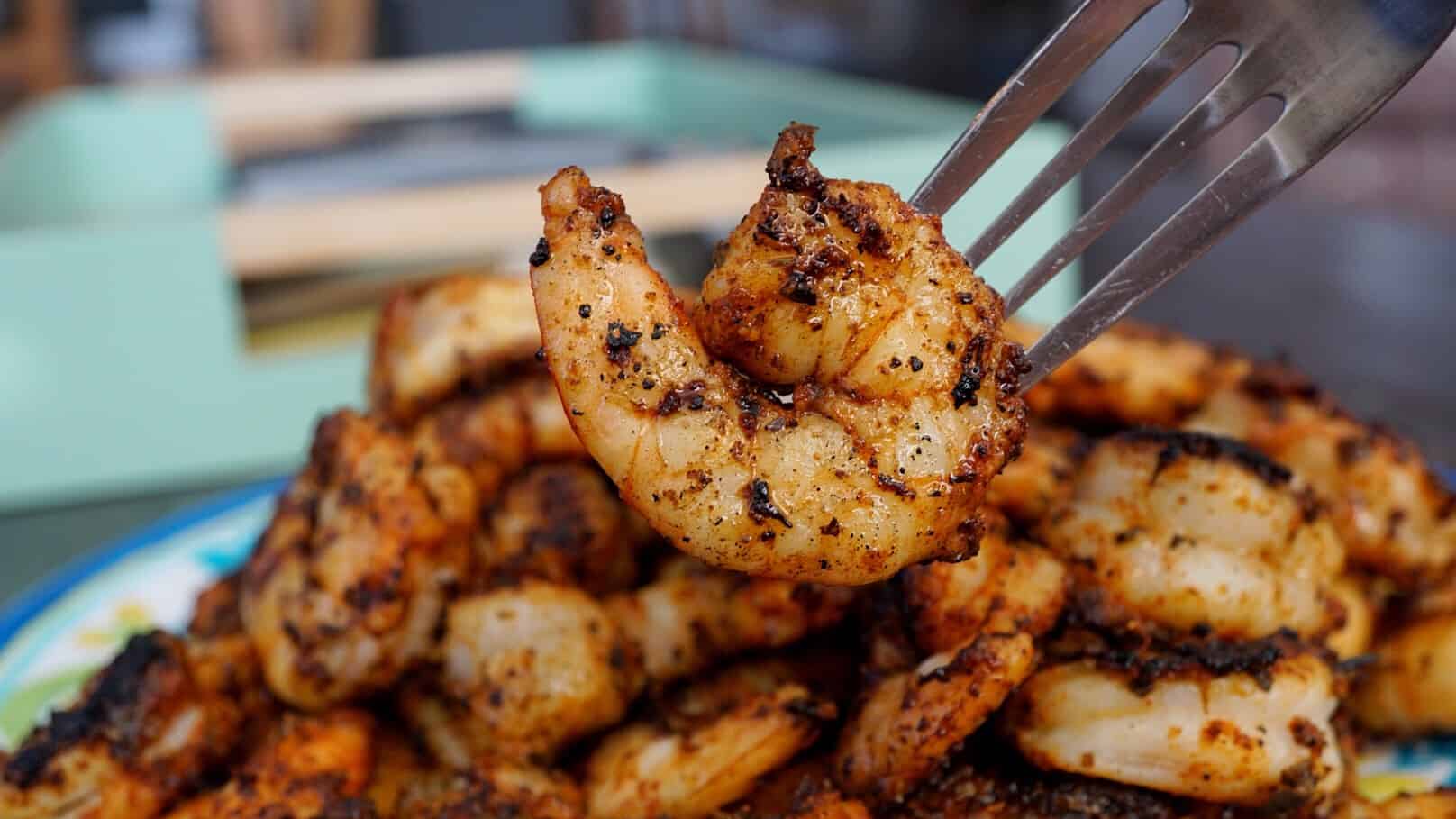 What to make with blackened shrimp
I added blackened shrimp to these Taco Bowls as part of my Meal Prep That Doesn't Suck mini series and they were fantastic. I'm still raving about how good these were and have them on my weekly meal prep rotation.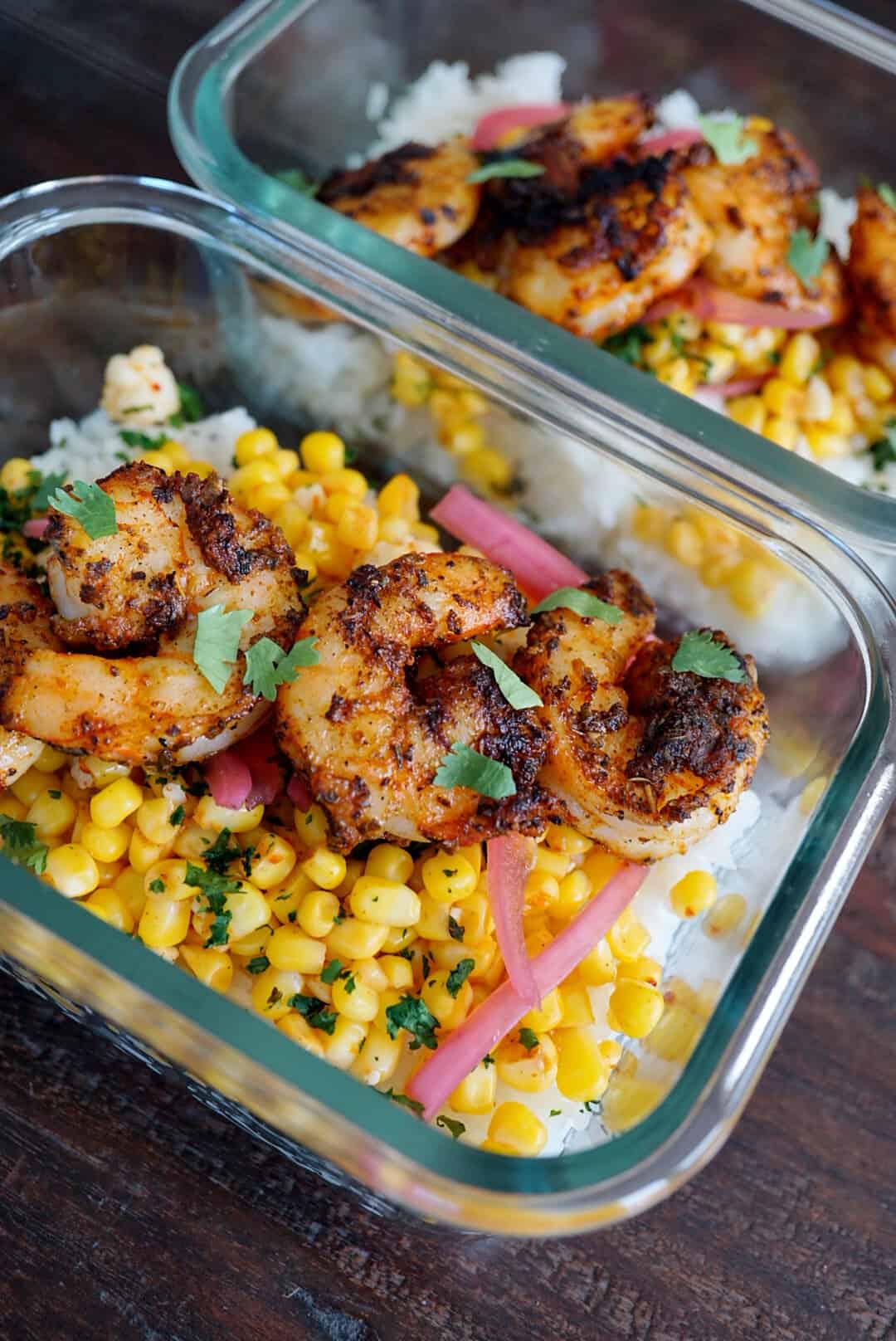 Want to try making these easy blackened shrimp?
PIN IT to your shrimp, Whole30, or recipes board to save it for later!
Find me on Pinterest for more great recipes. I'm always pinning!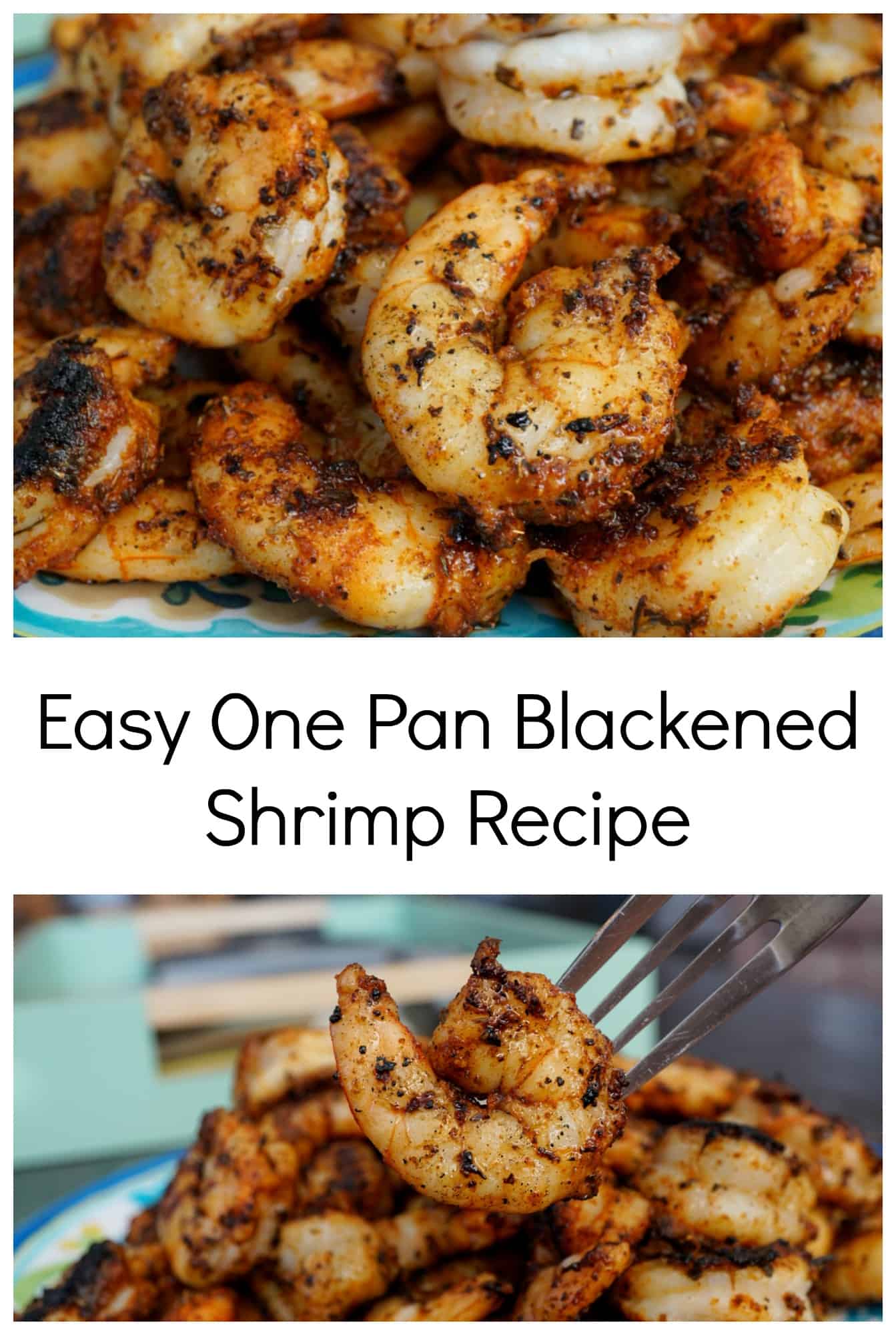 This shrimp recipe can be used on the grill, in the oven, or on the stove, but I prefer the stove because it's quick and leaves the shrimp extra crispy!
Be sure to follow me on Instagram for even more food adventures!
Check out more of my recipes here.
Easy Blackened Shrimp Recipe
This recipe makes the most bold and flavorful cajun blackened shrimp in just 10 minutes. Make them ahead of time for salads, meal preps, or to serve over pasta.
Instructions
Toss shrimp, 1 tbsp of olive oil, and blacken seasoning in a large mixing bowl until shrimp are fully coated.


Add 1 tbsp of olive oil to a 10'' cast iron skillet or non-stick pan and heat on medium-high.


Lay shrimp flat on pan without overlapping them. Cook for 2-3 minutes on each side or until fully cooked.

Notes
*Nutrition information is approximate and was calculated using a recipe nutrition label generator.
Nutrition Facts
Easy Blackened Shrimp Recipe
Amount Per Serving (0 g)
Calories 140
Calories from Fat 54
% Daily Value*
Fat 6g9%
Cholesterol 228mg76%
Sodium 706mg31%
Potassium 72mg2%
Carbohydrates 0g0%
Protein 18g36%
Vitamin C 3.7mg4%
Calcium 132mg13%
Iron 1.9mg11%
* Percent Daily Values are based on a 2000 calorie diet.