This post may contain affiliate links which will not change your price but will share some commission. Please read my privacy policy.
This Sheet Pan Scalloped Potatoes recipe will give you crispy potatoes drenched in a delicious cheese sauce in every bite. No more fighting over the crispy edges of scalloped potatoes!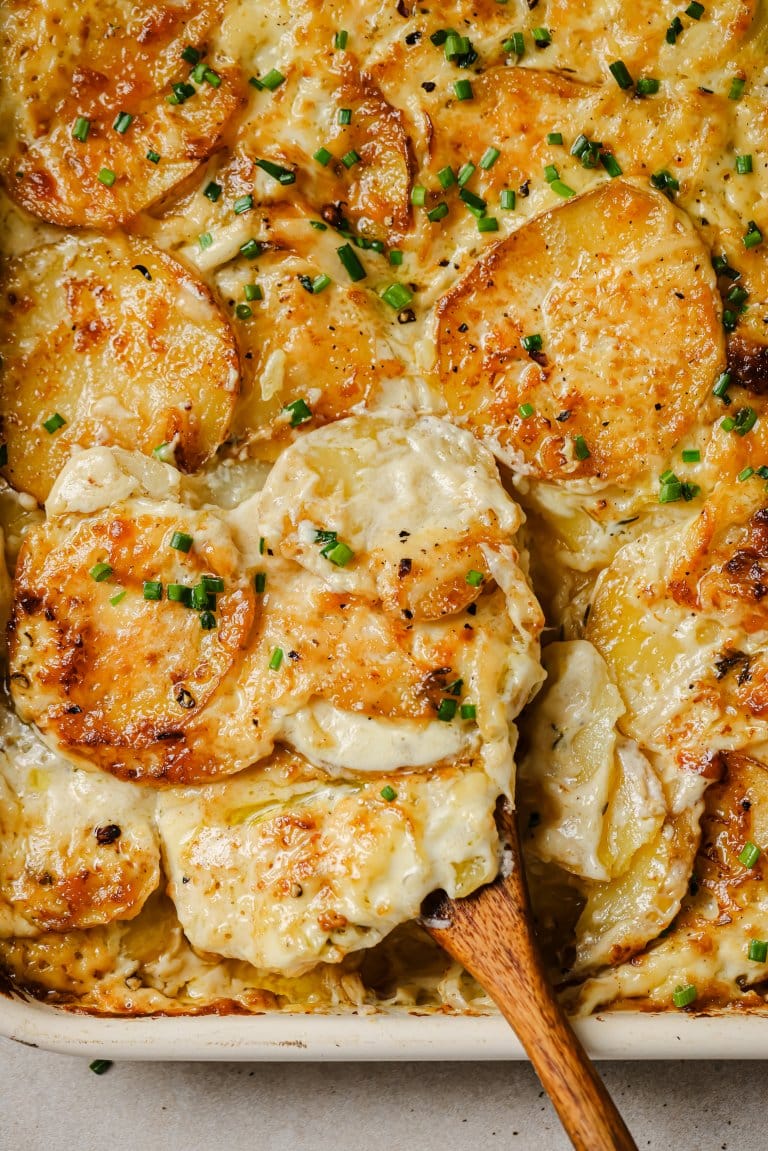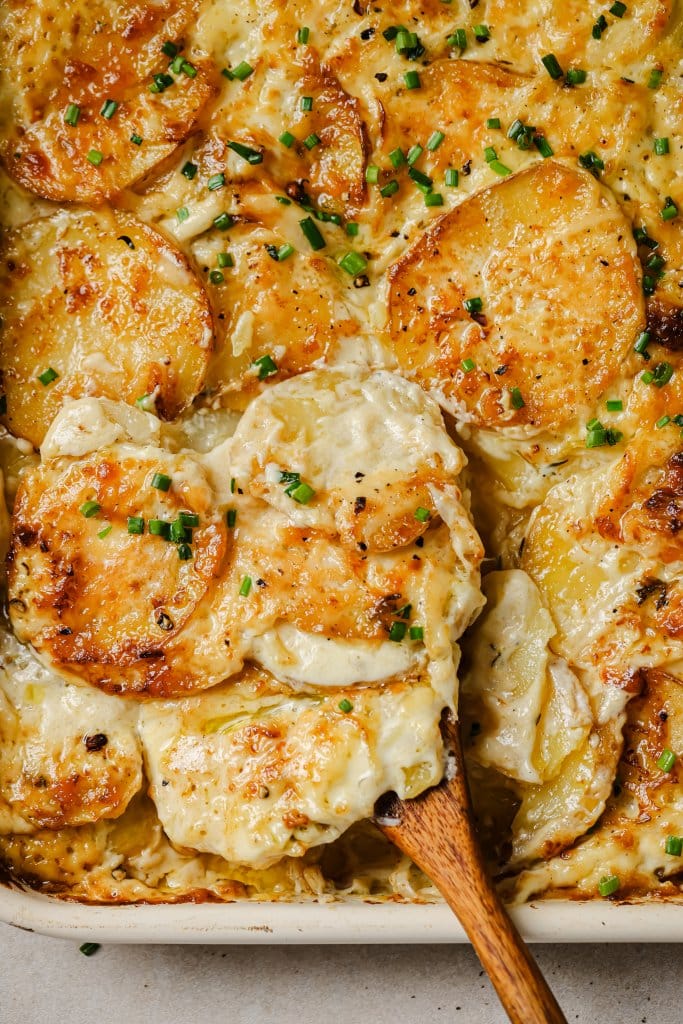 Best Sheet Pan Scalloped Potatoes Recipe
This cheesy sheet pan scalloped potatoes recipe is made with tender potatoes, a rich cheese sauce, and a hint of garlic. A comforting side dish that's easy to prepare because it's all made in one dish.
Made with simple ingredients, it's convenient to make and perfect for family dinners or holidays. The irresistible flavors pair with just about everything making it your new favorite recipe!
What are scalloped potatoes?
Scalloped potatoes are a classic dish made with thinly sliced potatoes that are layered in a baking dish and baked in a creamy sauce, like a potato casserole.
The sauce typically consists of ingredients like milk or cream, butter, and various seasonings. As the potatoes bake, they absorb the creamy sauce, becoming tender and flavorful. The top layer often forms a golden crust for added texture. It's a comforting and popular side dish.
I don't know about you, but the crispy part is my favorite! Sheet pan scalloped potatoes give you the best of both worlds, with every bite being creamy AND crispy!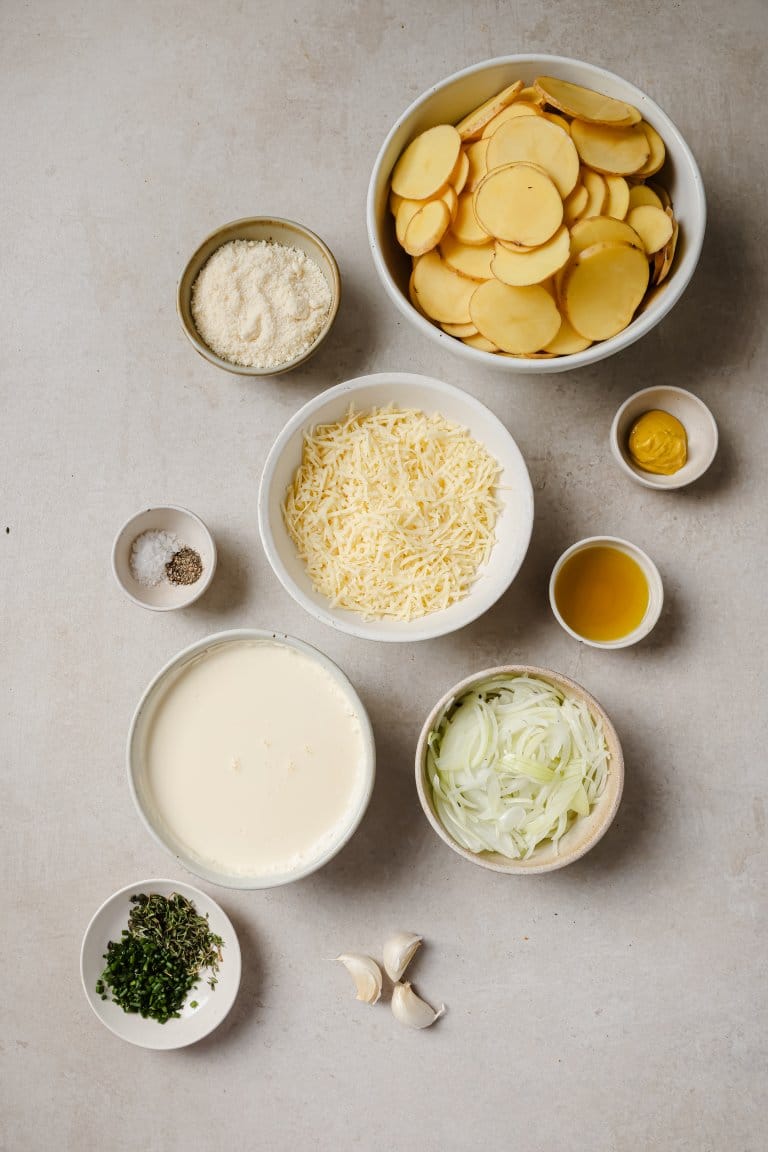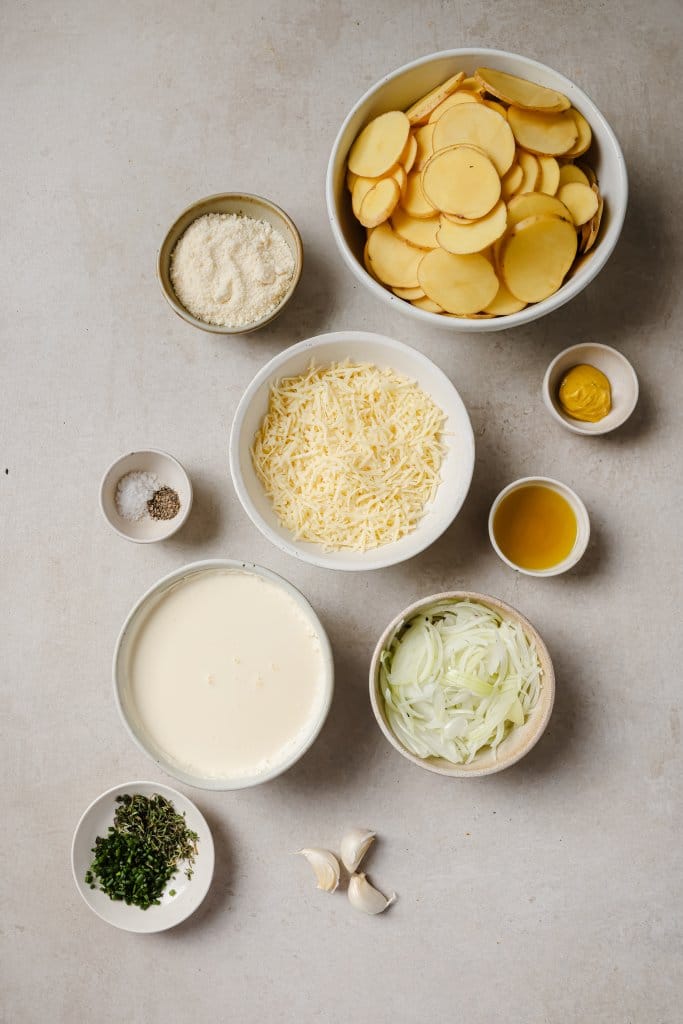 Scalloped Potatoes Made With Simple Ingredients
For the creamy sauce: scalloped potato sauce is made up of sautéed onion and garlic, in olive oil, with heavy cream and Dijon mustard.
Herbs and Seasonings: the potatoes are seasoned with fresh thyme leaves, kosher salt, and freshly ground black pepper. When they come out of the oven, they are garnished with fresh chives. 
Yukon gold potatoes: Yukon Gold potatoes are my favorite for scalloped potatoes because they have a naturally creamy texture, slightly sweet flavor, slice easily and evenly, have an appealing golden color, and ability to maintain their shape while cooking. Russet potatoes make a good substitute if you need one!
Gruyère cheese and Parmesan cheese: these are my favorite cheeses to use because they bring a rich, nutty flavor and melt perfectly.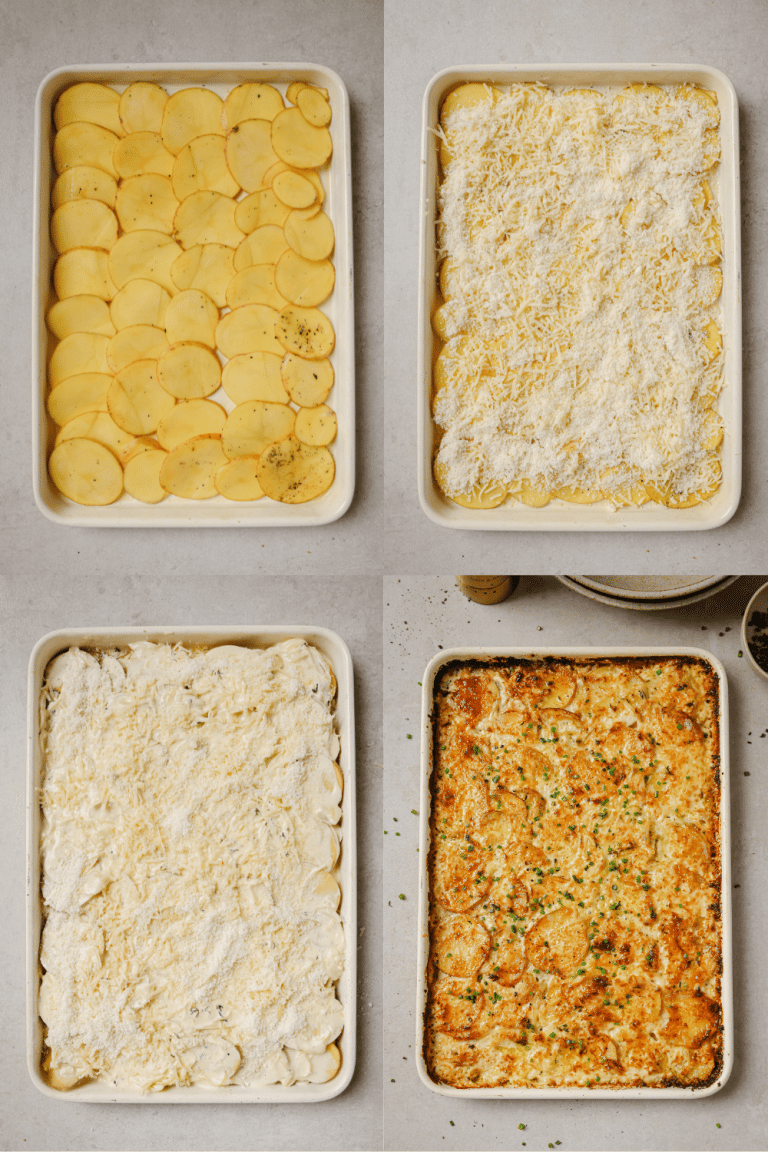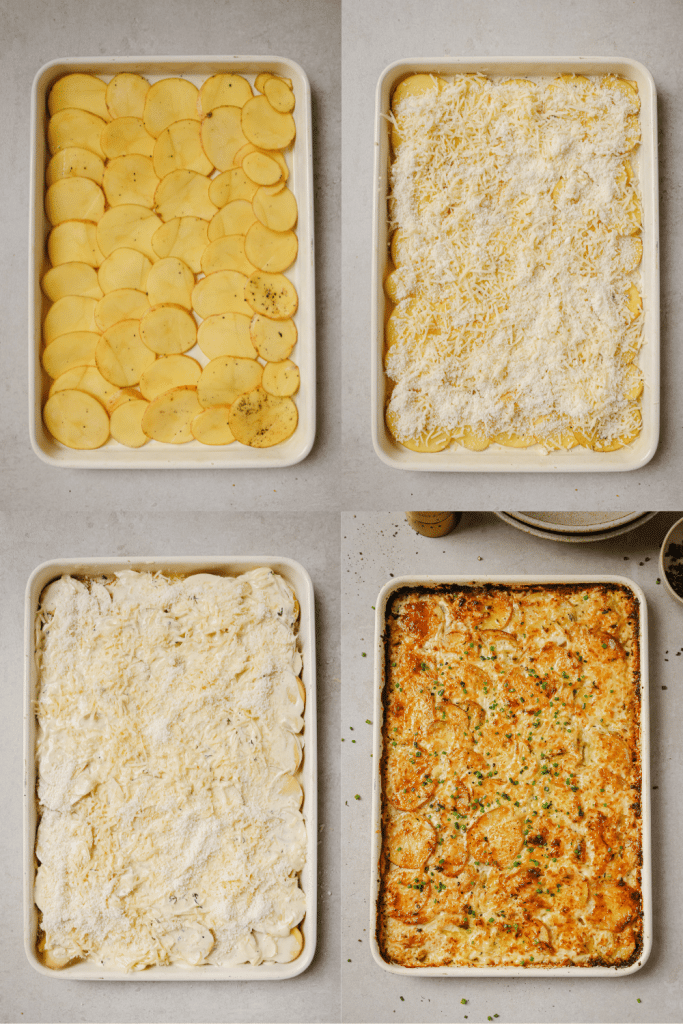 How to Make Scalloped Potatoes
1. Make the sauce: In a small saucepan over medium heat, sauté the onions. Sauté the onions until they're soft and then add the garlic. Mix in the heavy cream, herbs, dijon, salt, and pepper. Reduce the heat and simmer. 
2. Make the potatoes: While cooking the sauce, slice the potatoes and then pat them dry. Lay half the potato slices on the sheet pan, in a single layer so that they are just starting to touch and fill the pan.
Sprinkle the layers of potatoes with cheese and top with the rest of the potatoes and pour the cream mixture over the top. Spread it evenly and top with the remaining shredded cheese.
3. Bake: Cover the potatoes with foil and bake for 40 minutes. Remove the foil, and bake for another 20 minutes until they're golden brown and bubbly. Let the cheesy potatoes cool for a few minutes and garnish with chives before serving.
Tip: using a mandoline is the best way to get thin and evenly sliced potatoes.
How to Store Homemade Scalloped Potatoes
If you have leftover cheesy scalloped potatoes, you'll want to make sure to store them properly. They will last for several days and only taste better the next day!
Let them cool: allow the scalloped potatoes to cool to room temperature after cooking. This helps prevent condensation inside the storage container.
Transfer to an airtight container: place the leftover scalloped potatoes in an airtight container. You can also use a casserole dish with a tight-fitting lid.
Refrigerate: store the container in the refrigerator. Scalloped potatoes can typically be stored in the fridge for up to 3-4 days.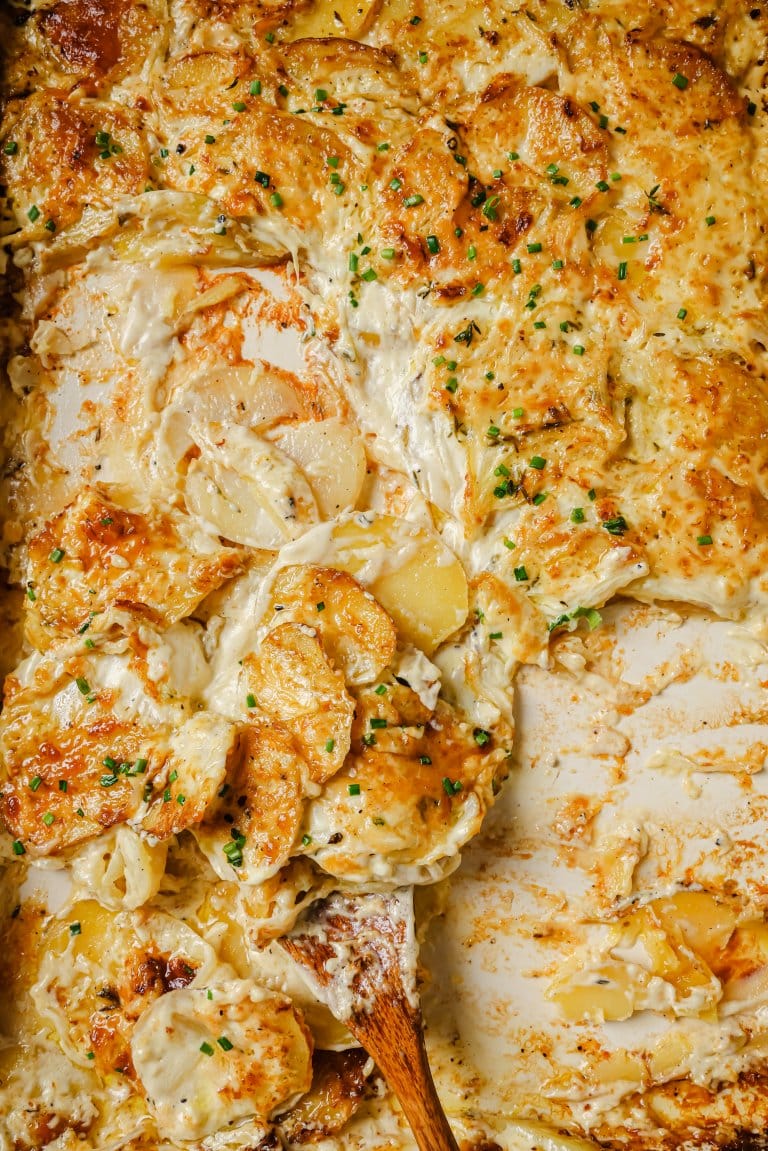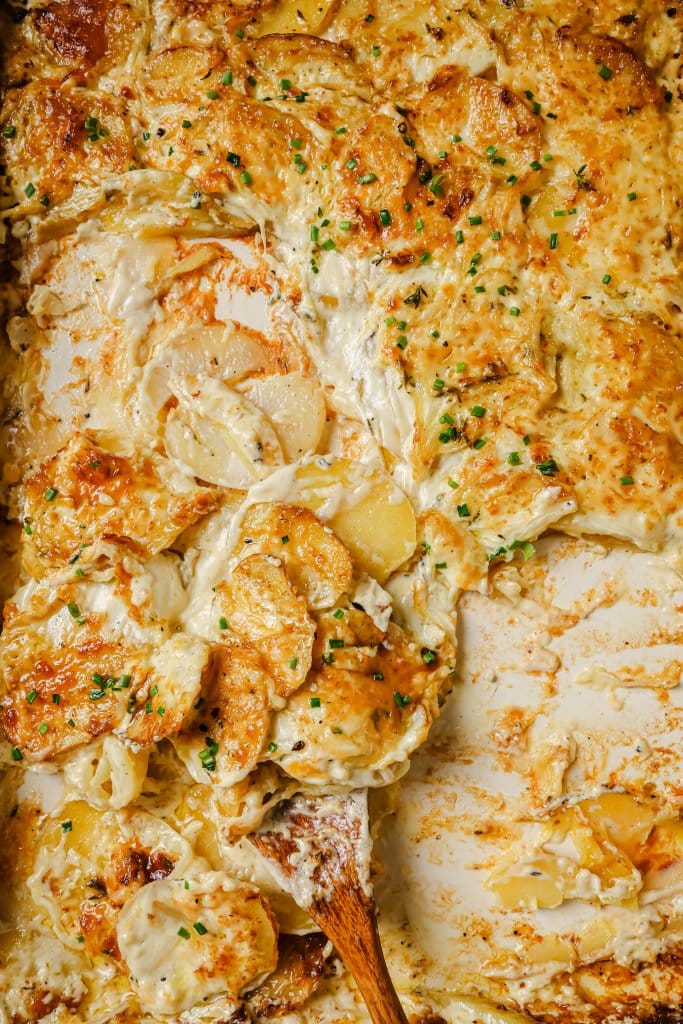 How to Reheat Scalloped Potatoes
When you're ready to enjoy the leftovers, reheat them in the oven or microwave. Reheating in the oven at a low temperature (around 325°F) covered with foil can help maintain their texture. You can also reheat individual servings in the microwave, but be cautious not to overheat and dry them out.
I like to reheat mine in the air fryer by laying a portion over air fryer parchment paper and heating at 350 F for about 5 minutes. I find that reheating things in the air fryer keeps them from drying out and it takes a lot less time!
Can You Make Scalloped Potatoes Ahead of Time?
Scalloped potatoes can be made ahead of time by preparing the dish for baking, but refrigerating instead. To do this, follow the recipe until just before the final baking step.
Layer the sliced potatoes and creamy sauce in your baking dish but don't bake them. Instead, cover the dish tightly with plastic wrap or aluminum foil and refrigerate it. I don't recommend doing this more than a day in advance.
When you're ready to serve, preheat your oven, remove the covering, and bake the scalloped potatoes according to the recipe instructions. Making them ahead of time not only saves you time on the day you plan to serve them but also allows the flavors to meld and develop, often resulting in an even more delicious dish!
How Long to Cook Scalloped Potatoes?
To get the crispy edges on these scalloped potatoes you'll want to bake them for about 55 minutes. The hands on time is pretty minimal, making these scalloped potatoes an easy side dish!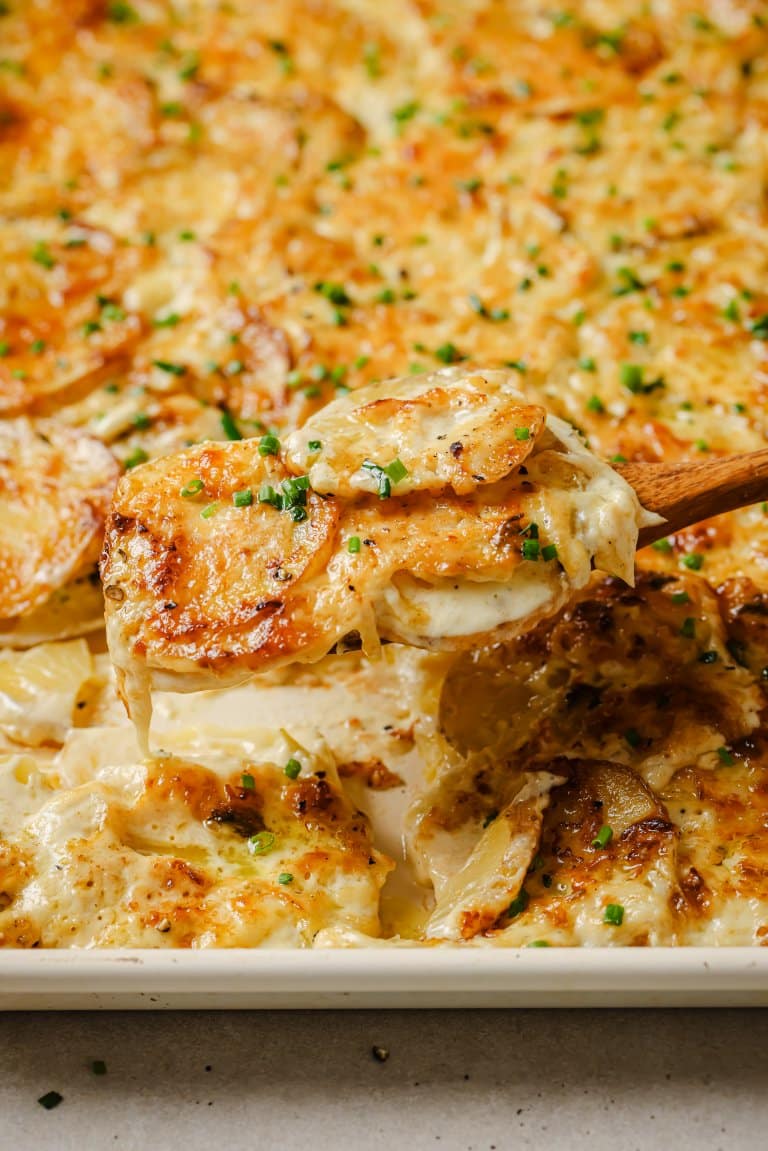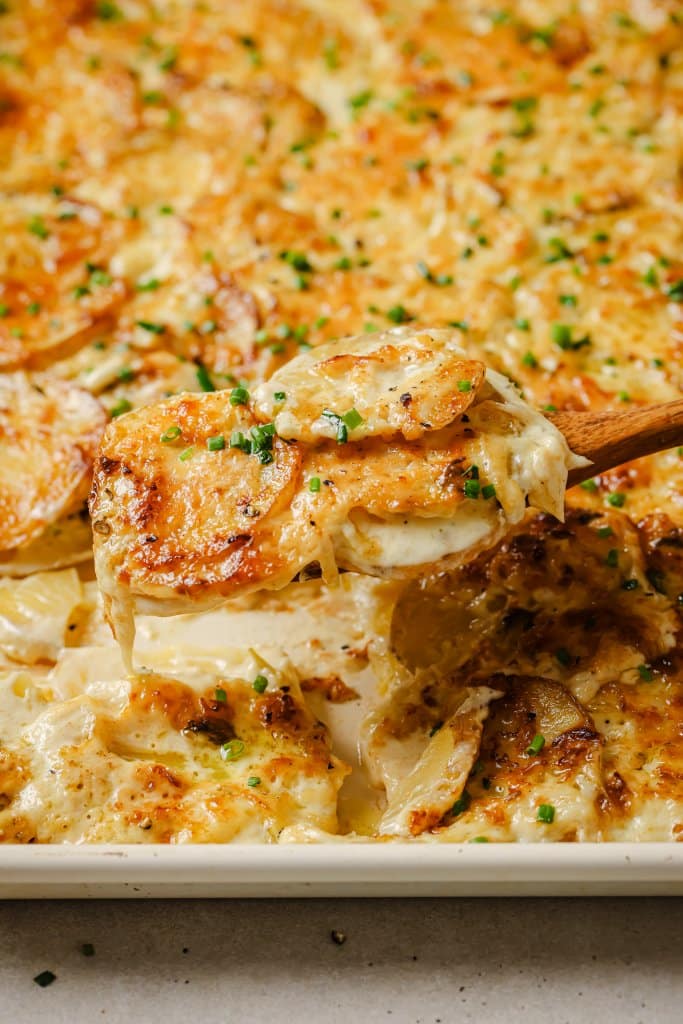 Do You Need to Soak Potatoes Before Making Scalloped Potatoes?
You don't need to soak potatoes before making scalloped potatoes. Unlike some potato dishes like french fries or hash browns, scalloped potatoes do not require soaking. 
The thin slicing of the potatoes and the creamy sauce in scalloped potatoes provide enough moisture and cooking time to ensure the potatoes become tender during the baking process. Soaking is typically done for dishes where you want to remove excess starch or to achieve a specific texture, but it's not a necessary step for scalloped potatoes.
What's the Difference Between Scalloped and Au Gratin Potatoes?
Au gratin potatoes and scalloped potatoes are similar in a lot of ways but they are also different too. Au gratin potatoes, which is French for "with cheese' is known for its cheesy crust on top of the potatoes. This is the main difference.
Scalloped potatoes are known for the creamy sauce that can have a topping of breadcrumbs or cheese. While scalloped potatoes might have cheese, it's not considered a key component of the dish. In this recipe, the sheet pan scalloped potatoes have a cheesy sauce that takes them over the top from delicious to amazing!
WANT TO TRY THIS SHEE PAN SCALLOPED POTATOES RECIPE?
PIN IT to your potatoes recipes, holiday recipes, or Thanksgiving side dish recipes board to save it for later!
Find me on Pinterest for more great recipes. I'm always pinning!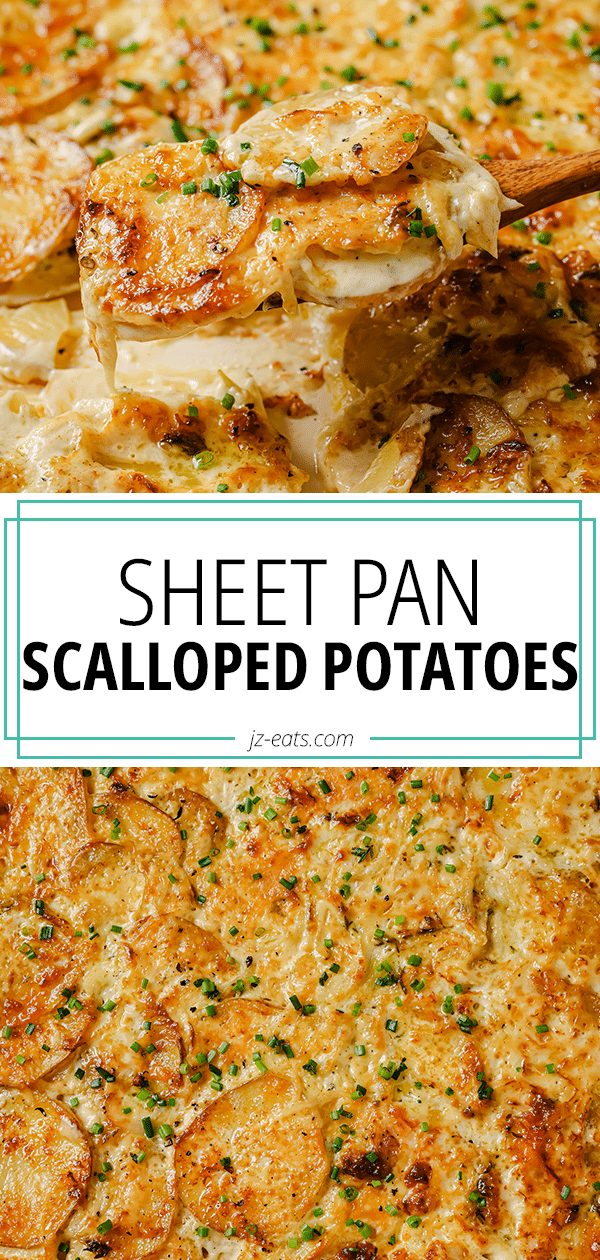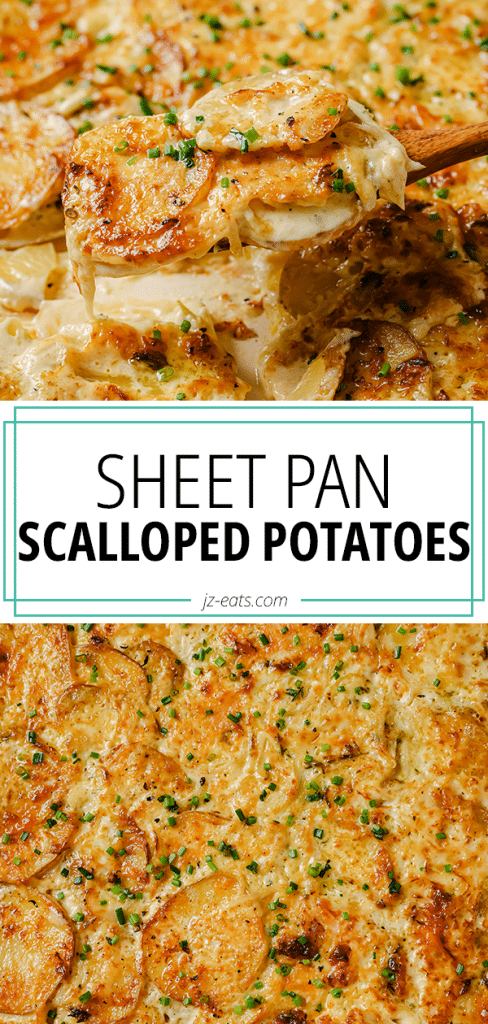 Sheet Pan Scalloped Potatoes
This delicious One Pan Scalloped Potatoes recipe is creamy and cheesy. It's the perfect side dish and easy to make any night of the week!
Ingredients
2

tbsp

olive oil

1

medium

onion,

peeled and finely sliced

3

cloves

garlic,

minced

2

cups

heavy cream

1

tbsp

fresh thyme leaves (or rosemary),

chopped

1

tbsp

dijon mustard

1

tsp

kosher salt,

1/3

tsp

freshly ground black pepper

3

pounds

Yukon gold potatoes,

scrubbed and cut into 1/8 inch thick slices

2

cups

Gruyère cheese,

shredded

1/2

cup

grated parmesan cheese

1

tbsp

fresh chives,

diced
Instructions
Preheat the oven to 450 F and lightly grease a baking sheet with olive oil to prevent sticking.

In a small saucepan over a medium heat, add the olive oil. When hot, add the onion. Cook, stirring occasionally, for 3 minutes, or until it begins to soften, then add the garlic and continue cooking for one more minute. Mix in the heavy cream, herbs, dijon, salt, and pepper. Reduce the heat and simmer for about 2 minutes before removing from the heat.

While the onions cook, scrub, dry and slice the potatoes into 1/8-inch slices. (a mandonline is helpful) Pat the potato slices dry with paper towels and add them to a large mixing bowl. Season the potatoes with a good pinch of salt and pepper. Lay 1/2 of the potatoes on the prepared baking sheet. The rows of potatoes should only just touch and the potatoes should fill the pan. Sprinkle the Gruyere cheese mix over the potatoes and top with the parmesan cheese.

Top with the remaining potato slices and pour the heavy cream mixture evenly over the potatoes. Use a spatula to make sure the mixture is evenly spread. Sprinkle the remaining Gruyere mix and parmesan over top and bake, covered with foil, for 40 minutes.

Remove the foil and continue cooking, uncovered, for 15-20 minutes until the cheese is golden brown and bubbly. When finished, remove the potatoes from the oven and allow them to cool for a few minutes before garnishing with chives and serving.
Nutrition
Calories:
398
kcal
|
Carbohydrates:
34
g
|
Protein:
7
g
|
Fat:
27
g
|
Saturated Fat:
15
g
|
Polyunsaturated Fat:
1
g
|
Monounsaturated Fat:
8
g
|
Cholesterol:
73
mg
|
Sodium:
427
mg
|
Potassium:
810
mg
|
Fiber:
4
g
|
Sugar:
4
g
|
Vitamin A:
949
IU
|
Vitamin C:
35
mg
|
Calcium:
121
mg
|
Iron:
1
mg