This post may contain affiliate links which will not change your price but will share some commission. Please read my privacy policy.
Picking the best air fryer can be hard. I've tested and reviewed the GoWise Air Fryer, Ninja Foodi Grill, and Ninja Foodi Oven to see which air fryer is the best to buy!
Air fryers have become increasingly popular within the last 2-3 years. The excitement came from getting fried food, without the hassle, oil, and calories of actual deep frying.
Many air fryers offer a variety of cooking methods like: air fry, toast, warm, rotisserie, indoor grill, dehydrate and more. But what do you really need?
No matter which features you're looking for, there's an air fryer to meet your needs. Here's a roundup of the three best air fryers available now.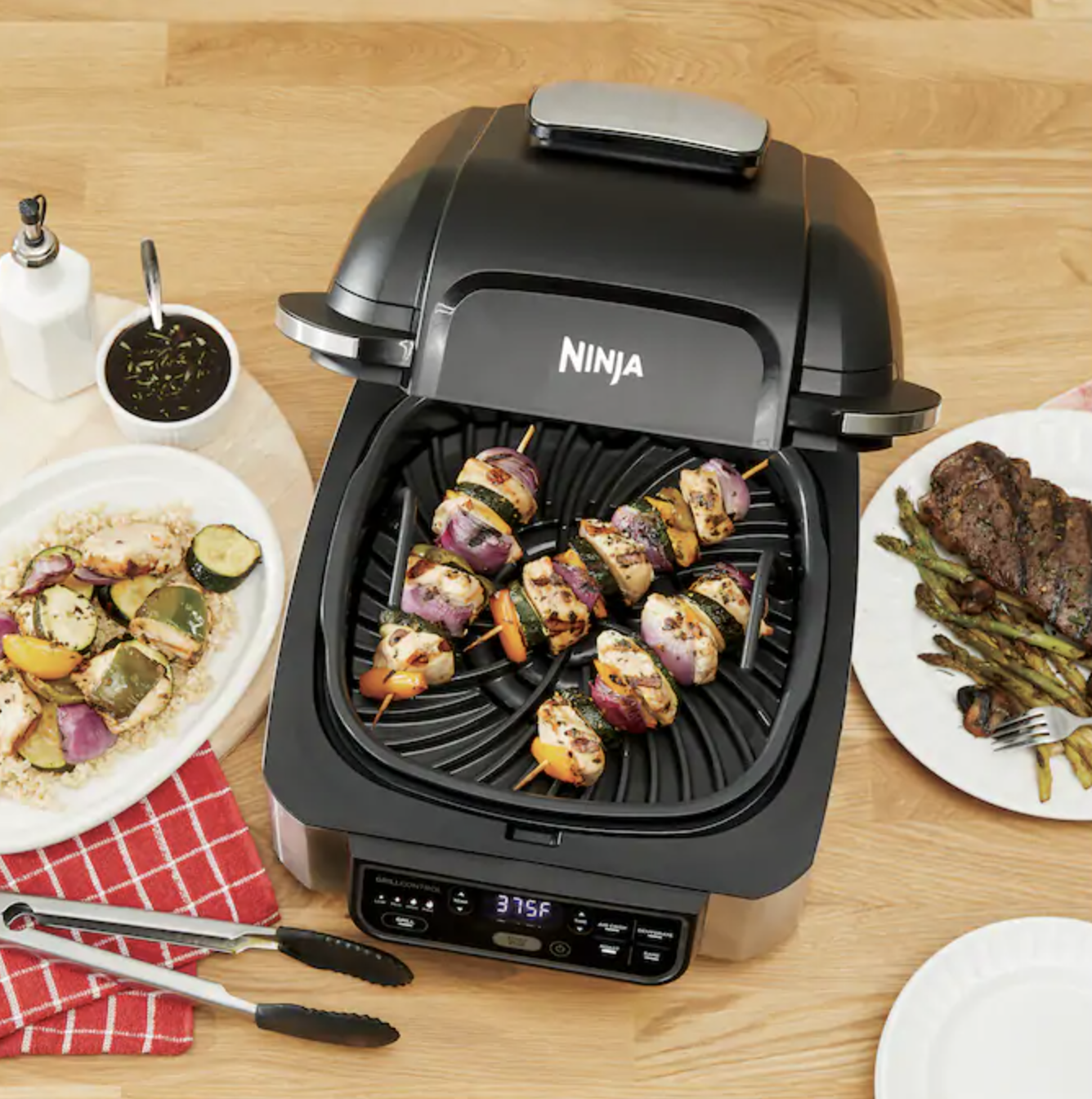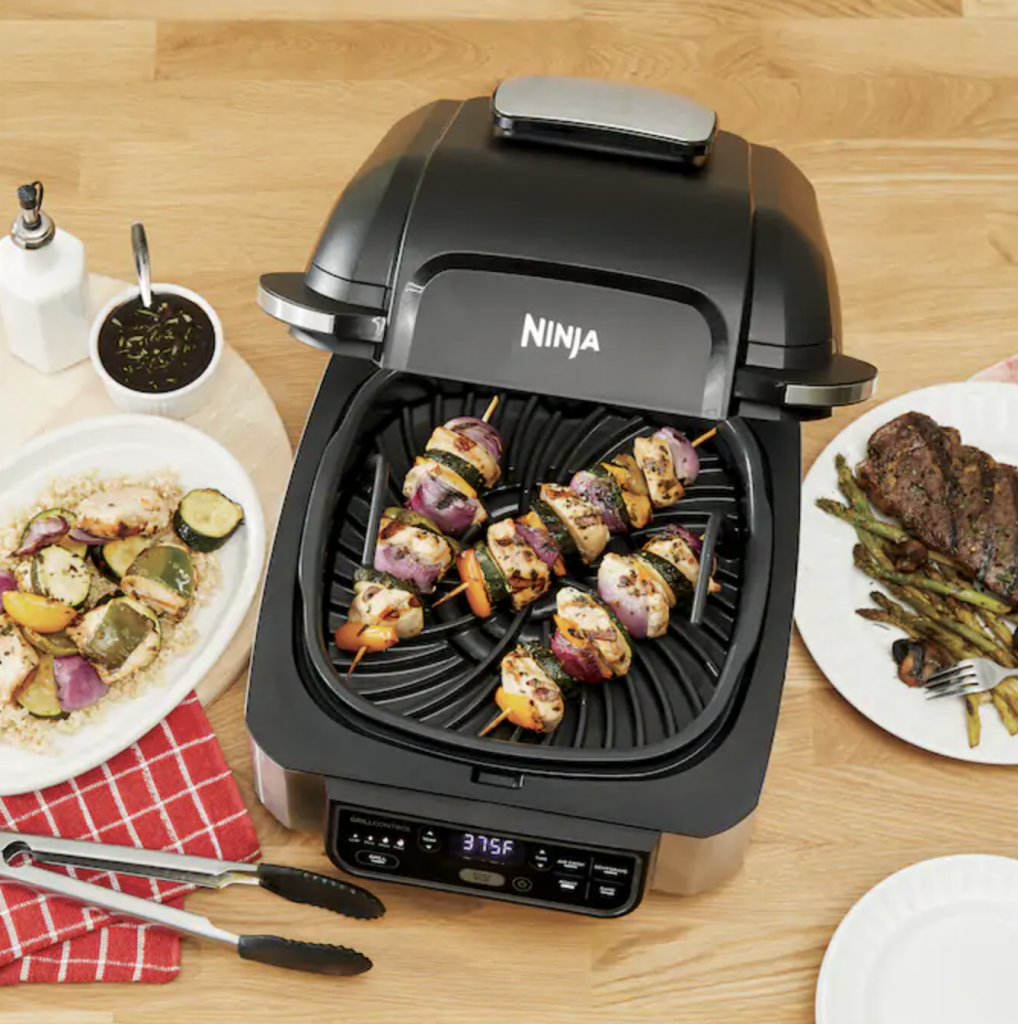 Intro to Air Frying
If you are new to the world of air frying or have not used an air fryer before, keep on reading because I'm about to tell you all the pros and cons on the three different models I've tried.
Through independent testing, I have compared some of the most popular air fryers on the market to help you decide which is the best option for you.
In my kitchen, I have the Ninja Foodi Grill (average cost ~$200.00), the Ninja Foodi Oven (average cost ~$230.00), and the GoWise 5.8 quart with the digital touchscreen (average cost ~$80.00)).
Some of my favorite things to make in the air fryer are vegetables, fish, chicken, and even appetizers for a party!
GoWise Air Fryer
If you are looking to buy your first air fryer and don't want to spend a lot of money on a new kitchen appliance, I highly recommend the GoWise Air Fryer as a starter option.
Pros:
Affordable/great price
Perfect starter option
Makes for a great gift
Comes in a variety of sizes and colors
Cons:
I personally prefer a flip top air fryer vs a basket air fryer.
Temperature only goes up to 400 F.
The basket is circular and I've come to prefer a square basket because depending on what you're making, you might be able to fit more in a square basket.
GoWise Air Fryer Recipes
You can make so many different things in the GoWise Air Fryer! Here are some of my favorites:
Ninja Foodi Grill
If you're looking for an air fryer that does more than just air fry food, this is hands down an all time favorite option!
The price point is higher, but I promise you, you may never use your oven again. The Foodie Grill has 5-6 cook methods depending on the model you buy and is a great overall kitchen appliance.
Pros:
5 cook method options
Loaded with features
Easiest to clean
High-quality design
Accessories available
A lot of removable parts making it easy to clean and/or store
Replacement parts available for purchase
Cons:
Does not have a broiling feature
Takes up about 13″ of counter space
It says the grates are dishwasher safe, but I don't advise/recommend it.
Ninja Foodi Grill Recipes
Ninja Foodi Oven
When you unbox the Foodi Oven, you get the same high-quality feel you get from the Foodi Grill. It offers many cook options like air roasts, air broils, dehydrates, and keeps food warm.
However, in testing, although a great option, I did not love it as much as the Foodi Grill, especially for the price point.
Pros:
Beautiful/High-quality design
Digital controls are easy to read and use
Quiet
Great toaster and does a good job of baking one-pan dinners.
Oven light
For storage, it flips up on its side to take up less counter space
Cons:
Food does not come out as crispy as other air fryers
It's expensive
It can't roast a whole chicken (if you are looking for that option)
If you're looking for a big batch cooking option, I think this is the best. I've been able to fit more food in the Ninja Foodi Oven than any of the other air fryers I've tried.
Ninja Foodi Oven Recipes
What's the best air fryer on the market?
Truthfully, there are a ton of great air fryers on the market all with different price points and features.
However, if you are looking to make an investment into an air fryer that will serve your kitchen well, I recommend spending the money and getting the Ninja Foodi Grill.
Whether you buy the 5 in 1 or 6 in 1 option, you are going to be really happy with quality, design, features, cook methods, and food results!
Questions you might have about Air Fryers
What can you cook in an air fryer?
Anything! Everything! The #1 reason I pick air frying over my oven is because you can cook just about anything in it and the clean-up is a breeze.
What are the disadvantages of air fryer?
Like all appliances, overall (no matter the brand), they have their disadvantages. Below are some notable cons of owning an air fryer.
Can be difficult to clean
Small cook surface or basket for large families
Model depending, they can be loud or noisy
Bulky and require counter space
What can you not cook in an air fryer?
Although, you can cook just about everything, there are a few things to avoid putting in an air fryer the #1 food to avoid putting in an air fryer is battered food.
An air fryer is not a deep fryer. If you are looking to fry something battered, you will need to freeze it first before air frying.
Other foods to avoid include:
Fresh and/or leafy greens – You make experience uneven cooking
Whole Roasts – Will not fit in most air fryers
Cheese – If you are looking to make homemade mozzarella sticks, great! … freeze them first!
More Air Fryer Recipes To Try