This post may contain affiliate links which will not change your price but will share some commission. Please read my privacy policy.
An Olive Oil Bread Dip so good you won't want to share it! You might even end up eating the entire loaf of bread.
Get ready to whip up restaurant quality dipping oil in just a few minutes. Grab your favorite homemade bread for dipping!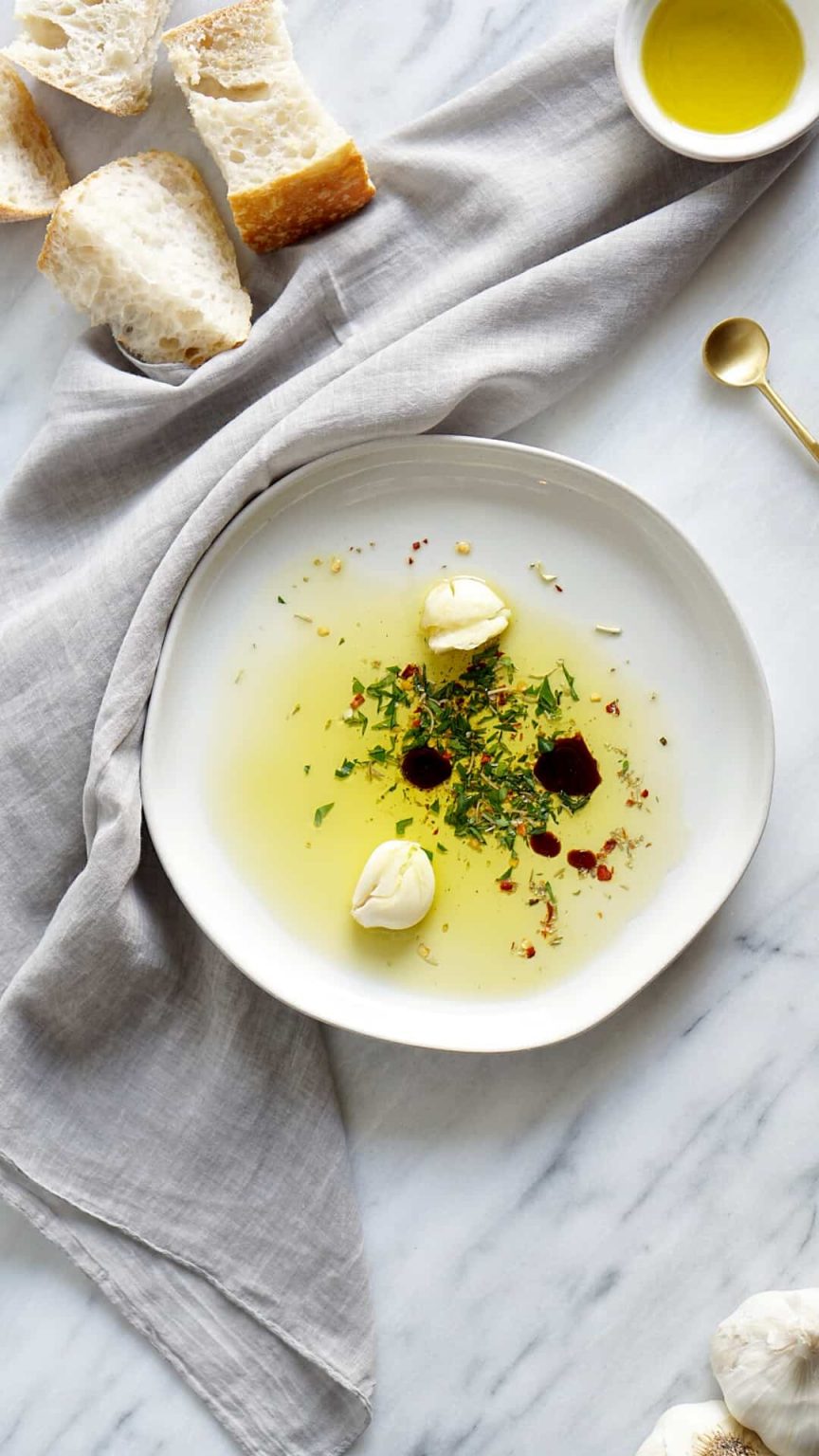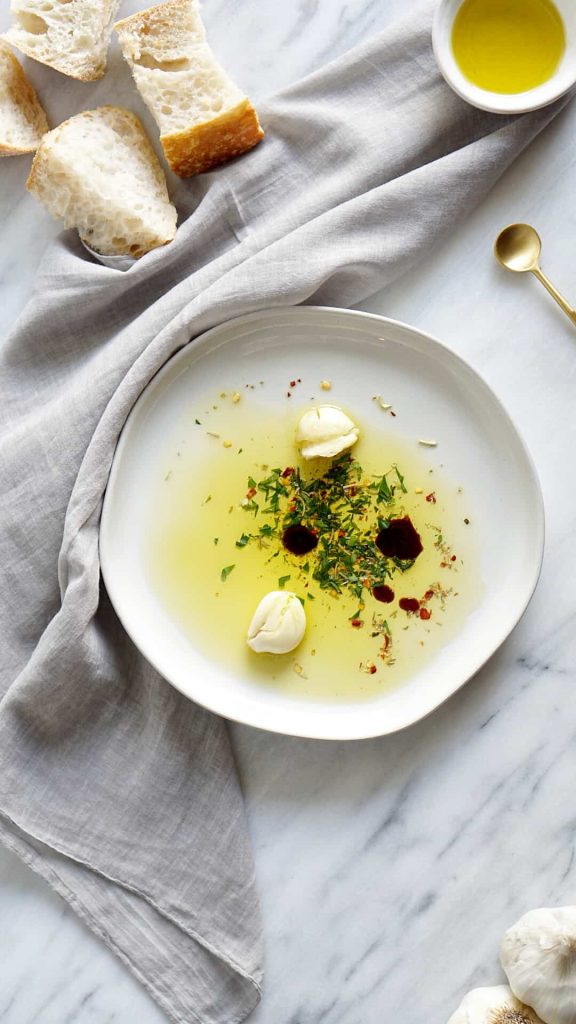 Best Olive Oil Bread Dip Recipe
Do you remember the first time you dipped bread in olive oil and balsamic vinegar? No? Just me? Ok then.
Well, I'll tell you about the first time I dipped an oil-absorbing spongey inside, crispy outside piece of bread in a heavenly mixture of robust olive oil and tangy balsamic vinegar.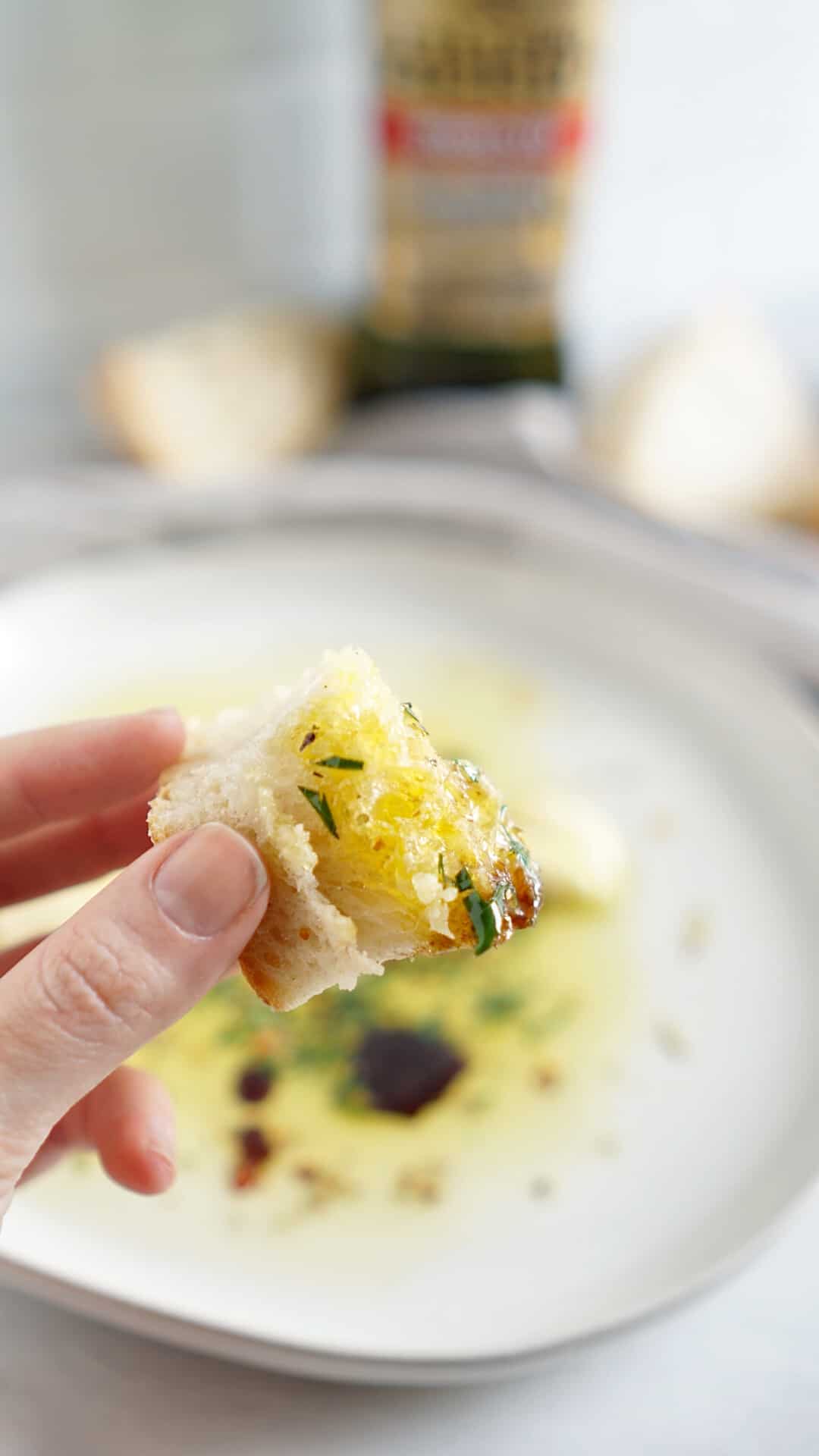 When I was a kid, I complained to my Dad about how hungry I was while he was making dinner. You know like "Daaaaddd I'm starving" so Dad puts a plate of olive oil mixed with a splash of balsamic vinegar and a few slices of french baguette in front of me. As soon as I tasted it, I was in heaven.
French baguettes were our thing. Every Wednesday when my Dad would pick me up from school he would bring a fresh baguette from one of our favorite bakeries. I sat in the backseat tearing pieces off and getting crumbs everywhere.
Fast forward like 15 years and I'm still noshing on fresh bread and homemade dipping oil before every meal. Although, I've jazzed it up a bit since then.
I'm such a sucker for carbs in any way shape or form! Lately I've been hard core craving french fries in air fryer.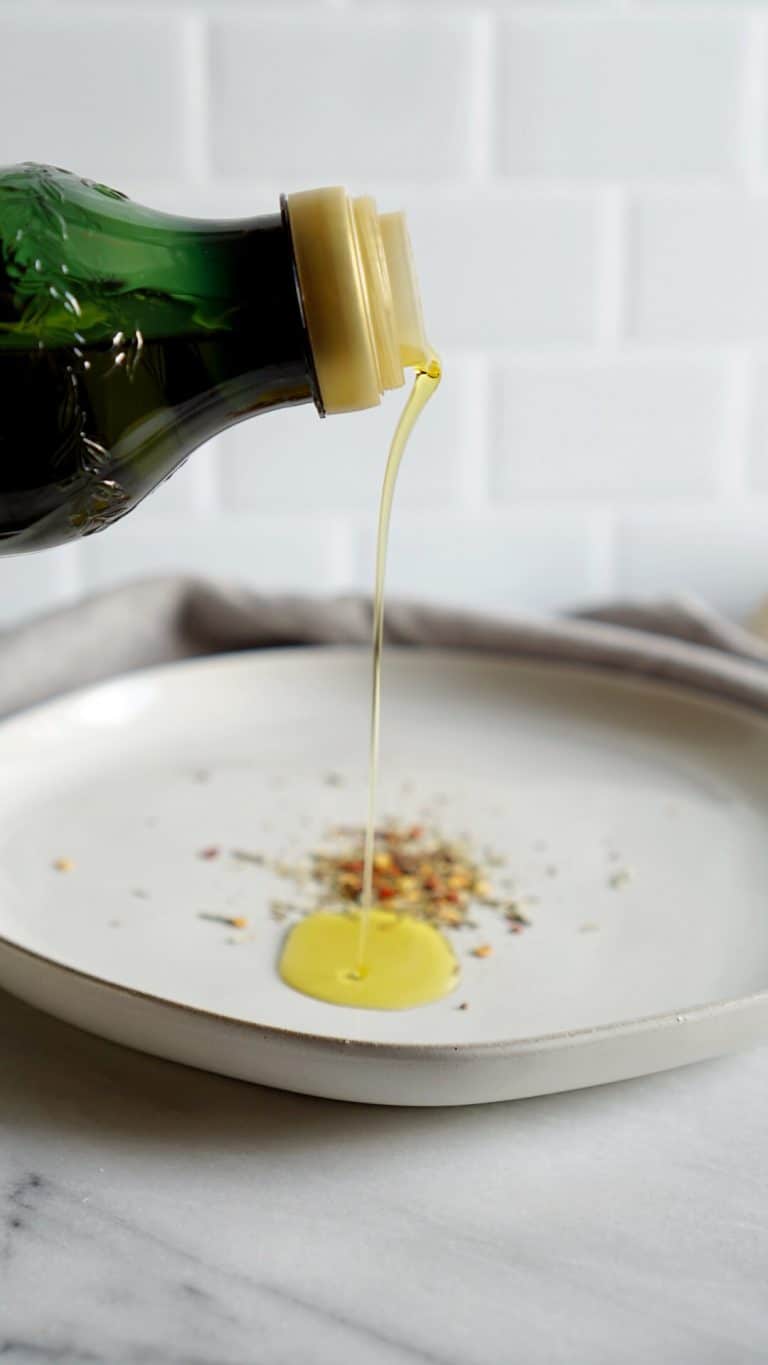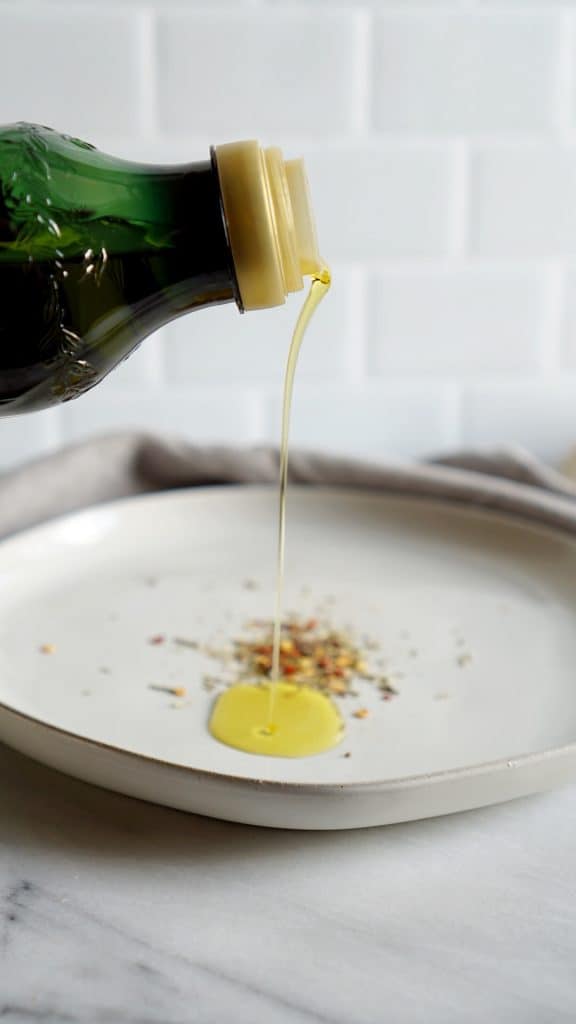 When I go to a restaurant, I always find myself judging the quality of my meal before it even comes out all based on how good or bad the bread and olive oil situation is.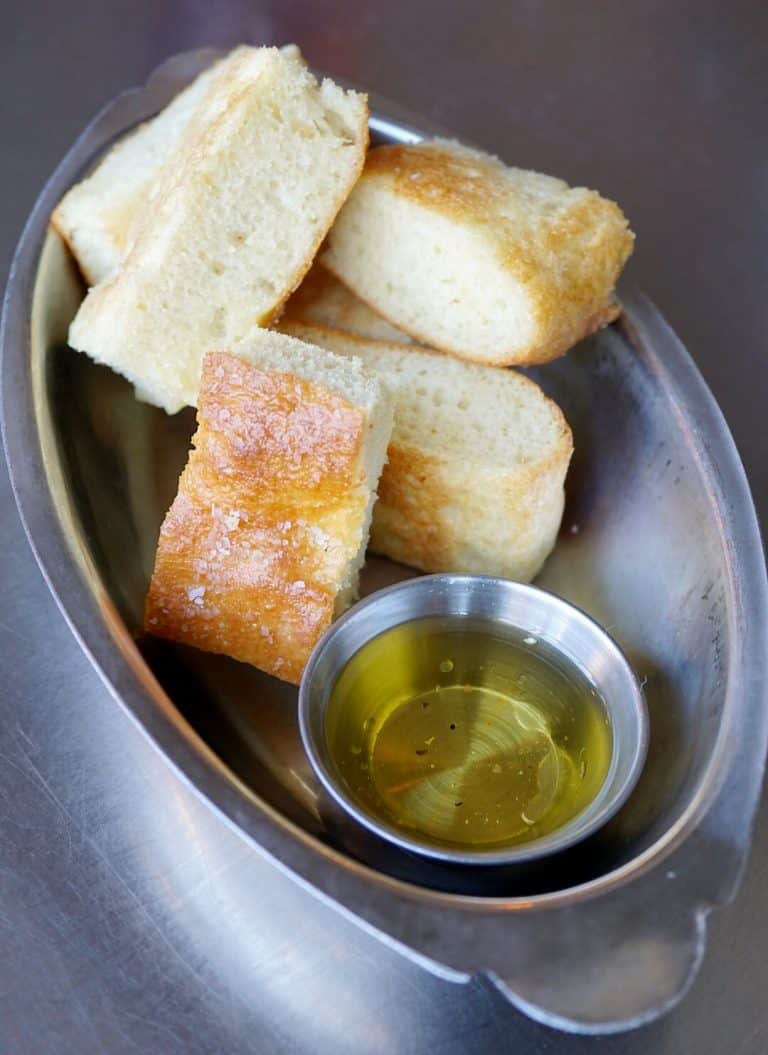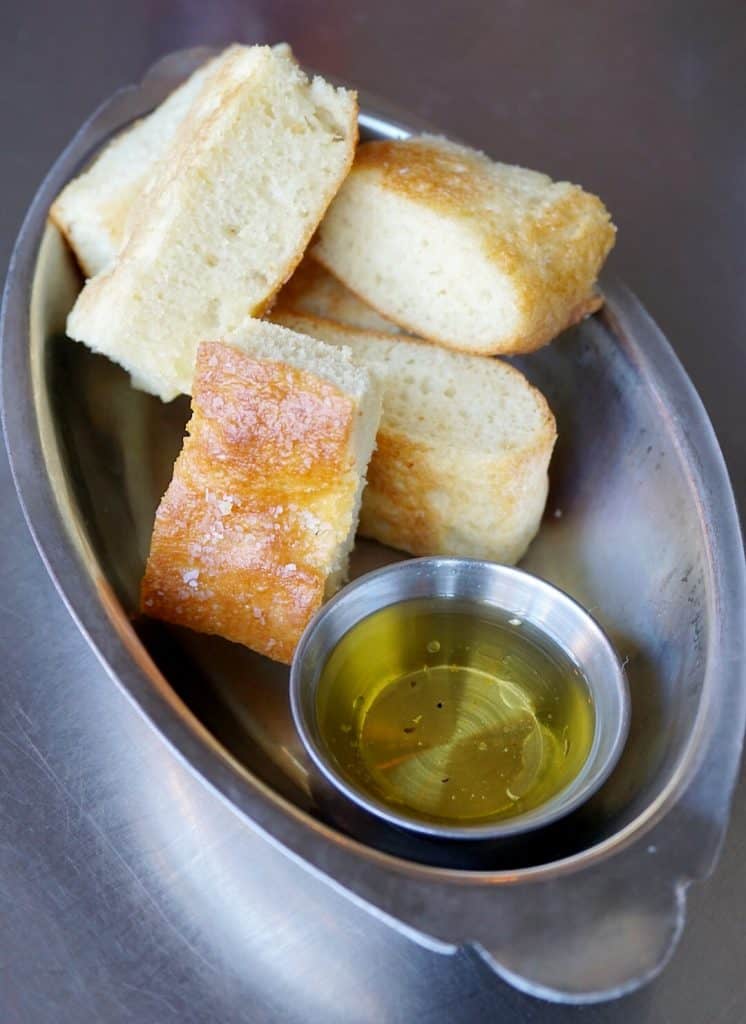 I took a poll on my Instagram and found that I wasn't the only one who did this, hundreds of people said they agree that if the restaurant has great bread and olive oil, it's going to be a good meal.
The ingredients that make this olive oil bread dip so addicting are the crushed garlic and Felippo Berio Extra Robusto Olive Oil. I love garlic, and I use it in pretty much everything I cook.
Extra virgin olive oil is the best for dipping oils and I especially love the full-bodied flavor of the Robusto Olive Oil from Felippo Berio. You can find several of Felippo Berios's products on Amazon starting at about $6.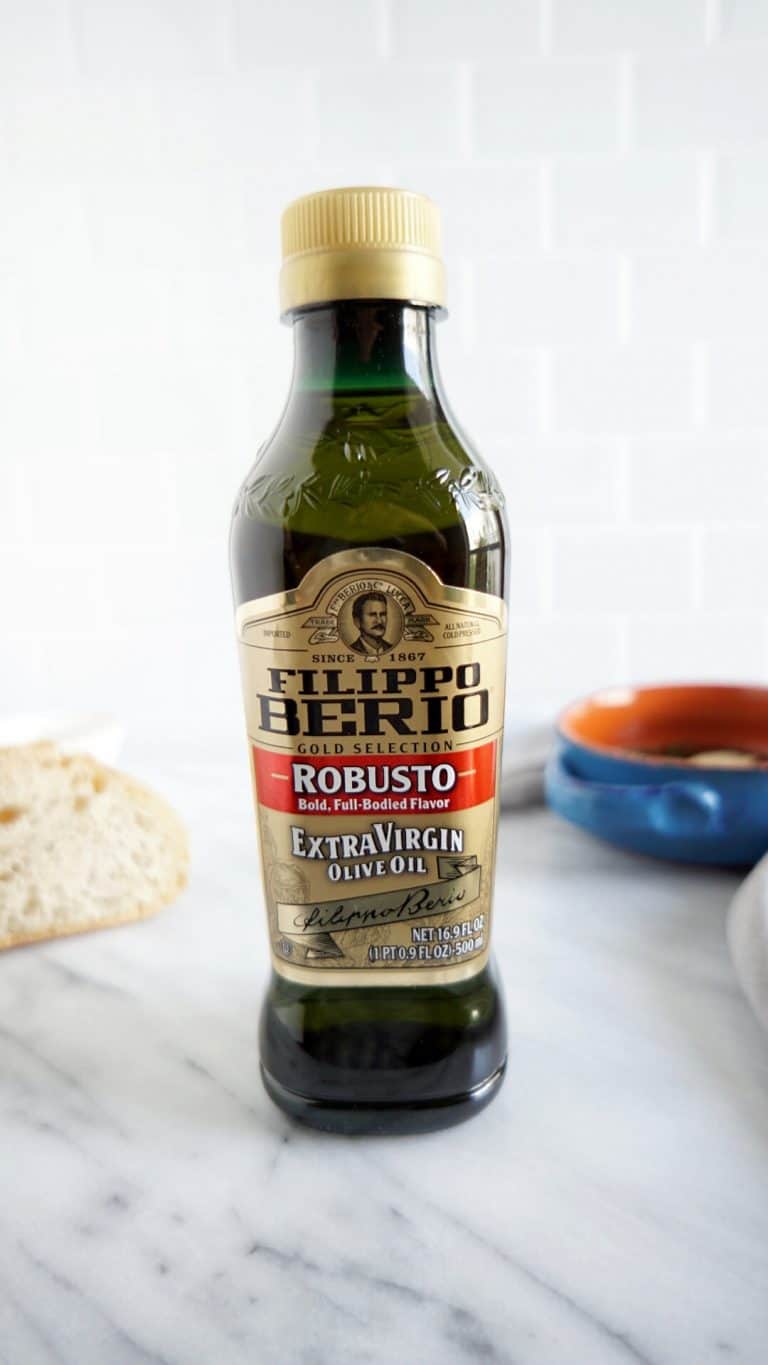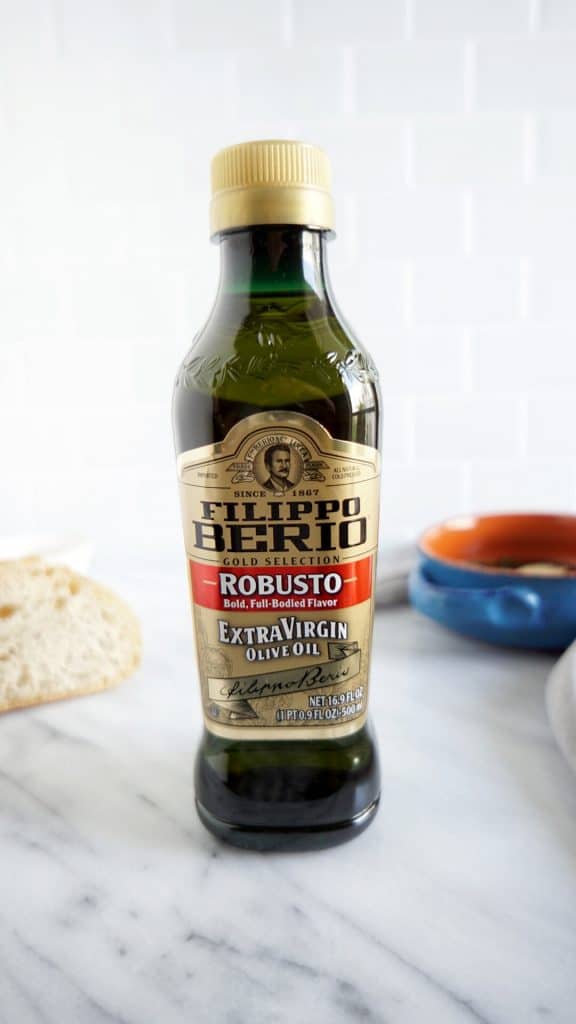 What is the difference between crushed garlic and minced garlic?
I use crushed garlic in this recipe to prevent garlic overkill and stinky breath! The more you chop garlic, the more "bite" you will get when cooking it. Since this recipe isn't cooked, we don't want to overdo it on the garlic element.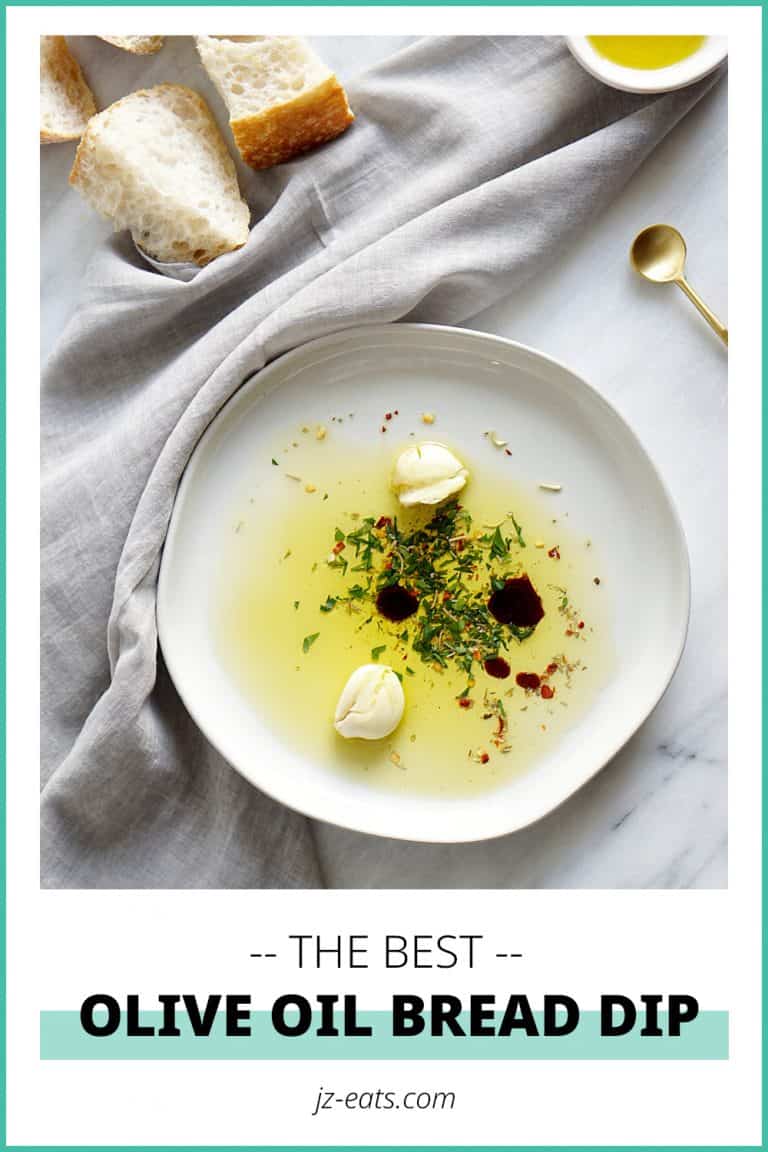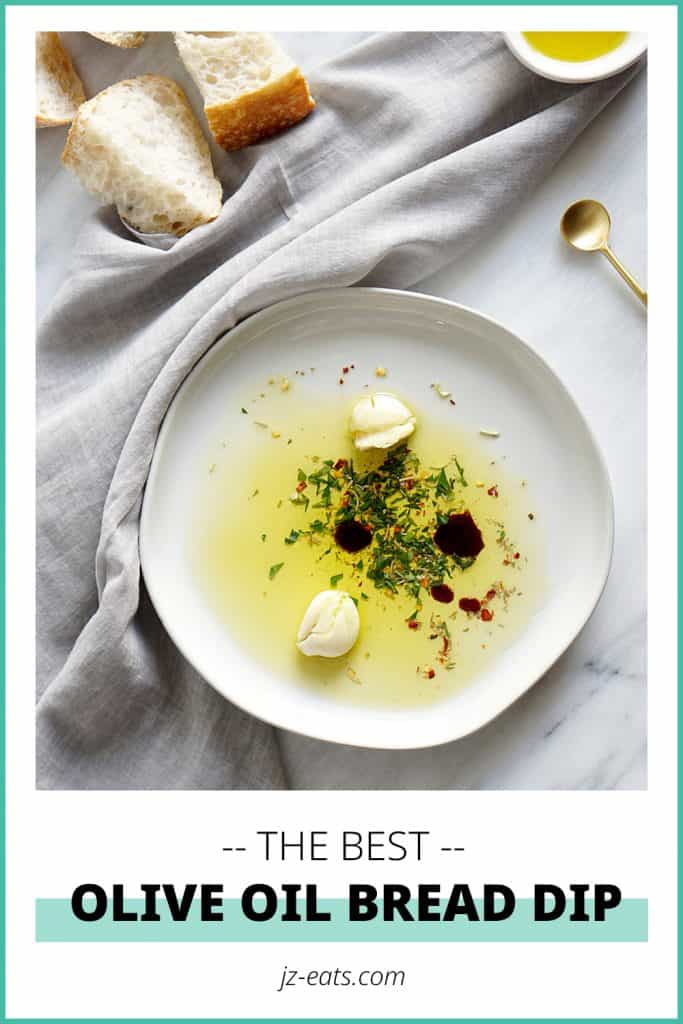 Can I use minced garlic in a jar instead?
You might have a jar of minced garlic in the refrigerator already, but the flavor elements of minced garlic are different from fresh crushed garlic.
Minced garlic in a jar also has less flavor than the clove itself. This is because when you let garlic sit in the refrigerator for several days after breaking down the cell walls and allowing two different chemicals to interact (this happens when you chop it), the effect of that interaction is that, in time, they form sugars.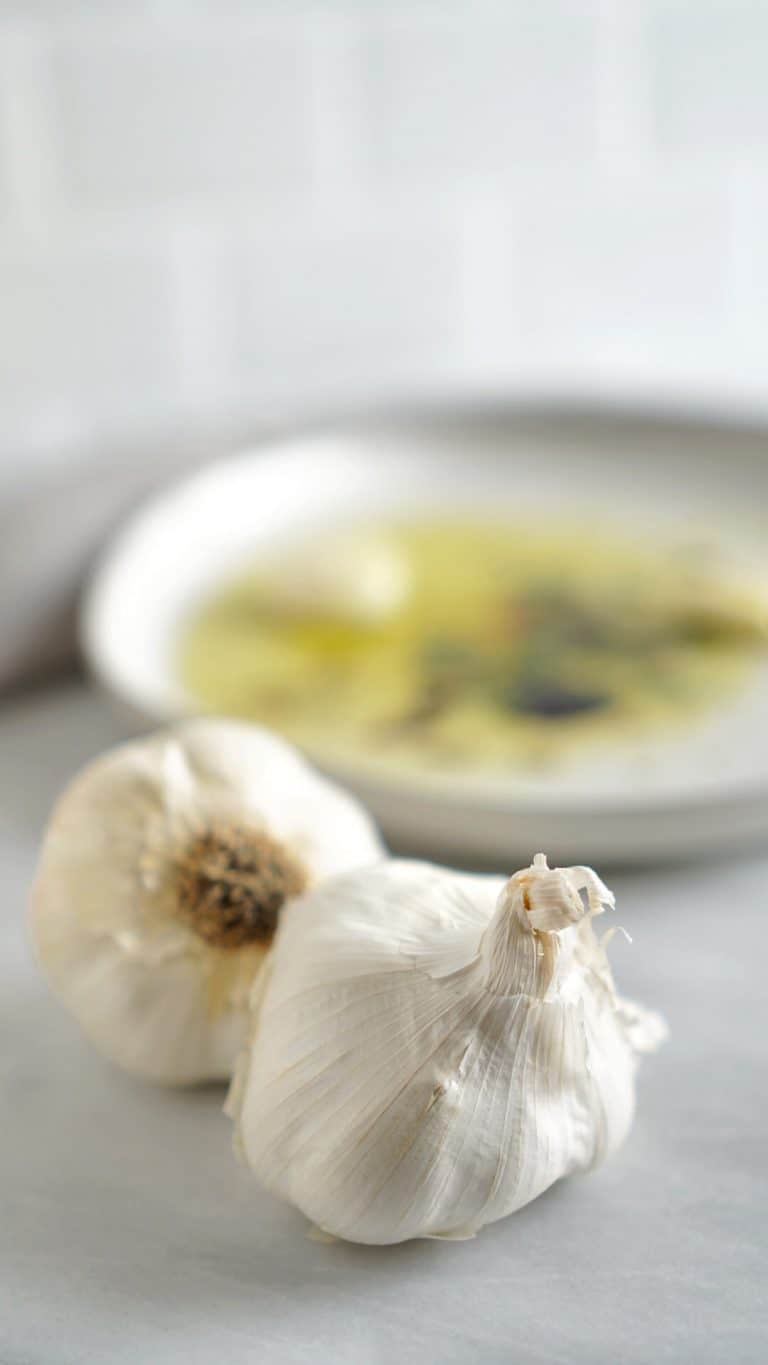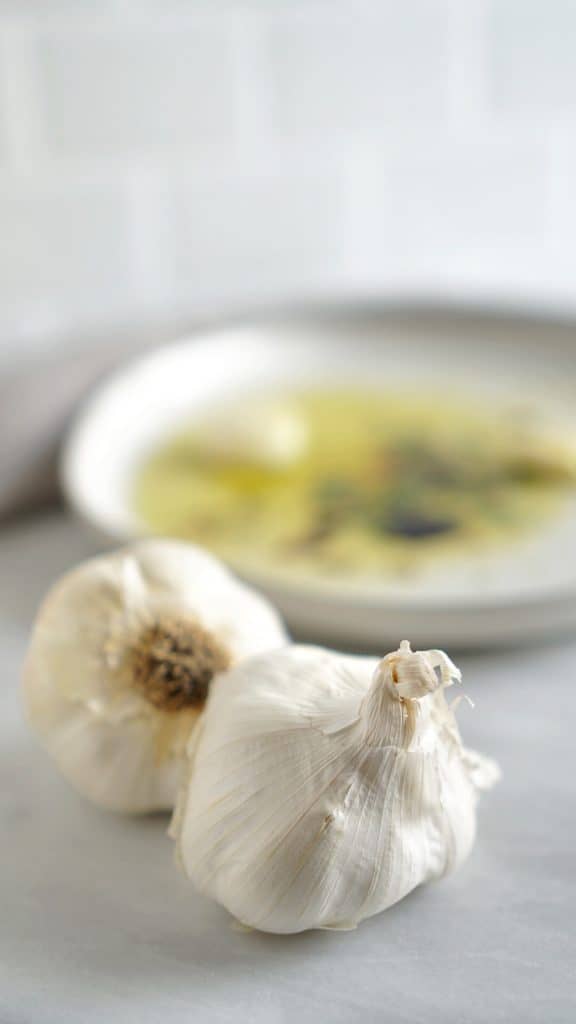 In short, if you are using pre-chopped garlic that has been sitting in the refrigerator and most likely marinating in olive oil its whole life, the flavor begins to mellows out. If you don't have a garlic clove, it will do, but the flavor will be different.
Crushing garlic is easy, you don't even need to peel it! Just separate one clove, lay it on the cutting board, and smash it with the flat end of your knife. Then you can easily pull off the peel. Still not sure how to crush garlic? Well, Martha Stewart does a great job of explaining the garlic crushing process in this post.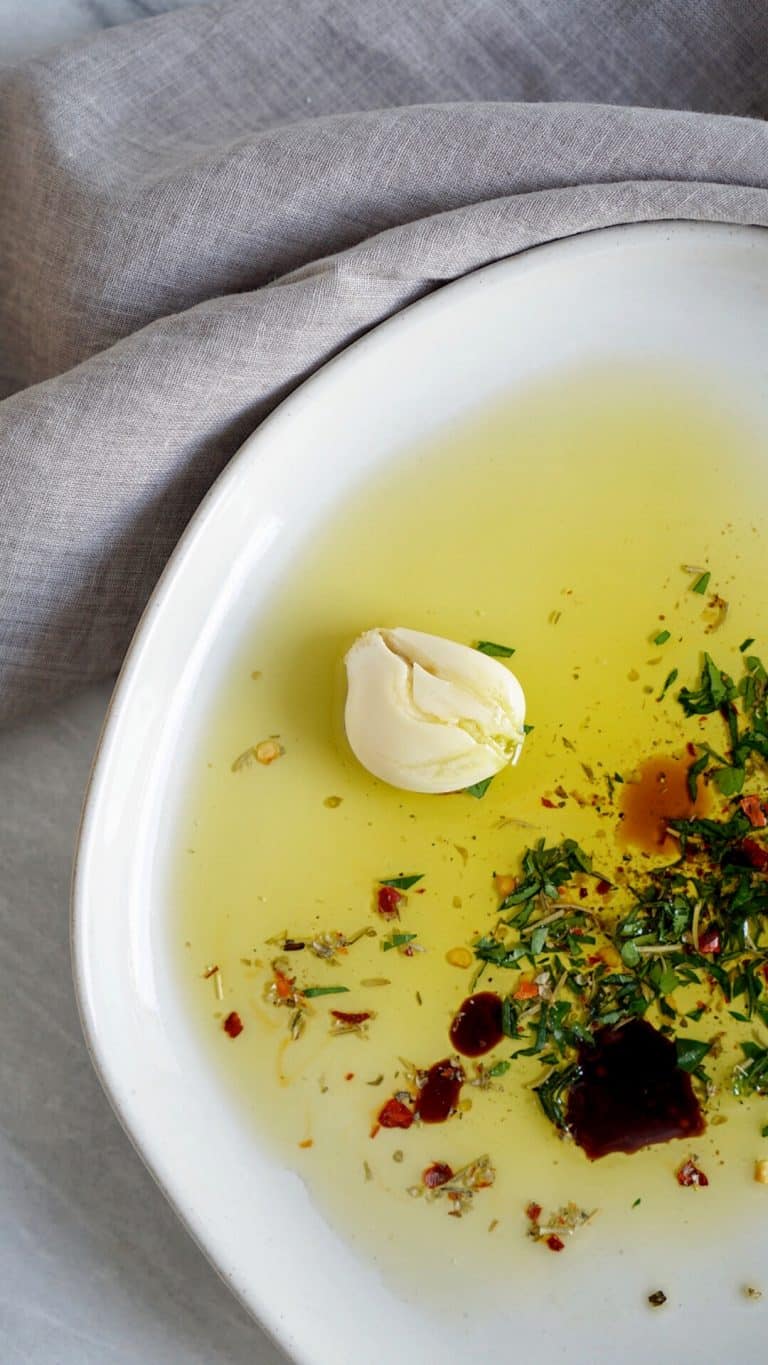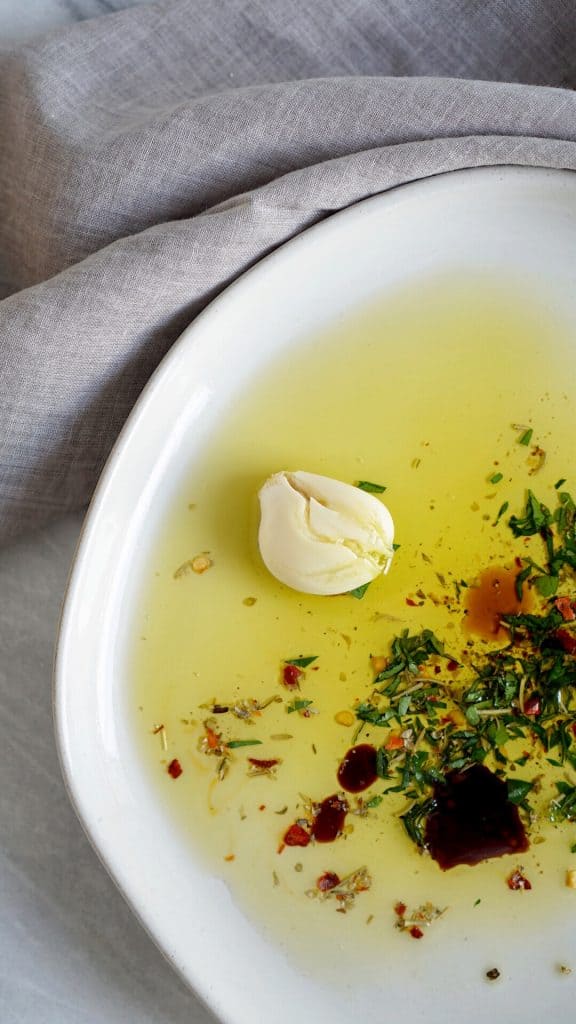 If you are looking to store this dipping oil for future use, substitute the fresh garlic for 1/2 tsp of garlic powder.
For this recipe, I used sourdough bread to dip, but you can use whatever bread you like! French baguette, focaccia, or ciabatta bread would all be delicious as well. Anything with a soft and spongey inside with a nice crusty outside is my favorite!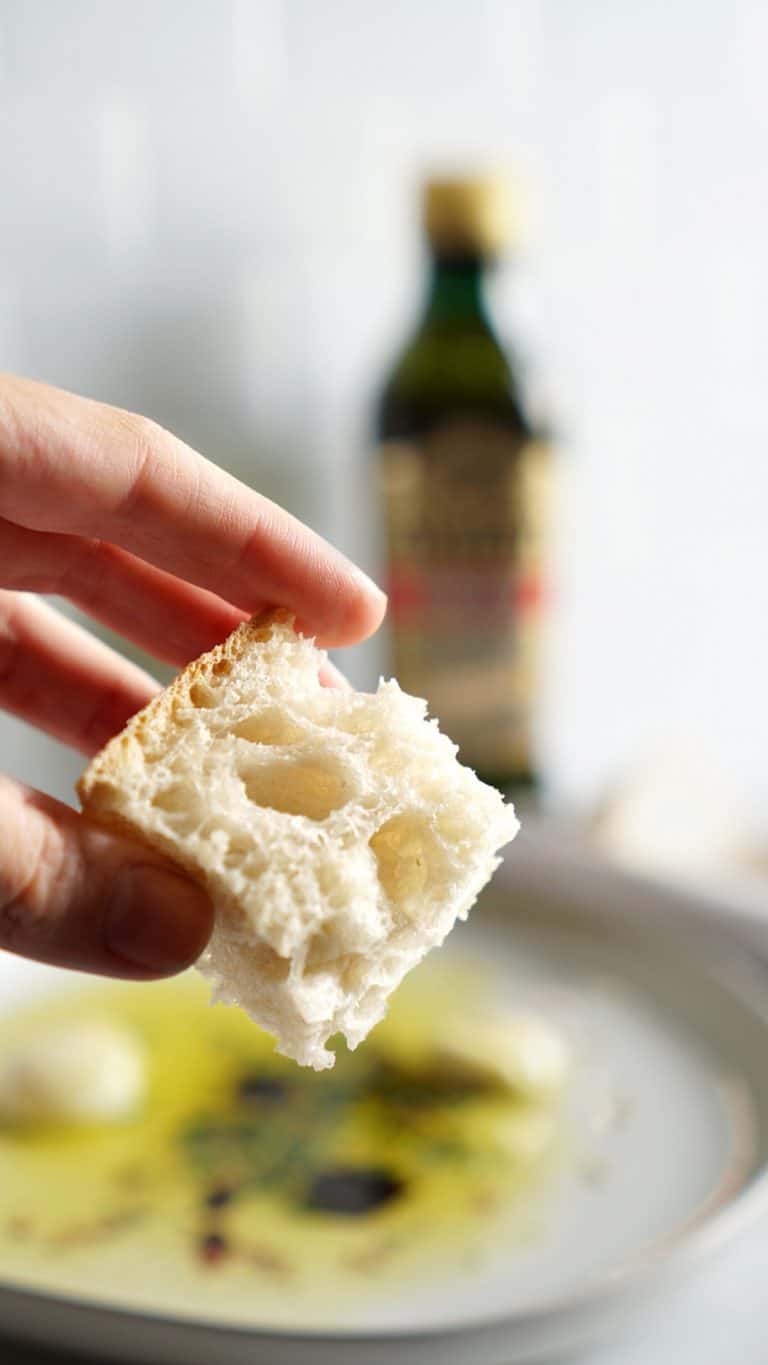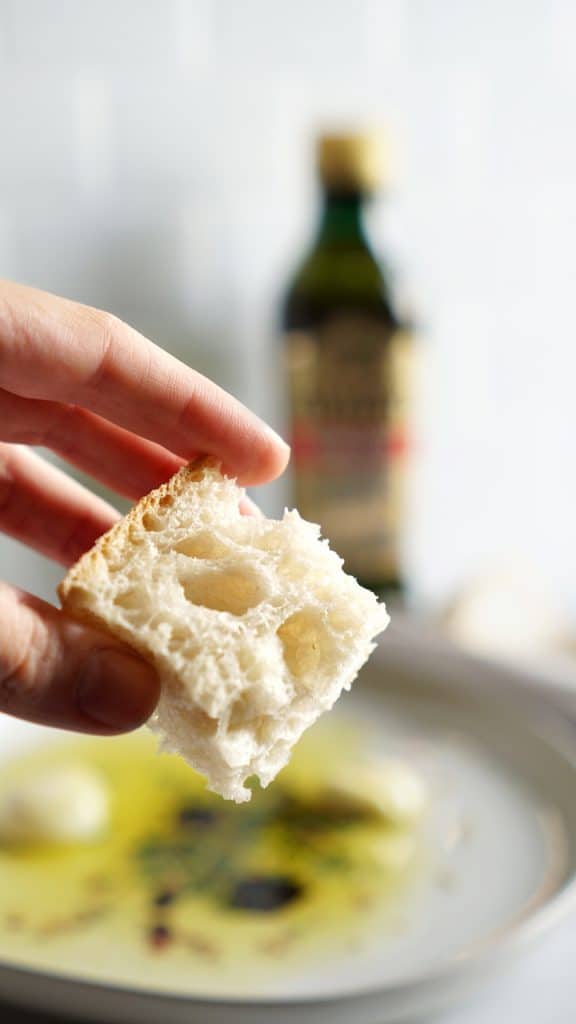 This recipe uses an Italian Herb seasoning blend because all the herbs in this blend are perfect for an olive oil dip recipe and it saves you from having to open six jars of spices!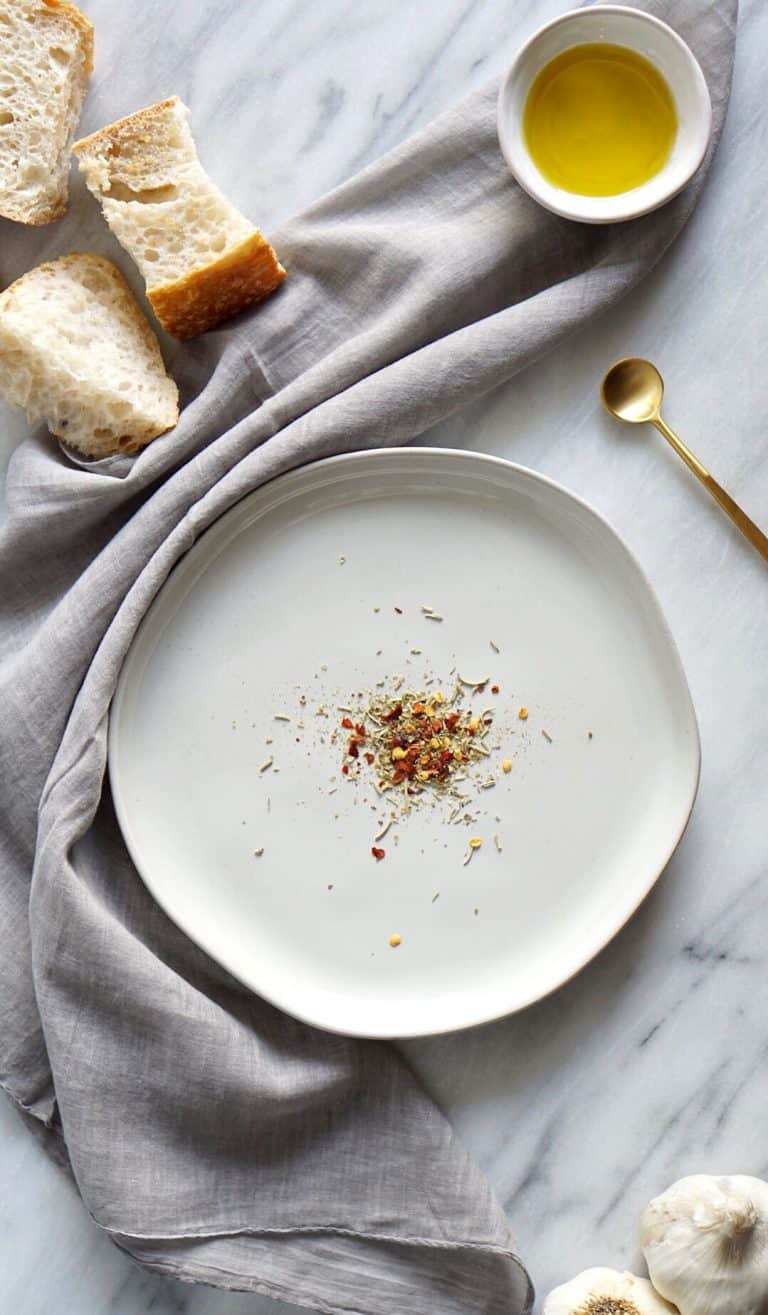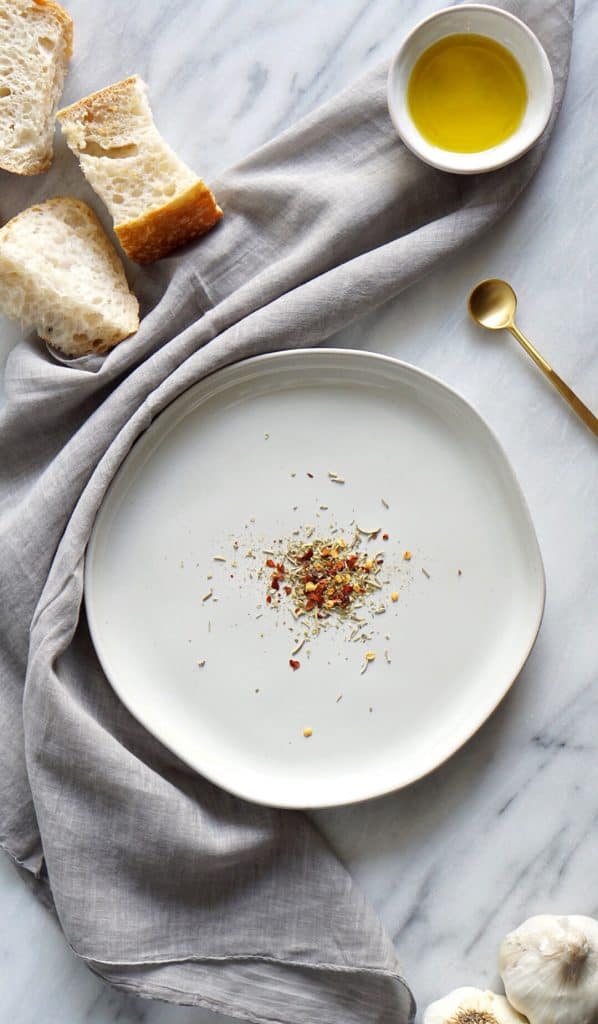 Send a DIY gift basket
DIY gift baskets are so much fun and they make the great gifts!
If you're looking for a fun gift to send a friend, consider putting a DIY gift basket together with all the ingredients to make their own dipping oil for their favorite bread! You can find all of the ingredients on Amazon, linked below. I even included a cute gift basket to pack it all up in!
You'll notice I swapped out the fresh garlic for garlic powder so it stays fresh in the mail.
Felippo Berio Robusto Olive Oil
Whole30 olive oil salad dressing
This recipe isn't limited to dipping bread. You can use it as a light salad dressing or vinaigrette too! I love to use it on simple salads with mixed greens, cherry tomatoes, grilled chicken, and a sprinkle of parmesan cheese. Of course, if you are doing Whole30, omit the cheese. You can check out all of my Whole30 tips here.
Want to try this Olive Oil Bread Dip recipe?
PIN IT to your appetizers, bread dip, or recipes board to save it for later!
Find me on Pinterest for more great recipes. I'm always pinning!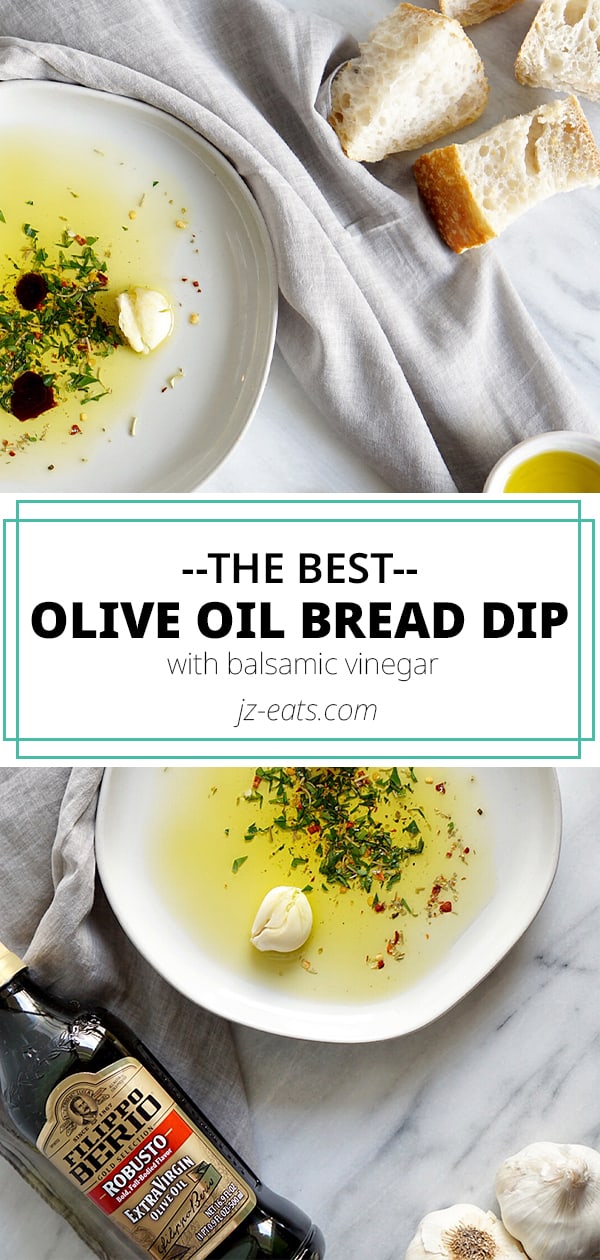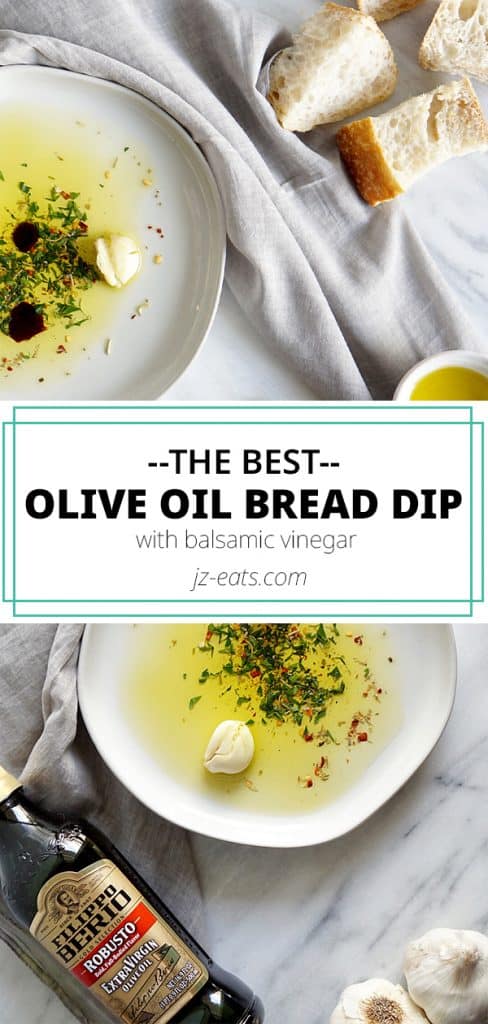 Want to see more of JZ Eats?
Check out more of my recipes here.
Follow me on Instagram and Facebook for daily drool-worthy updates.
Subscribe to my blog so you don't miss a thing!
More Recipes To Try
Did you make this recipe? Post a photo on Instagram and tag me @JZEATS or #JZEATS so I can see! Leave a comment below and let me know what you think, too!
The Best Olive Oil Bread Dip
An olive oil bread dip so good you won't want to share it! With this recipe you'll have restaurant quality bread dipping oil at your fingertips.
Ingredients
1-2

tbsp

Felippo Berio balsamic vinegar

2

cloves

fresh garlic,

crushed

1/2

tsp

italian herb seasoning

1/2

tsp

crushed red pepper flakes

1/2

tsp

coarse sea salt

1/2

tsp

fresh ground pepper
Instructions
Add garlic, Italian herb seasoning, crushed red pepper flakes, salt, and pepper to a shallow dish. Then mix in olive oil and balsamic vinegar.
Notes
*If you're making this olive oil dip to bottle and store, swap out the fresh crushed garlic for 1/2 tsp of garlic powder.
* See notes in post about crushing garlic if you need tips!
Nutrition
Calories:
128
kcal
|
Carbohydrates:
1
g
|
Protein:
0
g
|
Fat:
13
g
|
Saturated Fat:
1
g
|
Cholesterol:
0
mg
|
Sodium:
296
mg
|
Fiber:
0
g
|
Sugar:
0
g
|
Vitamin A:
75
IU
|
Vitamin C:
0.5
mg
|
Calcium:
13
mg
|
Iron:
0.3
mg