This post may contain affiliate links which will not change your price but will share some commission. Please read my privacy policy.
A restaurant quality spaghetti squash recipe with seared scallops that looks and sounds fancy, but is so easy to make! Did I mention this "fancy" dinner is made in just 30 minutes?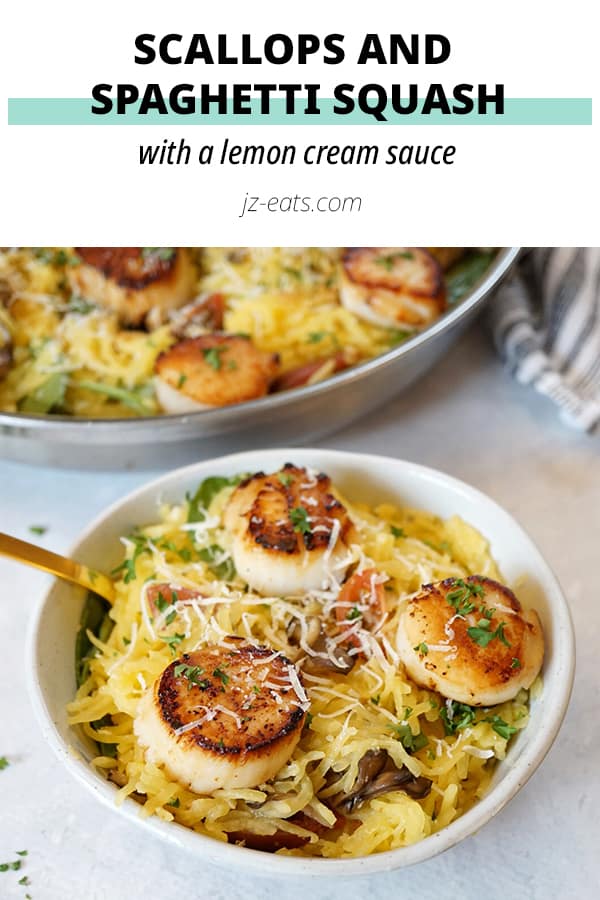 Low Carb Seared Scallops And Spaghetti Squash Recipe
This easy and delicious dinner recipe is inspired by something I had when visiting my Dad in Florida. We dined at Boca in Sarasota and I had the most delicious meal with spaghetti squash, scallops, clams, and a light cream sauce. I loved it so much, I just had to recreate it at home!
Doesn't it look amazing?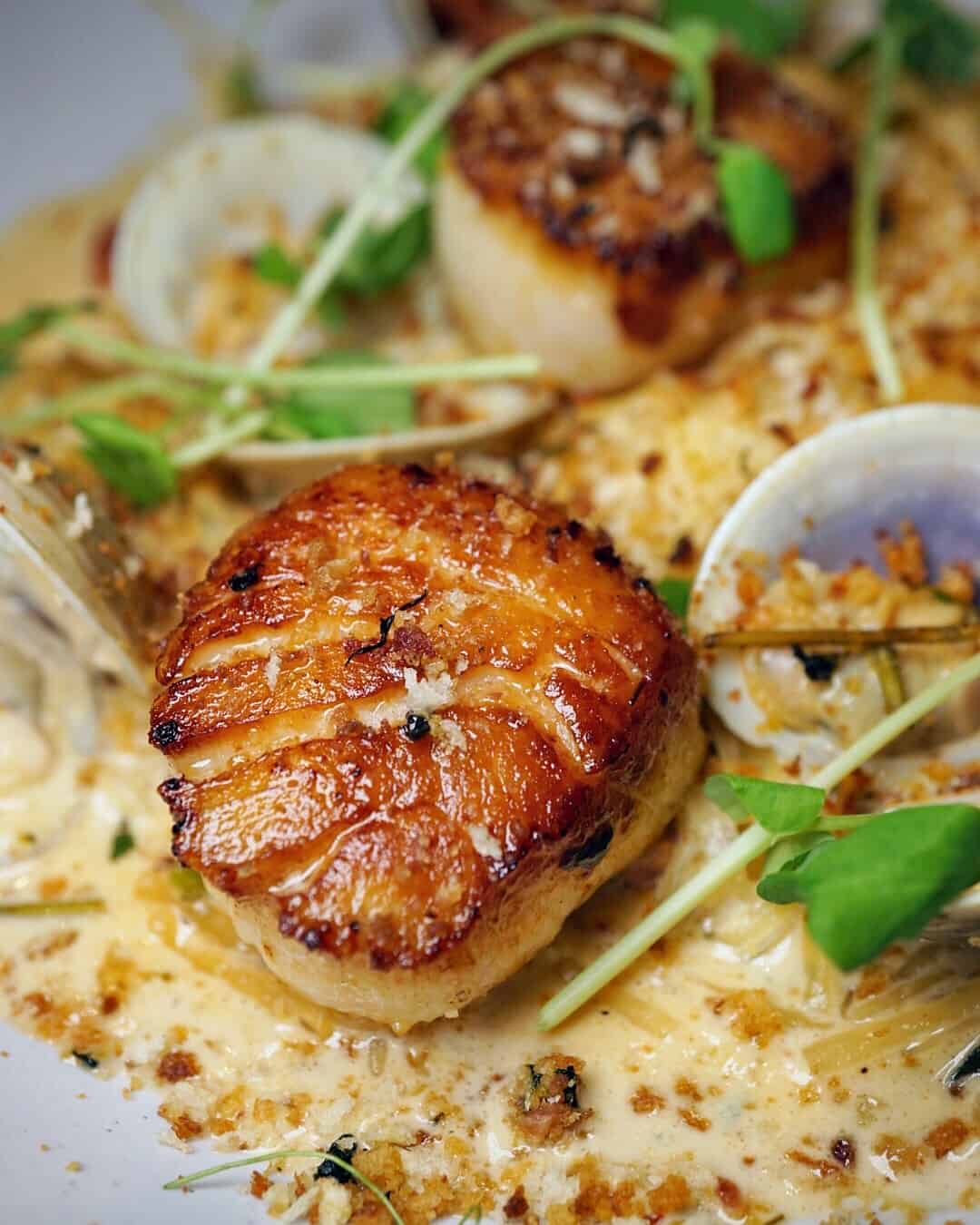 That recipe was a little different from this scallop and spaghetti squash recipe. This one doesn't have clams and the cream sauce is much lighter than the one pictured above.
If you want a heavier or thicker cream sauce, you can always add more half and half and parmesan cheese.
How To Make Spaghetti Squash
Spaghetti squash is one of my favorite substitutes for spaghetti because it's low-carb, Whole30 approved, and just delicious! There are tons recipes for how to cook spaghetti squash out there, but this is the only one you need.
It's the best because rather than roasting it in the oven for 45 minutes, I cooked it in the microwave in under 15 minutes!
Cooking spaghetti squash in the microwave is a huge timesaver. Don't get me wrong, I love the way a roasted spaghetti squash tastes, but on weeknights I am all about quick dinner recipes!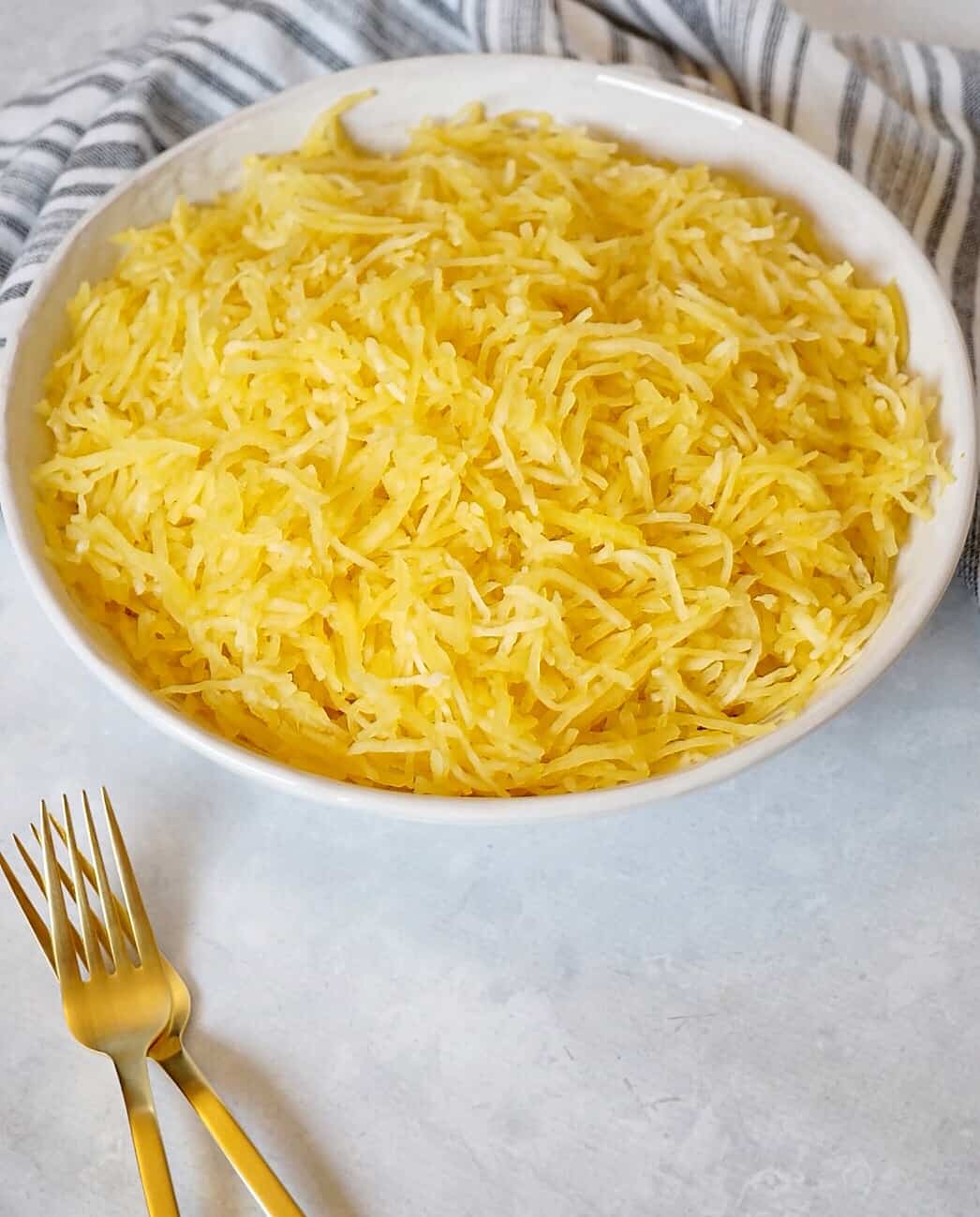 I Love Scallops!
Scallops have been one of my favorite things to cook for years because they are the one of the easiest seafoods to make and are definitely impressive when serving at home.
Although scallops may seem intimidating because they are usually seen as "fancy", I promise they aren't! And once you nail down the technique, you'll be making them at least once a week!
Keep an eye on your local grocery store's weekly specials, because scallops go on sale pretty often. Also, another thing I love about scallops how much protein they contain there's about 17 grams of protein in just three scallops!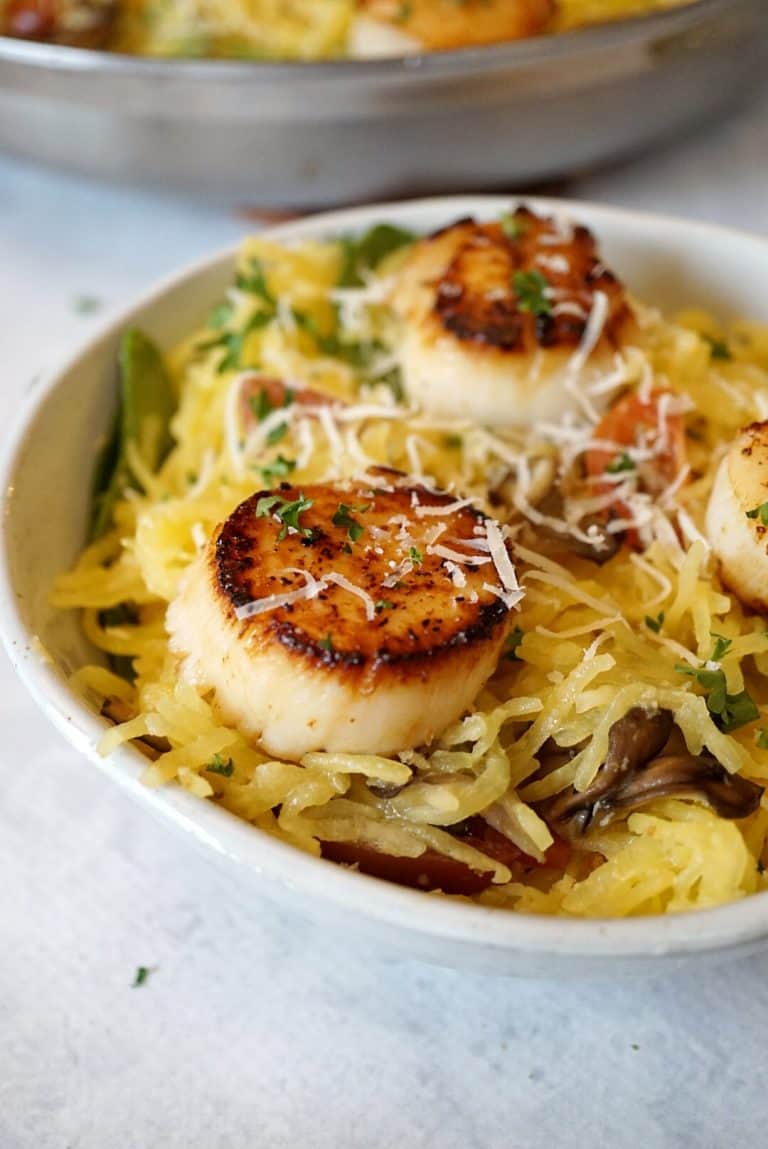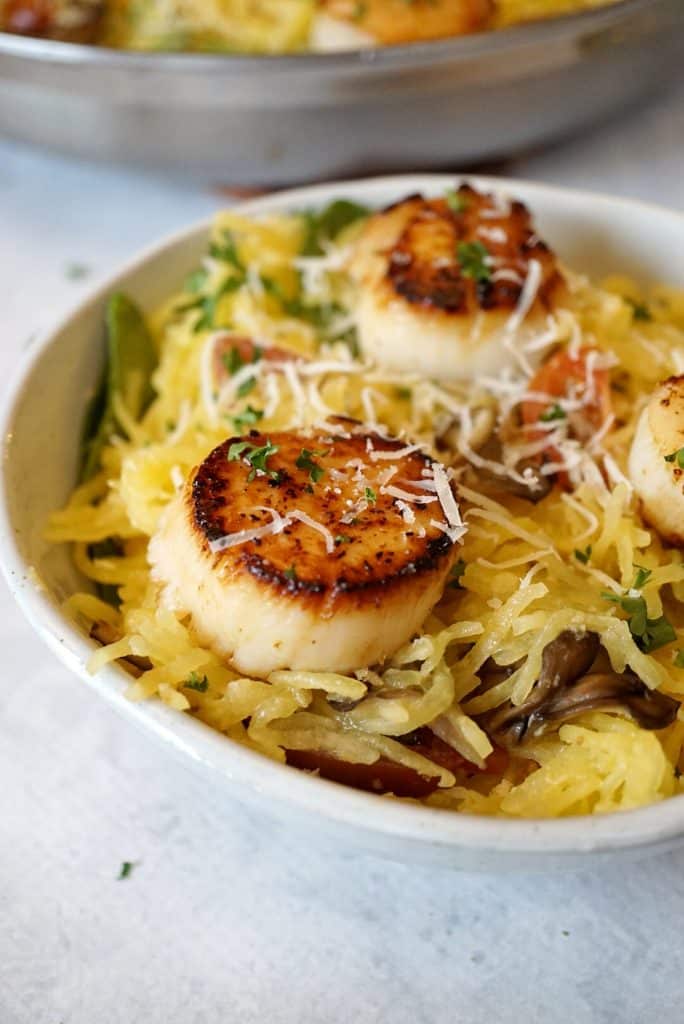 How To Cook Scallops
It doesn't take much effort to get the perfect sear on sea scallops. Cooking scallops requires only three ingredients:
All you have to do is heat a non-stick pan or cast iron with a little bit of butter and olive oil on high heat, then add scallops, and cook. Check out this guide on how to cook scallops for step by step instructions to make perfectly seared scallops at home. Because perfectly cooked scallops aren't just for restaurants.
Seafood and pasta is one of my all time favorite comfort dishes, and this scallop recipe is the best low-carb versions of that.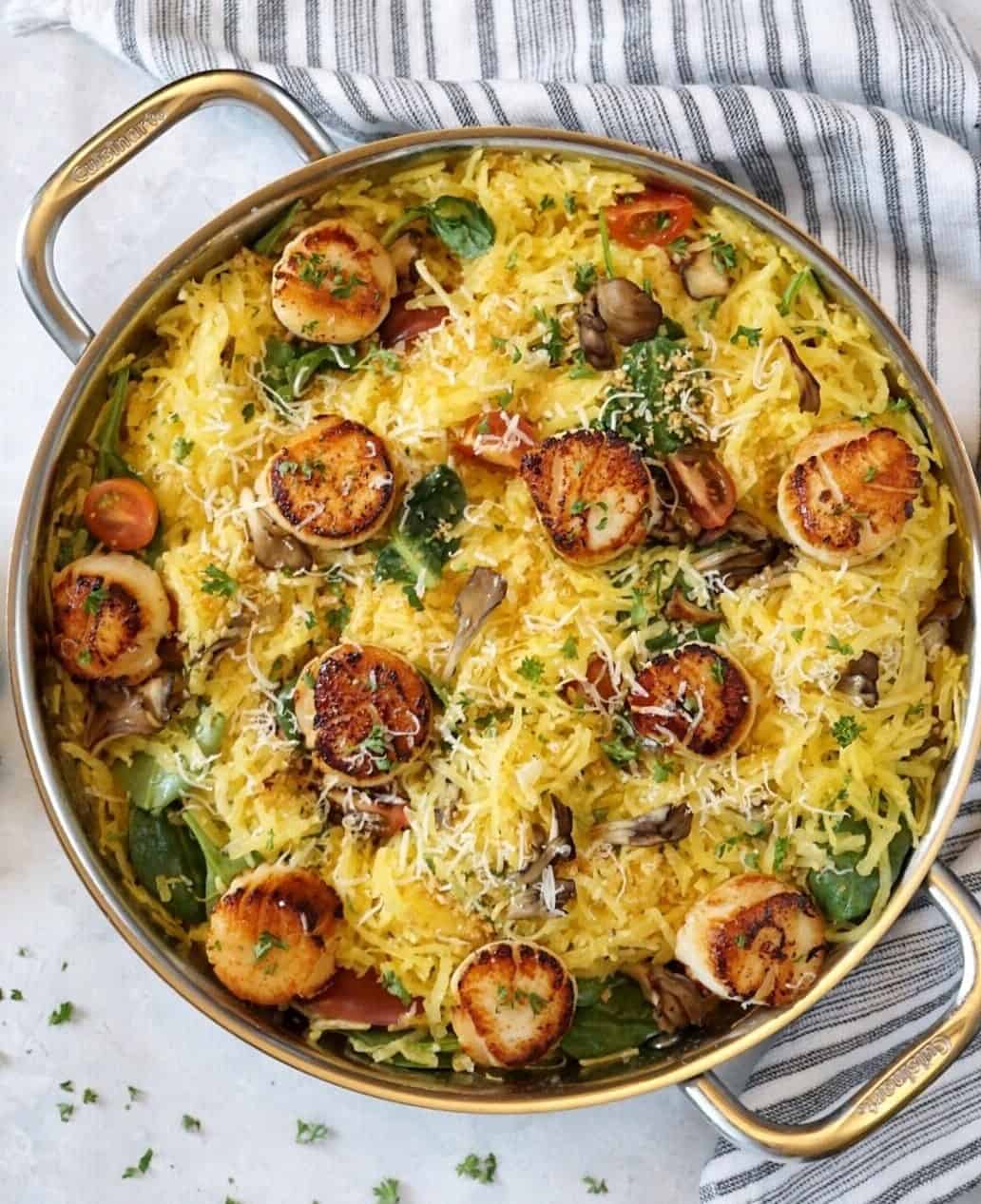 Where To Buy Scallops
While scallops are easy to make, they can also be difficult if you don't know what you're doing and how or where to buy your scallops. So here are a few tips to get you started:
Always try to find dry packed scallops
Avoid buying frozen scallops
Farmer's markets and Whole Foods are usually great sources for fresh scallops
You're Going To Love The Lemon Cream Sauce
This sauce absolutely makes the dish! I love cream sauces because they make everything taste so much better.
A cream sauce with white wine and lemon is my favorite because the acidity helps cut the heaviness of the cream, making this the ultimate light cream sauce for cooking.
You can use this lemon cream sauce recipe on seafood, steak, or chicken. It's even delicious in a vegetarian pasta dish.
I'm always on the lookout for healthy spaghetti squash recipes. So let's talk about why this is one of my favorite spaghetti squash dinners I've made in a long time!
This spaghetti squash with scallops recipe is full of flavor, texture, and sophistication. The mushrooms bring a nice earthy taste, scallops bring some sweetness, the lemon cream sauce brings a bit of a tang, and the toasted panko adds texture.
Scallops alone are beautiful and tasty so when you add them to a simple spaghetti squash with cream sauce, it just becomes elegant but still easy! They're also great for whipping up a quick meal any night of the week. If scallops aren't your thing, then try substituting them for mussels or clams. This recipe would even be delicious with roasted chicken.
Paired with the seared scallops, lemon cream sauce, fresh cherry tomatoes, and mushrooms, this spaghetti squash recipe is a real treat.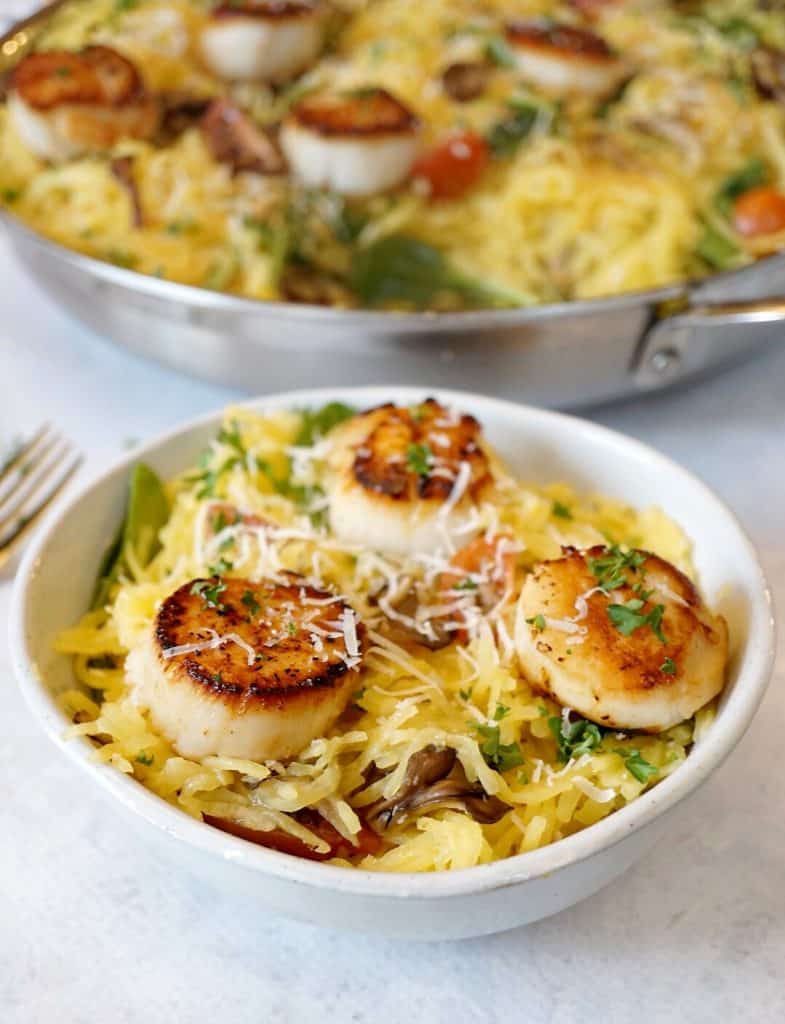 Make It Whole30 Compliant
You all know I'm a big fan of Whole30 recipes, so I want to make sure I leave you with the Whole30 version of this one. To make this recipe Whole30 compliant:
Substitute the cream sauce for a drizzle of lemon or basil flavored olive oil
Omit the panko and parmesan cheese
Cook the scallops with ghee or olive oil
Rather than adding the thyme and oregano to the cream sauce, add them to the spaghetti squash and gently toss.
Recipe Notes
For this recipe, I used maitake mushrooms because they are small and don't overpower the dish. If you prefer another type of mushroom like shiitake or baby bella mushrooms you can use those instead. However, I recommend chopping them a bit so they are smaller.
Yes, there are more than just a few ingredients for this recipe but many of them are already in your kitchen and it's what gives this dish so much flavor without needing to spend a lot of money at the grocery store.
This is one of those recipes that seems challenging and sophisticated, but in reality is quite simple to make. Make it for two or double the recipe to make four servings and impress some friends!
Other Recipes You Might Like
WANT TO TRY THIS SCALLOPS AND SPAGHETTI SQUASH RECIPE?
PIN IT to your seafood recipes, dinner recipes, or spaghetti squash recipes board to save it for later!
Find me on Pinterest for more great recipes. I'm always pinning!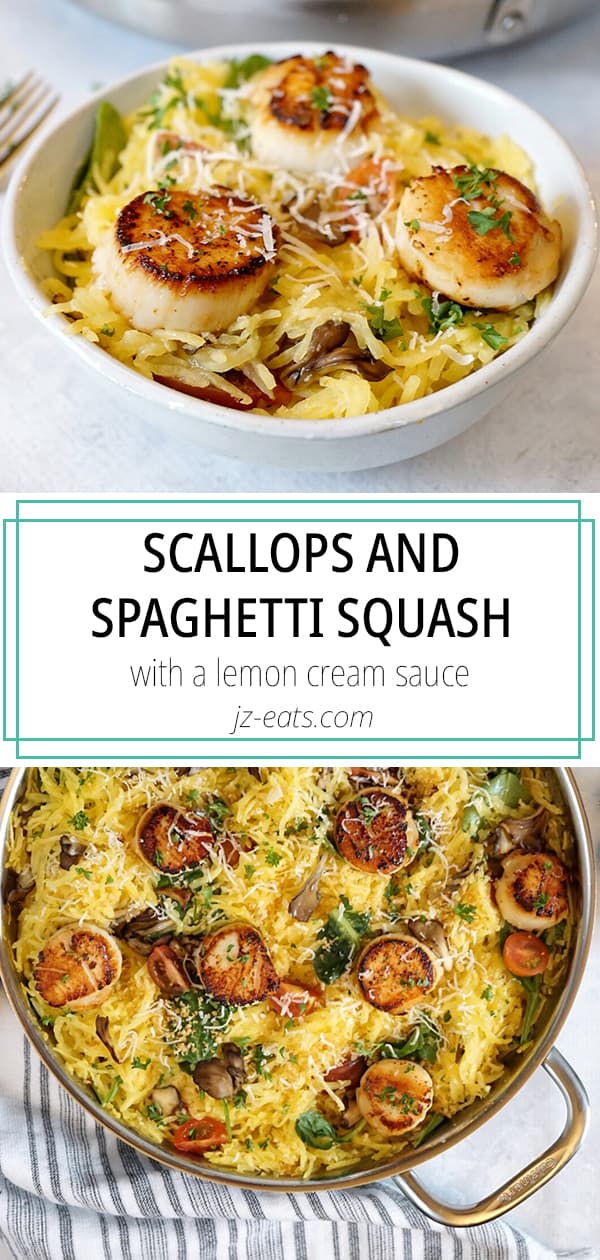 Did you make this recipe? Post a photo on Instagram and tag me @JZEATS or #JZEATS so I can see! Leave a comment below and let me know what you think, too!
Low Carb Seared Scallops And Spaghetti Squash Recipe
A restaurant quality spaghetti squash recipe with seared scallops that looks and sounds fancy, but is so easy to make! From stove top to table top in 30 minutes!

Ingredients
1

lb

U-10 scallops

1

large spaghetti squash

1/2

cup

cherry tomatoes

1/4

cup

maitake mushrooms*

2

cups

baby spinach

1/4

cup

panko

1/4

cup

half and half

1/4

cup

grated parmesan cheese

1/2

lemon,

juice

1/4

cup

fresh chopped parsley

1/2

tbsp

minced garlic

1/2

tbsp

dried thyme

1/2

tbsp

dried oregano

1

tbsp

unbleached flour

1/4

cup

white cooking wine

butter
Instructions
Cream sauce
Melt 2 tbsps butter, garlic, white cooking wine, and lemon juice in a small sauce pan on medium-low heat, then slowly whisk in half and half, thyme, oregano, and flour. Stir constantly until fully combined and sauce has thickened. Then remove from heat and sprinkle in 1 tbsp of grated parmesan cheese, return the sauce to the burner and simmer until ready to use.
Scallops
Pat the scallops dry with a paper towel.

Heat 1 tbsp of butter and 1/2 tbsp of olive oil in a large non-stick pan on high heat.

Add scallops to the pan, being careful not to overcrowd. Sear for 3-4 minutes on one side, then flip and finish searing for and additional minute. Immediately remove scallops from pan and transfer to a plate.
Bring it all together
Using the same pan you cooked the scallops in, sauté the mushrooms with 1 tbsp of olive oil for 2-3 minutes.

Reduce the heat to low and add the spaghetti squash, tomatoes, and spinach to the pan with the mushrooms and slowly mix in the cream sauce. Adjust the amount of cream sauce added to your liking.

Transfer scallops back to pan and garnish with toasted panko, parmesan cheese and fresh chopped parsley.
Notes
If you prefer another type of mushroom like shiitake or baby bella mushrooms you can substitute them. I also love using a wild mushroom blend!
Nutrition information is approximate and was calculated using a recipe nutrition label generator.
Nutrition
Calories:
248
kcal
|
Carbohydrates:
22
g
|
Protein:
20
g
|
Fat:
6
g
|
Saturated Fat:
3
g
|
Cholesterol:
22
mg
|
Sodium:
433
mg
|
Potassium:
691
mg
|
Fiber:
5
g
|
Sugar:
8
g
|
Vitamin A:
2224
IU
|
Vitamin C:
20
mg
|
Calcium:
191
mg
|
Iron:
3
mg