This post may contain affiliate links which won't change your price but will share some commission. Please read my privacy policy.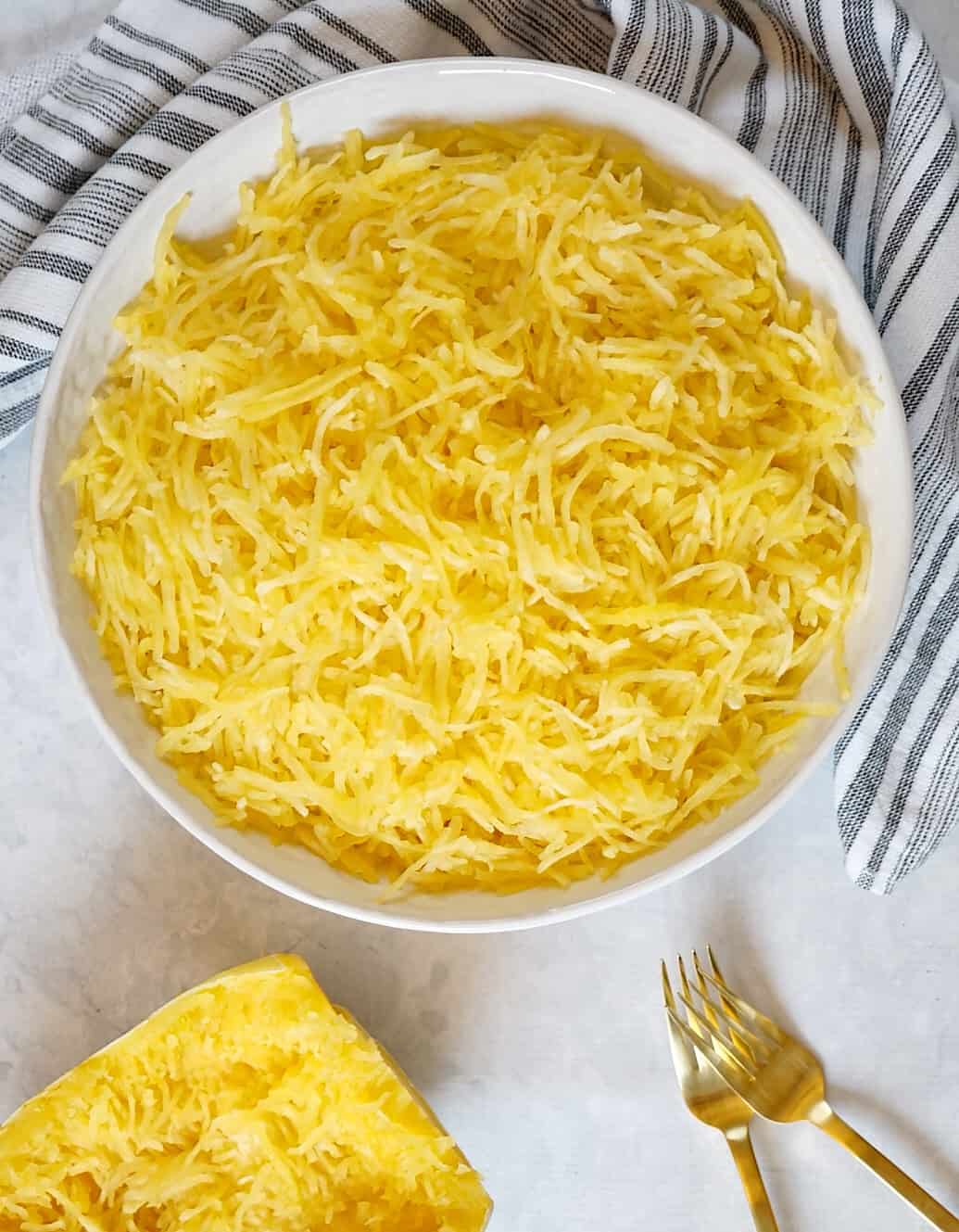 Spaghetti squash has got to be one of the best discoveries ever. It's my absolute favorite substitute for pasta. Spaghetti squash is also Whole30 approved! I ate a ton of it when I did Whole30 last year.
If you're like me and legit wondering who discovered spaghetti squash, now that I brought it to your attention—here is all the info you could ever want about this wonderful veggie!
There are plenty of how to cook spaghetti squash recipes out there, but I am going to give you what I think is the easiest spaghetti squash recipe. This one is a real time saver.
Sure, roasting spaghetti squash will result in some delicious flavors but when you don't have time for that and you want your spaghetti squash and you want it now, this is the quickest way. After removing the strands, you'll be able to season it any way you please so it sure won't be lacking any flavor! Roasting a spaghetti squash takes 30-45 minutes, but this spaghetti squash recipe will teach you how to cook spaghetti squash in the microwave (without causing it to explode) in less than 15 minutes.
This spaghetti squash recipe only requires three ingredients and can be seasoned any way you like, or not at all! It makes a great base or side dish for any meal. Recently, I added mushrooms, tomatoes, spinach, and scallops with a light lemon herb cream sauce to spaghetti squash and it was AMAZING. So amazing that I've already made it four times in one month.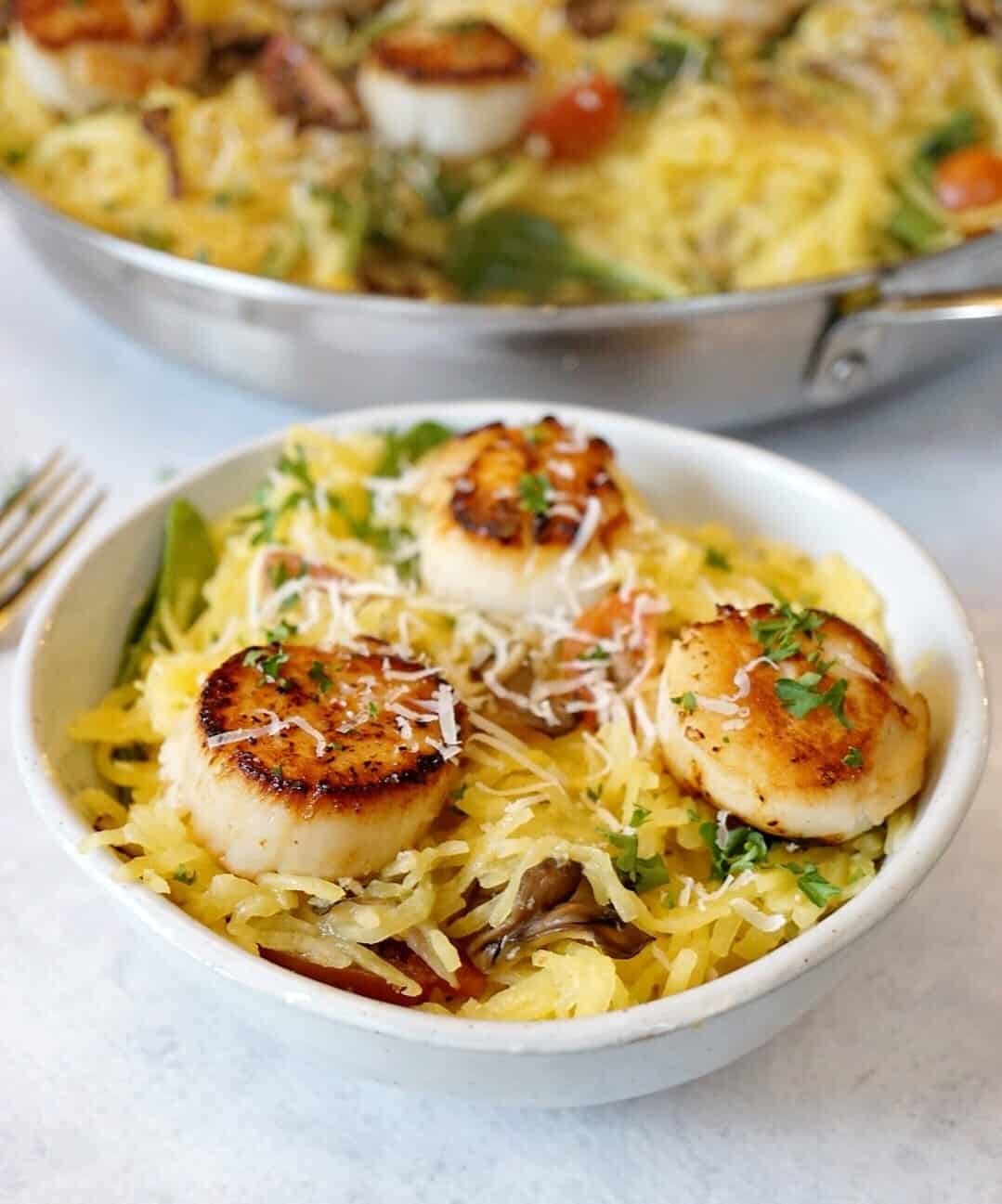 How did you prepare your spaghetti squash? Tell me in the comments or send me an email—I always respond!
How to cook spaghetti squash
When making spaghetti squash, you want to be careful not to overcook it. Spaghetti squash noodles should be slightly firm and a bit crunchy, like al dente but for squash. Not chewy/smooth like a noodle. Remember, it's still a vegetable!
When you cut the spaghetti squash open for the first time, you will notice it's light in color. When the spaghetti squash is cooked, it will be darker in color. If your squash is a pale yellow color, it's not done yet.
Many recipes will tell you to just cut your spaghetti squash right open, like it's easy or something. No. This is a good way to slice your hand open and no one wants that. Start by carefully poking a few holes around the spaghetti squash with a pairing knife or a fork. This allows the steam to come out while it's in the microwave and prevents an explosive disaster.
After softening your spaghetti squash in the microwave for a few minutes, it will be much easier to slice open. I like to microwave mine one half at a time in 2-5 minute increments so I can check for doneness without overcooking.
When your spaghetti squash is finished cooking, pull the strands out with a fork, season it with salt and pepper and serve it as a simple vegetable side dish. Or incorporate it into your favorite spaghetti squash recipes.
Want to try making spaghetti squash in the microwave?
PIN IT to your low carb, Whole30, or spaghetti squash board to save it for later!
Find me on Pinterest for more great recipes. I'm always pinning!

Spaghetti squash is one of the best pasta substitutes out there! This low carb spaghetti squash recipe will show you how to make it perfectly in under 15 minutes. Use it as a side dish or beneath your favorite protein like chicken, fish, or beef.
Did you make this recipe?
How To Cook Spaghetti Squash
This low carb spaghetti squash recipe will show you how to make it perfectly in under 15 minutes. Use it as a side dish or beneath your favorite protein like chicken, fish, or beef.
Ingredients
1

spaghetti squash

Olive oil

salt and pepper to taste
Instructions
With a sharp knife, poke several holes all around the spaghetti squash, this creates vents that allow the steam to escape during the initial cooking. Microwave the spaghetti squash on high in a microwave safe baking dish for 5 minutes to soften the shell. Do not microwave the squash longer than 5 minutes - the steam can build up, creating a dangerous situation.


Carefully slice the spaghetti squash in half lengthwise with a chef's knife. You can protect your hands from the heat with oven mitts or let the squash cool for several minutes before cutting it open.


Scoop out the seeds with a spoon and toss - or save for roasting!

Season the squash with salt and pepper, and place in the baking dish flesh side down. Add about 1 inch of water to the baking dish, just enough to partially submerge the squash and create steam in the microwave. Place back in the microwave on high for 5 minutes. You may need to do this in two rounds, depending on the size of your baking dish and spaghetti squash.

Check the squash, if done, you will be able to easily poke holes in it with a fork. Continue microwaving for an additional 2-5 minutes as needed until completely cooked.


Remove the baking dish from the microwave using oven mitts and transfer spaghetti squash to a cutting board. Scrape the squash strands from the inside and transfer squash strands to a medium sized mixing bowl, drizzle with olive oil, and toss.

Nutrition Facts
How To Cook Spaghetti Squash
Amount Per Serving
Calories 149
Calories from Fat 18
% Daily Value*
Fat 2g3%
Cholesterol 0mg0%
Sodium 82mg4%
Potassium 521mg15%
Carbohydrates 33g11%
Protein 3g6%
Vitamin A 580IU12%
Vitamin C 10.1mg12%
Calcium 111mg11%
Iron 1.5mg8%
* Percent Daily Values are based on a 2000 calorie diet.