This post may contain affiliate links which will not change your price but will share some commission. Please read my privacy policy.
Upgrade your everyday cornbread recipe with this Mexican Street Cornbread! Sweet corn combined with creamy crema and tart lime juice, the flavor is out of this world.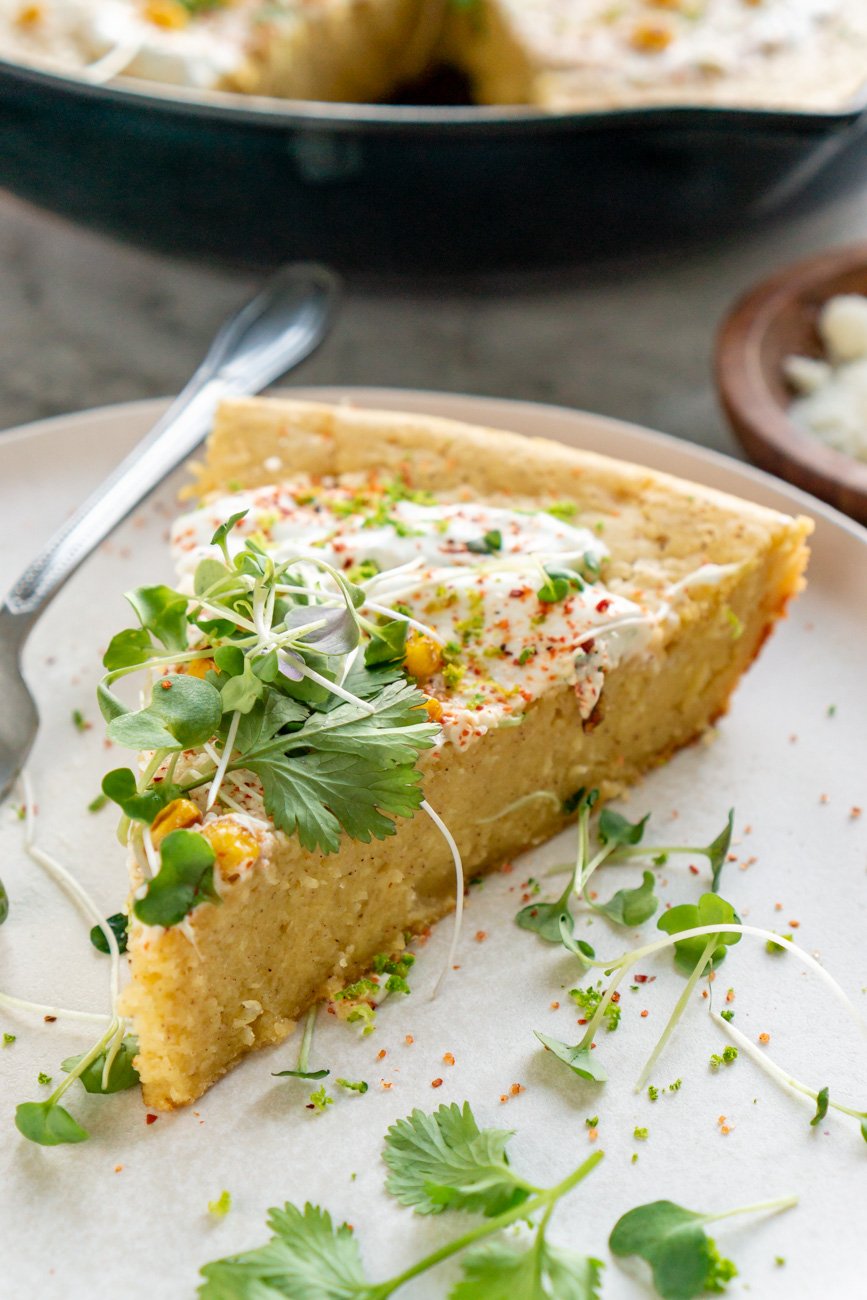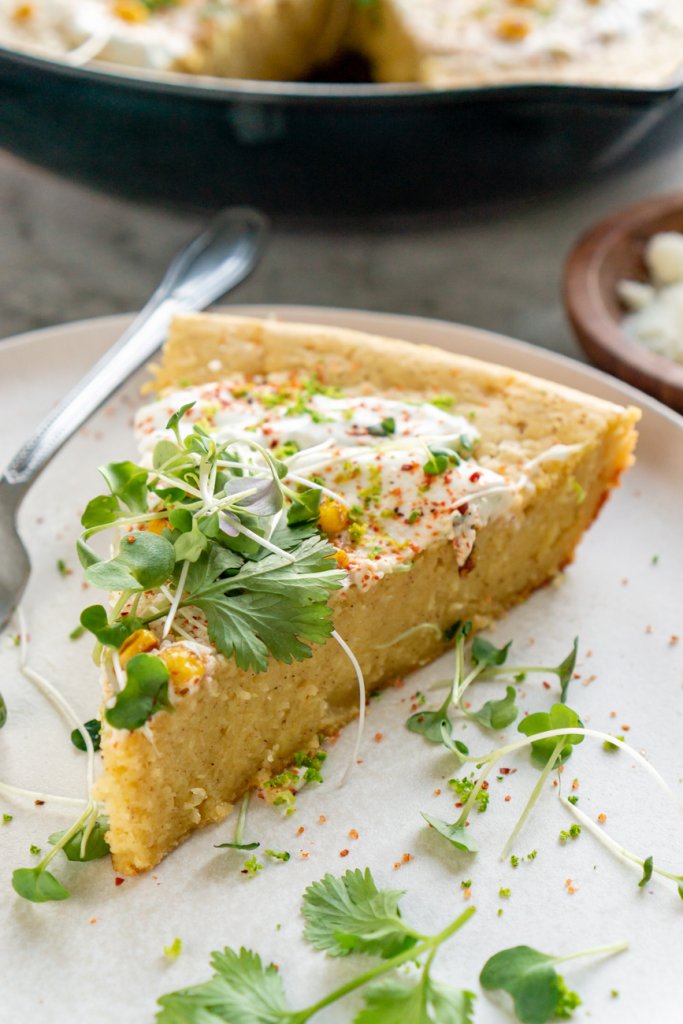 Mexican Cornbread Recipe
Ah, Mexican street corn, one of my true loves and a family favorite. It's a versatile dish that can be transformed into so many things, like Mexican Street Corn Dip, Mexican Street Corn Chili, and now Mexican Street Cornbread!
Picture this: a piping bowl of chili on a cold night. And nothing goes better with chili than a slice of homemade moist cornbread.
I've elevated sweet bread by topping it with that creamy goodness that you know and love from street corn: crema! Sprinkle cilantro and charred corn and you have a masterpiece that is fit for any fiesta or Taco Tuesday.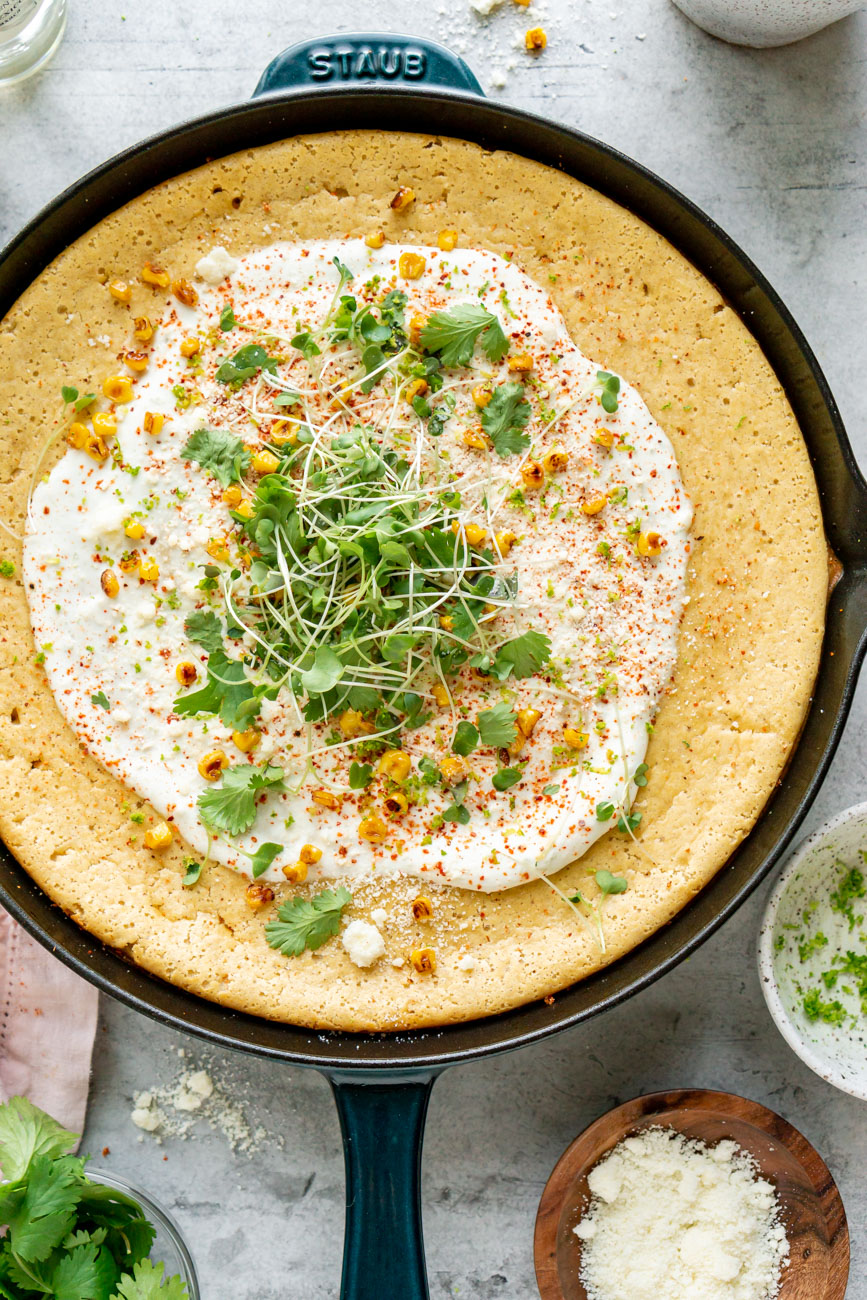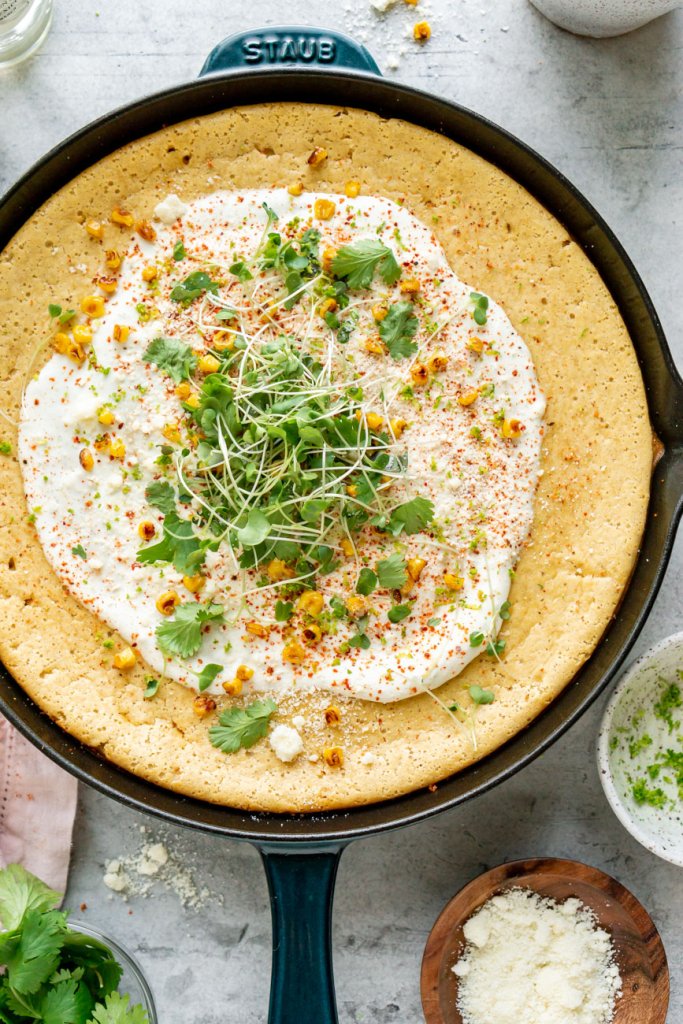 Cornbread Ingredients
Corn: you can't have cornbread without the corn! This cornbread is on the sweeter side, so I like using sweet corn. Standard canned corn works well, but I caution against cream style corn because it has too much moisture and the batter won't fully cook.
Butter: you can never have enough butter in my opinion. Not only does it give a delicious buttery flavor, but it also helps to keep this cornbread moist.
Sweetened condensed milk: this adds tenderness, a slightly sweet flavor and moisture to this recipe. Sweetened condensed milk is basically evaporated milk, but with added sugar making it thick and syrupy.
Evaporated milk: evaporated milk is whole milk, but steamed to release the water, leaving a rich dairy base. The reason we use both sweetened condensed milk and evaporated milk in this recipe is to add moisture and sweetness, but not too much sweetness.
Vanilla extract: yes, this is a savory recipe, but vanilla is often used as a warm spice in savory Mexican recipes. It balances out of the other flavors.
Cinnamon: cinnamon is also a commonly used warm spice in Mexican cuisine and paired with vanilla creates an incredible combination.
Eggs: eggs provide richness, flavor and also structure to many baked goods.
Baking powder: this is a leavening agent and helps your cornbread to rise.
Flour: the flour is what holds everything together. I use unbleached all-purpose flour.
Cilantro Lima Crema Ingredients
Mexican crema: this is what really takes this cornbread to the street corn level. If you don't have Mexican crema or can't find it at the store, feel free to replace it with thinned sour cream or even Greek yogurt.
Lime: lime juice adds a nice tang to the crema, as well as brings together all of the Mexican flavors. Fresh lime juice packs the most punch. Bottled lime juices are often muted.
Garlic: I always opt for fresh minced garlic for real garlicky taste, however if you don't have any on hand, one clove of garlic equals about ⅛ teaspoon of garlic powder. I don't suggest bottled stuff because it is often too sweet.
Salt and pepper: we will use these, in addition to the garlic, to season the crema.
Tajin: if you haven't already discovered the deliciousness that is tajin, you've been missing out! It's a wonderful blend of lime, sea salt and mild chili peppers that is great for topping so many things – even rimming a margarita!
Cilantro: not only is cilantro pretty as a garnish, it also adds a nice zing and fresh crunch. If you don't care for it, it can be omitted or swapped for parsley.
Charred corn: this part is optional, but I highly recommend it! Check the section below for full instructions on how to achieve the best charred corn.
Tip!
You can use this crema recipe to transform store-bought cornbread too!
Other easy recipe variations include adding bell peppers, green onions, green chilies, fresh jalapenos, pickled jalapeno peppers, Monterey jack cheese, cheddar cheese and even cooked and drained ground beef to the batter or as a topping.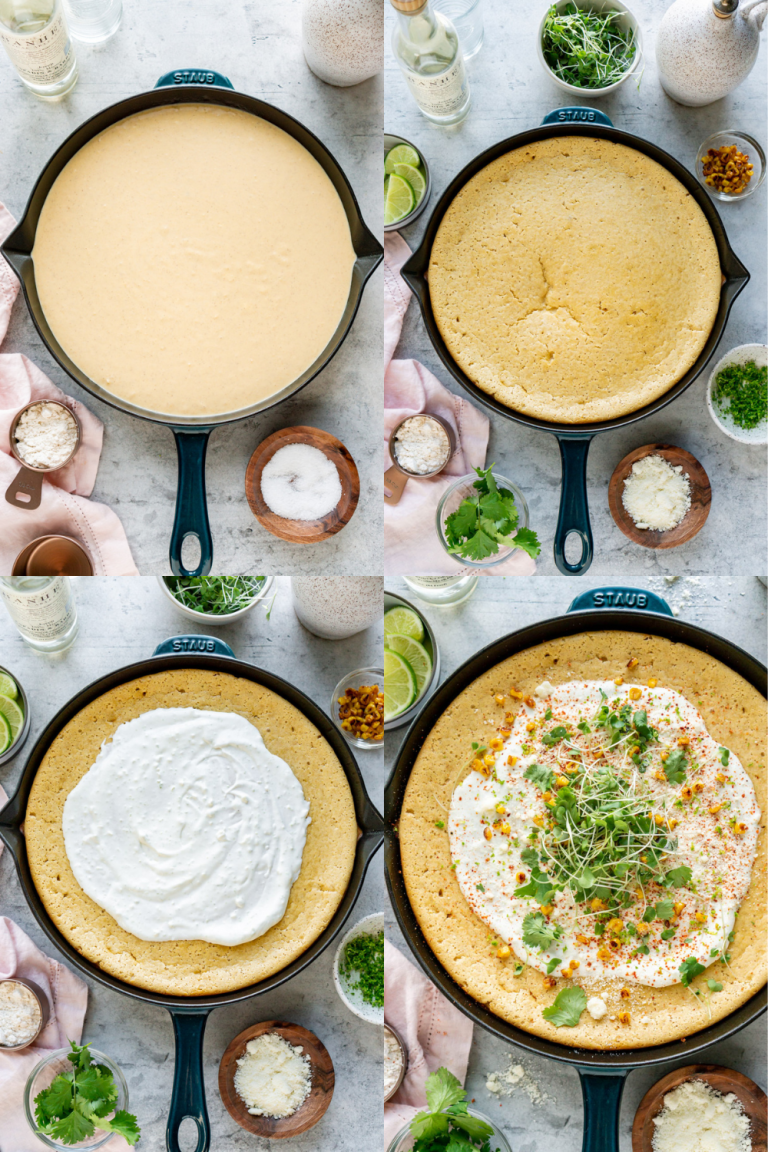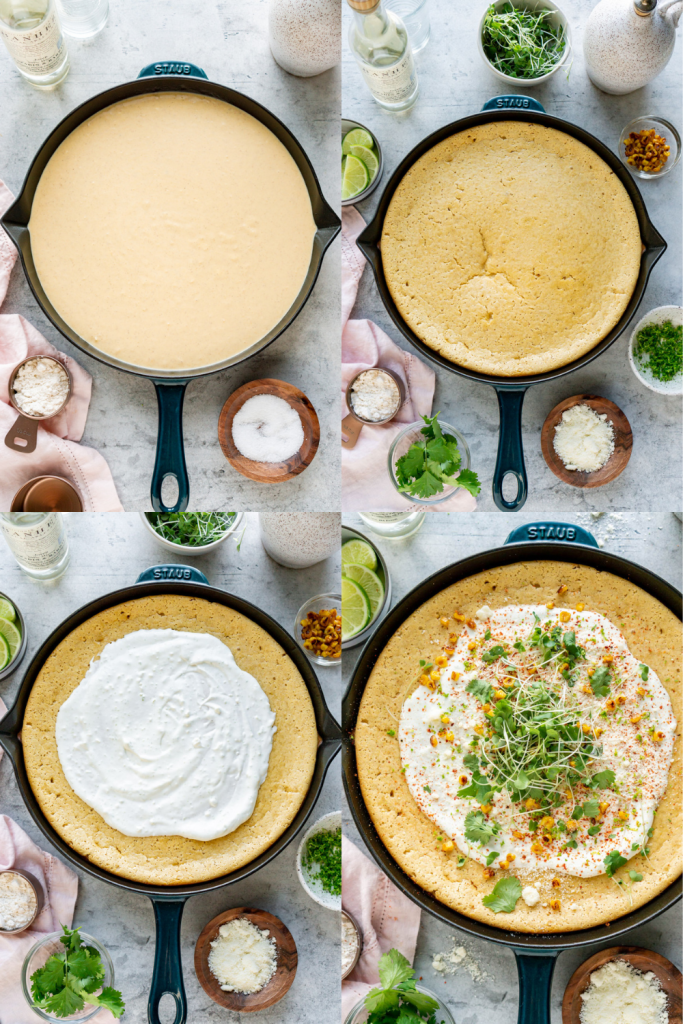 How to Make Mexican Cornbread Recipe
Making cornbread from scratch is always worth the extra time. This Mexican Street Cornbread is especially worth it because of the rich, authentic flavors. The steps are simple, but let's walk through them together.
Blend the corn. Blend together the corn and evaporated milk in a large mixing bowl.
Combine the other wet ingredients. Beat the butter until light and fluffy, then add in the eggs, condensed milk, vanilla and corn mixture.
Mix together the dry ingredients. In a separate bowl, combine the flour, baking powder and cinnamon. Mixing them separately ensures that they are evenly distributed throughout the batter and you don't end up with lumps.
Add dry ingredients to wet ingredients. Try not to over mix! We don't want tough cornbread. Over-mixing activates the gluten in the flour.
Bake the cornbread. Transfer the cornbread mix to a baking dish or cast-iron skillet. It will bake for about 40 minutes.
Make the crema. Whisk all of the crema ingredients and mix until combined.
Add toppings. Once the cornbread is completely cooled, top it with the crema and any other desired toppings.
How to Char Corn
This is a great way to add even more great flavor to nearly any dish calling for corn. Charring utilizes the Maillard reaction, meaning it is chemically changing the food to be more acidic. And for corn, you get the bonus of caramelization, a double win.
You can use frozen, canned or fresh corn, however, I prefer to use fresh. If you decide to use frozen, make sure to thaw it in the microwave first. And if using canned, be sure to fully drain and even blot it dry. If you've ever browned meats or veggies, you know that moisture is the enemy, so having it as dry as possible it your best bet.
Start by heating a large skillet over medium heat and adding a little bit of oil (vegetable oil or any neutral oil works well) or even bacon grease. Add the kernels to the hot skillet. Using a skillet slightly larger than what you think you'll need is key because you don't want to crowd the pan.
Keep a watchful eye and stir occasionally to brown all sides of the kernels. Once you have a nice caramel color (or char) you can season with your favorite seasonings or leave plain. Tajin would be great to use here!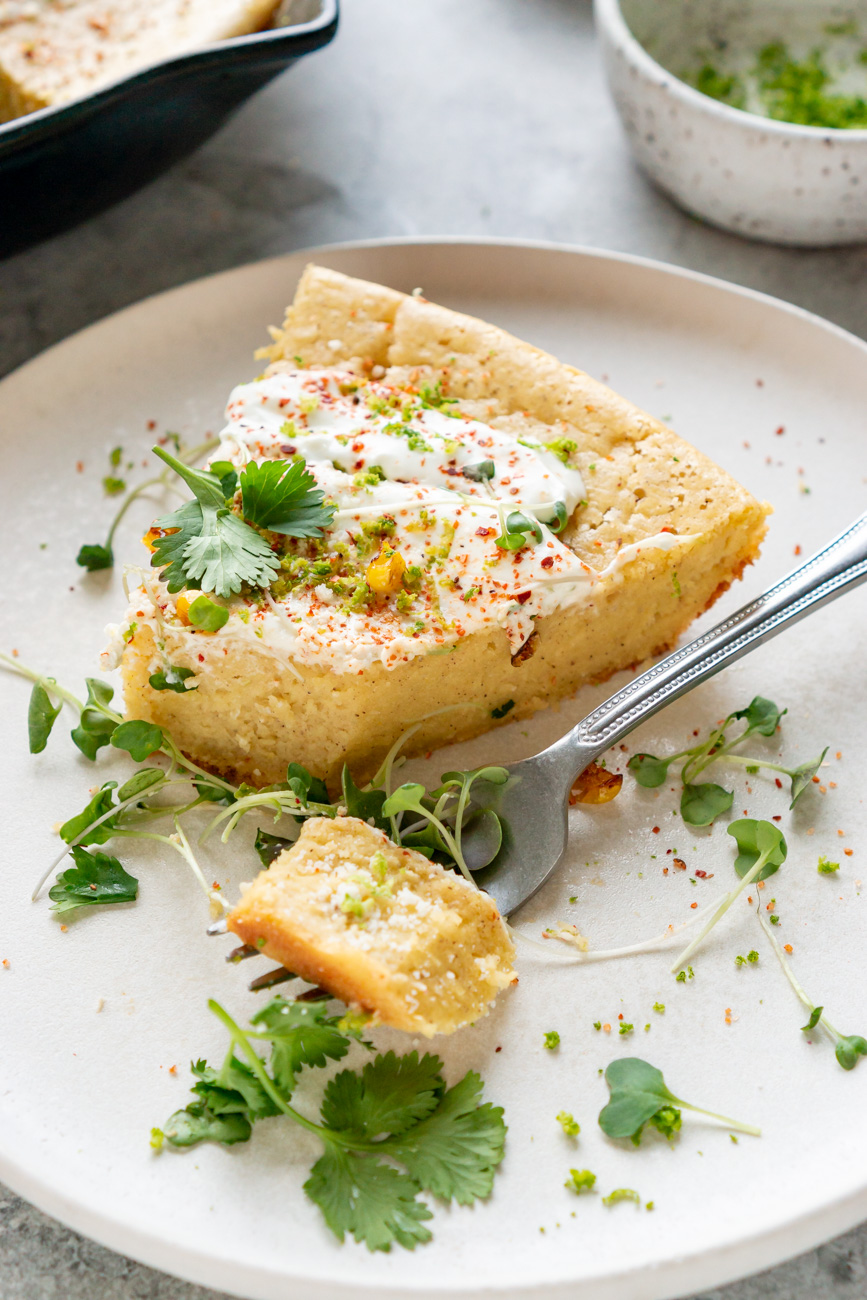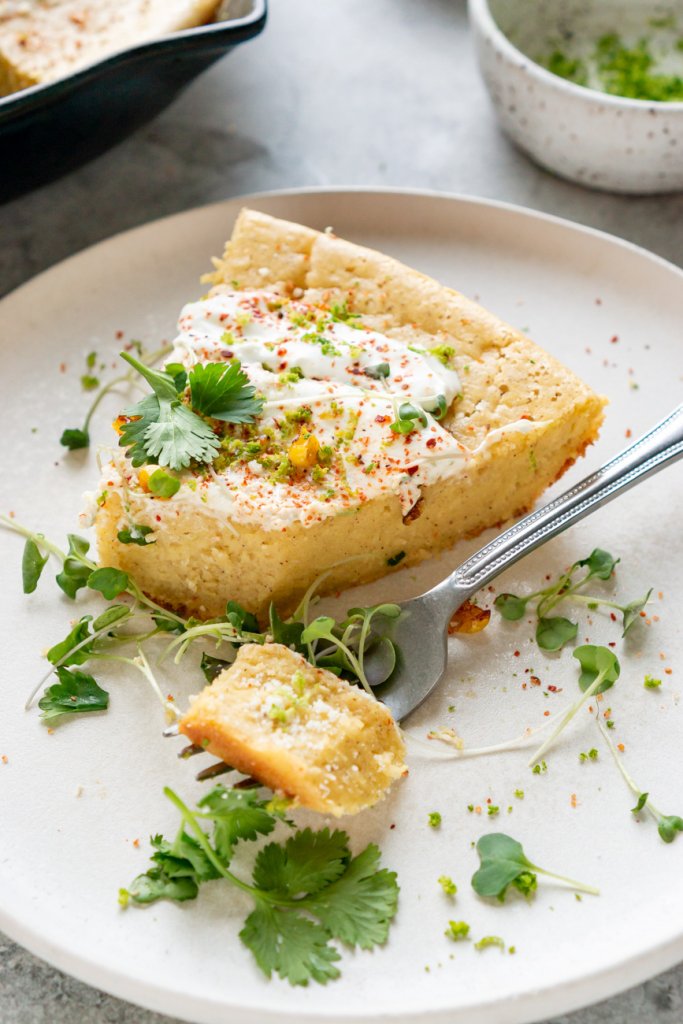 Where Can I Find Mexican Crema and Tajin?
Tajin has always been pretty easy to find for me, especially as it's becoming more popular. I find it in the international food aisle at my local grocery store. I've also seen it at Walmart, and of course, you can order it online too.
Mexican crema is located in the refrigerated dairy aisle. However, if you have trouble finding it, you can always substitute it with thinned Greek yogurt or regular sour cream instead.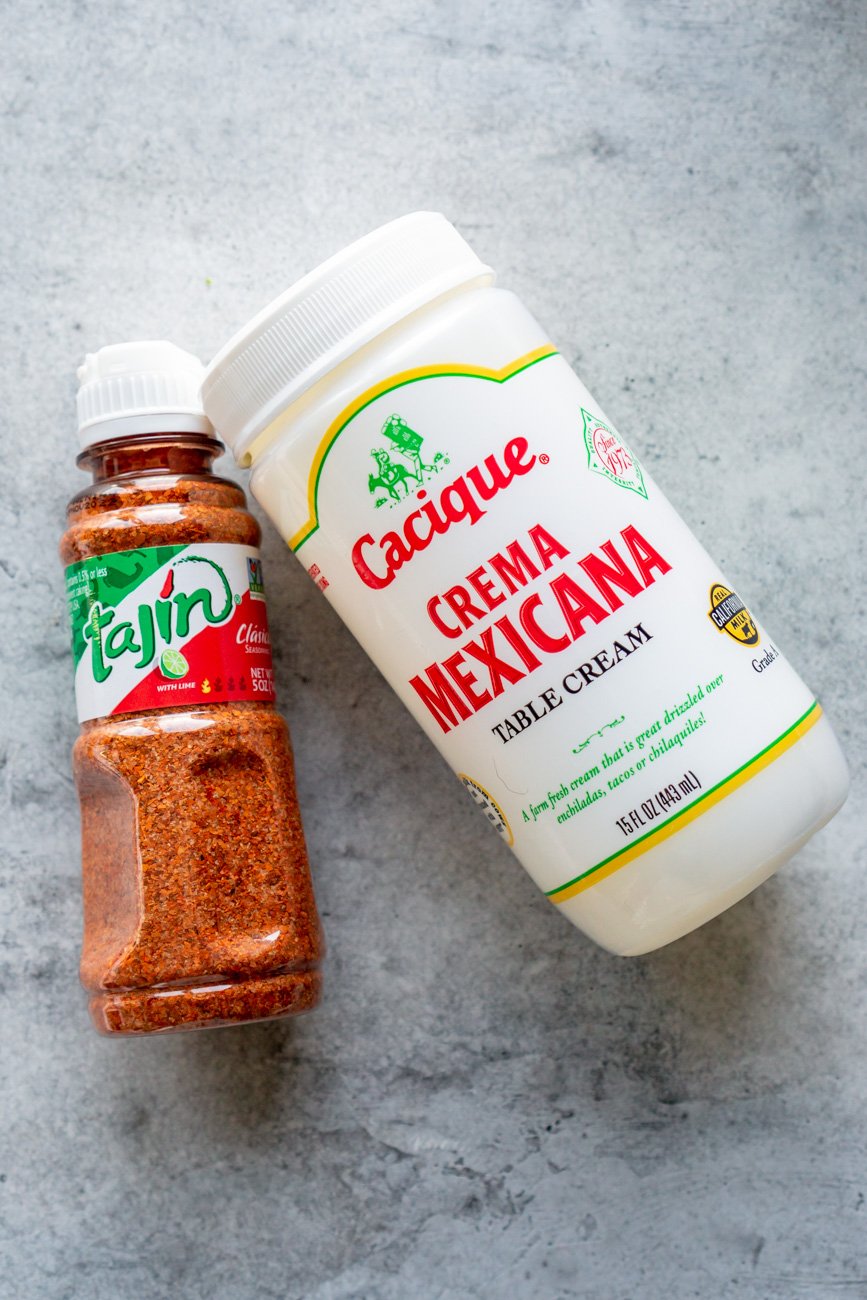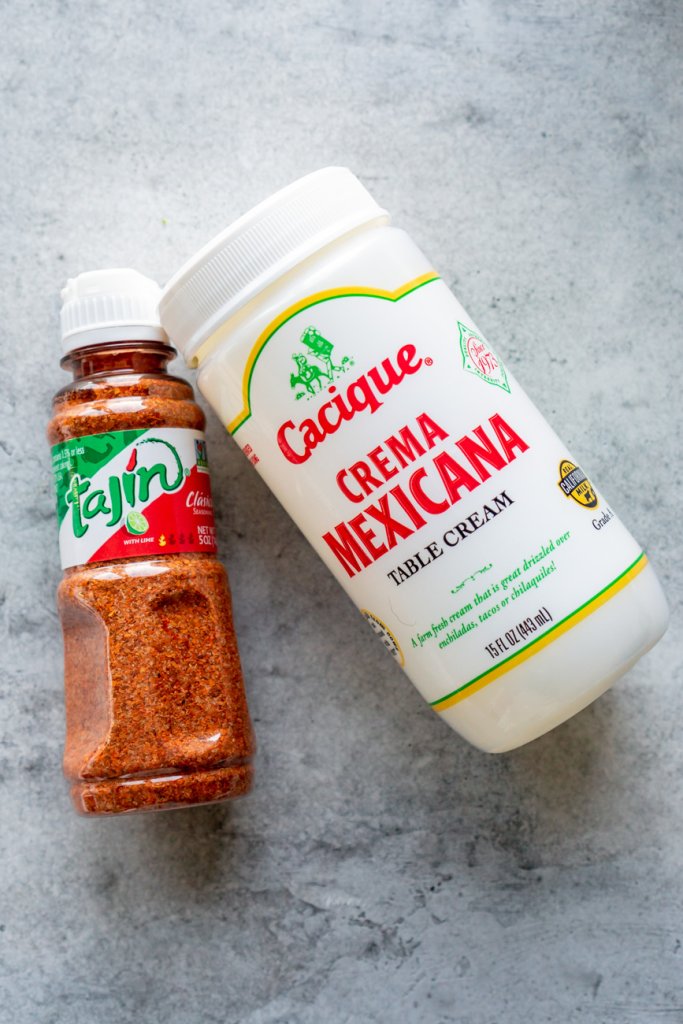 The toppings (and especially the crema!) really take this skillet cornbread to the next level. However, time is a precious thing and sometimes we just don't have enough of it!
If you find that you don't have time to make a homemade cornbread, you can take this crema recipe and all the other toppings and completely transform a store-bought cornbread instead.
Simply whisk together the crema ingredients as instructed in the recipe card, spread over the store-bought bread, and sprinkle with the rest of your desired toppings!
Is Cornbread Better in a Cast Iron Skillet?
I love using a cast iron skillet for all kinds of cooking, but did you know you could use it to bake as well? They are safe to use in the oven, and don't warp at high temperatures like some pans do.
Cornbread is traditionally made in a cast iron skillet. It holds heat better than a regular pan, which helps to provide a nice golden crust. A well-seasoned pan will also give flavors that a standard dish will never offer.
Storage & Freezing
If you need to make this Mexican cornbread recipe ahead of time, just be sure to store the bread and crema separately.
Store leftovers in an airtight container at room temperature for up to 3 days. Because they have so much moisture, they run a higher risk of going bad faster. Placing them in the fridge increases their shelf life, but also dries them out.
They can be made ahead, but I don't suggest doing it more than 12 hours in advance.
Cornbread can also be frozen. Wrap tightly in plastic wrap, freezer paper or aluminum foil. Thaw at room temperature, unwrapped. It can be toasted on a griddle or reheated in the oven to reactivate the butter and soften again.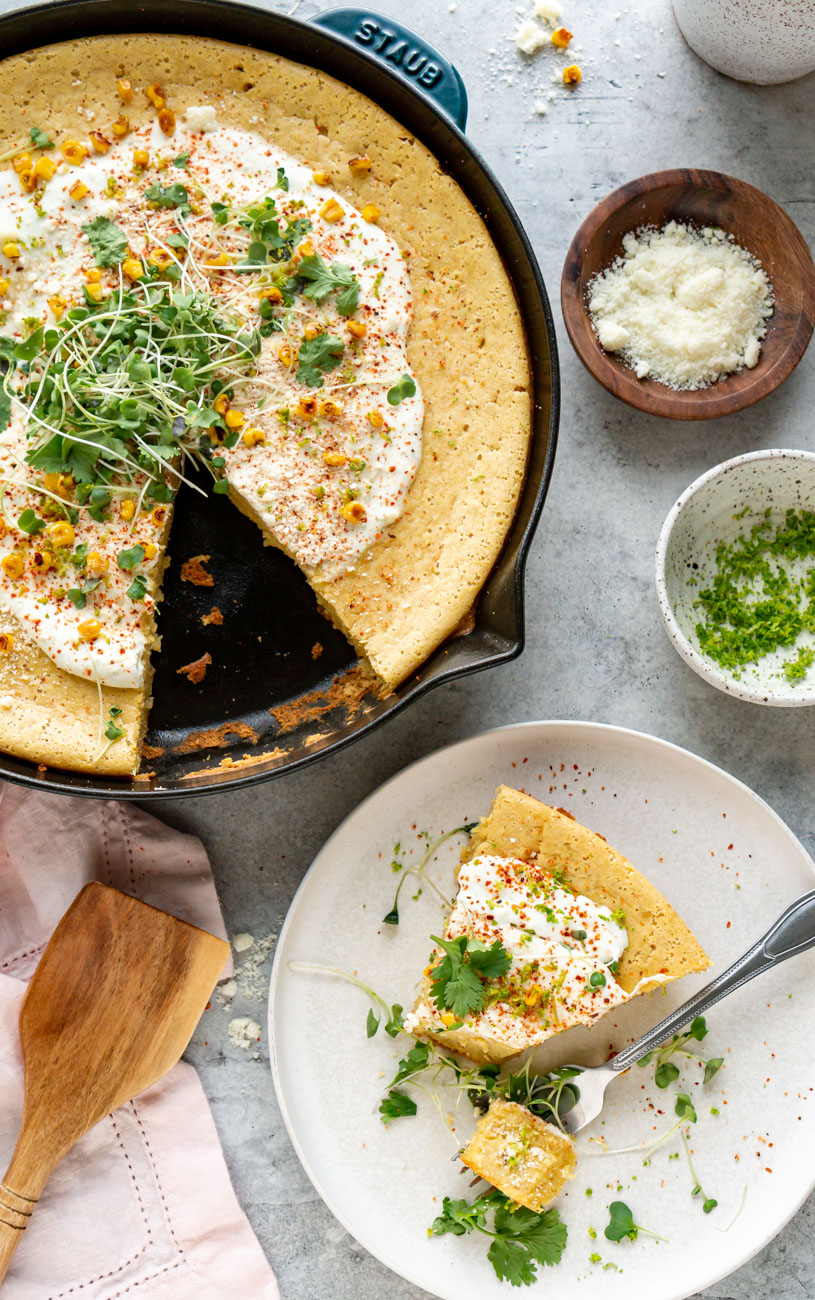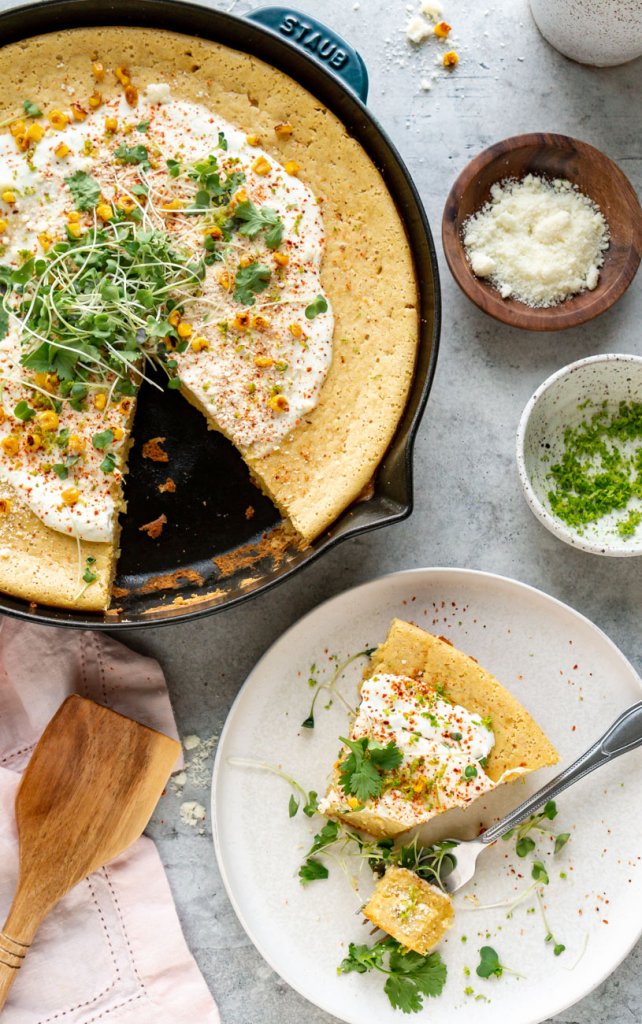 What to do with stale cornbread
If any of your cornbread goes stale, don't throw it away! Stale cornbread is perfect for making Cornbread Stuffing. The stale bread helps keep the stuffing from getting soggy.
This Cornbread Stuffing Recipe makes a great side dish for the holidays or weeknight dinners. Serve it with chicken, salmon cakes, or blackened shrimp.
More Mexican Inspired Recipes
WANT TO TRY THIS MEXICAN CORNBREAD RECIPE?
PIN IT to your chicken recipes, dinner recipes, or pesto recipes board to save it for later!
Find me on Pinterest for more great recipes. I'm always pinning!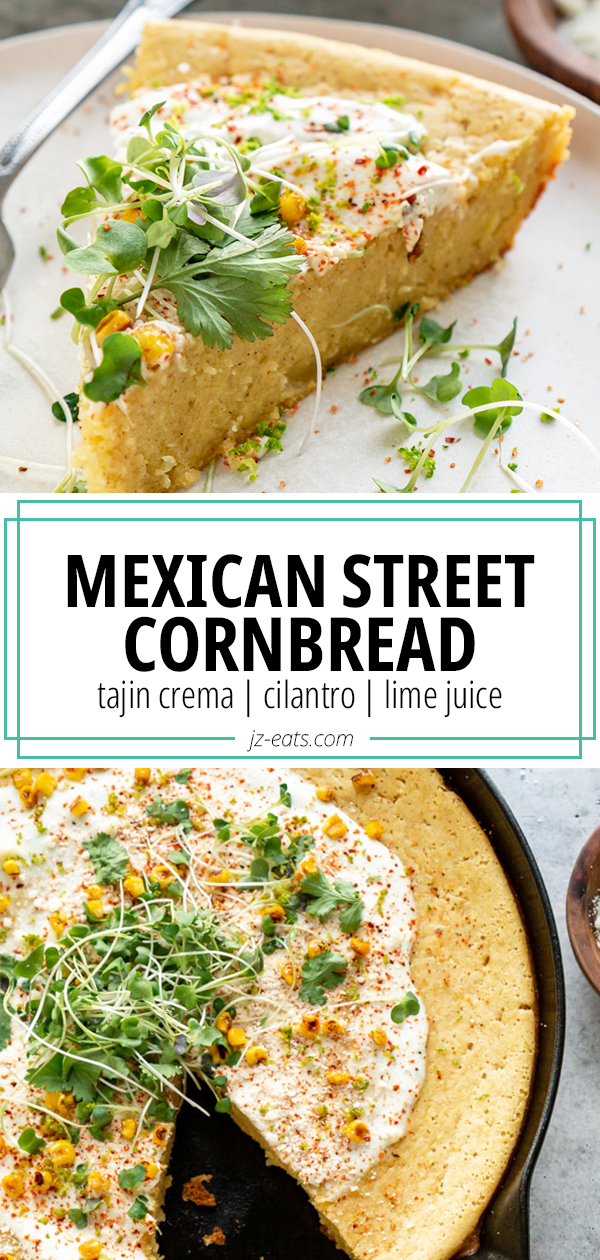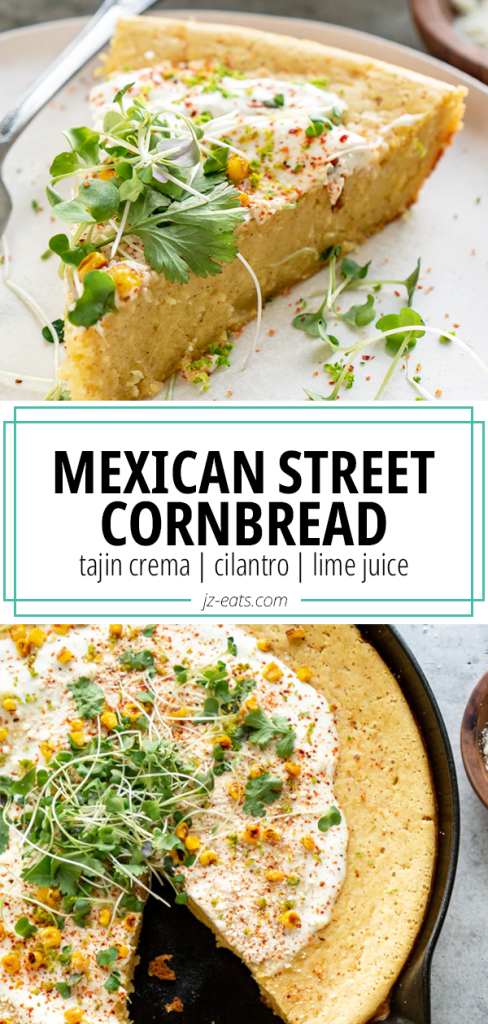 Did you make this recipe? Post a photo on Instagram and tag me @JZEATS or #JZEATS so I can see! Leave a comment below and let me know what you think, too!
Mexican Street Cornbread
Upgrade your everyday cornbread recipe with this Mexican Street Cornbread! Sweet corn combined with creamy crema and tart lime juice, the flavor is out of this world.
Ingredients
For the cornbread
3

cups

sweet corn

you can use canned corn too

7

oz

butter

softened

14

ounces

condensed milk

12

ounces

Carnation Evaporated Milk

1

teaspoon

vanilla extract

1

teaspoon

ground cinnamon

5

eggs

1

teaspoon

baking powder

1 ½

cups

all purpose flour

unbleached
For the crema
1

cup

Mexican crema,

or sour cream

1

lime,

juice and zest

1

garlic clove,

minced

1/4

teaspoon

kosher salt

1/4

teaspoon

black pepper
Toppings
1/2

tablespoon

tajin

2

tablespoons

fresh cilantro,

roughly chopped

optional: charred corn
Instructions
For the cornbread
In a blender or a food processor, blend the corn and evaporated milk.

In another bowl, cream the butter using an electric hand mixer until it is very soft and fluffy.

Add in the eggs, one by one, and mix until combined. Mix in the condensed milk and vanilla. Mix well. Next, add the corn mixture and mix.

Combine the flour, baking powder, and cinnamon. Mix until combined. Try not to overmix.

Transfer the mixture into a 12" cast iron skillet and bake for 40-45 minutes until the edges are a bit golden and it passes the toothpick test.
For the crema
In a small mixing bowl, whisk together the crema, lime juice and zest, minced garlic, salt, and pepper until combined.

When the cornbread has cooled, spread the crema overtop and sprinkle with tajin seasoning and cilantro.
Nutrition
Calories:
464
kcal
|
Carbohydrates:
50
g
|
Protein:
12
g
|
Fat:
25
g
|
Saturated Fat:
15
g
|
Polyunsaturated Fat:
2
g
|
Monounsaturated Fat:
7
g
|
Trans Fat:
1
g
|
Cholesterol:
148
mg
|
Sodium:
305
mg
|
Potassium:
457
mg
|
Fiber:
2
g
|
Sugar:
27
g
|
Vitamin A:
933
IU
|
Vitamin C:
6
mg
|
Calcium:
245
mg
|
Iron:
2
mg