This post may contain affiliate links which will not change your price but will share some commission. Please read my privacy policy.
If you're air fryer obsessed or wondering how to cook in an air fryer, these air fryer fish recipes are for you!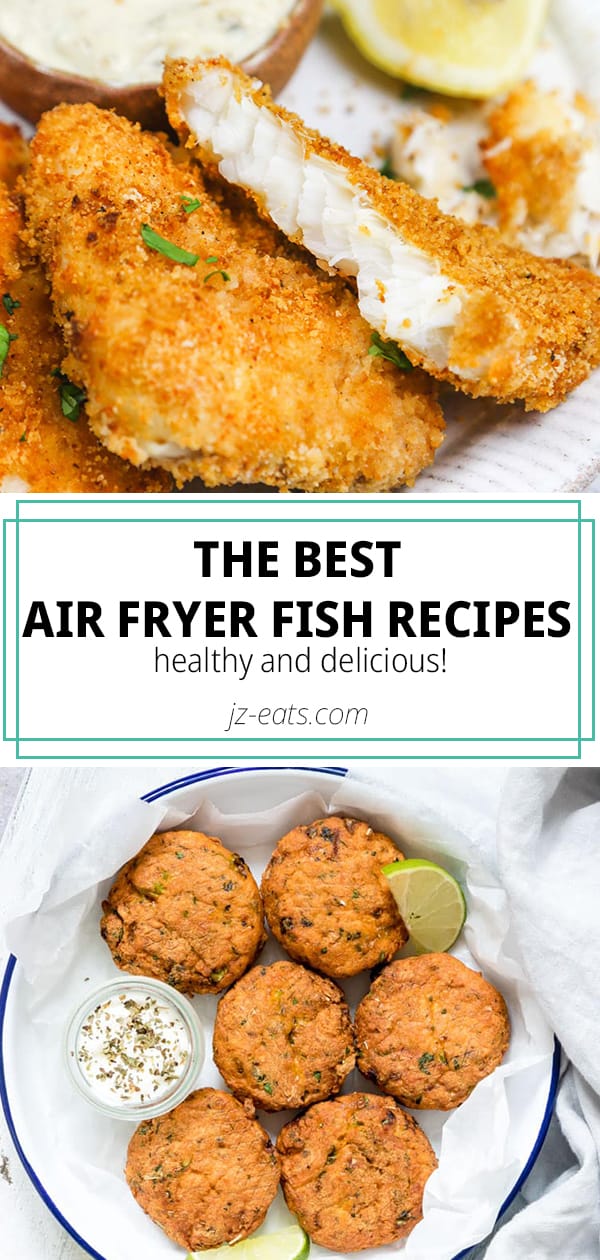 Calling all fish recipe lovers! There are seven amazing fish recipes here to help get you out of a recipe rut. From air fryer fish and chips to grown up fish fingers with tartar sauce, you'll find something the whole family will love.
If you're new to air fryers, I have included some information in this post that might help answer some of the most common questions!
Best Air Fryer Fish Recipes
These are some of the best air fryer fish recipes that the whole family will love.
What is an air fryer?
Just like the name states, air fryers crisp food by using rapidly flowing air, similar to a convection oven. You might be shocked to know that despite their recent uptick in popularity, these handy appliances have been around since 2010!
Air fryers create a similar texture to deep fried foods using high temperatures and way less oil. So you can use it to create some of your favorite classics like sweet potato fries, classic french fries, or crispy chicken wings. I recommend using an olive oil with a high smoke point, like this one it's my favorite!
Why should I use an air fryer?
Using an air fryer is a unique way of frying food, without all the guilt. It significantly reduces the cook time, making it easy to get dinner prepared in less than 15 minutes.
Deep fried foods are full of oil and increase the calorie count because the food absorbs the fat from the oil. Experts state that eating lots of high fat food can raise blood pressure and cause high cholesterol, which are both risk factors for heart disease.
Are air fryers worth buying?
I would definitely say yes, air fryers are worth the investment! They are small and can be stored on a shelf in the pantry if you prefer not to clutter your kitchen counter with appliances.
Air fryers use less energy than ovens, and come in small and large sizes to accommodate families of all sizes.
Which air fryer is the best?
While there are many air fryers on the market, here are a few that stand out:
If you don't have an air fryer yet, have I convinced you? Leave any air fryer questions you have in the comments!
Looking for more air fryer recipes? Check them out here.
This post may contain affiliate links, visit the privacy policy page for more info.