This post may contain affiliate links which will not change your price but will share some commission. Please read my privacy policy.
Crispy Air Fryer Low Carb Tortilla Chips are a delicious way to make your favorite chip a little healthier. Made with almond flour tortillas, you'll have restaurant-quality tortilla chips in just a few minutes!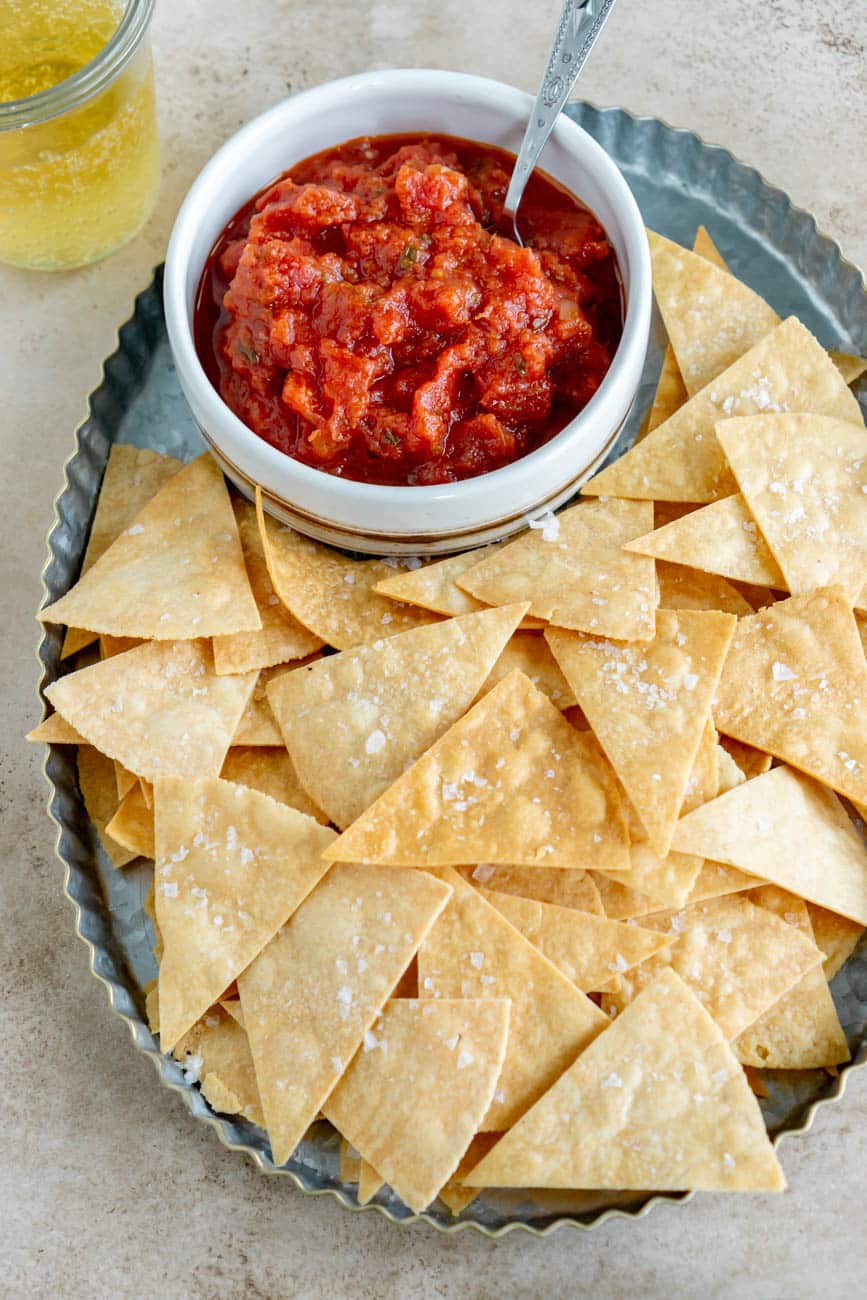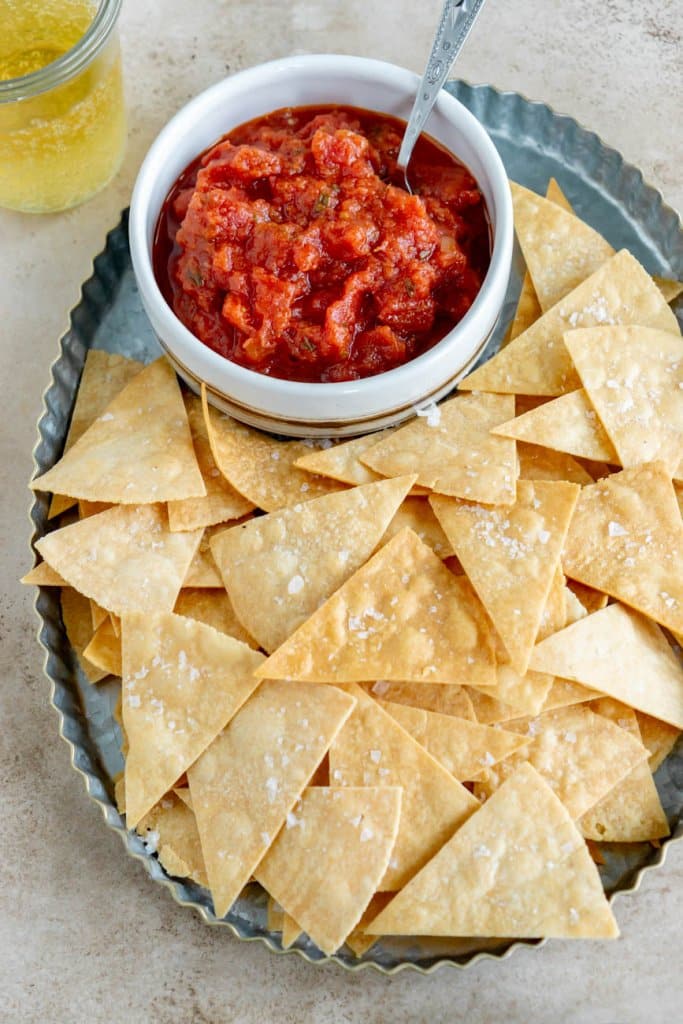 Low-Carb Tortilla Chips Recipe
Few things can compete with the satisfying crunch of a perfectly cooked tortilla chip. But what if I told you that you could enjoy that delightful crispiness while keeping it low-carb?
It's true and the taste is an absolute game changer for any chip lover out there. Air Fryer Low Carb Tortilla Chips are so easy to make and are going to be your new favorite chip!
If you're looking for more snack recipes, give this Snack Platter and these Air Fryer Zucchini Fries. Two more really delicious snack ideas that I know you will love.
Why Choose Air Fryer Tortilla Chips?
This air fryer tortilla chips recipe is not just good; it's exceptional. Imagine crispy chips without the excessive oil and guilt, making them the perfect snack.
With the air fryer, you can have your chips and eat them too, even on the keto diet. They're perfect for anyone looking to cut down on carbs while still indulging in a classic snack. Plus, making your own air fryer low-carb tortilla chips allows you to control the ingredients and customize the flavors to your liking.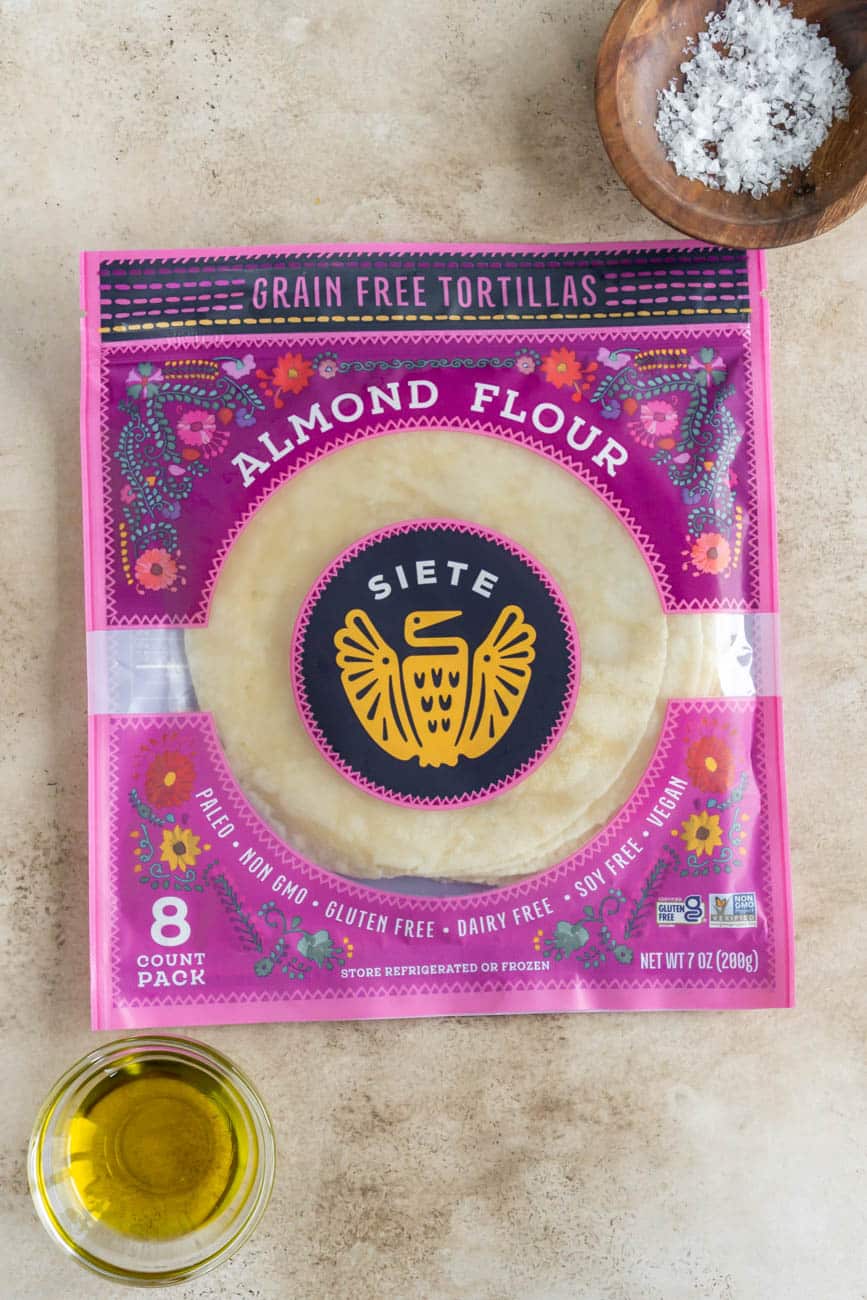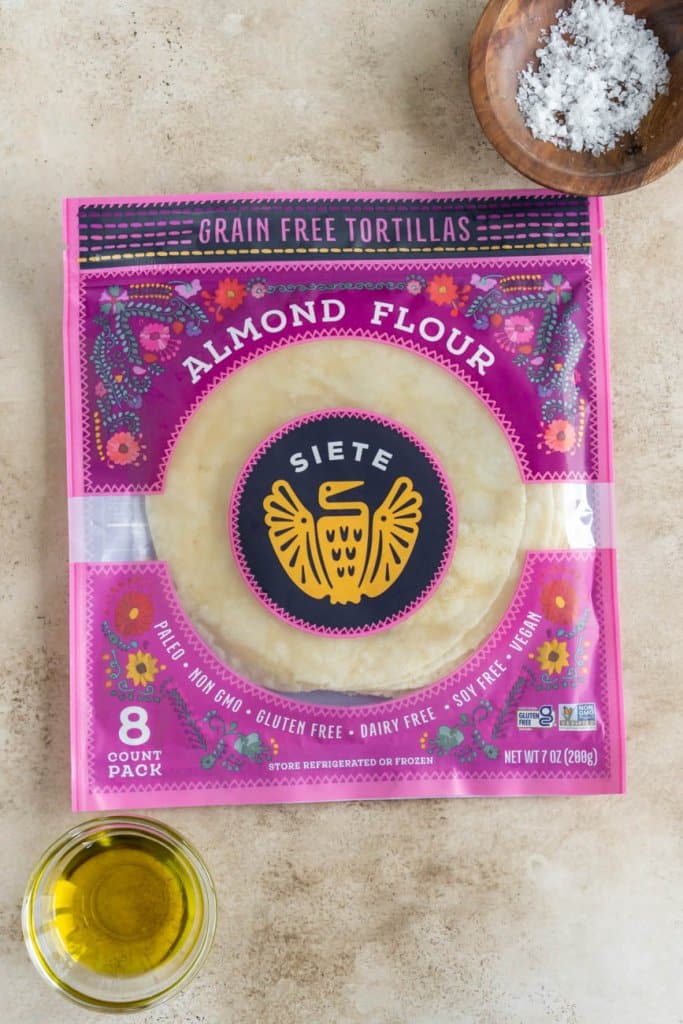 Simple Ingredients
Low-carb tortillas: you can use whatever low-carb tortillas that you like. I really like the Siete almond flour tortillas. How many net carbs your tortilla chips will be will be based on the type of tortillas you use.
Avocado oil spray: this will give the chips a nice golden brown color and keep them from burning. Olive oil cooking spray can be used in a pinch.
Flaky sea salt: I prefer flaky salt for homemade chips, but if you don't have any on hand you can use kosher salt or Himalayan salt, just use less since it's finer.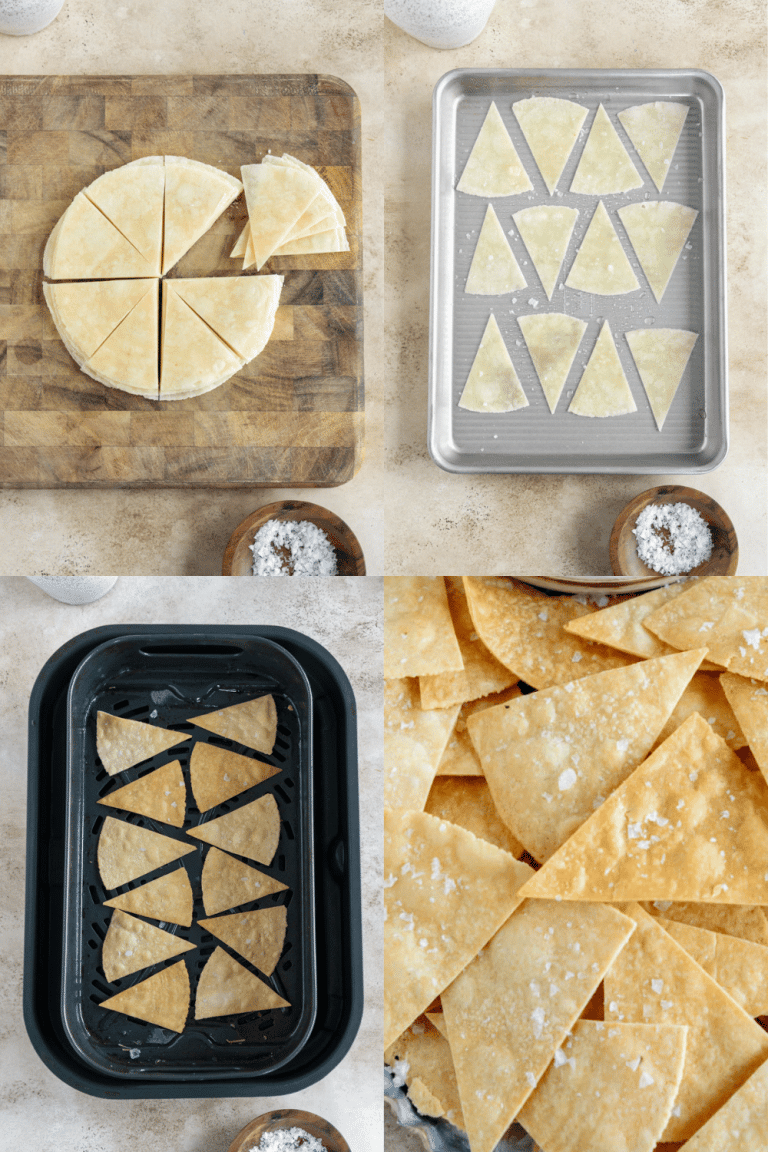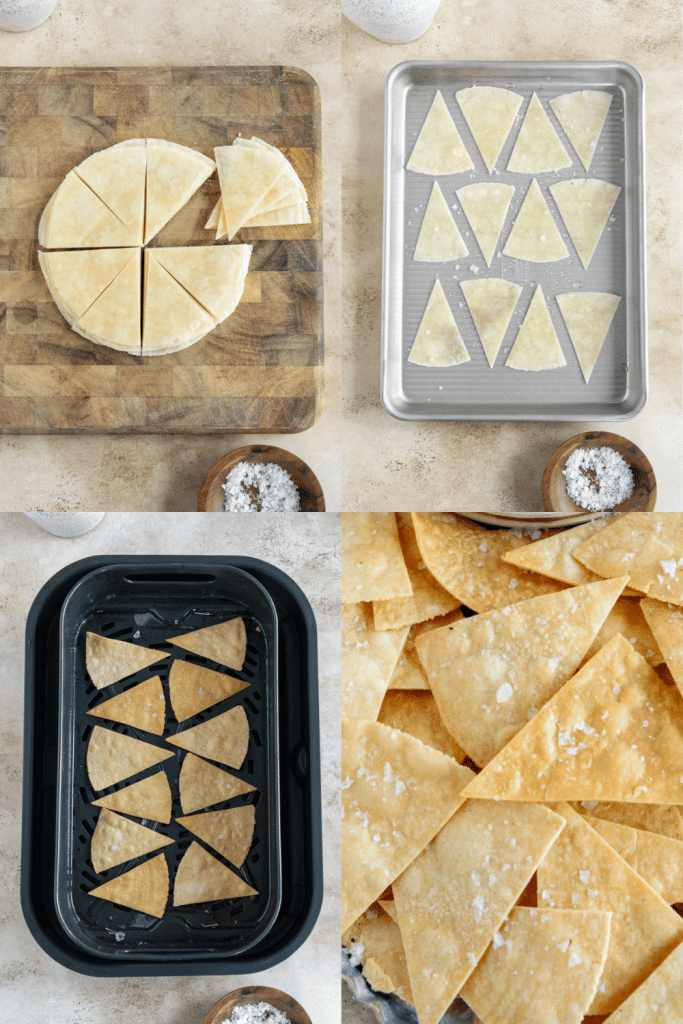 How to Make Air Fryer Tortilla Chips
Slice the tortillas. Start by slicing your tortillas into small triangles, using a sharp pizza cutter or very sharp knife, and get your air fryer heating up to 350℉.
Air fry the tortillas. Next, give those tortilla wedges a spritz of avocado oil on both sides and a sprinkle of flaky sea salt. Then, pop the cut tortillas into the air fryer basket, in a single layer, and let them work their magic for about 6-8 minutes. Remember to give 'em a flip halfway through to make sure they get that beautiful golden brown and crispy goodness all over.
Enjoy! Once they're perfectly crisp, take them out and let them cool on a wire rack for a bit before you dive into some seriously delicious homemade tortilla chips.
Tip: if you don't have olive oil spray, you can brush a little oil on the chips using a pastry brush.
Easy Variations Once You Master Regular Tortilla Chips
Once you have made these air fryer chips once, you can branch out and add some additional seasonings and flavors. There are so many ways to flavor homemade chips!
This is my favorite thing about making my own tortilla chips. This and being able to have keto chips whenever I want them for a quarter of the cost.
Cheesy delight: sprinkle grated cheddar or parmesan cheese on your tortilla triangles before air frying. The cheese will melt into crispy, cheesy perfection.
Spicy fiesta: add some heat with a dash of chili powder, paprika, or cayenne pepper.
Zesty lime: Squeeze fresh lime juice over your chips right after they come out of the air fryer. The zesty citrus kick will brighten up your snack and pairs well with guacamole for game day eats.
Ranch: for a ranch-inspired twist, sprinkle ranch seasoning on your chips before air frying. Dip them in ranch dressing, Whipped Cottage Cheese Dip, or Jalapeño Popper Dip.
Everything bagel: try sprinkling sesame seeds, poppy seeds, garlic flakes, and onion flakes or onion powder onto your tortilla chips.
If you're in the mood for something sweet, you can dust some cinnamon sugar over your chips and dip them in a Ricotta Cannoli Dip!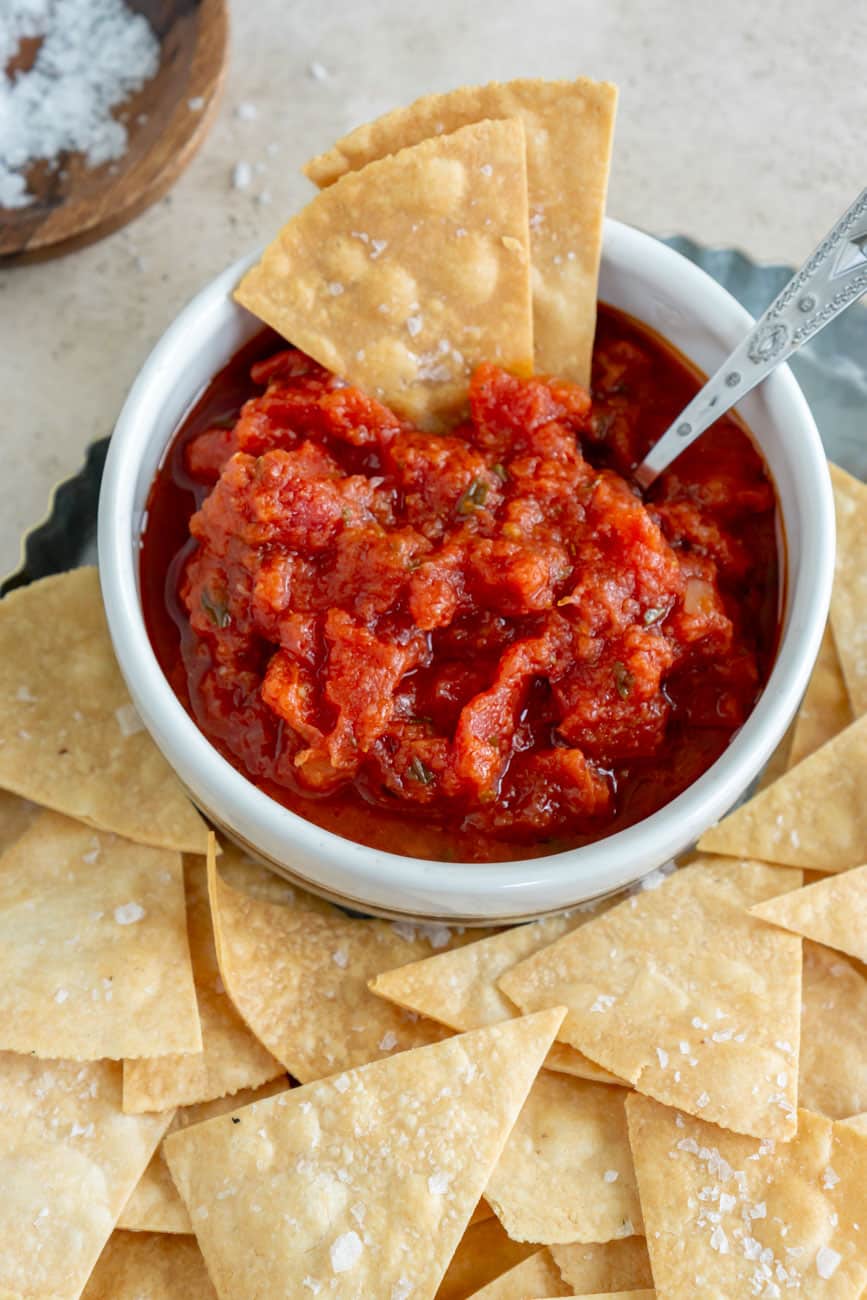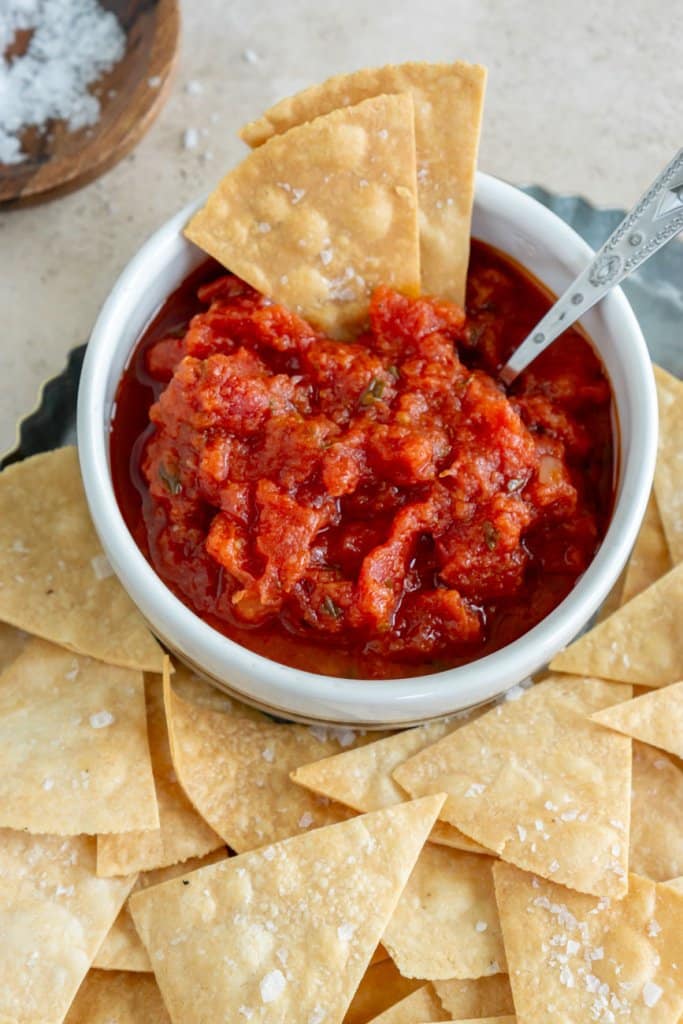 Can I Use Other Tortillas to Make My Own Homemade Tortilla Chips
Certainly! When it comes to making air fryer tortilla chips, you're not limited to just one type of tortilla. You can get creative and use various tortilla options to suit your taste and dietary preferences.
Whether you prefer classic flour tortillas, whole wheat tortillas for a healthier twist, or low-carb tortillas to keep things keto-friendly, the choice is yours. Corn tortillas, either white or yellow corn tortillas, can also be used to give your chips an authentic Mexican flavor.
Gluten-free tortillas are a great option for those with dietary restrictions. So, feel free to experiment and discover your favorite tortilla variety for crafting your very own crispy, homemade tortilla chips in the air fryer.
Are Tortillas Good in the Air Fryer?
Absolutely! The air fryer works wonders with tortillas. From making chips to crisping up tortilla bowls and taco shells, it's a versatile tool for anyone looking to make cooking fast, easy, and healthier with less oil. I have yet to find a recipe that doesn't taste amazing when made in the air fryer.
How Long to Preheat an Air Fryer?
Preheating your air fryer is essential for achieving that perfect crisp. If your air fryer doesn't have a preheat setting, you can turn it on for 5 minutes at the desired cooking temperature to preheat. Ideally, you will want to refer to your air fryer's manual or preheated light to know when it is ready.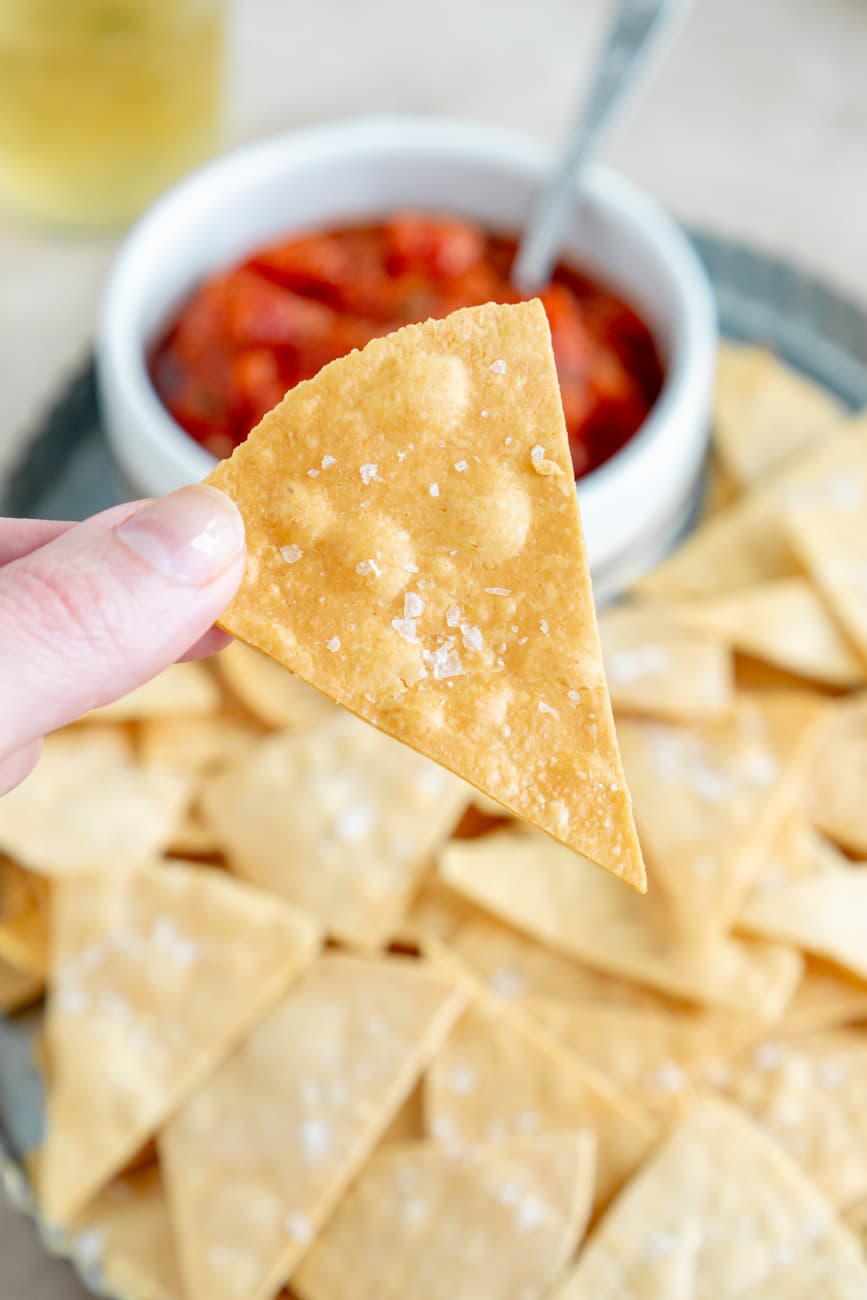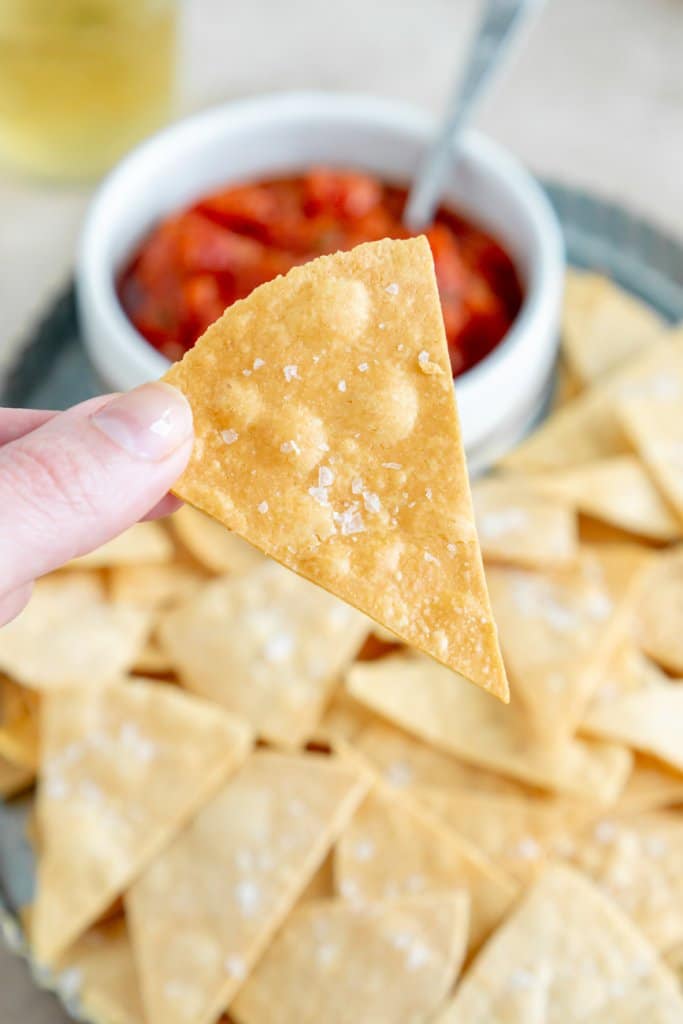 Can I Air Fry Store-Bought Tortilla Chips?
While you can air fry store-bought tortilla chips, making your own allows for healthier and tastier options. Store-bought chips often contain excess oil and preservatives, so crafting your own is a more wholesome choice.
If you are making nachos or another dish where you need to heat the traditional tortilla chips, you can heat them in the air fryer. Just be careful not to overcook them and burn them. Keep them in for just a few minutes.
Serving Suggestions
There are so many ways to serve air fryer chips. These crunchy chips are a great addition to so many recipes. Since they are keto-friendly tortilla chips, it opens so many recipes up that you might not be able to have otherwise and stick to your diet.
These are some of my favorite dips to serve with homemade tortilla chips:
I also love using these homemade tortilla chips for Fajita Nachos or Poke Nachos.
How to Store
For crispy tortilla chips, store them in an airtight container or a Ziploc bag at room temperature. They should stay fresh for a few days.
If they lose their crunch, simply pop them back in the air fryer for a few minutes to get them back to being crispy air fryer tortilla chips.
More air fryer recipes to try
WANT TO TRY THIS AIR FRYER LOW-CARB TORTILLA CHIPS RECIPE?
PIN IT to your air fryer recipes or snack recipes board to save it for later!
Find me on Pinterest for more great recipes. I'm always pinning!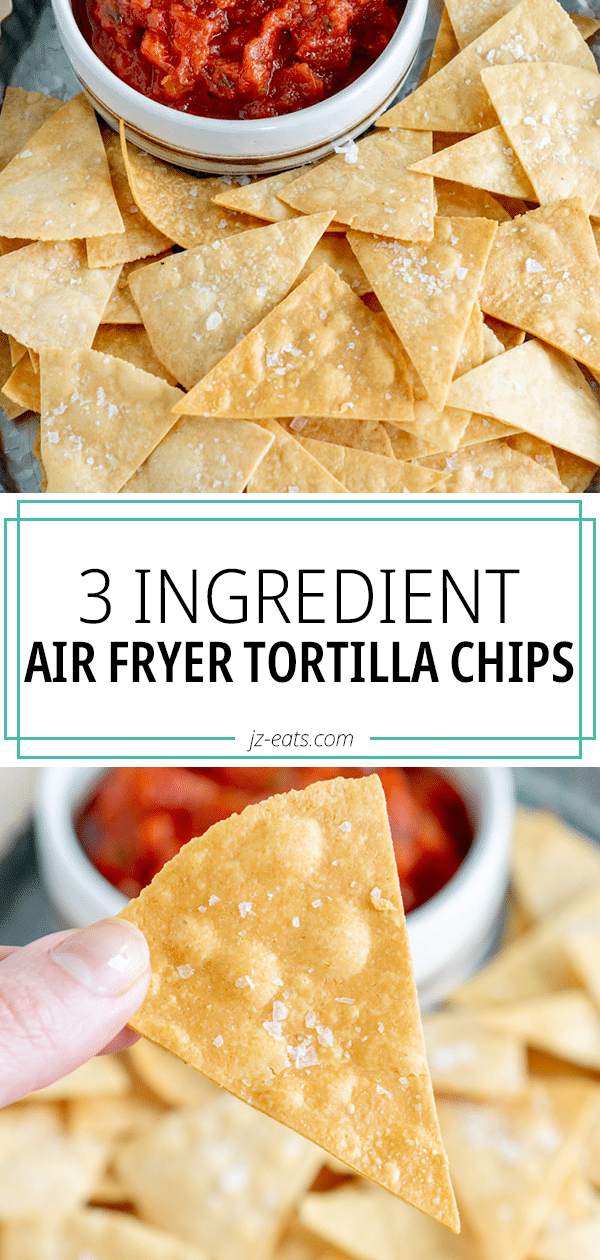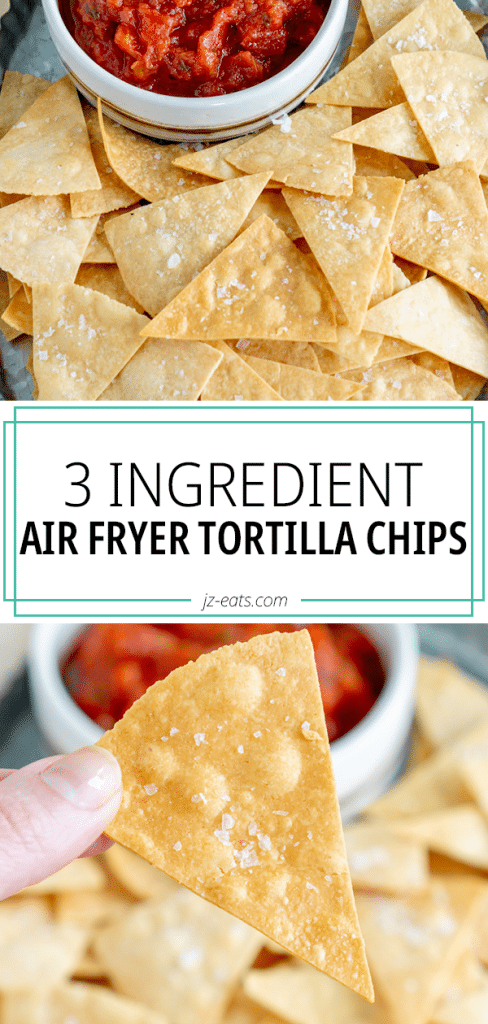 Did you make this recipe? Post a photo on Instagram and tag me @JZEATS or #JZEATS so I can see! Leave a comment below and let me know what you think, too!
Air Fryer Low Carb Tortilla Chips
Crispy Air Fryer Low Carb Tortilla Chips are a delicious way to make your favorite chip a little healthier. Made with almond flour tortillas, you'll have restaurant-quality tortilla chips in just a few minutes!
Ingredients
low carb tortillas,

I used Siete almond flour tortillas
Instructions
Slice the tortillas into small triangles and preheat the air fryer to 350℉.

Spray the tortillas with the avocado oil on both sides, then sprinkle with coarse sea salt.

Place the tortillas in the air fryer basket and cook for 6-8 minutes, flipping halfway through. They will be golden brown and crispy when finished.

When finished, transfer the tortilla chips to a wire rack to cool before serving.
Nutrition
Calories:
87
kcal
|
Carbohydrates:
19
g
|
Protein:
6
g
|
Fat:
5
g
|
Fiber:
14
g
main kw: air fryer low carb tortilla chips, air fryer tortilla chips, air fryer chips