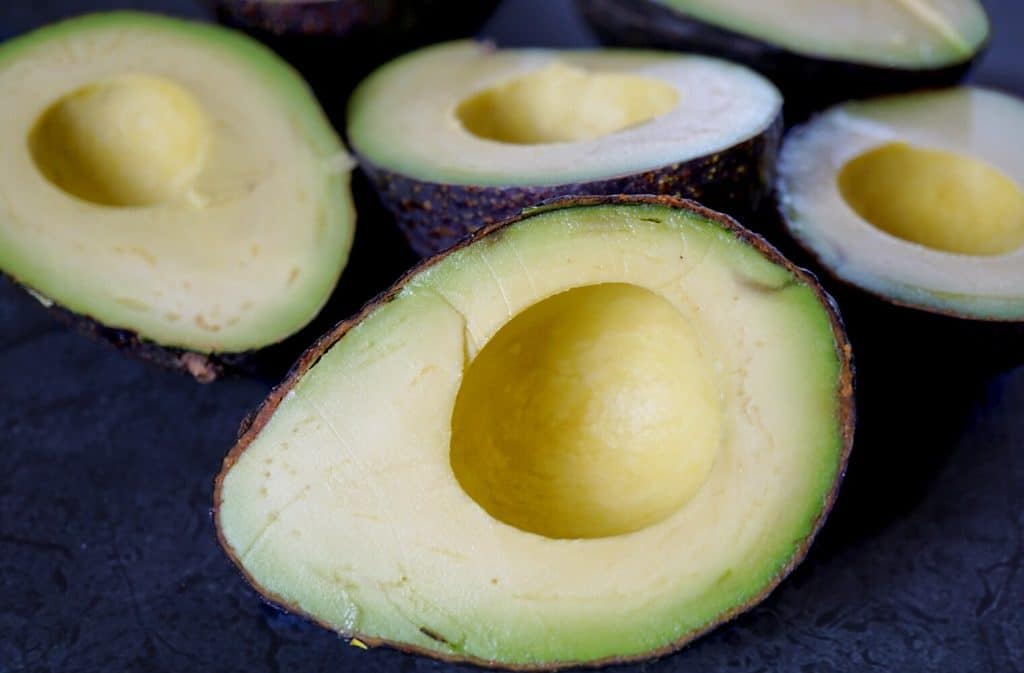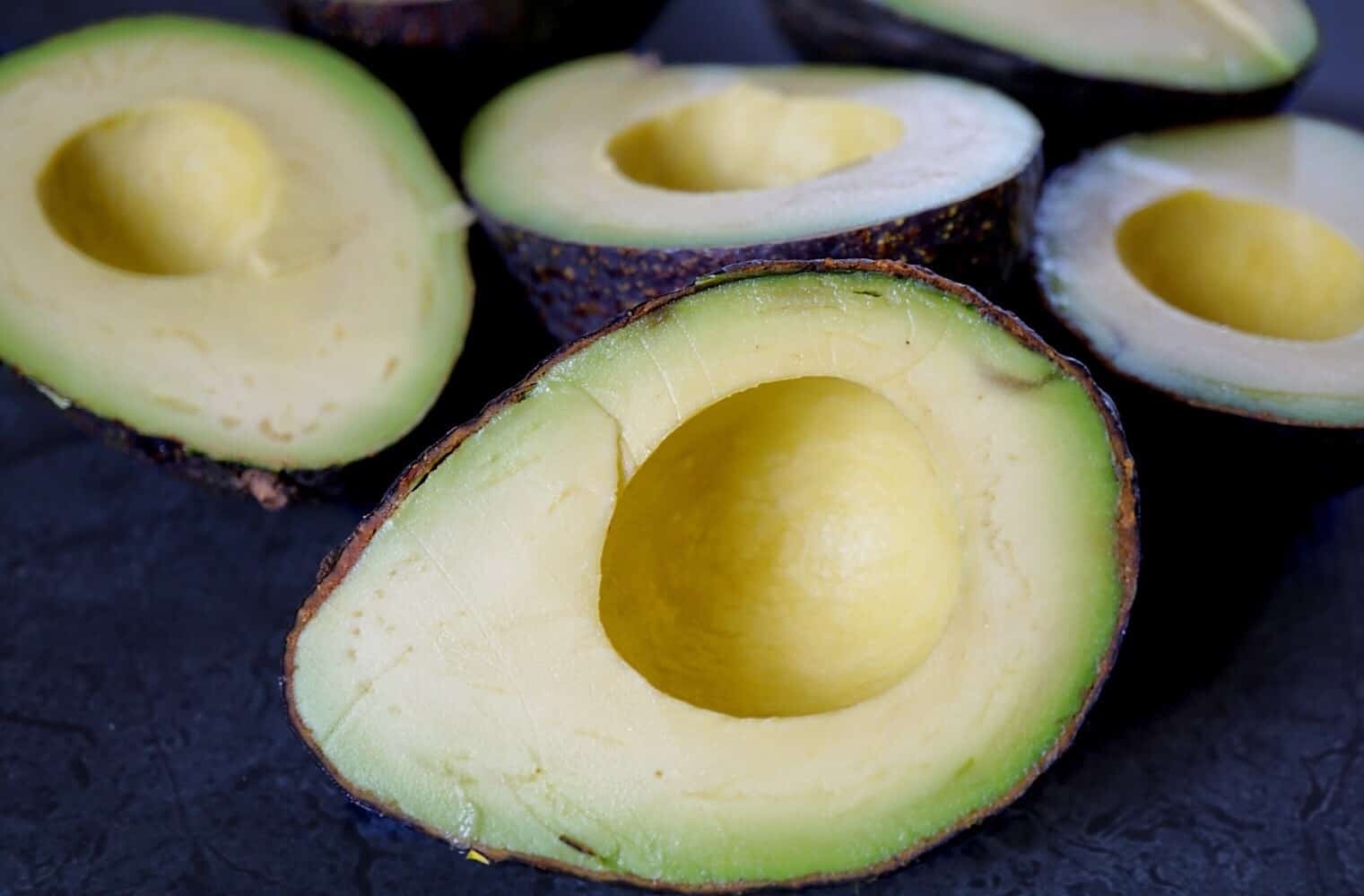 If you love avocados as much as I do, you're going to go nuts over this Avocado Risotto. Everyone knows risotto is one of the creamiest, comforting dishes out there—but it doesn't have the best rep for being a healthy dish. This Avocado Risotto recipe doesn't call for any cheese because all of the creaminess comes from the avocado itself! If you're a cheese lover like I am, you can totally feel free to top yours with a sprinkle of parmesan, I won't tell.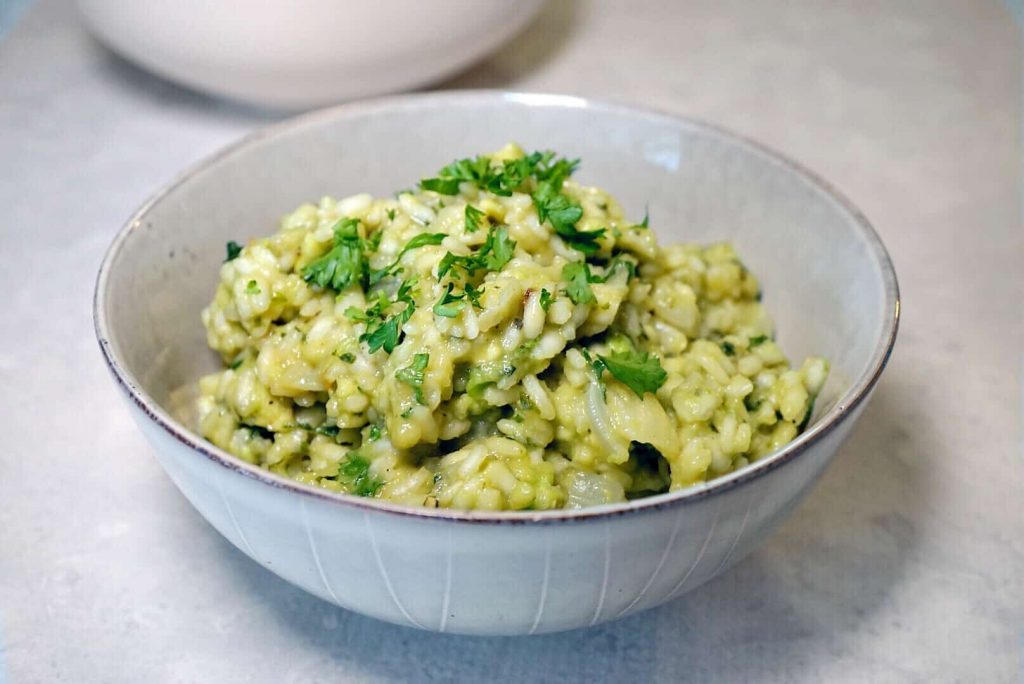 Risotto with avocado is one of my new favorite dishes and lately it's been the most requested meal in my house! I love this dish because it makes a great base, side, or you could even fill a whole bowl with this Avocado Risotto and have it for dinner alone, I won't judge!
Lately, anyone coming to my house for a dinner party has tasted this Avocado Risotto recipe because it's SO easy to make I can basically do it with my eyes closed. It's great because I can make the risotto in one pan and feed about six people—even the vegans and vegetarians! For my non-vegetarian friends, I serve the risotto topped with blackened shrimp.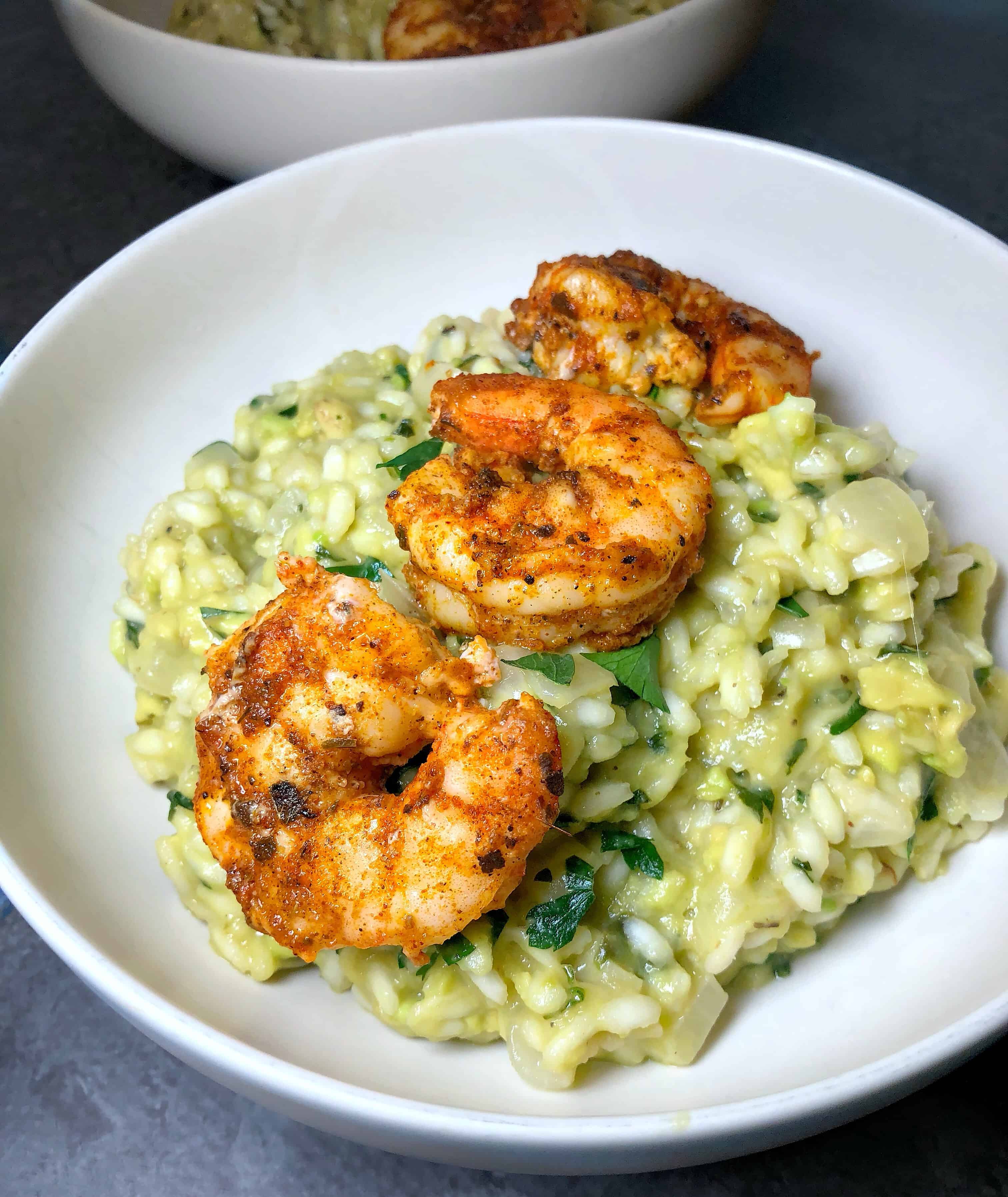 I use bone broth because it adds a lot of flavor without all the extra sodium of chicken broth, but if you're vegan/vegetarian, substitute the bone broth for water or vegetable broth. Remember to taste your risotto as you go along to make sure the flavor is exactly as you want it!
Avocado Health Benefits
Avocados are a great source of nutrition. Most fruits (yes, avocado is a fruit) consist primarily of carbohydrates, while avocados are high in healthy fats. Here are six avocado nutrition facts:
Avocados are high in fiber.
They contain more potassium than bananas.
Avocados contain monounsaturated fatty acids that promote heart health.
They can help relieve arthritis pain.
Avocados promote healthy skin with Vitamin E and C.
They can help improve eye health.
If you haven't made risotto before, make sure you carve out a decent amount of time to make it. The key to perfectly cooked risotto is to cook it low and slow, and stir it constantly.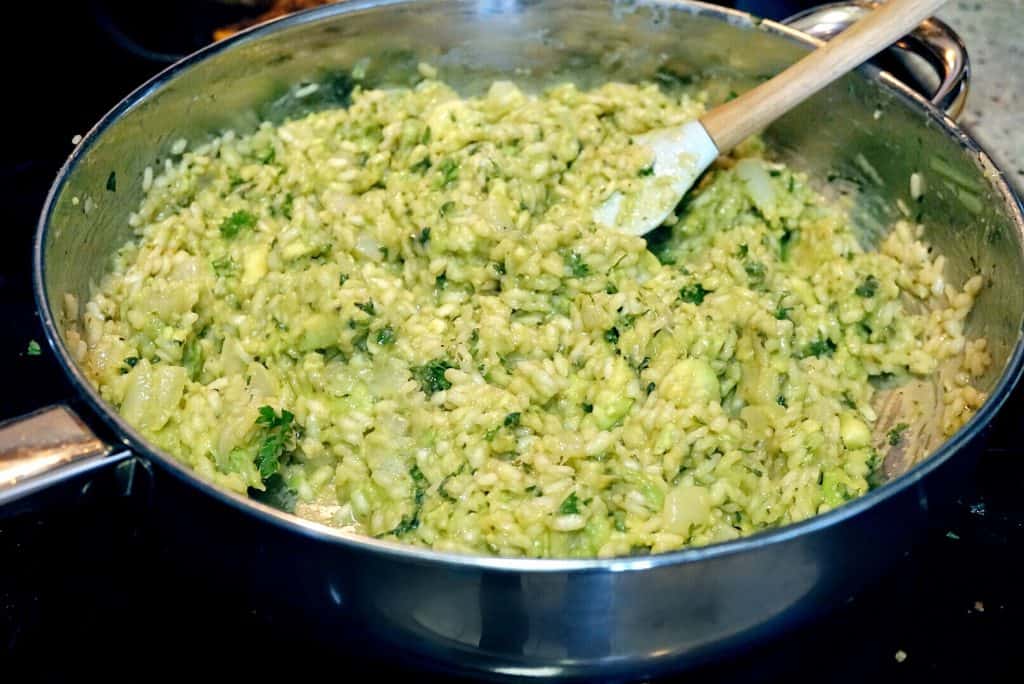 Want to try this Avocado Risotto?
PIN IT to your risotto, healthy, or avocado board to save it for later!
Find me on Pinterest for more great recipes. I'm always pinning!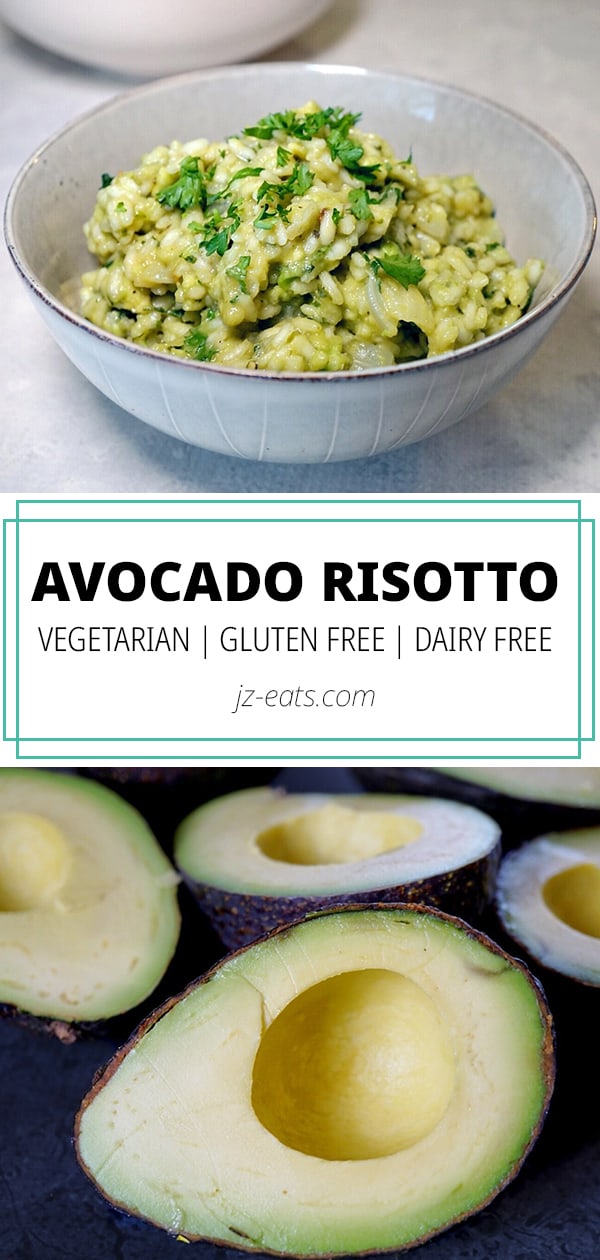 Avocado Risotto
If you love avocados, you're going to love this creamy Avocado Risotto. It's easy to make and only uses one pan!
Ingredients
1

cup

arborio rice

1

avocados,

coarsley mashed

4

cups

vegetable broth

1/4

cup

white wine

1/2

cup

chopped yellow onion

1/2

cup

fresh parsley,

chopped

2

tbsp

minced garlic

1

tsp

dried oregano

1

tbsp

dried thyme

1

tsp

basil

1

lemon

salt and pepper to taste
Instructions
In a large saucepan, bring vegetable broth to a boil.


In a medium sized mixing bowl, mash avocado and mix with lemon juice, set aside.


Heat a large non-stick skillet with 2 tbsp olive oil and garlic over medium-high heat.


When olive oil starts to simmer, add white wine, salt and pepper, yellow onion, basil, oregano, and thyme and cook 2-3 minutes or until onions begin to turn translucent. Add 2 tbsp parsley and arborio rice, stir to combine.


Reduce heat to medium-low and begin adding vegetable broth, about 1/4 of a cup at a time and stir constantly. When liquid is mostly absorbed, add another 1/4 cup of broth and stir until absorbed - repeat until rice is tender (about 30 minutes).


When rice is tender, begin folding in avocado. Garnish with remaining parsley.

Nutrition Facts
Avocado Risotto
Amount Per Serving
Calories 304
Calories from Fat 63
% Daily Value*
Total Fat 7g 11%
Cholesterol 0mg 0%
Sodium 950mg 40%
Potassium 379mg 11%
Total Carbohydrates 52g 17%
Protein 5g 10%
* Percent Daily Values are based on a 2000 calorie diet.