This post may contain affiliate links which will not change your price but will share some commission. Please read my privacy policy.
Salmon Salad Sandwiches are a high protein lunch or dinner that's quick and easy to make. Filled with fresh veggies and flaky salmon, you can enjoy it as a refreshing salad or sandwich filling.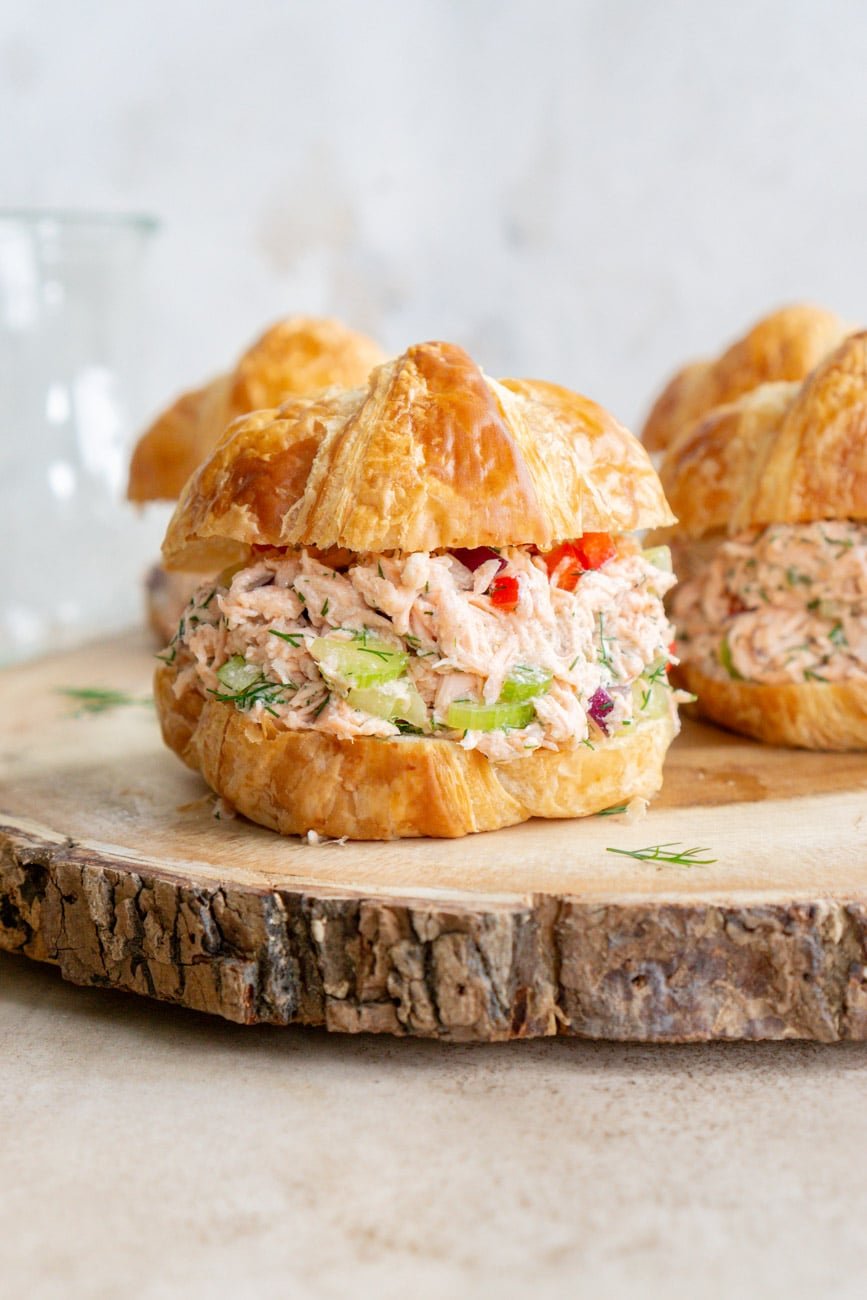 Salmon Salad Sandwich Recipe
Cooked salmon salad is an easy recipe that's delicious and healthy, and comes together in no time. It has the most amazing flavor and texture and works for lunch or dinner!
Make it for a picnic, wrapped in a romaine lettuce leaf, serve it for a party, or make it for an appetizer to serve with homemade tortilla chips. With this simple salmon salad, you get a wholesome and scrumptious meal that's both easy to prepare and incredibly satisfying.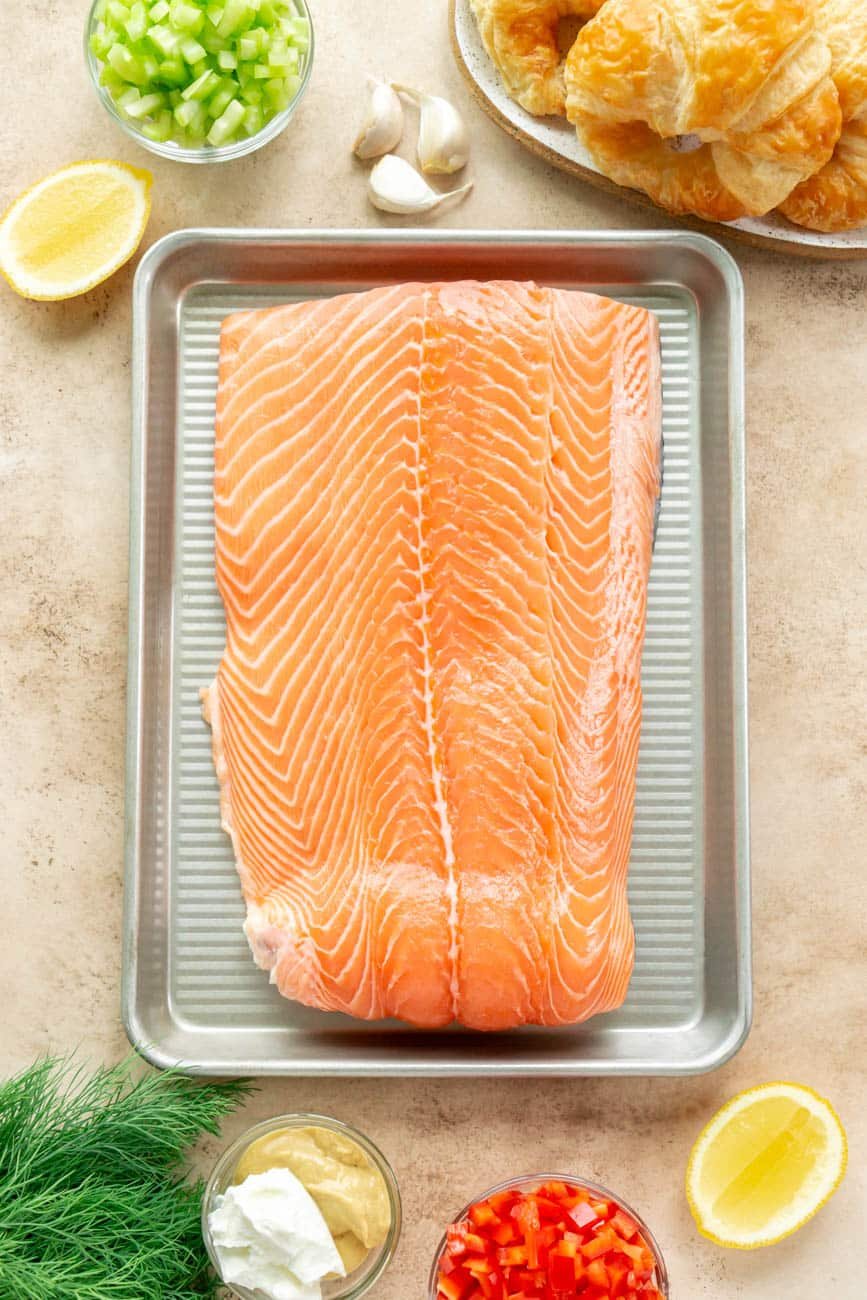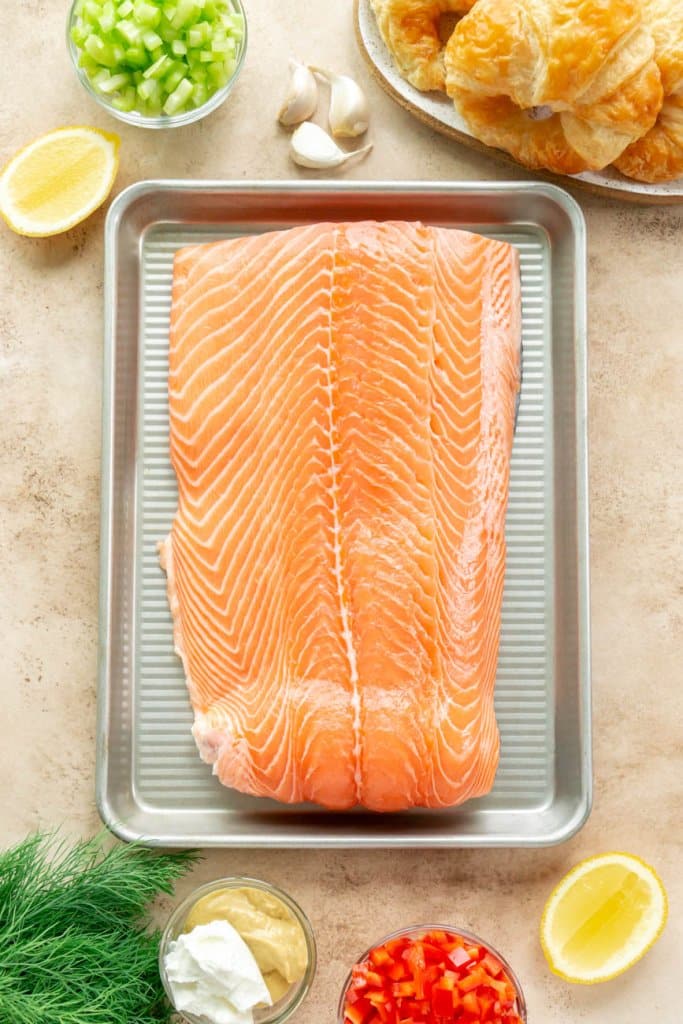 What's in this salmon salad?
Salmon: you can't beat the flavor of fresh salmon fillets! This recipe is also great if you've got leftover salmon. If you're in a pinch, you can substitute fresh salmon for canned salmon but my first choice is always fresh!
Veggies: red peppers and celery add the perfect crunch. You can add red onions too if you've got some on hand!
Seasoning: you'll need kosher salt, black pepper, and some fresh dill. You can play around with seasonings and herbs too. Fresh parsley, thyme, red pepper flakes, or paprika are all great options.
Dressing: the dressing is made using Greek yogurt, Dijon mustard, garlic, and fresh lemon juice.
Croissants: my favorite way to serve this salmon salad is on lightly toasted, buttery croissants. You can use any kind of bread you like though.
*For a detailed list of ingredients and measurements, please reference the recipe card down below.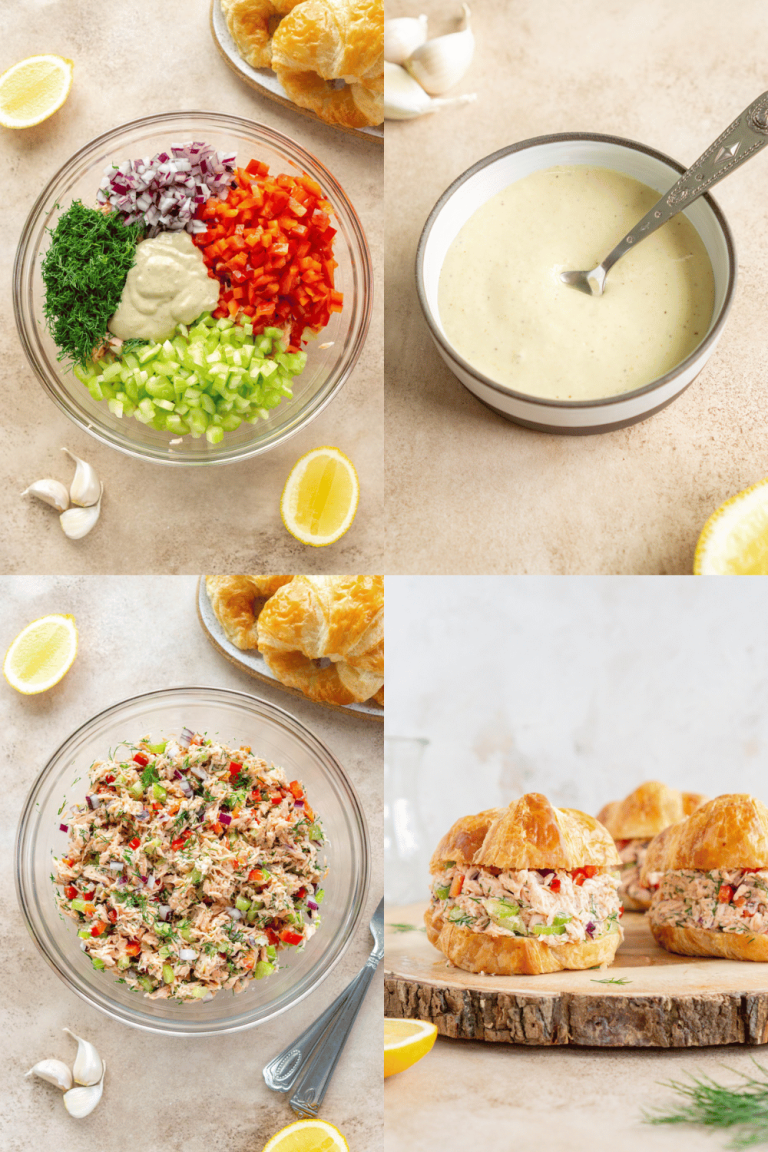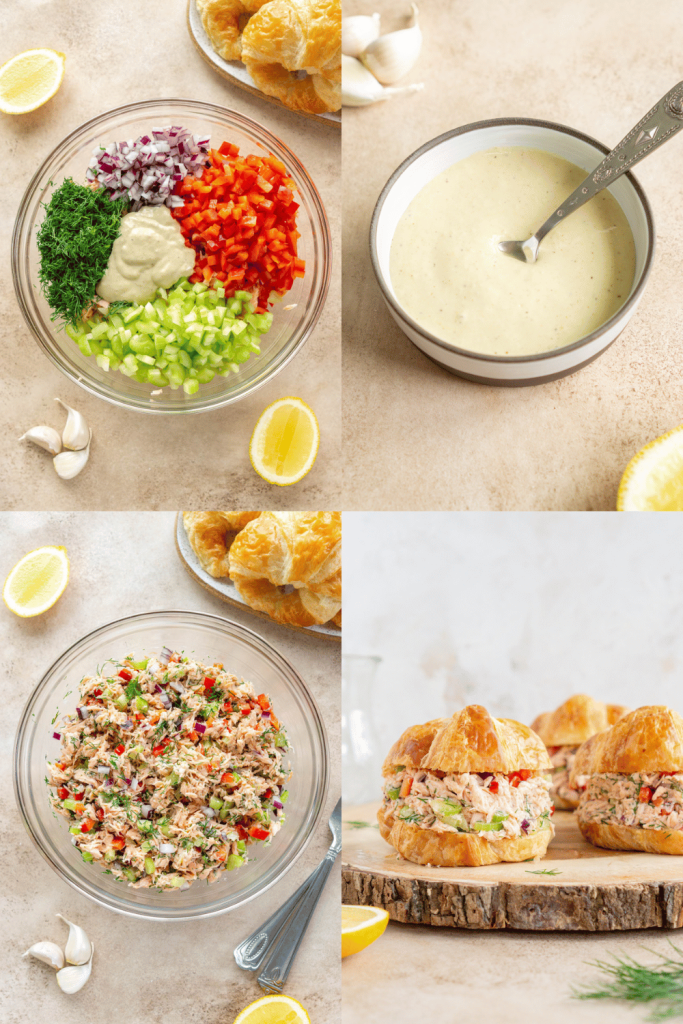 How to Make Salmon Salad Sandwich
1. Bake the salmon. Place the salmon on a foil-lined baking sheet and bake for about 20 minutes, or until the fish is cooked through and has reached an internal temperature of 145 degrees. When it's finished, let it rest for 5 minutes before shredding with 2 forks.
2. Make the dressing. While the salmon patties are cooking, make the dressing by combining the ingredients in a bowl.
3. Make the Salmon Salad. Add the red onion, red pepper, celery, dill, and dressing to the bowl, and then add the shredded salmon mixture.
4. Prepare the salmon sandwiches. Place about 1/4 cup salmon salad on the croissant and top with the other half. Enjoy the baked salmon salad sandwich recipe
What bread should I use?
Croissants are my first choice for "salad sandwiches" (like these Chicken Salad With Pineapple sandwiches). I love the butteriness of them and the flaky texture makes them an ideal choice.
My favorite is to slice them in half and very lightly toast them in the oven (or in the air fryer) for 2-3 minutes at 400 degrees. However, there are other options depending on what kind of sandwich you like.
Sourdough bread, white bread, or whole wheat bread for different flavors and textures. Whole wheat buns are a good option to keep this on the healthy side. If you prefer to skip the bread entirely, you can opt for lettuce cups!
If you like this salmon salad sandwich lettuce wrap idea, you might also like these Chicken Fajitas in Lettuce Wraps.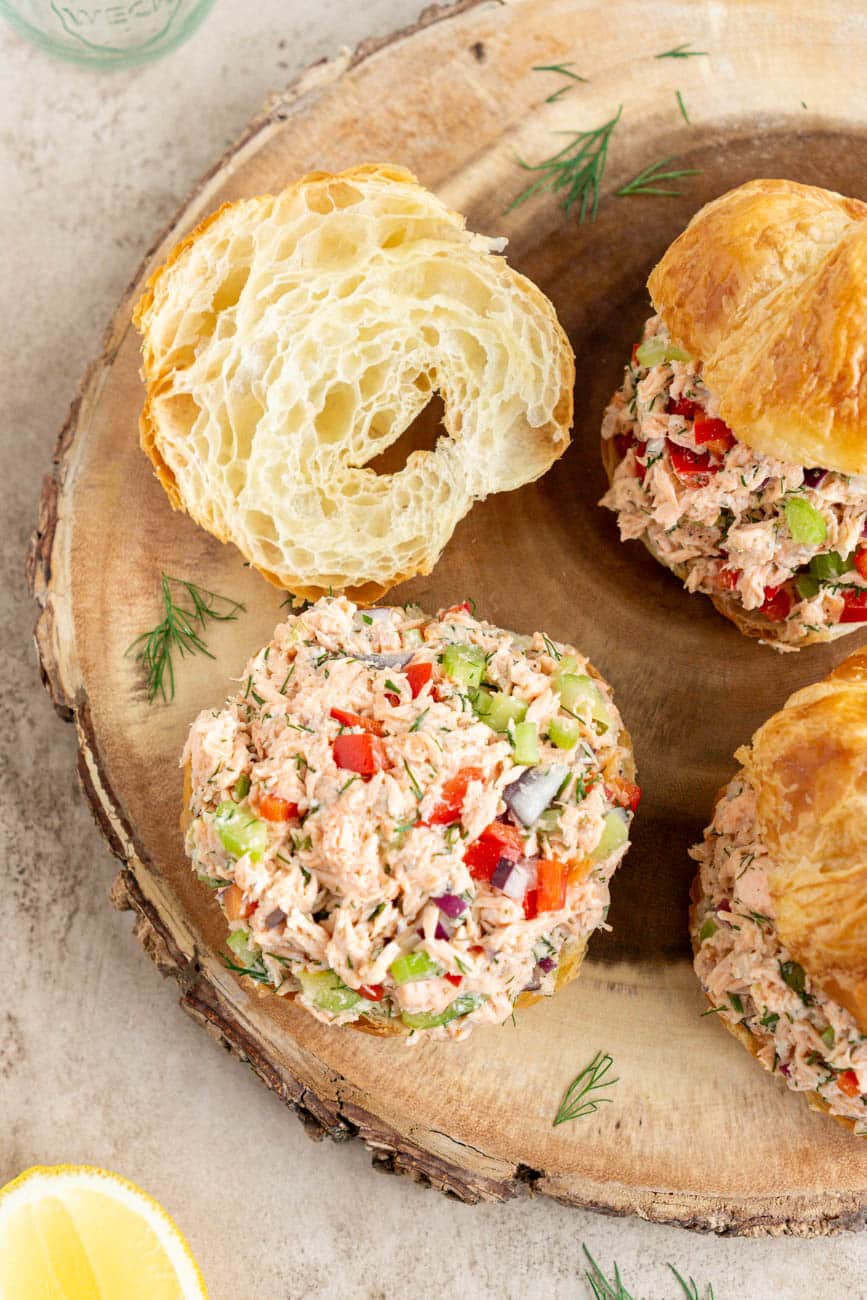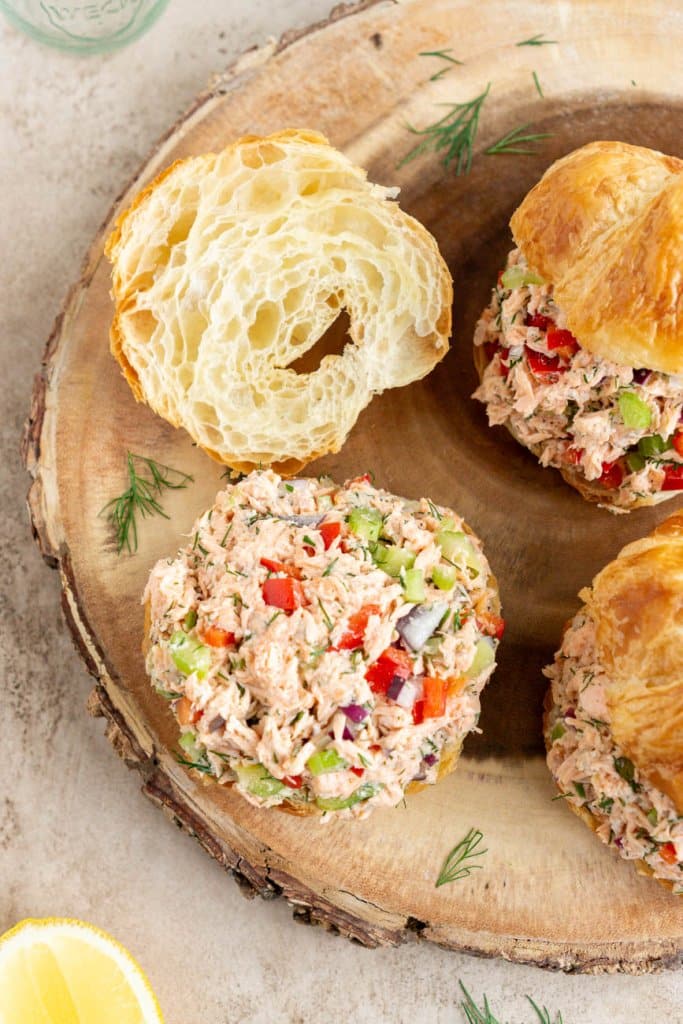 Wild salmon vs farmed salmon
There are often questions about wild salmon vs. farmed salmon. Wild salmon comes from rivers and oceans and eat a more natural diet. This causes them to have a stronger flavor and a firmer texture.
They often have fewer calories and fats but they are higher in healthy fats and omega-3 fatty acids, making them part of a healthy eating plan. Farmed salmon are smaller fish that are grown in fish farms and pens.
They have a milder taste and a softer texture because they eat a controlled diet. Because of their diet, they tend to be higher in calories and fat. It's important to consider sustainability, as overfishing wild salmon can harm ecosystems, while responsible fish farming practices are essential for farmed salmon. Your choice depends on your taste preferences and environmental concerns.
Canned Salmon Salad
You can make this salmon salad with canned salmon as well. Since canned salmon is already cooked you can skip the salmon cooking steps in the instructions.
After opening the cans of salmon, drain any liquid and then use a fork to fluff the canned salmon and then add it to the bowl with the remaining ingredients. Preparing a canned salmon salad makes this healthy sandwich recipe a breeze for a quick lunch!
How to serve salmon salad
My favorite thing about this salmon salad is that it doesn't have to be served as a sandwich! It can served as a lettuce wrap, on top of cucumber slices, or stuffed in an avocado for a low-carb option.
Salmon salad can also be served on tortillas, flour, corn, or low-carb! There are lots of different ways to serve it! You can also add it to a rice bowl or serve it over cooked quinoa.
It can be served warm, cold, or at room temperature, which makes it perfect for parties. As an appetizer for parties, I like to place it in a large bowl and add fresh veggies, chips, crackers, and crostinis on a serving plate.
Recipe tips
Use good quality salmon: the key to a fantastic salmon salad is starting with fresh, good-quality salmon. I like to buy my salmon fresh and never frozen if I can. Fish markets are usually great options for purchasing the freshest fish as well.
Opt for the freshest herbs: fresh dill, parsley, scallions, and crunchy celery enhance the flavor of your salmon salad. Shop for these ingredients as close to cooking as possible for the best results.
Allow it to sit: while you can enjoy your salmon salad right after preparing it, it benefits from some resting time. Allowing the flavors to meld and the dressing to soak into the fish for at least 15-20 minutes will enhance the taste. To do this, cover the bowl and refrigerate.
Customize your toppings: get creative with your salad by adding toppings like thinly sliced almonds, crumbled feta, or diced avocado to enhance the texture and flavors of the dish.
Salmon Pasta Salad
Add your favorite pasta and make it a cooked salmon pasta salad! Just make sure you double (maybe even triple) the dressing so the pasta salad isn't dry.
My favorite short pasta to use for pasta salads are fusilli, bowtie, cavatappi, gigli, and orzo.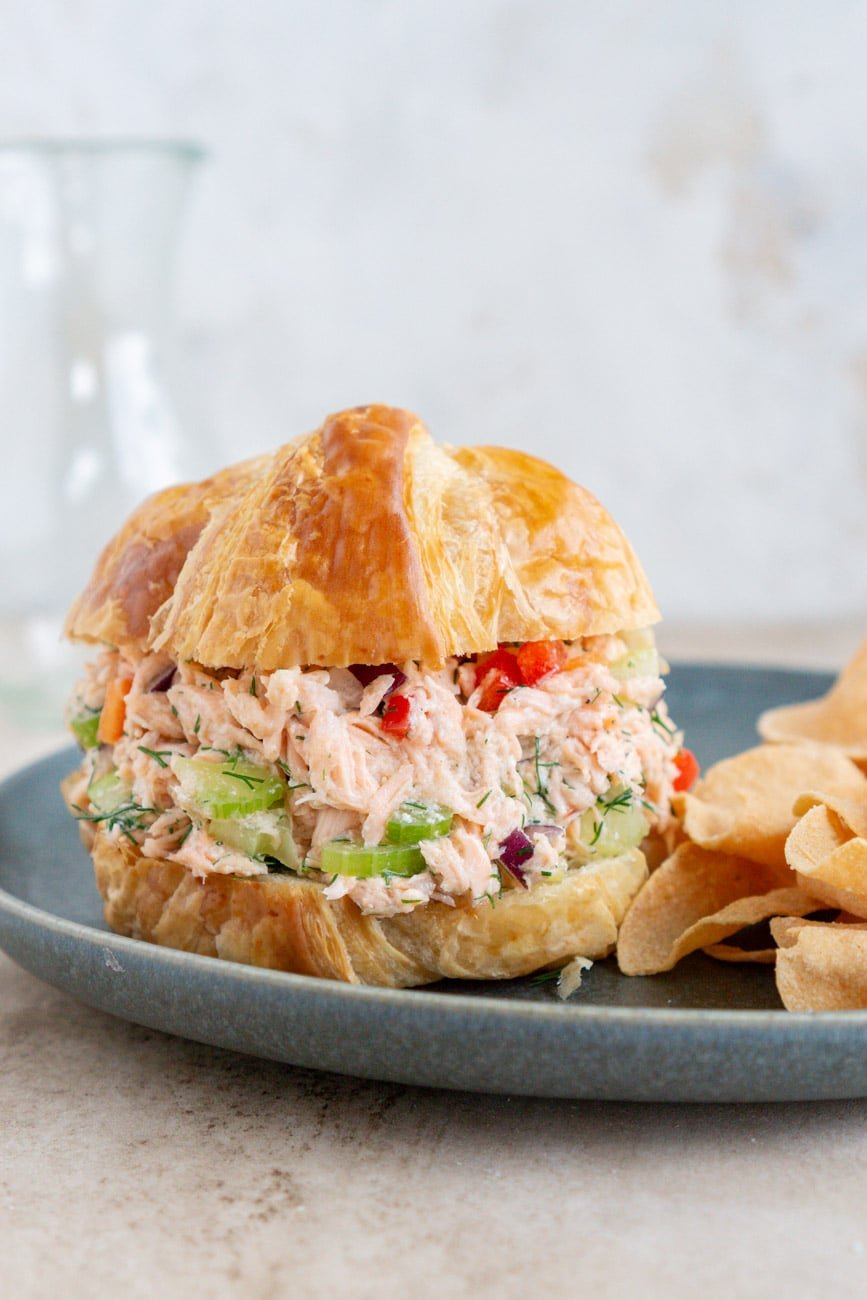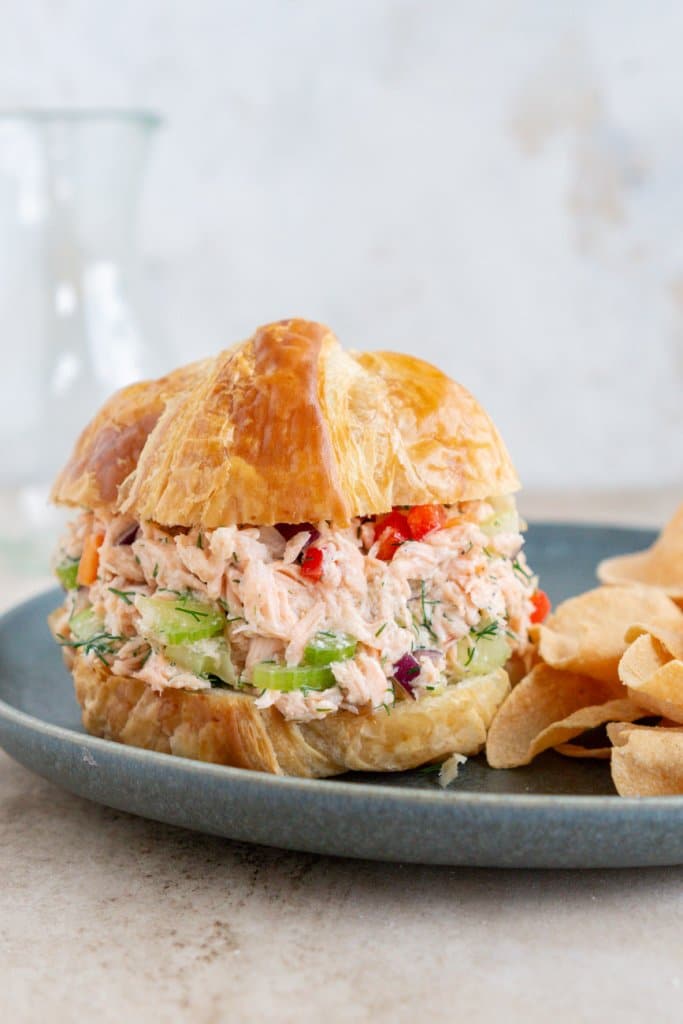 Can salmon salad be frozen?
II don't recommend freezing salmon salad because it can change the texture and consistency of the salmon, especially because of the dressing. When thawed, the salad may become watery and lose its original taste and quality. It's best to enjoy salmon salad fresh or store it in the fridge for up to three days in an airtight container to maintain its deliciousness.
How long can I store salmon salad in the fridge?
You can store your leftover salmon salad in an airtight container (I love these) in the fridge for up to 3 days. Personally, I think it's best eaten within 1-2 days.
More easy salmon recipes to try
WANT TO TRY THIS COOKED SALMON SALAD RECIPE?
PIN IT to your salmon recipes, dinner recipes, or party recipes board to save it for later!
Find me on Pinterest for more great recipes. I'm always pinning!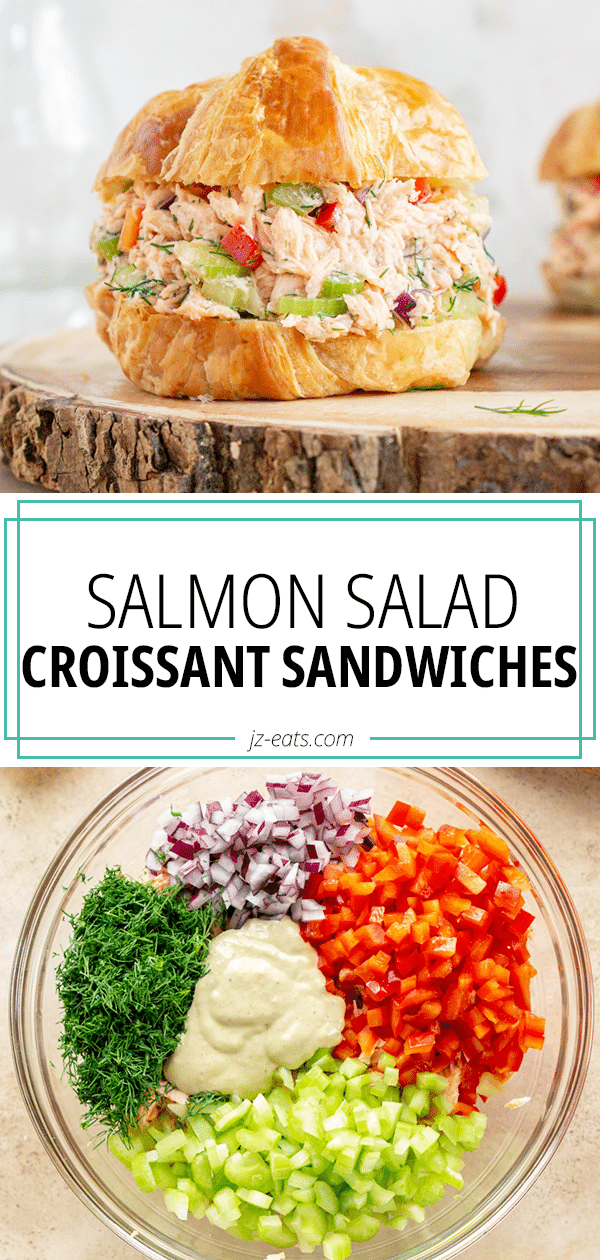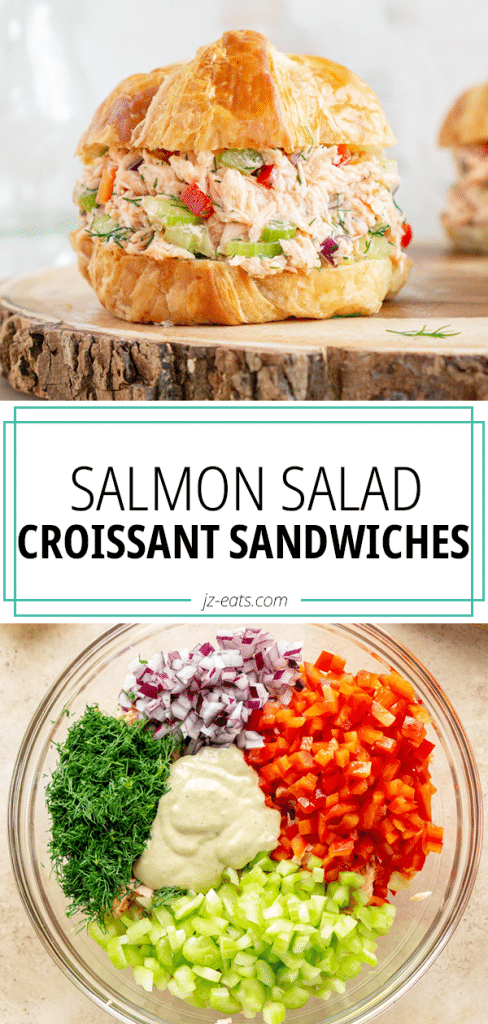 Did you make this recipe? Post a photo on Instagram and tag me @JZEATS or #JZEATS so I can see! Leave a comment below and let me know what you think, too!
Salmon Salad Sandwich
Salmon Salad Sandwiches are a high protein lunch or dinner that's quick and easy to make. Filled with fresh veggies and flaky salmon, you can enjoy it as a refreshing salad or sandwich filling.
Ingredients
Salmon Salad
1.5

lbs

fresh salmon

1/4

tsp

kosher salt

1/4

tsp

black pepper

1/4

cup

red onion,

finely diced

1

red pepper,

finely diced

1/3

cup

celery,

finely diced

2

tablespoons

fresh dill,

minced

8

croissants,

sliced in half and lightly toasted
Instructions
Preheat the oven to 400℉ and season the salmon with salt and pepper.

Place the salmon on a foil-lined baking sheet in the oven for 15-20 minutes or until the internal temperature of the salmon has reached 145℉. When the salmon is finished cooking, let it cool for 5 minutes before using a spatula to separate the salmon from the skin and transferring it into a medium-sized mixing bowl. Shred the salmon with two forks.

While the salmon is cooking, prepare the dressing by mixing the Greek yogurt, dijon mustard, garlic, lemon juice, salt and pepper together in a small mixing bowl.

Add the diced red onion, red pepper, celery, dill, and dressing to the bowl with the shredded salmon and mix well to combine.

Place about 1/4 cup of the salmon salad on each croissant half and top with the remaining half and enjoy!
Nutrition
Calories:
364
kcal
|
Carbohydrates:
28
g
|
Protein:
22
g
|
Fat:
18
g
|
Saturated Fat:
8
g
|
Polyunsaturated Fat:
3
g
|
Monounsaturated Fat:
5
g
|
Cholesterol:
85
mg
|
Sodium:
366
mg
|
Potassium:
550
mg
|
Fiber:
2
g
|
Sugar:
8
g
|
Vitamin A:
953
IU
|
Vitamin C:
21
mg
|
Calcium:
43
mg
|
Iron:
2
mg