This post may contain affiliate links which will not change your price but will share some commission. Please read my privacy policy.
This Easy Sweet Potato Pie is made with a few simple ingredients and minimal effort, which is what makes it so easy to make! So, if you're a beginner baker looking for an easy dessert recipe for the holidays or to serve at a party that's sure to impress, I've got you covered.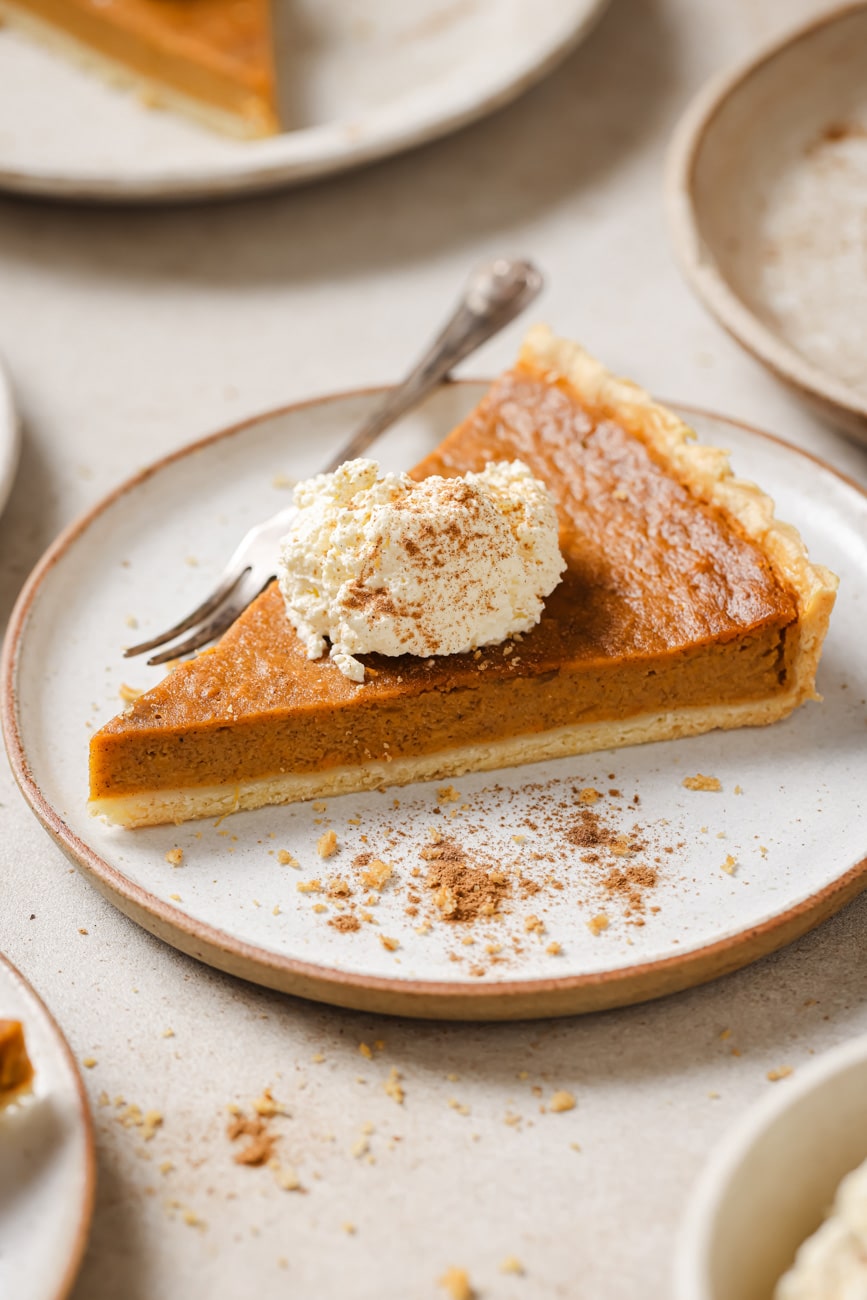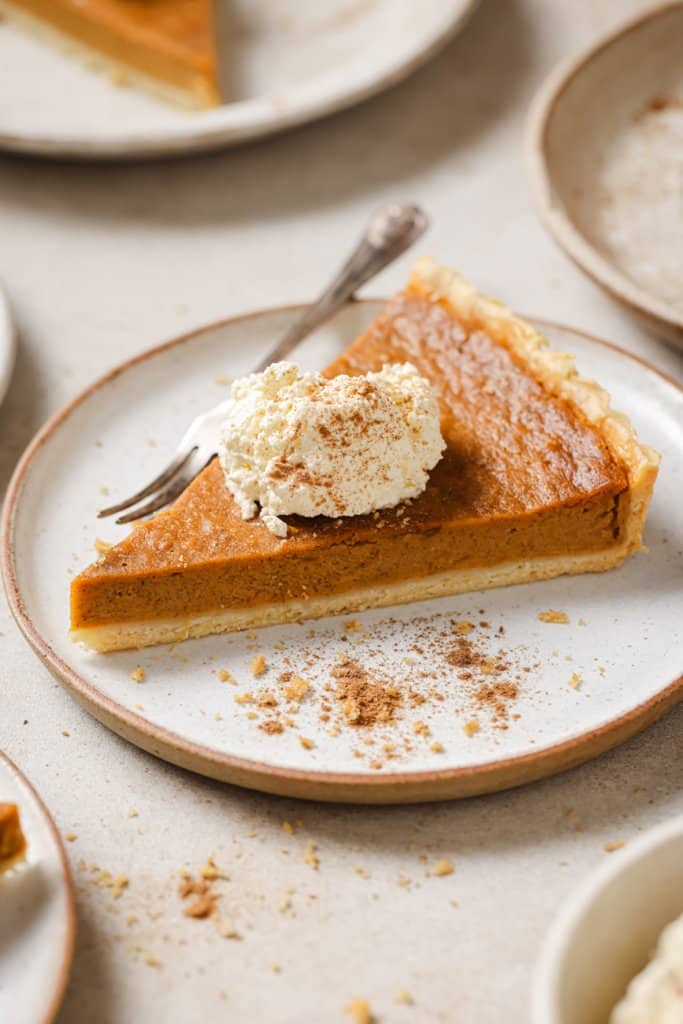 Why you'll love this pie
Perfect make-ahead dessert, so you can free up oven and counter space
Creamy and rich sweet potato filling
Only sweetened with brown sugar (so you already know it's good)
Flavor-packed thanks to butter, vanilla extract, and everyone's favorite fall spices
You'll love this roasted sweet potato pie because it's a delightful homemade dessert that's simple to make. The combination of sweet and creamy flavors is truly irresistible. This pie brings a comforting warmth to your table. So, treat yourself to a little (or big) slice of happiness with the deliciousness of this dessert!
What is sweet potato pie?
Sweet potato pie is a traditional dessert, originating in the south. It's often served during the American holiday season, especially during Thanksgiving and Christmas in place of pumpkin pie, which is more traditional in other regions of the United States.
Homemade Sweet Potato Pie Recipe
I love making things with fresh sweet potatoes and this delicious pie is at the top of my list.
While sweet potato pie is the perfect Thanksgiving treat, it can be made any time of year. You can serve this delicious pie on Christmas or even Labor Day and 4th of July at all your backyard BBQs!
The velvety texture and rich flavor of the sweet pie filling perfectly complement the spirit of these cherished holidays, making every bite a taste of pure happiness and is sure to become a core memory for you and your family.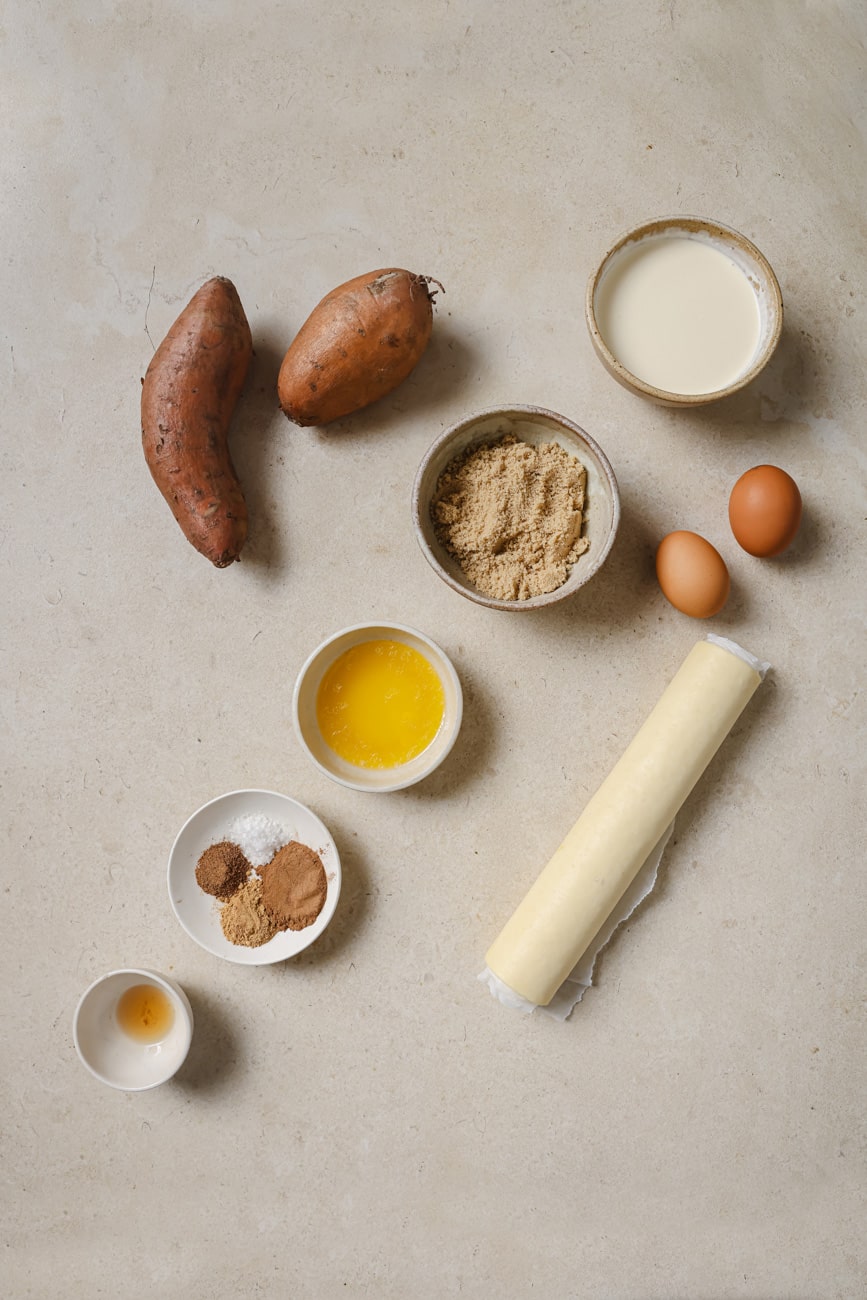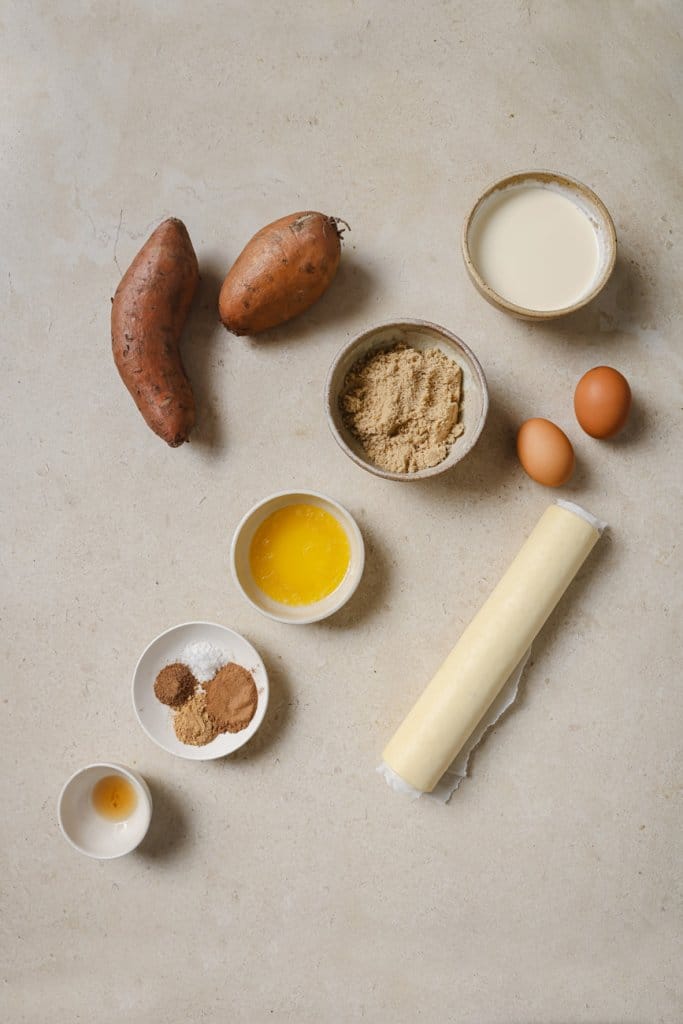 Ingredients to Make The Best Sweet Potato Pie
Pie crust: while you can use a homemade pie shell, taking a little shortcut to the freezer section at the grocery store is part of what makes this recipe so easy! My favorite store-bought pie crust is Wholly Wholesome and Pillsbury.
Sweet potatoes: the star of the show! You'll need two large sweet potatoes, about 1 lb.
Heavy cream and butter: for a smooth and creamy texture.
Eggs: to help the pie keep its structure.
Light brown sugar: the best pairing for sweet potatoes and what makes this pie so delicious!
Spices: all the classic autumn flavors are in this pie. Ground cinnamon, ginger, nutmeg, vanilla extract, and kosher salt. Salt might seem like something you don't want in a dessert but it really helps to enhance all the flavors so don't skip it!
Whipped cream: for topping, of course!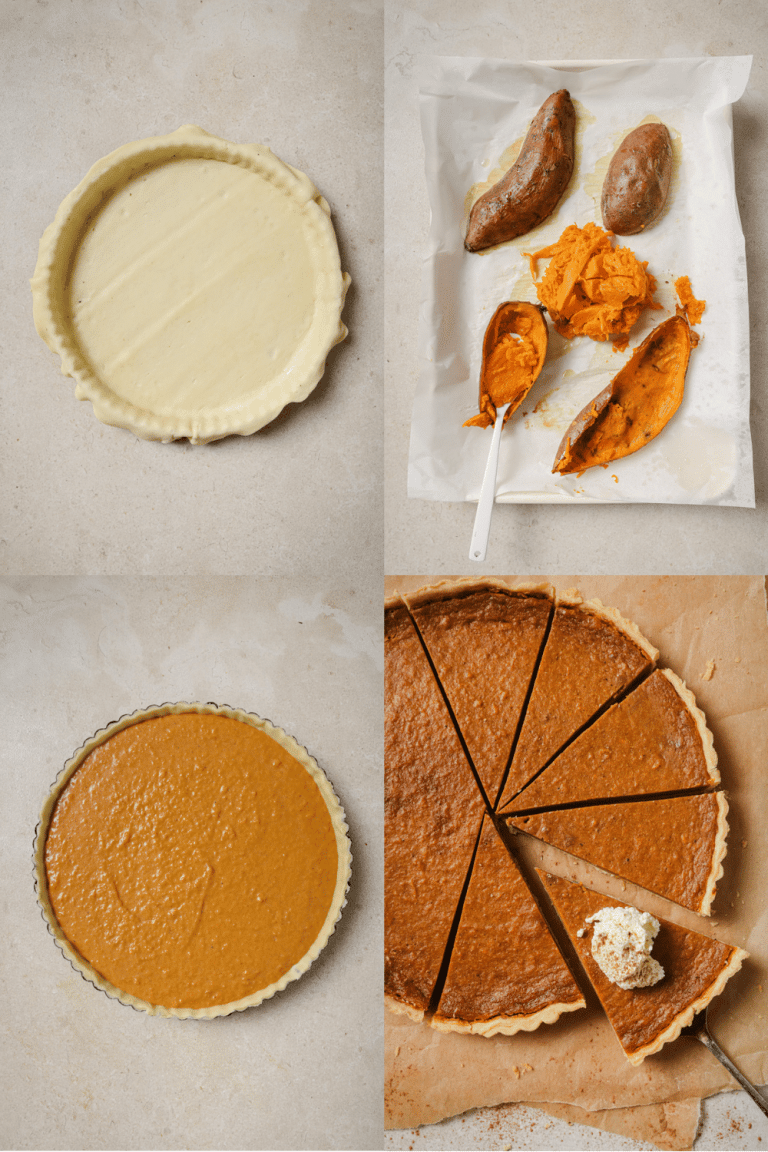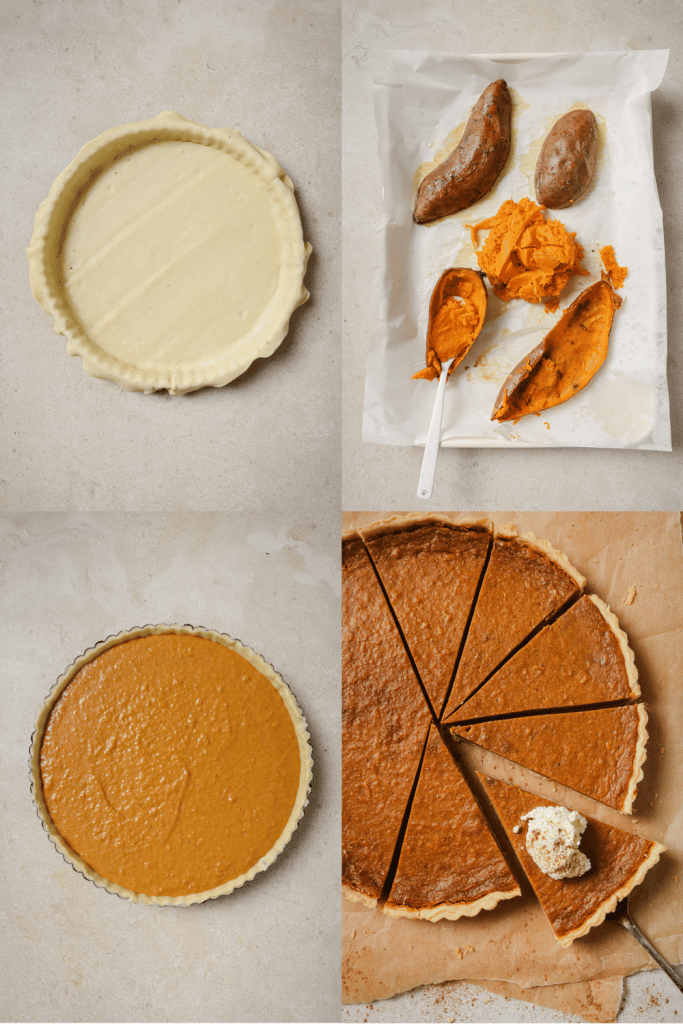 How to Make Roasted Sweet Potato Pie
1. Prep the crust. Take the homemade pie dough or store-bought crust and roll it out bigger than your pie plate. Press it into the pie tin and trim off the excess at the top of the pie plate. Place it in the refrigerator while you make the pie filling.
2. Roast the sweet potatoes. Place the sweet potatoes on a baking sheet. Bake until the sweet potato flesh is soft. Let them cool for 10 minutes. Scoop out the insides and place them in a large bowl. Mash them with a potato masher.
3. Make the sweet potato puree. Using a hand mixer or whisk, combine the eggs and sugar. Then add the sweet potatoes, cream, melted butter, and spices. Stir well until combined.
4. Bake the pie. Fill the unbaked pie crust with the sweet potato filling and bake. Check the pie's doneness by inserting a toothpick into the center; it's ready when the toothpick comes out clean. Cool on a wire rack. Slice and serve at room temperature. Serve with whipped cream or vanilla ice cream.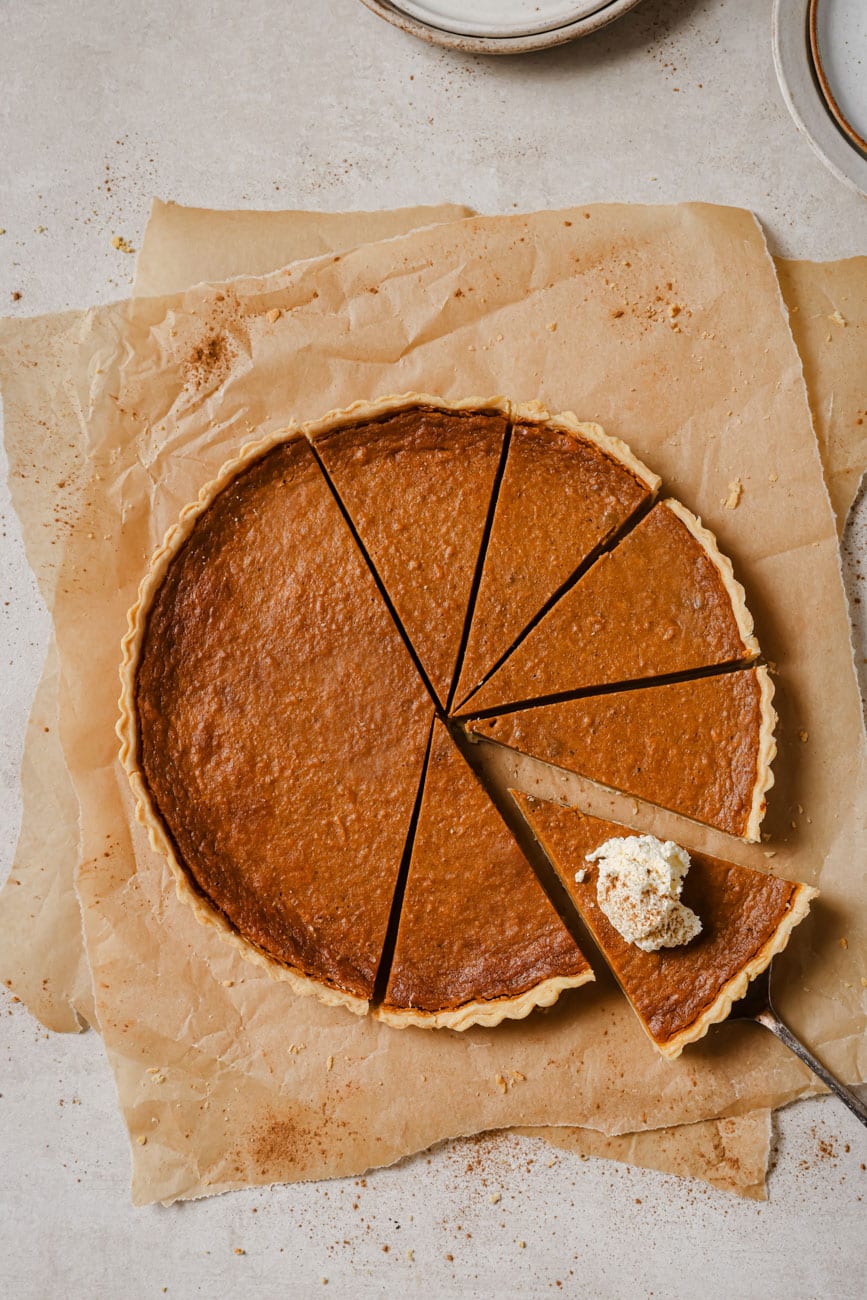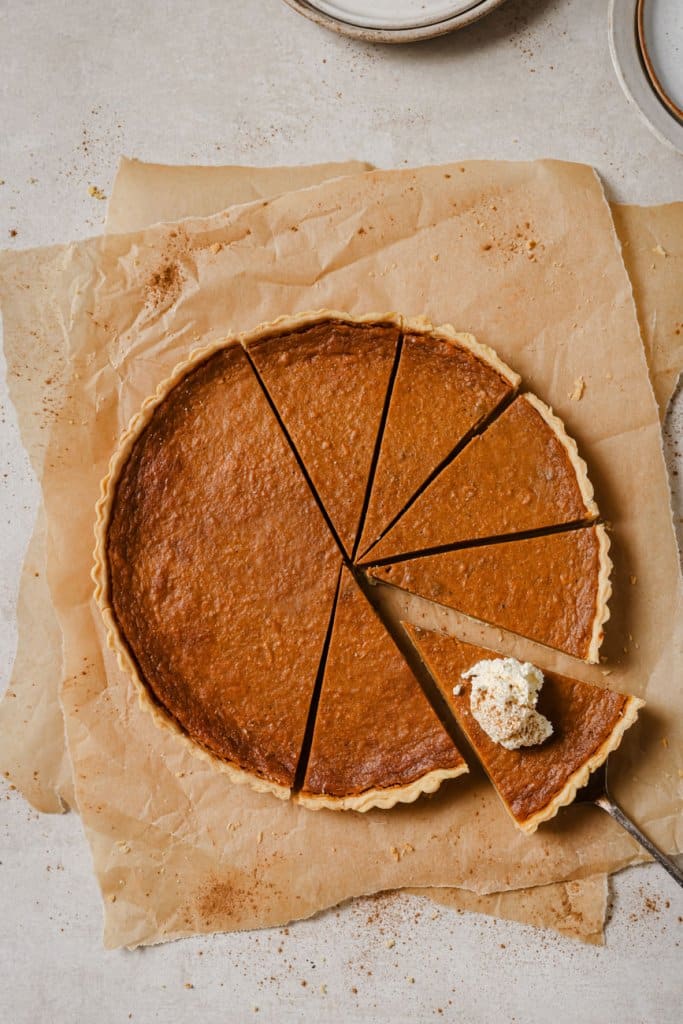 How to Boil Sweet Potatoes for Pie
Boiling Whole Sweet Potatoes
You can boil whole sweet potatoes for 30-45 minutes. Of course, this depends on the size of the potato; smaller ones will be done faster, and larger potatoes will take longer.
I suggest poking the sweet potatoes with a fork after 30 minutes to see if they are tender. If you can't easily pierce them with a fork, check back about 10 minutes later.
Boiling Cubed Sweet Potatoes
Cut your sweet potatoes into 2-inch cubes and boil for 20-25 minutes. If you want them to cook even faster, you can cut them into 1-inch cubes and boil for 12-15 minutes.
How Long to Bake Sweet Potato Pie
Sweet potato pie will need to bake in the oven for 45-55 minutes. You'll know it's ready when it passes the toothpick test and the center doesn't jiggle when moved.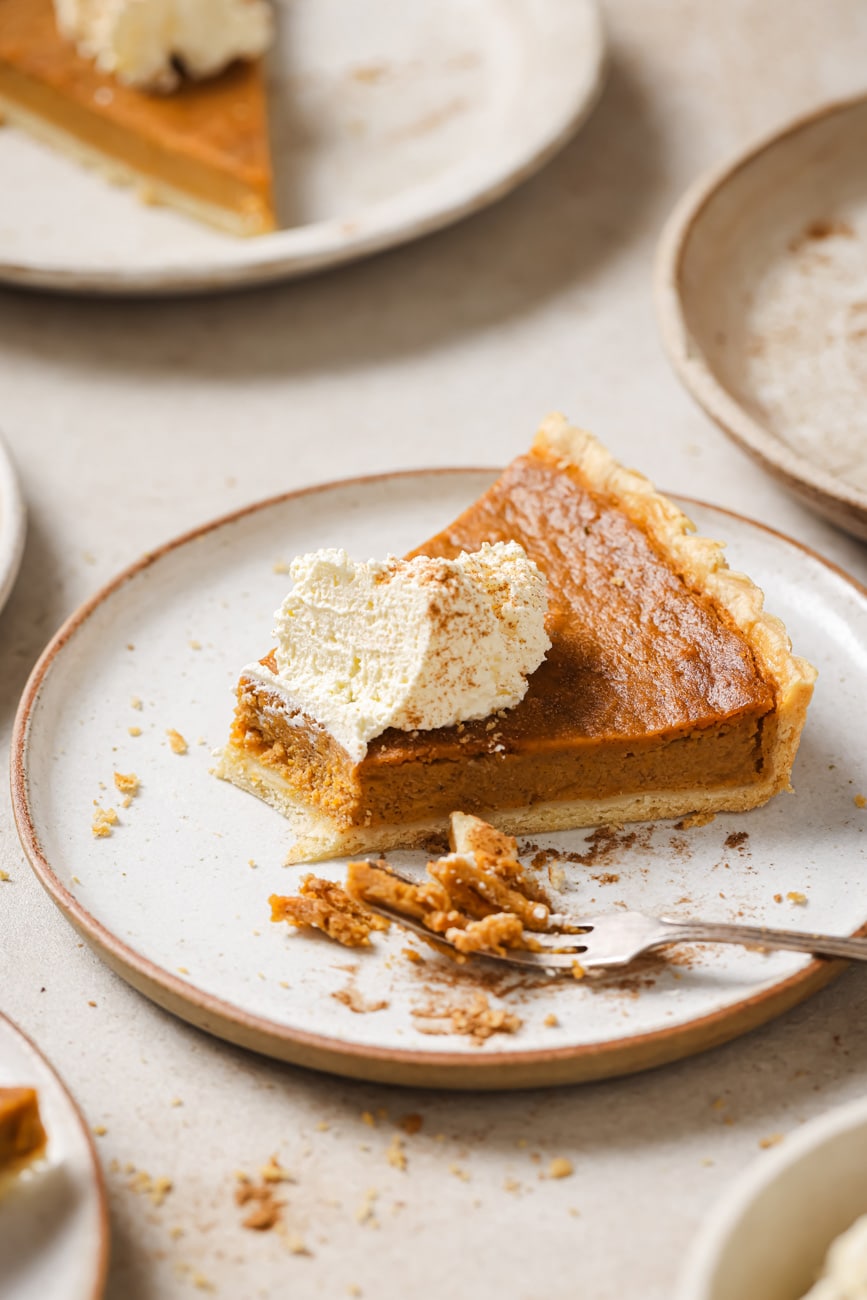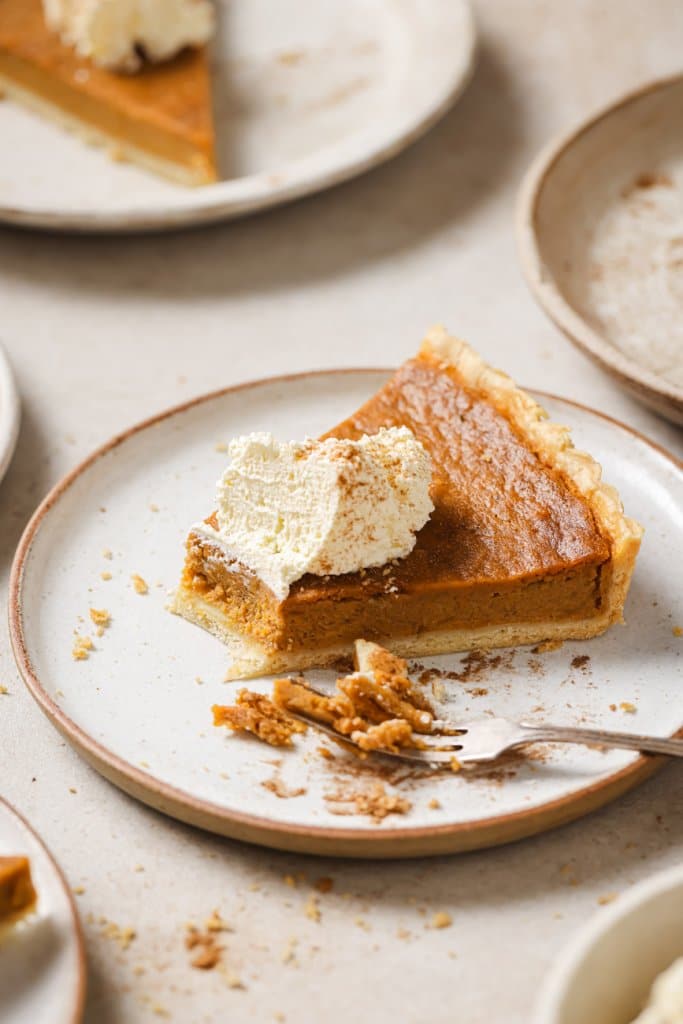 Does it Need to be Refrigerated?
It's a good idea to refrigerate your sweet potato pie, this helps preserve freshness and flavor. After it's finished baking, allow it to come to room temperature before wrapping it with plastic wrap or foil. You can also use a pie plate with a cover for easy storage.
Can You Freeze Sweet Potato Pie?
To freeze your pie, wrap it tightly in plastic wrap and then aluminum foil to prevent freezer burn. When you're ready to enjoy it, thaw the pie in the refrigerator before reheating. Frozen sweet potato pie can be kept for up to two months.
How Long Does it Last?
When stored properly in the refrigerator, sweet potato pie can last for about 5 days before it starts to go bad. If you need it to last longer, move it to the freezer where it can be stored for up to two months.
Is Sweet Potato Pie Healthy?
Homemade sweet potato pie contains nutritious sweet potatoes, but it's still a dessert, so enjoy it in moderation. Sweet potatoes offer vitamins and fiber, but the pie's sweetness and crust should be considered a treat.
More recipes to try
WANT TO TRY THIS ROASTED SWEET POTATO PIE RECIPE?
PIN IT to your sweet potato recipes, easy dessert recipes, or Thanksgiving dessert recipes board to save it for later!
Find me on Pinterest for more great recipes. I'm always pinning!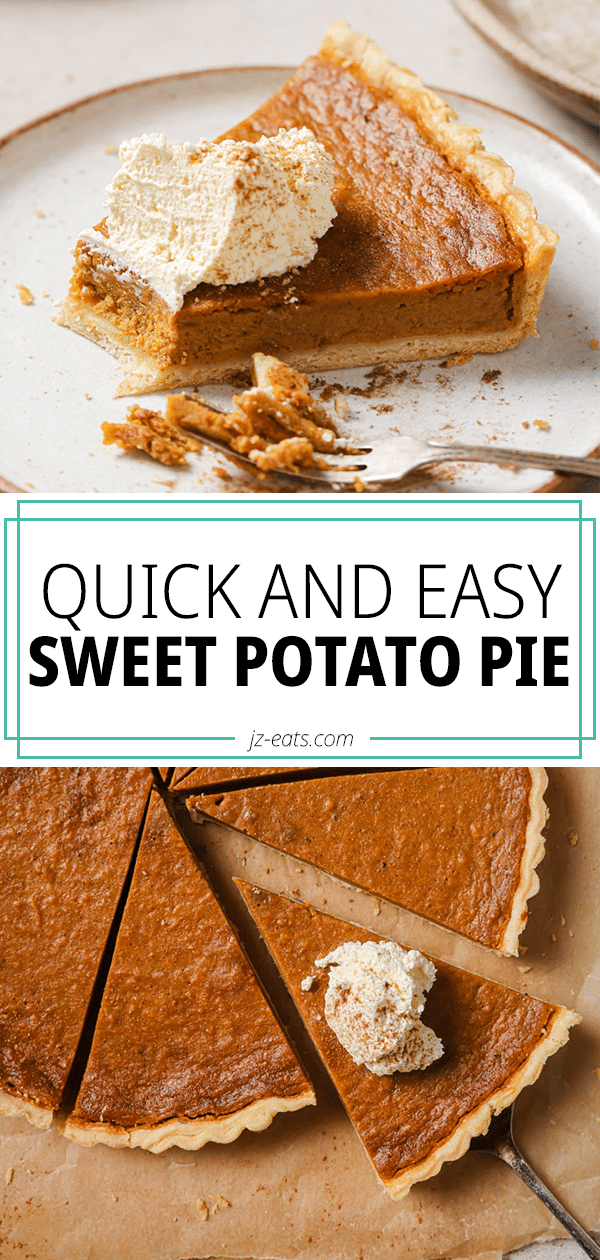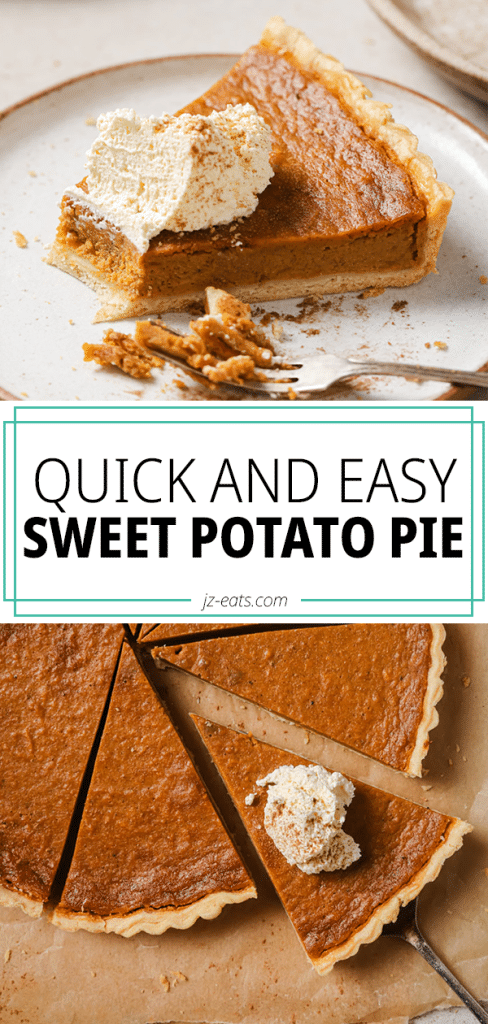 Did you make this recipe? Post a photo on Instagram and tag me @JZEATS or #JZEATS so I can see! Leave a comment below and let me know what you think, too!
Easy Sweet Potato Pie
This Easy Sweet Potato Pie is made with a few simple ingredients and minimal effort, which is what makes it so easy to make! So, if you're a beginner baker looking for an easy dessert recipe for the holidays or to serve at a party that's sure to impress, I've got you covered.
Ingredients
1

9 inch

frozen pie crust,

thawed

2

large

sweet potatoes,

about 1 lb total

olive oil,

for cooking

2

large

eggs

1/2

cup

light brown sugar

3/4

cup

heavy cream

1/4

cup

unsalted butter,

melted

1

tsp

vanilla extract

2

tsp

ground cinnamon

1

tsp

ground ginger

1/2

tsp

ground nutmeg

1/2

tsp

kosher salt

optional: whipped cream for serving
Instructions
Grease a 10 x 1 inch round loose bottom tart tin generously with butter to prevent sticking. Roll the pie dough 1/2 inch larger than your tin. Gently press the dough down into the dish so that it line the bottom and sides. Trim the dough with a sharp knife so it's neat on top.

Place in the fridge while you prepare the filling. If you're using a frozen pie crust remove from the freezer and allow to defrost at room temperature whilst you prepare the filling.

Preheat the oven to 400ºF and line a baking sheet with parchment paper.

Slice sweet potatoes in half lengthways and place them cut side down on a baking sheet. Prick them with a fork several times and rub them all over with a thin layer of olive oil.

Bake the potatoes for 35 – 40 minutes, rotating halfway through baking, until the center is soft. Remove the sweet potatoes from the oven and let them cool on the baking sheet for about 10 mins.

Scoop out the flesh from the baked potatoes using a spoon and place it in a mixing bowl. Discard the skins. Mash the potatoes using a potato masher or stick blender.

In a medium sized mixing bowl, whisk the eggs and sugar together until smooth. Add the mashed sweet potatoes, cream, butter, vanilla, cinnamon, ginger, nutmeg and salt. Stir until well combined.

Set the pie crust on a baking sheet and pour in the filling. Bake for 45 to 55 minutes, or until you can insert a toothpick into the centre and it comes out clean. If the pie crust starts to brown before the filling is done, loosely cover it with tin foil to prevent burning.

When finished, place the pie on a rack to cool. Slice and serve at room temperature with whipped cream.
Nutrition
Calories:
311
kcal
|
Carbohydrates:
35
g
|
Protein:
4
g
|
Fat:
17
g
|
Saturated Fat:
9
g
|
Polyunsaturated Fat:
1
g
|
Monounsaturated Fat:
6
g
|
Trans Fat:
0.2
g
|
Cholesterol:
70
mg
|
Sodium:
258
mg
|
Potassium:
301
mg
|
Fiber:
3
g
|
Sugar:
14
g
|
Vitamin A:
10107
IU
|
Vitamin C:
2
mg
|
Calcium:
57
mg
|
Iron:
1
mg