This post may contain affiliate links which will not change your price but will share some commission. Please read my privacy policy.
While this post is sponsored by National Bohemian all opinions stated are my own.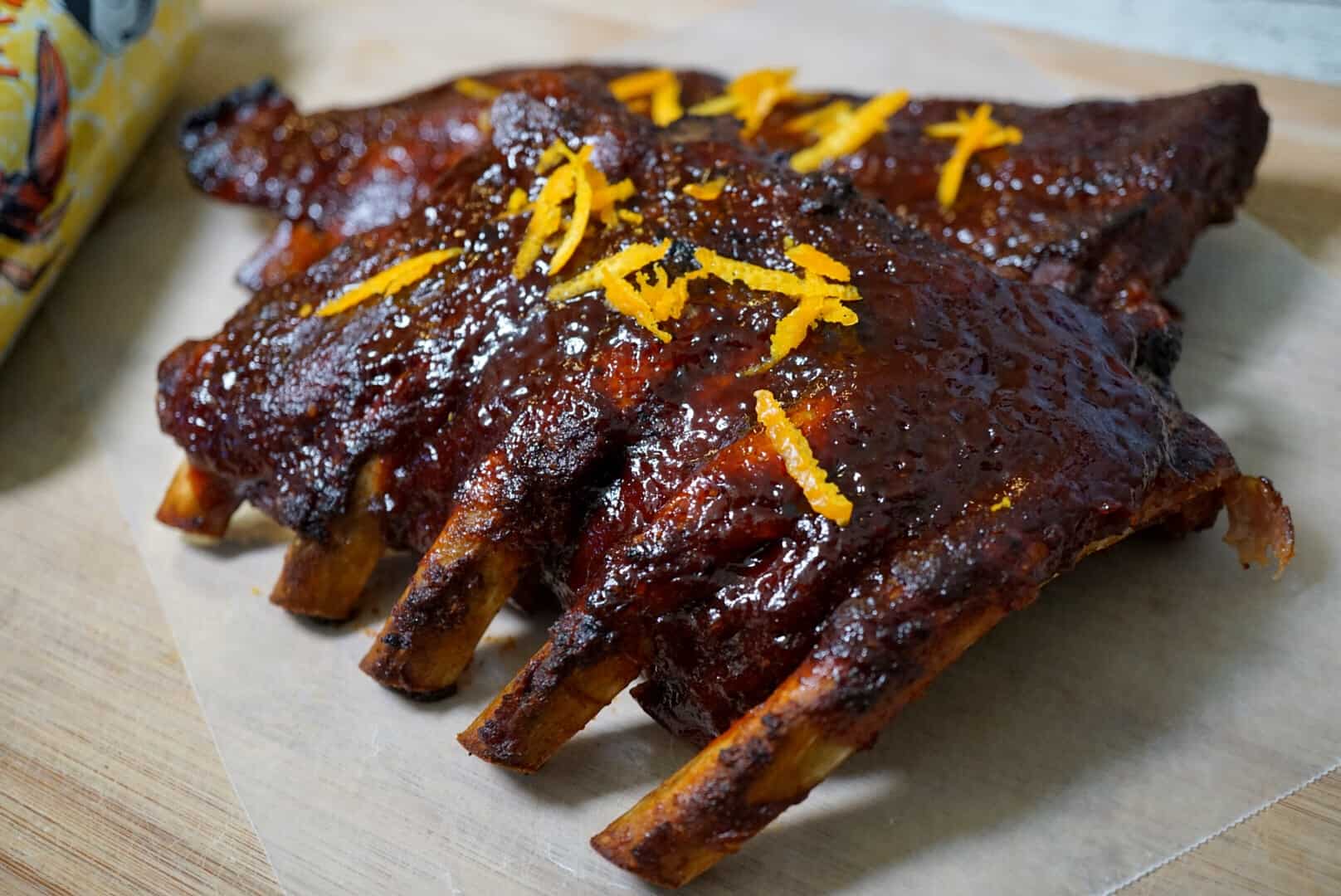 Ribs are my go-to when planning a cookout, and with Memorial Day approaching AND Natty Boh launching a new beer for the first time in over 30 years, I'm pretending it's summer and whipping up one of my favorite slow cooker party dishes. Trust me, these are the only slow cooker ribs you'll be making from now on.
If you want fall off the bone ribs then you're in the right place because these slow cooker ribs are a huge hit whenever I make them. I typically cook ribs in the slow cooker because, well, who doesn't love a good slow cooker rib recipe?
I've got a few secrets to an epic fall-off-the-bone slow cooker rib recipe. The first secret is adding 8 ounces of beer, but not just any beer. It has to be something light, crisp, and sweet but not too sweet.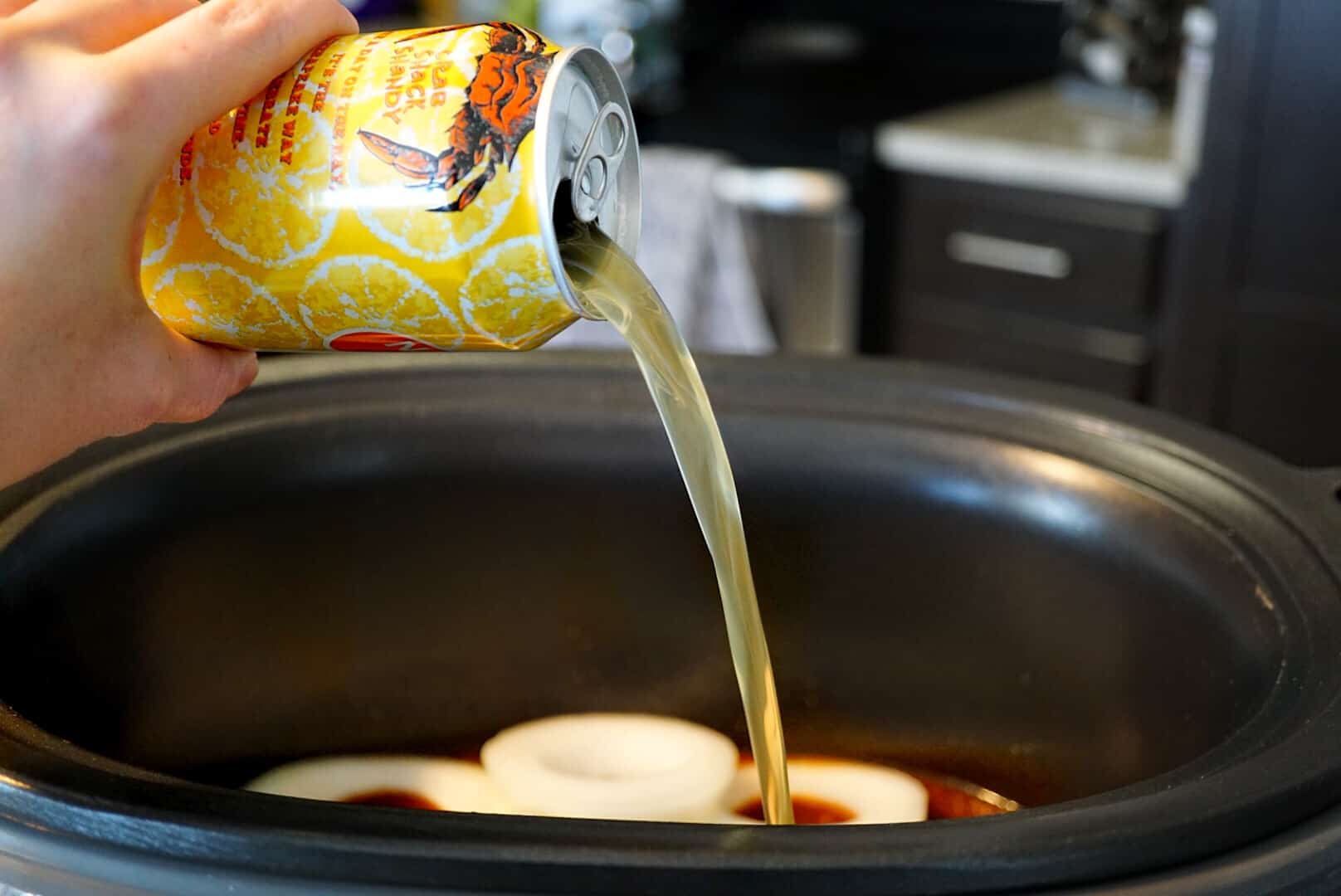 That's why I've partnered with Natty Boh to bring you this foolproof slow cooker rib recipe.
When I heard Natty Boh was releasing a new brew, I was pumped. The brand has been a Baltimore staple for decades, and a personal favorite. For many, it's more than a beer. Baltimoreans are tied to everything that comes along with the beer the endless summer cookouts, Ravens tailgates, and of course Mr. Boh himself!
I have to admit, just like many Marylanders, I too love myself a Bohtini. For those who are unfamiliar, a Bohtini is a traditional Natty Boh poured in an Old Bay rimmed glass. A fancier version of the Bohtini is served in the can and topped with lump crab meat.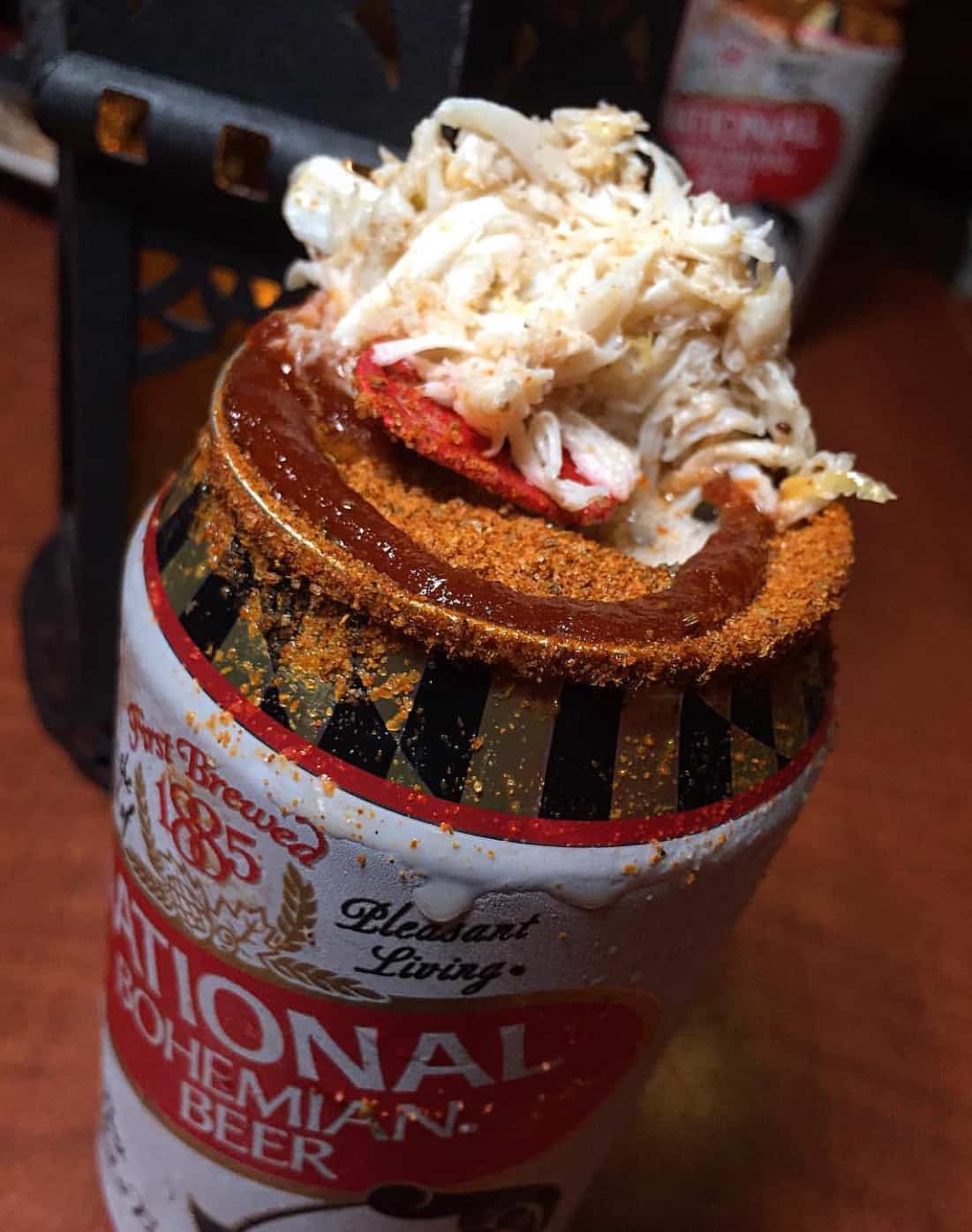 The Natty Boh Crab Shack Shandy is different from the Boh we know. It's a bright, refreshing, citrus shandy and the absolute perfect addition to these slow cooker ribs.
This Shandy is a specialty lager brewed with lemon zest and orange peel. It's a golden straw-colored lager infused with notes of citrus and a hint of zest overlaid with finely roasted malt flavor. The brew is light-bodied and easy to drink I can't wait to have it all summer!
The Crab Shack Shandy is the perfect complement to dishes like Grilled Chicken, Mexican Street Corn, Slow Cooker Pulled Pork Tacos, and of course, these fall-off-the-bone Slow Cooker Ribs!
Four secrets for getting the rib meat to fall right off the bone
Remove the membrane from the back of the ribs. You can do this easily by sliding your fingers or a knife around the sides to loosen it up, and then pull it back slowly. If you're a visual learner, watch this video.
Carefully cut off excess fat from the edges of the ribs.
Cook the ribs low and slow in the crockpot for 8 hours (4 hours if you're in a hurry).
Gently transfer the ribs to a baking sheet and finish them under the broiler, or if the weather is right, finish them off on the grill!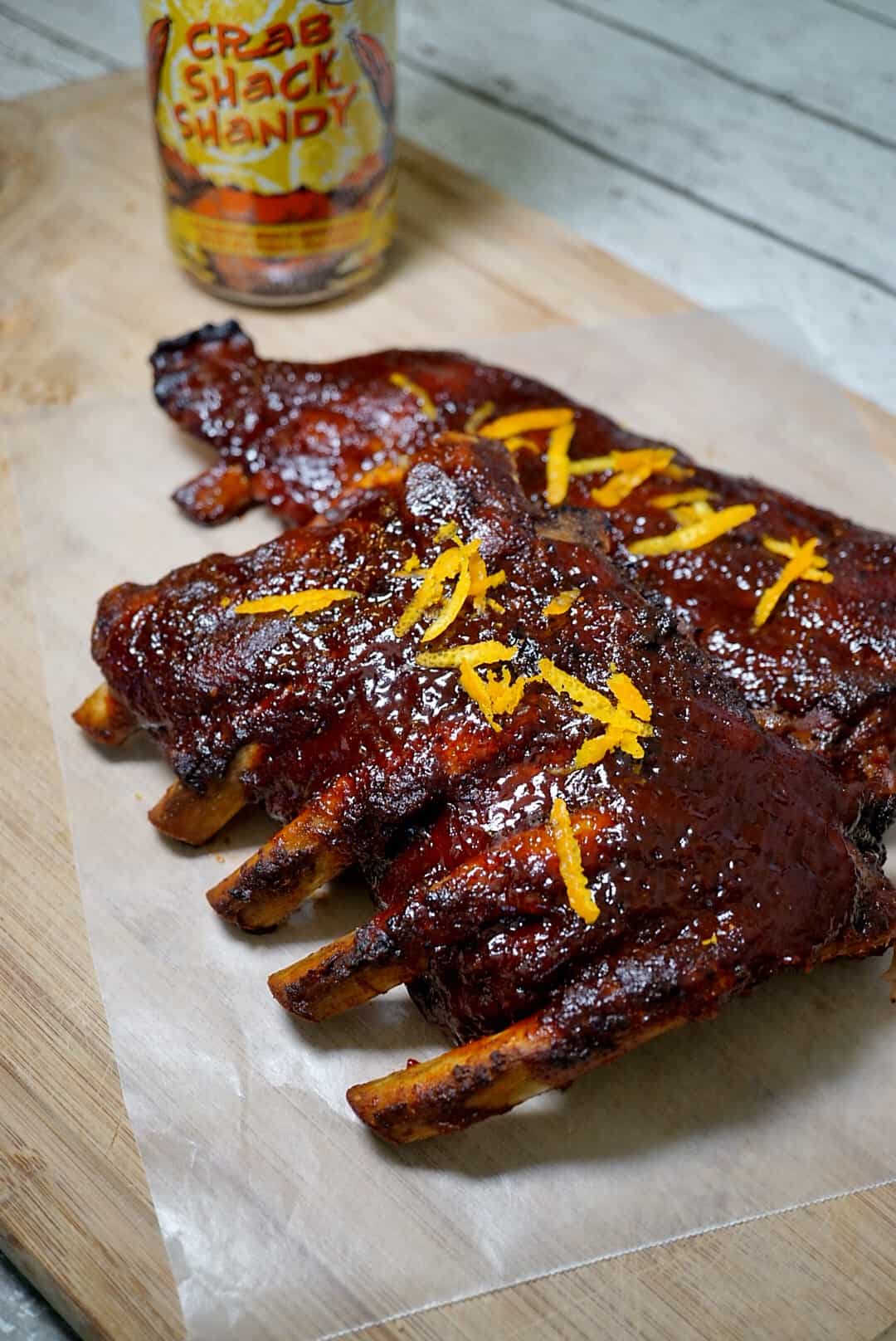 Some prefer making slow cooker ribs with root beer, but I chose to make these slow cooker ribs with beer like the new Natty Boh Crab Shack Shandy. This is because root beer has a high sugar content and doesn't complement the sweetness of the BBQ sauce as well as a light and crisp beer.
This is a foolproof slow cooker rib recipe that any dinner guest will love. If you're looking for a side dish to accompany these bone sucking ribs, check out these Roasted Mini Potatoes!
Natty BOHne Suckin' Ribs
Ingredients
2

racks of baby back ribs

1

cup

dry rub

12

ounces

BBQ sauce

4

ounces

Natty Boh Crab Shack Shandy

1

white onion

sliced

2

tablespoons

minced garlic

1

tablespoon

worcestershire sauce

4

tablespoons

brown sugar

2

tablespoons

grated orange peel

optional
Instructions
Prepare ingredients: slice onion, mince garlic (if using fresh cloves), grate orange peel (if using), remove membrane from the back of the ribs, and generously coat both sides of the ribs with dry rub. Depending on the size of your slow cooker, you may need to cut each rack of ribs in half lengthwise.

Mix sauce: Add 4 oz of BBQ sauce, 2 tbsp of brown sugar, garlic, worcestershire sauce, and 4 oz of Natty Boh Crab Shack Shandy to the slow cooker. Mix until all ingredients are combined.

Start cookin': Line the bottom of the slow cooker with sliced onions and lay both racks of ribs on top. Coat the ribs with more BBQ sauce (about 4 oz) using a silicone brush. Cook on low for 8 hours or high for 4 hours if you're in a rush.

Finishing touches: In a small bowl, mix remaining BBQ sauce with 2 tbsp of brown sugar. Carefully remove ribs from slow cooker, lay each rack on a foiled baking sheet. Use a silicone brush to paint a thick layer of the BBQ sauce mixture over each rack and broil for 3-5 minutes or until the sauce starts to bubble and caramelize – keep a close eye on them! Alternatively, you can throw the racks straight on the grill (no foil), cover with BBQ sauce, close the lid, and cook for 3-5 minutes over high heat (about 500 degrees). A warm weather option!

To Serve: Divide ribs between two plates and garnish with grated orange peel if desired. I always serve ribs with a side like Roasted Potatoes.
Notes
Nutrition
Calories:
577
kcal
|
Carbohydrates:
61
g
|
Protein:
30
g
|
Fat:
25
g
|
Saturated Fat:
9
g
|
Cholesterol:
98
mg
|
Sodium:
928
mg
|
Potassium:
757
mg
|
Fiber:
3
g
|
Sugar:
42
g
|
Vitamin A:
680
IU
|
Vitamin C:
5.2
mg
|
Calcium:
267
mg
|
Iron:
8.2
mg
Check out more of my recipes
here.
Want to try these Natty BOHne Suckin' Ribs?
PIN IT to your Slow Cooker, Ribs, or Recipes board to save it for later!
Find me on Pinterest for more great recipes. I'm always pinning!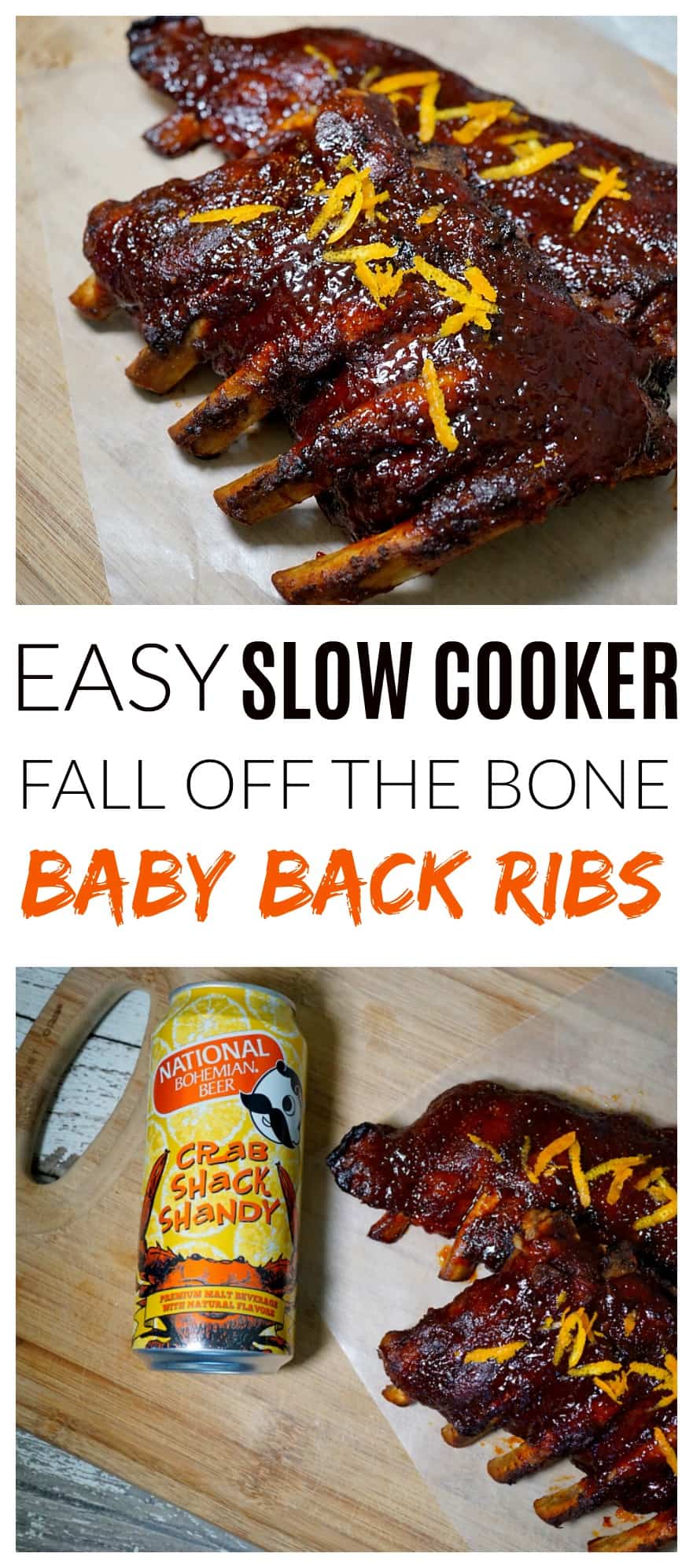 Reader Interactions