This post may contain affiliate links which will not change your price but will share some commission. Please read my privacy policy.
This Mediterranean Mezze Platter aka Greek Mezze Platter is a delicious Mediterranean appetizer that's sure to please any crowd.
This cook-free, no-hassle board of deliciousness is the perfect platter to enjoy year-round. Whether you're snacking by the pool or looking to put something impressive together to bring for the holidays, this Mezze Platter is here to satisfy and impress.
BONUS: Cedar's assortment of delicious dips and spreads makes it so easy to put a platter like this together with minimal effort!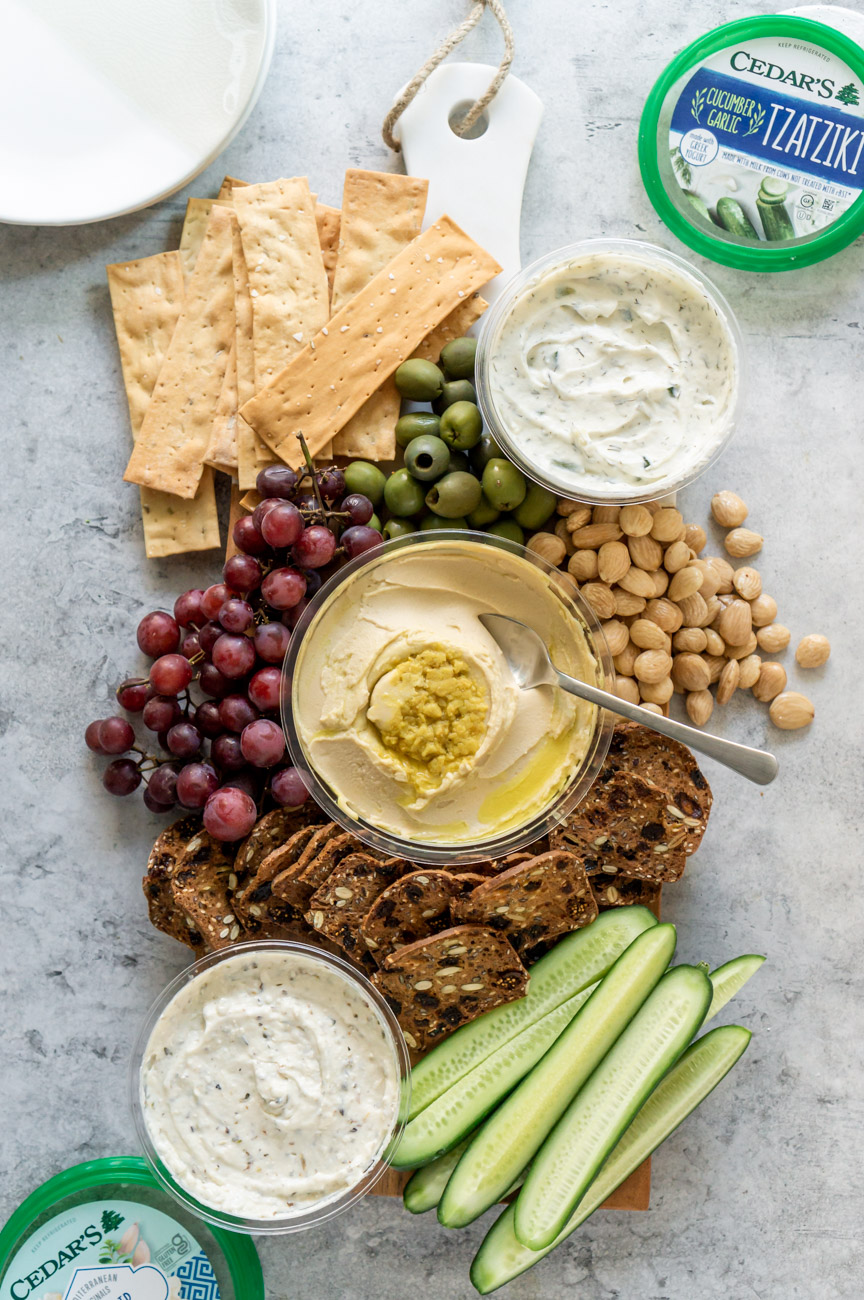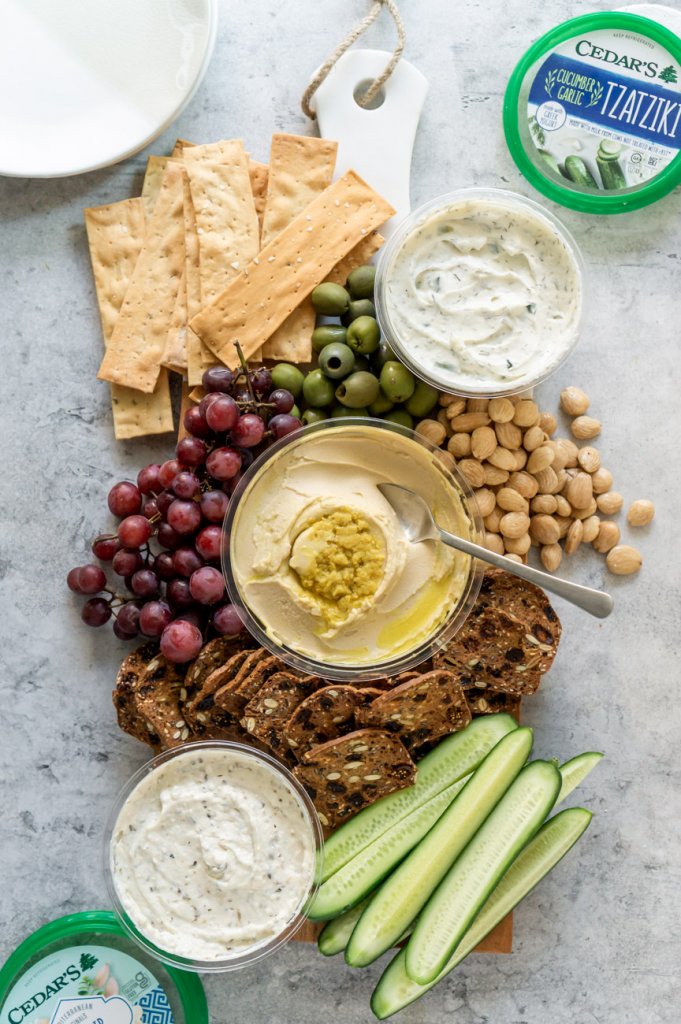 This post was developed in paid partnership with Cedar's Foods. Thank you for being supportive of me working with brands I use and love!
What is a Mezze Platter?
In some cultures, a gathering is not complete without a mezze. If you are unfamiliar, mezze is a selection of small plates served as appetizers. I like to think of it as a Mediterranean charcuterie board.
If you have traveled to countries like Greece, Turkey, Lebanon, or parts of the eastern Mediterranean, you are probably very familiar with a Mezze Platter, so much so that you also know that a Mezze could be an entire meal!
I appreciate and love a Mezze Platter for intimate dining or long casual visits with friends. It brings people, conversation, and great food together…and honestly, there is nothing I love more!
What do You Put on a Mezze Platter?
Sauces and dips: sauces and dips are the essential "anchors" to your platter and Cedar's makes it easy to make a mezze board with such amazing options.
For my board I used: Cedar's Cucumber Garlic Tzatziki, Cedar's Feta Dip, and Cedar's Topped Organic Lemon Hommus. They're just as delicious as homemade dips, without all the hassle!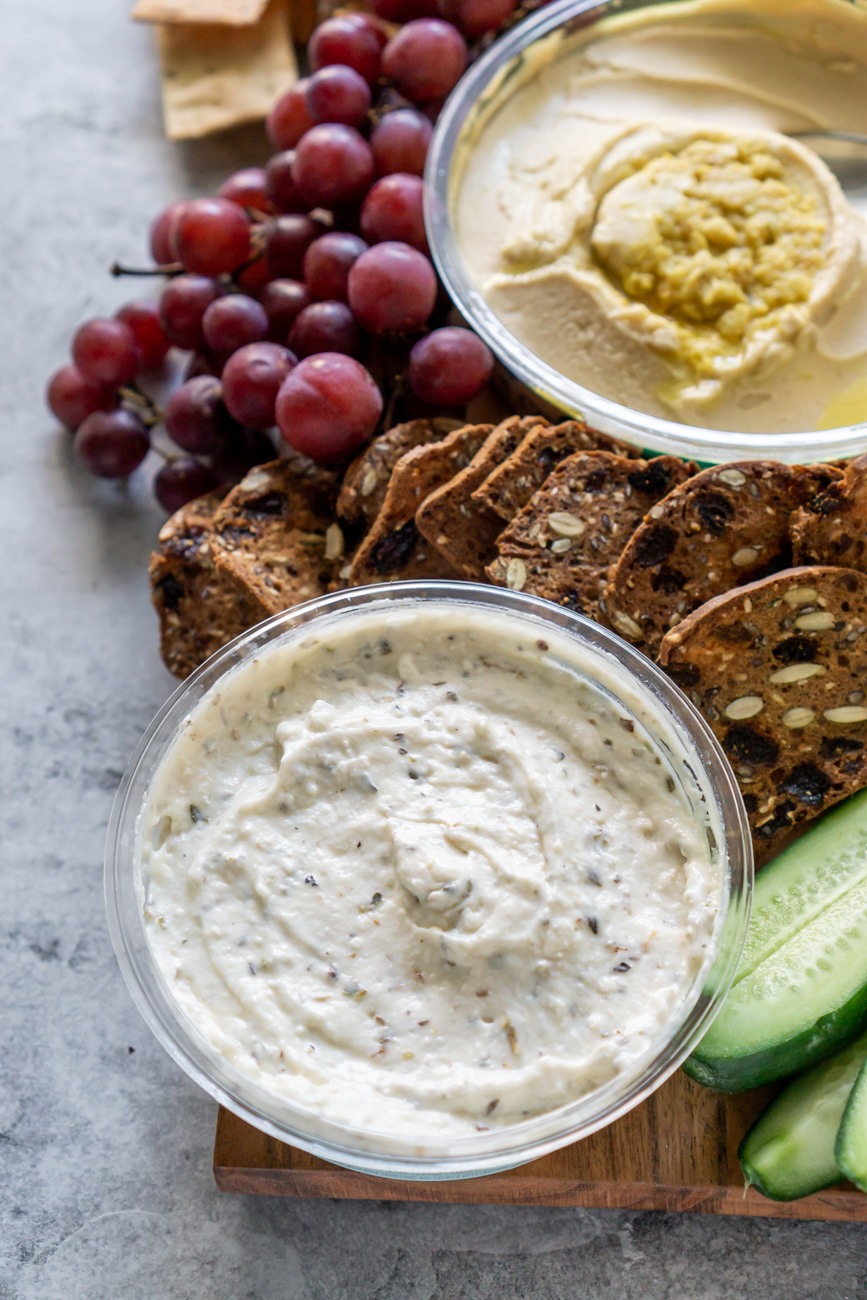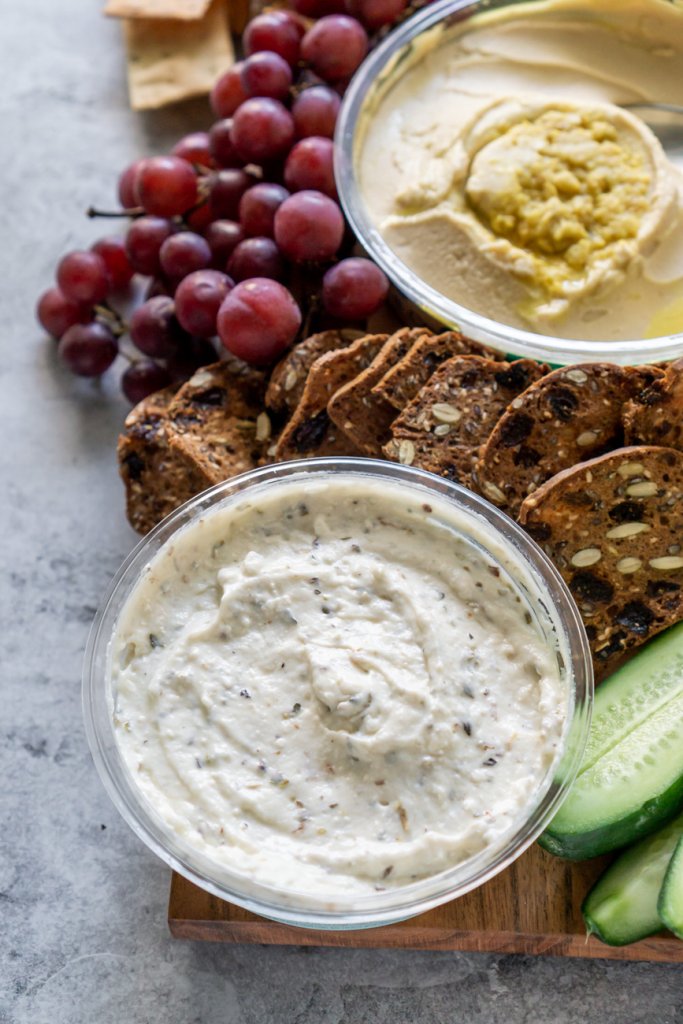 Bread: similar to a charcuterie board, you will want a bread and/or cracker option for dipping. For this particular board, I used baked crackers, however, you can really use your favorite here. Pita Bread is also a very popular option.
Vegetables: colorful vegetables are a very traditional element to a Mediterranean Mezze. To bring in some of those traditional colors and flavors, I used mini cucumbers and Castelvetrano olives (any type of olive will work too). You can also add radishes for a nice pop of color.
Fruit: the first rule of mezze, there are no rules! Mix and match your fruits and veggies. For this, I used red grapes, but you can also use blueberries, figs, or whatever else you love.
Nuts: they are an excellent small space filler, but also offer many health benefits and are fun to snack on. For my board, I used Marcona almonds. However, you can really use whatever you have handy or other popular favorites like walnuts, cashews, or salted almonds.
What Does Mezze (Meze) Mean?
By definition, Mezze or Meze is an appetizer or selection of small dishes served as appetizers.
Greek Mezze Platter Variations
Prosciutto
Salami
Cubed Feta Cheese
Eggplant slices
Figs
Artichokes
Grape Leaves
Carrots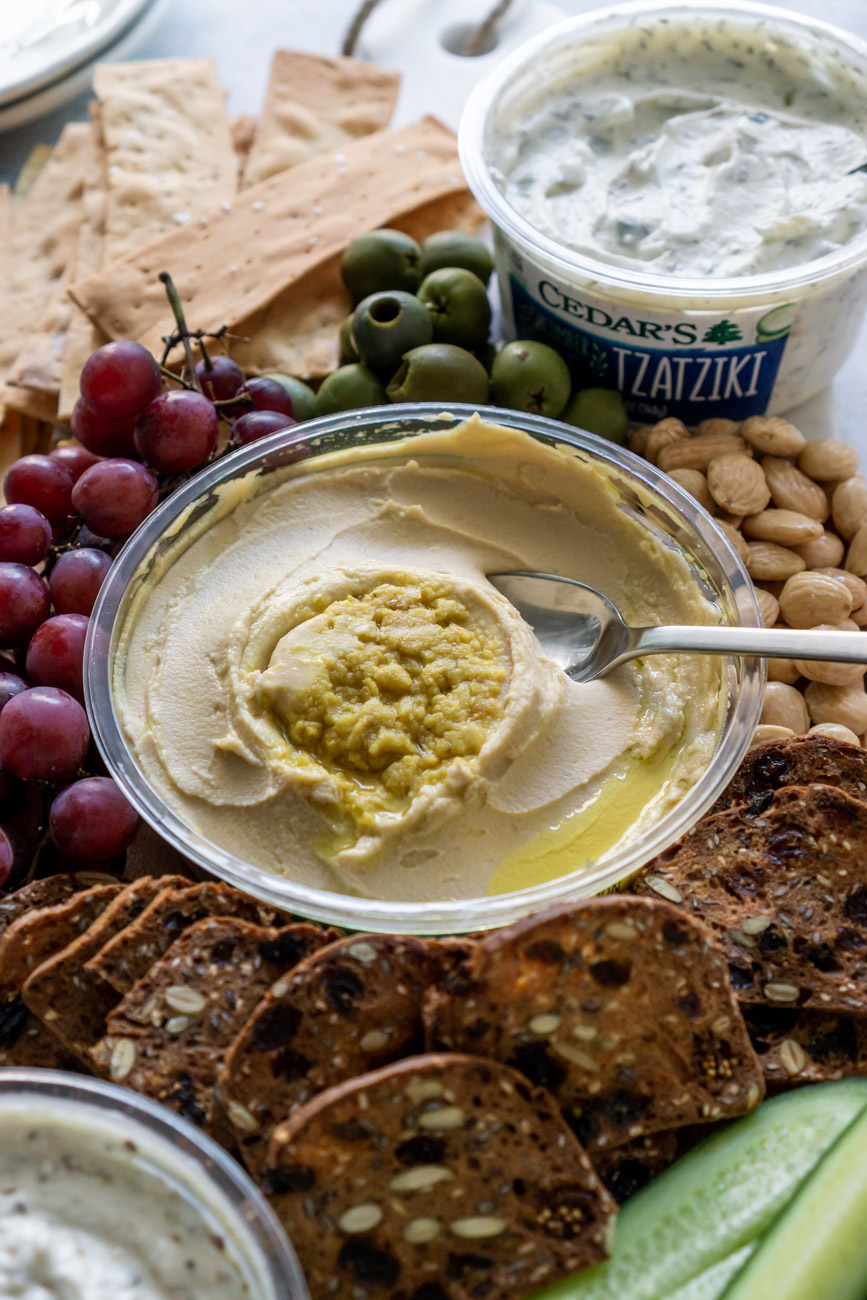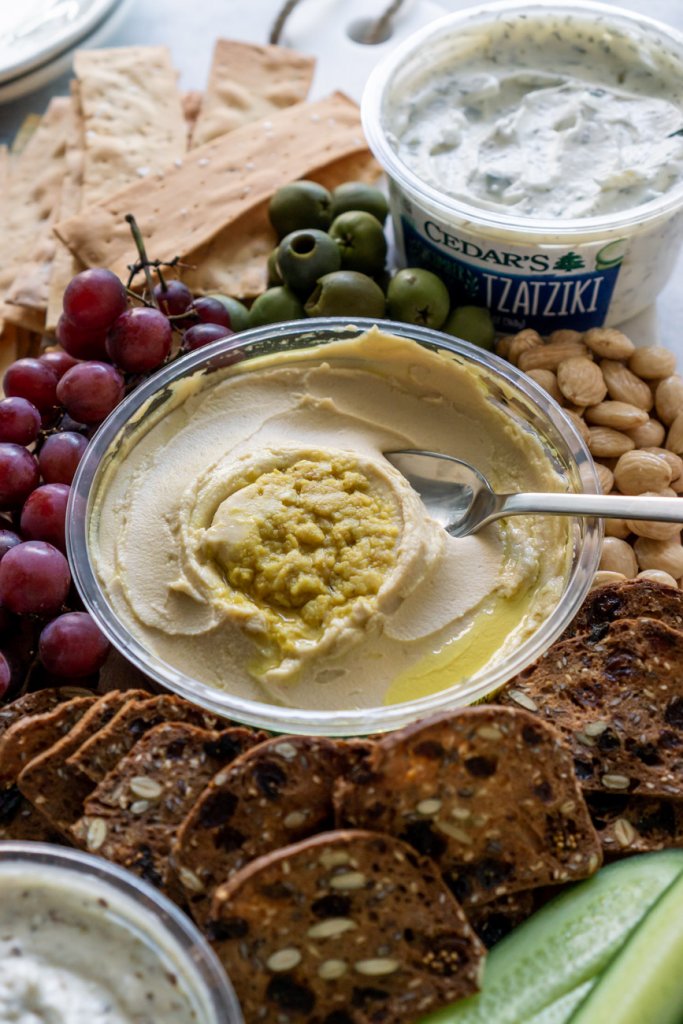 How to Make a Mezze Platter
Putting together the perfect Mezze platter is so easy. Here is a simple guide for you on how to build the best party platter anyone has seen:
Place items largest to smallest. Dips are usually large or in large containers, so put those on your board first, but not too close together.
Space them out almost in a triangle or diagonal line to create an appealing shape for the eye. When done, continue to put the remaining items on the board from largest to smallest.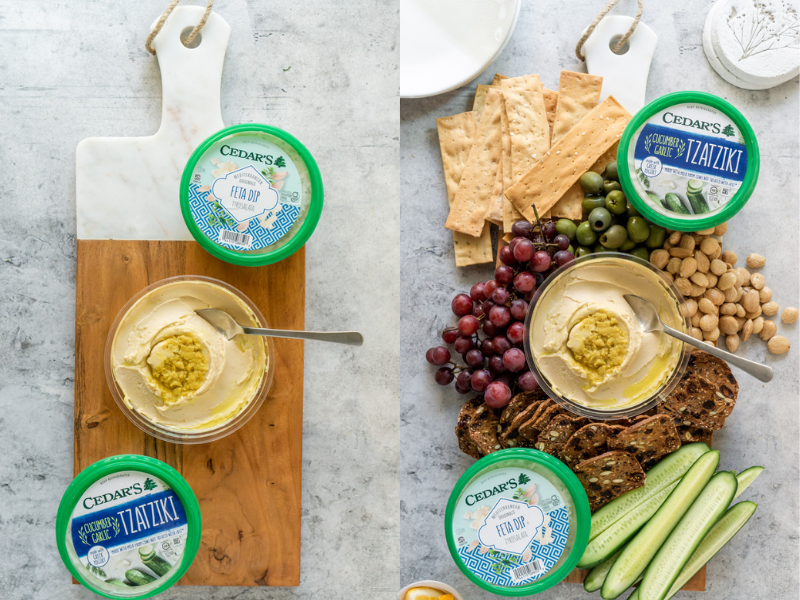 Fill small spaces/gaps with nuts. When you have a tiny space that needs filling the easiest thing to do is fill the space with a small item like almonds, cashews, walnuts, etc.
Ingredient amounts depend on size of serving tray. You won't need the same amount of each ingredient. Work with the space you have on your board and consider how many people you will be serving. If you're serving a large party, you might want to consider making two!
There is no wrong way to do this. Remember, there is no wrong way to build a Mezze Platter! Everything here is just a "guideline." The only one true "rule" for mezze is to share!
How do you Eat off a Mezze Platter
Although tempting, don't eat directly from the mezze platter. I guess this is how mezze slightly differs from the traditional charcuterie board!
When eating, grab what you'd like and transfer it to your own plate before eating. You can use a spoon or a clean chip (one you haven't bit off of yet) to transfer dips and spreads.
This practice allows you to grab sweet, spicy, hot, cold, sour, sweet, etc all at once and play with flavors on your own plate.
Some refer to this as the magic of meze. Being able to take all your favorites in one meal with no real "rules" to pairing/eating is fun, casual, beautiful, and timeless.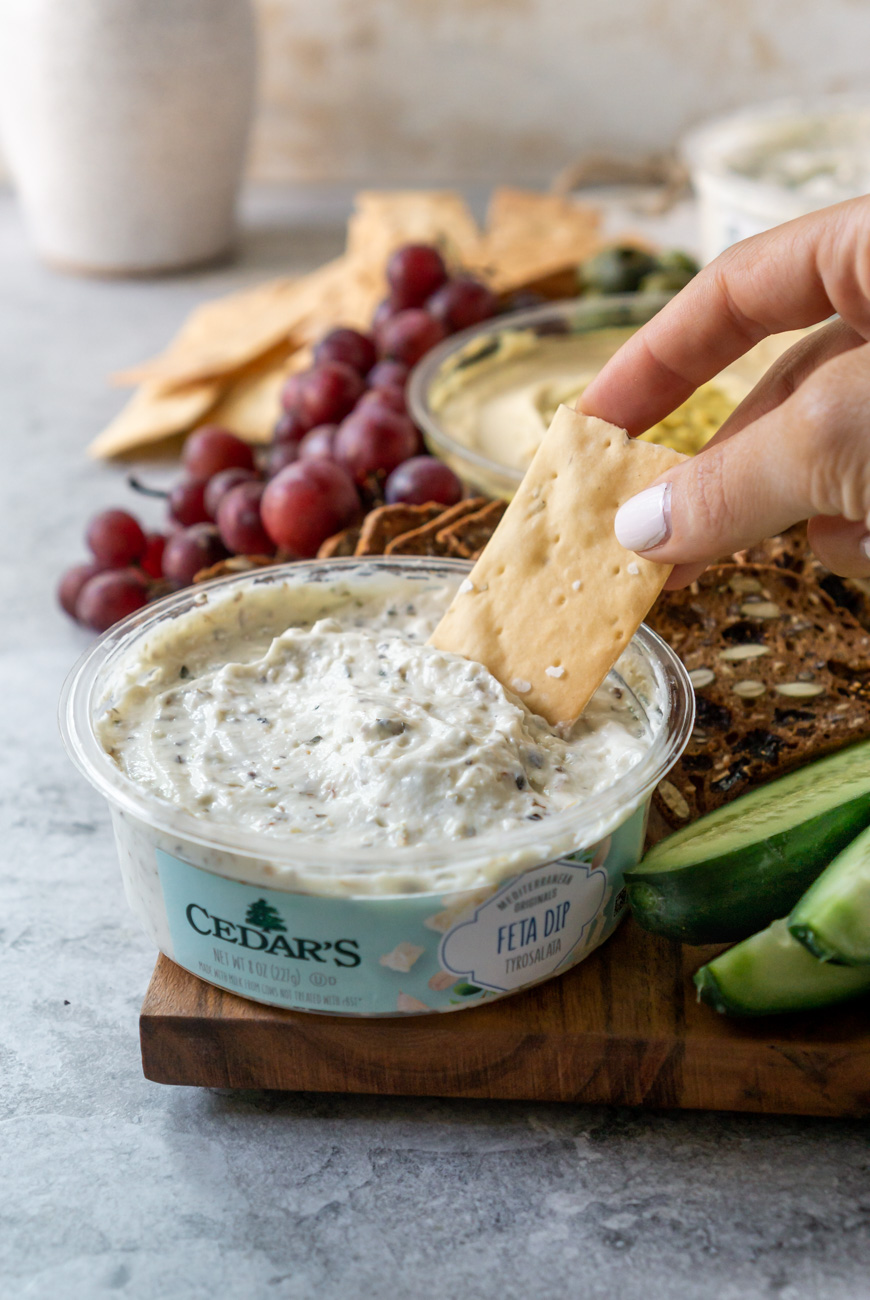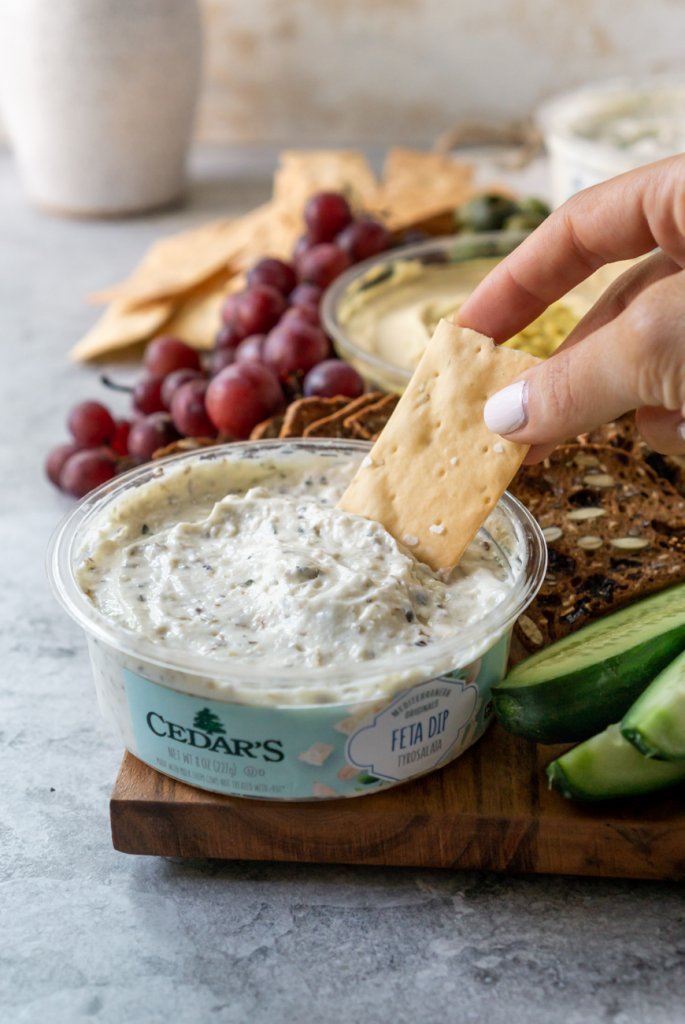 Tips for Making the Best Mediterranean Mezze Platter
Remember Mezze is for sharing. This is so crucial when thinking about what you are doing and how you want to build your board. Start by finding the largest platter/board in your house.
Colorful fruits and veggies are essential! A true Mediterranean platter has a variety of colorful fruits vegetables to show off.
Don't forget Olives, Cheeses, and Breads. These items make up the basic categories of what is expected on a typical mezze platter. Some examples of items you can use are: Feta Cheese, Baby Mozzorella (boconccini), figs, grapes, warm pita bread, crostini, crackers, etc.
More Mezze Platter Variations
Soulvaki
Falafel
Baba ganoush
Tomatoes
Artichokes
More Party Appetizers
WANT TO TRY THIS MEDITERRANEAN MEZZE PLATTER?
PIN IT to your appetizer recipes, mezze board recipes, no cook recipes board to save it for later!
Find me on Pinterest for more great recipes. I'm always pinning!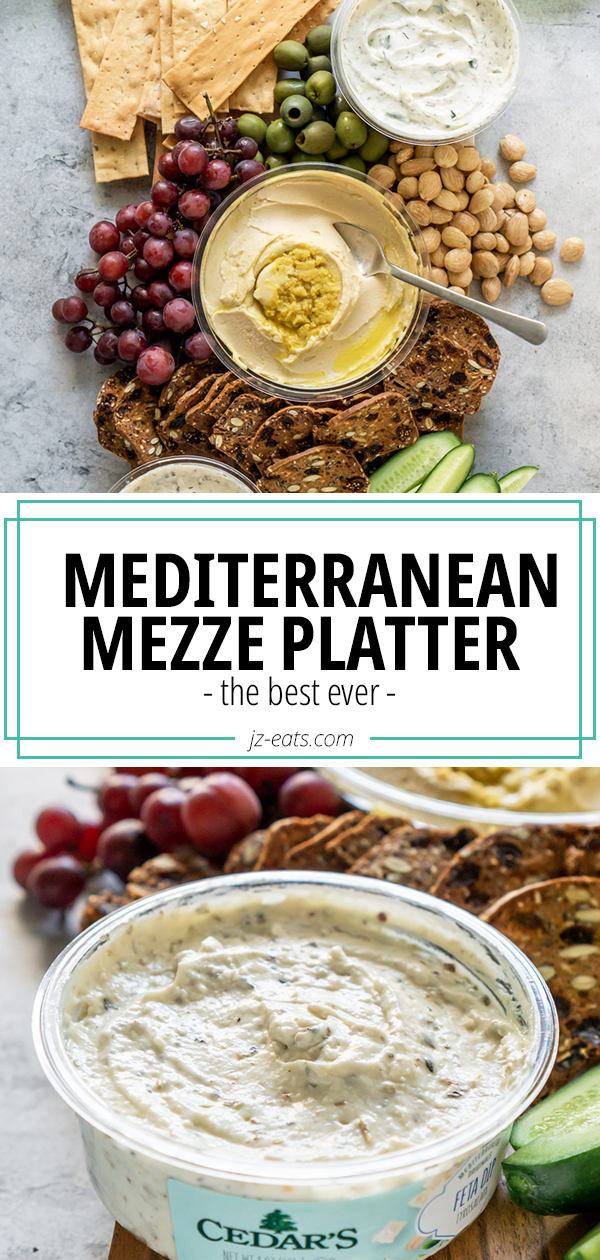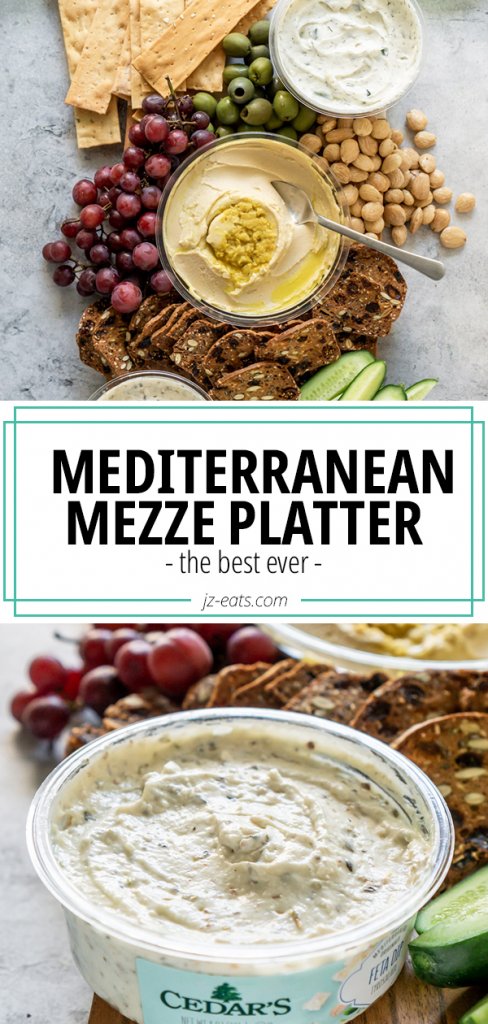 Did you make this recipe? Post a photo on Instagram and tag me @JZEATS or #JZEATS so I can see! Leave a comment below and let me know what you think, too!
Mediterranean Mezze Platter
This Mediterranean Mezze Platter aka Greek Mezze Platter is a delicious Mediterranean appetizer that's sure to please any crowd.
Ingredients
12

ounces

Cedar's Cucumber Garlic Tzatziki

8

ounces

Cedar's Feta Dip

10

ounces

Cedar's Lemon Hommus

baked crackers

4

mini cucumbers,

quartered

1

cup

red grapes

1/3

cup

castelvetrano olives,

any type of olive will work!

1/3

cup

Marcona almonds
Instructions
Arrange the dips on a large platter or serving tray.

Starting with the larger items, begin arranging the crackers, cucumbers, grapes, olives, and marcona almonds around the dip containers until the board is full.
Notes
Ingredient amounts might vary depending on the size of your serving tray.
Nutrition
Calories:
131
kcal
|
Carbohydrates:
11
g
|
Protein:
4
g
|
Fat:
9
g
|
Saturated Fat:
2
g
|
Polyunsaturated Fat:
1
g
|
Monounsaturated Fat:
3
g
|
Trans Fat:
1
g
|
Cholesterol:
5
mg
|
Sodium:
292
mg
|
Potassium:
243
mg
|
Fiber:
3
g
|
Sugar:
4
g
|
Vitamin A:
197
IU
|
Vitamin C:
4
mg
|
Calcium:
74
mg
|
Iron:
1
mg