This post may contain affiliate links which will not change your price but will share some commission. Please read my privacy policy.
The Best Fully Loaded Vegan Lasagna is a plant based dish full of hearty, sautéd vegetables and a cashew tofu ricotta cheese that everyone will love even the meat eaters!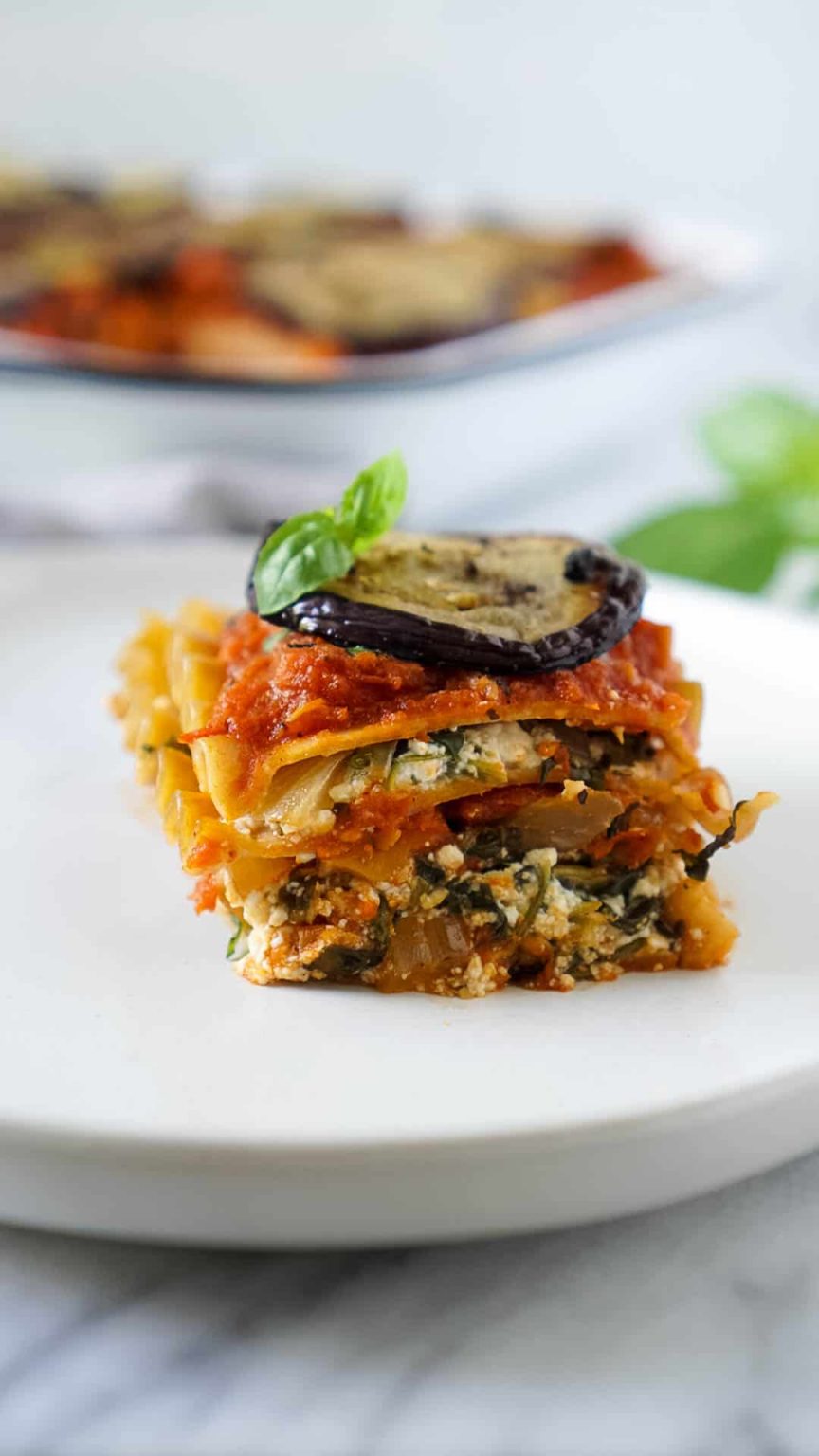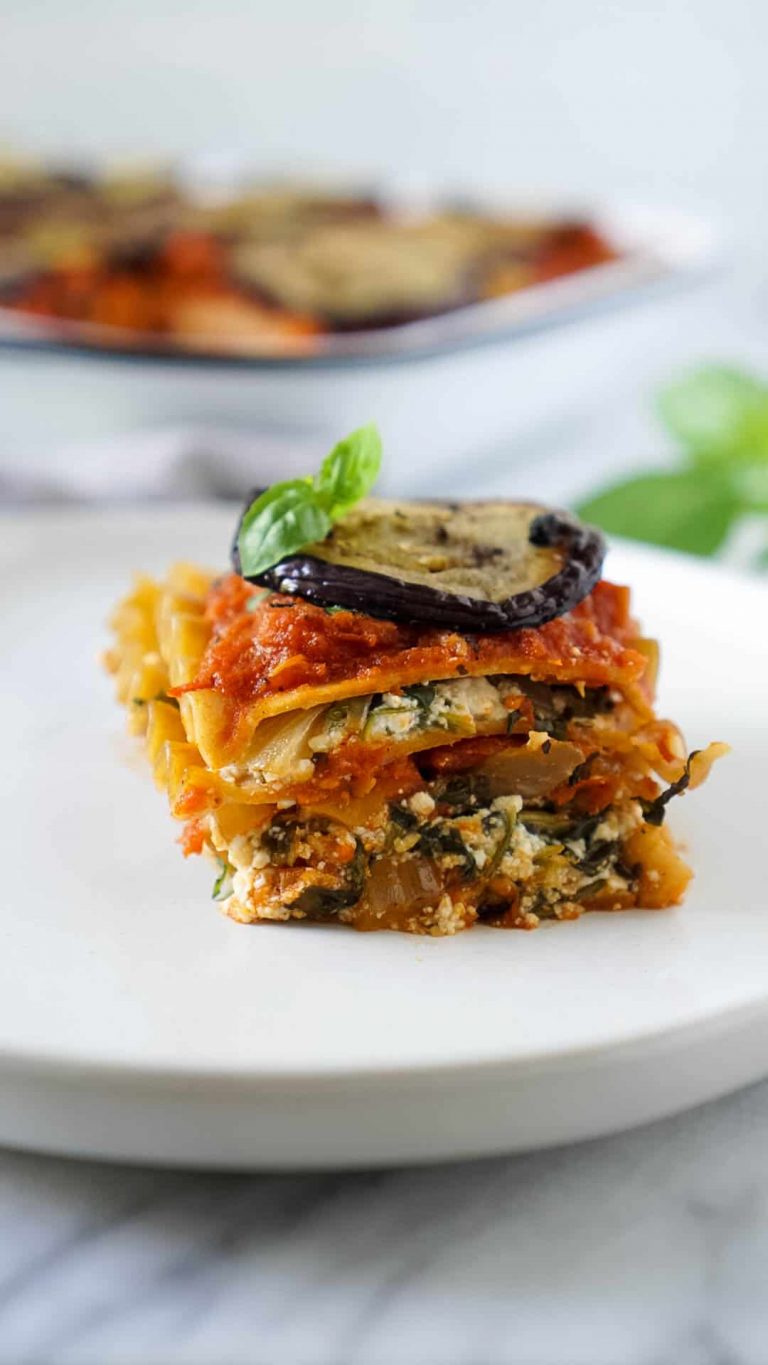 The Best Vegan Lasagna Recipe
This isn't a typical vegan recipe. This is a DELICIOUS vegan recipe. Hearty vegetables like mushrooms, zucchini, and squash fill the inside of this lasagna and bring an immense amount of flavors.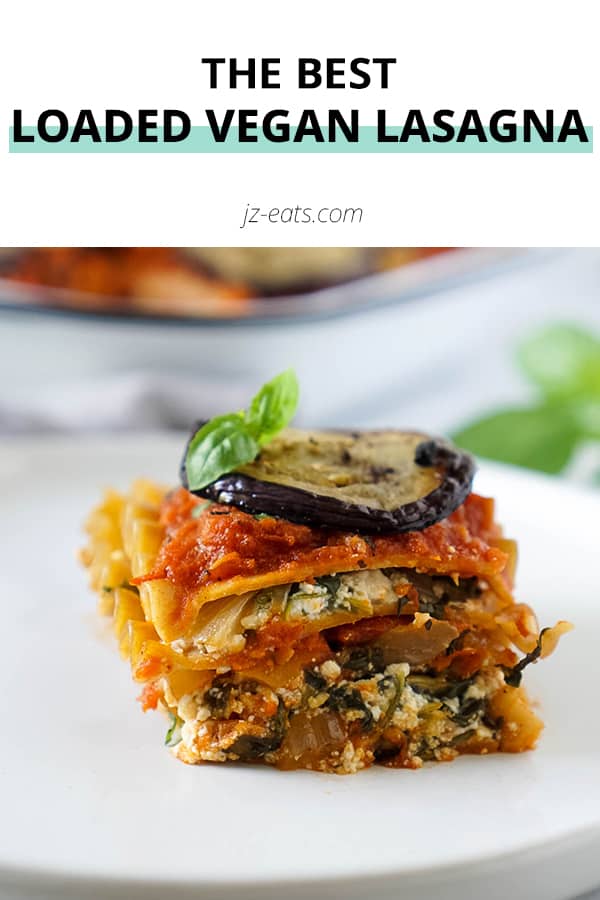 I've been trying to eat less dairy lately. When I did Whole30 I realized dairy made me bloated and just made me feel kinda meh overall.
That's where Vegan Ricotta Cheese comes in! I'm discovering how to substitute dairy with things like tofu, almond milk, etc.
I even found a way to make dairy-free cheese taste delicious! Keep reading to find out how.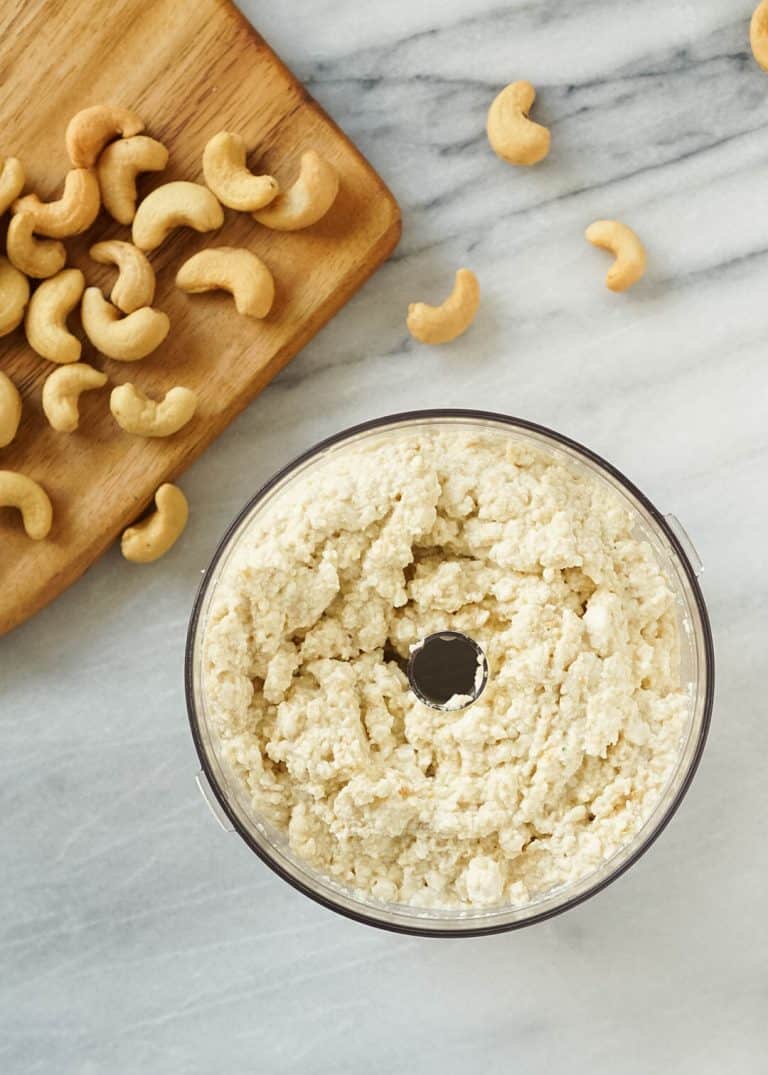 Vegan Lasagna Recipe ingredients
To make this mouthwatering lasagna I used
cashews,
hummus,
a few cups of marinara sauce,
zucchini,
eggplants,
mushrooms,
onion, and
lasagna noodles.
The best part about this lasagna is that you can pretty much use any vegetables you want I love a dish that's customizable!
The only ingredients you can't make this Vegan Lasagna without is
the tofu,
nutritional yeast,
cashews, and
hummus.
Tofu is the KEY ingredient in the vegan ricotta cheese. The nutritional yeast, cashews, and hummus make it taste and feel just like the real thing even better than ricotta cheese in my opinion.
Vegan Veggie Lasagna variations
There are lots of other veggies you can use if you've got someone in your fam that's a picky eater or you're looking to change things up. Here are a few ideas:
Summer squash
Butternut squash
Asparagus
Roasted beets
Corn
Sweet potato
Fiddleheads
Roasted cauliflower
Get creative and mix it up! Don't forget to share your creations with me on Instagram by tagging me @JZEATS and #JZEATS. I love seeing what you guys come up with!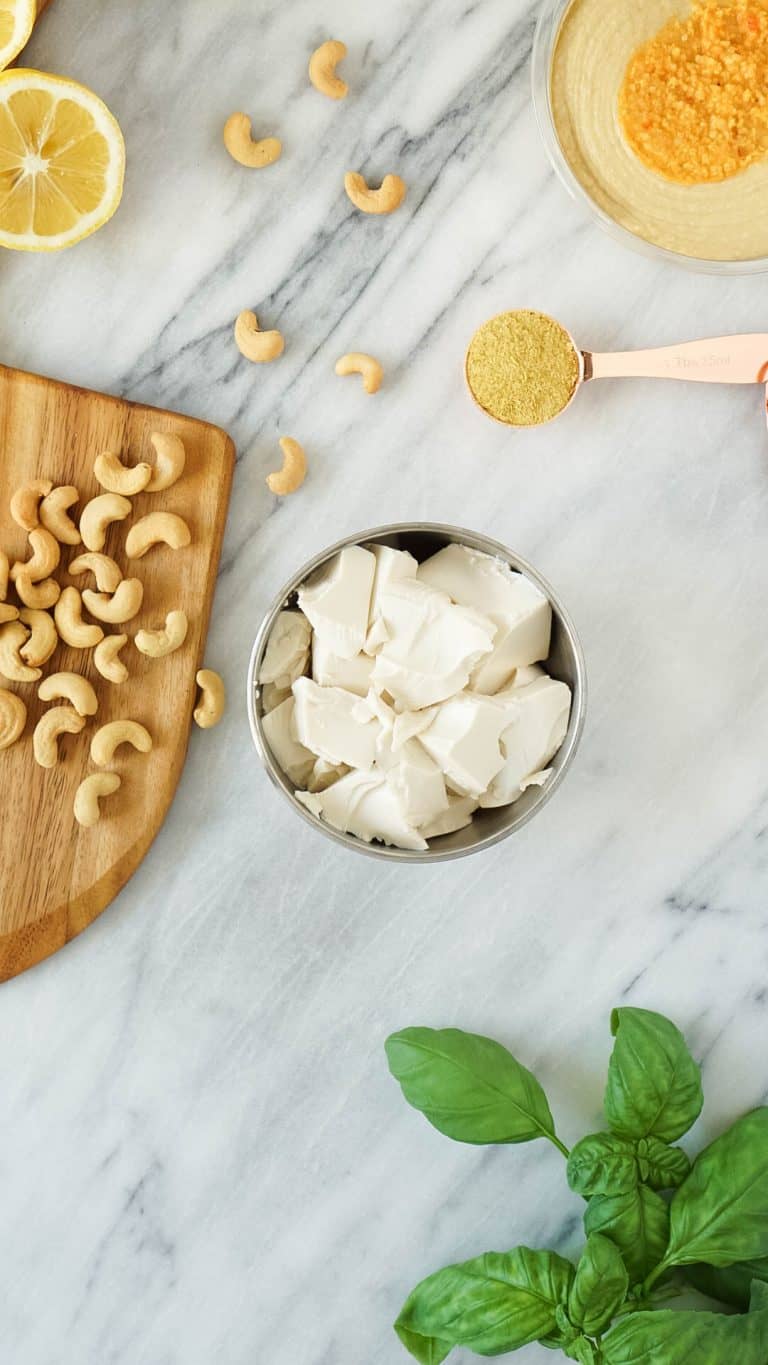 How to make Vegan Lasagna
Once you have made the tofu ricotta cheese, you'll cook the noodles, sauté the vegetables, and begin assembling the lasagna.
Sauce, noodles, tofu ricotta, veggies, repeat.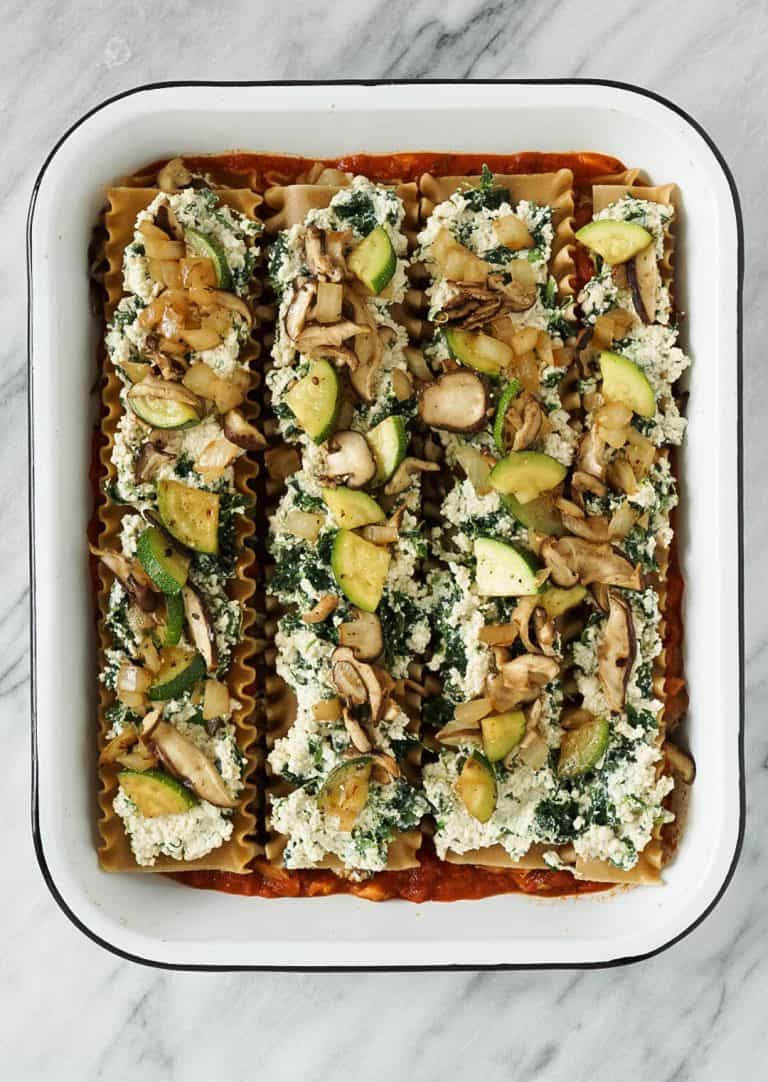 After you have topped your final layer of lasagna with marinara sauce, top it with the sautéed eggplant rounds.

I top the lasagna with these rather than bake them inside because eggplant holds a lot of water. Since the vegetables inside also expel some liquid while cooking, it's better to add these on top so your lasagna doesn't become a soggy mess! Plus, I think it adds a little bit of a unique flair.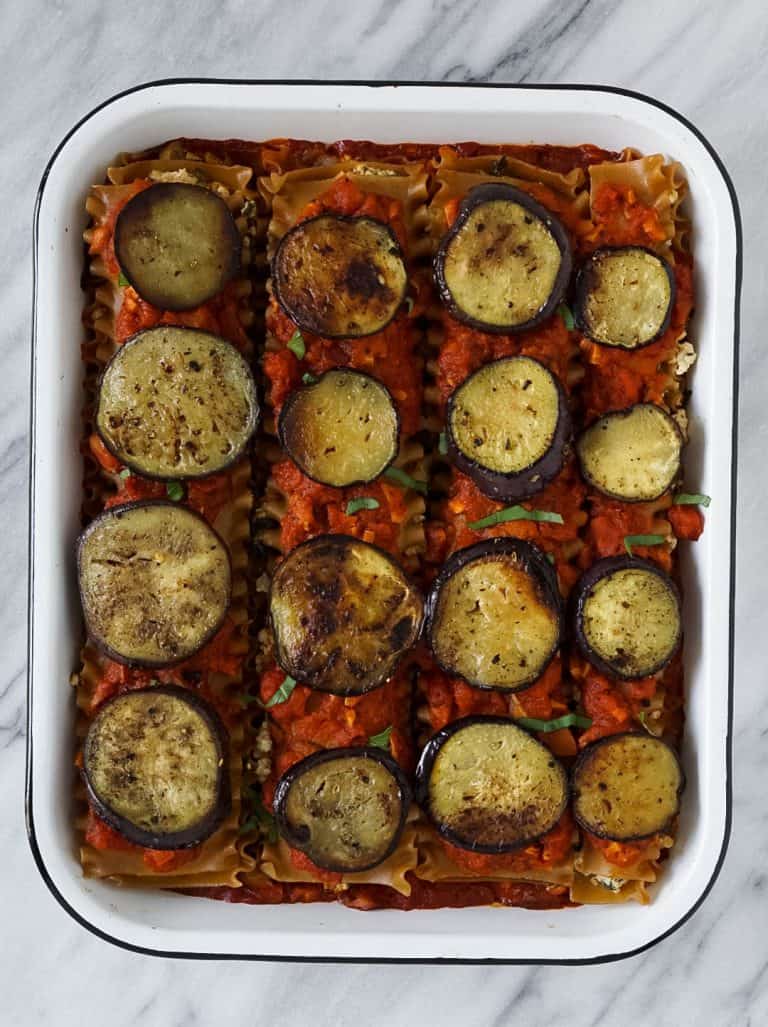 How to make Vegan Lasagna Ricotta
In a mixing bowl, combine the tofu, hummus, nutritional yeast, salt, and lemon juice.
Then, grind the cashews in a food processor until they are fine and crumbly.
Add the cashews to the tofu mixture and mix it all together, and voila! It's ready to eat.
I added frozen spinach to the ricotta mixture, but you can also use fresh spinach that is sautéed and drained.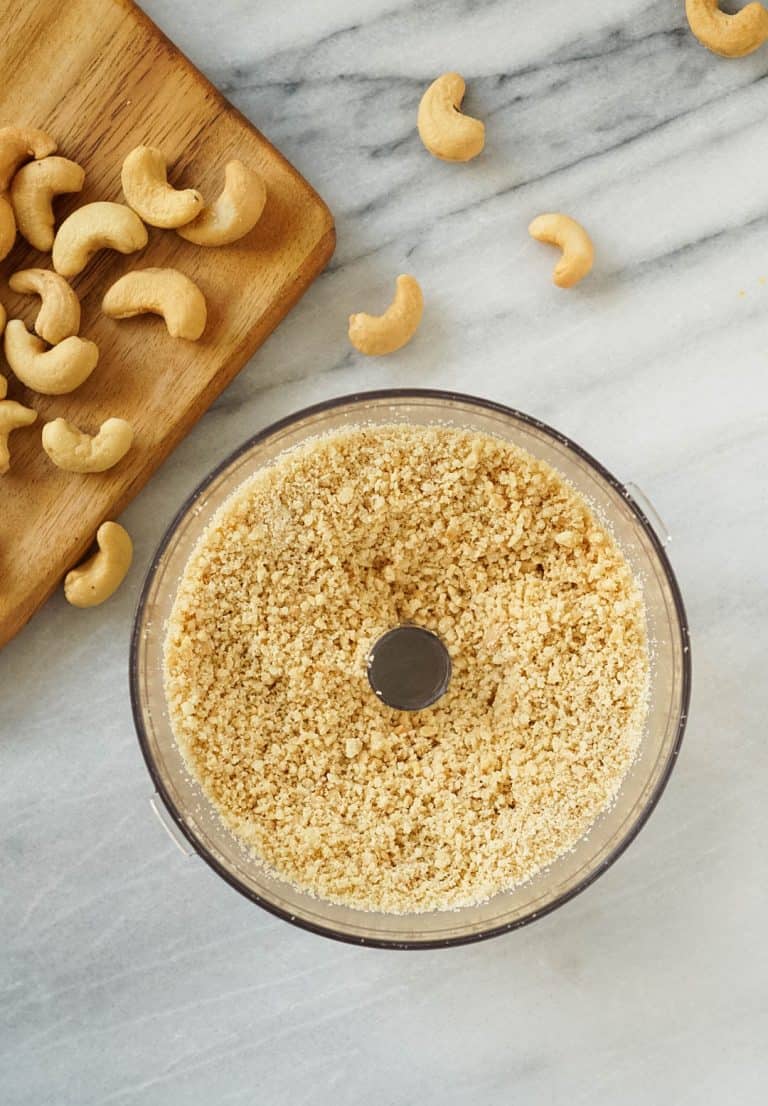 I know making your own cheese can sound daunting, but I promise this is so quick and easy! It even has a real cheesy flavor. The best vegan dishes are the ones that make you wonder "is this really vegan?" you'll have to reassure your guests that it is!
Vegan Vegetable Lasagna is healthy!
With 15 grams of protein per serving, you won't be missing meat in this dish. It's packed with so many veggies, you'll be getting your daily dose and more.
Hidden inside are mushrooms, zucchini, onions, and spinach. You can even sneak some red lentils into the sauce if you want an extra dose of protein.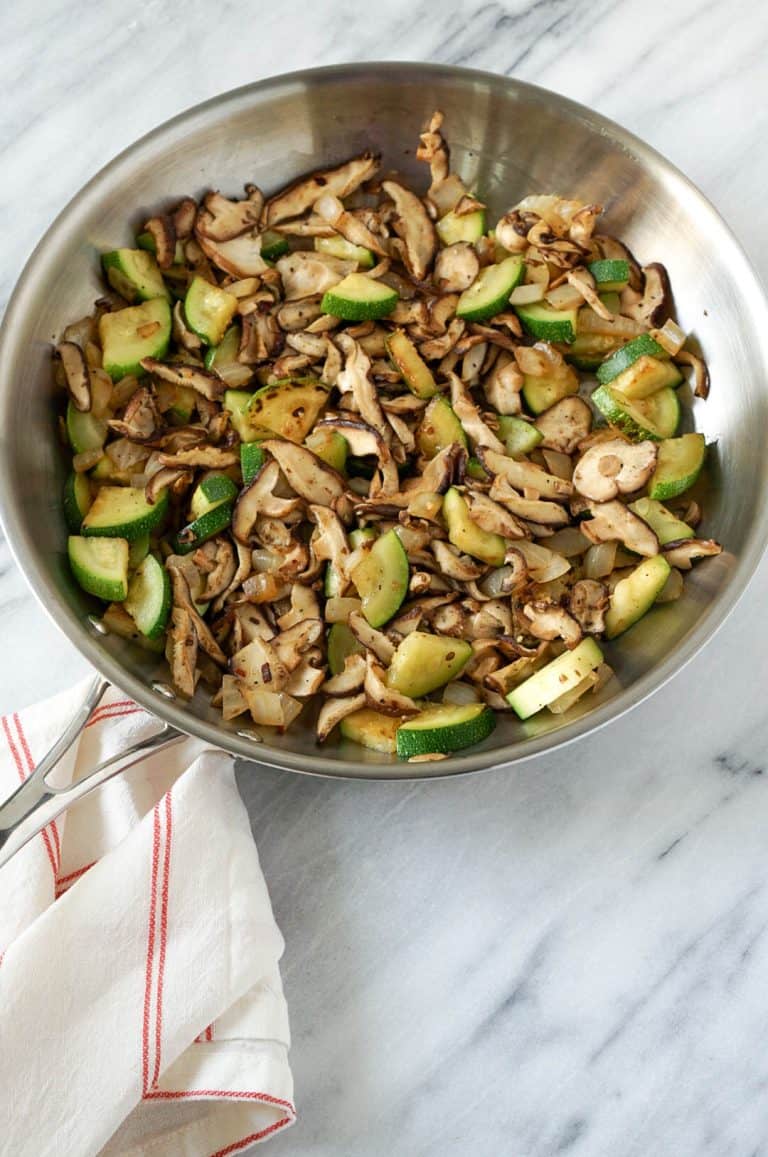 How to Serve This Vegan Lasagna Recipe
I love serving this vegan lasagna with homemade bread, oven roasted squash, or air fryer asparagus.
Whether you go light with vegetables or salad, or hearty with bread and a homemade olive oil dip, you can't go wrong!
How to store Vegan Vegetable Lasagna
You can store your leftover lasagna in an airtight container in the fridge for up to 5 days. If you have a lot of leftovers, you can cover the pan tightly with foil or saran wrap and refrigerate just like that.
Best Vegan Lasagna FAQs
What is the best lasagna recipe without eggs?
This one, of course! I might be a little biased, so be sure to let me know what you think once you've made it.
What is the best vegan substitute for cheese?
I love using tofu and cashews to create a vegan cheese.
What are the best vegan recipes?
My favorite vegan recipes are the ones that totally trick you into thinking it's not vegan. Like this Vegan Lasagna or this vegan Avocado Risotto.
Do I need to pre-boil the noodles?
If you aren't using pre-cooked noodles like these, then yes you will need to boil the noodles first. These noodles are also gluten free!

The best way to do this is to boil a few noodles at a time and then lay them flat on a baking sheet until you are ready to assemble the lasagna. I also spray them with a little bit of olive oil to keep them from drying out.
How do you keep veggie lasagna from getting soggy?
Drain the ricotta. Use a cheesecloth to drain the ricotta and get rid of any excess liquid. Store bought ricotta tends to have a lot of liquid. You can also beat an egg into it to help bind everything.

Undercook the lasagna. The pasta will soak of a lot of liquid while baking, so undercooking them will help keep them perfectly tender without getting soggy.

Don't use too much sauce. You don't need a ton of sauce for lasagna! Try not to overdo it, too much sauce can lead to a soggy lasagna.
What is the best vegan cheese for lasagna?
My favorite vegan cheese is the violife brand. It has great flavor and melts properly like real cheese. I like to make a vegan lasagna ricotta substitute with tofu, cashews, and hummus.
The Best Fully Loaded Vegan Lasagna is a plant based dish full of hearty, sautéd vegetables and a cashew tofu ricotta cheese that everyone will love even the meat eaters!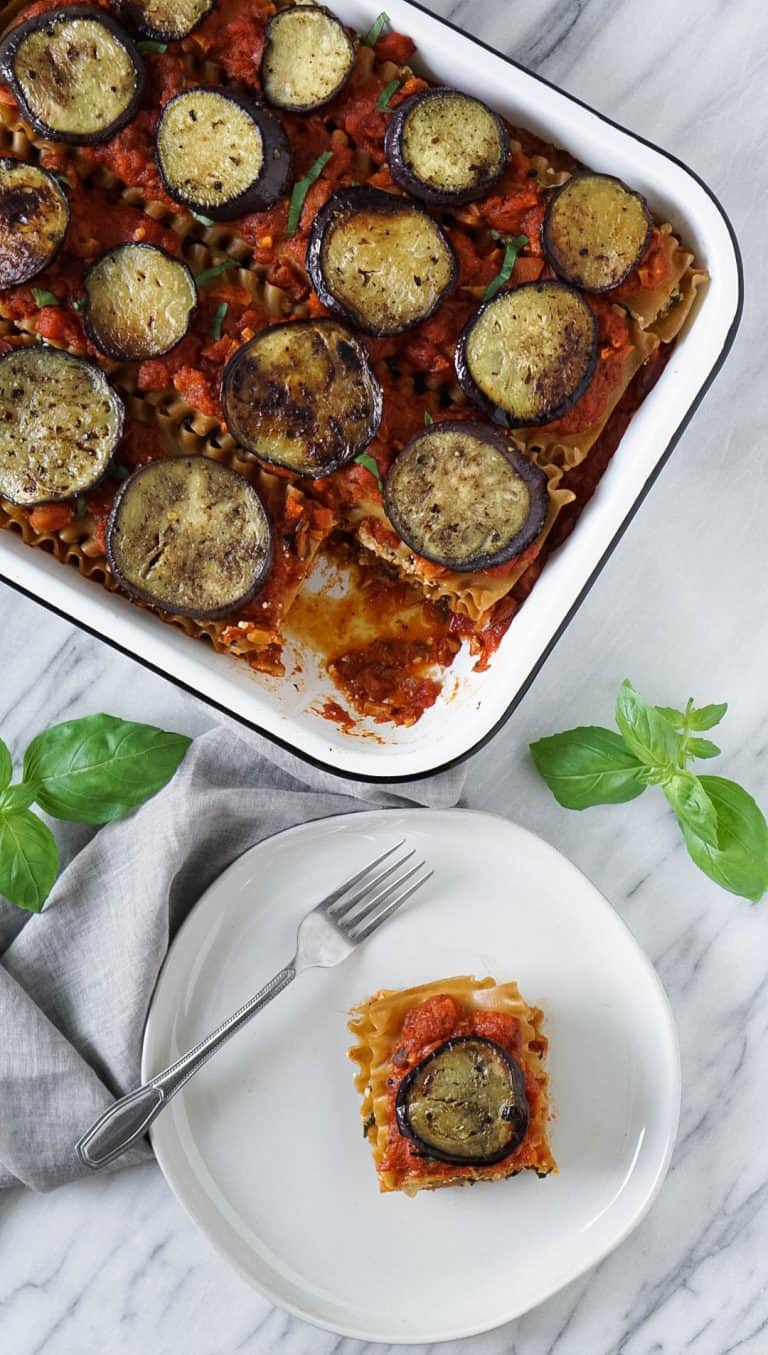 You don't have to limit this vegan lasagna to the classic casserole style. Turn this delicious vegan recipe into a vegan stuffed shells recipe or lasagna roll ups.
It's great for meal prep, or feeding an entire family. It's delicious on it's own but I also like to pair it with Chili Lime Roasted Carrots or these Air Fryer Zucchini Chips.
My favorite kitchen items
Want to try making this Vegan Lasagna?
PIN IT to your vegan recipes, pasta recipes, or family meals board to save it for later! Find me on Pinterest for more great recipes. I'm always pinning!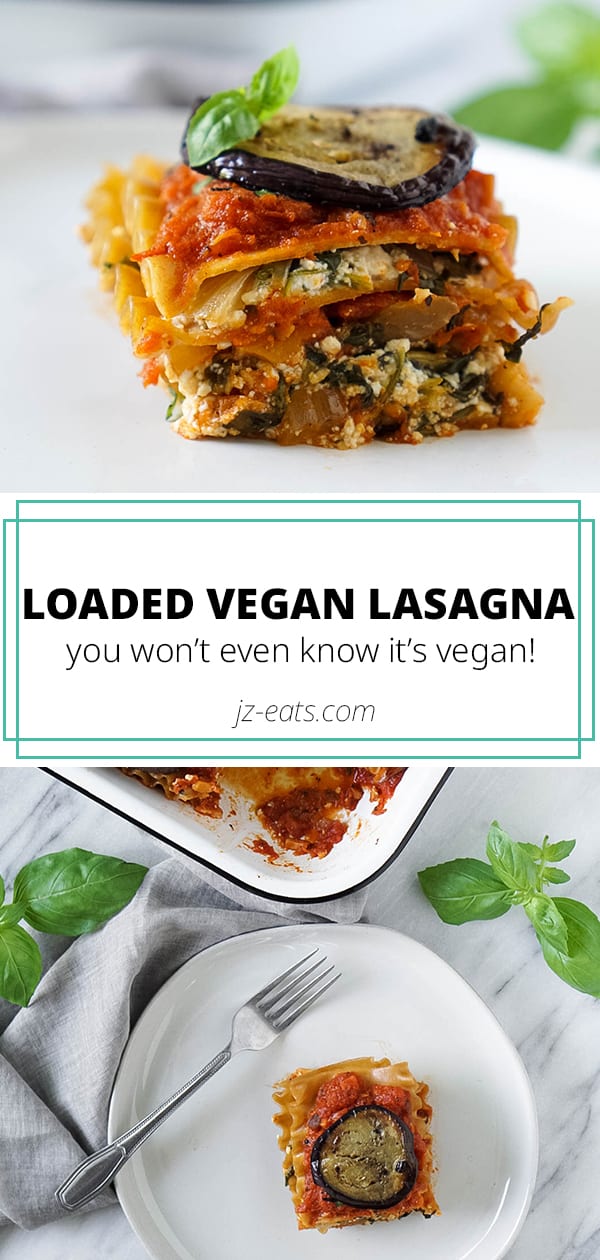 Fully Loaded Vegan Veggie Lasagna
The Best Fully Loaded Vegan Lasagna is a plant based dish full of hearty, sautéd vegetables and a cashew tofu ricotta cheese that everyone will love even the meat eaters!
Ingredients
Vegan Ricotta Cheese
24

ounces

extra firm tofu

1/2

cup

cashews

3

tablespoons

roasted garlic hummus

1

cup

frozen spinach,

drained really well

1

tablespoon

nutritional yeast

1/2

lemon,

juice

1/4

teaspoon

salt
Lasagna
8

lasagna noodles,

you can use pre-cooked noodles

4

cups

marinara sauce

1

cup

onion,

diced

1

zucchini,

cut into quarters

2

small eggplants,

cut into 1/2 inch rounds

2

cups

shiitake mushrooms,

divided

1/4

cup

fresh basil,

chopped

1

bay leaf
Instructions
Vegan Lasagna Prep
Preheat oven to 350 F.

Dice half the shiitake mushrooms (1 cup) and bring a large saucepan with marinara sauce, diced shiitake mushrooms, basil, and bay leaf to a boil, then simmer while you prep the other ingredients.

Prep the rest of the veggies and set aside.
Vegan Ricotta Cheese
Gently mix tofu, hummus, spinach, nutritional yeast, salt, and lemon juice with your hands or a spatula until semi-smooth and resembles ricotta cheese.

Using a food processor, grind cashews until fine and crumbly, then transfer to the bowl with the ricotta mixture and combine.
Vegan Lasagna
Heat a large skillet with 1 1/2 tbsps of olive oil on medium-high heat. Sauté zucchini, remaining mushrooms, and onions with salt and pepper to taste for 4-6 minutes until tender and starting to brown. If your skillet isn't large enough, you might want to sauté the mushrooms separately.

Cook the noodles until just al dente and set aside, laying flat in one layer. Skip this step if you are using pre-cooked noodles.

Remove the bay leaf from the marinara sauce and spread about 1 1/2 cups in the bottom of a 9×13 inch baking dish. Top with 3 1/2 noodles (I sliced one in half lengthwise to cover the extra space). Then add a generous amount of ricotta, vegetables, and sauce, top with another layer of noodles, ricotta, vegetables, and sauce. Add one more layer of noodles and finish with a generous amount of sauce. You can top it with fresh chopped basil for extra flavor!

Cover lasagna with foil and bake for 30 minutes.

While the lasagna is cooking, heat 1 tbsp of olive oil in a medium pan and sauté the eggplant for 2-3 minutes on each side until tender and browned.

When the lasagna is finished cooking, top it with the eggplant rounds and more fresh basil.
Notes
Helpful items for this recipe:
Nutrition
Calories:
148
kcal
|
Carbohydrates:
24
g
|
Protein:
15
g
|
Fat:
4
g
|
Saturated Fat:
1
g
|
Sodium:
408
mg
|
Potassium:
638
mg
|
Fiber:
4
g
|
Sugar:
7
g
|
Vitamin A:
1465
IU
|
Vitamin C:
9.5
mg
|
Calcium:
52
mg
|
Iron:
2.5
mg