This post may contain affiliate links which will not change your price but will share some commission. Please read my privacy policy.
Looking for an easy side dish idea? Cilantro Lime Farro is one of my favorite side dish recipes, because it literally goes with everything!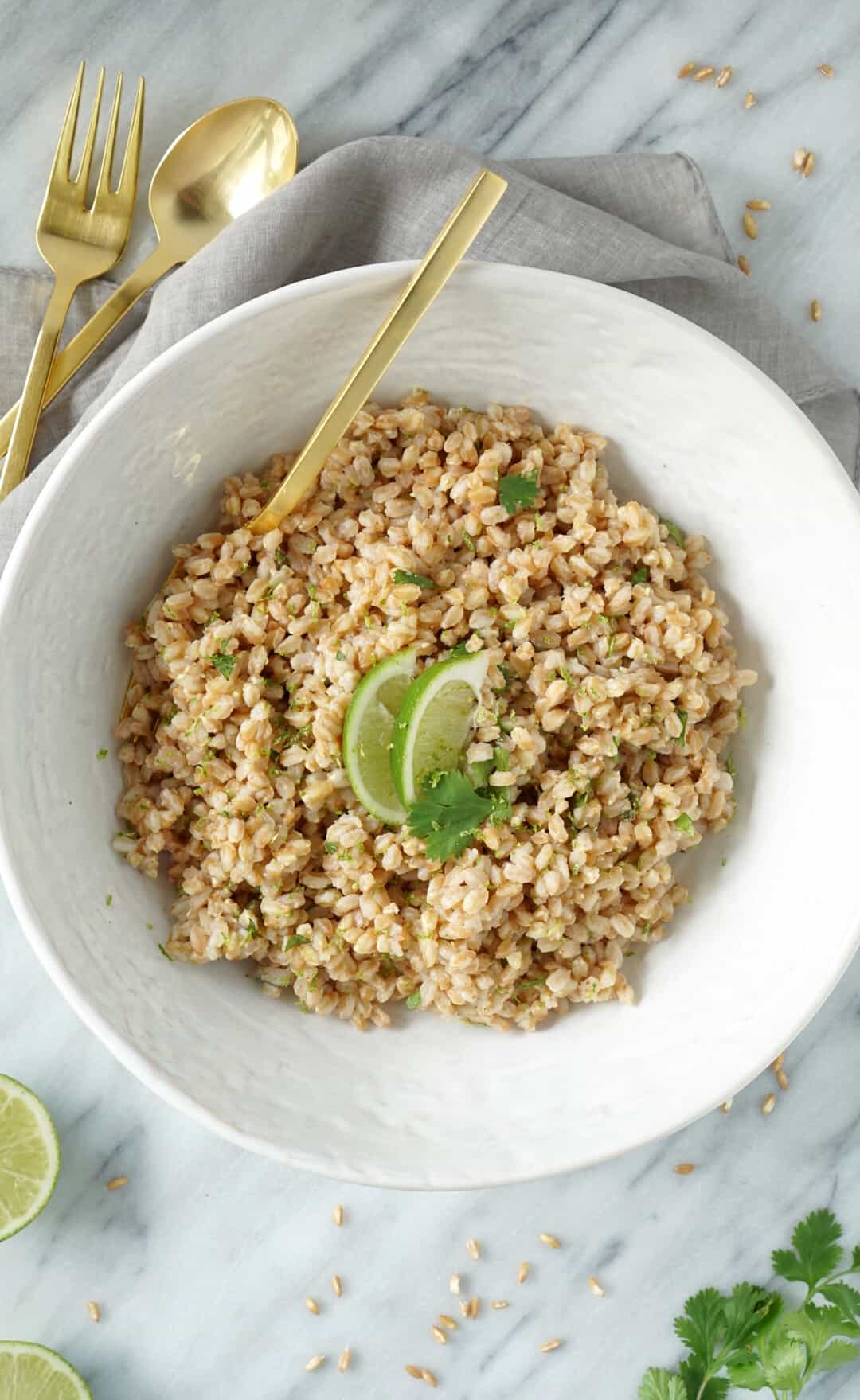 Cilantro Lime Farro
If you've been looking for a healthy side dish recipe, look no further! This simple but nutritious side dish will give you a hefty dose of vitamins A, E and minerals like iron and magnesium.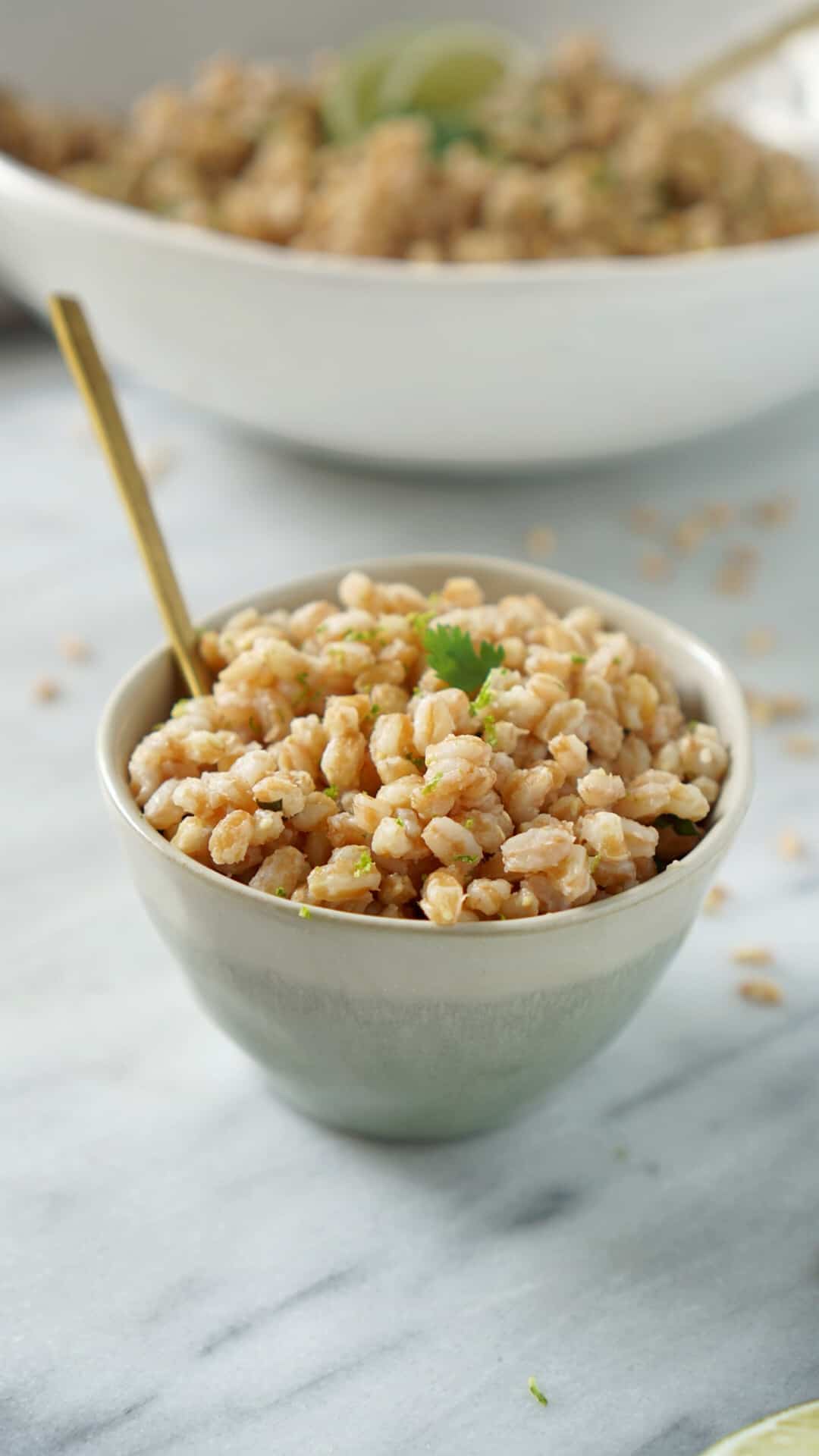 Cilantro and lime is probably my all time favorite flavor combination. As I'm writing this, I'm realizing how many recipes I have using cilantro and lime. Like this cilantro lime tahini sauce and this slow cooker chili lime pulled chicken bowl meal prep.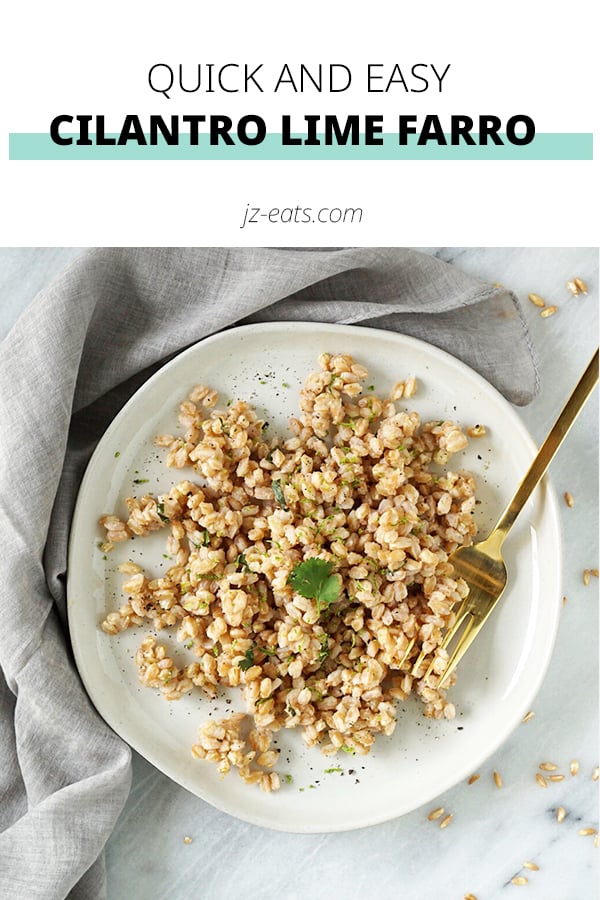 What is farro?
Farro is a whole grain that makes an incredible alternative to pasta or rice. If you haven't tried it yet, it has a rich, nutty flavor and an almost chewy texture similar to barley. Enjoy it as a side dish to these brown sugar pork chops, chili lime pulled chicken, or blackened shrimp.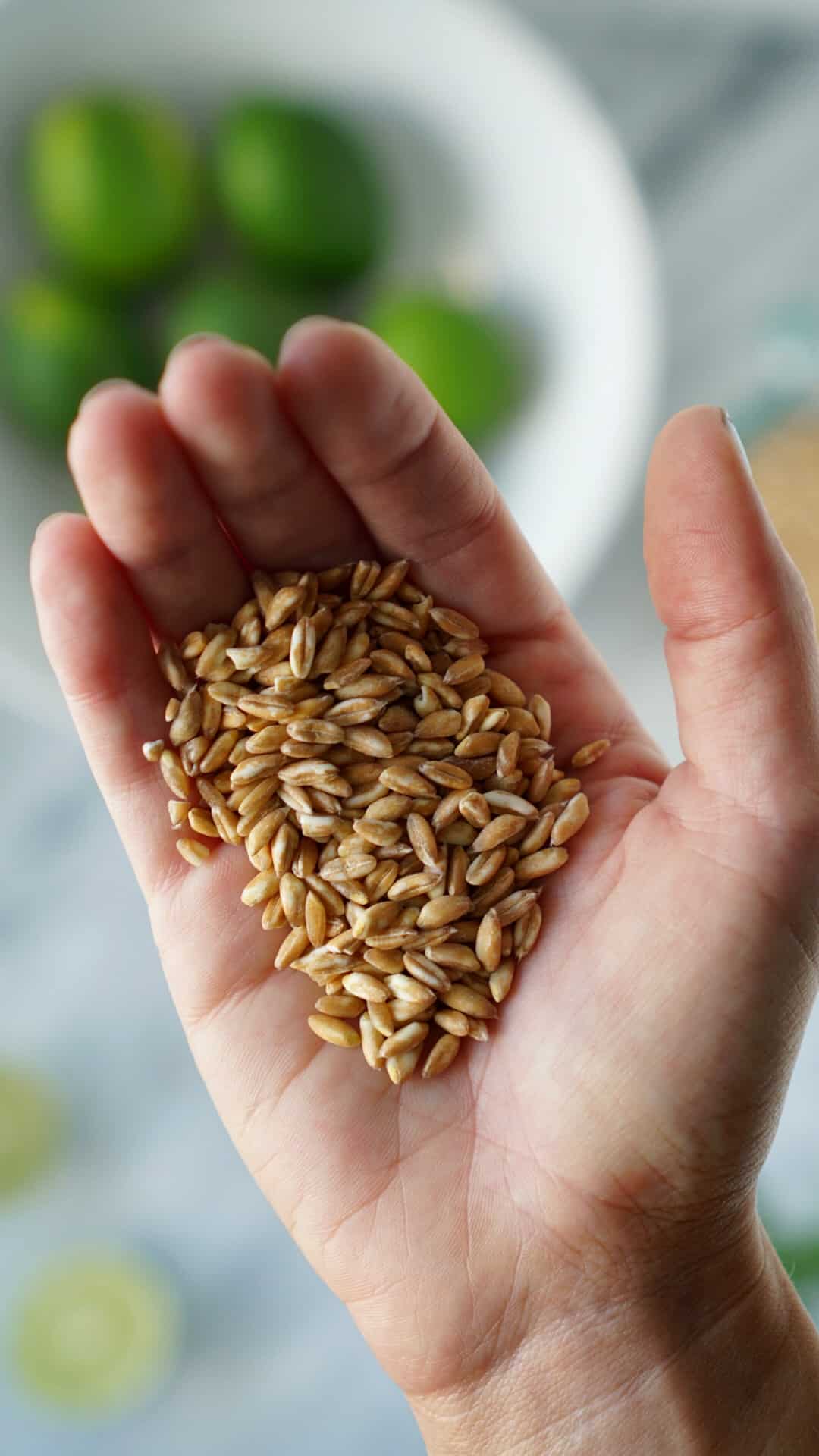 Farro goes well with just about anything and any flavor, that's why I love it so much! You can pair it with oregano, bell pepper, mushroom, pretty much anything!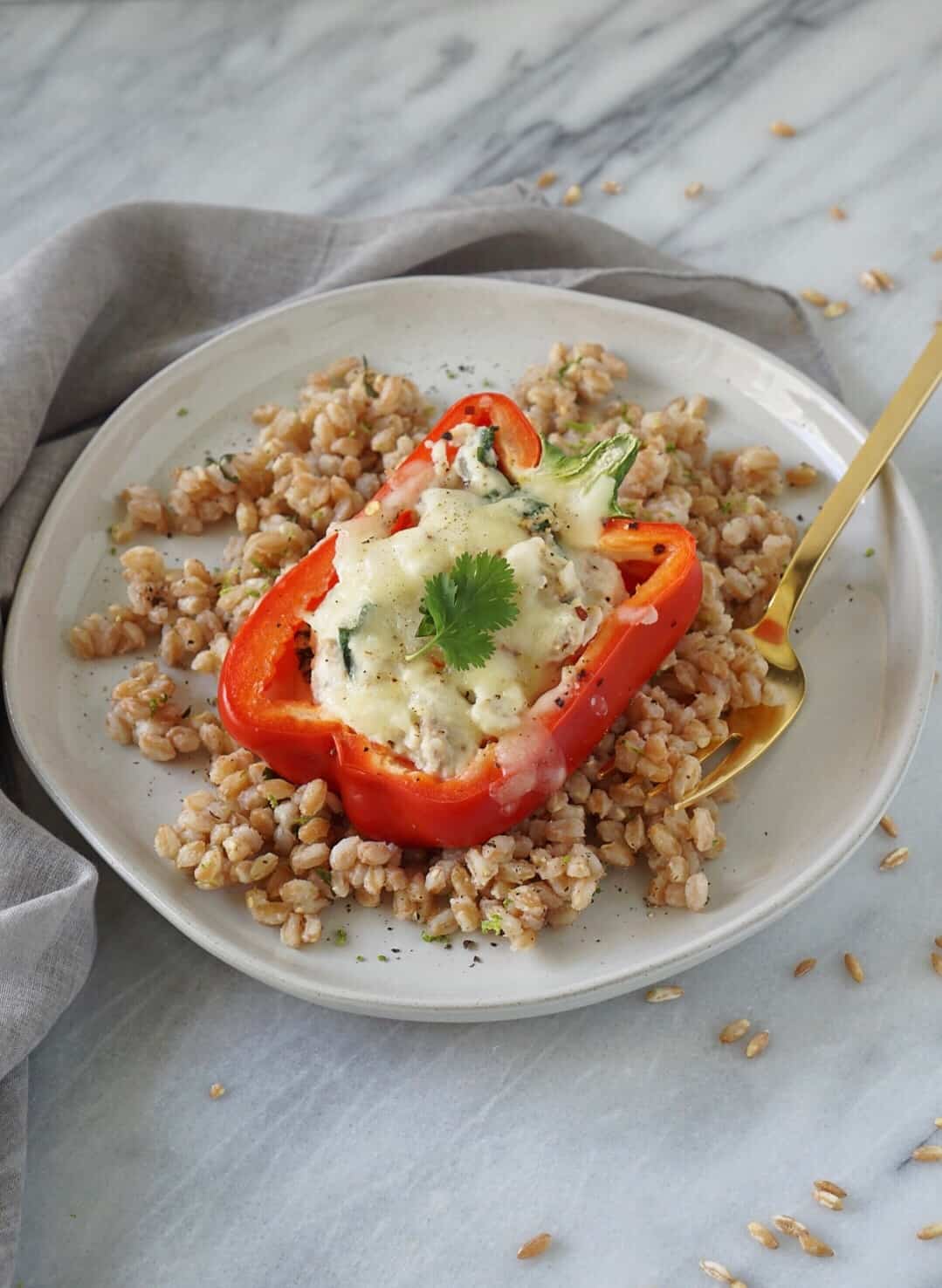 What to pair cilantro lime farro with
Farro is also an excellent ingredient addition to salads because it's filling. In this farro salad recipe, I toasted the grain to get it nice and crispy.
I've seen some other farro salad recipes circulating on Pinterest that also look delicious.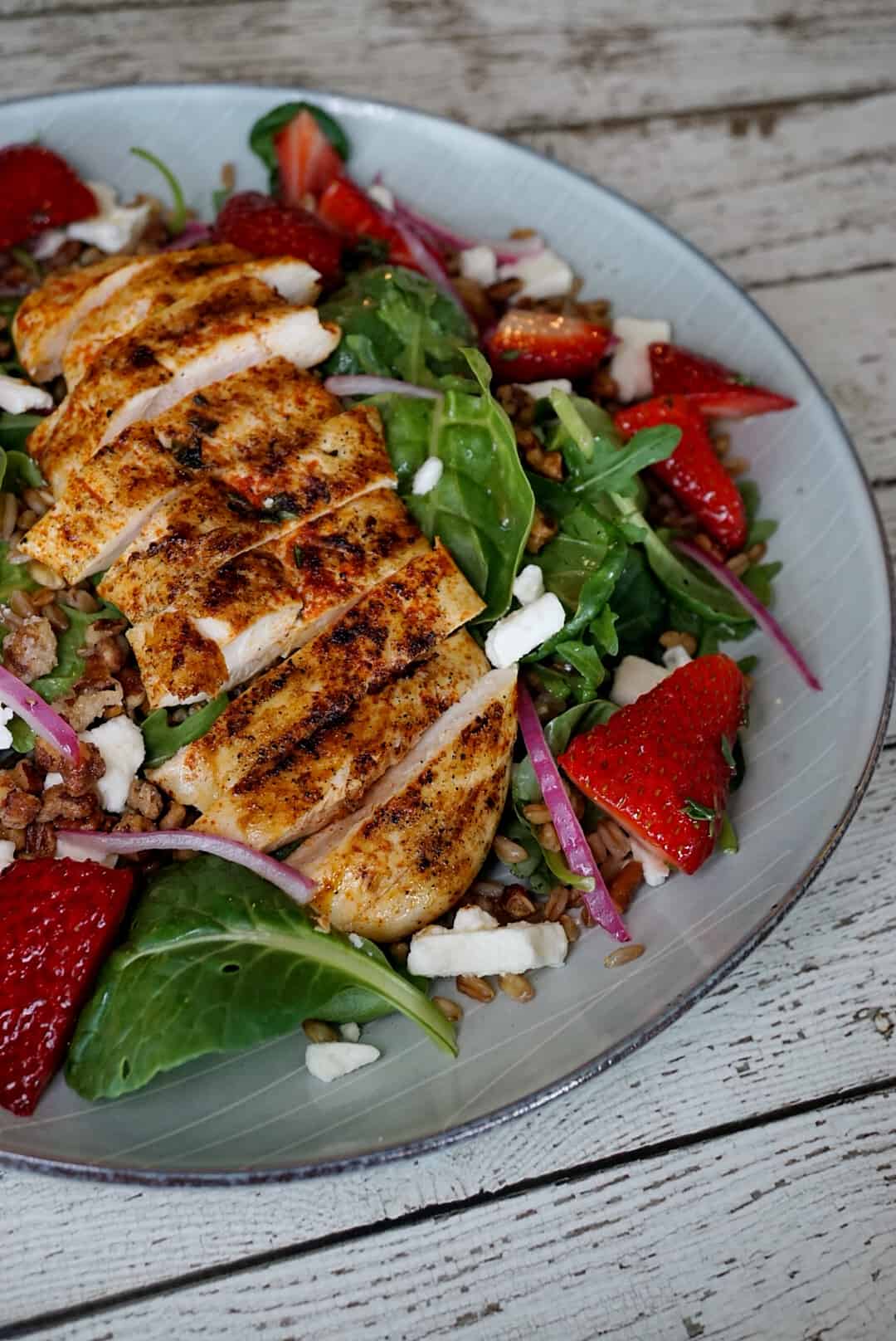 Last week, I made these roasted carrots as a side dish and tonight I was looking for something more filling so plated them on top of this cilantro lime farro and it was delicious!
A Cilantro Lime Farro side dish to go with roasted veggies, meat, or seafood. It's nutritious and easy to make!
Did you know that a small percent of people think cilantro tastes like soap? That's because those people (unfortunately) have a variation in a group of olfactory-receptor genes that pick up the smell of aldehyde chemicals in cilantro leaves. If you are one of the few, feel free to substitute cilantro for parsley!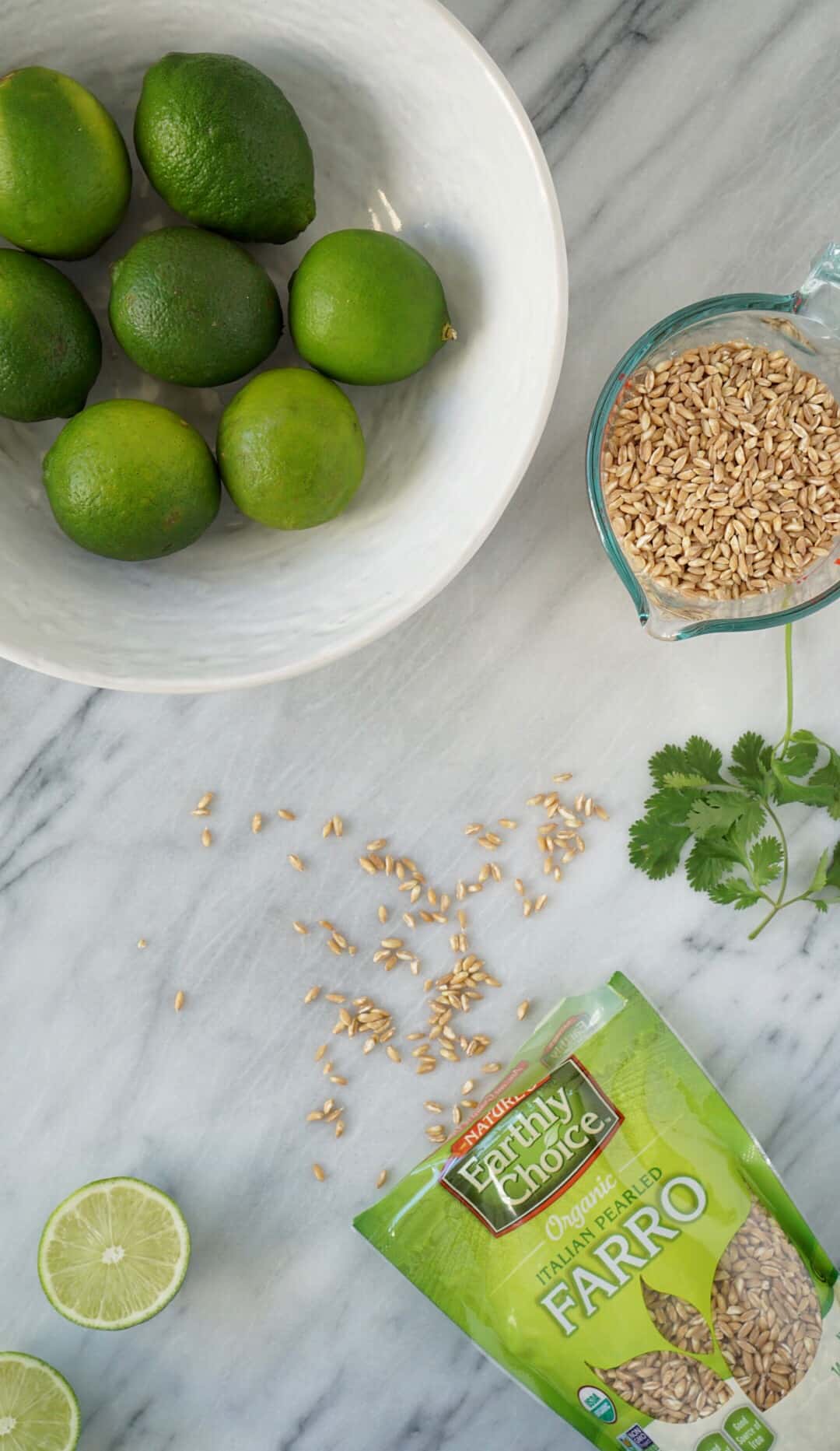 Do you need to soak farro before cooking?
You can soak farro in a bowl of water overnight to speed up the cooking process. I don't really find this step necessary because it only takes about 20-25 minutes to cook. I usually prep the rest of my meal while it's cooking.
How to cook farro
Farro is as easy to cook as rice or barley. All you have to do is boil water (check the package for exact amount), add it to the pot with a drop of olive oil and reduce to a simmer. Then cook covered for 20-25 minutes until the it's fully cooked and tender.
Farro doesn't expand the way rice or barley does after it's cooked, so depending on what I'm having with it, I might make half a cup extra.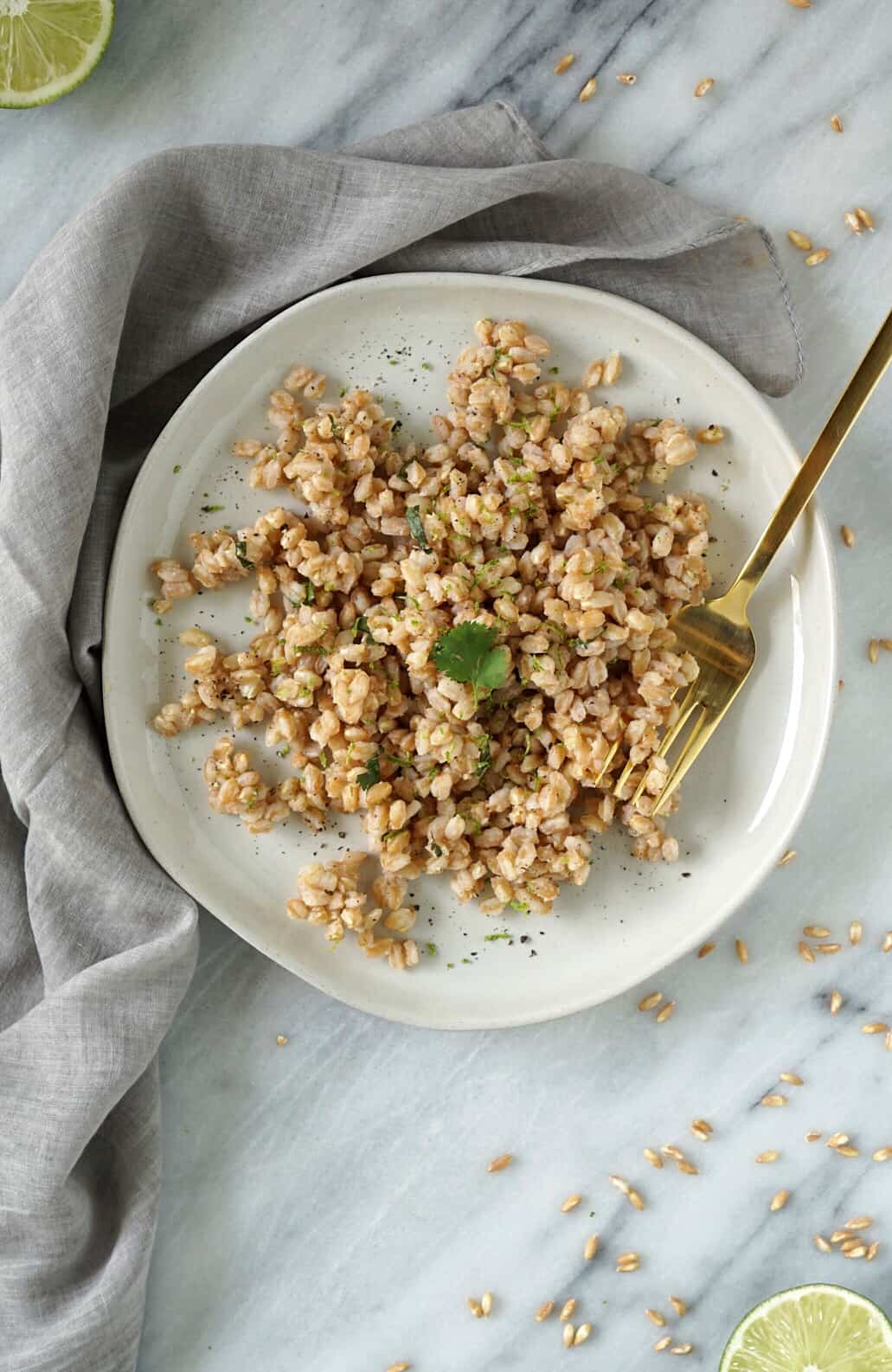 Is farro gluten free?
The farro grain is made up of several types of wheat including spelt and more ancient forms of the grain such as Einkorn. Gluten is a protein found in the grains wheat, barley, rye, and farro. If you're looking for a gluten free alternative to farro, try brown rice!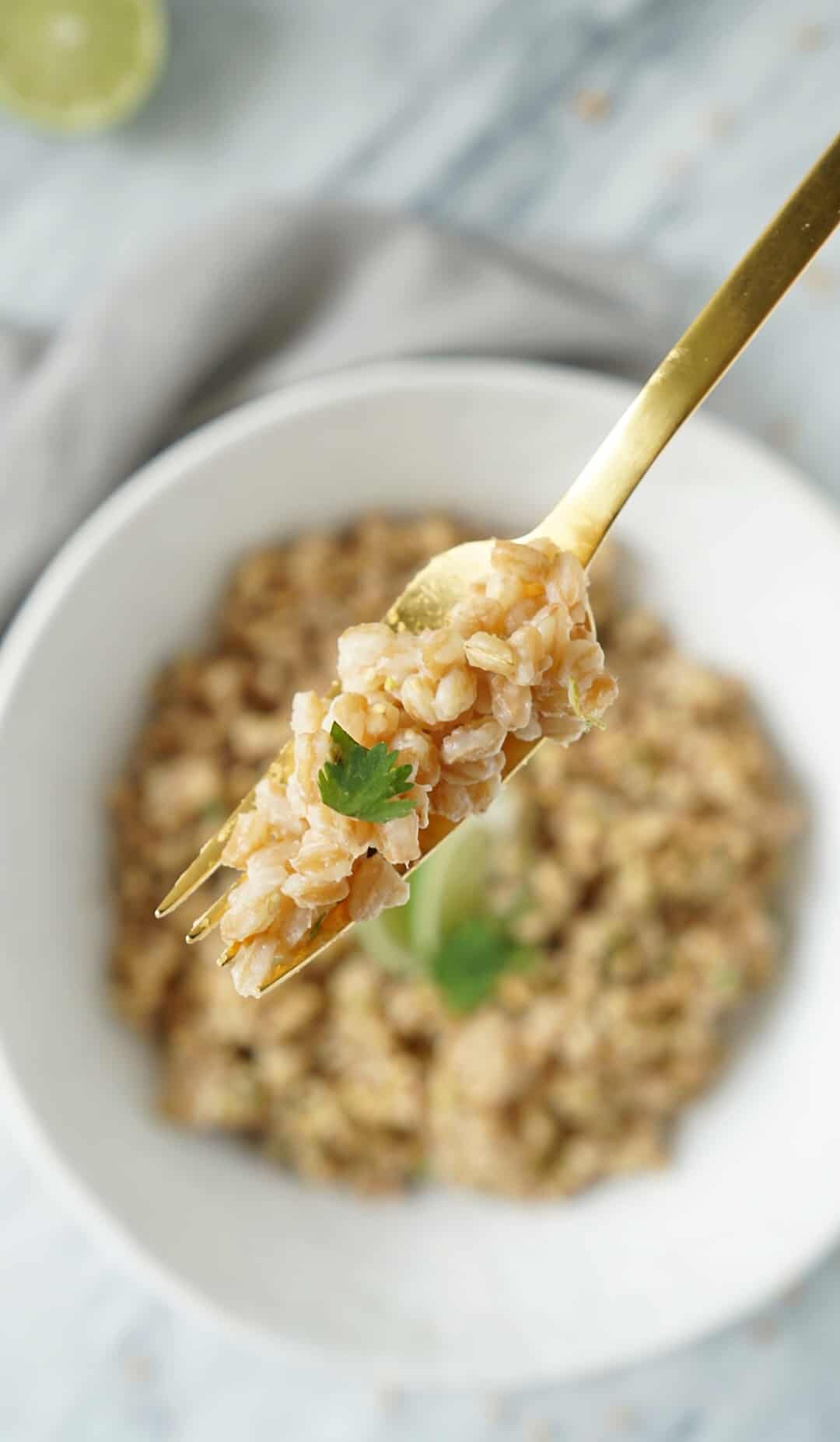 I'm already thinking about what farro recipes I should make next. Mushroom farro risotto is sounding so delicious to me right now! What's your favorite? Tell me in the comments!
If you have leftovers, this Cilantro Lime Farro can be saved in the refrigerator for several days, making it an excellent choice for meal prep lunches and dinners.
Mains To Serve With Farro
Want to try this Cilantro Lime Farro?
PIN IT to your farro recipes or side dish recipes to save it for later!
Find me on Pinterest for more great recipes. I'm always pinning!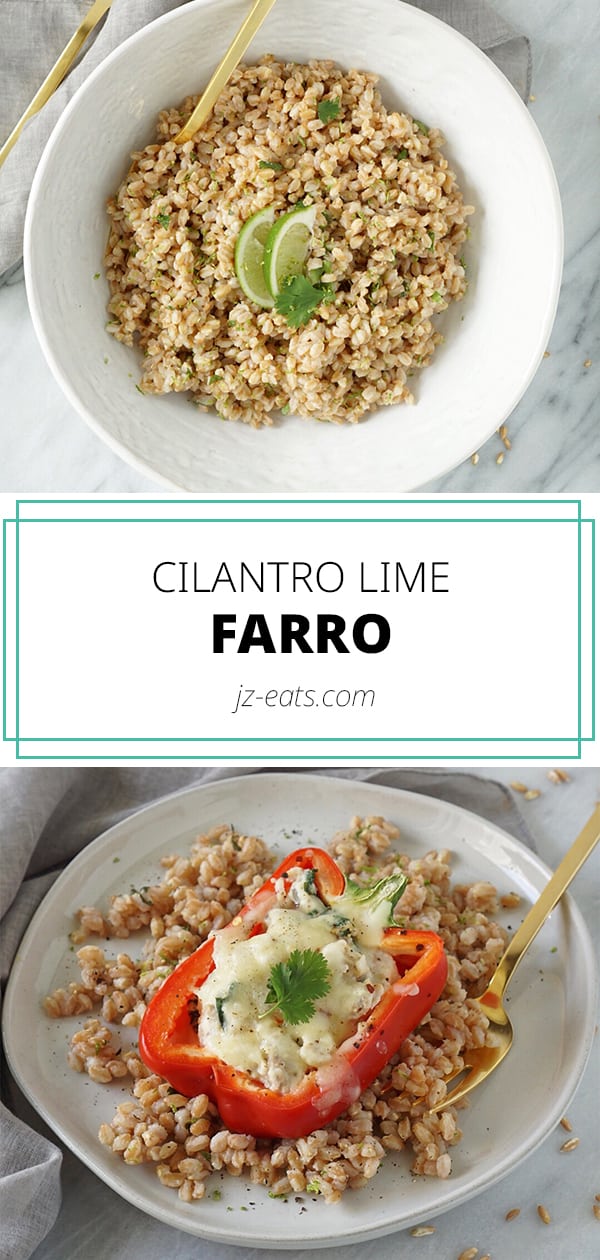 Cilantro Lime Farro
Looking for an easy side dish idea? This is one of my favorite farro recipes, and I've been making it non stop because it literally goes with everything!
Ingredients
1

cup

farro

1

lime,

juice and zest

1/4

cup

fresh chopped cilantro

1

tablespoon

olive oil
Instructions
Cook farro according to package directions.

When farro is finished cooking, mix in lime juice and zest, olive oil, salt, and pepper. Then transfer to a serving bowl and garnish with more fresh chopped cilantro.
Nutrition
Calories:
212
kcal
|
Carbohydrates:
31
g
|
Protein:
5
g
|
Fat:
4
g
|
Saturated Fat:
1
g
|
Sodium:
5
mg
|
Potassium:
157
mg
|
Fiber:
8
g
|
Sugar:
1
g
|
Vitamin C:
4.9
mg
|
Calcium:
20
mg
|
Iron:
1.4
mg