This post may contain affiliate links which will not change your price but will share some commission. Please read my privacy policy.
A simple and easy Israeli Couscous Recipe! It's made with the most flavorful mushrooms cooked in butter, thyme, and oregano. It makes the best side dish to chicken, shrimp, or fish.
This Couscous Recipe makes a the perfect side dish to steak, chicken, or shrimp. It comes together quickly with a mixture of fresh ingredients and pantry staples.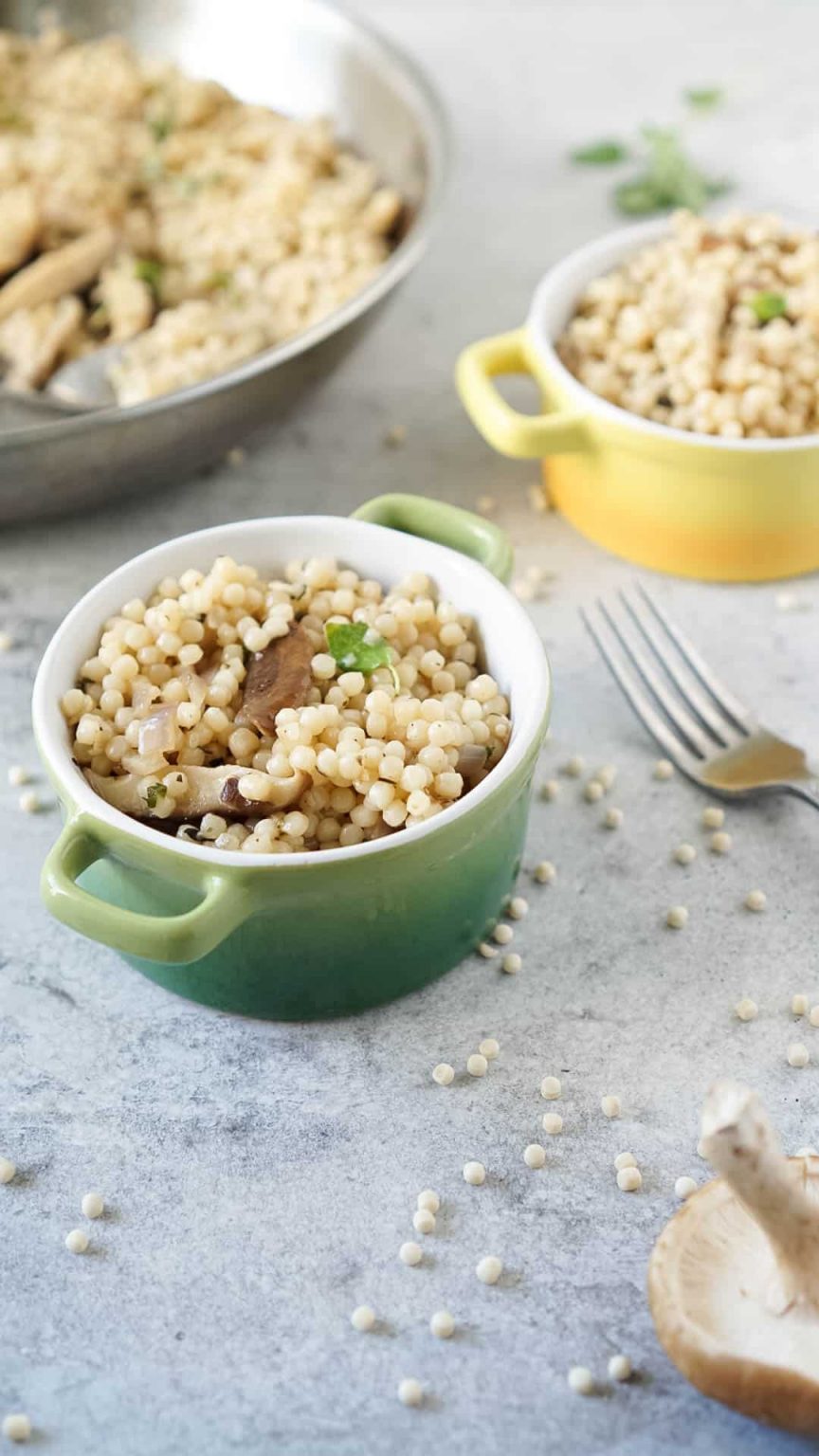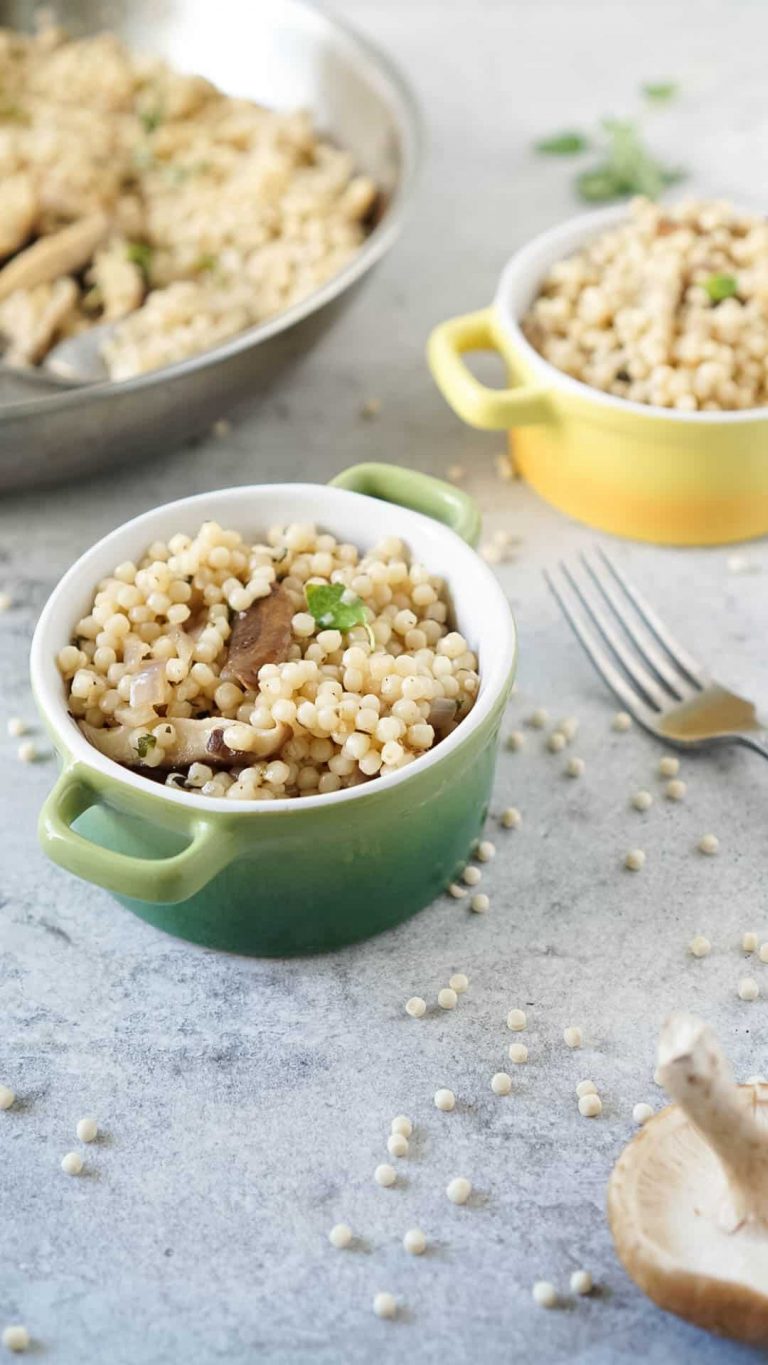 This is the best Couscous Recipe!
Couscous has been one of my favorite things to make for years. I perfected my original recipe back in college when I dumped pretty much my entire spice cabinet into a bowl of couscous.
It's one of those things that seems to be forgotten about and I really have no idea why. If I had to choose between couscous, rice, and pasta, couscous would win every time!
Why you'll love this Pearled Couscous Recipe:
I love the texture of it and that it's like a combination of rice and pasta. Couscous never feels heavy to me like pasta sometimes does.
The mushrooms bring SO much flavor to this dish. They're cooked in a light herb butter sauce with fresh thyme, oregano, shallot, and crushed garlic. When the couscous is finished cooking, it gets tossed in the pan with the mushrooms to absorb all of the flavor. Finally, it's finished with a dash of lemon juice.
What is couscous?
Couscous is a pasta made from semolina flour mixed with water. Fun fact: making couscous used to be an extremely labor intensive process requiring hours of drying in the sun.
Today, most couscous is produced by machines. The process includes steaming and drying so all you have to do is bring it back to life with some boiling water!
Naturally, couscous doesn't have any flavor, just like pasta. So it's up to the chef (that's you!) to add all the flavors. But that's what I love about it it's sort of like a blank canvas for you to add your own personal touch to.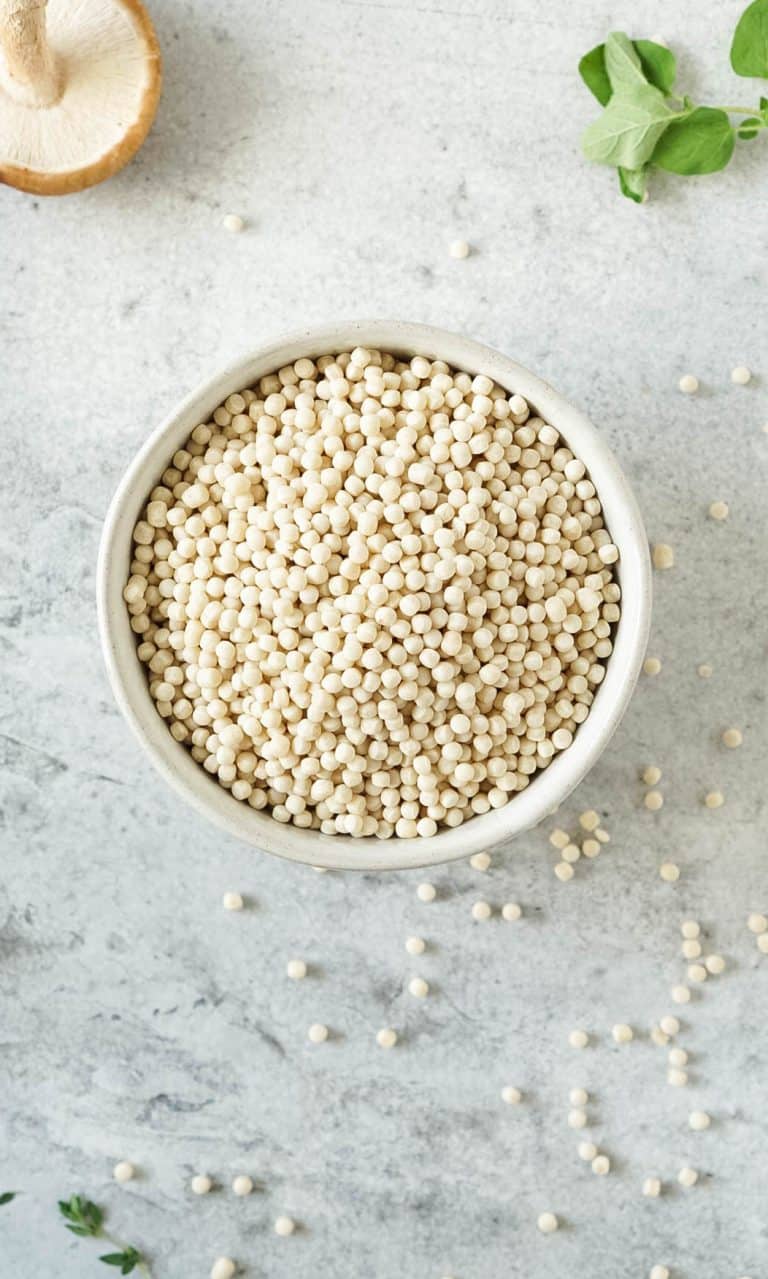 I've made everything from a classic parmesan couscous to a Greek salad couscous, and everything in between. I'll have to share those recipes with you sometime, but today I'm sharing a Mushroom And Herb Couscous. You're going to love it!
When I made this and tasted it for the first time, I was in heaven. It was so good. So good that I ran into the bathroom with a spoonful while my boyfriend was showering so that he could taste it right away. His eyes lit up.
And yes, I made him eat a spoonful of couscous while he was taking a shower. He's also basically blind without his glasses on, so it was pretty funny because he had no clue what I was feeding him.
Couscous is one of my favorite side dishes because I'm a big texture girl. I live for things with texture and the Israeli pearled couscous is full of it!
Orzo is another one of my favorite side dishes can you tell I'm carb obsessed? I love its rice shape and chewy/firm texture. It's very similar to couscous. If you like orzo, you'll love this Lemon Orzo Salad With Garlic Butter Shrimp!
Types of Couscous
Moroccan Couscous
Moroccan couscous is a tiny ground pasta made from semolina (a type of wheat). It's traditionally made by rubbing semolina between wet hands until very tiny pieces are formed. Then it's dried and later cooked in boiling water.
Israeli pearl couscous
Israeli couscous is also type of pasta but the granules are much larger. The pearl couscous is made of wheat flour and semolina, it's shaped like small pearls (hence the name), and is toasted rather than dried. The toasting process gives the pearl couscous a nuttier flavor than traditional couscous. It also has a chewier bite, similar to orzo pasta.
How to cook Israeli Couscous
Most of the flavor in this dish comes from the herb butter mushrooms. They're cooked in a light herb butter sauce with fresh thyme, oregano, shallot, and crushed garlic. When the couscous is finished cooking, it gets tossed in the pan with the mushrooms to absorb all of the flavor. Finally, it's finished with a dash of lemon juice to give it a nice, bright flavor.
First, I like to start out by bringing the cooking liquid to a boil.
Then reduce the heat to a simmer, cover and cook. It's best to cook the couscous in vegetable broth or chicken broth because it will add so much flavor.
While the couscous is cooking, prepare the mushrooms.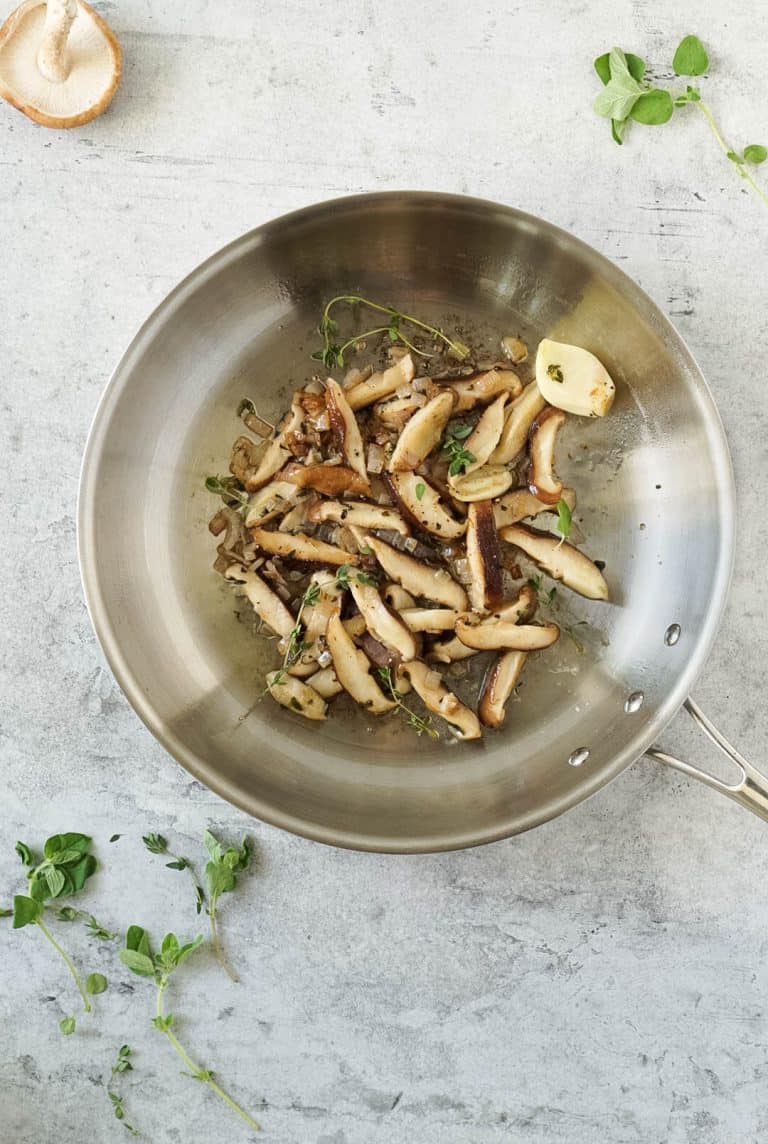 Melt butter with olive oil in a nonstick pan over medium-high heat.
Then add oregano, thyme, shallots, crushed garlic, salt, and pepper.
Cook for about 1 minute until fragrant, then add the mushrooms and cook 4-5 minutes or until they start to turn golden brown.
When all but a small amount of the broth has been absorbed by the couscous, transfer it to the pan with the mushrooms, and stir to combine. You don't need any heat on the pan here, you're just combining everything before serving.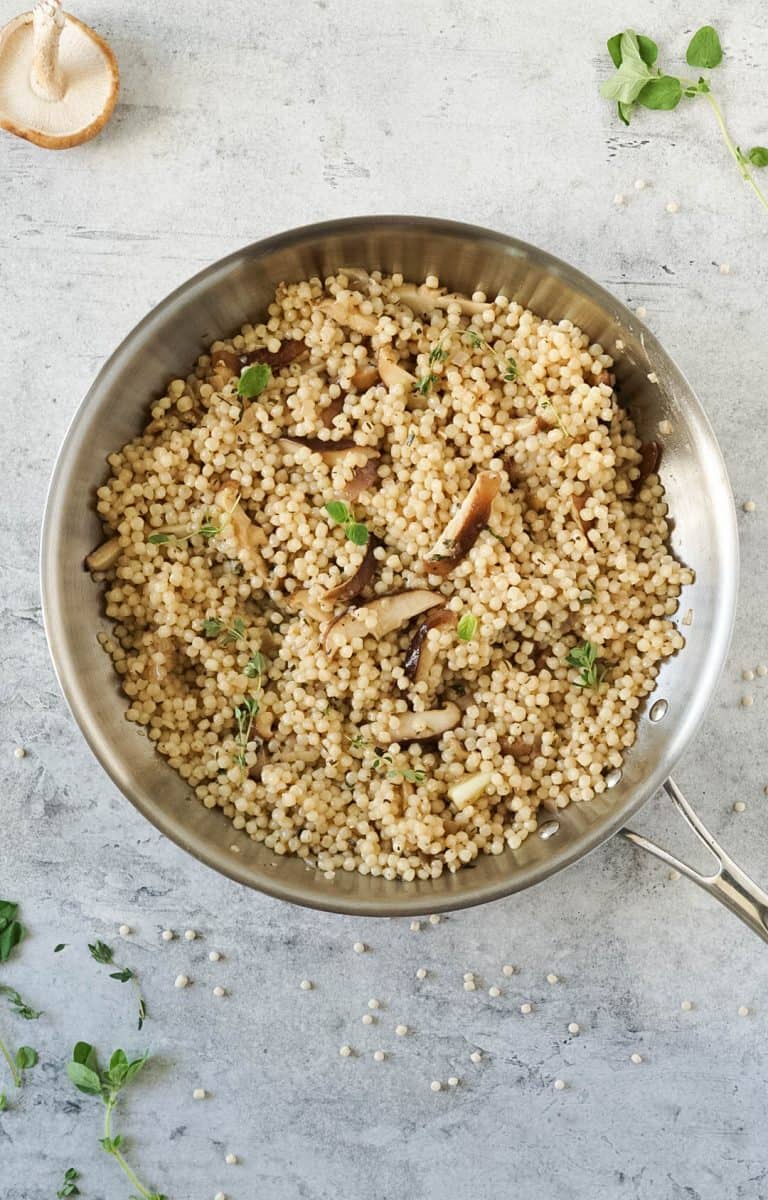 Israeli Pearled Couscous Recipe tips
Sauté your couscous before adding liquid. Tossing the couscous around the pan in some olive oil, herbs, and garlic just before adding liquid can give it a delicious, nutty flavor.
Use broth to cook the couscous. Since couscous doesn't naturally have much flavor, you will need to add lots of it. Cooking with chicken broth or vegetable broth instead of water will give your couscous more flavor.
Don't stir the couscous. While the couscous is cooking, try to resist the urge to open the lid and stir it. Giving it one stir after adding the liquid is enough.
Fluff the couscous. If cooking Moroccan couscous, fluff it with a fork after cooking to help separate each granule.
How to serve this Couscous Recipe
To serve, squeeze a bit of lemon juice over the couscous and divide between plates.
Pearled Couscous Recipe Storage
Cooked couscous can be stored in an airtight container in the refrigerator for up to 5 days.
You can freeze your leftover couscous for up to 3 months. To freeze, make sure the couscous is completely cooled before placing it in an airtight container and freezing. When you're ready to enjoy your leftovers, place them in the fridge to thaw overnight and then reheat in the microwave or on the stovetop.
What to make with Couscous
I served it with Pistachio Crusted Air Fryer Salmon but you can serve it with whatever protein you like!
Couscous is amazing because it's completely customizable and you can flavor it in any way you want. Serve it with shrimp, salmon, or as a vegetarian side dish alone.
If you want to make an entire vegetarian dinner with it, try serving this Israeli Couscous Recipe with Spinach and Ricotta Stuffed Peppers!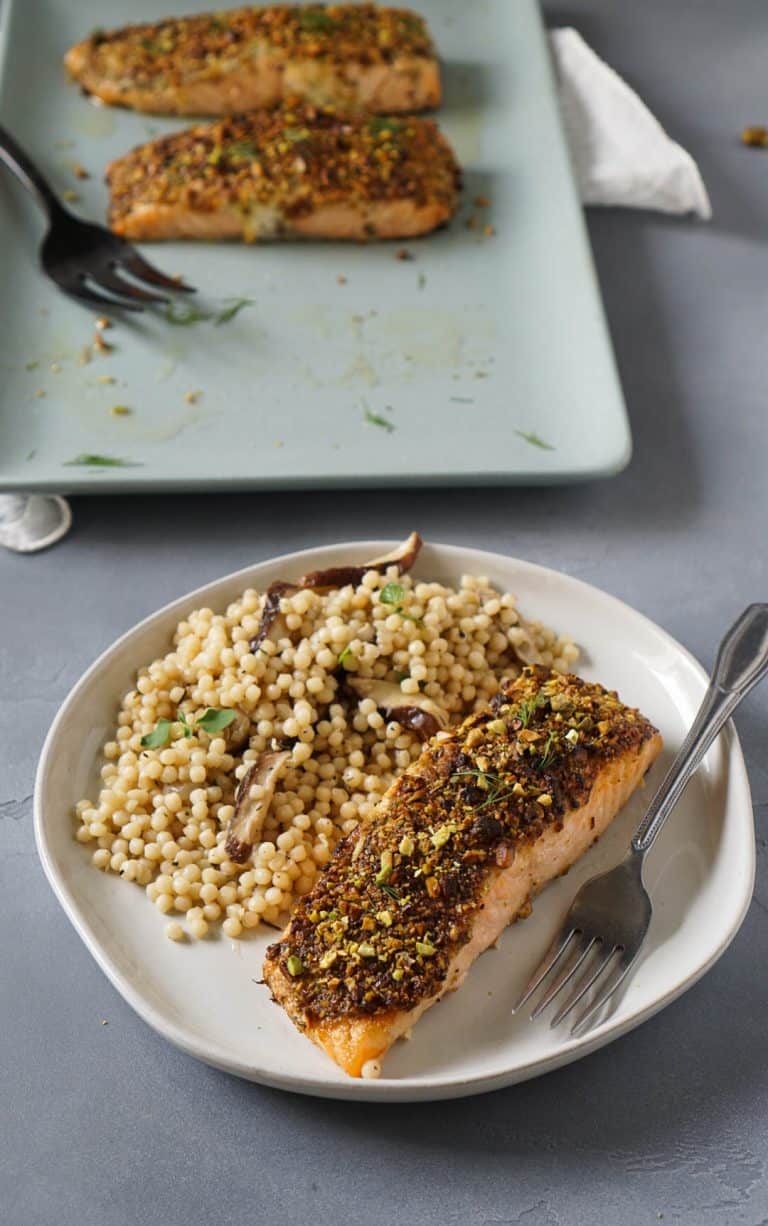 The ingredients in this recipe are all pretty much staples in my house, which is great because I can whip up this delicious couscous anytime!
Pearl Couscous Recipe FAQs
Is couscous a healthier option than rice?
One cup of couscous has less calories than one cup of brown rice. But let's not get ahead of ourselves, brown rice still comes out on top when it comes to the amount of nutrients packed inside. However, that doesn't mean you can't have yourself some couscous!

Especially this couscous recipe because it's sooo good!
What does Israeli couscous taste like?
Israeli couscous has a slightly nutty flavor and a chewy texture, pretty similar to orzo. However, couscous, like pasta, is pretty much a blank slate and can be flavored in many ways to acquire any taste.

In this mushroom couscous recipe I really wanted to play up the herbs and the buttery mushrooms so I focused on those flavors, while keeping the couscous itself pretty mild. When everything is mixed together, the couscous will absorb the flavors of the sautéed mushrooms.
What to add to couscous:
To make couscous flavorful, you'll want to add herbs like thyme, basil, oregano, and parsley. You can add lemon, parmesan, and veggies too!
Which is healthier couscous or quinoa?
Both are high in carbs and low in fat. Quinoa has about 12 times the amount of fat than couscous because of it's heart healthy fatty acids like omega-3 and omega-6.

Overall, quinoa has a more nutritious based profile than couscous.
Should you wash couscous before cooking?
No, couscous is a pasta and you do not want to rinse before cooking. Otherwise you might lose the starch that will help make it thick and creamy.
Couscous vs orzo – what's the difference?
Couscous is made from crushed durum wheat semolina and has a light, fluffy texture when cooked. Orzo, on the other hand, is a type of pasta made from wheat semolina, shaped like rice grains or barley kernels, and has a slightly denser and chewier texture similar to traditional pasta.

Orzo is cooked like pasta, in a large pot of boiling water.
Is couscous a rice or pasta?
While couscous may resemble rice in appearance, it's actually a type of pasta made from crushed durum wheat semolina, which is moistened and then rolled into tiny granules. The granules are then dried before being packaged.
What are the benefits of eating couscous?
Couscous is a good source of complex carbohydrates and is packed with nutrients like B vitamins, calcium, magnesium, iron, zinc, and vitamin E.
Is couscous easy to digest?
Couscous is generally easy to digest because of its small size and texture, along with it's low fiber content.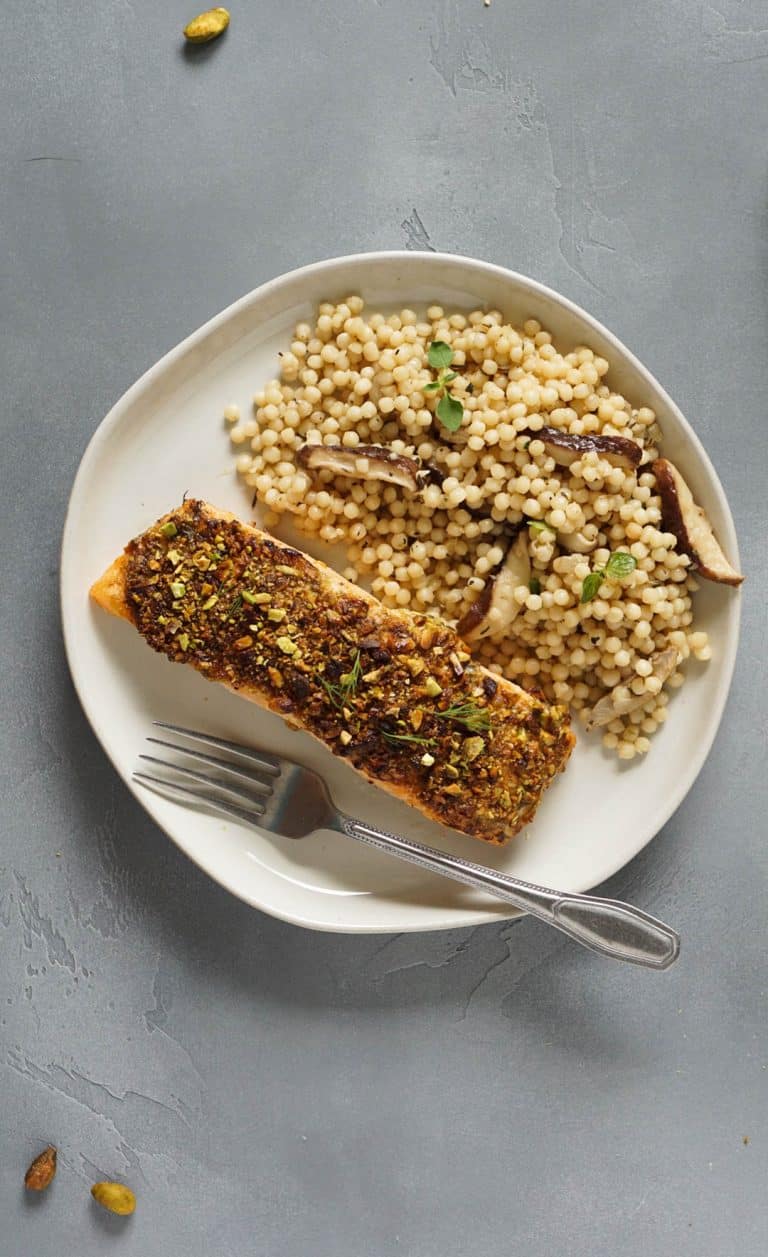 If you love the mushrooms in this recipe, you might like these other mushroom recipes, too:
Looking for more couscous recipes? Try these Scallops With Moroccan Couscous or this Couscous Salad next!
Want to try making this Israeli Couscous Recipe?
PIN IT to your couscous recipes, side dish recipes, or vegetarian recipes board to save it for later!
Find me on Pinterest for more great recipes. I'm always pinning!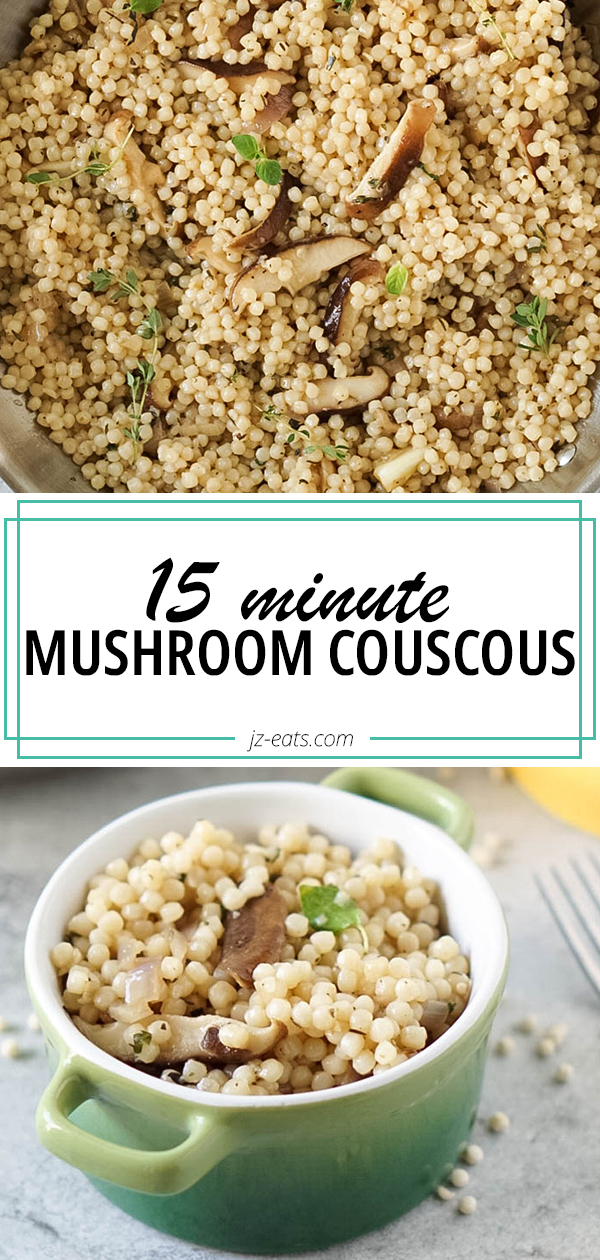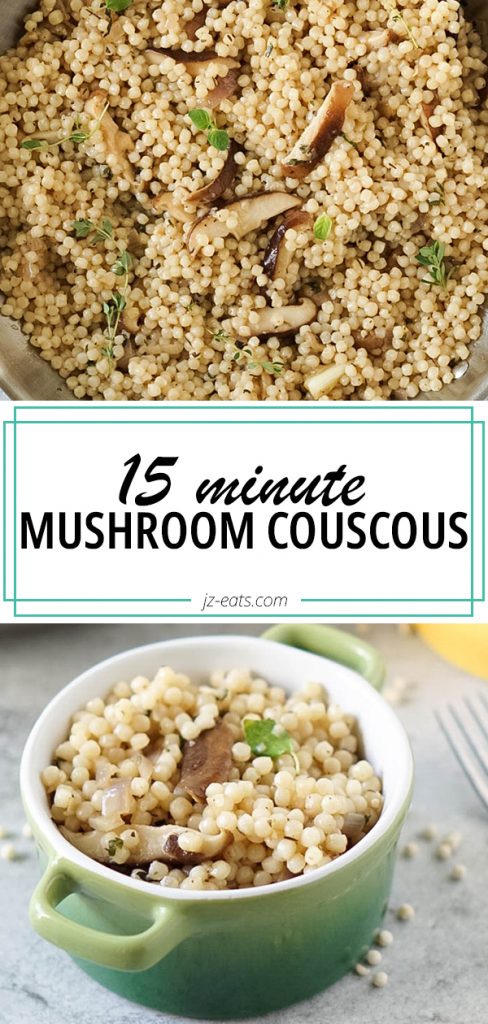 Did you make this recipe? Post a photo on Instagram and tag me @JZEATS or #JZEATS so I can see your beautiful creations! Leave a comment below and let me know what you think, too!
Mushroom and Herb Pearl Couscous Recipe
A simple and easy Israeli Couscous Recipe! It's made with the most flavorful mushrooms cooked in butter, thyme, and oregano. It makes the best side dish to chicken, shrimp, or fish.
Ingredients
1

tablespoon

butter

1/2

tablespoon

olive oil

1

cup

shiitake mushrooms,

thinly sliced

1

tablespoon

fresh thyme

1

tablespoon

fresh oregano,

finely chopped

1

garlic clove,

minced

1

shallot,

diced

1 1/2

cups

vegetable broth

1

cup

pearled couscous

1-2

tablespoons

lemon juice

1/4

teaspoon

kosher salt

1/2

teaspoon

fresh cracked black pepper
Instructions
Heat butter and olive oil in a medium sized saucepan over medium heat until butter has melted. Add the mushrooms, toss to coat, then add half the thyme and oregano, garlic, and shallot. Mix to combine and cook, stirring occasionally, for 5-6 minutes or until mushrooms begin to brown.

Add the vegetable broth and bring to a boil. Mix in the couscous and reduce the heat to a simmer. Cover and cook for about 10 minutes. Halfway through cooking, add the lemon juice, salt, and pepper.

To serve, divide between bowls and garnish with more fresh thyme and oregano if desired.
Notes
You can mix in other fresh herbs like basil and parsley too.
Dried herbs will also work if you don't have fresh herbs on hand.
Nutrition
Calories:
238
kcal
|
Carbohydrates:
41
g
|
Protein:
7
g
|
Fat:
5
g
|
Saturated Fat:
2
g
|
Cholesterol:
8
mg
|
Sodium:
388
mg
|
Potassium:
290
mg
|
Fiber:
5
g
|
Sugar:
3
g
|
Vitamin A:
380
IU
|
Vitamin C:
5.2
mg
|
Calcium:
40
mg
|
Iron:
1.5
mg