This post may contain affiliate links which will not change your price but will share some commission. Please read my privacy policy.
This might be the quickest I've ever gotten a recipe up on my blog, but you all have been my motivation to keep things moving during this time!
I am the BIGGEST procrastinator in the world and will put things off until the last second, so after I shoot a recipe, it's not usually on my site for a couple of weeks.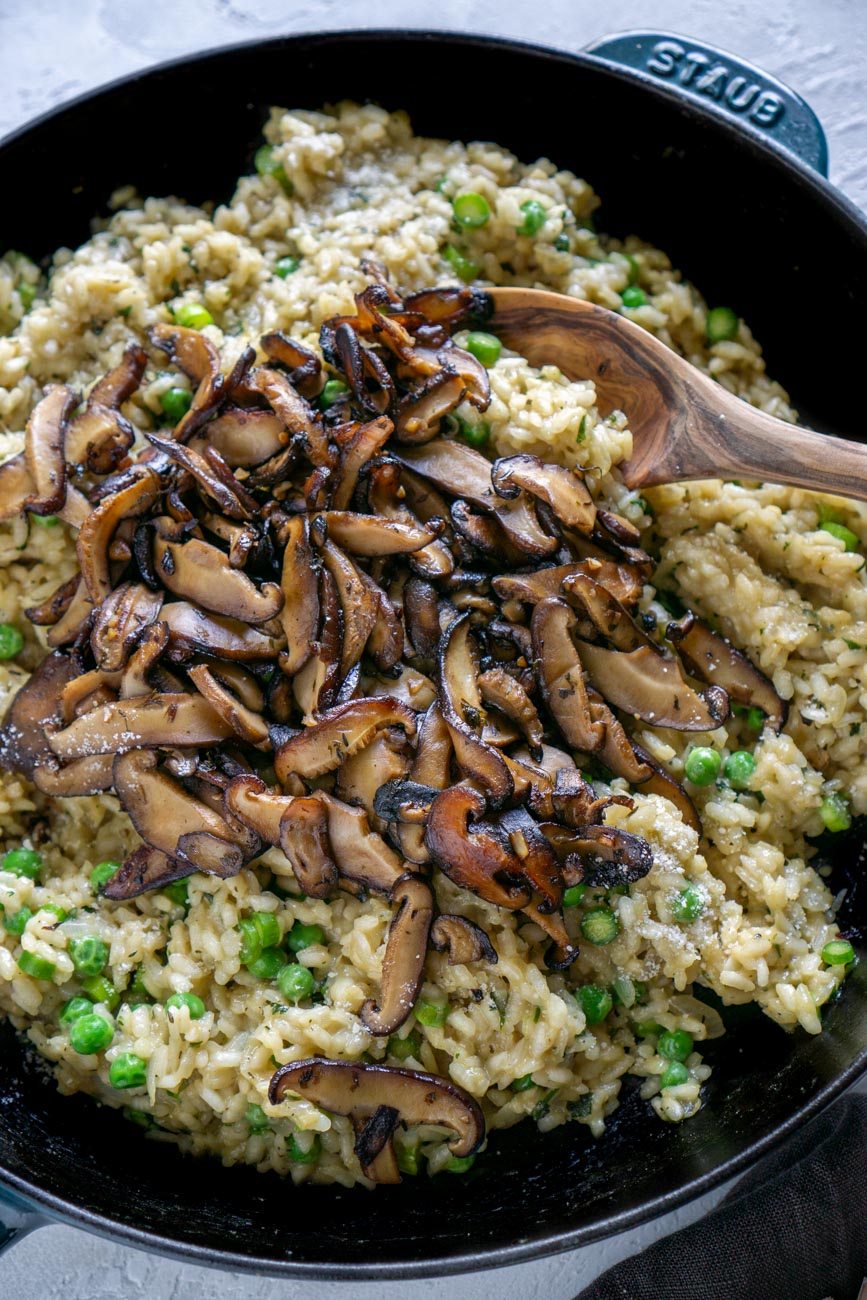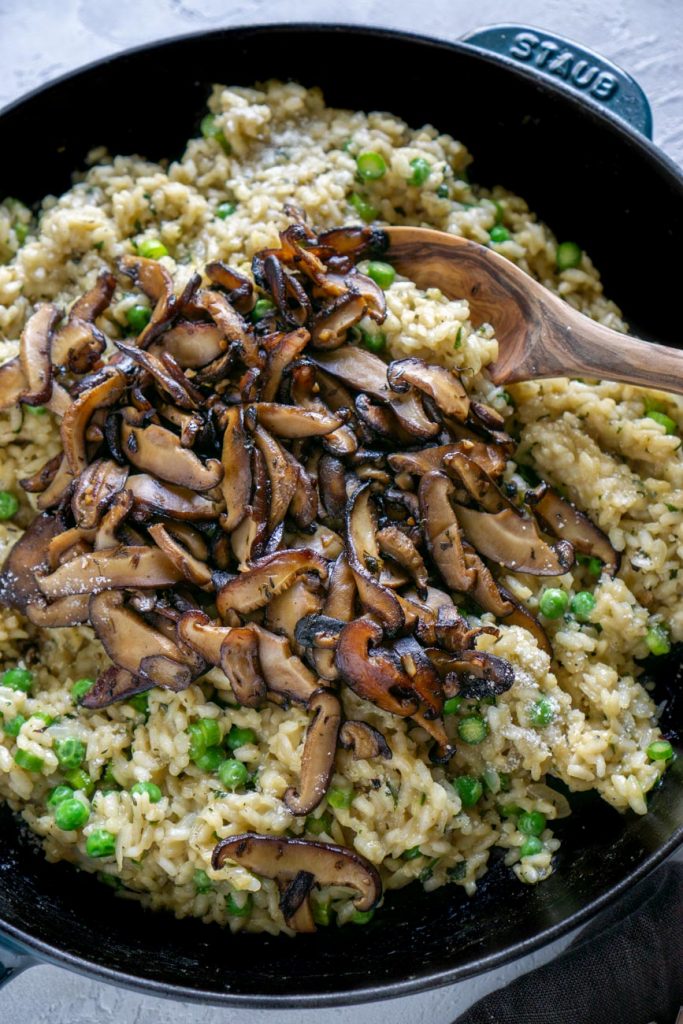 Now I know most of you hate scrolling through our blog posts to get alllll the way down to the bottom with the recipe card, but if we didn't write our blog posts the way we do then Google would never see them as "worthy" and allow us to rank on the first page of search results.
Anyways, who cares about that right?
Since times are tough and we're all at home with our pantry staples and freezer ingredients, I am sharing this risotto recipe ASAP so you can have something delicious at home (just like you were in a restaurant).
Eventually I'll update this post with real text, but for now, I just want you to enjoy something yummy!
I hope you will tag me on Instagram or Facebook when you make this or anything at all during this time, because I love to see what you're doing in the kitchen!
**If you have any questions about the recipe or how to make it using ingredients that you have at home, email me at [email protected] and I will respond right away!**
Creamy Balsamic Mushroom Risotto
A creamy mushroom risotto recipe using pantry staples, freezer friendly ingredients, and fresh vegetables. This easy risotto recipe is total restaurant quality!
Ingredients
For the risotto
1

cup

arborio rice

4

cups

bone broth*

1

cup

water

6-8

asparagus stalks,

ends trimmed and stalks diced

1/2

cup

fresh or frozen peas

1

cup

grated parmesan cheese,

plus more for serving

1

shallot,

minced

1

small yellow onion, or half of a large onion,

diced

1

tbsp

olive oil

1

tbsp

unsalted butter

1/4

cup

dry white wine*

3

tablespoons

fresh chopped parsley*

1

teaspoon

Italian seasoning

1/2

teaspoon

garlic powder

salt and pepper,

to taste
For the balsamic mushrooms
10

ounces

sliced shiitake mushrooms

5

garlic cloves,

minced

3.5

tablespoons

balsamic vinegar

5

tablespoons

unsalted butter

1/2

tablespoon

cane sugar

1

tablespoon

olive oil

2

tablespoons

fresh chopped parsley*

1/2

tablespoon

fresh thyme*
Instructions
For the balsamic mushrooms
Preheat the oven to 400° F and melt 3 tbsps of butter in a small bowl, then mix in the minced garlic, 3 tbsps of balsamic vinegar, 1 tbsp of olive oil, parsley, thyme, and 1/2 tbsp sugar. Place the mushrooms in a cast iron skillet or oven safe baking dish and pour the butter mixture over them, tossing until fully coated.

Place the mushrooms in the oven and bake for 15-20 minutes, tossing once halfway through. When the mushrooms are finished, they should be slightly crisp around the edges and tender. To finish, melt 2 tbsps of butter in a small bowl, mix with 1/2 tbsp of balsamic vinegar and mix it in with the mushrooms. *You can turn the oven off and leave the mushrooms inside to keep them warm while the risotto finishes cooking*
For the risotto
While the mushrooms are baking, heat 1 tbsp of olive oil and 1 tbsp of butter in a large skillet (I love my Staub 12'' skillet for this) on medium heat. Add the onion and the shallot and cook until the onions soften and just begin to caramelize. About 15-20 minutes. While the onions cook, bring the broth and water to a boil in a saucepan.

Reduce the heat of the skillet to medium-low and add the arborio rice and white wine to the pan with the onions, stirring until the rice is fully coated.

Add a ladleful of broth; stir and wait until it is absorbed before adding another ladleful stirring gently and almost constantly. When you have used up half the broth, season the risotto with Italian seasoning, garlic powder, parsley, salt, and pepper. Continue adding broth until the rice is creamy, tender to the bite, but slightly firm in the center. *Total time should be about 25-30 minutes from the time you started*

When all the liquid is absorbed, mix in the parmesan cheese, peas, and asparagus.

Divide the risotto and mushrooms between bowls and serve immediately. Garnish with parmesan and fresh parsley.
Notes
Bone broth can be subbed for chicken broth or vegetable broth and the one cup of water is just to keep you from opening more broth, but feel free to use broth instead of water!
If you don't have fresh herbs, you can sub for dried (use half the amount).
White wine can be subbed for cooking wine
It's ok if there is still some broth leftover in the saucepan, you might not end up needing every bit of it. It's important to taste the risotto as you go!
A good rule of thumb when cooking risotto, is that if you take a whiff of it while it's cooking and it doesn't smell like anything, you haven't seasoned it enough!
Nutrition
Calories:
415
kcal
|
Carbohydrates:
37
g
|
Protein:
30
g
|
Fat:
12
g
|
Saturated Fat:
4
g
|
Sugar:
8
g