This post may contain affiliate links which will not change your price but will share some commission. Please read my privacy policy.
These Leftover Turkey Enchiladas are the perfect way to turn leftovers into a brand new delicious dinner! Your Thanksgiving leftovers will get a complete makeover and provide another meal entirely with these flavorful enchiladas.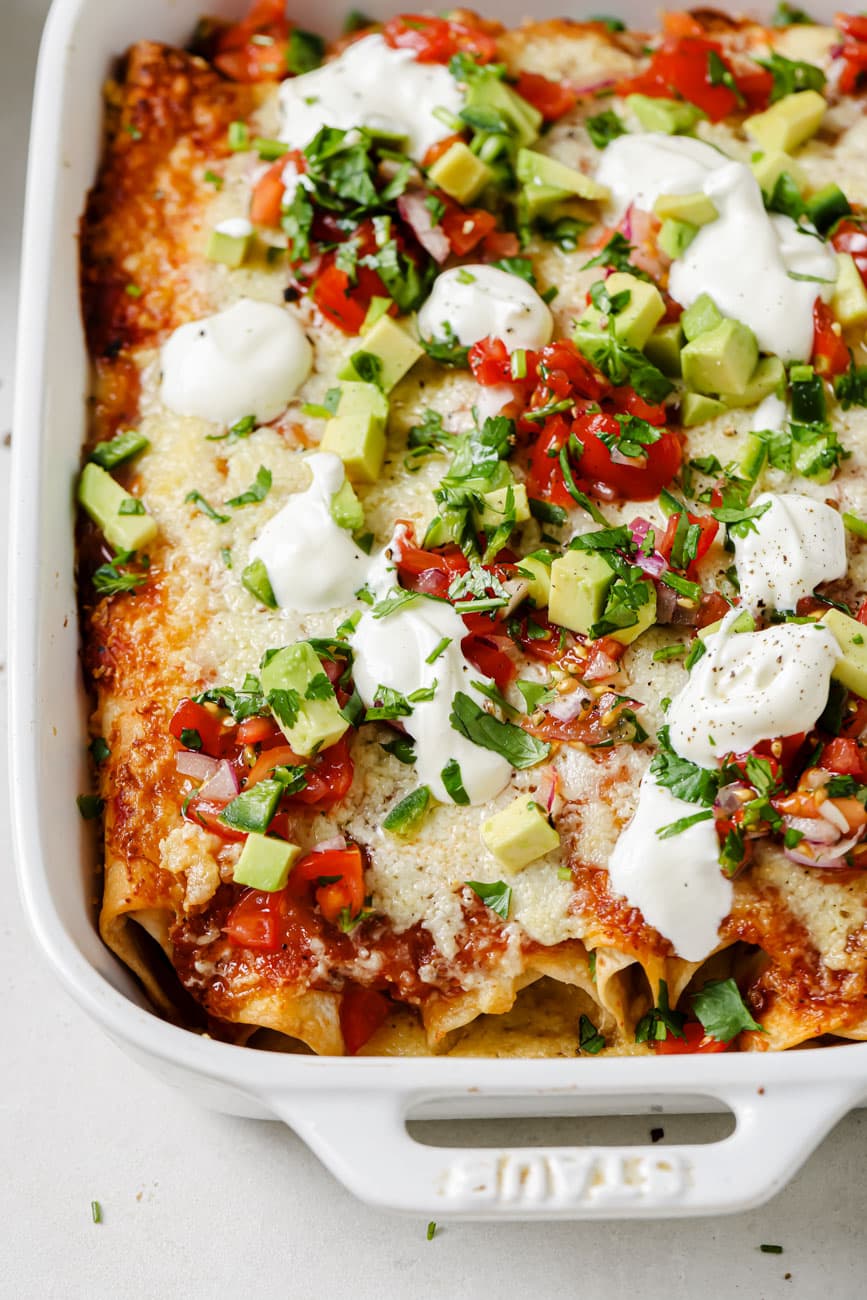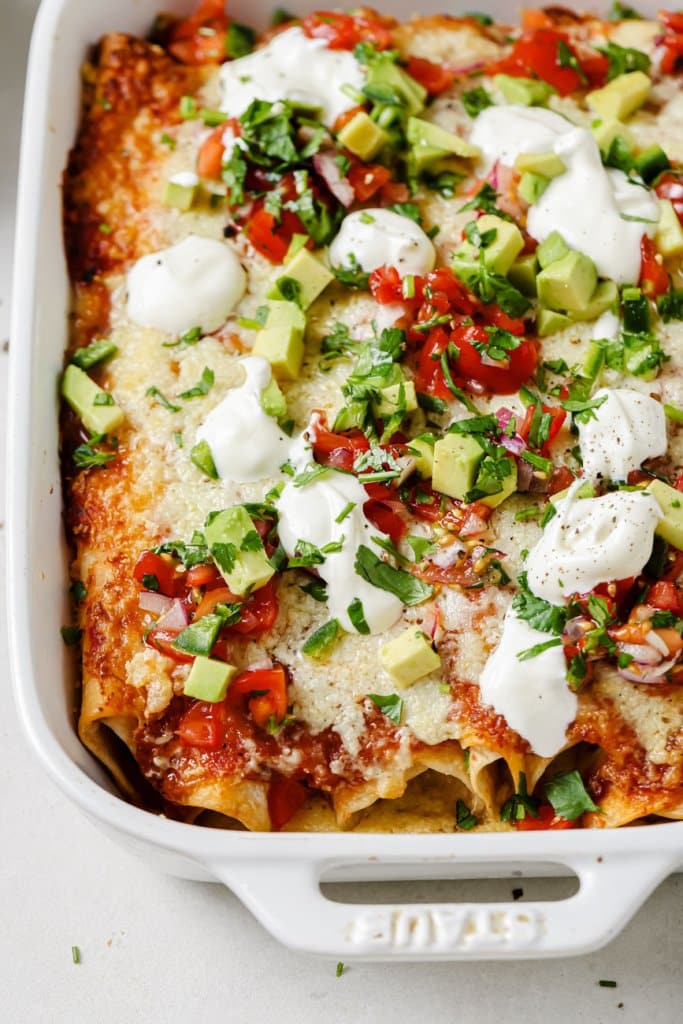 Why you'll love this leftover turkey enchiladas recipe
Whether you have a delicious tray of juicy leftover turkey from your Thanksgiving dinner or any Sunday feast, these enchiladas are the perfect way to make sure that turkey goes to good use.
My favorite way to use leftover turkey is to turn it into something else completely.
With flavorful enchilada sauce, melty cheese, and your choice of tasty toppings, this twist on the classic Mexican dish will become a fall classic.
Whether you've made my Roasted Butter Herb Turkey or a more unique twist on the dish with my Cajun Turkey, the leftovers will be perfect to use for these enchiladas.
You'll love how easy and simple it is to put together these enchiladas with turkey, and the tender turkey meat is the perfect way to enhance all of the familiar flavors.
You can even use cooked turkey for my One Pan Skillet Enchiladas instead of chicken. Never let your leftover turkey go to waste again!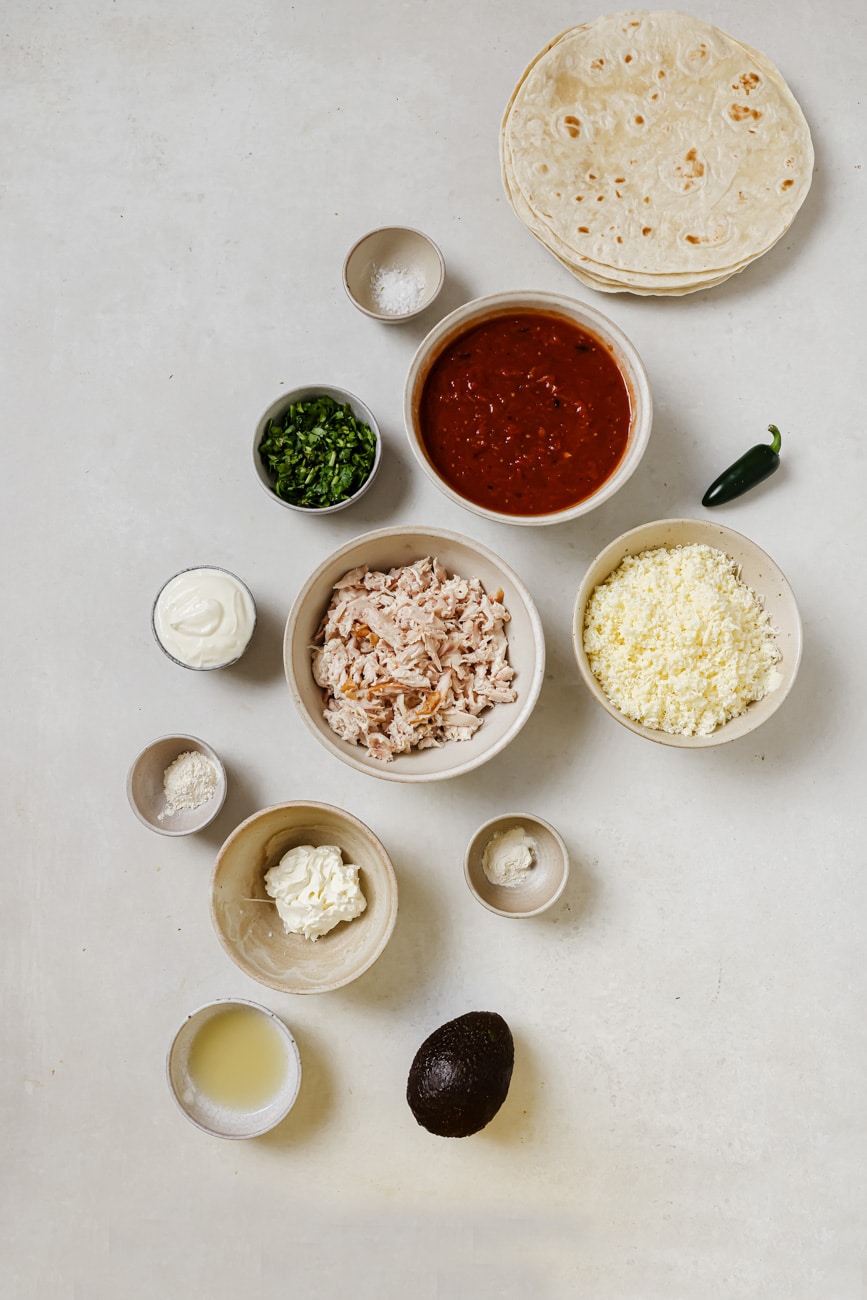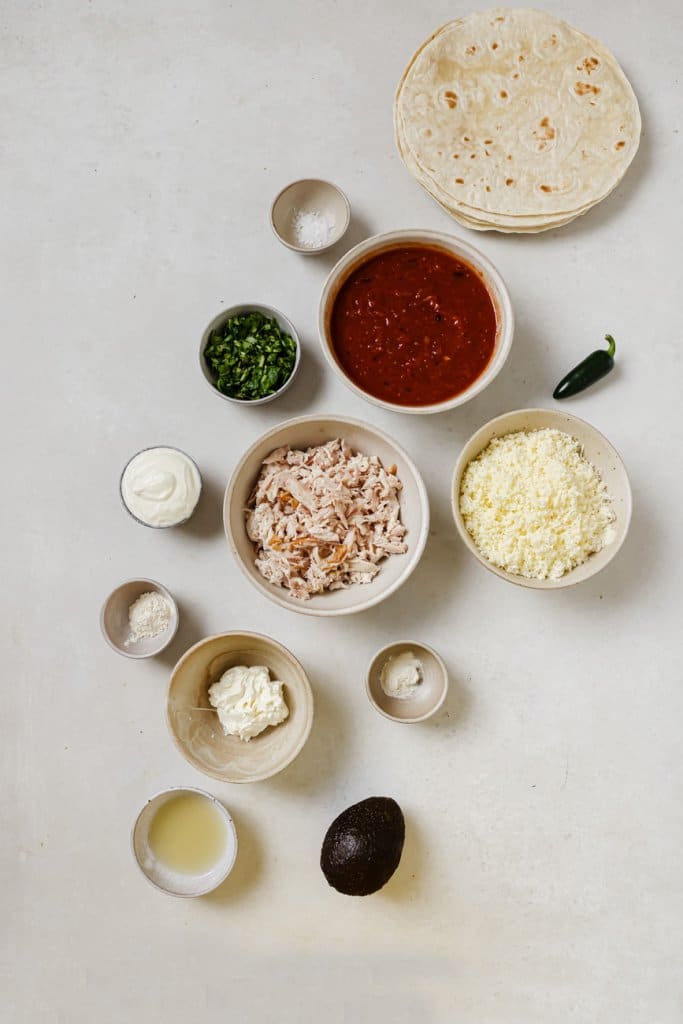 Ingredients for Turkey Enchiladas
Aside from the leftover turkey, you'll need an assortment of staple enchilada ingredients to put this dish together. If you want to make this recipe and you don't actually have any leftover turkey, another option is to buy a pre-cooked turkey or rotisserie chicken from your grocery store and shred it yourself! Other than that, you'll need:
Enchilada sauce: there are several kinds of enchilada sauce, but I opted for the classic red sauce. You can either buy it at the store or make a homemade enchilada sauce for more flavor control.
Cream cheese: this will give your filling a fantastically creamy texture and a bit of tang that pulls everything together.
Cilantro: works well as both a topping for your enchiladas and also a mix-in for the filling to add a pop of herbal flavor.
Seasonings: I used salt, garlic powder, and onion powder. These flavors play well with the enchilada sauce.
Tortillas: flour tortillas are my preference, but some people find corn tortillas easier to work with. Go with your gut on this one!
Monterey Jack cheese: gets perfectly gooey and melty in the oven. You can mix this with other kinds of cheese if you like an extra cheesy dish.
Lime juice: a squeeze of fresh lime juice gives this dish a refreshing pop that brings out the savory flavors.
Toppings: add some avocado, more cilantro, chopped jalapenos, salsa, sour cream, or even more cheese to make these enchiladas your own!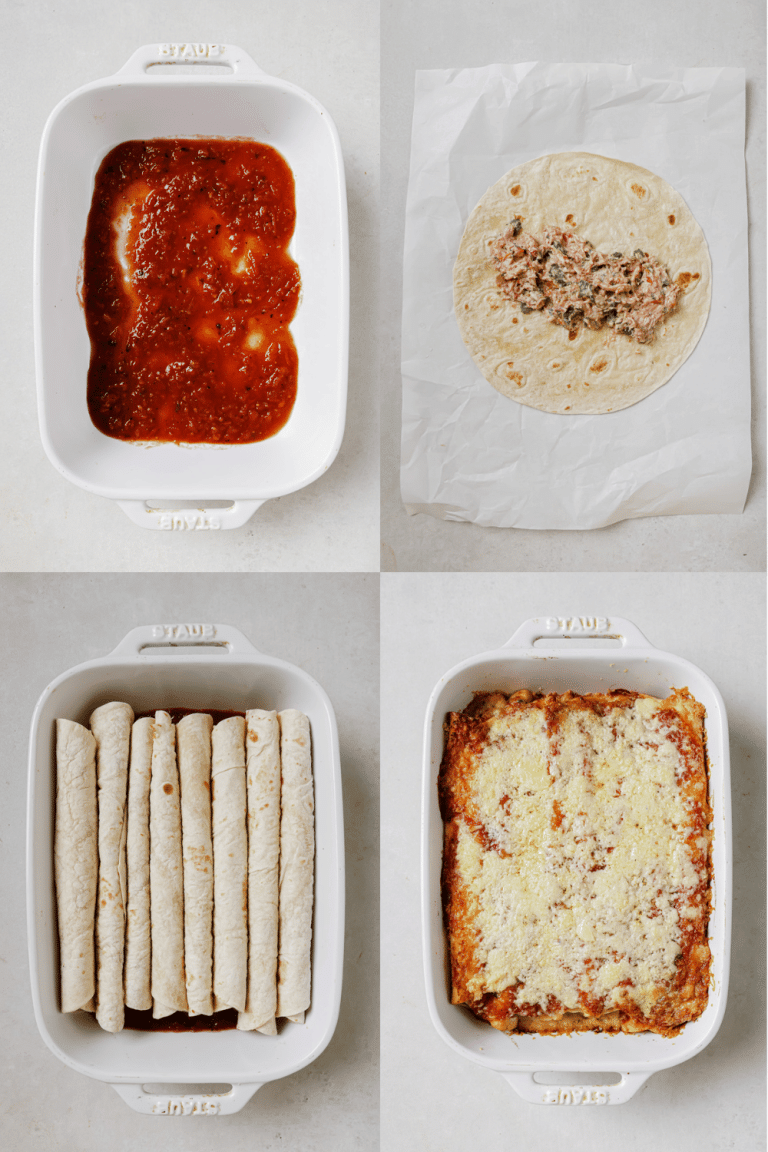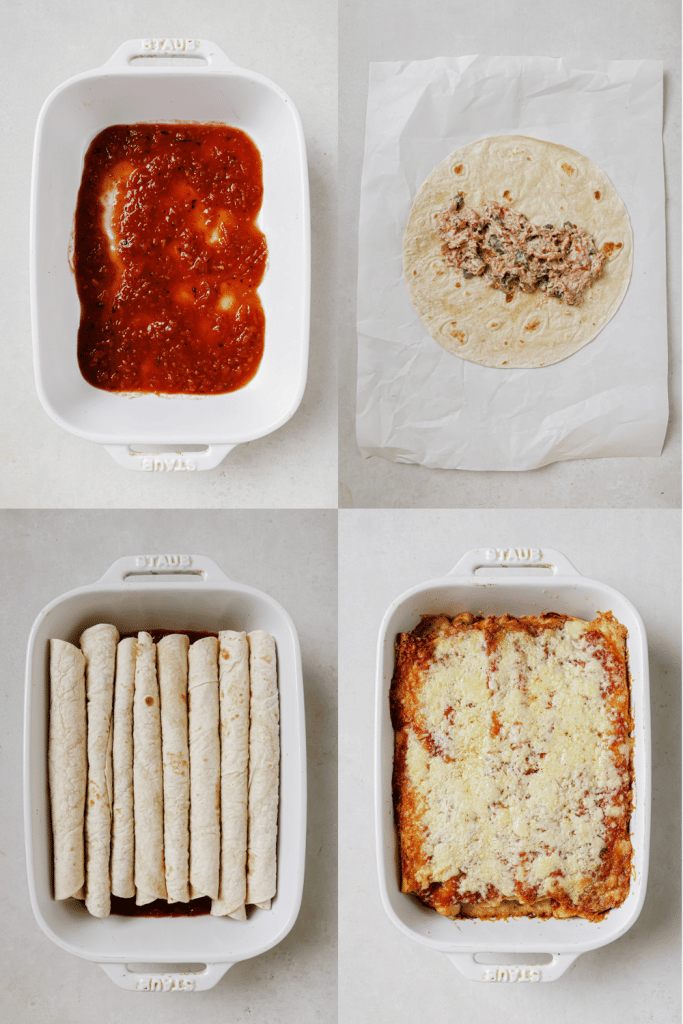 How to Make Leftover Turkey Enchiladas
Prepare the baking dish. Add about a cup of enchilada sauce to the bottom of a casserole dish.
Make the filling. In a large bowl, combine turkey leftovers, enchilada sauce, cream cheese, cilantro, and seasonings.
Roll the enchiladas. Place a few tablespoons of the filling on each tortilla, then wrap well and place in the pan seam side down. Pour the remaining enchilada sauce over top.
Bake the enchiladas. Cover the tray with an oiled piece of foil, then bake at 400 degrees F for 10-15 minutes, or until golden on top.
Serve and enjoy! Add a squeeze of fresh lime juice and pair with your favorite toppings to turn holiday leftovers into a brand new meal.
How do you reheat leftover turkey without drying it out?
There are two major tricks when it comes to reheating turkey. First, don't turn the heat on too high. You'll want to reheat it in the oven at no more than 300 degrees F. Higher heat might cook the turkey faster, but it's a sure way to dry it out! Opt for patience and cook it low and slow.
For some extra assurance, add a bit of chicken broth or turkey stock to the pan while it cooks. It's also a good idea to use some foil to tightly wrap the top of the baking tray and keep all that goodness inside.
If you follow these tips, you should have perfectly tender, juicy, reheated turkey in 20 to 30 minutes!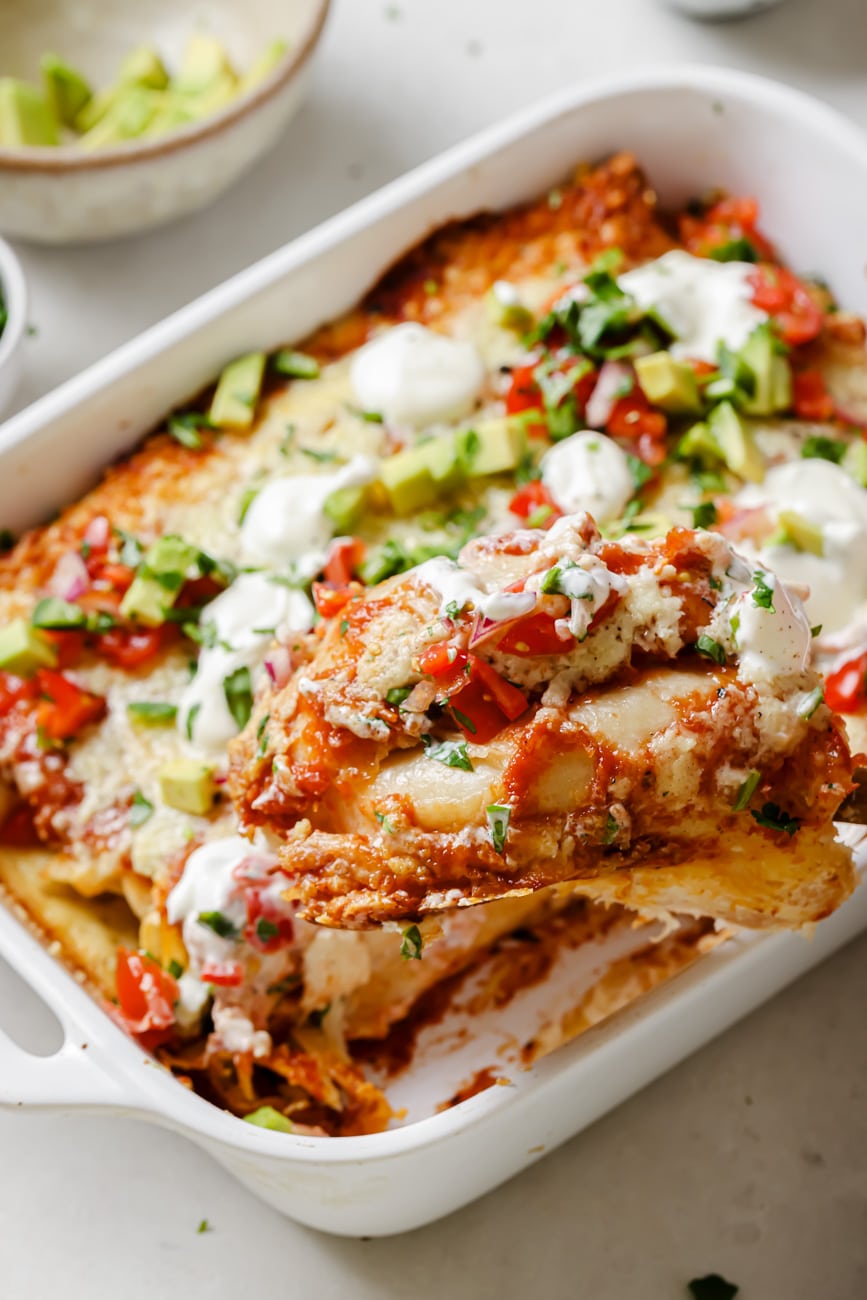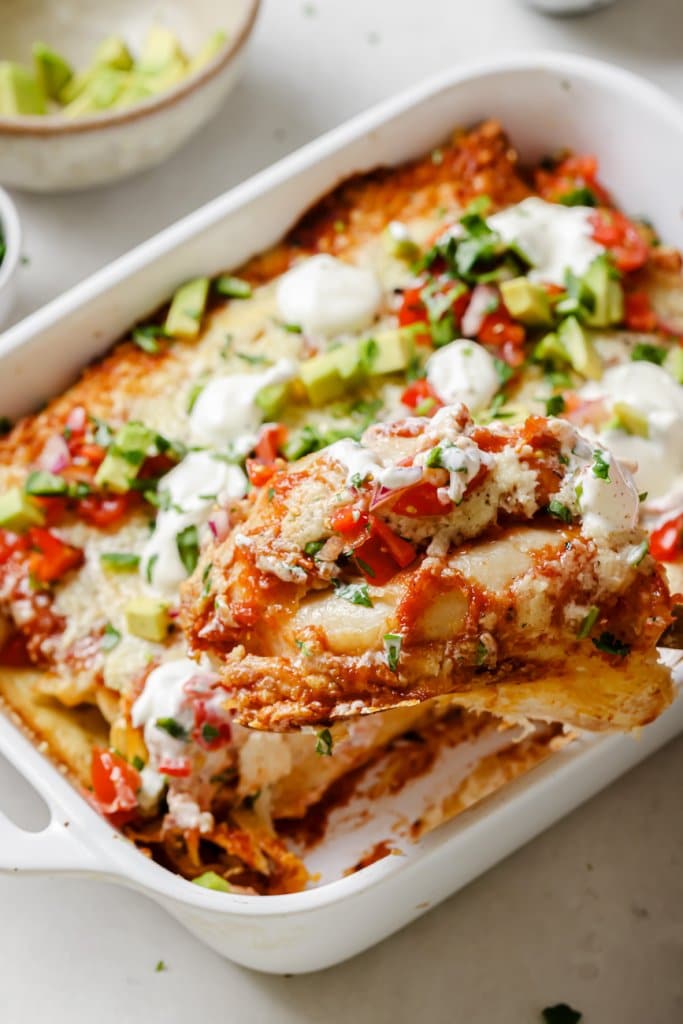 What is the secret to non soggy enchiladas?
If you find your enchiladas end up a bit on the soggy side, there's a solution that may seem counterintuitive. Before assembling the enchiladas, completely coat each tortilla in the enchilada sauce, allowing any excess to drain off.
This way, you can actually use less of the sauce in the bottom of the pan, which will lead to less soggy results.
How to store enchiladas
For easiest storage, you can actually keep the enchiladas in the fridge in the same pan you baked them in! Be sure to seal them super well with some aluminum foil or plastic wrap beforehand.
You can also store them in the freezer for several months at a time. I recommend pressing them tightly with some plastic wrap inside of a freezer bag to prevent freezer burn.
How do you reheat turkey enchiladas?
Reheating leftover turkey enchiladas in the oven at 350 degrees F for about 20 to 25 minutes. Keep them covered to prevent drying out, but check occasionally to see if they're properly heated through.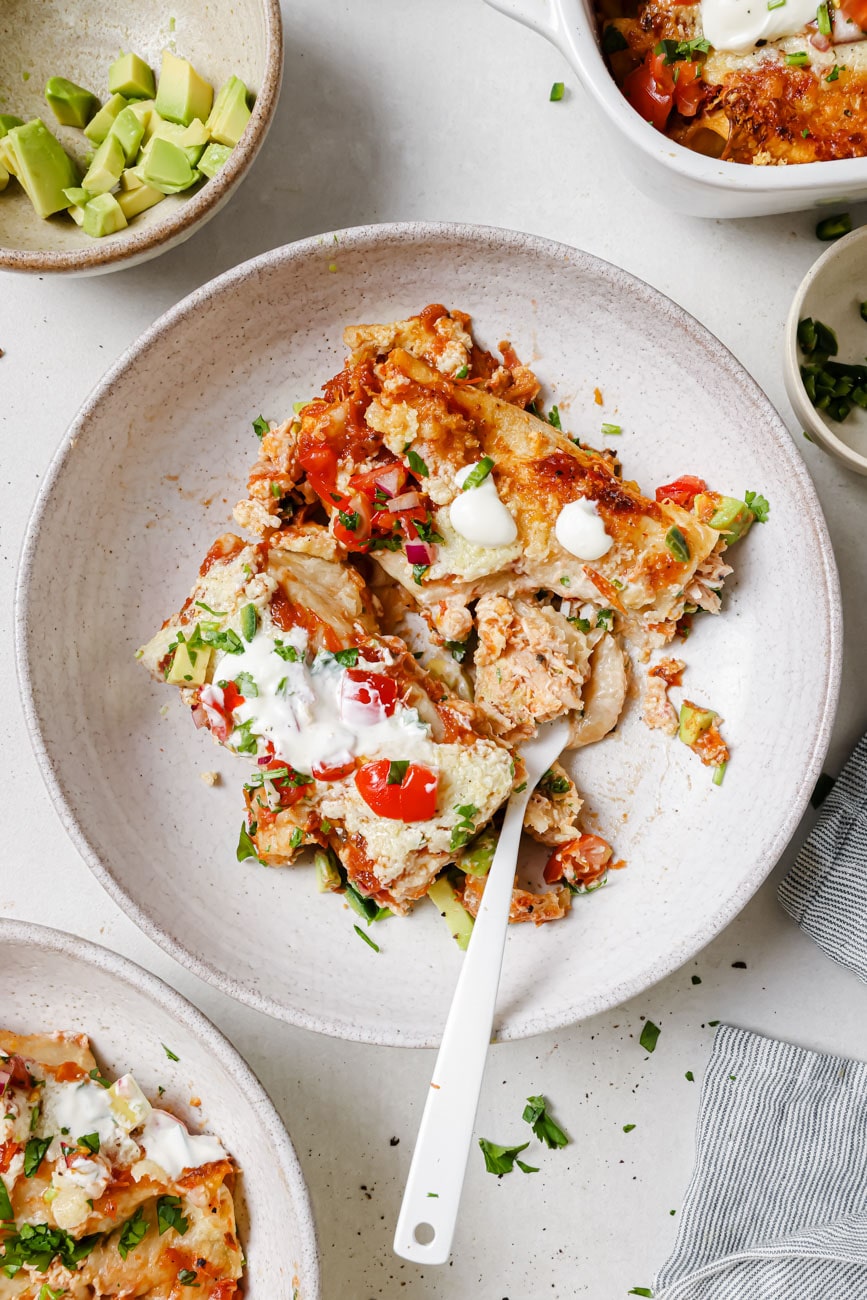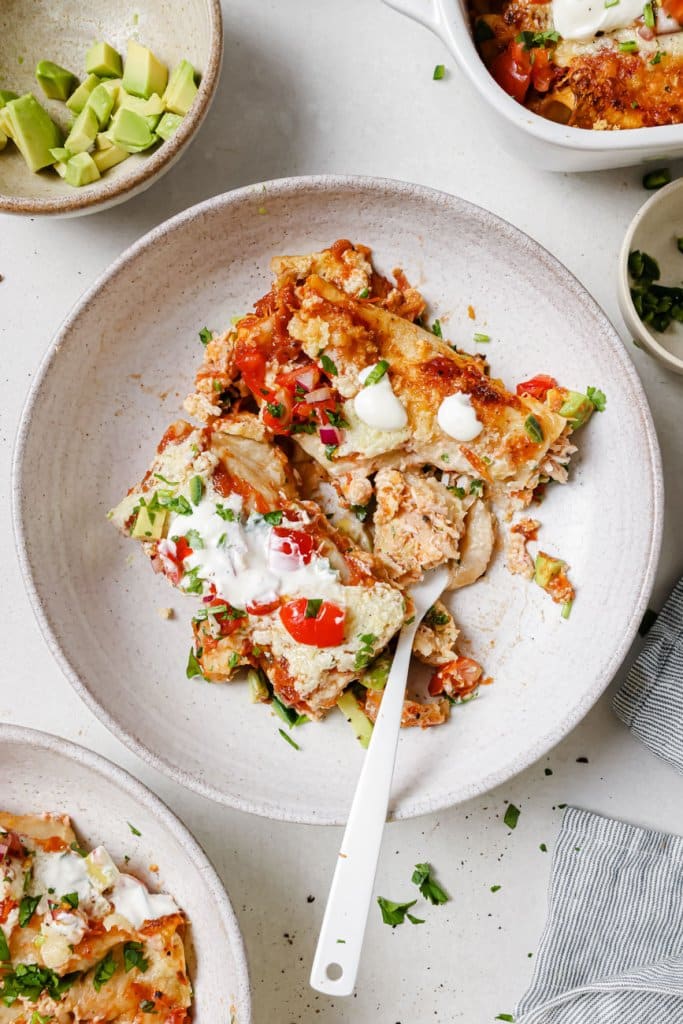 Recipe tips and variations
If you have extra time, it can really elevate your enchiladas to quickly fry the tortillas in hot oil before rolling.
As tempting as it is, try to avoid overstuffing the tortillas! You'll want about 2 to 3 tablespoons of filling in each. Otherwise, the enchiladas will leak or rip and end up making a mess. If you have leftover filling, serve it on the side or spoon it over top!
Fight the urge to use too much sauce. You do want to make sure the enchiladas are properly covered and that they won't stick to the pan, but too much sauce will just lead to soggy results (and nobody wants that!)
If you have other leftovers from Thanksgiving or another holiday meal (like stuffing, veggies, cranberry sauce, and more) try using those as additional fillings or toppings for these enchiladas. You may just discover a great new flavor combo!
For other toppings or mix-ins, try black beans or pinto beans, green chiles, cubed sweet potatoes, black olives, chopped onions, or bell peppers. You can also add an extra kick to your enchiladas by using chili powder or red pepper flakes.
Feel free to use other kinds of sauce. Green enchilada sauce is another popular option and will also taste great in this dish.
Leftover turkey enchiladas FAQ
Can you eat cooked turkey after 7 days?
When it comes to leftover turkey, I recommend eating it within 3 to 4 days. After that point, the turkey may be at risk for things like bacteria. Always be sure to give the leftover turkey a little sniff test and a look-over if you're looking to eat the leftovers after 5 days or longer. And if you really need your turkey to last, it can be kept in the freezer for up to 4 months.
Can you freeze enchiladas?
Yes, this recipe is a great way to meal prep! You can even double it and have dinner one night and freeze the rest for other meals throughout the week. Be aware that reheating from frozen can lead to slightly rubbery tortillas, but the flavors will still be just as tasty.
What to serve with turkey enchiladas
These enchiladas have everything you need for a filling and healthy meal, but if you want a side dish to turn a meal into a feast, consider pairing it with one of these!
More leftover turkey recipes
WANT TO TRY THIS LEFTOVER TURKEY ENCHILADAS RECIPE?
PIN IT to your leftover turkey recipes, Thanksgiving leftovers recipes, or easy dinner recipes board to save it for later!
Find me on Pinterest for more great recipes. I'm always pinning!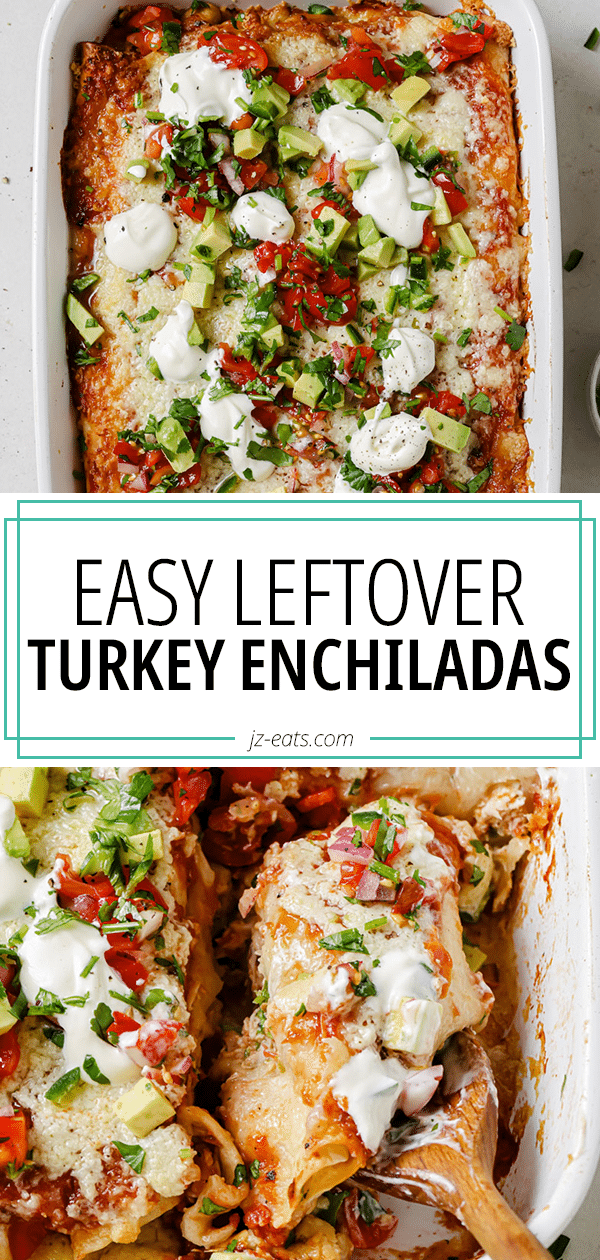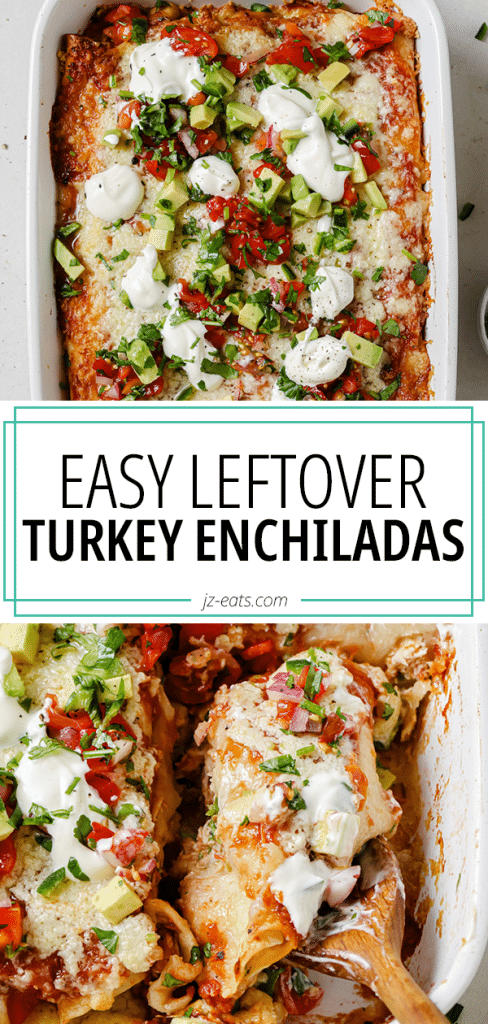 Did you make this recipe? Post a photo on Instagram and tag me @JZEATS or #JZEATS so I can see! Leave a comment below and let me know what you think, too!
Leftover Turkey Enchiladas
These Leftover Turkey Enchiladas are the perfect way to turn leftovers into a brand new delicious dinner! Your Thanksgiving leftovers will get a complete makeover and provide another meal entirely with these flavorful enchiladas.
Ingredients
3

cups

turkey,

shredded and cooked

2

cups

red enchilada sauce

1/4

cup

cream cheese

3

tbsp

fresh cilantro,

finely chopped

1/2

tsp

kosher salt

1/2

tsp

garlic powder

1

tsp

onion powder

8

regular

flour tortillas

2

cups

Monterey Jack cheese,

finely shredded

1/2

tsp

lime juice
For serving
1

avocado,

diced

1

tbsp

fresh cilantro,

finely chopped

1

jalapeño,

diced

1/4

cup

sour cream

1/4

cup

salsa
Instructions
Preheat the oven to 400℉.

Spread 1/2 cup of the enchilada sauce on the bottom of a 9 x 13 baking dish. In a large mixing bowl, stir together the shredded turkey, 1/2 cup enchilada sauce, cream cheese, 3 tbsp chopped cilantro, salt, garlic, and onion powder.

Place the turkey mixture in the center of 8 tortillas. Roll the tortillas up and place them seam side down in the baking dish. Repeat with all remaining tortillas until you have 8 filled tortillas in a row. Then, pour the remaining enchilada sauce over the filled tortillas. Finish by topping with the shredded cheese.

Spray a sheet of aluminium foil with oil then cover the enchiladas (olive oil side down). Bake for 10 minutes, covered, then remove the foil and bake uncovered for 10 to 15 minutes until golden on top.

When the enchiladas are finished baking, squeeze the lime juice over top and serve with avocado, cilantro, sour cream, jalapeños, and salsa.
Nutrition
Calories:
364
kcal
|
Carbohydrates:
16
g
|
Protein:
25
g
|
Fat:
23
g
|
Saturated Fat:
11
g
|
Polyunsaturated Fat:
2
g
|
Monounsaturated Fat:
8
g
|
Cholesterol:
80
mg
|
Sodium:
876
mg
|
Potassium:
435
mg
|
Fiber:
5
g
|
Sugar:
7
g
|
Vitamin A:
1111
IU
|
Vitamin C:
8
mg
|
Calcium:
326
mg
|
Iron:
2
mg