This post may contain affiliate links which will not change your price but will share some commission. Please read my privacy policy.
Chicken Parmesan Burgers are the perfect mix of everyone's favorite Italian classic and an American favorite, the burger. They don't require much prep and the cook time is short.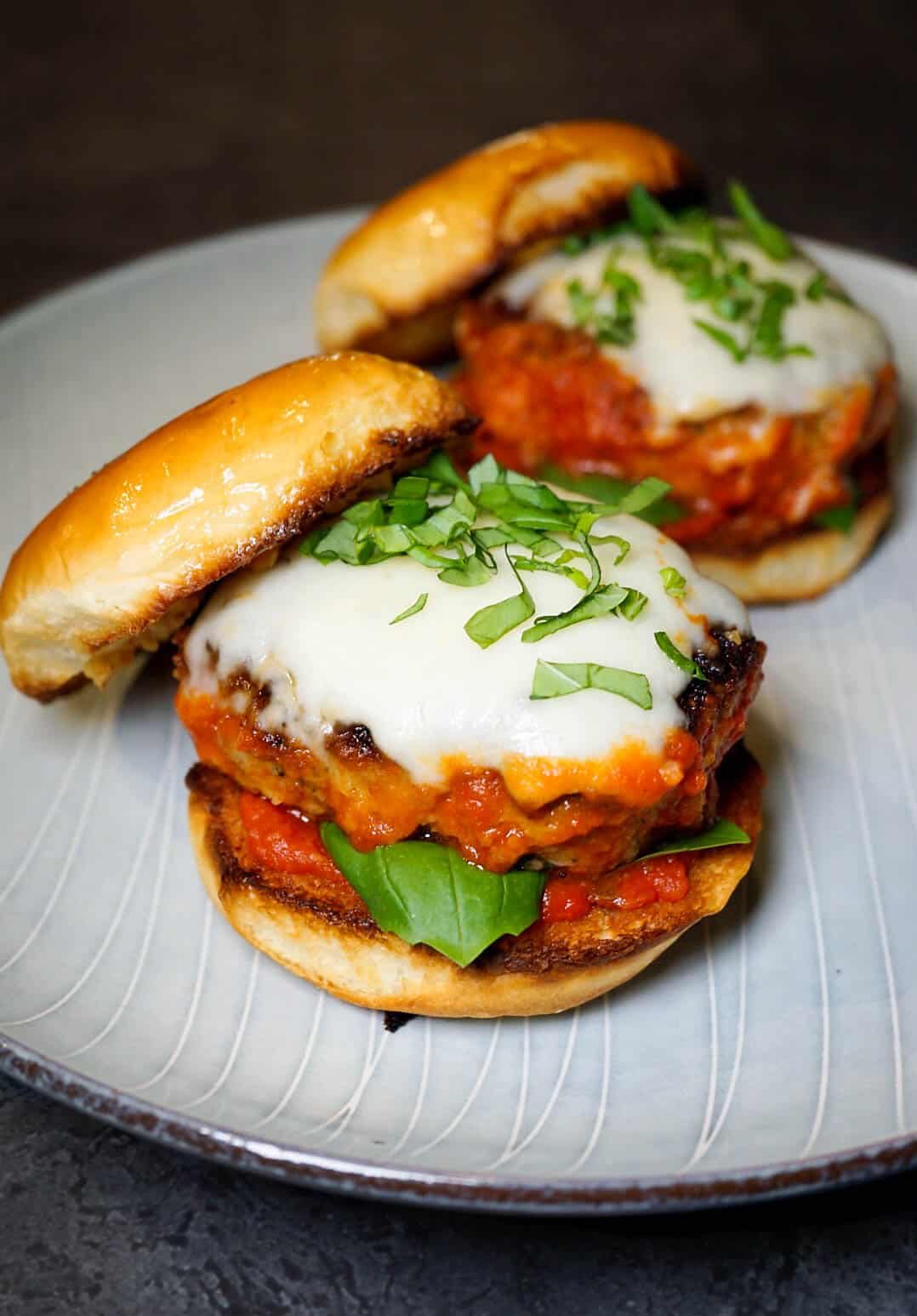 They are the perfect twist on a classic Chicken Parm and a burger. Served on a garlic butter toasted bun, mmm…they're so delicious!
I don't eat a lot of red meat but I do really like burgers, so I jump at any chance I get to eat a chicken burger.
Ground chicken tends to be fairly inexpensive and half the ingredients on this recipe list are common household items, so this is one easy and inexpensive meal to make.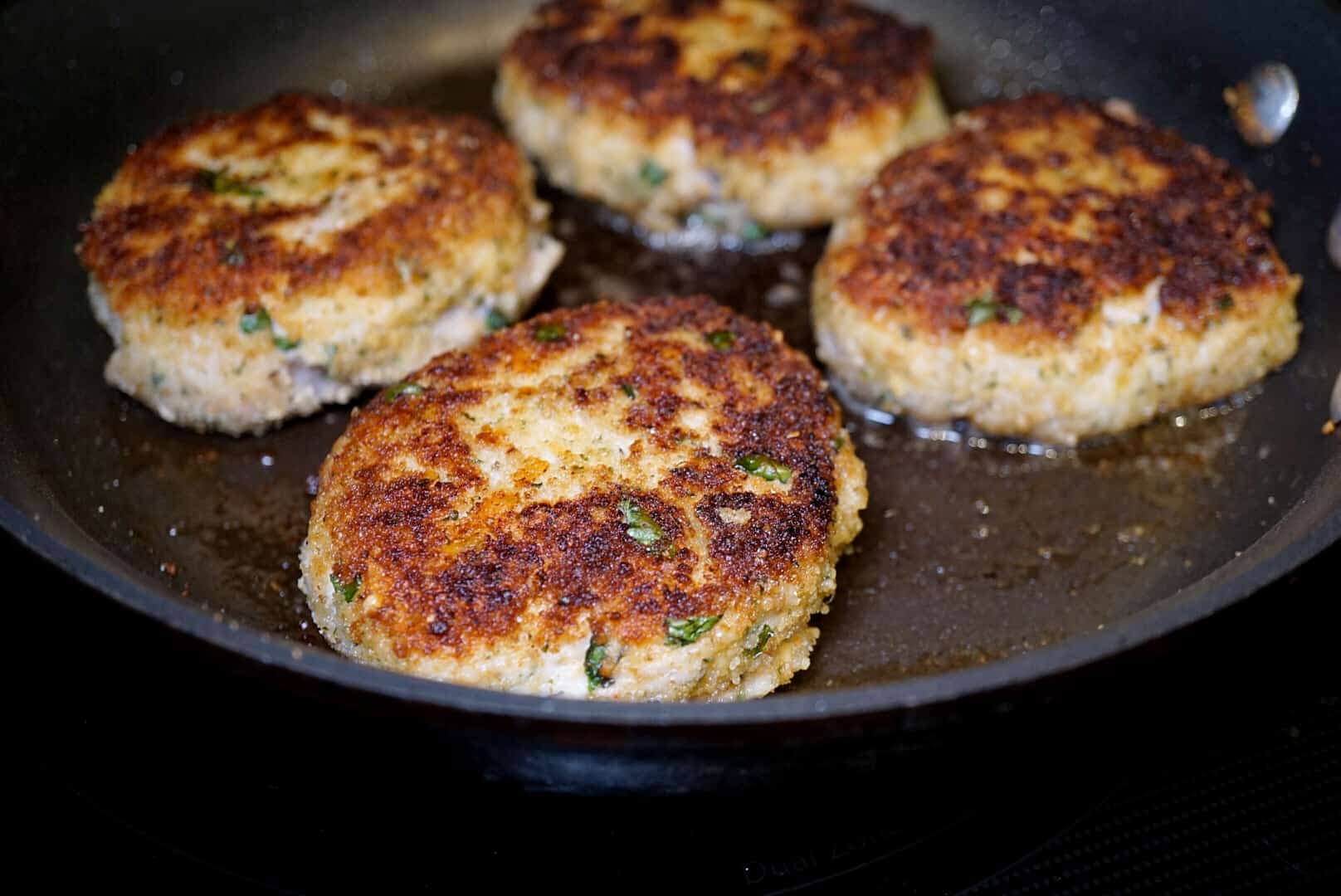 Cooking these chicken burgers in the pan with marinara sauce makes them so incredibly juicy. Even though you will spoon about a tablespoon of the tomato sauce onto the buns, I like to reserve even more for dipping!
Basil marinara sauce is my favorite because it adds even more mouthwatering flavors to this dish.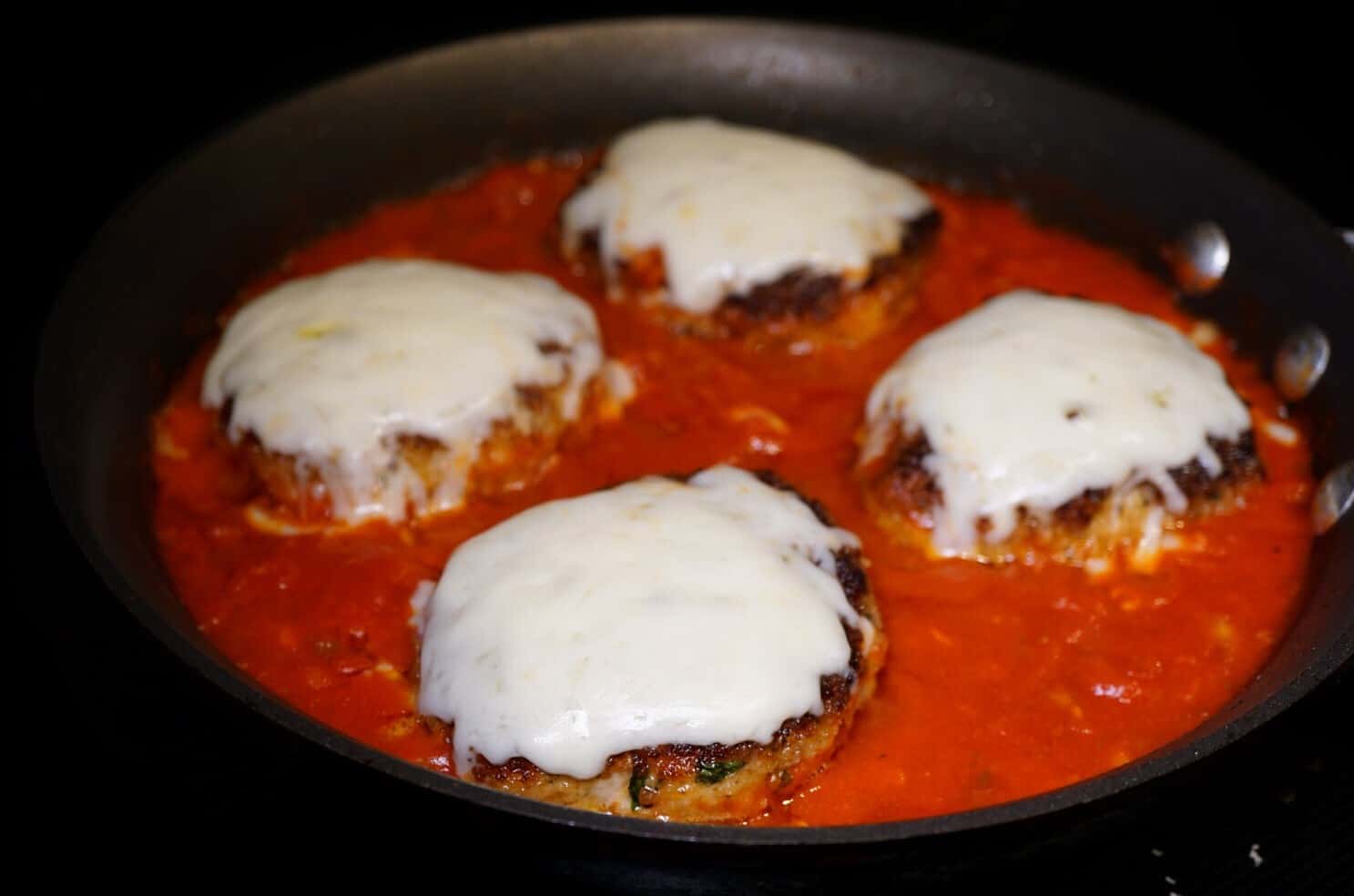 Since I'm really not a big red meat kind of girl I typically opt for chicken when I'm not eating seafood or a plant-based dinner. Sometimes it can be tough to mix things up, but I do have a few good chicken recipes up my sleeve!
Are chicken burgers healthy?
Yes, they are a lean source of protein and aside from the bun, there is nothing in this recipe that I would label as "unhealthy".
Burgers are typically deemed unhealthy and high in fat and calories due to the high fat content from the ground beef. In addition, beef burgers can be high in dietary cholesterol and saturated fat.
If you want to treat yourself to a juicy beef burger, you do you, if you want to stay on the healthier side today, try switching to ground chicken.
You can also wrap them in lettuce wraps as a low-carb burger option.
Sunday Meal Prep
I'm always looking for new meal prep recipe ideas. Chicken Parmesan Burgers are a quick weeknight dinner, this recipe yields 4 servings can easily be doubled to for Sunday meal prep. Instead of using burger buns, I placed the chicken patties over rice and topped them with fresh basil.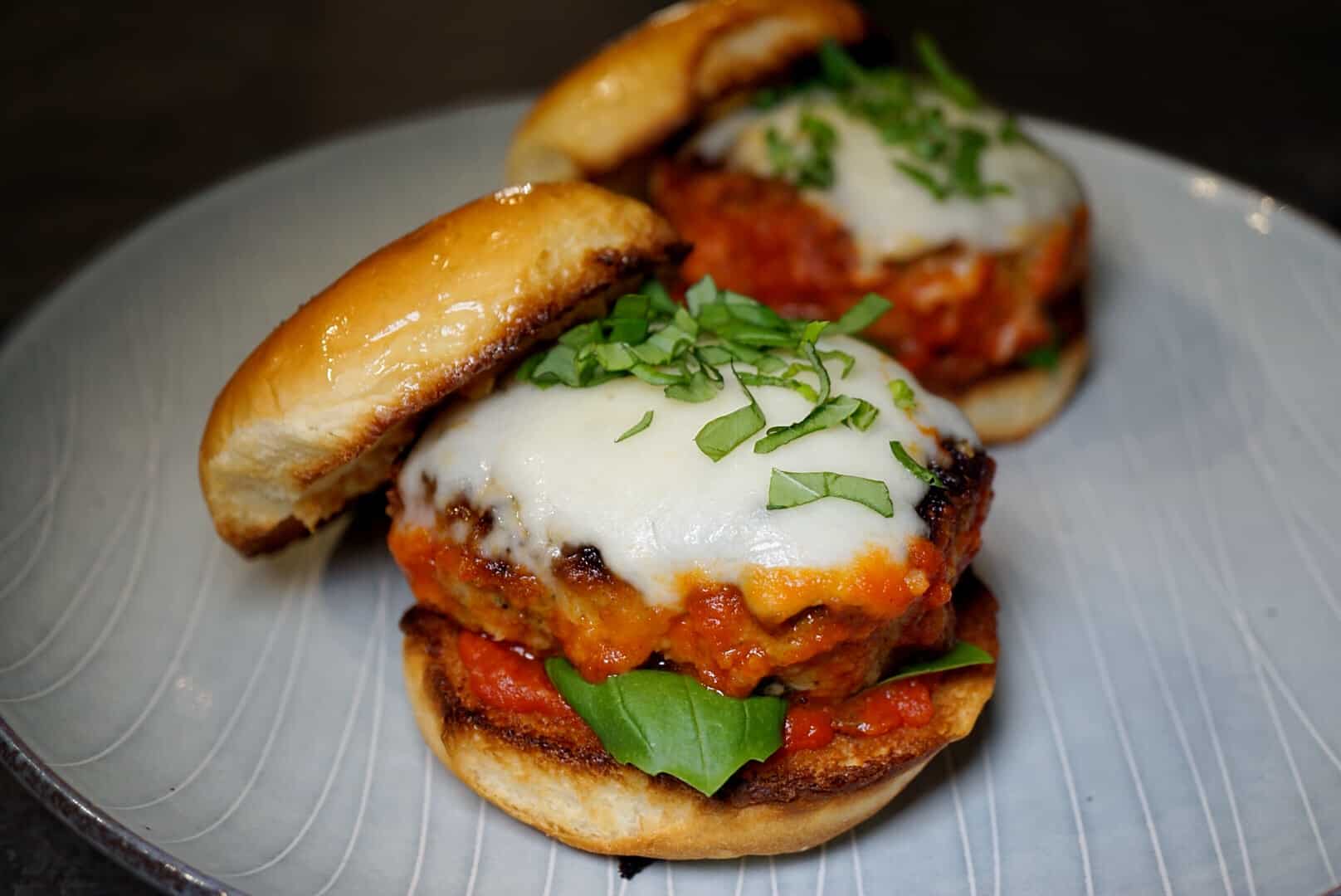 Recipe notes
If you don't have Italian bread crumbs, you can add Italian seasoning to panko or bread crumbs as a substitute
Substitute butter for 3 tbsp of DIVINO Butter infused olive oil as a healthier alternative ('JZEATS' will save you 40%).
Save some fresh chopped basil to garnish your burgers if you like extra basil flavor.
To keep the butter from burning, it's best to remove it from the heat when there are a few small pieces left and stir until it's completely melted.
Get out of your typical burger rut and sink your teeth into a juicy, cheesy Chicken Parmesan Burger on a garlic butter bun. You'll have dinner from stovetop to tabletop in 30 minutes!
More Chicken Recipes To Try
WANT TO TRY THIS CHICKEN PARMESAN BURGER RECIPE?
PIN IT to your chicken recipes or burger recipes board to save it for later!
Find me on Pinterest for more great recipes. I'm always pinning!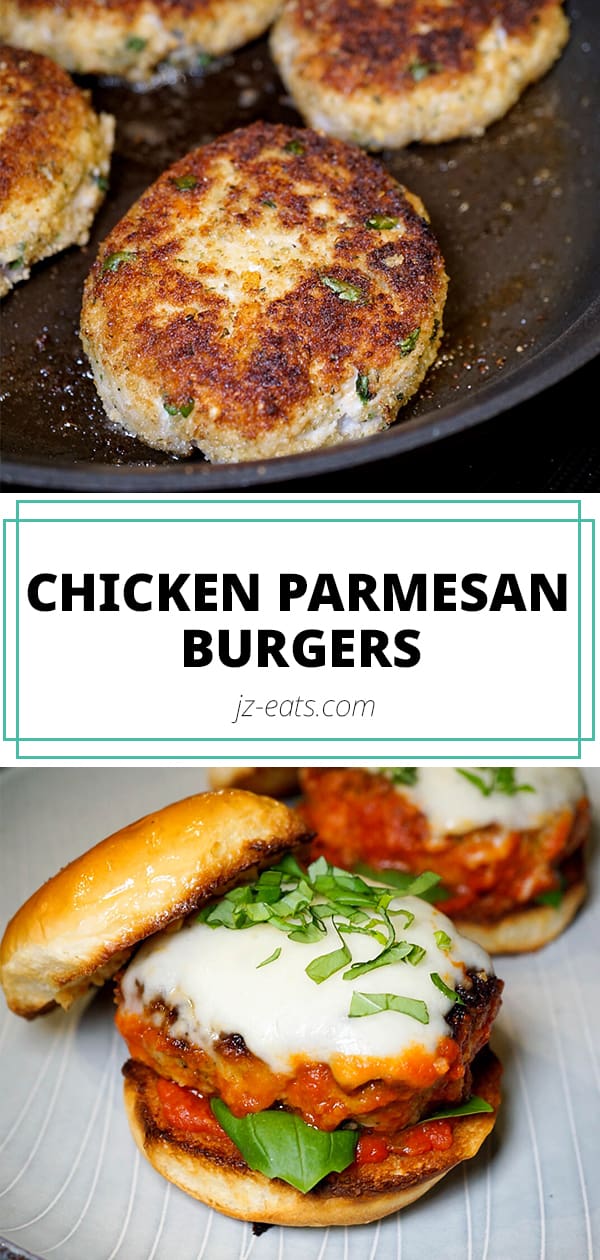 Chicken Parmesan Burgers
Chicken Parmesan Burgers are the perfect mix of everyone's favorite Italian classic and an American favorite, the burger. They don't require much prep and the cook time is short.
Ingredients
1

lb

ground chicken

1/2

cup

italian bread crumbs

4

fresh basil leaves

2

cups

marinara sauce

1/4

cup

parmesan cheese

1 1/2

cups

shredded mozzarella cheese

1

tsp

red pepper flakes

1

tsp

dried thyme

1

tsp

dried oregano

1/2

tsp

garlic powder

1

tbsp

olive oil

1/2

stick

softened butter

4

burger buns

1

tbsp

minced garlic

salt and pepper to taste
Instructions
Preheat oven to 400 F.


Cut butter

into small pieces, and melt in a small saucepan over low heat or in the microwave for 20 seconds or until completely melted. See recipe notes for tips on how to keep the butter from burning.

In a small bowl, mix melted butter and minced garlic. Lay each burger bun flat on a foiled baking sheet, inside facing up. Using a silicone brush, coat the inside of each burger bun with the butter mixture. Bake for 3-5 minutes or until buns are toasted to your liking.

In a large mixing bowl, combine chicken, basil, parmesan cheese, red pepper flakes, thyme, oregano, garlic powder, and salt.


Form chicken mixture into 4 equal sized patties, about 1/4 inch thick.

Add Italian bread crumbs to a small bowl, then toss each chicken patty in the breadcrumbs until fully coated.

In a large skillet, heat olive oil on medium-high heat. Cook the chicken patties for 4-5 minutes on one side. Flip patties when the bottom has turned golden brown and add marinara sauce to the pan. Top each chicken patty with mozzarella cheese and reduce heat to medium-low. Simmer chicken patties covered for 4-5 minutes or until cheese has melted and chicken patties are fully cooked.

To serve: spread marinara sauce from pan on the bottom half of each bun, then layer with 2 fresh basil leaves, and chicken patties.
Notes
*You can make it leaner by using less cheese and replacing the buns with lettuce wraps
Nutrition
Calories:
296
kcal
|
Carbohydrates:
20
g
|
Protein:
25
g
|
Fat:
14
g
|
Saturated Fat:
6
g
|
Cholesterol:
69
mg
|
Sodium:
825
mg
|
Potassium:
570
mg
|
Fiber:
2
g
|
Sugar:
4
g
|
Vitamin A:
665
IU
|
Vitamin C:
5.1
mg
|
Calcium:
311
mg
|
Iron:
2.5
mg