This post may contain affiliate links which will not change your price but will share some commission. Please read my privacy policy.
A Beyond Meat Burger recipe that will blow your mind! This vegetarian burger tastes so much like the real thing, no one will believe it's plant-based!
If you love this recipe, make sure you check out these Veggie Burgers next.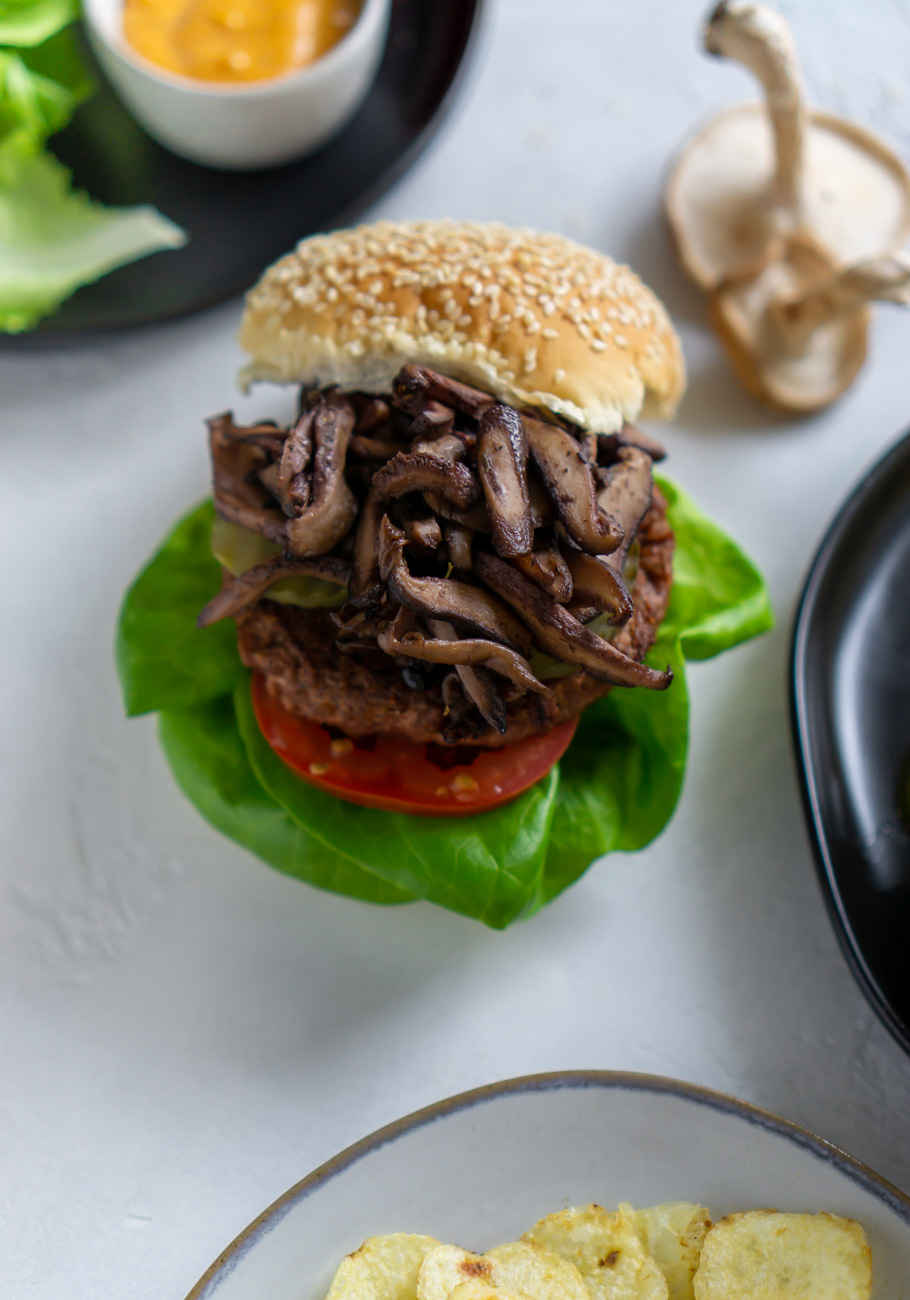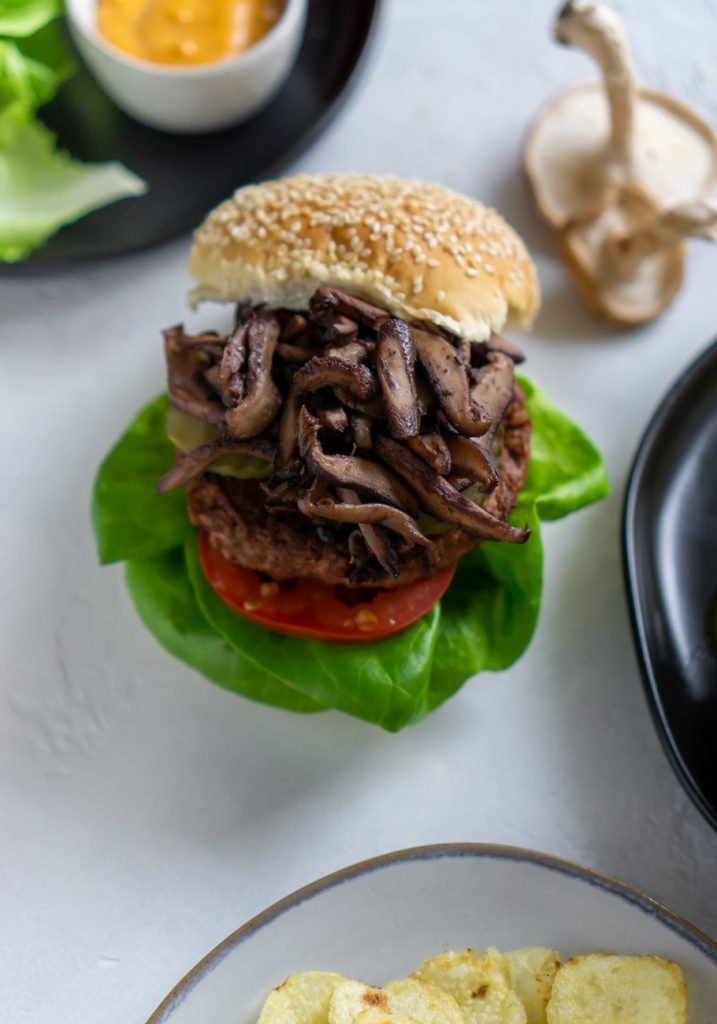 Beyond Meat Burgers are juicy and loaded with toppings like sautéed mushrooms, crisp lettuce, fresh tomatoes, and a fried egg.
This post was developed in paid partnership with Sprouts. Thank you for being supportive of me working with brands I use and love!
Beyond Meat Burger Recipe
If you follow me on Instagram, you've seen me make these burgers many, many times over the past year.
I'm finally taking that recipe to paper, I mean the blog, and sharing it with you!
This all started as a fridge dump recipe when all I had were Beyond Meat Burgers, one tomato, mushrooms, a handful of spinach, pickles, and some eggs.
I've made a few variations of these "fridge dump burgers" but they're all generally the same. Sometimes I'll use sautéed spinach instead of lettuce or I'll switch up the condiments.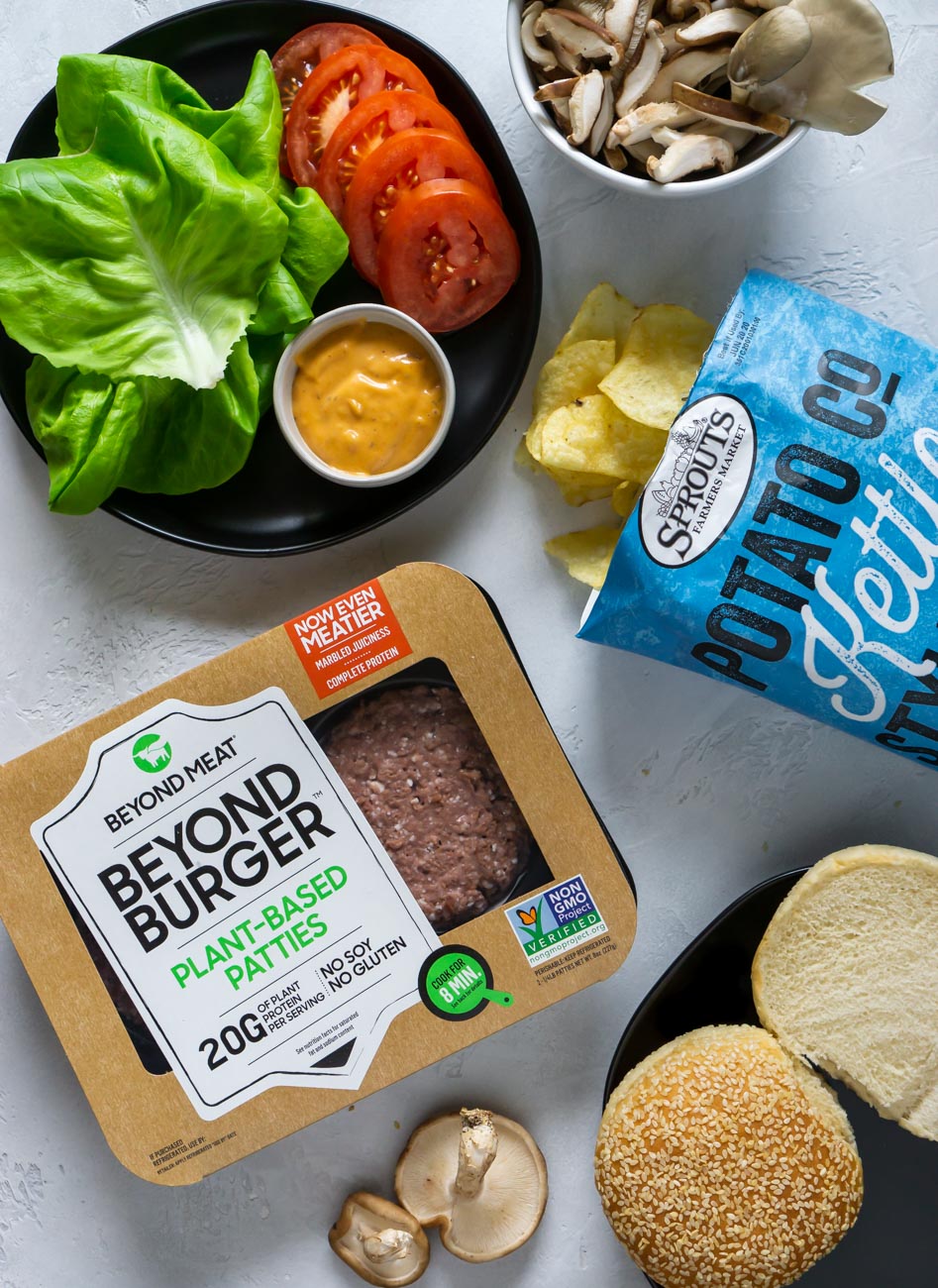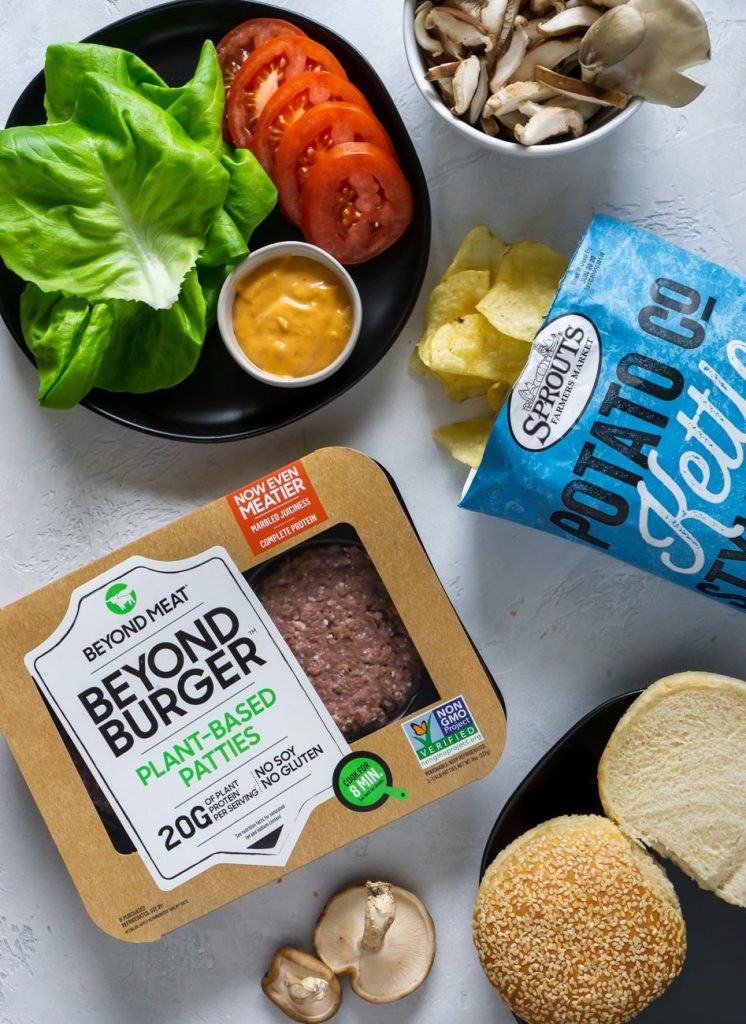 These burgers are perfect if you're looking to incorporate more plant based meats or when you just need something quick!
Wild Mushroom Beyond Meat Burger Ingredients
To make this vegetarian burger recipe, all you need are:
Beyond Meat burger patties
hamburger buns
wild mushrooms
lettuce
tomato
pickles
2 fried eggs
And the best part is, you can find all of these ingredients at your local Sprouts! I think most of us like our grocery shopping to be a one-and-done type of deal because who likes hunting down the exact recipe ingredients from multiple grocery stores?!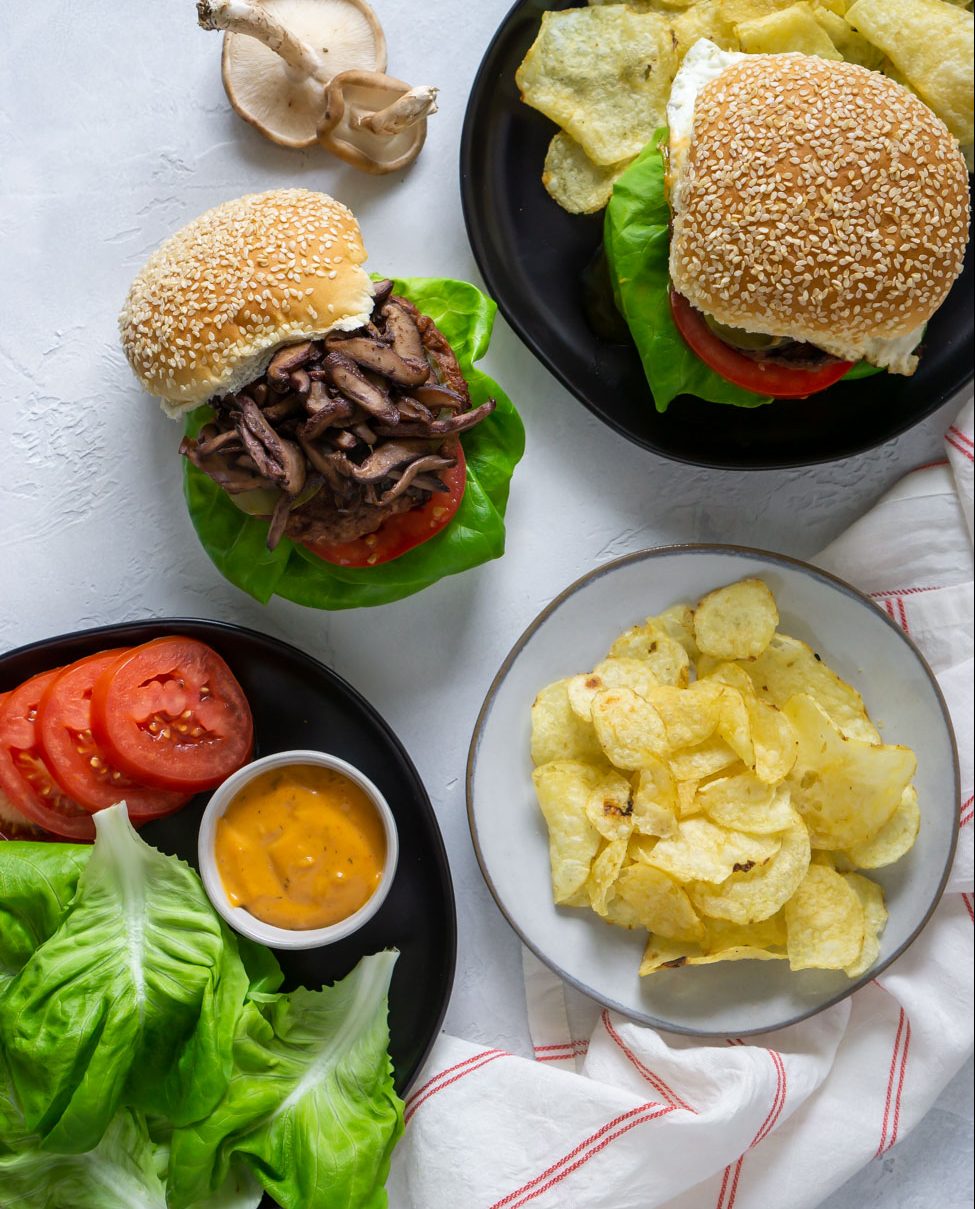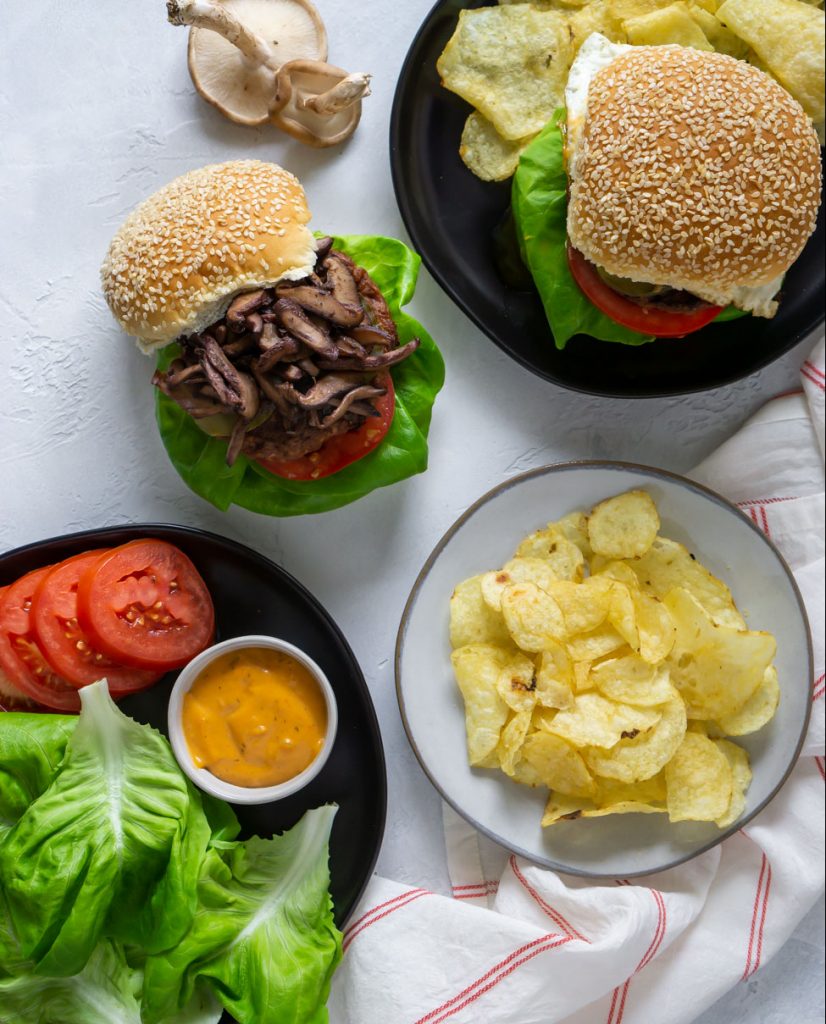 Especially when you're already busy with life, whether you're working more than 40 hours a week or taking care of the kids, no one has time for multiple trips to the grocery store!
I love Sprouts because I can get each and every thing I need there, and can always count on it to be high quality and fresh.
What Do Beyond Meat Burgers Taste Like?
The Beyond Meat Burger is a plant based burger burger that looks and cooks just like a ground beef burger.
Don't get it twisted. Beyond Meat burgers are not beef. Duh. It would be crazy to say that these vegan burger patties taste just like beef burgers but….they are pretty darn close and tasty in their own way. And if you're craving that juicy burger, these should satisfy the craving!
Trust me, its a darn good veggie burger.
The Beyond Meat Burger calories are surprisingly low, too. Often times, you might see the vegetarian alternative to foods you love spike in caloric intake, but these are right around the same as a beef burger.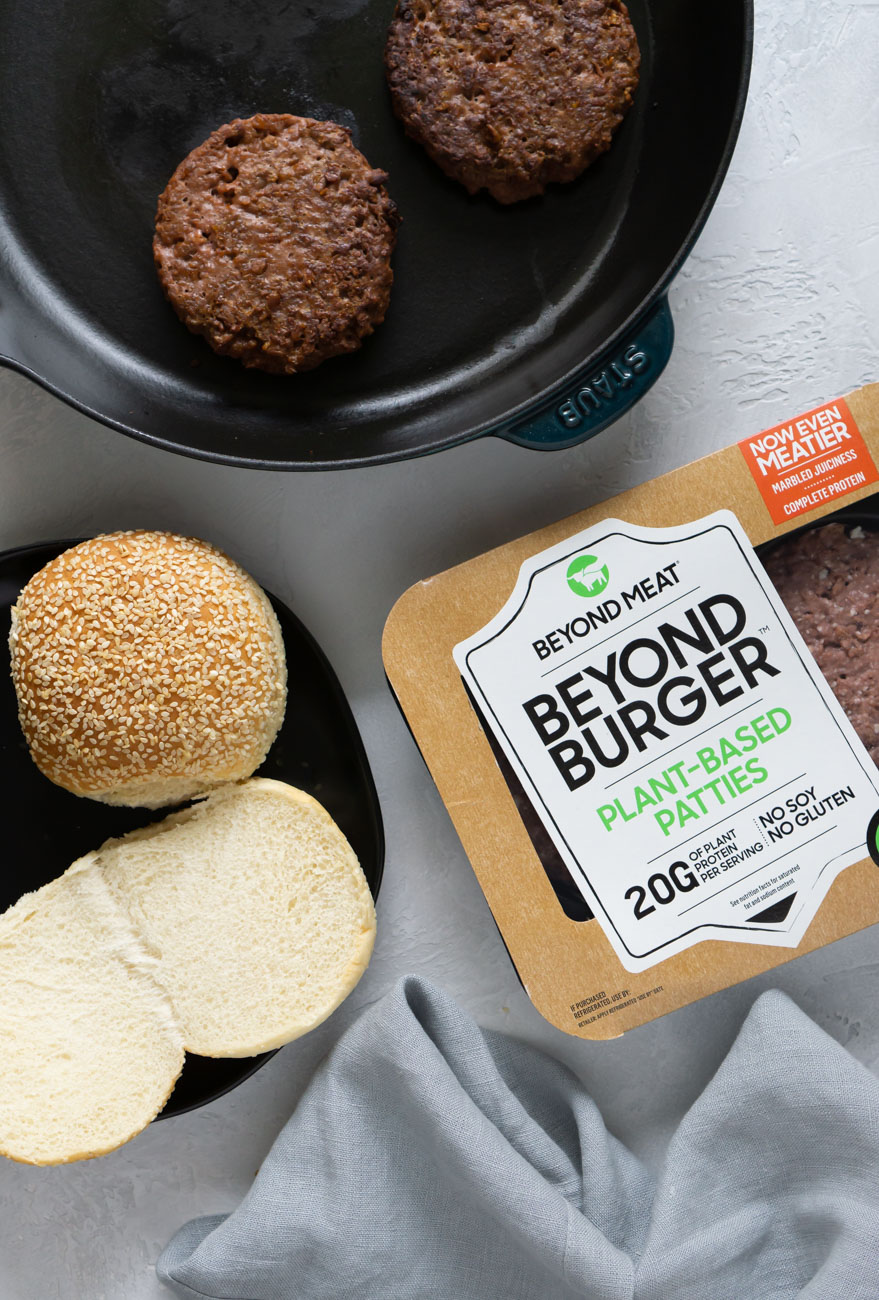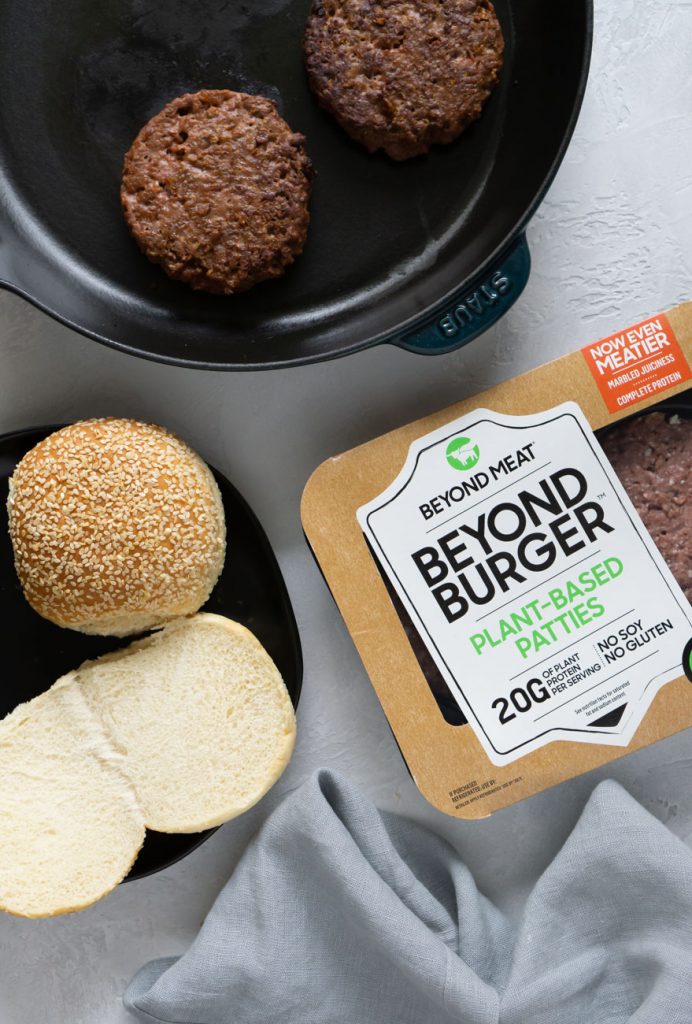 How To Make Beyond Meat Burgers
I've seen so many people overcook these burgers. Let me remind you that these burger patties are not raw beef, so they don't need to be cooked to a crisp!
To make the burgers, heat a non-stick skillet on medium heat with a drop of olive oil. Then cook each patty for 2-3 minutes on each side. They should have a nice sear, but not overcooked.
How To Make The Best Sautéed Mushrooms
Mushrooms are my jam you guys. I don't mean to toot my own horn, but I make the BEST sautéed mushrooms. Friends who don't even like mushrooms have told me they only like them when I make them, so that says something!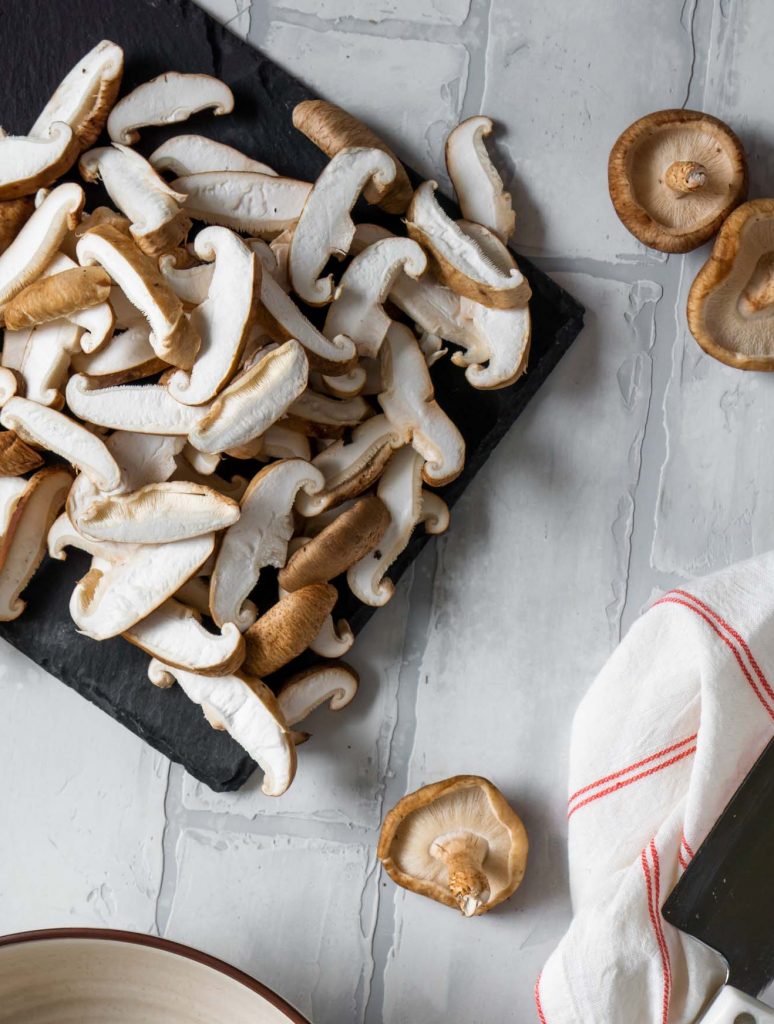 Here's how I make the best sautéed mushrooms:
Preheat a non-stick skillet with 2 tbsps of olive oil on medium-high heat. This is the one I have.
Add the mushrooms and toss to coat. Then I like to sprinkle in some all-purpose seasoning, onion powder, garlic powder, thyme, salt, and pepper. Toss to coat again and let the mushrooms sit for about 1 minute before tossing in the pan again. Cook them for a total of 3-4 minutes, only stirring occasionally. I love when they get a little crispy!
That's pretty much it! They're super easy to make and rich in flavor. My favorite mushrooms to use are a wild mushroom blend or shiitake, but you can use other mushrooms if you like.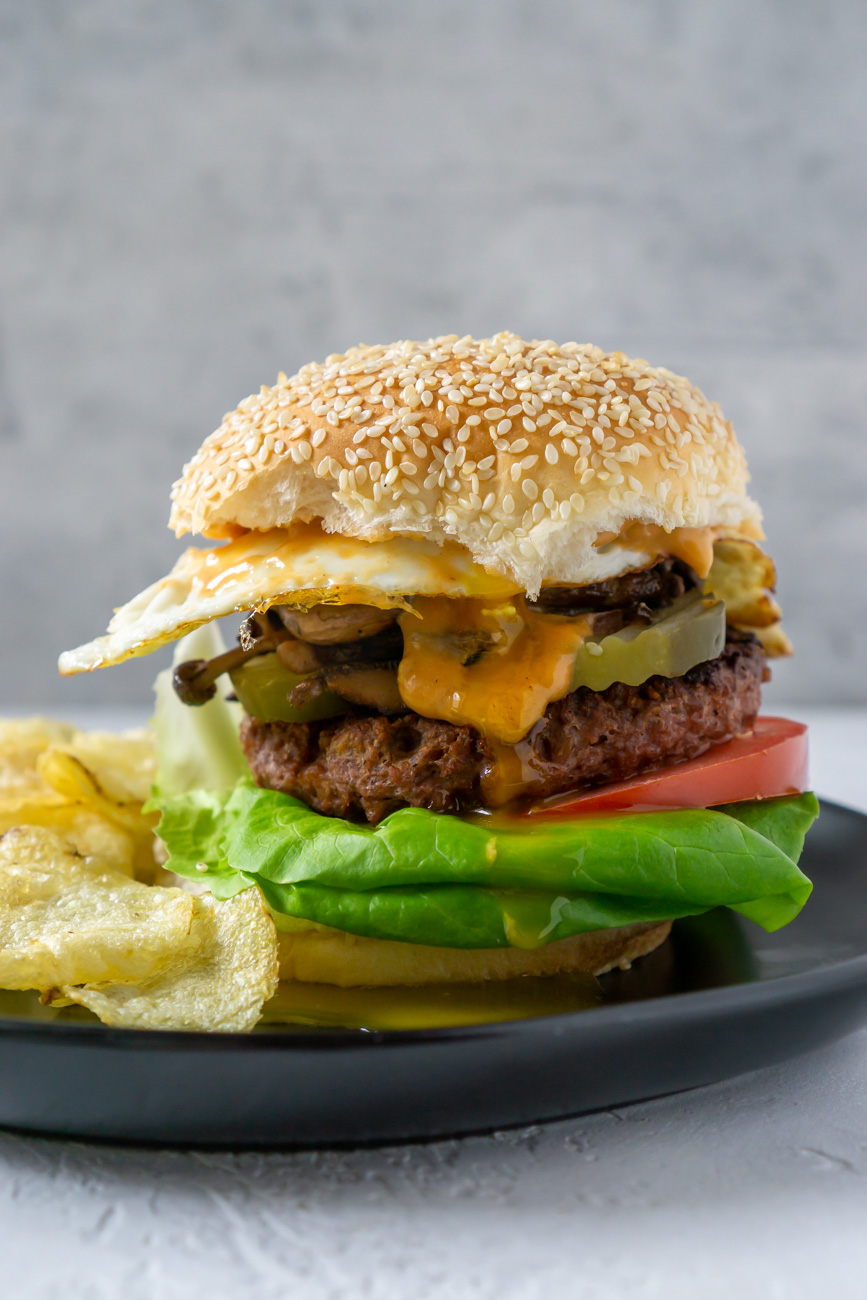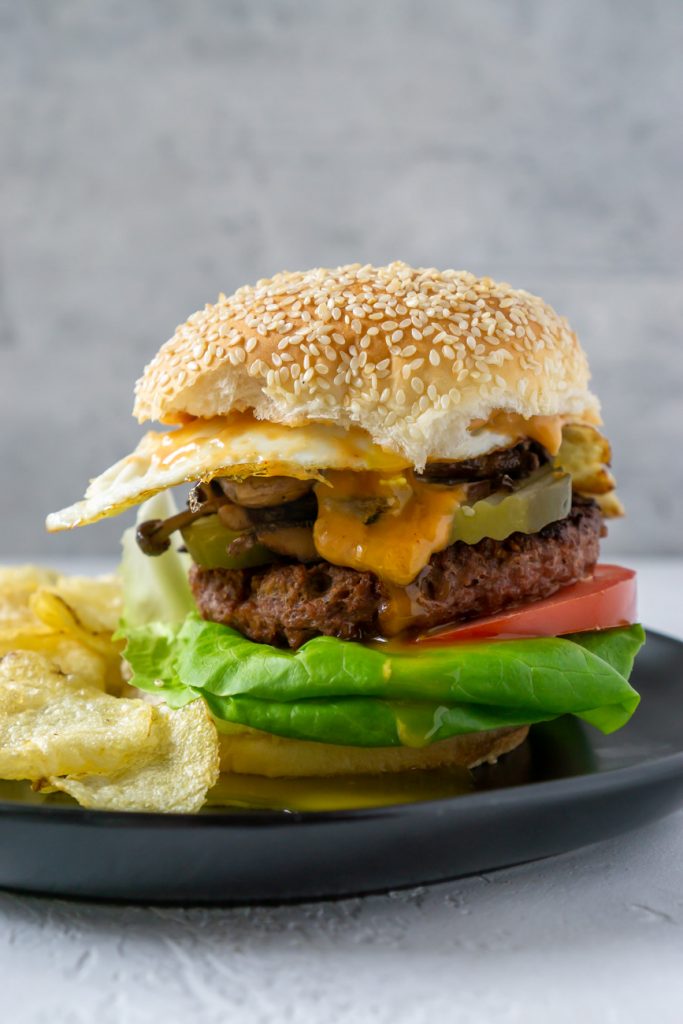 Questions You Might Have
What is beyond meat made out of?
Beyond Burgers plant based and made without GMOs or synthetically produced ingredients. Fats, minerals, flavors, and colors are sourced from plant-based ingredients like peas, potatoes, brown rice, and beans.
Are beyond meat burgers healthy?
They contain 8% of the recommended daily value of fiber and 20 grams of protein. Some nutritionists have even deemed them healthier than their competitor, the impossible burger.
If you have any dietary restrictions, be sure to speak with your healthcare provider.
Is beyond burger healthier than beef?
Beyond Burgers contain 0 cholesterol, while a beef patty contains about 80 MG. They are also lower in saturated fat than beef burgers.
Should you season beyond burgers?
The burgers have a lot of flavor, but you can season them with salt and pepper before cooking if you like.
More Plant-Based Recipes You Might Like
Try these mushroom recipes next!
WANT TO TRY THIS WILD MUSHROOM BEYOND MEAT BURGER RECIPE?
PIN IT to your burger recipes, vegetarian recipes, or dinner recipes board to save it for later!
Find me on Pinterest for more great recipes. I'm always pinning!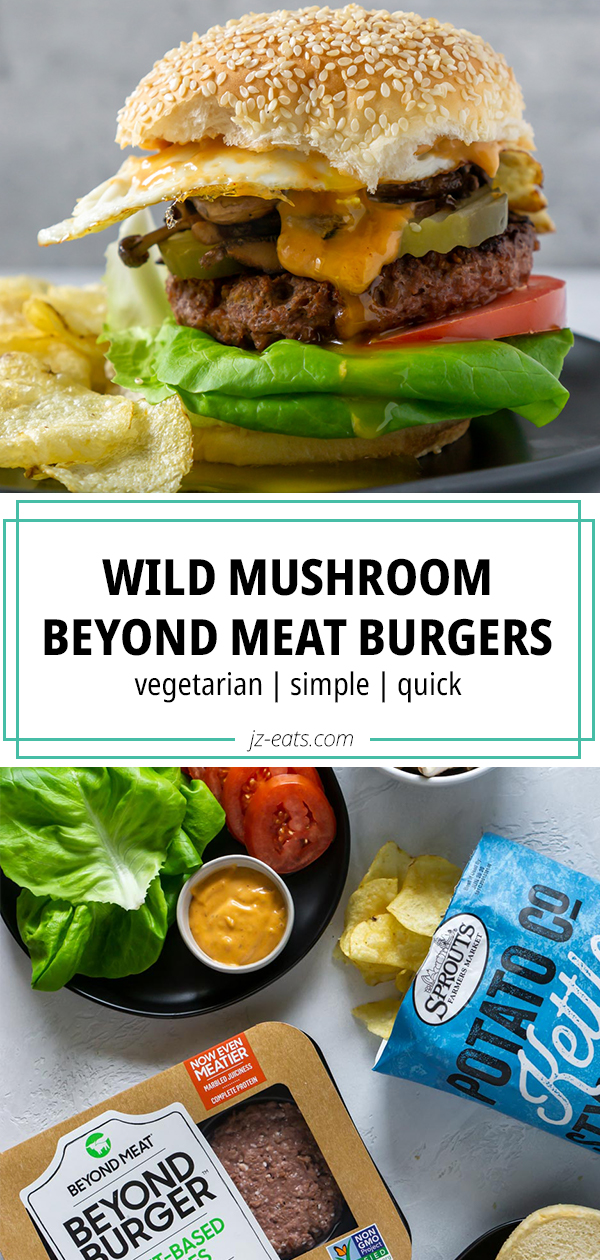 Did you make this recipe? Post a photo on Instagram and tag me @JZEATS or #JZEATS so I can see! Leave a comment below and let me know what you think, too!
Wild Mushroom Beyond Meat Burgers
A Beyond Meat Burger recipe that will blow your mind! This vegetarian burger tastes so much like the real thing, no one will believe it's plant-based!
Ingredients
2

Beyond Meat burger patties

2

buns of your choice,

toasted

8

ounces

wild mushrooms,

or shiitake

4

bibb lettuce leaves

1

beefsteak tomato

pickles

2

eggs

1/4

teaspoon

garlic powder

1/4

teaspoon

onion powder

1/4

teaspoon

dried thyme
Instructions
In a medium non-stick skillet, heat 2 tbsps of olive oil on medium-high heat. Add the mushrooms, toss to coat, then add salt, pepper, onion powder, and garlic powder. Toss to coat once more and allow the mushrooms to cook undisturbed for 1 minute. Toss the mushrooms and cook for 3-4 more minutes until they are cooked to your liking. Set aside.

Add a splash of olive oil to the pan and reduce the heat to medium. Add the Beyond Meat burgers and cook for 3-4 minutes on each side. Don't overcook them! Set aside.

In the same pan, increase the heat to medium-high and add 1 tbsp of olive oil. Crack both eggs in the pan and cover with a tight fitting lid for 1 minute. Remove the lid and cook uncovered for 2-3 minutes until the white part has set.

To serve, spread a generous layer of special sauce on the top bun and place the lettuce on the bottom bun, followed by a tomato, the burger, pickles, mushrooms, and top with the fried egg.
Nutrition
Serving:
1
g
|
Calories:
262
kcal
|
Carbohydrates:
23
g
|
Protein:
26
g
|
Fat:
10
g
|
Saturated Fat:
2
g
|
Cholesterol:
33
mg
|
Sodium:
481
mg
|
Potassium:
113
mg
|
Fiber:
9
g
|
Sugar:
8
g
|
Vitamin A:
247
IU
|
Vitamin C:
28
mg
|
Calcium:
147
mg
|
Iron:
4
mg