This post may contain affiliate links which will not change your price but will share some commission. Please read my privacy policy.
Potatoes are a household staple and can be used in many ways – mashed, air fried, baked or even smashed. With over 200 different types of potatoes, how do you know which one is right for your recipe?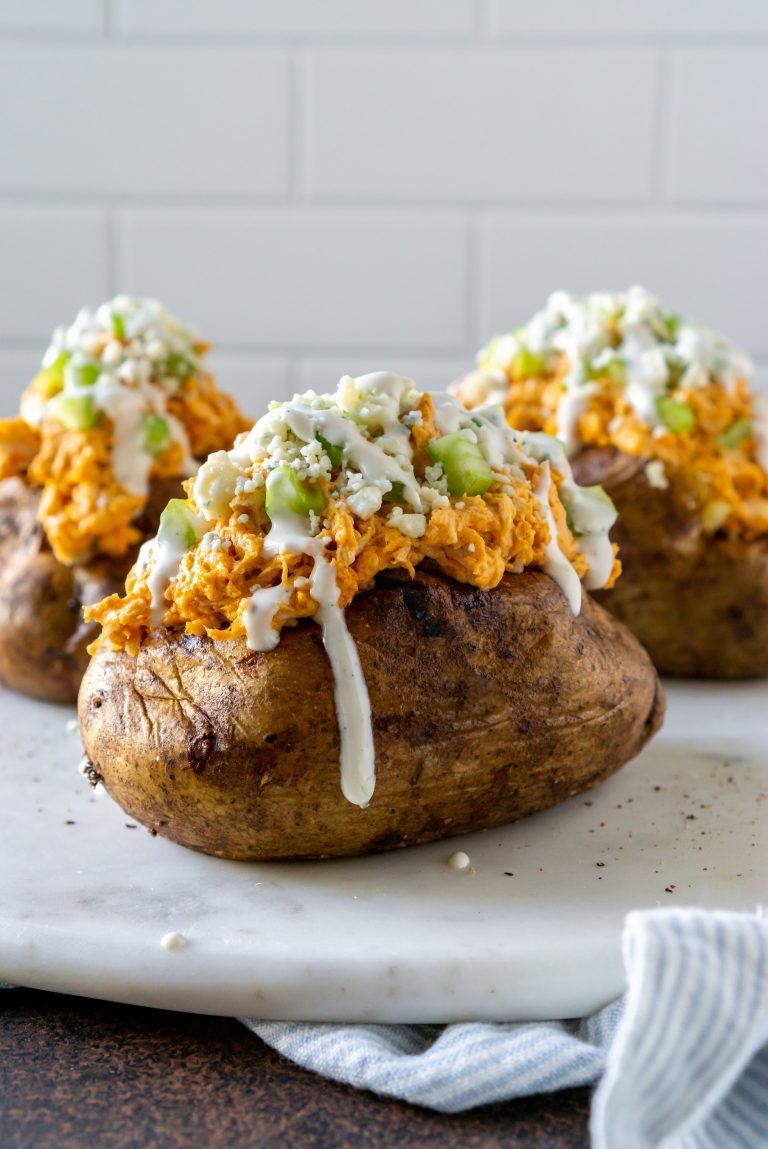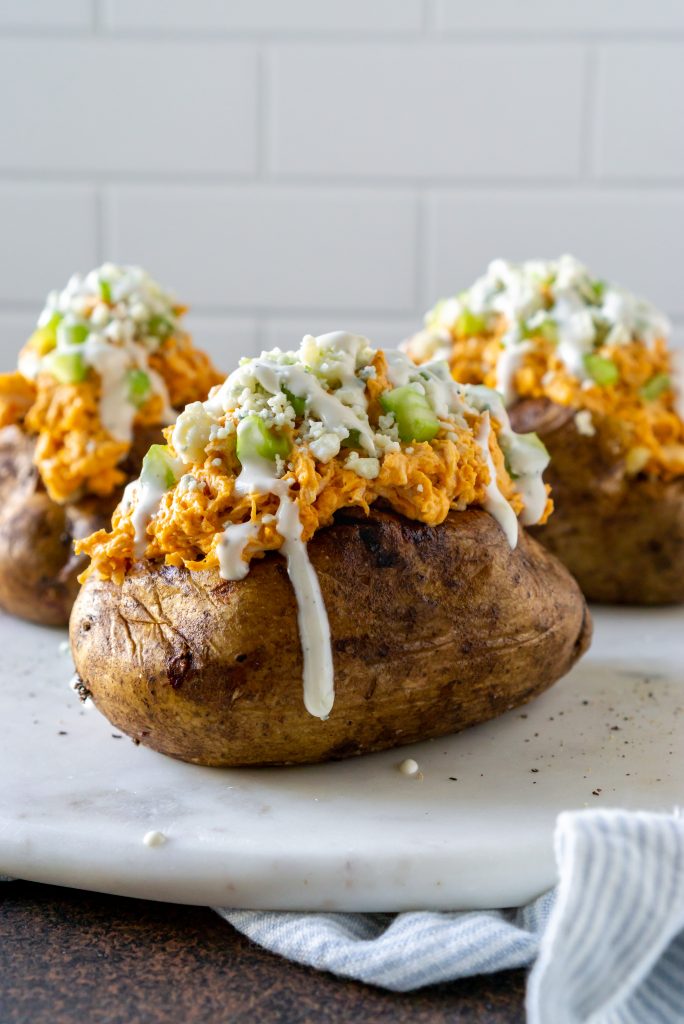 Ahhhh, the potato! Who doesn't love potatoes? They're one of the few foods you can use for breakfast, lunch, and dinner! You can prepare them as a main dish or as a side dish.
There are so many ways to use all of the different types of potatoes! French fries, au gratin, potato chips, or even a delicious baked potato topped with sour cream. The list goes on and on.
A great way to use your different kinds of potatoes are in potato recipes like Roasted Garlic Mashed Potatoes to Easy Potato Latkes, I can guarantee there is a potato dish that you'll love!
Some potatoes are used more than others; these are my favorites
Russet Potatoes: also known as an "Idaho potatoes" or "regular potatoes." The Russet potato is probably the first thing that comes to mind when you think of a potato; I mean, who can resist a Twice Baked Potato!? They have a rough brown skin, and if cooked correctly, they will have a light and fluffy texture in the center. Russet potatoes are most commonly used for baking or mashing.
Red Potatoes: reds are known for their waxy and red skin. This makes them the perfect potato to be used in potato salads. No need to peel them before use; the skin becomes soft while they're cooking.
Yukon Potatoes: delicious and buttery; Yukon gold potatoes are used for roasting, frying, and mashing. The skin gets crispy and delicious when thrown in the air fryer. They're also known as "golden potatoes" due to their golden color.
Baby Potatoes: also known as "creamer potatoes" or "petite potatoes," these potatoes are commonly used in my recipes like, these Smashed Potatoes Nachos or these Roasted Garlic Potatoes due to their versatility. They're the perfect potato for roasting or air frying.
Fun Fact: you may be thinking, "What about sweet potatoes?" Well, a sweet potato isn't actually a potato! While potatoes are part of the nightshade family, the sweet potato comes from the morning glory family! Because sweet potatoes are so dense, they can be a perfect base for a complete meal like these Pesto Chicken Stuffed Sweet Potatoes.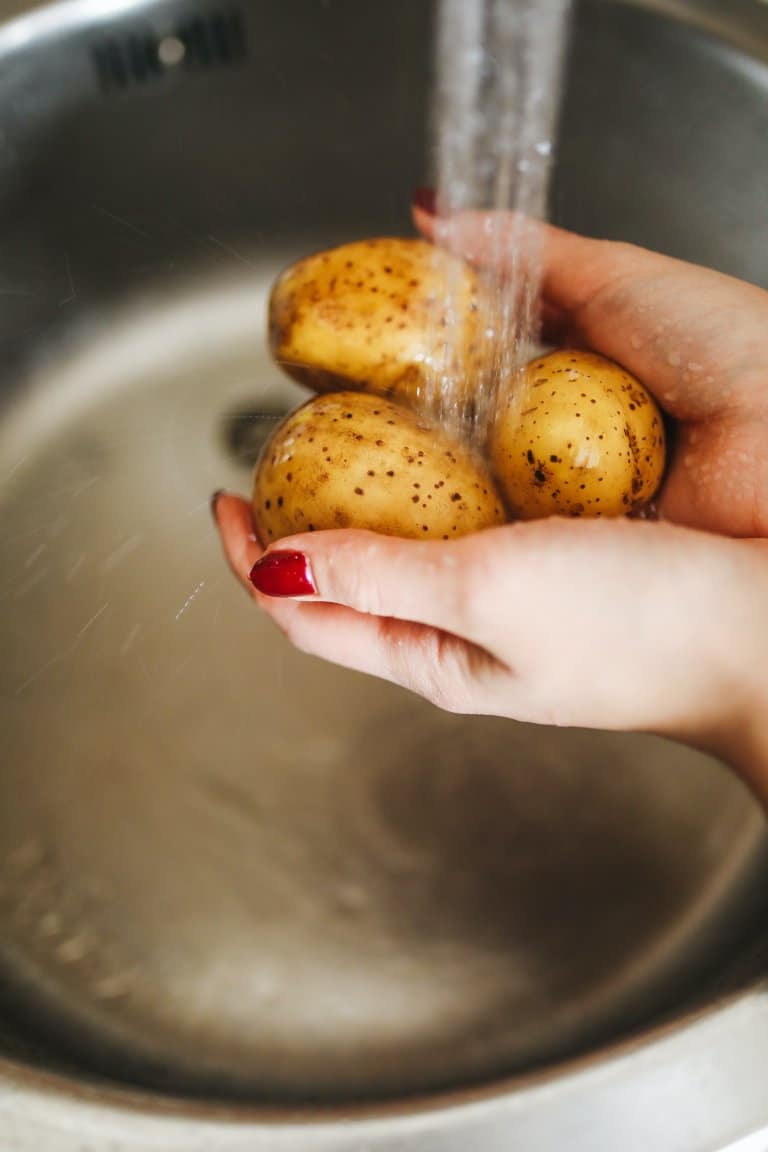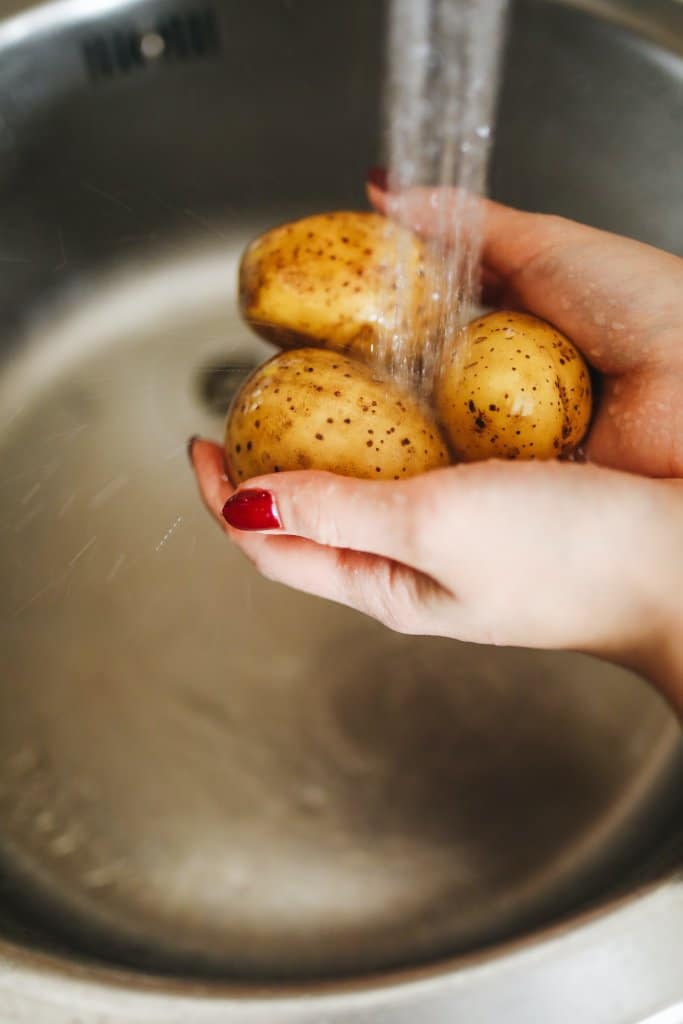 How do I clean my potatoes?
Cleaning potatoes is a super easy task but also necessary! You always want to clean your potatoes before using them so that you can make sure all of the dirt and germs are off.
The best way to do this is to run your potatoes under lukewarm water to remove any soil and dirt. You can use a potato brush to scrub your potato and get any dirt that remains off. Be sure to properly clean your potato before making any recipe that calls for potatoes.
Top Tips for Making the Best Baked Potato
What type of potato should I use for baked potatoes?
Be sure to start with an Idaho russet potato. They are a great choice for baking because they are a large size and low in moisture but have a high starch content – the perfect combination for the perfect, fluffy baked potato. Stay away from types of potatoes like red or Yukon for baked potatoes; they are too waxy and won't come out correctly.
Should I season my potatoes?
You can if you'd like! After washing and drying, I love to rub mine in olive oil and sprinkle on some kosher salt. It makes the skin taste like a french fry.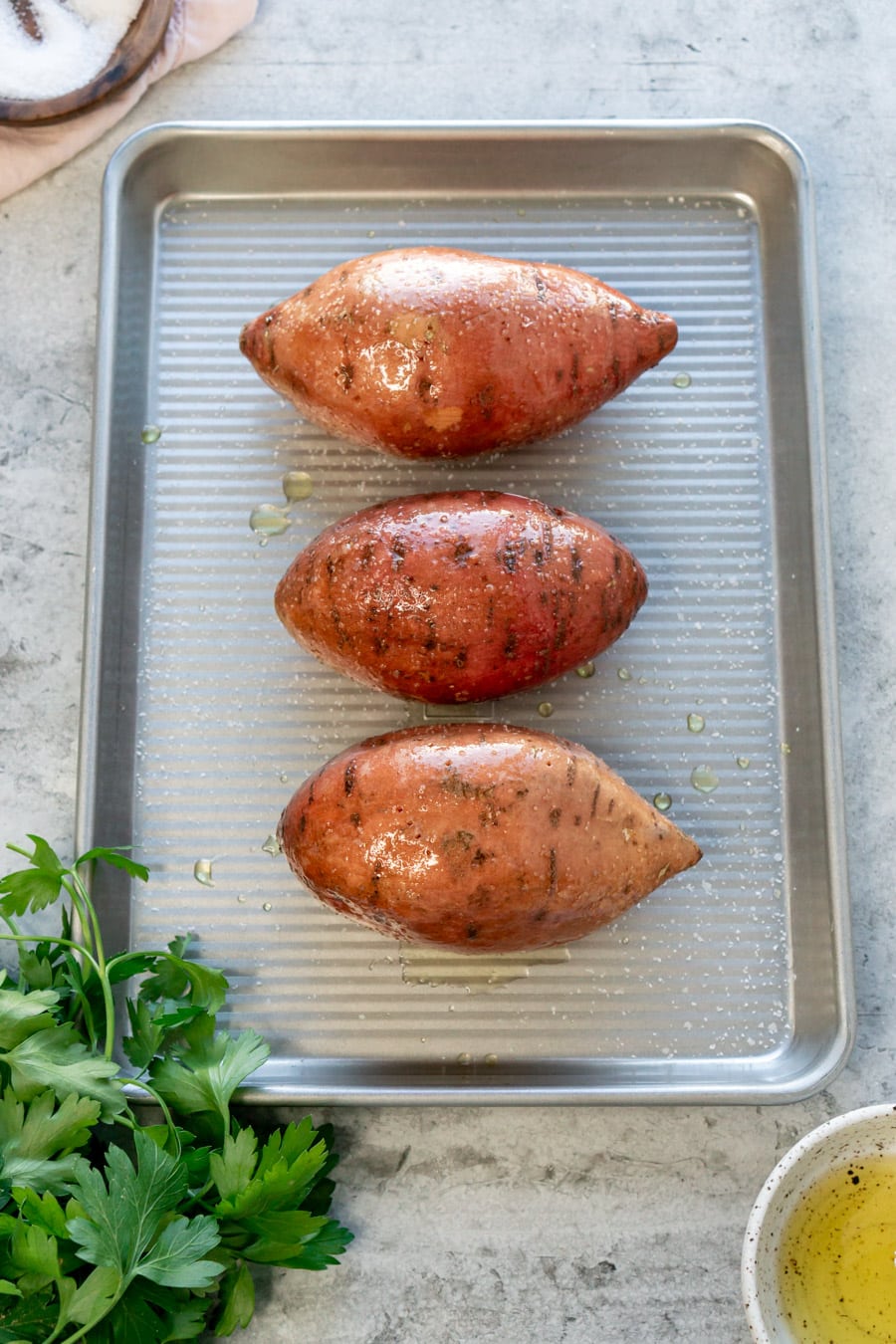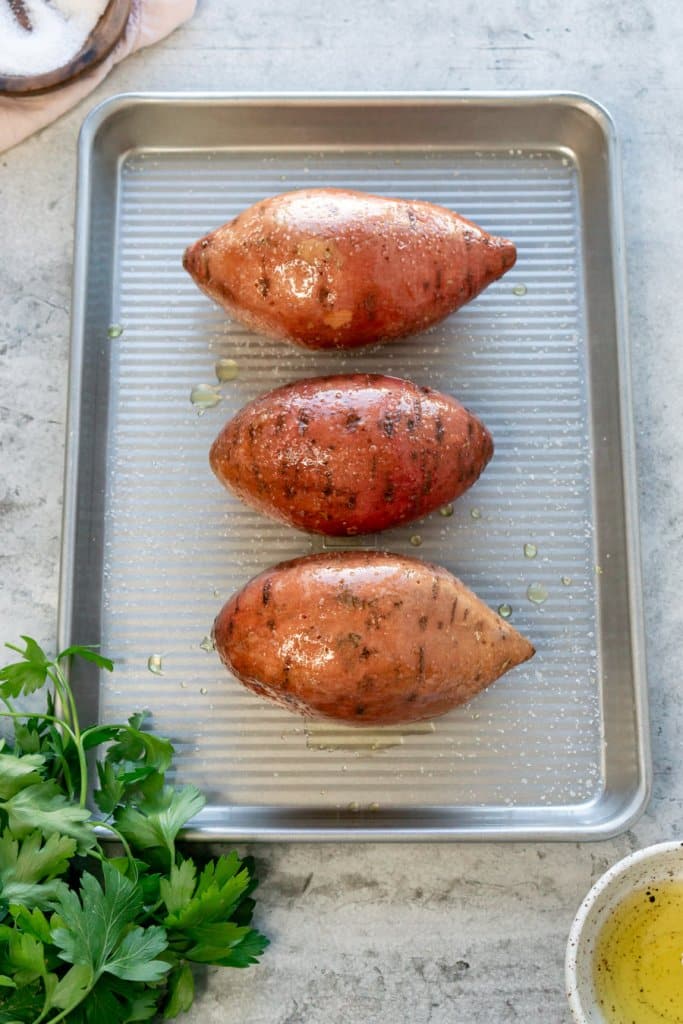 Should I poke holes in them before baking?
Absolutely! Poking holes in your raw potato with a fork will create tiny holes that allow steam to come out while cooking. If you don't poke some holes, your potato won't have anywhere to let the steam out, therefore allowing it to burst open in your oven. No one wants to clean that up!
Should I use foil?
No! While wrapping your russet potato in foil does help it steam, it also will make it soggy and gross. Skip the foil! Instead, place them on a baking sheet about an inch apart, allowing the air to circulate evenly around them.
How can you tell if a baked potato is done?
First and foremost, do not try to squeeze the potato with your bare hands! They will come out of the oven SUPER hot. Grab some oven mitts and give them a little squeeze to see if it's soft.
The other option is to gently poke it with a knife or fork and see how easily it cuts through. If it slides in easily, your potato is done!
What are the best types of potatoes for potato salad?
Choosing the right potato is so essential when making potato salad. It can either make or break it. You don't want to put all of the hard work into making your salad for it to turn out to be mashed potatoes.
To keep that from happening, be sure to use waxy potatoes like red or Yukon golds. One of my favorite things to do is to add in some purple potatoes for color! If you're making last minute potato salad and only have russet, you can totally make it work. Be sure to chop them before cooking, and keep an eye on them, so they don't get too soft.
What is the best way to store potatoes?
The perfect place to put them is in a crate in a dark area, like your pantry or cupboard. Another great way to store them is in a basket, but any well-ventilated storage container will work well; they just need open air so any excess moisture can escape. Also, keep them away from onions – they will cause them to spoil a little faster.
Best Potato Peelers
A potato peeler is one of the most versatile and commonly needed tools in your kitchen. A potato peeler can peel carrots, cucumbers, or any other vegetables or fruit that you need to remove the skin.
You can also use it to shave parmesan cheese or even make vegetable ribbons. There are so many different kinds of potato peelers, and they go from simple all the way to electric. Some of my favorites are:
Best Potato Recipes
Now that you know all about the different kinds of potatoes and what type of potatoes to use in each recipe, here are some of my favorite potato recipes to help you get started!