This post may contain affiliate links which will not change your price but will share some commission. Please read my privacy policy.
Blackened Shrimp Tacos are a healthy, gluten free, and Whole30 compliant recipe to take your standard cajun shrimp recipe to the next level.
I love these Blackened Shrimp Tacos because they're easy to make and healthy. They are on the lighter side, but loaded with flavor. I'm a big seafood fan, so I prefer these shrimp tacos over beef tacos any day!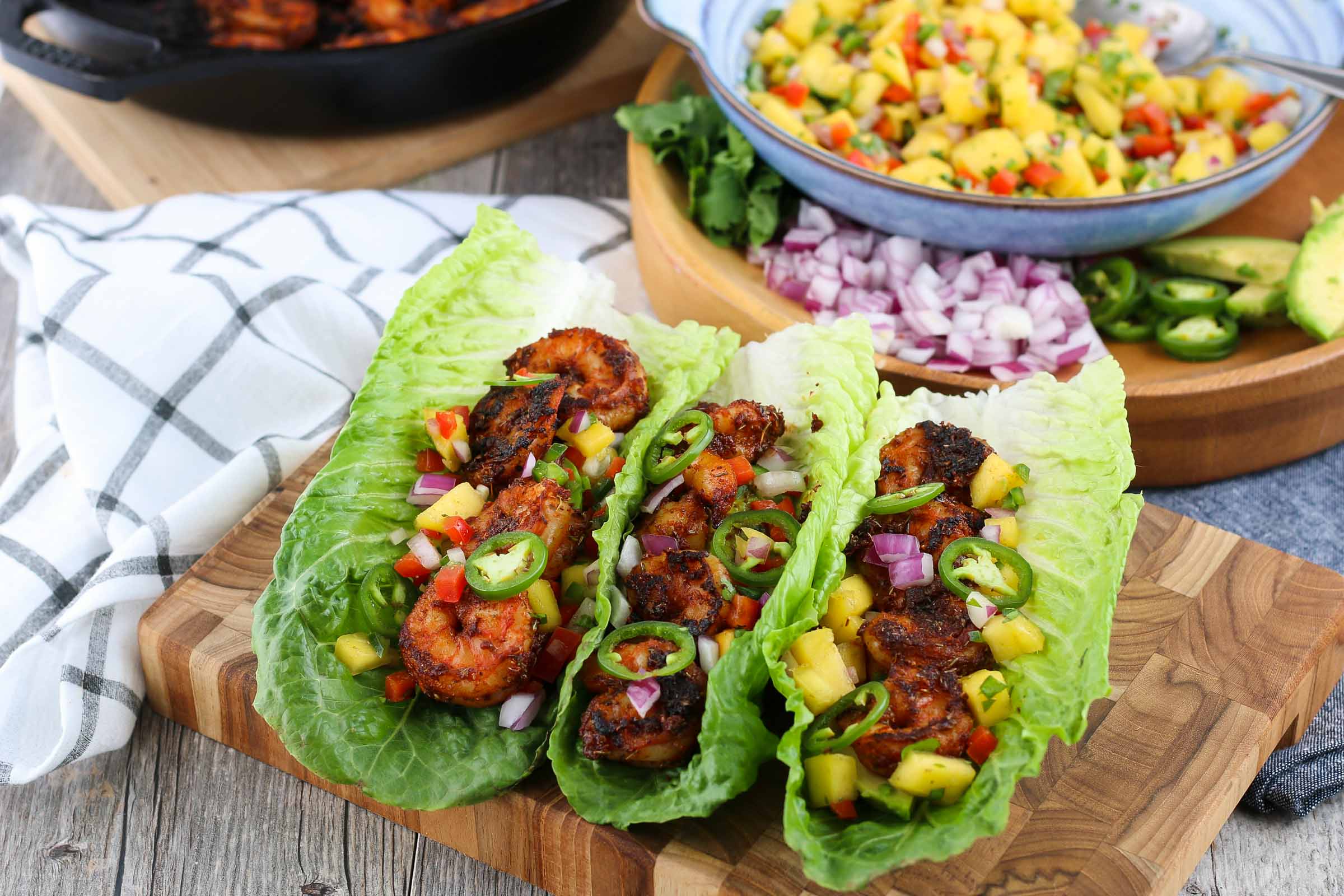 BEST SHRIMP TACOS
Who's looking for a bit of a healthier alternative for Taco Tuesday? I've gotta tell you, we're always down for tacos in my house! You may have tried my Slow Cooker Pulled Pork Tacos or my Blackened Shrimp Taco Bowl.
After a busy day, there is nothing better than making a simple and tasty dinner the whole family will love. During the week it can be tough to throw a fancy dinner together, but don't worry, you only need about 15 minutes for this one!
They're also great for serving a crowd because you can make lots of tacos at once and everyone can pick their own toppings. You don't need a lot of fancy ingredients to make tacos with shrimp.
If you've never made shrimp tacos before, I think you'll be surprised at how quickly and easily something so delicious comes together.
WHAT ARE BLACKENED SHRIMP?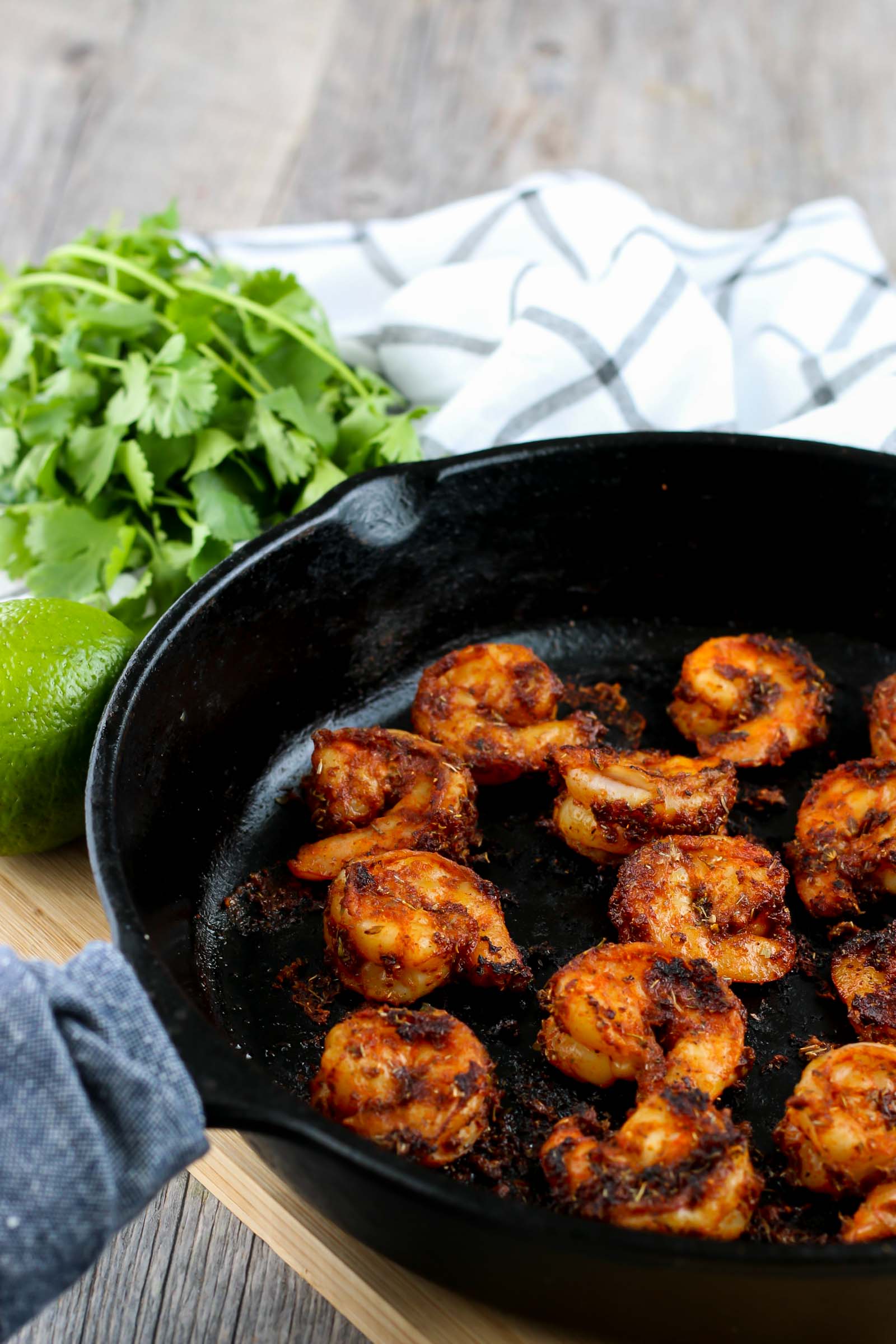 The concept of blackening or blackened food is a Southern cooking technique used to add bold flavors to fish, shrimp, chicken and other food. The mixture of spices create this bold flavor, and this technique is typically used in Cajun cuisine.
See my favorite recipe for blackened shrimp here.
EASY SHRIMP TACO RECIPE
Shrimp cook super fast and they're high in protein, they have a mild flavor and can be seasoned a number of ways. My favorited way to cook them is with blackened seasoning.
They get so crispy and flavorful on the outside, and stay so juicy on the inside.
Shrimp tacos are so easy to throw together when you just need something quick. I know some people get nervous around cooking shrimp or seafood in general because they are afraid to overcook or undercook the fish.
A meat thermometer is helpful when cooking meat or seafood, but you can also tell if shrimp are done just by looking at them.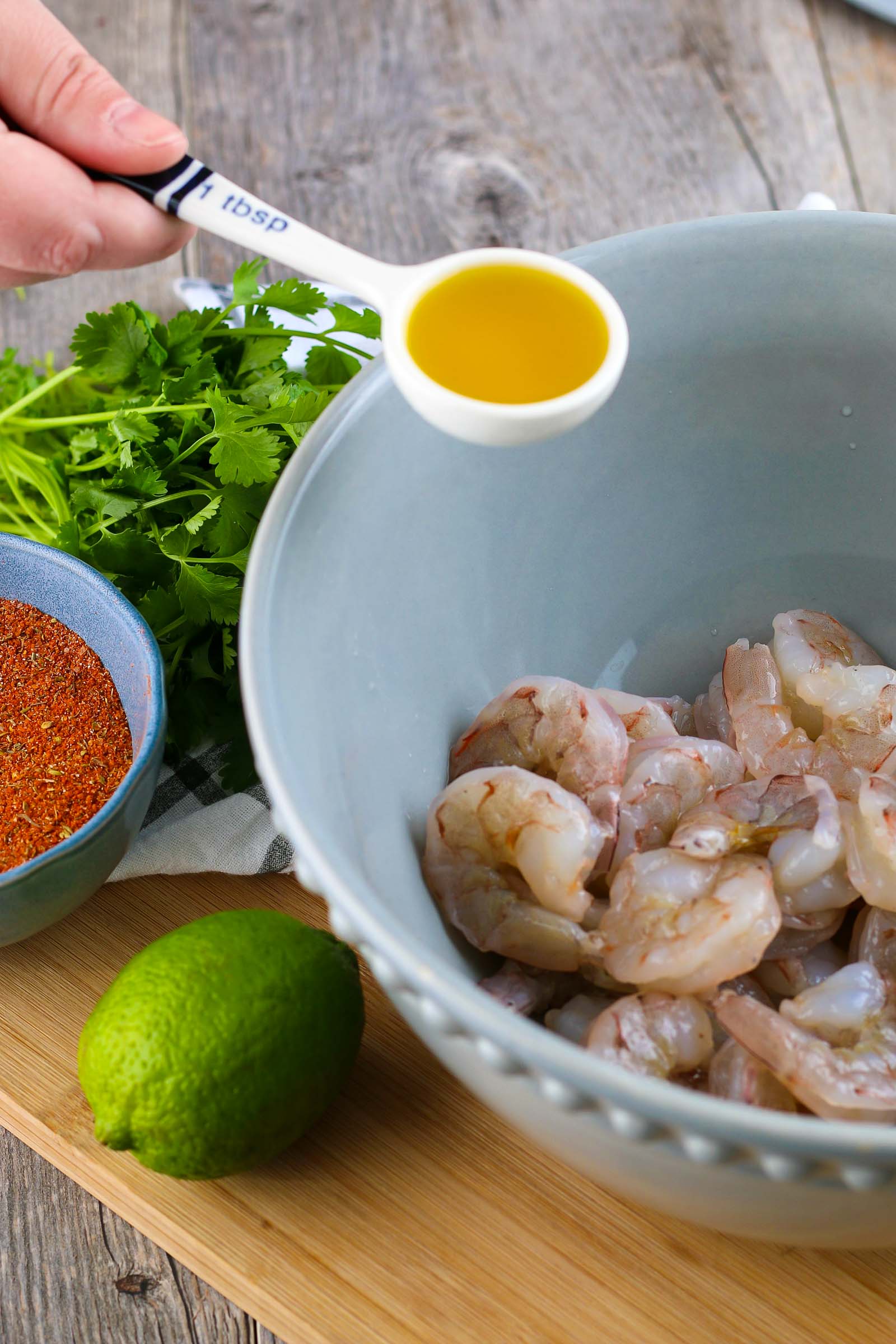 Some shrimp are naturally a grayish color before they're cooked, and are usually translucent. When shrimp are cooked thoroughly, you will notice that they have more of an opaque color.
Something else to note about shrimp is that they cook super fast! So don't start cooking the shrimp too early because they will cook faster they will be ready in just a few minutes. I would prepare everything else for the Shrimp Tacos first and then cook the shrimp!
While cooking with shrimp isn't hard, it's easier to buy shrimp that are already peeled and deveined. It will make cooking these tacos a lot easier! Frozen shrimp are great to have on hand, too. That way you can whip up these tacos any time!
HOW TO MAKE SHRIMP TACOS
Blackened Shrimp Tacos are seriously one of the easiest recipes ever. I love all the fresh ingredients and the blackened seasoning is so easy to make.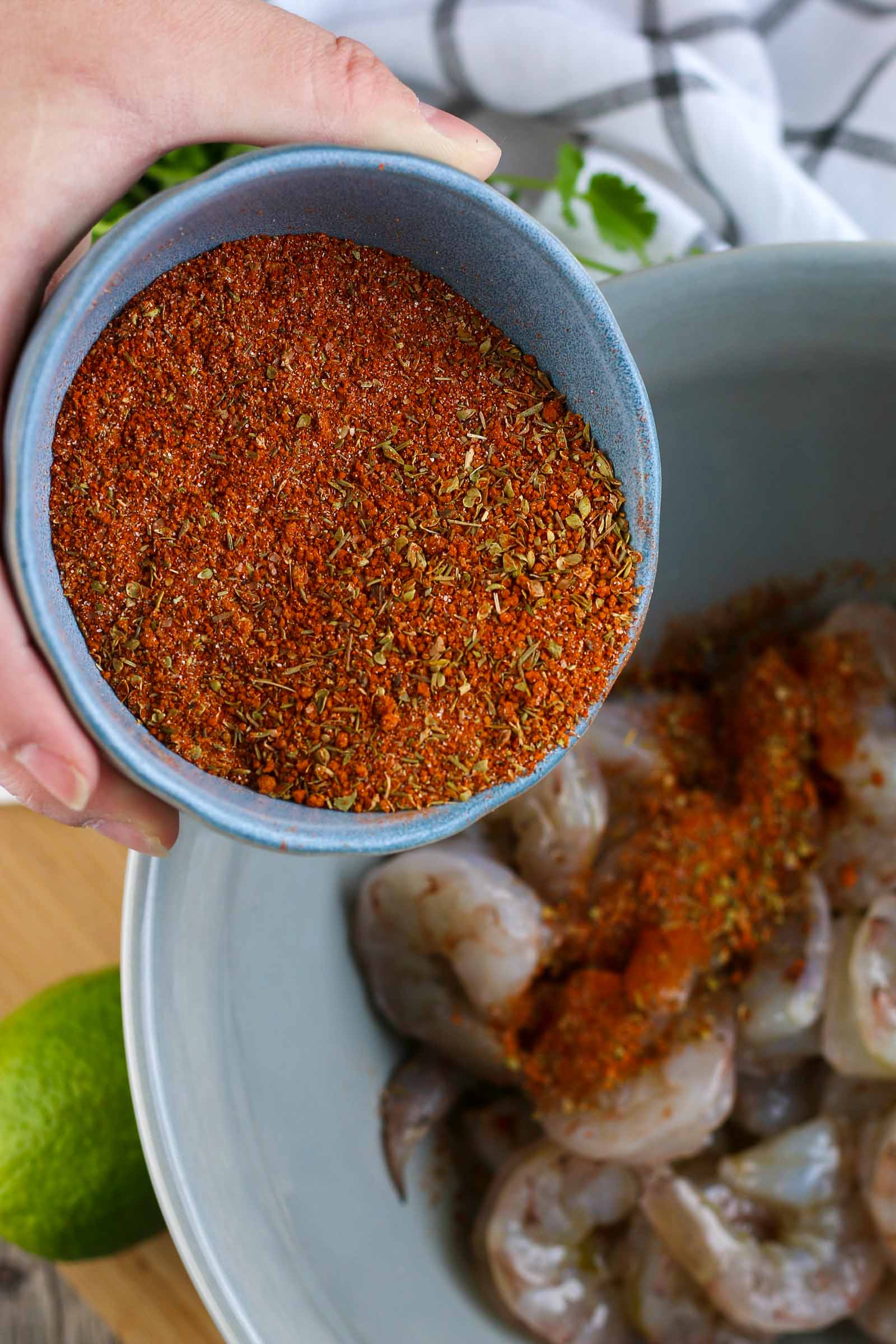 I like to make my seasoning from scratch, that way I know exactly what's going into it and you can control the amount of heat. Add more cayenne pepper if you want to turn up the heat!
You can top them with a variety of different ingredients and sauces. I love adding a green goddess dressing to mine.
To make these shrimp tacos:
1. Prepare the blackened seasoning. You'll want to start by combining all of the seasoning ingredients into a small bowl.
2. Season the shrimp. Toss the shrimp and olive oil together in a small mixing bowl. Then add the seasoning and toss until the shrimp are fully coated.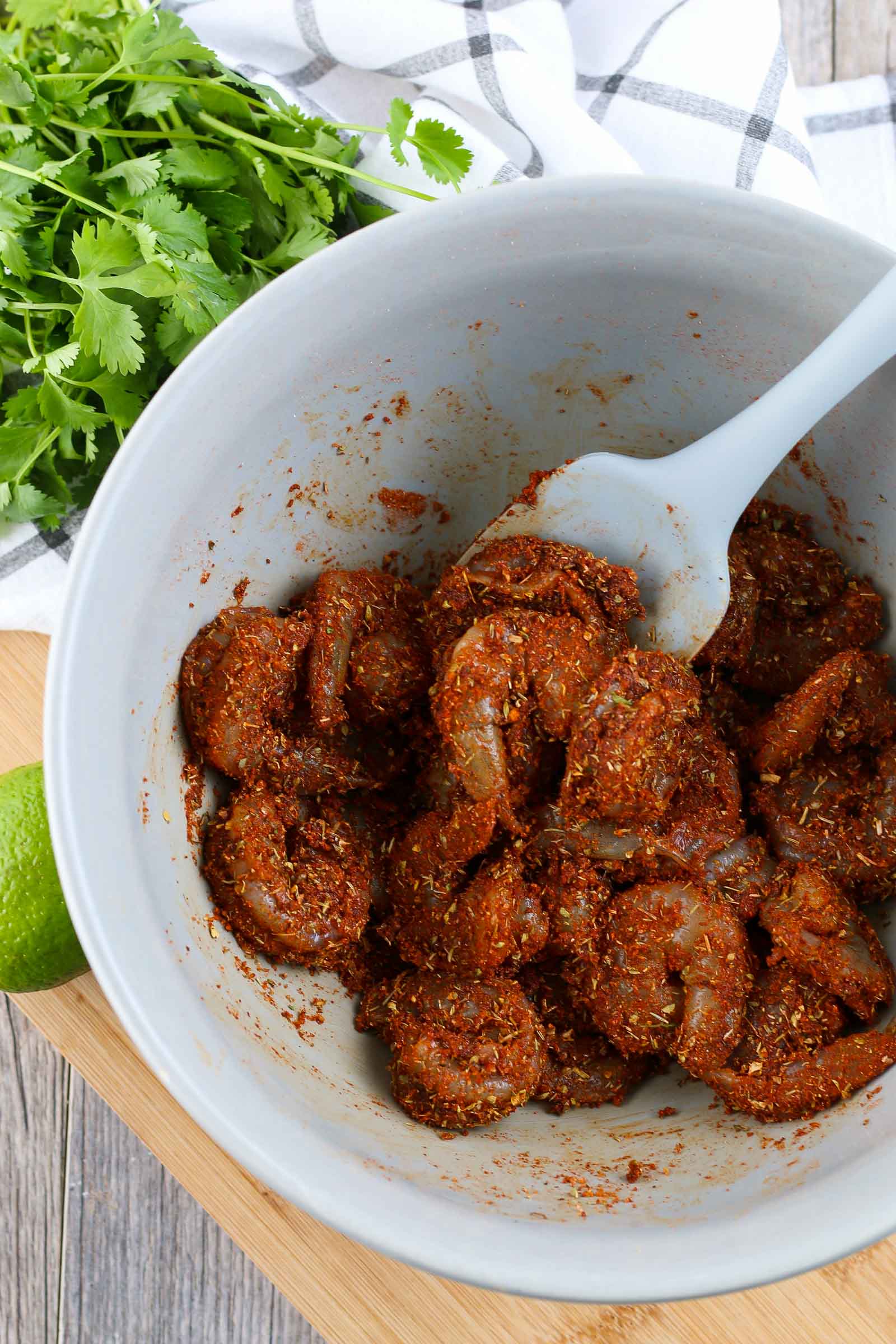 3. Cook the shrimp. Heat a cast iron skillet or nonstick pan with 1 tablespoon of olive oil on medium-high heat until the pan is hot. Add the shrimp (careful not to overlap) and cook for 1-2 minutes on each side or until they are completely opaque.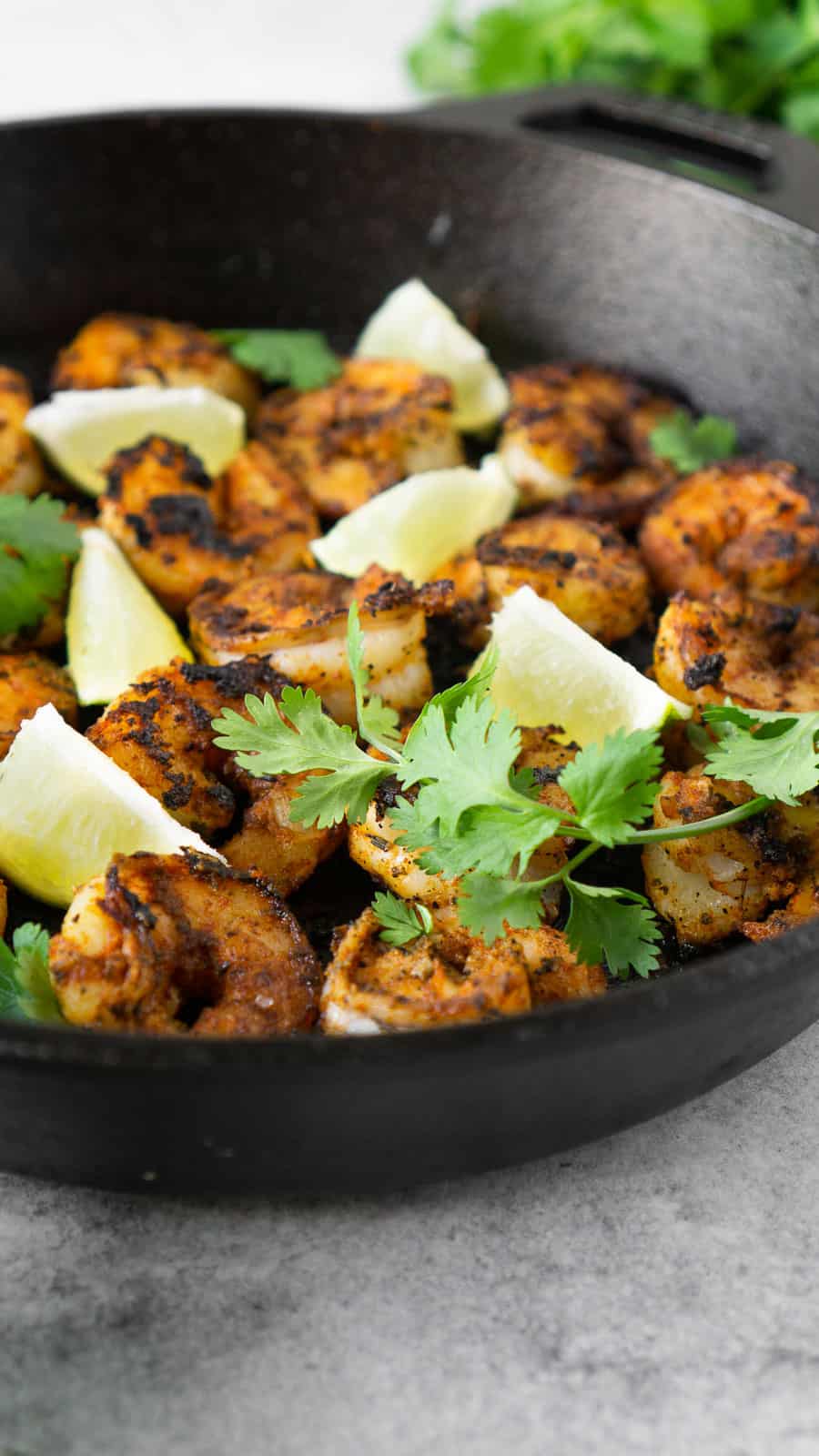 4. Assemble the tacos. After the shrimp are cooked, you can then start putting your tacos together. Everyone likes to do them a little differently so I always put the toppings in small bowls on the table and let everyone build their own.
There is so much creativity that can be added to Shrimp Tacos, so have fun with it!
TOPPINGS FOR BLACKENED SHRIMP TACOS
Toppings are the best part of any taco! I like to load them up with:
Mango salsa
Diced red onions
Tomatoes
Jalapeño peppers
Guacamole
If you're not on the Whole30 diet, try topping them with some corn and shredded cheese.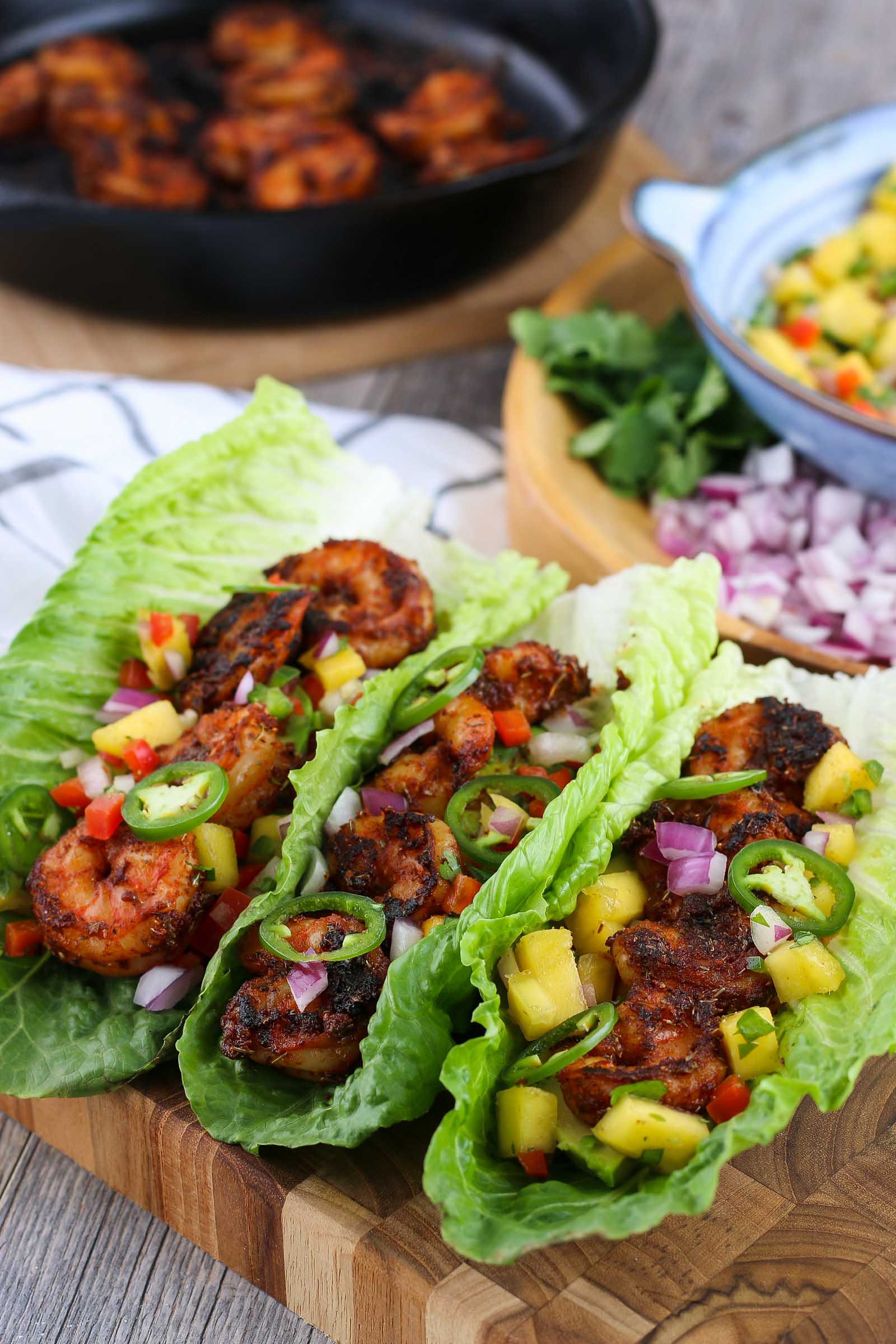 WHAT SHOULD I SERVE SHRIMP TACOS WITH?
Homemade salsa is one of my favorite things to make with these tacos! A standard tomato salsa pairs best, but if you really want to have fun with it, try the avocado salsa from my Pan Seared Salmon Recipe. Mango salsa is delicious on these shrimp tacos, too!
You can serve these Blackened Shrimp Tacos with a side of broccolini or Crispy Air Fryer French Fries or a side of Slow Roasted Mini Potatoes.
CAN I PREPARE SHRIMP TACOS AHEAD OF TIME?
You can absolutely prepare your shrimp tacos ahead of time. Blackened shrimp can be cooked and stored in the refrigerator in an airtight container for 2-3 days.
You can prepare your toppings ahead of time too and store them in plastic storage bags or small containers in the refrigerator.
MORE SHRIMP RECIPES
If you loved this recipe, try some of my other favorite shrimp recipes:
WANT TO TRY THIS BLACKENED SHRIMP TACO RECIPE?
PIN IT to your Whole30 recipes, shrimp recipes, or dinner recipes board to save it for later!
Find me on Pinterest for more great recipes. I'm always pinning!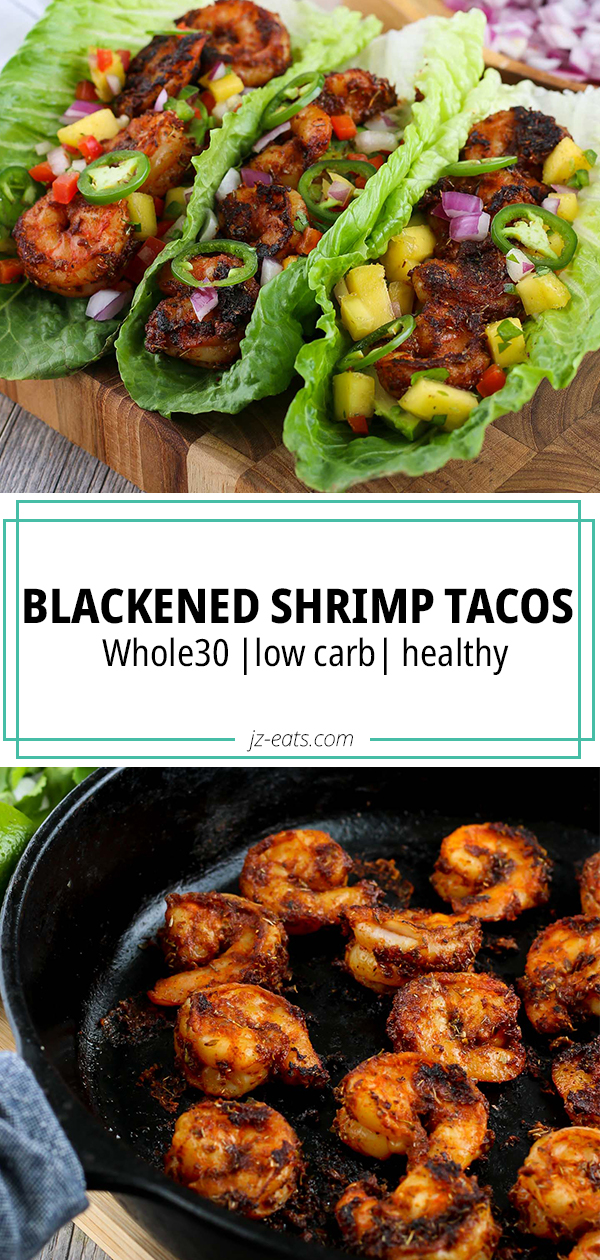 Whole30 Blackened Shrimp Tacos
Blackened Shrimp Tacos are a healthy, gluten free, and Whole30 compliant recipe to take your standard cajun shrimp recipe to the next level.
Ingredients
1

pound

jumbo shrimp peeled and deveined

1

tablespoon

fresh lime juice,

about half a lime

1

tablespoon

olive oil,

more for cooking

2

tablespoons

fresh cilantro,

for garnish
Wraps and Topping Suggestions
green leaf lettuce,

butter lettuce works well too!

red onion,

diced

avocado

cilantro
Instructions
Combine all seasoning ingredients in a small mixing bowl.

Toss shrimp and olive oil together in a large mixing bowl. Then add the seasoning and mix until shrimp are fully coated.

Heat a cast iron skillet or non-stick pan on medium-high heat until the pan is hot. Lay shrimp flat in the pan without overlapping them and cook for 1-2 minutes on each side or until they are opaque. When the shrimp are finished cooking, garnish them with fresh cilantro and lime juice.

Separate the lettuce leaves and assemble the tacos with all your favorite toppings!
Notes
*Nutrition information is approximate and was calculated using a recipe nutrition label generator.
If you aren't on Whole30, add 2 tbsps of brown sugar to the seasoning mixture
Nutrition
Calories:
115
kcal
|
Carbohydrates:
4
g
|
Protein:
16
g
|
Fat:
4
g
|
Saturated Fat:
1
g
|
Cholesterol:
191
mg
|
Sodium:
900
mg
|
Potassium:
152
mg
|
Fiber:
2
g
|
Sugar:
1
g
|
Vitamin A:
1545
IU
|
Vitamin C:
5
mg
|
Calcium:
145
mg
|
Iron:
3
mg