This post may contain affiliate links which will not change your price but will share some commission. Please read my privacy policy.
Halibut Grilled On A Himalayan Salt Block With Broccolini
I've been a huge fan of Himalayan salt for years and recently got into salt block cooking. There are so many health benefits your body can reap from Himalayan salt. Plus, serving a dish on a large slab of Himalayan salt is an easy way to impress your guests!
I'm also a big fan of kitchen appliances in general, every time I see something I just have to have it. Lately I've been on an air fryer craze. I can't get enough homemade fries in air fryer!
Why I love cooking on Himalayan salt blocks
Himalayan salt harbors tons of benefits and cooking on a Himalayan salt block allows you to easily inhibit these benefits without adding too much salt to your food. It's a mild salt composed of over 80 trace minerals.
Himalayan salt comes from the Punjab region of Pakistan – just under 200 miles from the Himalayas. The Punjab region is one of the richest salt fields in the entire world, dating back to the Precambrian Age. It's fascinating to think of salt as more profound than just another ingredient in a recipe!
What is a Himalayan salt block?
A Himalayan Salt Block is exactly what it sounds like – a large block of Himalayan salt, used for cooking or serving.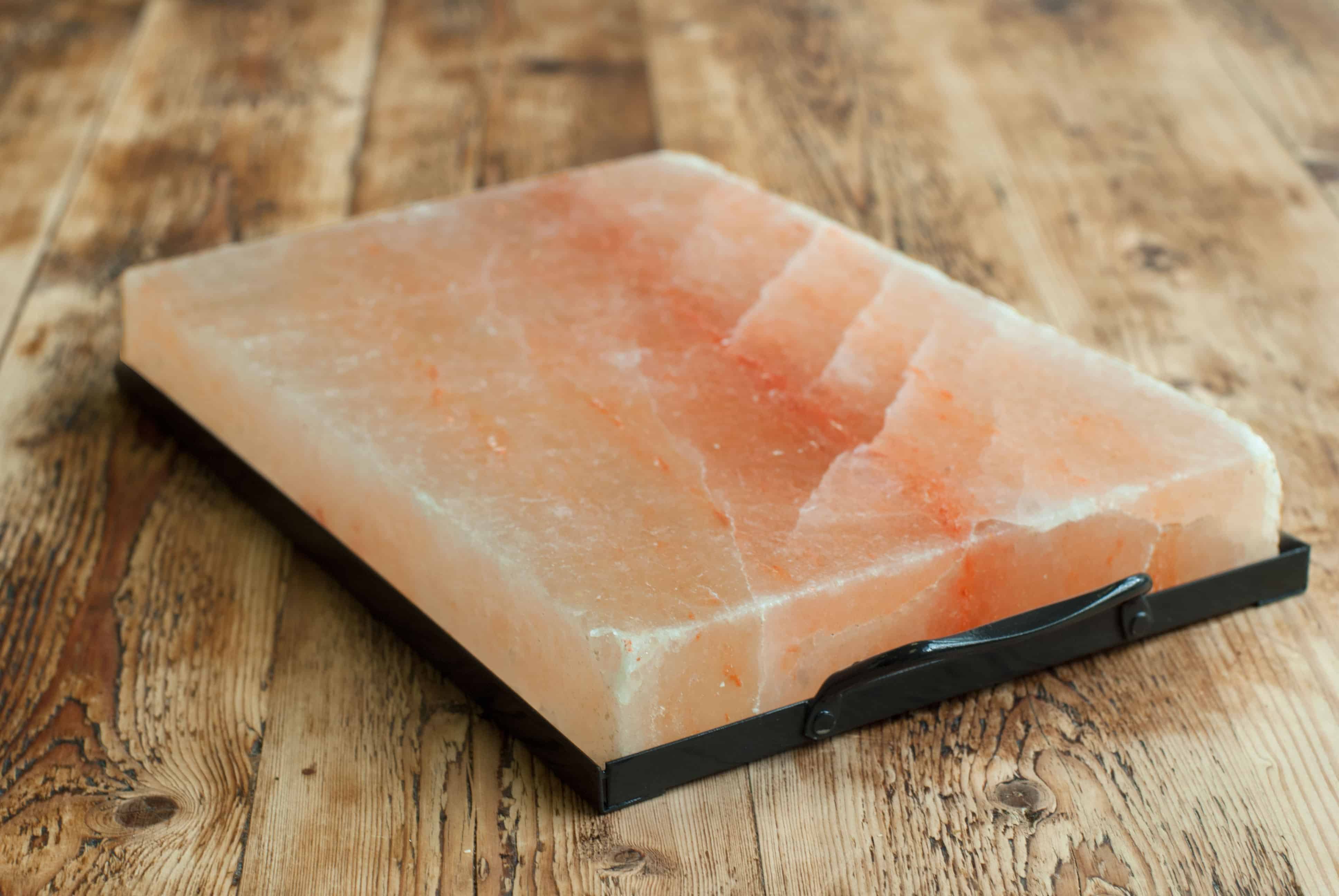 They are one of my favorite cooking surfaces and provide a complex salt flavor without being overbearing. Himalayan salt blocks are easy to use and maintain, and serving on them will make you look quite sophisticated.
This six-step Grilled Halibut recipe had all my friends impressed, mostly because they loved seeing their food served on a giant salt block. But they were even more impressed after tasting the fish!
If you're wondering where I got these beautiful fillets of halibut – check out Salt River Lobster at the JFX Farmer's Market every Sunday!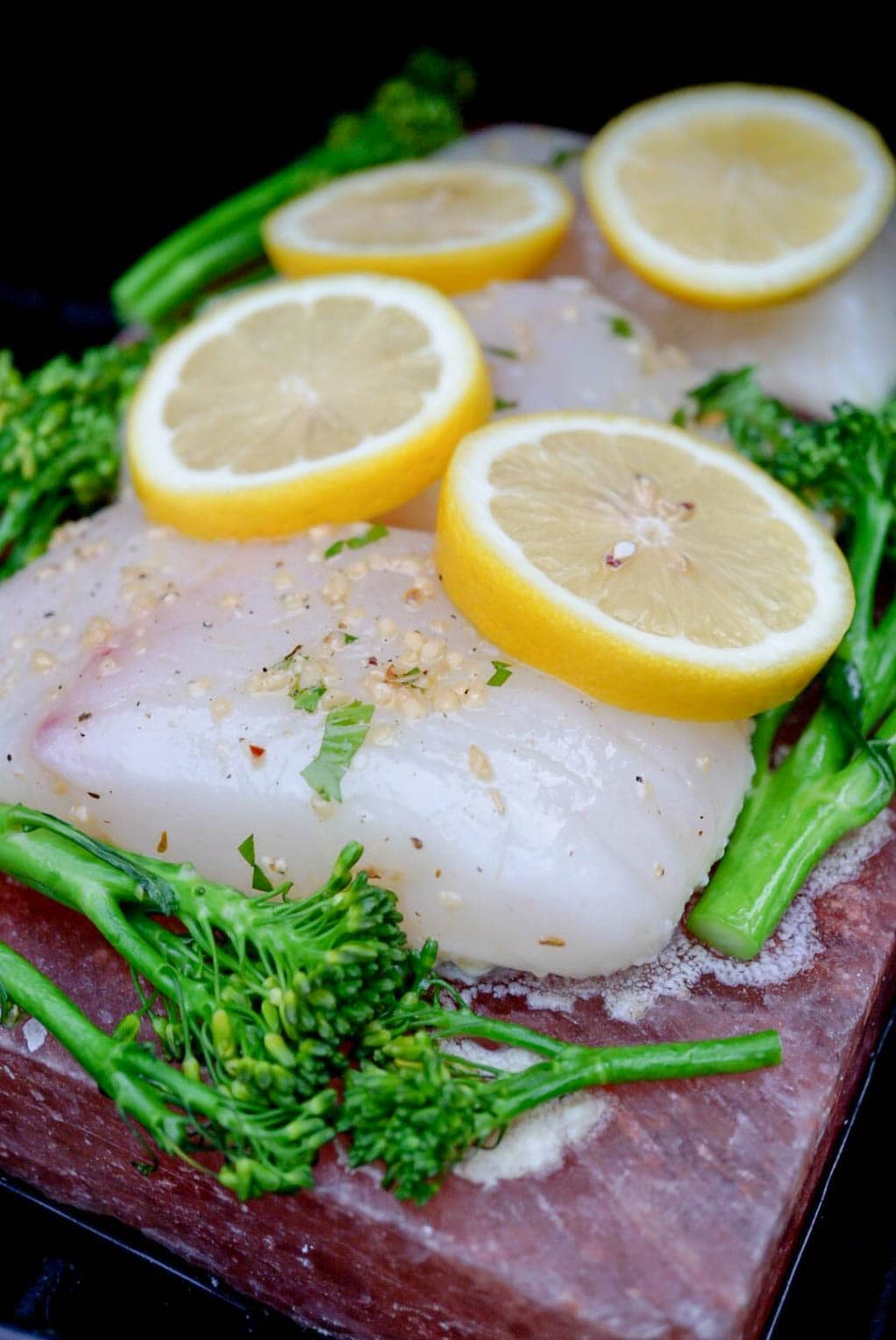 5 Reasons To Cook With Himalayan Salt
There are many benefits of Himalayan salt, but here are my top five. Himilayan salt:
Improves respiratory problems
Balances your body's pH
Acts as a natural digestive aid
Purifies air
Better sleep inducer
Now that you know ALL about Himalayan salt and its wonderful benefits, you'll need to know how to cook with your Himalayan salt block.
3 tips for cooking on a Himalayan salt block:
Let it heat with the grill/oven gradually – heating the block too quickly could result in cracking.
To clean, scrub the block with a gentle scrub brush and warm water – because the salt block is naturally anti-microbial, you won't need any soap.
Keep on cooking – once you've heated the salt block, you can continue cooking on it for hours. Host a hibachi night!
Himalayan salt blocks are ideal for grilling. Now that you've got a wealth of knowledge and a large slab of ancient Himalayan salt in your kitchen, let's talk about grilling up some halibut with broccolini on it!
More Dinner Recipes To Try
WANT TO TRY THIS GRILLED HALIBUT RECIPE?
PIN IT to your seafood recipes, salt block recipes, or dinner recipes board to save it for later!
Find me on Pinterest for more great recipes. I'm always pinning!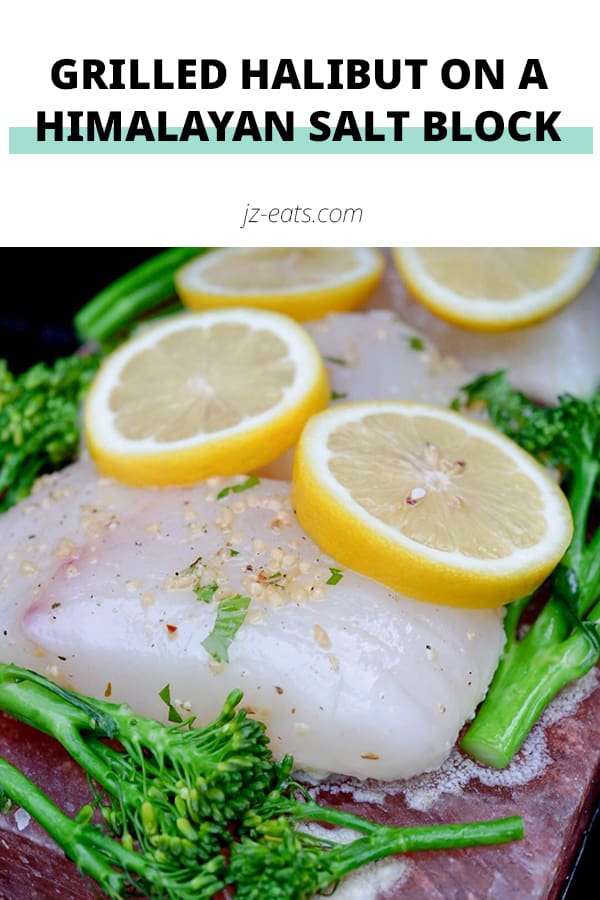 More Seafood Recipes To Try
Did you make this recipe? Post a photo on Instagram and tag me @JZEATS or #JZEATS so I can see! Leave a comment below and let me know what you think, too!
Halibut Grilled On A Himalayan Salt Block With Broccolini
Himalayan salt blocks add incredible flavor to meat, seafood, and vegetables! Make this halibut on the grill or in the oven in 30 minutes.
Ingredients
Instructions
Preheat Himalayan salt block with grill to 375

Mix parsley, garlic, 3 tbs olive oil, pepper, and seafood sprinkle in a small bowl


In a medium sized mixing bowl, toss broccolini with 2 tbs olive oil


Using a silicone brush, coat all sides of the halibut with the olive oil mixture


Place halibut and broccolini on Himalayan salt block and brush remaining olive oil mixture over broccolini. Place lemon slices over halibut.


Cook for 8-10 minutes or until halibut flakes with a fork. Using a spatula, carefully remove fish from salt block.

Nutrition
Calories:
220
kcal
|
Carbohydrates:
13
g
|
Protein:
35
g
|
Fat:
2
g
|
Saturated Fat:
0
g
|
Cholesterol:
83
mg
|
Sodium:
146
mg
|
Potassium:
864
mg
|
Fiber:
4
g
|
Sugar:
2
g
|
Vitamin A:
2220
IU
|
Vitamin C:
92.6
mg
|
Calcium:
205
mg
|
Iron:
4.1
mg