This post may contain affiliate links which will not change your price but will share some commission. Please read my privacy policy.
This Chili Garlic Sauce is a copycat recipe for Trader Joe's Chili Garlic Crunch, made fresh, with no preservatives!
Turn up the heat this Summer with my homemade Chili Garlic Sauce! If you are familiar with Chinese-American cooking, you may be familiar with "Huy Fong" chili garlic sauce.
This recipe is similar and pairs well with any dish you are looking to add some heat to.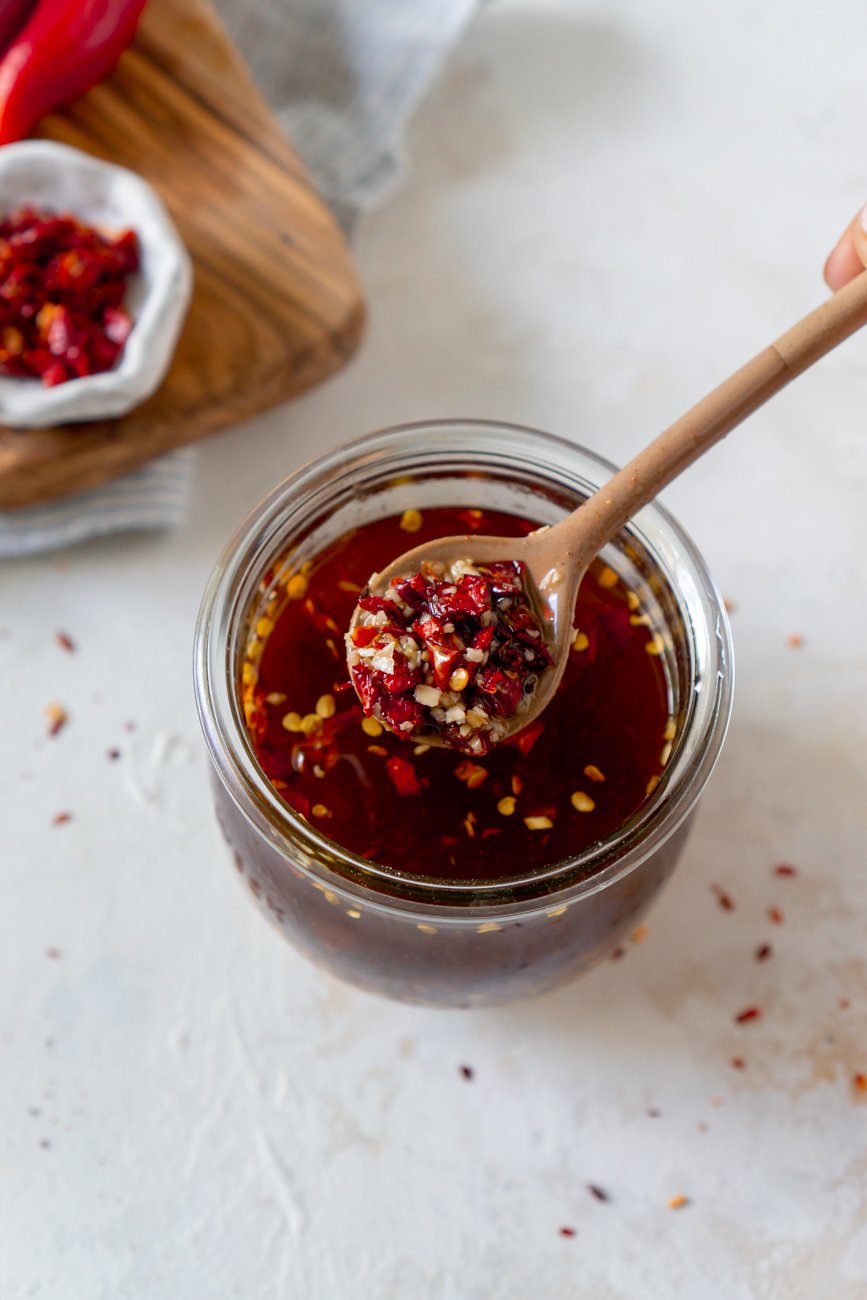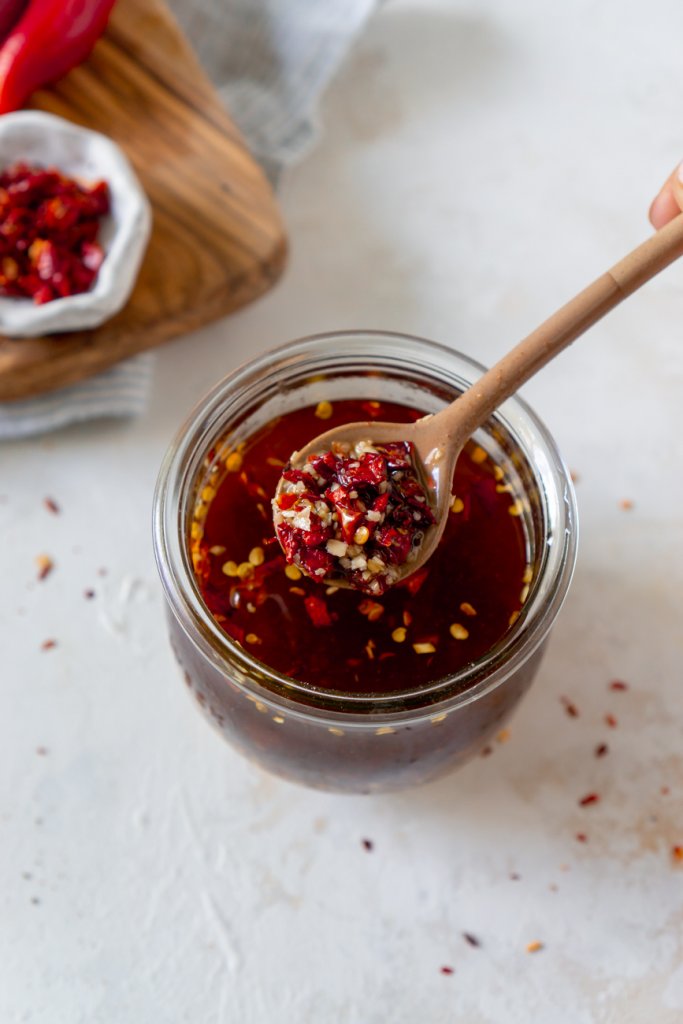 Love sauces as much as I do? Check out my Chick-Fil-A Sauce, Garlic Butter Sauce, and BBQ Sauce recipes next!
Easy Chili Garlic Sauce Recipe
If you are familiar with the Chili Garlic Crunch from Trader Joe's, you are going to love this homemade copycat version!
You probably know this already, but I am a sucker for a good sauce. There isn't much that sauce can't make taste better.
I typically opt out of spicy foods, but lately I've been enjoying mildly spicy sauces to just add a little bit of heat to some of my favorite dishes.
This Asian inspired condiment lends itself to being the perfect addition to Asian cuisine, but is also a "good on everything" condiment if you like to crank up the heat.
Put it on vegetables, put it on burgers, put it on steak, put it on everything! Once you get a taste of this chili garlic crunch, there will be no going back.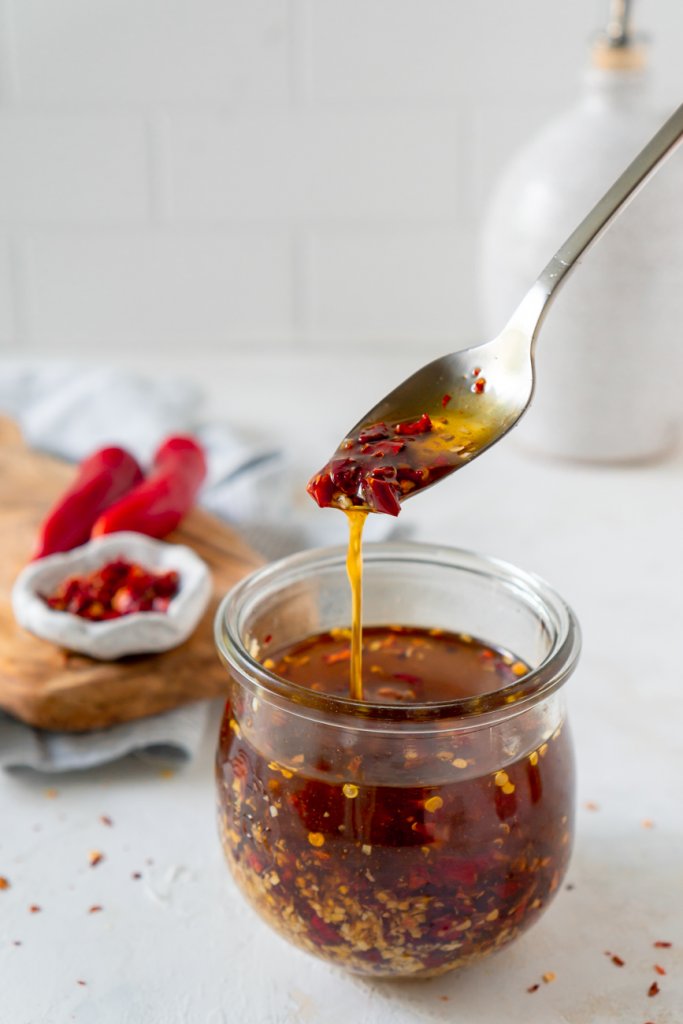 Chili Garlic Sauce Ingredients
Olive oil: for this recipe I used a light olive oil. It serves as the base of your sauce, so you want to ensure the oil you are using is still good. If it's been sitting in your pantry for over a year, it might be time for a new bottle.
Herbs & spices: you don't to want to skip out on any of these ingredients as this is where a lot of the incredible flavors in your sauce will come from. For this I used dried minced onion, dried minced garlic, red pepper flakes, kosher salt, chili pepper, and smoked paprika.
Peppers: surprise! To make this Chili Garlic Sauce, we will actually be using dried red bell peppers. I love the sweetness these peppers bring to the sauce.
Fish sauce: if you are familiar with Huy Fong sauce or enjoy the flavors of Asian cuisine, then I highly recommend adding a splash of fish sauce.
It adds a nice umami flavor, but for some people it can be too much, so it's totally up to you if you want to add!
Tip!
For extra heat, add a diced chili pepper!
*For a detailed list of ingredients and measurements, please reference the recipe card down below.
How to Make Chili Garlic Sauce
In less than 5 minutes, you can have your own homemade Chili Garlic Sauce, fresh and ready without preservatives and ready to use at your convenience.
To make the sauce, simply combine all the ingredients in a glass jar. Place the lid on the jar and shake until fully combined.
The ingredients might settle on the bottom, so before using, give the jar another shake or stir with a spoon.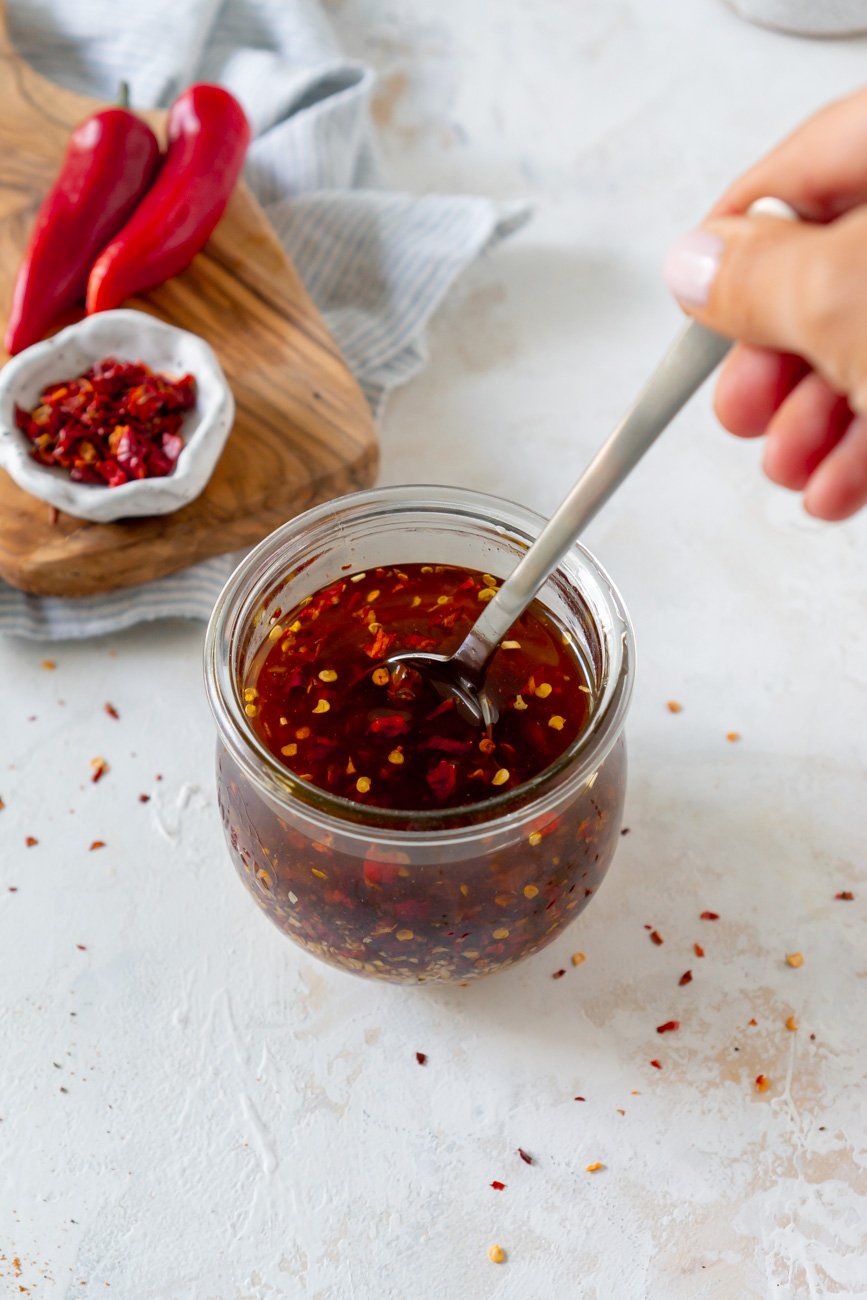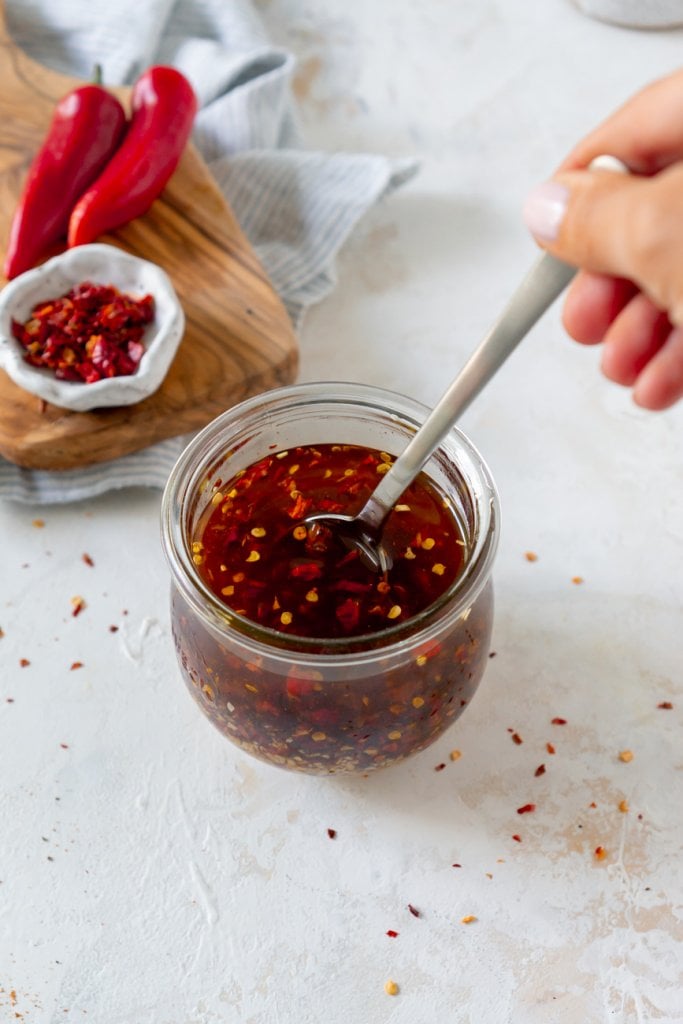 What to Serve with this sauce
This sauce tends to lend itself to Asian dishes. However, you can really put this sauce on anything you are looking to add flavor or bring in some heat.
Some recipes I enjoy adding Chili Garlic Sauce to are:
Or my personal favorite: drizzled onto fresh warm, toasty bread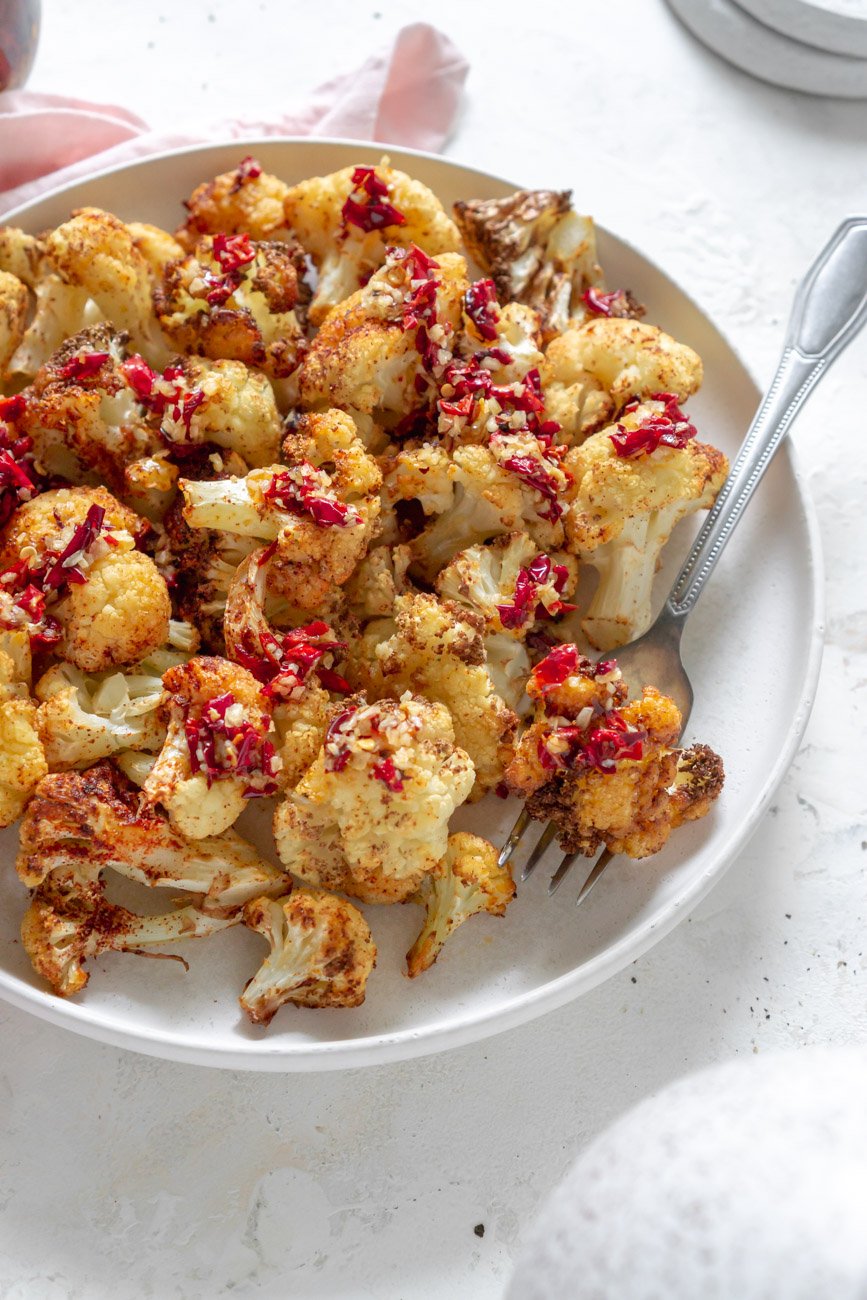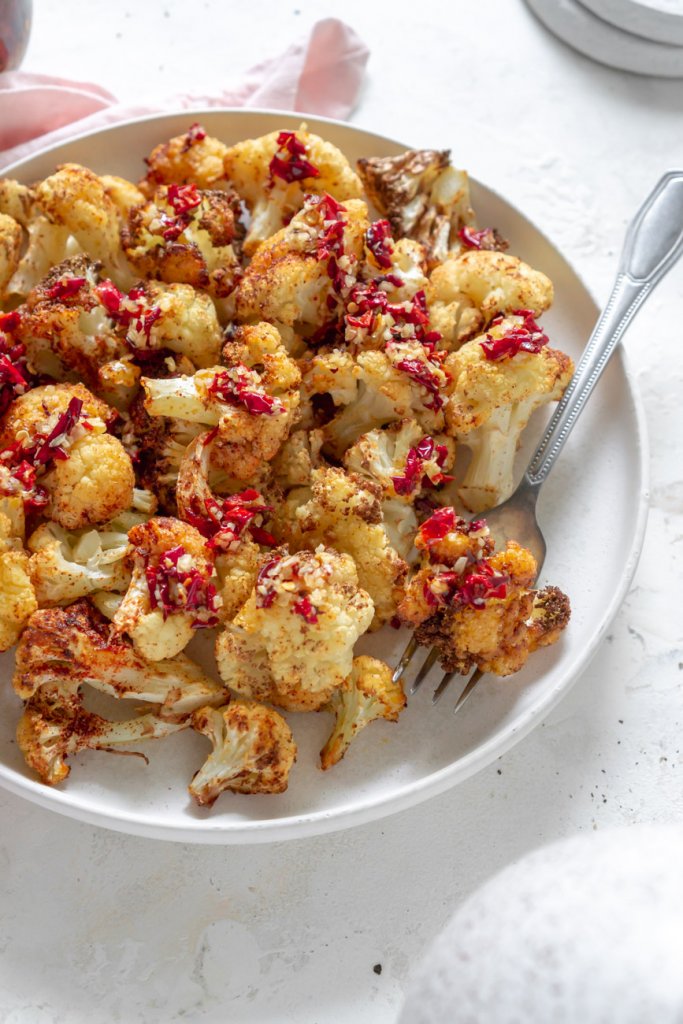 What is the difference between Sriracha and chili garlic sauce?
Although both delicious in their own way, there is a big difference between Sriracha and Chili Garlic Sauce.
You may not know this if you have never made Sriracha from scratch, but it contains added sugar! Sriracha is then fermented (kind of like beer) before bottling which gives it its slightly sour/pungent flavor.
Chili Garlic Sauce, on the other hand, doesn't contain added sugar and is not fermented.
Depending on what dish you are serving it with, both are delicious!
Is chili garlic sauce the same as chili paste?
Traditionally speaking, in cooking, the main difference between a sauce and paste is the thickness and that applies here as well. Chili Garlic Sauce is thinner than chili paste. If you are looking for something with a thicker consistency, you may want or need chili paste.
I use chili paste to cook with and make sauces out of, this version is more of a condiment for me. Mostly because of the texture from the dried ingredients.
However, the biggest (and most notable) difference is the heat. If your recipe calls for chili paste, it's because you need the bigger kick.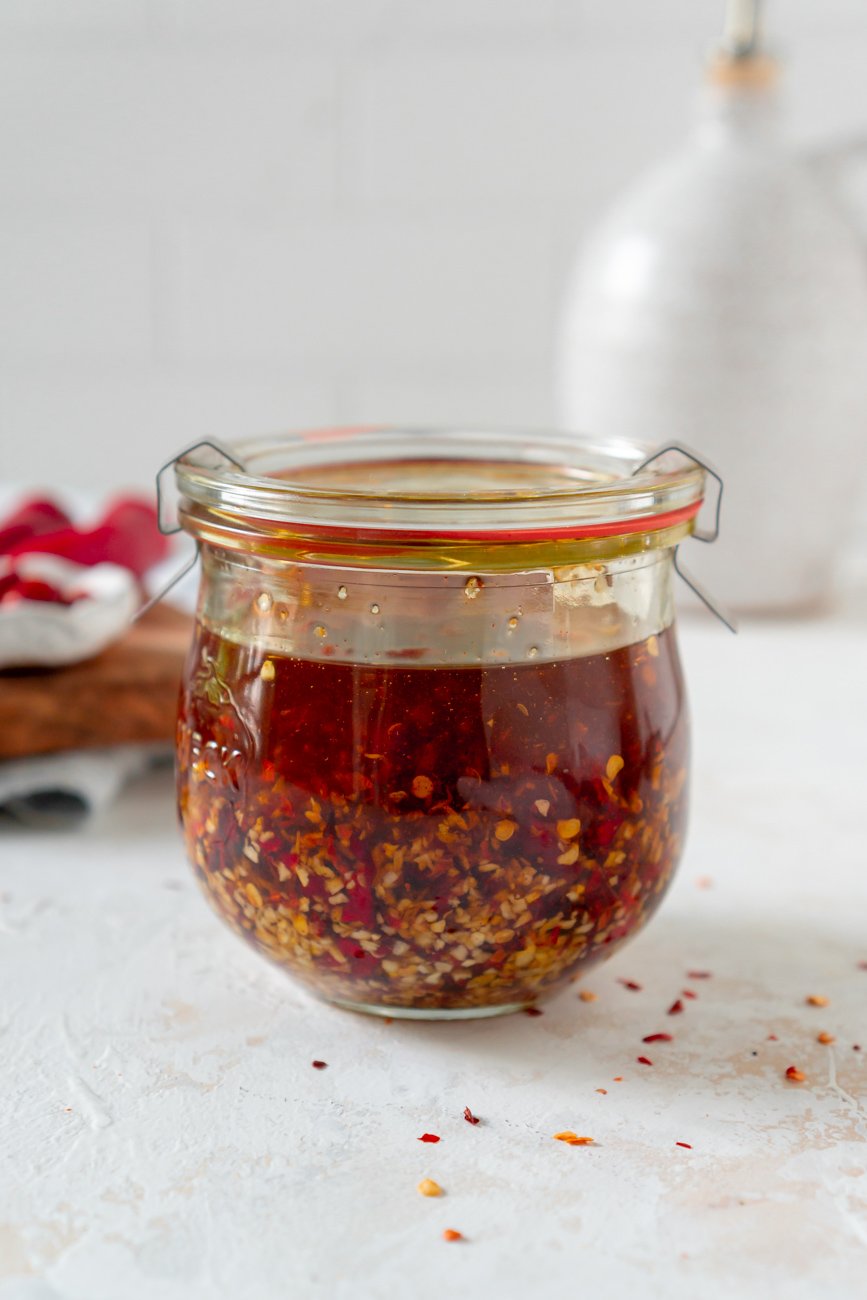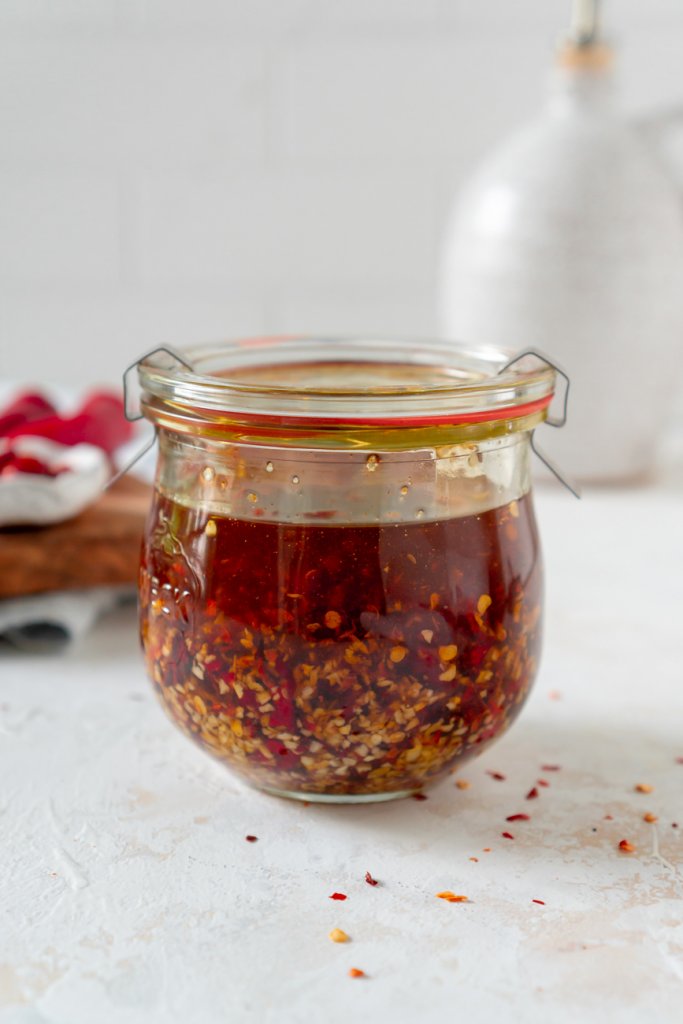 Where is chili garlic sauce from?
Chili garlic sauce is a Chinese-American inspired sauce that originated in the US. You can get a jarred/bottled form of it in stores by taking a trip down the Asian cuisine aisle and looking for Huy Fong.
What do you store your sauces in?
I love to store my homemade sauces in these Weck jars. You can also purchase wooden or plastic lids if you prefer those. The jars look so nice, I don't mind leaving them on the counter!
WANT TO TRY THIS CHILI GARLIC SAUCE RECIPE?
PIN IT to your Asian recipes, sauce recipes, or condiment recipes board to save it for later!
Find me on Pinterest for more great recipes. I'm always pinning!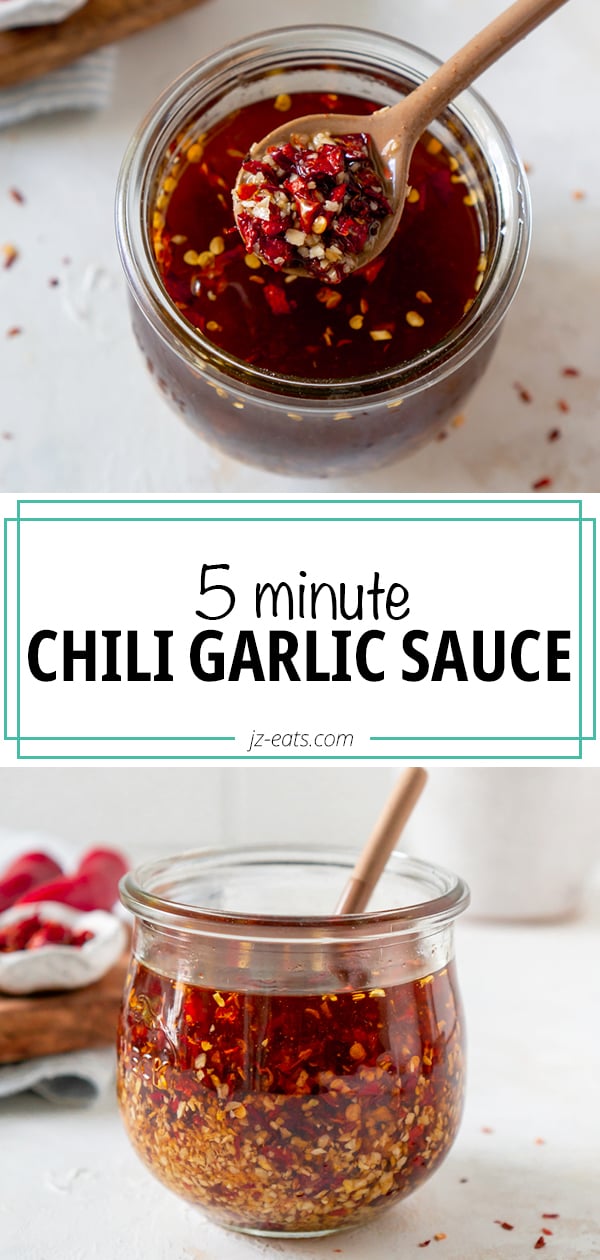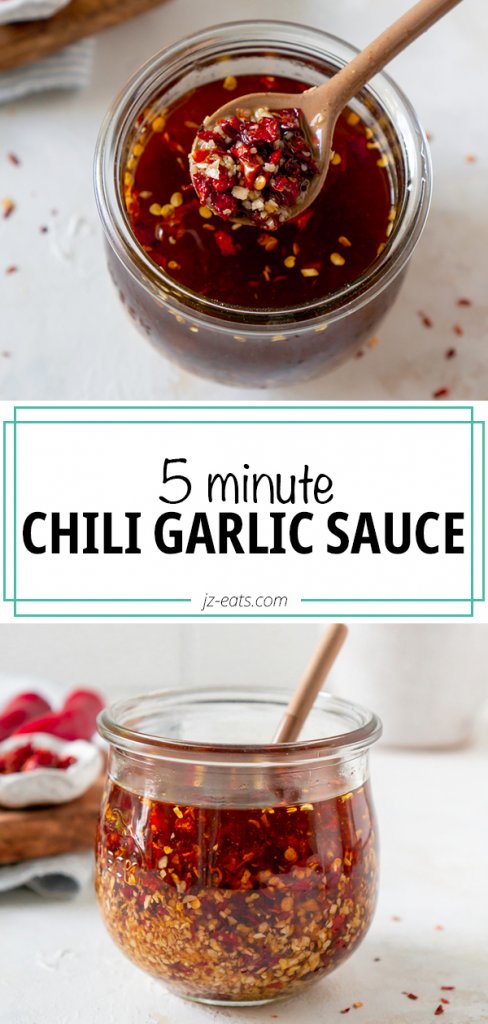 Did you make this recipe? Post a photo on Instagram and tag me @JZEATS or #JZEATS so I can see! Leave a comment below and let me know what you think, too!
Chili Garlic Sauce
This Chili Garlic Sauce is a copycat recipe for Trader Joe's Chili Garlic Crunch, made fresh, with no preservatives!
Instructions
Combine all ingredients in a glass jar and shake/stir until fully combined.

Serve immediately or store in a glass jar for later.
Nutrition
Calories:
149
kcal
|
Carbohydrates:
1
g
|
Protein:
1
g
|
Fat:
16
g
|
Saturated Fat:
2
g
|
Sodium:
748
mg
|
Potassium:
41
mg
|
Fiber:
1
g
|
Sugar:
1
g
|
Vitamin A:
671
IU
|
Vitamin C:
1
mg
|
Calcium:
7
mg
|
Iron:
1
mg